Awesome Miner Review 2023


Traders in United States welcome
Awesome Miner is a sophisticated crypto mining platform with a range of advanced features, compatibility with many different pools and a huge list of mineable tokens.
Risk Warning – Your capital is at risk
Awesome Miner is an advanced cryptocurrency mining platform that offers complete operation management through an intuitive web-based platform. In this guide, we have broken down all that the platform has to offer, from its key features to its pricing and security. Find out all you need to know to get started with Awesome Miner.
Crypto Mining Explained
Since crypto mining first burst onto the scene in 2009, it has made a big impact across the globe. The crypto market is a revolutionary alternative to the traditional banking model, which operates centralised systems i.e. every transaction is recorded and verified by a central authority. Cryptocurrencies, on the other hand, operate decentralised systems via distributed ledgers called blockchains. Anyone can connect to a crypto network and the ledgers are publicly available. Despite the absence of a central bank, crypto transactions must still be verified, which is where crypto mining and companies like Awesome Miner come into play.
Cryptocurrency mining is the process by which transactions are verified. In the simplest sense, mining is a transactional process that uses computers to solve complex functions. When a block has been successfully mined by solving the computational problem, transaction data is recorded upon it and the block is tacked onto the end of the existing blockchain. However, crypto mining does not only validate the transactions, it also yields coins in the mined currency as a reward. This is how new coins enter into circulation. The mining process is fantastically complex and, as a result, is immensely costly and energy-intensive.
If you're wondering why anyone would want to get involved in such as complicated process, you wouldn't be alone. Crypto mining, if done successfully, can be very profitable. Miners essentially act as auditors. By validating transactions they also have the opportunity to earn cryptocurrency without having to put money down for it. For some, it's an appealing prospect but you have to be willing to put in the work.
How Does Awesome Miner Work?
Awesome Miner is a crypto mining management platform. The feature-rich system offers a complete solution, ideal for both large and small scale mining. Created in 2014 by a Swedish company, Intellibreeze Software AB, it has become a firm favourite amongst traders and miners. The Awesome Miner software is compatible with the best and most popular mining pools, including Zergpool, Prohashing, Nanopool, 2Miners, zpool miner, NemosMiner and Ethermine. Several hundred cryptocurrencies are available; Bitcoin, Ethereum, Dogecoin, Litecoin, Ethereum Classic, Ravencoin and Ergo, to name but a few. A range of algorithms is supported, including Kawpow, GMiner and XMRig. Awesome miner is suitable for mining farms of up to 200,000 ASIC miners and 25,000 GPU/CPU miners, though it can be used by just one GPU.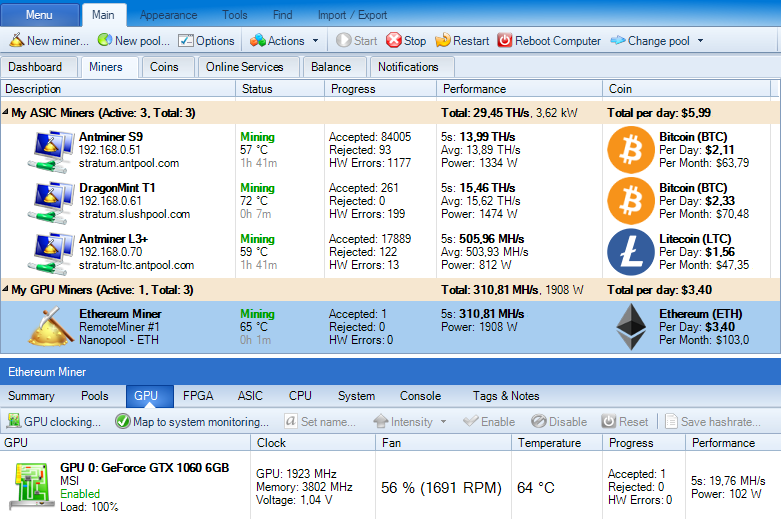 The platform is compatible with both Windows and Ubuntu/Linux computers but not Macs or iOS mobile devices (iPhone & iPad etc.). Its built-in web interface is accessible from any computer, tablet or mobile (Android/APK). Testament to its reliable services, the platform has amassed an active following amongst the mining industry, more on how you can get involved in the community can be found below.
Awesome Miner Features
The breadth and integrity of its services are what really sets Awesome Miner apart from its competitors:
Notifications – These are a useful way to ensure you're always in the loop. Users can receive real-time alerts so, should an issue arise, you will be alerted promptly.
User Dashboards – The dashboard provides a complete overview of running miners, including performance, revenue and profit. Users can also view long-term mining history, generate charts and access powerful data processing and visualisation tools.
Power Consumption – For GPUs, CPUs and ASICs individually and for the rig as a whole, Awesome Miner displays your power consumption and runs an automatic, real-time profitability calculator.
Wallet Balance – The platform has a coin balance feature used to monitor a set of wallet addresses. Multiple coins can be defined and you can change wallet addresses at will as Awesome Miner never directly interacts with your wallet.
Pool Management – Users can manipulate their pool by switching, adding and optimising management through the mining pool hub.
One-Click Pool Setup – Popular mining pools can be set up and connected quickly and easily. This goes for whatever hardware you are using, be it an AMD CPU or dedicated mining ASIC.
Profit Switching – This feature automatically optimises mining for maximum profitability. Statistics are used from both standing and multi-coin pools. There is also a benchmark provided so you can test multiple algorithms and measure the hashrate and power usage.
Native Overclocking – This can be used to mend the clock speed, voltage, power and fan properties of GPUs. No external software is required and the overlocking feature can be automatically applied across large scale operations.
Requirements
To access the Awesome Miner platform there are a few requirements you must meet:
32-bit and 64-bit editions of Windows 7, 8 and 10
Microsoft NET Framework 4.5
Redistributable Packages for Visual Studio 2013, 2015 from Microsoft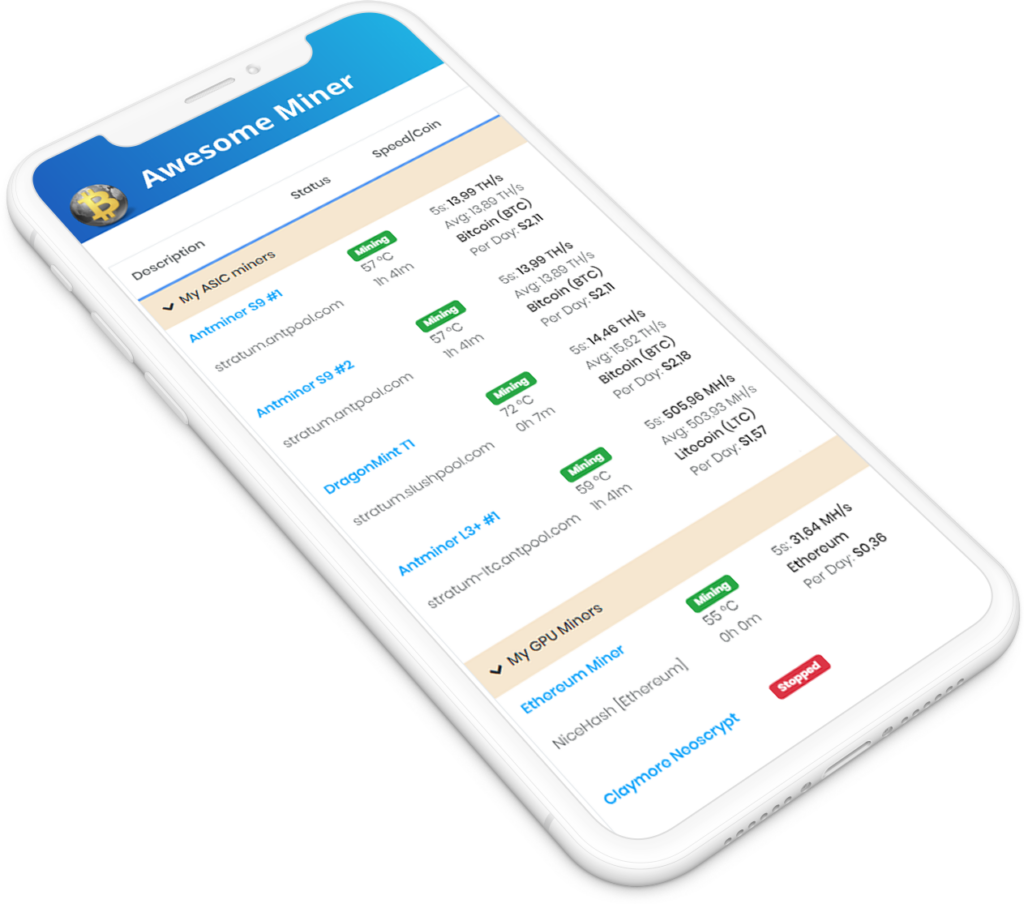 Although not a requirement, it is recommended to install the firmware via the Awesome Miner platform, simply go to the toolbar where you will find a drop-down list of options. Awesome Miner is not compatible with macOS devices. There is not a mobile (iOS or APK) app but the platform can be accessed via Android smartphone or tablet.
Fees
Awesome Miner offers several payment options for its premium options. The services can also be used with limited features for up to two miners without a subscription. If, however, you're looking for the complete suite of features there is a monthly or yearly subscription available:
Monthly – $4 for two miners per month. Includes all features, cloud services and product support via email. ASIC, GPU and CPU mining are supported.
Annually – $36 for two miners per year. Again, all features are included and all mining is supported.
Bank transfers and payment via credit or debit card are supported. Clients can also upgrade their subscription or license according to the size of their mining operations. Discounts are offered to parties larger than 25. VAT will be added for EU customers. Cloud mining services are not offered.
Pros Of Awesome Miner
Awesome Miners is a versatile platform that can offer clients a range of useful tools and features. Some of the key benefits include:
API – A HTTP API can be used to monitor mining activities from an external application, providing ultimate flexibility.
Remote Agent – A package that enables the Managed Miner concept on a remote computer for ultimate flexibility.
Suite Of Features – From native overclocking to profit switching, monitoring and multi-user access, the platform boasts a range of features to help support your mining activities.
Payment Options – Choose from a monthly or yearly subscription. There is also a free download available.
Access – The platform is widely accessible and traders based around the world can sign up.
Antminer Firmware – Optimisation for the Antminer L3+ firmware is available, offering up to 40% higher performance on the Antminer S17 ASIC.
Large Scale – Few will run mining operations larger than this platform can handle.
Cons Of Awesome Miner
As with any platform, the Awesome Miner platform has some limitations. The platform performs well when compared against its competitors but its incompatibility with macOS software is definitely a limiting factor.
For more details on how Awesome Miner's services compare to other big names in crypto mining see below.
Vs NiceHash 2023 – NiceHash is a simple, efficient platform. Its setup is free and clients can connect an unlimited number of pools. However, its services are less suitable for large-scale mining than Awesome Miner.
Vs Cudo Miner – Another top-rated platform that offers a premium service. Its withdrawal fees are slightly higher than average and some users have reported issues with bugs and minor glitches.
Vs Unmineable – Unmineable is an option if you are using old equipment but there are definitely better platforms available. Fees are high, the platform is slow and there have been reported data leaks associated with the platform.
For more detail on how the services compare or an individual review, forums like Reddit are a helpful source of insight. From Coinbase to Binance, find out all you need to know about crypto mining pools and exchanges.
Security
In short, the Awesome Miner platform is legitimate. Safety is a priority for the company and this clearly shines through in its services. Awesome Miner does not contain any virus, spyware or adware. The software used has been on the market since 2014 and has received positive feedback from users across the board. The company has never been infected by a virus, malware, hack or trojan.
All executables pass the Microsoft SmartScreen filters. Every new release is scanned with anti-virus software via more than 60 anti-virus engines. Some users have reported issues with the Norton software and hardware errors. You may need to configure exclusions in Windows or BitDefender to avoid the software being flagged as a threat, though this is standard for crypto mining.
Customer Support
Troubleshooting will depend on which package you are working with. Clients that purchase the advanced product packages will have access to support via email. If you are new to the platform or are using the free subscription service, support can be found via the Awesome Miner website. Under the FAQ and Help tab, you will find a comprehensive list of FAQs in addition to a Contact Us feature. Submit your ticket, offer a detailed explanation of the issue and the team will be in touch promptly.
The customer service team are on hand to deal with a range of queries from pool setup to update installation, rejected shares and solo or dual mining mode. If your Awesome Miner software won't start, won't install or it keeps stopping, be sure to reach out to them.
Awesome Miner can also be found on social media platforms. The company runs popular Twitter, Telegram and YouTube accounts. Follow these for the latest tips, tricks, setup and GPU settings tutorials. Although not strictly provided by the company, forums such as Reddit are also valuable sources of insight offering reviews, guidance and assistance with a range of queries. Check them out for advice on issues such as fatal errors or a download not starting, what to do if the platform failed to start the mining process or you have a share rejected and how to delay auto start.
Getting Started With Awesome Miner
To get set up with Awesome Miner you will first need to choose which subscription package of online services best suits your needs. Once selected, you'll be redirected to enter your payment details and personal information to complete the signup process. You will need either a Windows or Android device but software running on Linux, HiveOS and EthOS are supported. Upon completion of the registration process, you'll be able to follow the login process for your Awesome Miner account.
Clients can use the same registration code on up to four devices.
Windows downloads require 32-bit and 64-bit editions of Windows 7, 8 and 10. GPU mining software typically requires a 64-bit edition of Windows in addition to Microsoft's Visual Studio packages. Check your software systems.
Awesome Miner Verdict
If you're looking for a versatile platform that is easy to use, has a wide range of features and facilitates large-scale mining, Awesome Miner could be the one. In addition to multiple payment options, robust security and an engaged community following, the customer support team are responsive and the platform is accessible to miners based around the world. The major limitation is the fact that the software is not compatible with macOS but, other than that, it's a great crypto mining offering.
FAQs
How Do I Use The Awesome Miners Platform?
To get set up on the Awesome Miner platform, you will need to create an account. Head to the website and visit the subscription page. Once you have selected your package, complete the registration form and you are good to go.
What Do I Do If Awesome Miner Is Not Working?
If you experience any issues with the Awesome Miner platform, you should contact the customer support team. Whether you have received a Cuda error message, it is out of memory, it keeps crashing or it is not connecting, mining or paying out, the team are there to help.
What Is The Minimum Payout On Awesome Miner?
Awesome Miner is not responsible for any payouts or withdrawals from mining operations. The platform never directly interacts with your wallet. Payouts and timeframes are determined by the coin e.g a Dogecoin (DOGE) payout. Awesome miner is not liable for unpaid balances.
How Do I Install the Linux Software?
Head to the Awesome Miner webpage and visit the Downloads tab. There you will find the relevant software download and version options (7.5 to 8 & 8.1 ultimate keygen/crack), ready for you to install.
What Do I Do If I Get An Out Of Memory Error?
When mining Ethereum, you will need to upload a large data package, called a DAG, to your GPU memory. To mine with an Ethereum pool or individually, it is recommended that you have at least 6GB GPU memory. Ensure your Ethereum system is setup correctly to make the most of Awesome Miner.
Where Can I Find Out More About Awesome Miner?
The first place to check would be the Awesome Miner website. However, if you still have questions or issues to address, like a GPU out of memory, the interface being offline, an invalid BTC address, how to uninstall the software or how to limit GPU usage, you can check online reviews, forums and discussion sites.
Accepted Countries
Awesome Miner accepts traders from Australia, Thailand, Canada, United States, United Kingdom, South Africa, Singapore, Hong Kong, India, France, Germany, Norway, Sweden, Italy, Denmark, United Arab Emirates, Saudi Arabia, Kuwait, Luxembourg, Qatar and most other countries.
Compare Awesome Miner
Compare Awesome Miner with similar brokers that accept traders from your location. Among available brokers these are the most similar to Awesome Miner:
Awesome Miner Comparison Table
Compare Awesome Miner With Similar Brokers
Awesome Miner
Nexo
Binarium
Paxful
Moomoo
Rating
–
3.9
2.6
3.8
3.8
Markets
Crypto Mining
Cryptos
Forex, Stocks, Crypto
Cryptos
Stocks, Options, ETFs, ADRs, OTCs
Demo Account
No
Yes
Yes
No
Yes
Minimum Deposit
N/A
$10
$5
From 0.005 BTC
$0
Minimum Trade
N/A
$30
$1
10 USD
No minimum
Regulators
N/A
ASIC, FCEN
–
–
SEC, FINRA, MAS
Bonus
–
Loyalty scheme with various bonuses, plus referral program
–
–
Get up to 15 free stocks worth up to $2000
Education
No
No
No
No
No
Platforms
–
–
–
–
–
Leverage
–
–
–
–
–
Payment Methods
1
3
10
13
4
Visit
Review
Awesome Miner
Review
Nexo
Review
Binarium
Review
Paxful
Review
Moomoo
Review
Compare Trading Instruments
Compare the markets and instruments offered by Awesome Miner and its competitors. Please note, some markets may only be available via CFDs or other derivatives.
Compare Awesome Miner Trading Instruments

| | Awesome Miner | Nexo | Binarium | Paxful | Moomoo |
| --- | --- | --- | --- | --- | --- |
| CFD | No | No | No | No | No |
| Forex | No | No | Yes | No | No |
| Stocks | No | No | Yes | No | Yes |
| Commodities | No | No | No | No | No |
| Oil | No | No | No | No | No |
| Gold | No | No | No | No | No |
| Copper | No | No | No | No | No |
| Silver | No | No | No | No | No |
| Corn | No | No | No | No | No |
| Crypto | No | Yes | Yes | Yes | No |
| Futures | No | No | No | No | Yes |
| Options | No | No | No | No | Yes |
| ETFs | No | No | No | No | Yes |
| Bonds | No | No | No | No | No |
| Warrants | No | No | No | No | No |
| Spreadbetting | No | No | No | No | No |
| Volatility Index | No | No | No | No | No |
Awesome Miner vs Other Brokers
Compare Awesome Miner with any other broker by selecting the other broker below.
Awesome Miner is a sophisticated crypto mining platform with a range of advanced features, compatibility with many different pools and a huge list of mineable tokens.