TraderVue Review 2023 Review 2023
TraderVue offer journaling software with auto imports and 80+ supported brokers and platforms.
TraderVue is one of the top-rated trading journals. The all-in-one software enables you to synchronize trades through supported brokers as well as write down thoughts and key details. Users can then analyze their performance and make improvements.
This tutorial will review TraderVue's journaling software, covering the features on offer, pricing, mobile apps, pros, cons and more. We also compare TraderVue to competitors and similar websites.
What Is TraderVue?
TraderVue SSC LLC was launched in 2011 by Greg Reinacker. Based in Denver, USA, it is an analytics solution and trading journal with an active community of users that share their trades and knowledge. Customers essentially upload or auto import their trading history to reflect on their own performance and monitor current investments.
Through reports, analysis and journaling, users can review trades in multiple markets, including stocks, forex, and futures. TraderVue provides investors with the insights and data they need to enhance their strategy and improve trading decisions.
With a paper trading mode plus discounts, the trading journal is also competitively priced vs alternatives, making it a good option for beginners.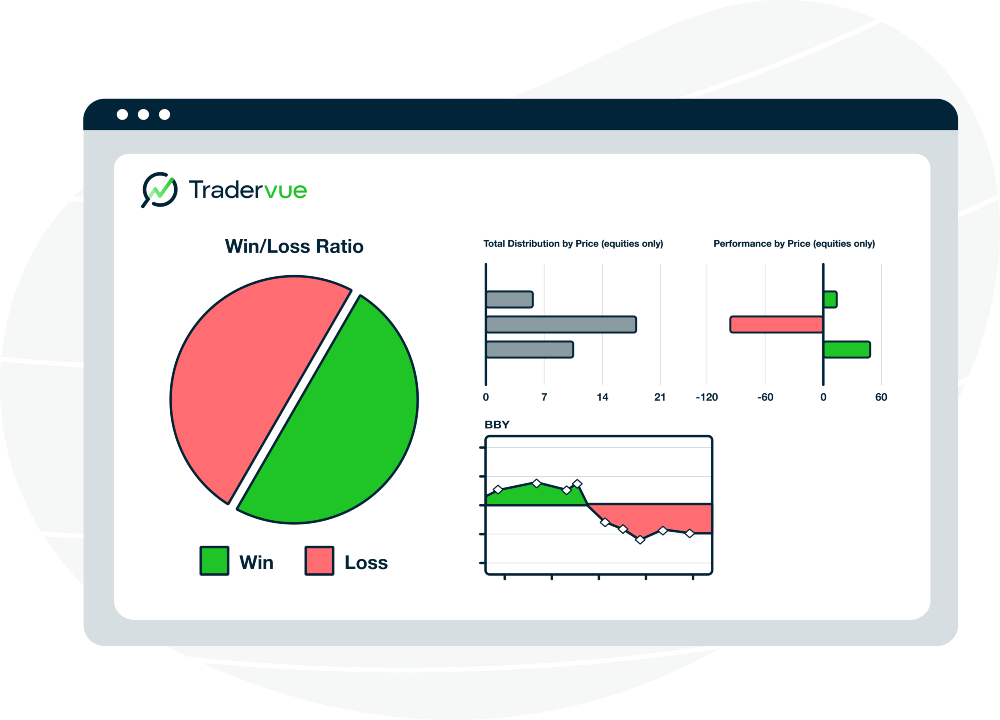 How TraderVue Works
There are three main features that form the TraderVue experience:
Trading Journal
The TraderVue trading journal adds a qualitative aspect to the tracking tool. The journal is mainly used for taking notes, which is an important part of reviewing your trading performance.
The notes are presented in chronological order so you can easily reference your thought process from a trade on a given day to see how you have improved over time.
When you execute a trade, you should write down information such as why you opened or closed the position, the result (profit or loss), the asset, and anything else relevant.
TraderVue also allows you to tag notes to certain trades to help you stay organized.
Analysis
One of the main reasons why clients use TraderVue is the in-depth analysis. The platform creates useful reports on topics such as profit and loss, win percentage and results over a period, as well as specific areas to allow for filtering by asset type and symbol.
One particularly helpful report is the performance by symbol so you can see which instruments and assets you have the most and least success with. From here, you could make changes to focus on more profitable trades and avoid the less successful instruments.
With TraderVue analysis, you can also compare both trading rate and performance according to the following criteria:
By market behavior (compared to indices such as SPY, QQQ and XLF)
By hour, day, week, month or year
By volume or price traded
By symbol
Liquidity
Profit and loss
In all charts, you can click on the bars to see a breakdown of which trades in your history contribute to the dataset.
Note that some reports, such as risk analysis, are only available to clients with a Silver or Gold subscription.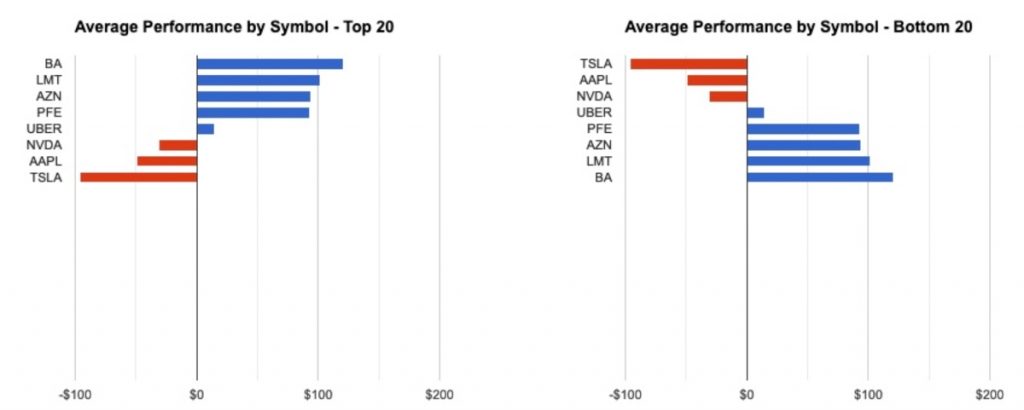 Sharing
A prominent feature of the platform compared with alternative sites and some free applications is the community.
Here, you can share trades and discuss investments with other users. It can be a good way to find tips and advice or to compare notes on certain strategies and instruments.
You can filter the community display to find other traders who have similar assets and investments to your own. Say, for example, you are struggling with certain stocks, you can find traders who have generated profits trading the same equities and seek advice.
Clicking on a specific post will present you with details about a set number of trades showing side, symbol and price in addition to a short description from the poster. You can then comment or discuss the trade with the poster and other members of the community.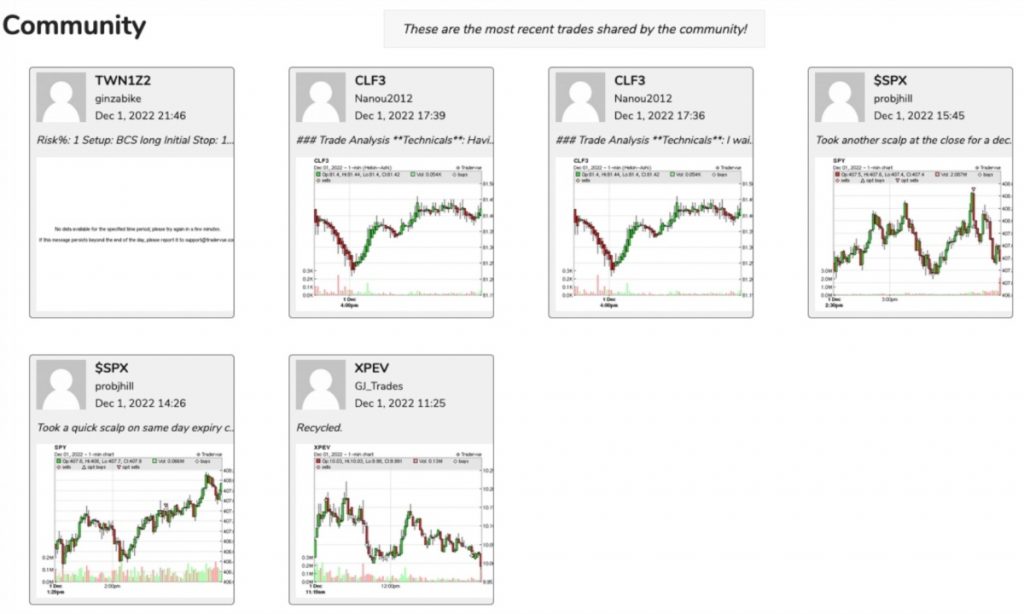 Price
TraderVue offers three subscription plans; Basic, Silver and Gold.
Below is a breakdown of the key differences between each subscription plan. Note that all features listed in Basic are available to Silver accounts and all Silver account features are available with Gold accounts.
Basic
Free
A maximum of 30 traders per month
Basic journal and reporting tools
Access to the community
Silver
$29 per month
1 GB storage
Mentoring
Unlimited trades
Enhanced journal tools
Over 100 advanced reports
Importing options trade information supported
Referral scheme where you can send promo codes to colleagues and receive a bonus
Gold
$49 per month
5 GB storage
Risk analysis
Exit analysis
Unlimited trades
Over 300 advanced reports
The same journal and reporting tools as Silver
Trade commissions and fee data can be imported
TraderVue also offers a free trial for both Silver and Gold accounts so you can test out features before paying subscription fees. The trial ends after 7 calendar days and you will be automatically billed unless you cancel the subscription beforehand.
Supported Brokers
There are 80 brokers and websites that are supported by TraderVue. This includes firms such as Interactive Brokers (IBKR), TD Ameritrade, TradeZero, TradeStation, Robinhood and WeBull.
With certain platforms, such as NinjaTrader, clients can use the auto import service so trades are automatically synchronized when they are executed.
If you use unsupported brokers or exchanges, such as Binance, you will need to manually enter your trade information with the Excel spreadsheet template.
Security
It is relatively safe to use TraderVue, however, there is no option for two-factor authentication. With this in mind, use a secure password to prevent others from gaining access to your account.
When sharing trades with the community, you don't need to worry about your privacy being compromised – TraderVue defaults information such as profit and loss and trade quantity to be anonymous/invisible. Users with Silver or Gold accounts have the option to share this information if they want, but the default setting for this is off.
Customer Support
If you are having problems with TraderVue's services or need help with issues such as how to cancel your subscription, you can contact the customer service team through the following channels:
Contact form on the website
Email support@tradervue.com
Social media accounts on Twitter, Stocktwits and Facebook
There are also FAQs covering topics such as API documentation, how to delete all trades, and how to reset your account.
Additionally, there is a TraderVue YouTube channel with tutorials to help clients get started, plus blogs on the official site.
How To Use TraderVue
Sign into your account or register if you have not yet set up a login
Click the 'Import Trades' button
Select your broker or platform from the drop-down list. If your broker is not yet supported or you want to upload paper trading from a demo account, you will need to use the 'Generic Import Format'
To check your information has been uploaded correctly, go to the 'Trades' tab where you should see the date, symbol, volume, profit/loss and executions for each trade
Now you will be able to view populated charts with detailed analysis and reports
Pros Of TraderVue
When we used TraderVue, we found the trading journal offered several advantages over competitors:
Available to clients all over the world including the US, UK, India, and Nigeria
Supports a range of instruments and markets including stocks, forex, and futures
You can split trades up into multiple accounts using the 'account tag' feature
Detailed analysis and reports available
Personal mentoring
Cons Of TraderVue
Our experts also found several downsides to TraderVue:
Fees and commission support are only available with Gold accounts
Limited tools and features for free accounts
No TraderVue mobile app
No crypto tracking
No dark mode
TraderVue Vs Competitors
TraderSync – TraderSync is a popular trading journal that makes use of artificial intelligence to compare different strategies and gives tips on how to improve. One of the key advantages over TraderVue is the inclusion of a mobile app with a free download. The site offers three paid subscription plans of $29.95, $49.95 and $79.95. There is a free account option, however, it comes with requirements such as frequent Tweets and you are limited to only tracking stocks.
Edgewonk – Edgewonk use challenges to help track client progress. Investors can set targets and monitor how to trade in relation to their goals. The platform also offers detailed breakdowns of investment strategies to show what could be changed for better results. There is only one plan available and it costs $169 per year.
TradeMetria – With either a free, $29.95 per month, or $39.95 per month plan, clients can access a wide range of reports and analyses. One of TradeMetria's main tools is the profit and loss factor and simulator which can help to narrow down and filter trades to find the best and worst performing instruments and investments. Clients can see which investments they should avoid in the future and which they should focus on.
Chartlog – Chartlog is a trading journal that accounts for the emotional side of trading. Investors can break down strategies to find causes for bad trades. Additionally, Chartlog allows clients to backtest their strategies. You can choose from three monthly plans of $14.99, $29.00 and $39.99.
TraderVue Verdict
While a trading journal will not directly generate any revenue, it will allow users to analyze their strategies and trades. TraderVue provides a range of different reports, charts and insights to help traders see which instruments and systems have the greatest profit potential. And with over 80 supported brokers and platforms, several with auto imports available, it is easy to upload your trades to TraderVue.
FAQs
Is TraderVue Free?
TraderVue offers a free subscription plan to all customers but it is limited in terms of tools. If you want to unlock more features, you will need to sign up for a Silver or Gold plan, which cost $29 and $49 per month, respectively. You may also be able to find coupons or discount codes on occasions such as Black Friday.
Is TraderVue Worth It?
A TraderVue subscription is a great aid if you use it to its full potential. This means taking the time to understand what the reports and analysis are telling you and then making changes to your trading setups accordingly.
If you are unsure about purchasing a TraderVue plan, you can subscribe to the 7-day free trial.
Is TraderVue Safe?
TraderVue is a legitimate trading journal and analytics solution. However when you sign up, make sure you use a safe password as you cannot enable two-factor authentication.
Is TraderVue The Best Trading Journal Software?
While the journaling software has a range of useful features, you may want to consider other applications and sites like TraderVue before committing to a subscription. TraderVue has several competitors, including Edgewonk and TraderSync. Head to our details reviews for comparisons.
Can TraderVue Be Used For Crypto Tracking?
Unfortunately, TraderVue does not track cryptocurrency trades. Only options, stocks, ETFs, futures and forex investments can be imported. If you want to track cryptocurrency trading, look at alternatives like TradeMetria.
TraderVue offer journaling software with auto imports and 80+ supported brokers and platforms.