TC2000 Review 2023


Available in United States
TC2000 offers margin trading on US equities with powerful charts and stock-picking software.
$2,500
Proprietary
Stocks, Options, Futures, Mutual Funds, ETFs
-
USD
Wire Transfer, ACH Transfer, Automated Customer Account Transfer Service
Forex Trading
Not Available
Stocks Trading
Trade US stock spanning multiple sectors, including blue-chip firms like Tesla And Apple.
CFD Trading
Not Available
Crypto Trading
Not Available
Awards
Best Trading Experience - 2020
Best Stock Software under $500 - 2019
✓ Pros
Strong regulatory oversight
Demo account
✗ Cons
High minimum deposit
No MT4 integration
No copy trading
TC2000 offers US stocks, futures, options and ETFs trading. It also provides industry-renowned stock-picking software. In this TC200 review, we detail how you can set up an account, the fees involved, their asset offering, and more. Our experts also share their verdict on the popular broker, stock screener and charting tool.
Key Takeaways
Regulated by FINRA
Mobile compatibility
Real-time market scanning
Suitable for active day traders
Excellent charting and analytical software
Beginner-friendly user guides and tutorials
No forex, commodity or crypto trading
Extra fees for market data and software
Expensive commissions
Company Details
TC2000 is a FINRA-licensed online stock broker that provides trading on US stocks, options, mutual funds and ETFs. It is affiliated with the industry-renowned TC2000 stock-picking software owned by Worden Brothers.
Worden Brothers was founded in 1998 and created the TC2000 stock picking analysis tool – frequently touted as the best on the market.
The software company and brokerage are classed as separate companies shared by common ownership. They are based in North Carolina, USA, with around 200 employees.
TC2000 is suitable for all types of investment strategies, including day trading, scalping and long-term trading.
Trading Platform
The brokerage offers trading through its proprietary platform.
Platform Capabilities
TC2000 is excellent for charting vs alternatives like TradingView, TradeStation and StocksCharts. Screens are fully customizable and include nifty UX features that are designed to make life easier. Like most platforms, you can zoom in, change time zones, and navigate between multiple charts with relative ease.
One of our favourite features can be found by typing anywhere on the platform, which automatically opens the 'Change Symbol' screen making it easy to switch tickers without having to hover over the icon each time. Intuitive features like this make it straightforward to work with.
Other great charting features include the data box that shows the open, high, low, close, returns, and earning values on the chart. When we used TC2000, we also rated how smooth the zoom-in functionality was. Plus, there are all the classic tools that you would expect, including various time frames, from 60 seconds, all the way to weekly.
Sub-one-minute charts are not available as there is no tick chart on TC2000. These are fairly common on alternatives such as eSignal, putting the brokerage at a slight disadvantage vs competitors. We would like to be able to use 10-second charts in the future.
The number of indicators on TC2000 is extensive, including:
Volume indicators e.g average daily volume, relative volume
Range indicators e.g average true range (ATR), average daily range (ADR)
Strength indicators e.g ADX
Linear regression indicator
Exponential moving average
Fully customizable TC2000-based indicators using personal criteria formulas (PCF) e.g a 52-week high PCF and other examples
Devices & Browsers
Worden Brothers software is a desktop and web-based platform. The desktop application is available for download on Mac or Chromebook and the web version can be accessed via your browser on Chrome, Internet Explorer, Safari, Edge, Opera or Firefox. TC2000 is not available on Linux.
For on-the-go trading, TC2000 is available on your Android, iOS mobile or iPad. App setup is relatively easy, but involves downloading an application named 'Parallels Client'.
Assets & Markets
TC2000 offers trading on US stocks, futures, options, mutual funds and ETFs across a broad range of industries. Any stocks that are available on the NYSE, NASDAQ and S&P 500 are available, including some of the top companies, such as Amazon, Facebook, Apple and Tesla.
On the downside, UK and European stocks are not available. Cryptocurrency and forex are also not available.
Spreads & Commission
TC2000 uses the Interactive Brokers (IBKR) SmartRouting integration to route trades to the exchange. This service continually reroutes part or all of the order to ensure trade execution. Each leg of the trade is treated separately to ensure it is optimized in all circumstances. This means trades are executed at the best possible price the market offers.
TC2000 does charge a commission for its services, but this is kept low by the IBKR technology. The price is $4.95 per trade for stocks and ETFs or for options contracts, the cost is 65 cents per contract, plus $2.95 per trade.
TC2000 offers margin trading and therefore margin rates do apply. This ranges from 7.07% on accounts with a balance of $0 – $100,000 but decreases to 6.07% on balances of over $200 million. This is a blended rate, meaning the first $100k will be charged at the higher rate and anything up to $1m will be charged at 6.57%, and so on.
There is also a cost for the TC2000 stock screener technology. There are three tiers to their software plans: silver, gold and platinum. The silver plan costs $9.99 per month vs $29.99 for the gold and $59.99 for the platinum, but the price is discounted if you pay annually or biannually.
The platinum package provides a whole host of additional features for the increased spend, including historical scan results, alerts on up to 1000 indicators and up to a $300 per year discount with a brokerage account. Real-time data feeds incur an extra cost per feed, ranging from $1.50 to $25 monthly.
TC2000 Live Data Feed Charges
Real-time U.S. Stocks – $14.99
Real-time U.S. Options – $9.99
Real-time U.S. Indexes – $9.99
Dow Jones Real-time – $2.50
Dow Jones Delayed Data – $1.50
MT Investor Feed – $8.00
MT Pro Feed – $50.00
Extra Alerts 100 – $10.00
Extra Alerts 500 – $25.00
Extra Streaming Scans 15 – $39.99
Historical data can be found by selecting the date required on the chart directly
Leverage
Leverage on all assets is capped at 1:2 on overnight positions and 1:4 during the day. This is in line with regulated competitors and is designed to limit risk exposure for retail traders.
Mobile Apps
TC2000 has an app for iPhone and Android phones that is downloadable via the Parallels service.
The application is fairly rudimentary, most traders prefer the web version. It's great for viewing your charts and positions on-the-go but is not designed for complex analysis.
We also don't expect there to be any progress on fixing this anytime soon. App trading is not a strategic priority for Worden Brothers and there has not been an update in the last four years.
When you compare TC2000 vs alternatives like Thinkorswim, mobile trading is significantly behind. Given the price of the service, we would like to see some developments on the app soon – starting with the ability to edit and manage charts.
How To Download The TC2000 App
Visit your app store and download the 'Parallels Client' application
Open the app and click to add a connection
Type apps.tc2000.com into the server address, input your brokerage login details and click save
TC2000 Accounts
There is only one account type with TC2000 brokerage, but within this account, there are different software packages available. These come with varying levels of functionality and data. You will find that most of the key selling points are only unlocked on the Gold and Platinum plans.
As a result, TC2000 is a fairly expensive service, particularly as competitors are offering some of the functionality at reduced prices. But TC2000 regularly wins awards for the top stock screener on the market and many traders find it is worth the investment.
Silver
The Silver tier is the basic account that offers access to the TC2000 software. For $9.99 paid monthly (reduced to $7.49/month if you pay biannually), you can customize layouts of charts, watchlists, notes and trading.
There is no access to the EasyScan stock screening tool with the Silver tier.
Gold
This plan costs $29.99 per month (reduced to $22.49/month if paid biannually) and provides some of the bells and whistles that you would expect with TC2000. The EasyScan stock screener is provided, with a step-by-step wizard to help you set conditions.
Up to 100 alerts can be tracked as well as a vast array of functionality to make trading easier, such as sortable watchlists, chart drawing tools, and more.
Platinum
The platinum plan offers all the above, plus historical condition testing and scan results, up to 1000 alerts and automatic refresh intervals on scans and sorts.
It costs $59.99 per month or $44.99 if you pay biannually. Plus, you can get up to $300 per year off this cost if you have $30,000 or more in your brokerage account.
Payment Methods
TC2000 uses Interactive Brokers as their clearing house for deposits. For this reason, you can use the same payment methods as you can on IBKR and the processing times and fees are also the same.
Bank ACH transfer – TC2000 offers CHAPS/BACS/Faster Payments or International Transfer options via IBKR. Fees are determined by your bank and not the brokerage but are free in most instances. This process usually takes one business day but can be quicker depending on your bank.
ACATS – You can also transfer US stocks, warranties, options, mutual funds and cash that are stored at another brokerage using the NSCC's Automated Customer Account Transfer Service (ACATS).
Deposit via check – Deposit by mailing a check to IBKR. Funding this way takes six working days from when the check arrives at IBKR. This is usually free but fees are determined by your bank.
How To Deposit Via Bank Transfer
Notify IBKR of your intention to transfer
Go to Transfer & Pay, then Transfer Funds

Select the account you wish to deposit to using the Account Selector
Select 'Make a deposit' and choose the currency
Choose to enter new bank details by clicking 'no' when asked if you would like to use existing details. You can later save these details for future reference
Enter your bank details and deposit amount
Here you can choose if you would like to make this a regular deposit. If not, click no
To submit your request, click 'Get wire details'. A page will then appear with instructions on how to complete the transfer using your bank's transfer service

Go to your banking application and process the transaction as per the instructions
View the status of your deposit by clicking 'View Transaction History'
Demo Account
TC2000 provides a paper trading account. The demo account can be accessed by clicking the account drop-down at the top of the TC2000 trading portal. Click '+ Practice Trading Account', name the account and add your virtual deposit amount to get started.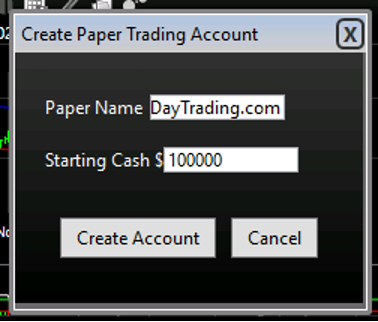 Deals & Promotions
TC2000 was not running any deals or promotions at the time of writing. This is fairly standard at highly regulated brokers.
TC2000 Regulation
TC2000 Brokerage Ltd (TCB) is registered and licensed with the Financial Industry Registry Authority (FINRA).
FINRA is a tier 1 independent regulator for brokerages and exchanges in the US. It protects traders by ensuring those licensed act fairly and honestly. It regularly examines the firms it oversees to ensure they are upholding these principles. If found to be breaching any of its key tenants, FINRA is sanctioned by the U.S. Securities and Exchange Commission (SEC) to discipline brokerages accordingly.
This should give traders an acceptable level of trust that TC2000 is legitimate.
Additional Features
The Worden TC2000 is so well-equipped that there is a learning curve for new traders. Fortunately, they do a great job of documenting how to use the platform through guides and tutorials on their website. Almost every action has a written user guide and their YouTube channel has a great selection of tutorial videos. For example, you can search for 'how to zoom in', 'how to cancel TC2000 subscription', or 'how to custom date sort'.
TC2000 software has a vast selection of technical and custom indicators, but one of its most used is the Relative Strength Indicator (RSI). This enables traders to identify whether a stock is overvalued or undervalued by measuring the speed and magnitude of price changes over time. Like all TC2000 features, they have thought about the user experience, so not only is it great to have the indicator available, it's super easy-to-use as you can tick the boxes of industries you would like to compare rather than having to type them in yourself (and read through the platform's documentation first to find out what they are).
Perhaps the most popular feature on the platform is the TC2000 EasyScan technology. It allows you to discover stocks that meet a strict set of defined criteria in seconds. Just input your desired values and ranges and press go. You can set both long-term and short-term criteria. The technology is essentially a watch list, so your scan results are stored for future reference.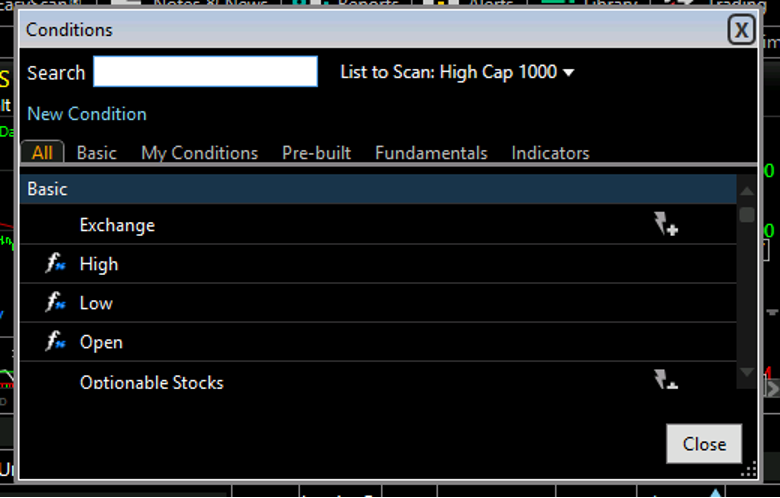 Trading Hours
TC2000 operates according to standard stock market hours which are 9:30 am – 4 pm Eastern Daylight Time (GMT-04:00).
Pre-market and post-market data are available with the TC2000 software to all account holders.
Customer Support
Worden TC2000 offers a selection of customer support services that aim to help with any questions on the brokerage site. For example, if you are having problems with the latest version, the site is down or lagging, you want to cancel your subscription, or if it's simply not working or connecting, they should be able to assist.
TC2000 offers a chat service to customers during the hours Monday – Friday: 9:00 am – 5:00 pm ET, Saturday: 10:00 am – 2:00 pm ET, and on Sundays the service is closed. Alternatively, they can be contacted at:
Via email on Support@TC2000Brokerage.com
Via telephone at 1-800-508-9150 or 1-910-550-2325
Via mail at TC2000 Brokerage, Inc, PO Box 1140, Wilmington, NC 28402
Some things do not require you to contact TC2000 directly. For example, to change your password, click 'forgotten password' on the login page. Plus, for simple user manuals, you can visit the help site found on the TC2000 top tab.
Safety & Security
While using TC2000, our experts found that the brokerage is secure and operates in a way that protects your sensitive information. Payments are taken through Interactive Brokers, which acts as TC2000's clearing house. Therefore you can be assured that you are receiving the same level of security as you would with the IBKR service.
When it comes to personal information, the firm complies with Safe Harbor Privacy Principles issued by the U.S. Department of Commerce. This provides assurance that they are using your information only where necessary and not disclosing it to third parties without your consent.
The firm is also licensed by FINRA, the highly regarded regulator which aims to protect traders from undue harm.
The only downside when it comes to security is the lack of development in their technology in recent years. This will not just impact feature development, but it also leaves the software more exposed to cyber-security risks.
TC2000 Verdict
TC2000 consistently wins awards for the best overall stock screening technology. Combine this with their SmartRouter links with Interactive Brokers, and you have a brokerage that offers user-friendly technology and great value trades. However, development has slowed in recent years, and therefore the service is not keeping up with the pace of technological change we see in some of the competitors.
Accepted Countries
TC2000 only accepts traders from United States.
Payment Methods
TC2000 Details
Minimum Trade
0.01 Lots
Regulated By
FINRA
Islamic Account

No

Mobile Apps
iOS & Android
Margin Trading

Yes

Volatility Index

No

Spot Trading

No

Perpetual Swaps

No

ELWs

No

REITs

No

AI / Machine Learning

No

Robo Advisor

No

P2P Trading

No

Negative Balance Protection

No

VPS Hosting

No

Tournaments

No

Demo Competitions

No

Managed Accounts

No

Market Maker

No

Social Trading

No

Inactivity Fee
$0
Guaranteed Stop Loss

No

Stock Exchanges

Nasdaq
New York Stock Exchange
S&P 500
Compare TC2000
Compare TC2000 with similar brokers that accept traders from your location. Among available brokers these are the most similar to TC2000:
OANDA – OANDA is a popular brand offering exceptional execution, low deposit requirements and advanced charting and trading platform features. The top-rated brand has over 25 years of experience and is authorized by leading regulators, including the CFTC/NFA. Around the clock support is available, alongside flexible contract sizes and automated trade executions.
Go to OANDA
Webull – Webull is a US-regulated trading app that offers stocks, options, forex, cryptos, ETFs, fractional shares and more. The firm is authorized by the SEC and FINRA with a strong trust rating. Low fees, no minimum investment and generous bonuses have made the discount broker popular with online investors.
Go to Webull
Forex.com – Forex.com boasts a global reputation with multiple awards and 20+ years experience. Regulated in the US, EU, UK and Canada they offer a huge range of markets, not just forex, and offer competitive fees on a cutting-edge platform. The brand also provides a suite of additional tools, from performance analytics and SMART Signals to advanced charts and strategy builders.
Go to Forex.com
TC2000 Comparison Table
Compare TC2000 With Similar Brokers
TC2000
OANDA
Webull
Forex.com
Rating
3
4.5
4.4
4.5
Markets
Stocks, Options, Futures, Mutual Funds, ETFs
Forex
Stocks, ETFs, options, cryptos, forex, ADRs, fractional shares, OTCs
Forex, CFDs, Stocks, Indices, Commodities, Cryptos, Futures, Options
Demo Account
Yes
Yes
Yes
Yes
Minimum Deposit
$2,500
$0
$0
$100
Minimum Trade
0.01 Lots
$0
$5
$1
Regulators
FINRA
CFTC, NFA
SEC, FINRA
CySEC, IIROC, NFA, CFTC, FCA, CIMA, CIRO
Bonus
–
$5,000 welcome bonus with a deposit of $500
Six free stocks
–
Education
No
Yes
Yes
Yes
Platforms
–
MT4, TradingView, AutoChartist
–
MT4, MT5, TradingView, AutoChartist, TradingCentral
Leverage
–
1:30 EU, 1:200 Global
–
1:200
Payment Methods
3
12
3
8
Visit
Visit
Visit
Visit
Visit
Review
TC2000
Review
OANDA
Review
Webull
Review
Forex.com
Review
Compare Trading Instruments
Compare the markets and instruments offered by TC2000 and its competitors. Please note, some markets may only be available via CFDs or other derivatives.
Compare TC2000 Trading Instruments

| | TC2000 | OANDA | Webull | Forex.com |
| --- | --- | --- | --- | --- |
| CFD | No | No | No | Yes |
| Forex | No | Yes | Yes | Yes |
| Stocks | Yes | Yes | Yes | Yes |
| Commodities | No | Yes | No | Yes |
| Oil | No | No | No | Yes |
| Gold | No | Yes | No | Yes |
| Copper | No | Yes | No | No |
| Silver | No | Yes | No | Yes |
| Corn | No | Yes | No | No |
| Crypto | No | Yes | Yes | Yes |
| Futures | Yes | No | No | Yes |
| Options | Yes | No | Yes | Yes |
| ETFs | Yes | No | Yes | No |
| Bonds | No | Yes | No | No |
| Warrants | No | No | No | No |
| Spreadbetting | No | No | No | No |
| Volatility Index | No | No | No | No |
TC2000 vs Other Brokers
Compare TC2000 with any other broker by selecting the other broker below.
FAQ
Is TC2000 Good For Day Trading?
TC2000 is a good option for day traders looking to trade stocks and options from charts. It offers powerful trading charting software with extensive market data and rich analysis capabilities. The brokerage is also regulated by the US FINRA.
Is TC2000 Worth It?
TC2000 is an expensive tool, costing $59.99 per month for the platinum service. Whether it is worth the investment is entirely based on your forecasted profit. If you are trading regularly and expect to return $600 per month, an investment in TC2000 is nearly 10% of your profits. However, if the tool could save you 50% of the time spent selecting stocks, it opens you up to executing more trades, potentially creating high-profit margins.
Who Owns TC2000?
TC2000 Brokerage and the sister company, TC2000 Software, are owned by Worden Brothers Ltd. The firm is based in North Carolina and has been trading since 1998.
Is TC2000 Free?
The TC2000 software is not free. Pricing plans start at £9.99 per month for the Silver tier and up to $59.99 for the Platinum account. The firm does offer a paper trading account where you can practise using the software before you purchase a subscription.
Is TC2000 Safe?
TC2000 Brokerage is relatively secure as it uses Interactive Brokers (IBKR) SmartRouting for all its trades. Not only is this a trusted and well-established brand, but it also means your trades are executed at the lowest price possible. The TC2000 stock screening tool is award-winning technology and has earned its reputation as one of the best tools under $500 among readers of The Technical Analysis of Stock & Commodities magazine.
Does TC2000 Have Crypto?
TC2000 brokerage does not facilitate crypto trading. Instead, US stocks, futures, options and ETFs are available.
Does TC2000 Have Futures?
Yes, TC2000 offers futures as well as US stocks, options and ETFs.
Visit
TC2000 offers margin trading on US equities with powerful charts and stock-picking software.