TradingView
TradingView Inc. is an online platform that allows users to engage in the technical analysis and speculation of financial assets using charts, indicators and drawings. The platform is also one of the largest social networks on the web for traders and investors, which means that tips and strategies can be shared. This 2022 tutorial will explain how to use TradingView, from the tools and features to download instructions and mobile compatibility. We've also listed the best TradingView brokers below.
Indicators
Indicators are tools that help to interpret the charts and price data found on TradingView and are used to visualise financial information. Indicators can help confirm a trend or predict where the price of an asset will move next.


TradingView offers a range of indicators, although the number that can be used per chart varies according to the account you choose. For example, the Basic (free) plan allows only three indicators per chart and the Pro plan allows five indicators per chart, whereas the Premium account allows 25. A trading indicator is a useful tool and, whether you want 9 or 15 to be used on the same chart, the TradingView Premium account allows you to do that.
Traders using TradingView can also create their own indicators and strategies using Pine Script, which is the platform's programming language. This is all part of the company's desire to not just be a standard trading platform but also a network for collaboration. If you are pondering over TradingView vs TrendSpider, remember that both of these platforms offer historical data replay for backtesting your trading strategies.
A popular indicator on TradingView is the volume profile, which shows the level of trading activity at different price levels. There are even different types of volume profiles, one of which is visible range (VPVR). In addition to this indicator, you can use a buy/sell tool and an exponential moving average (EMA) chart indicator. Moving averages can vary in length of time, for example, you could have a 3 day, 4 day, 8 day, 9 day, 44 day, 50 day, 20 week or even 200 day moving average.
Other types of indicators and trading calculators include:
The M-Oscillator
Tools to calculate risk and reward of a particular trade
Relative Strength Index (RSI) – analyses price movement
Average True Range (ATR) – focuses on volatility, rather than the direction of price
Profit & Loss (P&L) – can be applied to charts on TradingView to show profit and loss from a specific position
Market Cipher (e.g B) – simply create an account with TradingView to get access to this trading indicator and oscillator
TradingView users will not be short of indicators to use. The platform itself has created more than 100 and over 100,000 more are community-built, such as the super Z, created by a user named RafaelZioni, and an indicator based on the Sonic R System. These tools could prove to be crucial in supporting your chosen trading approach, for example, a 3 bar play strategy.
Charts
A chart usually shows the price movement of an asset over time. Like with indicators, the number of charts you can have on TradingView in one window/layout varies depending on the account you have. The Basic plan only allows for one chart per tab, the Pro plan allows for two charts in one window, the Pro+ account doubles this to 4 charts in one layout and the Premium account doubles it again to eight charts in one layout.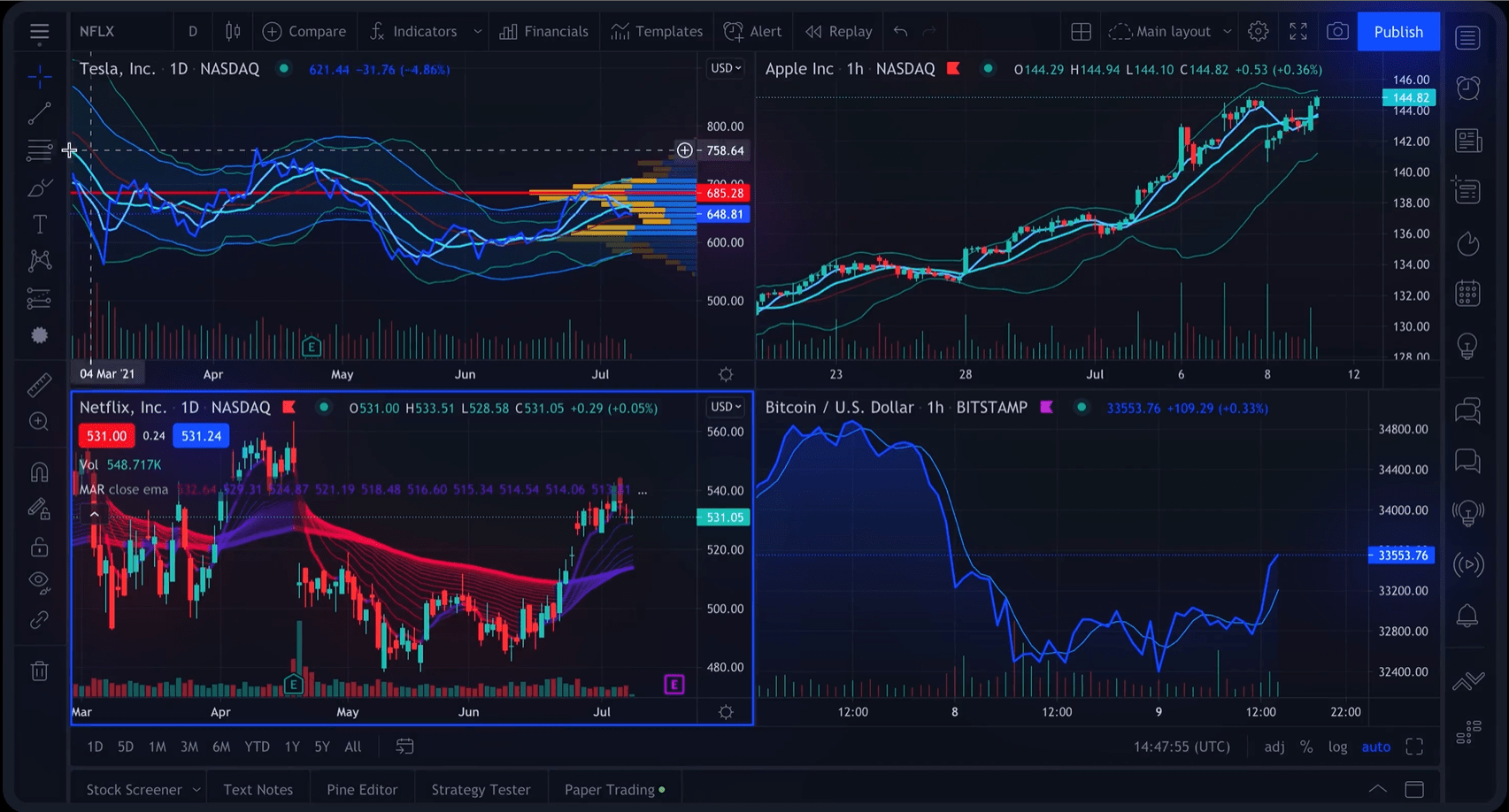 There are 12 different charts available on TradingView, including Renko charts, which is a Japanese invention that allows traders to more clearly see the trend of an asset without being distracted by minor price movements or anomalies. Many traders' strategies will focus on following trends but the difficulty can be in understanding the strength and trajectory of that trend. Charts can help simplify this. At their most basic level, they generally consist of time running along the x-axis and the value of the asset running along the y axis.
There are also options for traders to invert the price scale on the chart and the 'Add' function allows users to overlay symbols onto existing charts. In July 2020, TradingView released Lightweight Charts 3.0 to make the graphs easier to use and more helpful to traders. TradingView users can also write a bullet journal in the text box underneath the chart or jump to a specific date on the chart through the 'Go to' tool. In 2014, the platform integrated Quandl, which allowed for Quandl data to be used on multiple TradingView charts or from Pine Script.
So, for those traders with a major focus on technical analysis, the charts available on TradingView will help to interpret price movement and volatility and calculate the most appropriate entry and exit points in the market. You can also go into a night/dark mode/theme for a slightly different experience.
Example Chart
Drawing Tools
With more than 50 drawing tools available on TradingView, you can draw lines and curves to help identify trends, the range of price volatility and which way the price of an asset will move next. The Long and Short Position drawing tool helps to show potential profit and loss, amongst other useful information.
Fundamental Analysis
Underneath the charts on TradingView, you will be able to find fundamental data relating to various assets, such as total market cap, volume and number of employees, to help supplement your technical analysis. The best trading strategies usually incorporate a mixture of fundamental and technical analysis.
Markets
Although TradingView's offering of trusted and integrated brokers is limited, the platform provides graphics and data for a wide range of assets, including crypto. Additionally, TradingView provides data regarding the top gainers and top losers in various markets.
The full list of markets (along with examples of the assets in them and their relevant symbols) on TradingView is below:
Data is available from over 90 exchanges across the world. TradingView offers as much free data as possible from these markets, though there may be a delay in feeding the data for some markets, so traders that require real-time data may need to purchase that separately.
TradingView offers 'Level 2' data from a selection of brokers, which provides additional information, such as the number of open buy and sell orders at different prices.
Many investment strategies across a range of markets also use the 52 week high and low figures, more information on this can be found on the Script section of the TradingView website.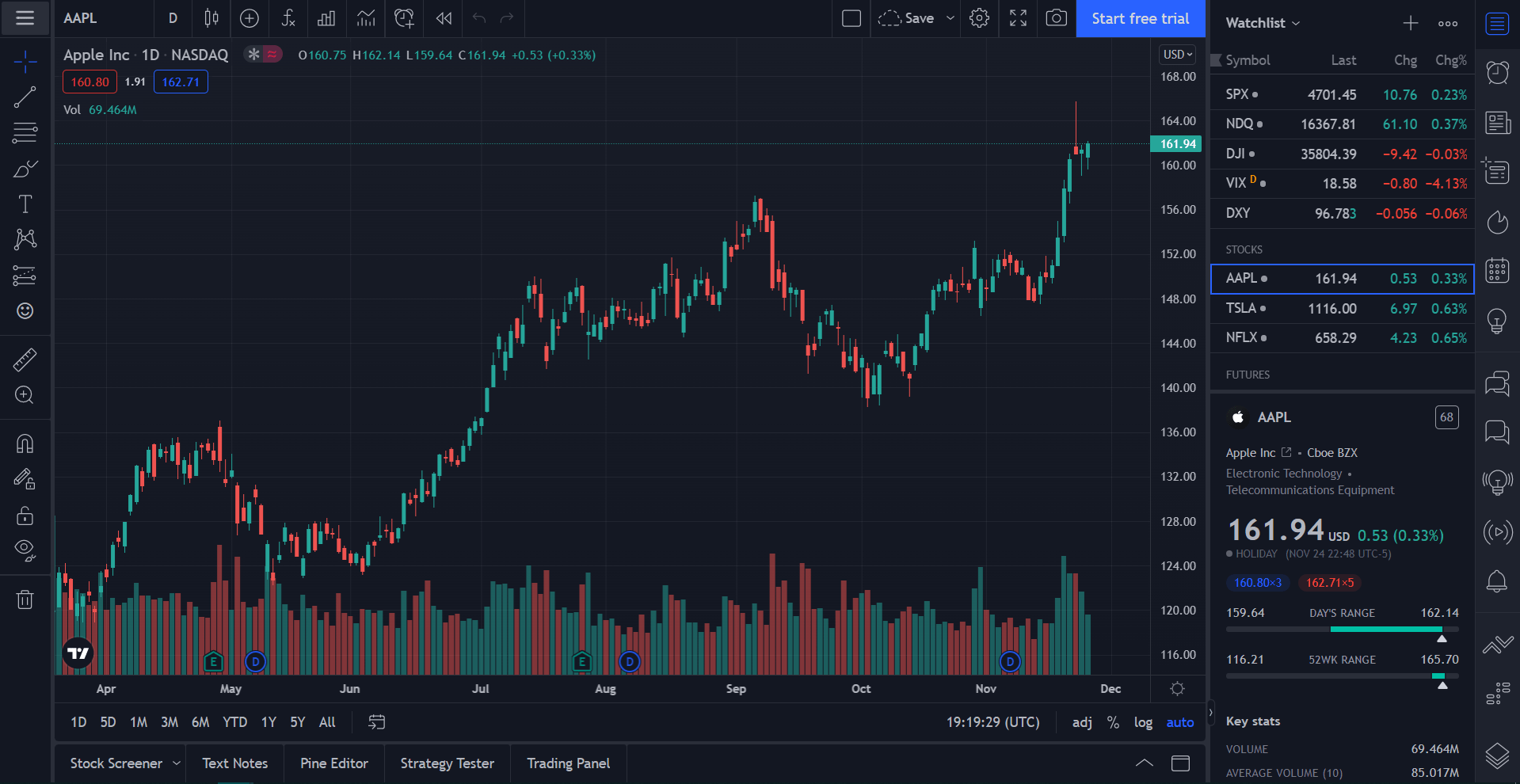 Other Features
Alerts
Clients using TradingView can add alerts, for example, to provide signals as to when the value of GBP/USD is greater than or less than a certain amount, or to allow them to monitor the price of gold. In total, there are 12 different types of alert conditions. You can choose an expiry date for the alert and decide how you want to receive the alert (e.g email, app, pop up etc.).
The option of a webhook is also available on TradingView, which means a POST request will be sent to your chosen URL if the alert is triggered.
Traders can add assets and indices (e.g the S&P 500), alongside futures and options (F&O), to their watchlists on TradingView. This means that data like price and percentage change is easily visible on the chart interface in a list format. Users can also import, export and share watchlists, to give inspiration and ideas to other traders.
Market News
Within the chart interface, traders can get easy access to market news (e.g Bitcoin falls below $60,000) and the TradingView economic calendar, which lists financial events and data releases that could impact the price of an asset or derivative.
Breaking news and general updates for a range of different assets are also available on the TradingView website outside of the chart section. The platform also provides the data needed for fundamental analysis of major stock exchanges, such as financial statements.
Social Media Network
TradingView is much more than just a trading platform. It is a network that brings traders and investors together to collaborate and share ideas in the hope that this leads to better-informed decisions. The platform hosts the largest social network on the web for traders and investors.
Traders will be able to view public chats next to charts, with discussions on forex, cryptocurrencies, stocks and much more. Elsewhere on the TradingView website, you can access articles written by other traders, including discussions on cryptos with high potential and the direction of major currency pairs. Not all discussions focus on assets, though, some focus on general trading tips around indicators or tutorials on tracking a stock portfolio on TradingView.
Traders with more experience may even wish to write their own articles and contribute to the TradingView network, as users such as Yuriy_Bishko, e-Yuan, XForceGlobal, yildizli_m, and 360 have done. Articles might be focused on charts like market profile, how to use those tools through specific trading strategies, such as one that utilises the 5-0 Pattern, or how to follow order flow. One particular trading idea published on TradingView claims that a yield curve representing the difference between the 10 and 2-year treasury yield is a useful indicator for estimating Bitcoin's future price direction. So, there are plenty of useful tips and ideas out there.
Some trading strategies on TradingView claim a rate of 90 per cent profitable trades. Get more ideas and forecasts for specific markets (e.g Gold Spot/USD or XAUUSD) on the platform's website.
In addition to the written content on the company site, regular live streams broadcast tutorial clips, including trading strategies, and other videos like market updates on forex, crypto, indices and commodities.
Screeners
TradingView offers a screener tool for users to filter stocks, forex and crypto according to particular variables, such as market cap, price changes over the previous month and the level of volatility. The screener also allows you to filter using pre-market data.
These tools are useful if you do not have a particular asset in mind that you want to invest in but want an asset that fits within certain parameters, such as a market cap over $1 billion.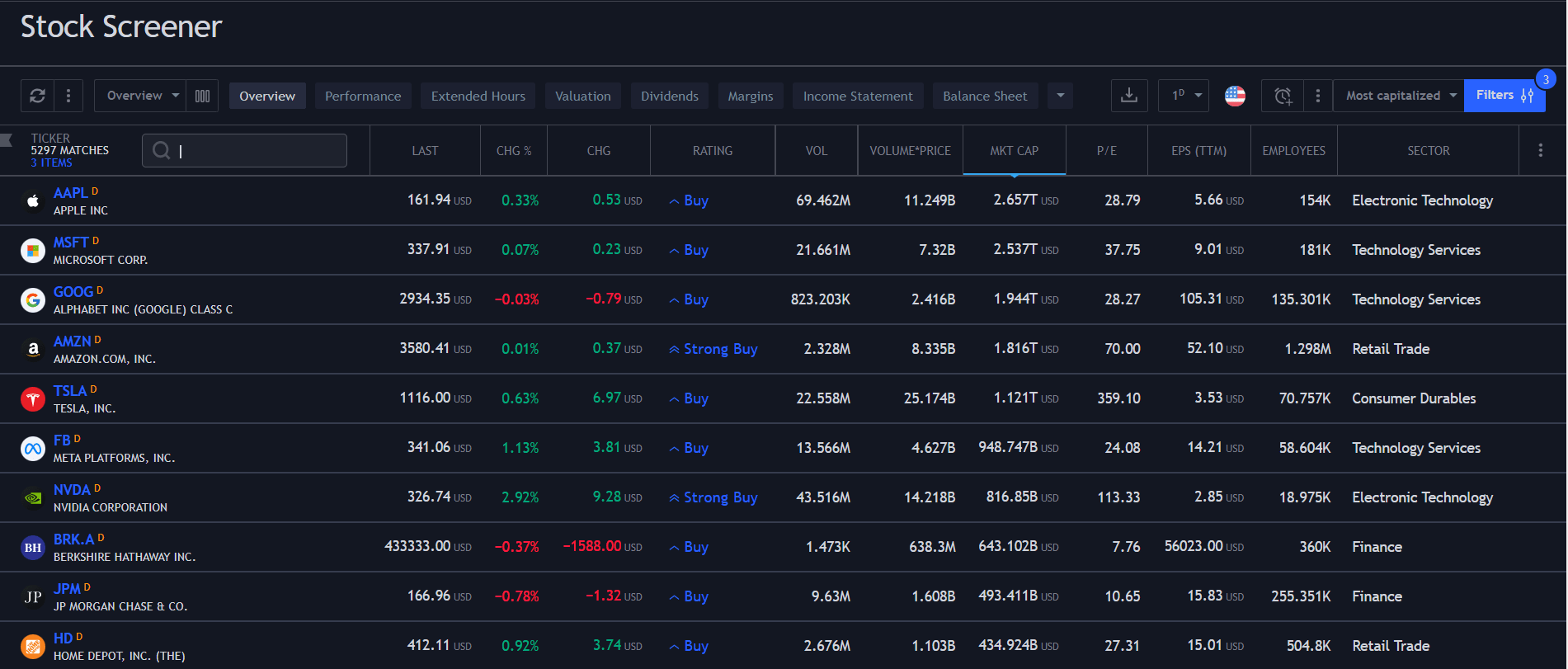 TradingView also has a stock and crypto heatmap that gives a fantastic visual picture of the state of overall market performance and the market cap of individual assets. Assets that have seen significant negative growth will be red, whilst those that are increasing in value will be green. Those only seeing very little movement (e.g 0.03%) are grey-coloured.
API
TradingView offers an application programming interface (API), which is a useful tool for developers that wish to embed the platform's charts in their own website or application (e.g as widgets, which will usually include the TradingView logo), for example using Python or JavaScript (JS). This means that traders do not need access to the raw data.
Depth Of Market
Depth of market (DOM) is also known as the order book and is a tool that can be used on TradingView, provided you are connected to a broker who supports Level 2 data. DOM shows the number of open buy and sell orders at different prices to gain insight into where the supply and demand is.
Usability
The chart interface is fairly self-explanatory and easy to use. There are a lot of tools, though, so spend time getting used to where each one is and what they do. The tools run down the left, right and top of the webpage.
The good news is that there is a built-in help centre on the platform that assists with a range of common issues, such as how to remove all drawings and indicators from the chart and information on indicators like the Zig Zag indicator. This means you can get simple answers to your queries without exiting the charting software.
Bots, such as the Dollar Cost Averaging Bot, can be created on websites such as 3Commas, to help automate your trading. Traders may then be able to backtest some of these algorithmic trading strategies on TradingView to assess potential performance.
If there is a specific section of a chart that you wish to take a closer look at, TradingView allows you to zoom in (and out), so you can go to a specific date (or dates). There are also keyboard shortcuts, hotkeys and quick keys for this. The shortcut for zooming in on a Mac device is Command + Up Arrow. There has been discussion on Reddit about the zoom function on TradingView not working, as well as some advice on how to zoom vertically (i.e stretch the y-axis).
TradingView also allows you to create new windows so you can trade on two screens, for example.
Beginners
The fact that TradingView offers so many different indicators, charts and drawing tools can make it overwhelming to an amateur trader, especially those that may not be familiar with technical analysis.
We would recommend taking time to fully understand the theory behind technical analysis and the most common trading strategies before attempting to use the tools on the platform.  Also, do not feel the need to make use of every single tool straight away. For example, start with testing a smaller number of the TradingView indicators (perhaps up to three) on a single chart, before increasing that number. The same goes for the number of charts you use on one screen.
Whether you are in the UK, the US or elsewhere, the good news for beginners on TradingView (vs say MetaTrader 4 (MT4) or 5 (MT5)), is that you do not have to choose a broker straight away. You can get to grips with the platform and understand the charts before actually choosing to sign up or login with a broker to execute trades.
Mobile App
TradingView does offer a mobile app that is available to download from the Apple App Store or Google Play Store (APK Android download). The app is great for those that like to keep up-to-date while on the go using a mobile or tablet (e.g on an iPad) device and monitor their watchlist, however, it is usually easier to draw and analyse charts on a desktop.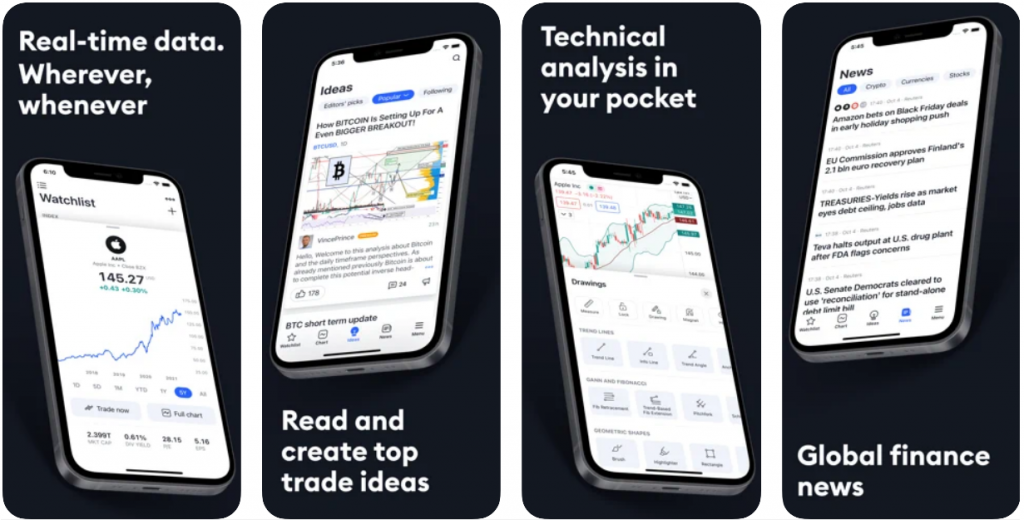 Pros
Useful API system
Integrated, customisable alerts
No brokerage account required
Large range of assets to analyse
Hundreds of thousands of indicators
Basic (free) plan gives access to many tools
Input of trading community adds to the resources available
Cons
Some indicators and strategies are complex
Limited number of brokers that are integrated with the platform
How To Download
The TradingView platform can be accessed through your browser (e.g Google Chrome) via the TradingView website, which can be found using a simple Google search.
However, you may find that the TradingView platform for desktop use offers a faster experience. The software can be downloaded to Windows, Mac or Linux computers, though Windows 7 and 8 will not suffice – it needs to be Windows 10 or 11 (64 bit not 32 bit). Other options for using TradingView are available in the form of using your mobile or tablet device by downloading the app.
To carry out trades directly through the TradingView platform, you must use an authorised broker from the company's list. If you wish to use a different broker, you would need to conduct the trades on that broker's site rather than through TradingView. Alternatively, you can try to request that the broker integrates their system with the TradingView platform to connect the two. Remember that, even if you do choose a broker from within the platform, that does not make it free – you will still be liable for their fees.
Reddit hosts several threads about whether it is possible to integrate brokers/exchanges, such as Kraken, Zerodha, Questrade and KuCoin with TradingView.
Prices
It is quick and easy to create a TradingView account. The different plans are detailed below:
Basic Plan
The TradingView Basic plan is the only free account that you can sign up for. Although it is unsurprisingly more basic in terms of its offering, this $0 account does still provide access to the pre-built and community indicators, as well as the many drawing tools. However, only one active alert is allowed.
We recommend trying out TradingView's features on this account before thinking about the paid plans, though seasoned traders may wish to dive straight into the more advanced plans.
Pro Plan
The Pro plan has a price of $14.95 a month. The key benefits of this TradingView package are that you can use five indicators per chart and have two charts in one window/per tab, in addition to the ability to have 20 active alerts.
TradingView traders that have a paid plan (i.e Pro or above), can set any time-based bar interval, from 1 minute to 12 months. So, whether it's a 2 minute, 5 min, 1 hour, 4 hour (4h), 6 hour (6h), 8 hour, 12 hour, 2 day (2d), 3 day (3d), 3 month or 7 month chart you require, TradingView supports it. The time interval you set (e.g 4 hours, 6 hours, 4 months etc.) will depend on your trading strategy and whether you are investing for the short, medium or long term.
Pro+ Plan
We now get into the more expensive end of the plans. Pro+ is $29.95 a month and allows for 100 active alerts to be open, as well as the option to create custom chats on TradingView's social network (something that is not possible with the Basic and Pro packages).
Premium Plan
At the top end of the TradingView plans is the Premium Plan, with a monthly cost of $59.95, significantly more than the Pro and Pro+ accounts. On all paid plans, you can pay for a yearly subscription, which is $360 a year for the Premium plan (a 50% discount off the monthly price if you subscribe for 1 year). The difference between this TradingView package and the others is its chart offering, alerts, indicators and certain other features.
More alerts are offered, in addition to 8 charts in one layout and 25 indicators per chart. There is also the option for alerts that do not expire. The expense of this plan would likely only be justified for more experienced and professional traders that require these additional features.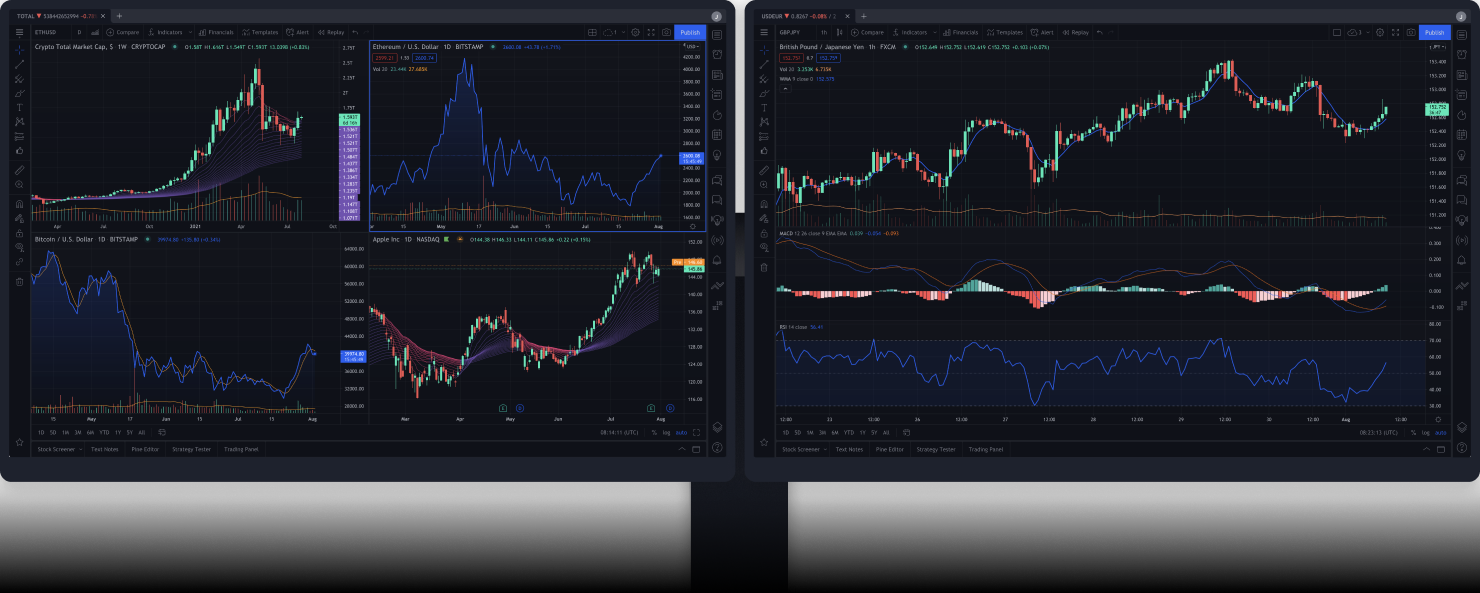 Plans can be cancelled at any time, although TradingView does not offer a refund for first-time purchases.
Demo Account
Paper trading on TradingView allows users to test trading strategies using 'fake' money. In other words, it is a demo account with no real risk as all markets situations and capital are simulated. We would definitely recommend traders, particularly novices, make use of this feature to get to grips with things.
Promotions
All paid TradingView plans give a free trial of almost 1 month (30-day trial), so you can see which is most suitable for your needs before committing.
There is also discussion on Reddit about TradingView making various discount offers if you sign up, as well as talk of an upgrade for 1 dollar ($1) offer, a previous discount of 60 per cent off an annual plan and 6 months free on a yearly subscription.
Customer Support
No direct contact for customer support is offered by TradingView to those on the Basic Plan. Those who pay more for their plans will have tiered priority access to customer support. Questions can be sent and will be responded to during business hours (Monday-Friday 04:00 – 15:00 EST).
The TradingView Help Centre also provides answers to common queries, such as how to set up 2-factor authentication (2FA), which involves using two devices to login for security reasons, and provides clarity on technical terms like the meaning of a price to sales (p/s) ratio. The Scripts section of the TradingView website also helps with some technical aspects, such as the meaning of the price/earnings (p/e) ratio.
TradingView has a community on Reddit with moderators that sweep the site so you may be able to get a response from them on there. Discussions often appear on Reddit (which has an app) when things are not working/will not load or people need assistance with a TradingView feature – for example, a thread appeared when charts were not loading on Binance Futures and there were discussions about 401 and 429 (too many requests) errors appearing.
Other examples of Reddit discussions relating to TradingView are when a user complained that their chart keeps refreshing, a complaint that one's desktop kept freezing, a query over whether it is possible to change the 24h clock format to a 12-hour clock format, a request for information on how to get reputation points and a user claiming that they cannot access their TradingView account via Facebook.
With regards to the firm's social media presence, TradingView has accounts on Twitter, Facebook (FB), LinkedIn, Instagram, a YouTube channel and accounts on other platforms like TikTok. TradingView has previously Twitter to explain solutions when things are not working. The company also has a presence on GitHub, which is a software development platform.
In addition to those created by TradingView, YouTube has third-party videos on topics like how to use the platform, as well as videos on various technical terms, such as the z-score indicator. One video on YouTube covers how to find the VIX 75 Index (or Volatility 75 Index) on TradingView.
Final Word On TradingView
TradingView is a competitive trading platform with a wealth of resources, including chart types, indicators and customisable trading alerts, lots of which are available for free and with no brokerage account. Paid plans can be purchased for greater flexibility regarding active alerts, networking and numbers of concurrent windows and indicators that can be used. There is also a range of features that help to plan and test strategies, implement algorithmic trading approaches and analyse market data. TradingView can be used directly with approved brokers or indirectly and connected through its API.
FAQ
Is TradingView A Broker?
No. TradingView is a platform used primarily for technical analysis, though it can connect directly to supported third-party brokers and software and indirectly through its application programming interface.
Is TradingView A Good Platform?
TradingView has a strong reputation amongst the trading community as it provides masses of data and indicators to identify opportunities across a range of markets. Critics point out that only a limited number of brokers are integrated with the platform.
Is TradingView A Public Company?
No. TradingView is a private company and is not traded on a public stock exchange.
Is TradingView A Trading Platform?
Yes. TradingView can be used as a trading platform if the broker you wish to use is integrated with the software. Otherwise, the package can only be used to analyse securities and derivatives, while the actual trades must be placed directly with a brokerage.
Is There A TradingView App For PC?
TradingView desktop can be downloaded onto Windows, MacOS or Linux. One of its benefits is that multiple monitors can be used when trading on the desktop client.