Revolut Review 2023


Traders in United States welcome
Revolut is a popular financial app that also offers trading on equities and digital currencies.
Pros
Regulated by top-tier financial watchdogs
Free mobile trading application
Beginner-friendly
Crypto trading
Cons
No margin trading
Relatively narrow product range
Limited sign-up offers and bonuses
No advanced desktop trading platform
Risk Warning – Your capital is at risk
Revolut is an established fintech company and super-app, best known for its innovative approach to digital money management. Now available in multiple countries and locations, the application provides basic financial management features and in recent years, the company has also turned its hand to retail trading services. With the offer of low-cost, easy-access investing, our review breaks down the mobile platform's features and trading fees.
We also give details on the customer support available and live account options. Find out whether to sign-up with Revolut today.
Revolut is a financial technology company. Banking services provided by Metropolitan Commercial Bank, Member FDIC.
Securities products and services provided by Revolut Securities Inc, member FINRA/SIPC. Securities products are not insured by the FDIC or any federal government agency, are not bank deposits, are not obligations of or guaranteed by Metropolitan Commercial Bank and are subject to investment risks, including possible loss of the principal amount invested.
About Revolut
Revolut came onto the financial scene in 2015. Alongside the likes of Monzo and Starling Bank, it has revolutionized the traditional banking and investment sectors. The proposition was simple – digital banking made easy.
The service aims to provide all the tools for users to easily manage, spend, borrow, invest, and protect their money. And the user-friendly approach has proved popular, with clients keen to take advantage of competitive exchange rates, travel insurance and the convenience of secure mobile banking.
Global milestones include:
2017 – Launches Revolut Business, Revolut Premium, crypto trading in EEA
2018 – Granted a banking licence by Bank of Lithuania and launches Revolut Metal
2019 – The company launches its first commission-free equities trading service, provided by Revolut Trading Ltd
2020 – Launches in the USA. Reaches 14.5 million customers worldwide
2021 – Successfully raised Series E funding of $800m, to continue to build the first global financial super-app. Launched 'Stays', making it easy to book holidays directly from your Revolut app.
Company Details
Today, over 20 million customers are using Revolut globally. The company's services are available in more than 200 countries including the UK, USA, Australia, Singapore, and Japan, with 30+ supported in-app currencies.
A 2021 valuation pegged the company at 33 billion US Dollars, making it the most valuable British tech start-up.
Revolut's headquarters (HQ) office is located in London. The founder and current owner is British-Russian entrepreneur, Nikolay Storonsky.
Trading Platform
The Revolut trading platform is an extension of its existing mobile banking app, though a web version is also available. It is available for free download to iOS and Android devices from the the Google Play Store and Apple App Store.
When we used the Revolut platform, we thought it was user-friendly with simple navigation features and a customizable interface. All the key functionalities such as price alerts and limit orders can be viewed quickly and easily. One-click trading is also available.
On the downside, veteran traders that conduct detailed technical analysis may be disappointed by the lack of advanced charting capabilities. Though, our experts feel for longer-term equities investing the platform is suitable.
Key features of the investing platform include:
Commission-free equities trading
Set watchlists of assets of interest
Six timeframes (1D, 1W, 1M, 3M, 6M, 1Y)
Trade in fractional shares, from as little as $1
Set notifications when stocks hit a pre-determined price
Explore companies' performance and stay up to date with live market news
Build savings vaults and hold cash in 25+ currencies with up to 1.2% annual yield
Buy Bitcoin, Ethereum and other tokens with 30+ currencies. Make trades with a tap from just $1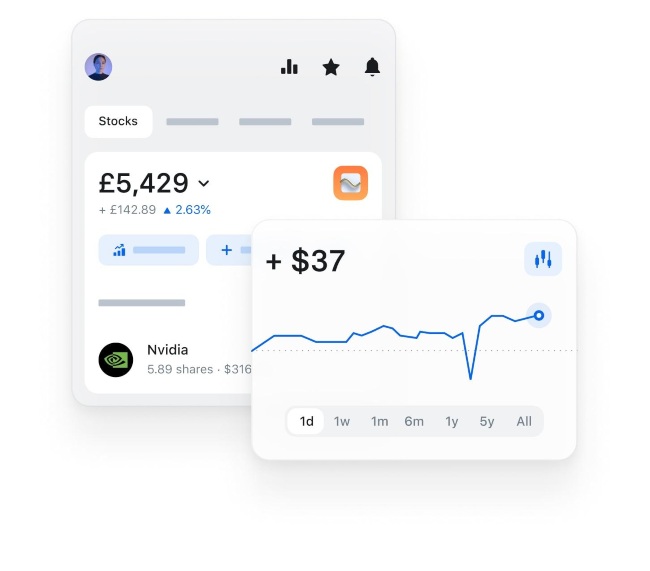 Assets & Markets
Revolut offers a limited range of investment products, though we would expect this to increase as the company expands its trading services:
Invest in 2000+ global companies' shares including Apple, Amazon, Tesla and Zoom
Trade 30+ cryptocurrencies including Bitcoin (BTC), Ethereum (ETH) and Ripple (XRP), plus emerging tokens
In addition, fractional shares are offered. As the name suggests, fractional shares offer partial ownership. The key benefit is lower barriers to entry, meaning beginner investors or those with limited capital can start trading.
Dividend payments are also paid out to users. You can invest with as little as $1 in global company shares.
Note, ETFs, CFDs and options are not provided. Forex trading is also not supported.
Please note that Revolut is frequently updating its products and features, see the Revolut Terms and Conditions for the latest offerings.
The content of this review does not concern any customers that are based outside of the US.
Revolut's cryptocurrency services in the US are provided directly by Paxos Trust Company. As a reminder, please note that cryptocurrencies are not FDIC or SIPC Insured and that investments in cryptocurrencies may lose value.
Account Types
Revolut offers several account types to suit the needs of all investors. All profiles are considered general investment accounts. The key difference between the account types is the cost and trading fees, though access to additional features and benefits such as currency exchange limits, interest on savings and discounted international transfers, improves between the tiers.
Each account comes with a free digital MasterCard which can be used abroad plus full access to the bank's mobile application.
Junior ISAs, Lifetime ISAs, Stocks and Shares ISAs, and Joint Accounts are not currently supported, though the company has indicated that they are likely to be made available in the future.
Note, to use the online trading platform, you must open a Revolut bank account.
Standard Account – Free
Trade crypto commission-free up to $200,000 per month
$1200 per month no fee out-of-network ATM withdrawals
10 fee-free international transfers per month to any bank account
Exchange in 28+ fiat currencies up to $1000 per month with no hidden fees
Premium Account – $9.99 per month
Premium card
Priority customer support
Earn 0.07% APY on savings
$1200 per month no fee out-of-network ATM withdrawals
10 fee-free international transfers per month to any bank account
Trade cryptocurrency commission-free up to $200,000 per month
Exchange in 28+ fiat currencies up to $1000 per month with no hidden fees
Metal Account – $16.99 per month
Priority customer support
Earn 0.07% APY on savings
Exclusive Revolut Metal card
$1200 per month no fee out-of-network ATM withdrawals
10 fee-free international transfers per month to any bank account
Trade cryptocurrency commission-free up to $200,000 per month
Exchange in 28+ fiat currencies up to $1000 per month with no hidden fees
How Can I Sign Up For A Revolut Account?
Opening a trading profile is quick and easy, though first you need to register for a Revolut bank account. Accounts are available to anyone over 18. When we registered, we were signed up and ready to invest in less than five minutes.
Once you have opened a bank account, simply download the free mobile app, submit your details and wait for the information to clear.
When your account is live, you will have complete access to the firm's payment and investment services. There are no charges associated with registration and there is no minimum deposit to open a Revolut account.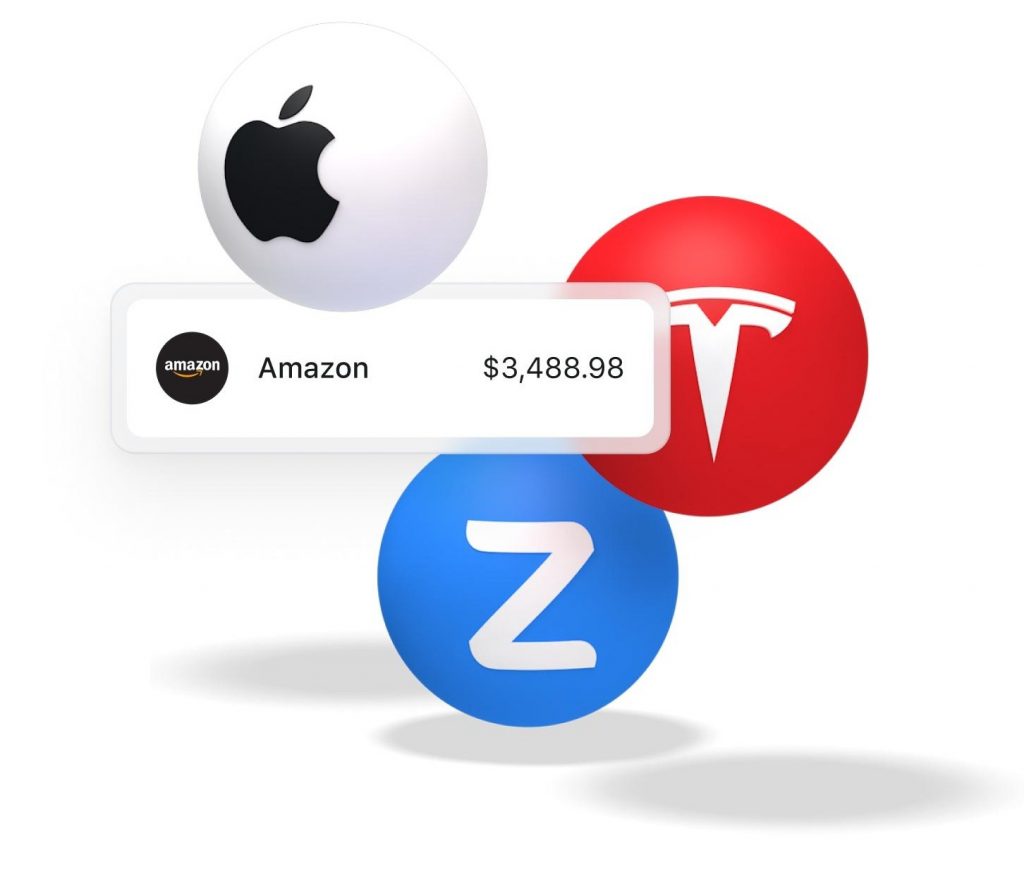 Fees
Trade crypto commission-free up to $200k per month on all Revolut plans. After this, you will be charged a crypto commission fee of up to 2.5% for standard plan customers and 1.5% for premium and metal account customers. US clients can buy and sell listed stocks commission free.
Exchange rate charges may apply if you are converting to a currency other than USD. Standard account customers can make up to $1,000 of exchanges at the basic rate each month (up to 1%). A higher fee applies outside foreign-exchange-market hours so bear this in mind when loading your day trading account (up to 2%).
Note, these fees do not apply to premium and metal account customers. International transfers to an external bank account in the same currency as the local currency of the recipient will cost 0.3% of the transfer amount, with a minimum cost of $0.30 and a maximum cost of $6 per transaction.
Revolut does not charge any fees for depositing or withdrawing funds. There is also no requirement to trade regularly as the platform does not charge inactivity fees.
It is worth pointing out, however, that all clients must pay an annual custody fee of 0.12% on the market value of your assets. Previously, the custody fee was only 0.01%. So if your portfolio holds 1,000 USD worth of assets, the annual custody fee will be 0.12 USD.
Leverage Review
At the moment, Revolut does not offer any leveraged trading opportunities. This means you cannot purchase stocks with a small amount of capital and take a larger position in the market. It would be good to see this in the future as the company expands its trading services.
Payment Methods
Revolut does not apply a deposit fee for any payment methods, although third-party charges may apply. Remember, you will need to fund your trading account from your Revolut bank account, which can be topped up via the accepted payment methods below.
Processing times will vary between payment type; bank wire transfers can take up to five working days to clear.
When we used the Revolut platform we were pleased with the no minimum deposit requirement, ideal for new traders to get started.
Accepted methods include:
Bank Wire Transfer
Direct Deposit And Early Salary
Revolut Transfer  – From other Revolut users
Apple Pay/Google Pay – Apple Watch also accepted
Mobile Check Deposit – Electronic paper check upload to a Revolut USD account
Credit/Debit Card – MasterCard, Visa and Maestro cards. Load money in the currency that your card is held in, for example, if you have a US bank account, load your account in USD. Conversion fees apply if not
Clients cannot make more than 50 transfers in 24 hours or more than 200 transfers in 7 days.
Demo Account
Revolut does not currently offer a demo profile for new investors. However, customers are able to open a live trading account without an initial funding requirement.
Simply sign up for a banking profile to enter the trading environment. You can gain full access to the platform for no cost. We would recommend spending some time getting used to the app features before investing your own personal funds.
Regulation & Licensing
Revolut is regulated as an e-money institution in all countries of operation. It is worth understanding which Revolut entity you receive services from, to ensure you are clear on the levels of protection and support.
Securities products and services are provided by Revolut Securities Inc, a member of FINRA and SIPC. Funds are held by Metropolitan Commercial Bank, Member FDIC, and are insured by the FDIC for up to $250,000.
Additional Features
When it comes to trading resources, Revolut falls short. When we used the Revolut app, only basic market research and technical analysis could be conducted, which may not be suitable for more experienced day traders.
Nonetheless, the Revolut blog integrates product announcements, user stories and technical posts. Though limited in the way of trading education, there are some useful 'how to' posts and access to the latest market news.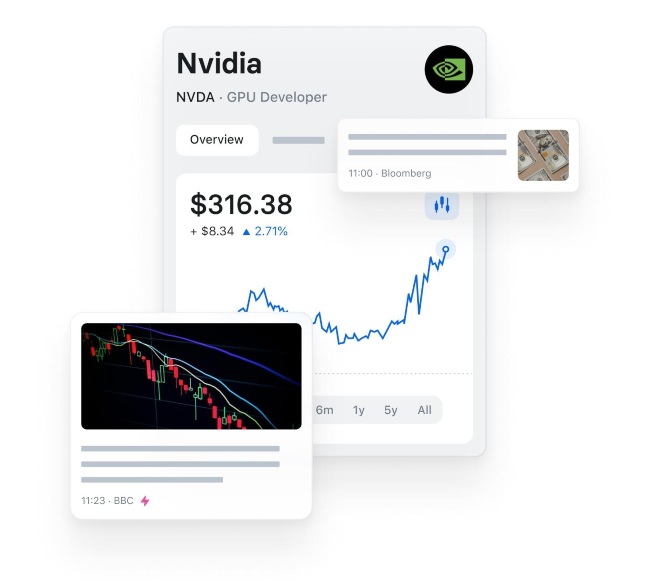 Customers also benefit from several useful extras:
Junior – an account for children aged 6 to 17, controlled by adults. Users can learn to budget and spend responsibly through the app and card while parents retain ultimate control over finances.
Early salary – customers can receive salary payments two days early through direct deposits to Revolut accounts. There are also no fees for this perk.
Group bills – split and settle expenses with ease. The centralized app lets users input spending and divide bills in a few straightforward clicks.
Budget & analytics – aggregate your finances and review your spending daily, weekly, monthly or annually. Get visibility of where you're spending your money each month, from travel to eating out.
Lounges & smart delays – get free lounge access when your flight is delayed. Vouchers are available for 48 hours and Revolut has links with 1,000 lounges worldwide.
Pros & Cons
Benefits
Bitcoin trading
Multi-regulated
No inactivity charges
24/7 live chat services
Secure online banking
Send money to 200+ countries
Several deposit & withdrawal options
Commission-free crypto trades available
User-friendly desktop & mobile platform
Various account types with different benefits
Secure trading environment & login protocols
No hidden international transfer and exchange fees
Drawbacks
No demo account
Limited product portfolio
No contact telephone number
Limited educational content
Leveraged trading not available
Customer service via live chat only
Basic trading platform & analysis tools
Must open a Revolut bank account to use the trading platform
Trading Hours
Trading hours will vary by instrument. Typically, you can trade during the open market hours, 9:30 AM to 4 PM (EST) on working days. Orders placed outside of the regular  hours will be queued for the next trading day.
Customer Support
If you encounter issues or need help with account questions, you can get in contact with the team through the in-app live chat service, available 24 hours a day Monday to Sunday. This can be used on mobile devices and via the website.
Premium and metal plan customers benefit from priority service. Alternatively, reach out via email at feedback@revolut.com, though response times are slower.
Via The Website
Sign in to your account from the top right of your screen
Open the 'Help' section
Scroll down until you see the 'Chat' option
Select 'Start new chat' or continue with an ongoing support chat
Via The Mobile App
Once logged in to your account, tap on your profile on the top left of your screen
Open the 'Help' menu
Scroll down until you see the 'Chat with us' option
Select 'New chat' or continue with an ongoing support chat
Note, when contacting the company via live chat, initial services are provide by a chat-bot.
The company is also active on Twitter, LinkedIn and has a YouTube channel.
Safety & Security
Our experts are pleased with the level of security to protect traders. According to a Nilson report in November 2021, the company's award-winning anti-fraud system successfully kept fraudulent transactions under 0.01%, which is significantly lower than the industry average.
The company works 24/7 to keep accounts safe. The mobile investing platform uses two-factor authentication (2FA) via SMS. Alternatively, Revolut gives you the option to login to your account using your fingerprint.
The firm has also recently introduced 3D secure (3DS) payments and more KYC protocols to counteract fraud and online crime. You can turn off certain features of your payment card to mitigate the risk of fraud. This includes disabling e-commerce payments or contactless payments.
Revolut Verdict
Revolut is an established brand in the financial market. The trading platform, an addition to the firm's personal and business banking solutions, offers a convenient one-stop-shop for all things finance. Our review rated the user-friendly interface, various account profile options and commission free trades available. We would recommend Revolut to longer-term investors and those interested in trading equities or digital currencies. For more experienced traders looking for a wider product range and more advanced trading tools, we would recommend alternative brokers and fintech companies.
Accepted Countries
Revolut accepts traders from Australia, Thailand, Canada, United States, United Kingdom, South Africa, Singapore, Hong Kong, India, France, Germany, Norway, Sweden, Italy, Denmark, United Arab Emirates, Saudi Arabia, Kuwait, Luxembourg and most other countries.
Traders can not use Revolut from Qatar, Korea, Zimbabwe.
Compare Revolut
Compare Revolut with similar brokers that accept traders from your location. Among available brokers these are the most similar to Revolut:
Revolut Comparison Table
Compare Revolut With Similar Brokers
Revolut
Uphold
Zacks Trade
Firstrade
Moomoo
Rating
3.1
–
–
4
3.8
Markets
Stocks, Cryptos
Cryptos, Precious Metals, US Stocks, Environmental Assets
Stocks, Crypto
Stocks, ETFs, Options, Mutual Funds, Bonds, Cryptos, Fixed
Stocks, Options, ETFs, ADRs, OTCs
Demo Account
No
Yes
Yes
No
Yes
Minimum Deposit
$0
$0
$2500
$0
$0
Minimum Trade
$1
$1
$3
$1
No minimum
Regulators
FINRA, SEC
FCA, FinCEN
FINRA
SEC, FINRA
SEC, FINRA, MAS
Bonus
–
–
–
Deposit Bonus Up To $4000
Get up to 15 free stocks worth up to $2000
Education
No
No
No
Yes
No
Platforms
–
–
–
–
–
Leverage
–
–
–
–
–
Payment Methods
7
8
3
4
3
Visit
Review
Revolut
Review
Uphold
Review
Zacks Trade
Review
Firstrade
Review
Moomoo
Review
Compare Trading Instruments
Compare the markets and instruments offered by Revolut and its competitors. Please note, some markets may only be available via CFDs or other derivatives.
Compare Revolut Trading Instruments

| | Revolut | Uphold | Zacks Trade | Firstrade | Moomoo |
| --- | --- | --- | --- | --- | --- |
| CFD | No | No | No | No | No |
| Forex | No | No | No | No | No |
| Stocks | Yes | Yes | Yes | Yes | Yes |
| Commodities | No | Yes | No | No | No |
| Oil | No | No | No | No | No |
| Gold | No | Yes | No | No | No |
| Copper | No | No | No | No | No |
| Silver | No | Yes | No | No | No |
| Corn | No | No | No | No | No |
| Crypto | Yes | Yes | Yes | Yes | No |
| Futures | No | No | No | No | Yes |
| Options | No | No | Yes | Yes | Yes |
| ETFs | No | No | Yes | Yes | Yes |
| Bonds | No | No | Yes | Yes | No |
| Warrants | No | No | No | No | No |
| Spreadbetting | No | No | No | No | No |
| Volatility Index | No | No | No | No | No |
Revolut vs Other Brokers
Compare Revolut with any other broker by selecting the other broker below.
The most popular Revolut comparisons:
FAQ
How Does Revolut Work?
Revolut is a one-stop shop for all things money. From your everyday spending, to planning for your future with savings and investments. The company has established itself as a top-rated trading app, with commission free investments available, rivalling the likes of Robinhood.
Can I Have 2 Revolut Trading Accounts?
Yes, you can open multiple Revolut accounts, however you cannot open multiple trading accounts to use the free monthly trades.
Is There An Overdraft Available With A Revolut Account?
It is not currently possible to add an overdraft to your Revolut account. The company does, however, offer personal loans. For more information, get in touch with the customer service team.
What Should I Do If My Revolut Trading Account Is Not Working?
If you have issues with your Revolut trading account, get in touch with the customer support team via live chat, the telephone helpline or email. Customer service agents can also help with bank account queries.
Does Revolut Offer Referral Bonuses?
Revolut offers a popular referral scheme for its bank accounts with bonuses and rewards for each new client that signs up. Visit the company website or contact the support team for more information and the referral link.
Revolut is a popular financial app that also offers trading on equities and digital currencies.
Articles about Revolut