Qtrade Review 2022


United States not accepted.
Go to the Brokers List for alternatives
Qtrade offers a selection of investing accounts with $8.75 and $6.95 stocks, mutual fund trades and 100 commission-free ETFs.
Risk Warning – Your capital is at risk
Qtrade is a Canadian broker specializing in stocks, options, ETFs and mutual funds. The award-winning brokerage offers competitive fees, an in-house trading app, plus a choice of account options. Our 2022 Qtrade review looks at direct investing solutions, trading commissions, welcome bonuses, and more. Find out whether to sign up with Qtrade today.
Company Overview & History
Qtrade Direct Investing – a division of Credential Qtrade Securities Inc. and linked to Write Your Own Future – was established in 2000 and is Canadian (based in Vancouver). Credential Qtrade Securities was created from the amalgamation of Credential Securities Inc. and Qtrade Securities Inc.
In April 2018, William Packham became the CEO of Aviso Wealth – which Qtrade Direct Investing falls under. William Packham sits on the board of the holding company, Qtrade Financial Group.
The company has been a success in Canada where most of its trading operations are focused. The brand has been ranked as the Number 1 online investing platform 25 times in the last 17 years and regularly features in the Globe and Mail's brokerage rankings.
Qtrade Direct Investing has also partnered with other financial services firms such as Coast Capital Savings, Envision Financial, DUCA Financial Services Credit Union Ltd., Vancity, Meridian, and ATB Financial. These firms make use of services like VirtualWealth, which Qtrade created.
Trading Platform
Unlike many brokers that offer external trading platforms such as MetaTrader 4 and cTrader, Qtrade uses an in-house investing terminal. The platform is home to a range of useful features:
Fundamental research capabilities
Planning tools to create an investment plan
Technical indicators to interpret market data
Expert reviews of Canadian and US investments
Morning news call with market and economic updates
Screening tools to identify OTC stocks (e.g. undervalued companies)
Watchlists to monitor equities (e.g. US stocks you are interested in buying)
Stop-loss, stop-limit and trailing stop limit order types to control the price at which you buy and sell
Extended hours in the form of pre-market and after-hours trading are available for US markets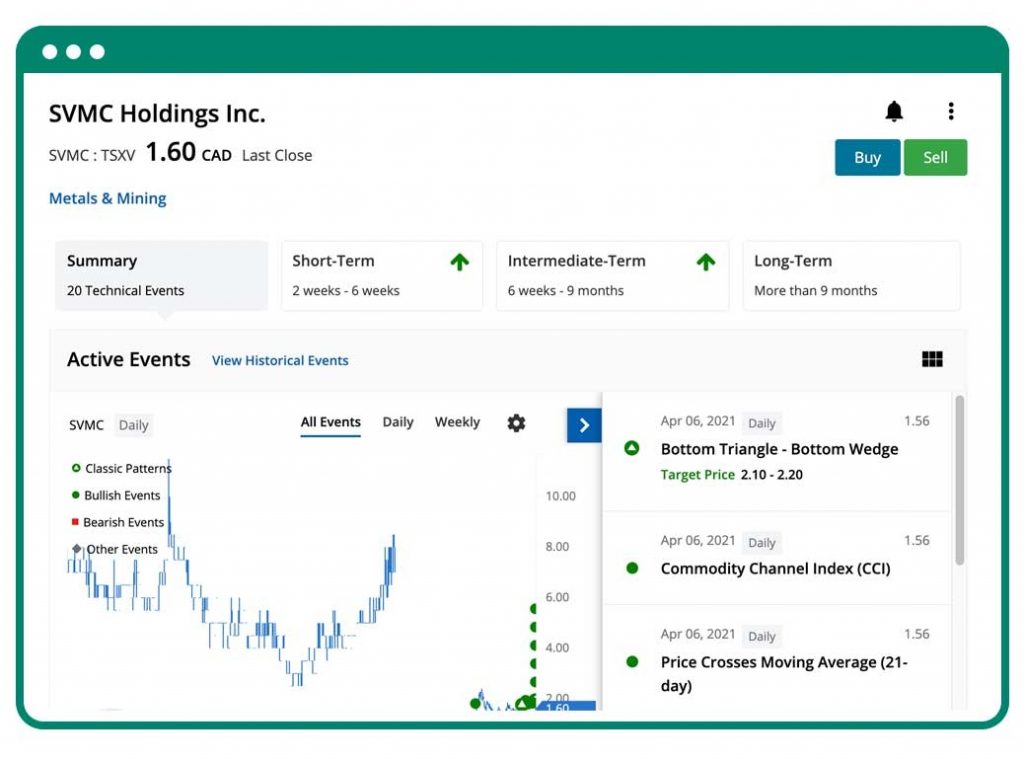 Products & Markets
Clients can speculate on:
Canadian & US Stocks, including NASDAQ, NYSE, and S&P, plus rights and warrants
Guaranteed Investment Contracts (GICs)
100+ commission-free ETFs
Canadian & US bonds
Mutual funds
Options
Qtrade does not provide access to forex markets. Cryptocurrencies such as Bitcoin are also not available. Instead, the broker has tailored its products to traders seeking medium to long-term investment opportunities.
Note that for US stocks, Form W-8BEN may need to be completed.
Investing Fees
There is an $8.75 commission for those investing in equities, though clients that make 150+ trades per quarter and/or have at least $500,000 in assets attached to their client ID (referred to as Investor Plus) benefit from a lower commission rate of $6.95.
Options have the same fees, however there is a $1.25 cost per contract in addition to the amounts shown above. For example, if you are a standard investor that doesn't qualify for lower commissions and you purchase 100 options contracts, this would cost $8.75 + $125.00 ($1.25 x 100), so $133.75.
Qtrade also has a list of 100+ commission-free ETFs. The rest of the firm's ETFs are priced the same as equities. Mutual funds and GICs are commission-free too.
Other Charges
Additional fees may apply depending on your account level and trading activity. These include currency exchange fees, for example, market changes in the US Dollar/Canadian Dollar (USD/CAD) exchange rate, plus inactivity fees and interest rates on any negative balances.
Customers should also be aware of the administration fee ($25/quarter unless exempt) and the account closure fee ($100 within the first year). Fixed income and exchange-traded debenture phone orders incur an additional commission.
Note that Canadian and US Dividend Re-Investment Plans (DRIPs) are offered free of charge and a list of DRIP-eligible securities is available on the broker's website. DRIPs allow clients to reinvest their dividends into additional shares (or sometimes fractional shares).
Qtrade Leverage
Qtrade offers a margin account where customers can increase their buying power. The margin rates on eligible stocks trading at $5 or more are 30%, so a margin loan of 70%.
Leverage trading can be used to increase profits but it can also lead to large losses. As a result, make sure you have an appropriate risk management strategy.
Mobile App Review
A mobile app is available on iOS and Android devices for customers that like to monitor the market and make trades on the go. MobileWeb is also available on other mobile browsers. In addition, clients can download the Qtrade Guided Portfolios app to track portfolio progress.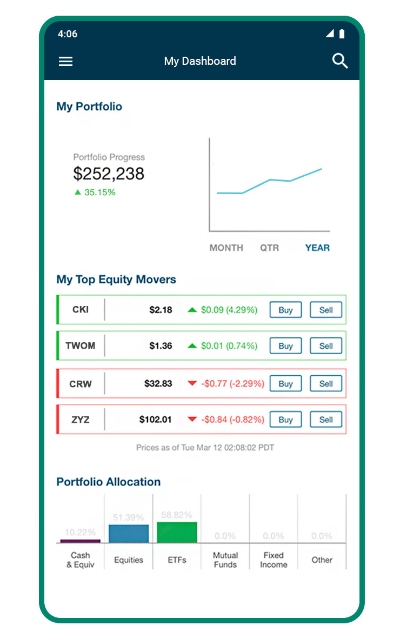 Overall, there is a decent selection of mobile and tablet-compatible investing solutions. Traders may struggle to conduct detailed technical analysis, but clients can scan the markets to identify potential opportunities, execute trades, and manage investment portfolios.
Payment Methods
Deposits
An Electronic Funds Transfer (EFT) – with wire transfers and ACH being types of EFTs – or bill payment from your bank account (using your account number), are the simplest ways to deposit money into a Qtrade account. Personal cheques can also be sent.
Unfortunately, credit/debit cards and e-wallets are not available, which is a drawback versus competitors like Questrade, which offers instant payment methods like Visa Debit.
It typically takes 1-2 business days for funds deposited via EFTs and bill payments to be credited to client accounts.
Qtrade does not impose a minimum deposit or maintenance balance. There is also no deposit fee.
Withdrawals
There is no withdrawal fee when using electronic wire transfers to move money from Qtrade to personal bank accounts. The admin with the transfer of securities from an RSP/TFSA account can be slightly more cumbersome with forms usually needing to be completed.
Promotions & Bonuses
Qtrade does not offer no deposit sign-up bonuses. The company does, however, offer young investor pricing, giving traders aged 18 to 30 who add $50 or more a month to a Qtrade Investor account access to lower commissions and no quarterly admin fees.
There is also a referral programme where new customers can enter a code to receive a sign-up bonus. In addition, qualifying customers can claim 50 free trades after opening an eligible account and transferring the required funds.
Qtrade Accounts
Traders can sign up for an account in either USD or CAD. To open an account, you need to complete an investor profile and upload the relevant documents, which takes 15-20 minutes. This is part of the broker's KYC obligations.
Once an account has been created, the sign-in process is simple with just a username/email and password required. It is also easy to reset your trading password if you have forgotten it. Joint accounts are available too.
Qtrade is only available to Canadian customers with a Canadian Social Insurance Number (SIN) needed to open any type of account. This excludes non-residents. If you have a SIN, the following account options are available:
Cash Account
This is the most basic account and allows investors to buy and sell stocks, ETFs, corporate and government bonds, mutual funds and other securities.
Margin Account
Similar to the Cash Account, the Margin Account allows clients to borrow money from Qtrade to purchase securities. Clients can also add options trading and/or short selling.
Registered Accounts
Registered accounts allow investors to protect their investments from tax or defer it.
When you transfer securities from a third-party account to Qtrade, this can be done in kind where nothing needs to be sold.
Tax-Free Savings Account (TFSA)
Traders do not need to pay Canadian taxes on earnings on this account. Withdrawals are tax-free. Funds can be accessed at any time and up to 6,000 USD can be contributed each year. Investors can transfer existing TFSAs to Qtrade.
Note that a US dollar-registered TFSA has fees of $15 per quarter.
Retirement Savings Plan (RSP/RRSP)
The retirement savings account allows tax to be deferred. Both individual and spousal RSPs are available. Customers can transfer existing RSPs to Qtrade Investor.
A USD RSP is available, which may help minimize exchange fees. There are no administration fees with an RRSP if more than $25,000 is held in Qtrade accounts or you trade regularly.
Locked-In Retirement Account (LIRA/LRSP)
The brokerage allows clients to transfer existing LRSPs and LIRAs to their Qtrade account for self-directed investing. Clients maintain the tax-deferred status of pensions from previous employers.
Registered Education Savings Plan (RESP)
Typically used to help pay for a child's post-secondary education, a RESP and its associated benefits can be transferred to a Qtrade solution.
There is no limit to the amount of original contributions that the client can withdraw, but RESP withdrawals are considered in applications for student loans and grants.
Retirement Income Fund (RIF/RRIF)
An RSP can be converted to a RIF to avoid paying tax on the total amount after you turn 71.
Life Income Fund (LIF)
This registered account is another option to ensure assets remain tax-sheltered whilst an income is being drawn.
Demo Account
A trial account is available for 30 days. However, the test account doesn't allow users to place orders and make trades, so it doesn't function in the same way as a standard demo account. Still, the practice account will let prospective investors get familiar with the broker's products and tools.
Head to the Qtrade official website to open a trial account.
Additional Features
A wealth of educational resources is available to clients, including 'how-to' videos, guides and articles. The topics of training materials vary from beginner-level content such as how to buy stocks online to explanations of more complex financial products like options.
Another clever feature is the Portfolio Creator. This can help build a personal ETF portfolio based on risk tolerance and preferred mix of stocks and bonds. In many ways, it's a form of robo-advisor.
Qtrade also offers user-friendly tools that allow for the performance of investments to be assessed against appropriate benchmarks. Traders can analyze their portfolio against a range of different indicators, such as income, fees and diversification.

Regulation
Qtrade is regulated by a top-tier authority: the Investment Industry Regulatory Organization of Canada (IIROC). In addition, the return of client funds is guaranteed (up to a limit) by the Canadian Investor Protection Fund (CIPF) should the company become insolvent. GIC investments are covered by CDIC insurance up to a limit of $100k per issuer.
Pros & Cons Of Qtrade
Benefits
No deposit or withdrawal fees
Simple investor/member login process
Trailing stop loss risk management tool
API documentation is available on GitHub
Zero commission/no fee on more than 100 ETFs
Good range of client accounts to maximize tax efficiency
Drawbacks
Transfer out fee
Forex trading unavailable
CAD to USD exchange charge
No credit/debit card or e-wallet payment options
No MetaTrader 4 or MetaTrader 5 software download
Only available to customers in Canada. So if you are from Dubai, the UK or Lebanon, you will not be eligible
Trading Hours
Investing hours depend on the market being traded. For example, the opening hours of the New York Stock Exchange (NYSE) are 9:30 am to 4:00 pm ET.
Head to the broker's website for a breakdown of opening hours by market, alongside holiday times and market closures.
Customer Support & Contact Details
What do you do when the Qtrade app is not working or when the system is down? In addition to an extensive FAQ page, Qtrade has a toll-free customer service telephone number available between Monday and Friday from 8:30 am to 8:00 pm ET. There is also an email address: info@qtrade.ca.
Customer service representatives can help with a range of queries, including:
How to transfer and withdraw money and funds
How to view your statements
How to close a live account
Whether ETF trading is free
How to sell stocks
How to trade options
How to buy an ETF
Qtrade has a social media presence on multiple channels from Facebook and Twitter to LinkedIn, YouTube and Instagram. Other clients may prefer to use the mailing address. Reddit can also be a helpful discussion forum for those wishing to find reviews of Qtrade elsewhere.
Safety & Security
The Qtrade website only supports browsers that use 256-bit encryption – one of the strongest forms of online security. The company also uses firewalls to protect customer account information. In addition, two-factor authentication (2fa) can be added to live accounts.
Qtrade Verdict
Although Qtrade cannot be considered a global broker, it is one of the largest and best online brokerages in Canada. And despite options being on the more expensive side, the range of free ETFs and mutual funds makes the brand attractive to retail investors. The wide selection of account types also means there is something for everyone.
So, if you are a resident in Canada, create or login to your Qtrade account to start investing.
Accepted Countries
Qtrade only accepts traders from Canada.
Compare Qtrade
Compare Qtrade with similar brokers that accept traders from your location. Among available brokers these are the most similar to Qtrade:
Qtrade Comparison Table
Compare Qtrade With Similar Brokers
Qtrade
M1 Finance
ZacksTrade
Webull
Interactive Brokers
Rating
–
3.9
–
1.2
–
Markets
Stocks
Stocks, Crypto
Stocks
Forex, Stocks, Crypto
Forex, Stocks, Commodities, Crypto
Demo Account
Yes
Yes
No
Yes
Yes
Minimum Deposit
$0
$100 ($500 for IRA)
$2500
$0
$10000
Minimum Trade
Variable
$1
From $3
$5
$100
Regulators
IIROC
FINRA, SEC
SEC
SEC, FINRA
SEC, FCA, IIROC, SFC
Bonus
–
M1 Finance Plus free for 3 months on new accounts
–
Six free stocks
–
Education
Yes
Yes
No
Yes
No
Platforms
–
–
–
–
–
Leverage
–
–
–
–
1:50
Payment Methods
3
2
3
2
9
Detailed Comparison
–
Qtrade vs M1 Finance
Qtrade vs ZacksTrade
Qtrade vs Webull
Qtrade vs Interactive Brokers
Visit
–
Review
Qtrade
Review
M1 Finance
Review
ZacksTrade
Review
Webull
Review
Interactive Brokers
Review
Compare Trading Instruments
Compare Qtrade Trading Instruments

| | Qtrade | M1 Finance | ZacksTrade | Webull | Interactive Brokers |
| --- | --- | --- | --- | --- | --- |
| CFD | No | No | No | No | Yes |
| Forex | No | No | No | Yes | Yes |
| Stocks | Yes | Yes | Yes | Yes | Yes |
| Commodities | – | – | – | – | Yes |
| Oil | No | No | No | No | No |
| Gold | No | No | No | No | Yes |
| Copper | No | No | No | No | No |
| Silver | No | No | No | No | No |
| Corn | No | No | No | No | No |
| Crypto | No | Yes | No | Yes | Yes |
| Futures | No | No | No | No | Yes |
| Options | Yes | No | Yes | Yes | Yes |
| ETFs | Yes | Yes | Yes | Yes | No |
| Bonds | Yes | No | Yes | No | Yes |
| Warrants | Yes | No | No | No | No |
| Spreadbetting | No | No | No | No | No |
| Volatility Index | No | No | No | No | No |
Qtrade vs Other Brokers
Compare Qtrade with any other broker by selecting the other broker below.
Qtrade vs
The most popular Qtrade comparisons:
FAQ
Is Qtrade Safe?
Qtrade uses encryption technology and firewalls to reduce the risk of a successful malicious cyber attack. The Canadian Investor Protection Fund (CIPF) and the Canada Deposit Insurance Corporation (CDIC) also help protect client funds.
Is Qtrade CDIC Insured?
The Canada Deposit Insurance Corporation (CDIC) covers clients up to $100,000. Other funds are protected by the Canadian Investor Protection Fund (CIPF).
Where Is Qtrade Based?
Qtrade is a Canadian broker located in Vancouver.
Does Qtrade Have Crypto?
Does Qtrade Have A Mobile App?
Qtrade has its own mobile app available on iOS and Android that allows investors to make trades and monitor the markets on the go.
Is Qtrade The Same As Questrade?
Does Qtrade Have A Robo-Advisor?
Clients have access to Qtrade Guided Portfolios, which is an automated portfolio service with regular re-balancing.
Who Owns Qtrade Investor?
Qtrade is owned by Aviso Wealth, one of Canada's largest wealth management firms.
Does Qtrade Have After Hours Trading?
Yes. After hours trading is available on US equities and markets.
Qtrade offers a selection of investing accounts with $8.75 and $6.95 stocks, mutual fund trades and 100 commission-free ETFs.