ProRealTime
ProRealTime is a trading platform with advanced charting software. Trusted by millions of investors, it can be used to analyze and trade 580,000 instruments. In this guide, we unpack the key features and explain how to use the platform. Our team have also ranked the brokers with ProRealTime.
Best ProRealTime Brokers 2023
These 3 brokers offer access to the ProRealTime trading platform:

IG is an award-winning broker that has an excellent reputation globally. The brand-US offers spread betting, CFD and forex trading across a comprehensive suite of markets. IG is also multi-regulated, provides a great trading app and has 50 years experience.
Forex trading involves risk. Losses can exceed deposits.

Saxo is a multi-award-winning trading brokerage, investment firm and regulated bank. With a huge 72,000+ trading instruments, plus investment products and managed portfolios, clients have no shortage of opportunities. The trusted brand also offers transparent pricing and top-tier regulatory protection from 10+ agencies including FINMA, FCA & ASIC.
66% of retail accounts lose money.

Interactive Brokers is a leading global brokerage that provides access to a comprehensive offering of stocks as well as forex, futures, metals, bonds and cryptos. The firm has over 40 years experience in the online trading industry and is heavily regulated by SEC, FCA, IIROC, and SFC. Traders use the proprietary Trader Workstation and can access powerful tools and data feeds as well as comprehensive educational resources.
Comparison of Brokers With Access to ProRealTime
Top 3 Brokers For ProRealTime Comparison

| | IG | Saxo | Interactive Brokers |
| --- | --- | --- | --- |
| ProRealTime Access | Free if you place 4 trades per month | Free if you maintain a $3000 balance or incur $30 commissions per month | Free if you deposit $100,000 or incur $300 commissions per month |
| Minimum Deposit | $1000 | $3000 | $3000 |
| Instruments | CFDs on stocks & indices, forex, energies, metals, commodities | Stocks, futures indices, forex, energies, metals, commodities, options | Stocks, futures indices, forex, energies, metals, commodities, options |
| Regulators | FCA, ASIC, NFA, CFTC, DFSA, BaFin, MAS, FSCA | FCA, DFSA, MAS, SFC | SEC, FCA, IIROC, SFC |
What Is ProRealTime?
ProRealTime is a trading platform and charting software, developed by IT-Finance.
It can be used to analyze and trade thousands of global financial markets, including stocks, forex, commodities, precious metals, ETFs, futures and options.
Since it launched in 2001, it has attracted millions of active users, partnered with some of the world's top brokers and picked up various industry awards.
ProRealTime carried out almost 20 million orders in 2020 alone.
Features
Charting
ProRealTime's primary attraction is its advanced charting software. The platform has a library of 136 technical indicators and the opportunity to import custom indicators.
We found many popular indicators pre-built into the software during our tests, including RSI, Zig Zags, Pivot Points, and Linear Regression Channel. We also found multiple templates in the ProRealCode library where you can import additional indicators, including the TTM Squeeze, Schaff Tend Cycle and Hurst Cycle channel.
You can adjust your workspace through an array of chart types, including Heikin Ashi, Renko and Kagi. The platform also performs well in terms of timeframes. Through any of the 26 in-built time frames ranging from 1 tick up to 1 year, as well as the option for specifying your own, it is well suited to short, medium and long-term trading strategies.
ProRealTime offers several ways to present historical price data. For example, you can view both market profile and volume profile indicators, also known as 'footprint' charts.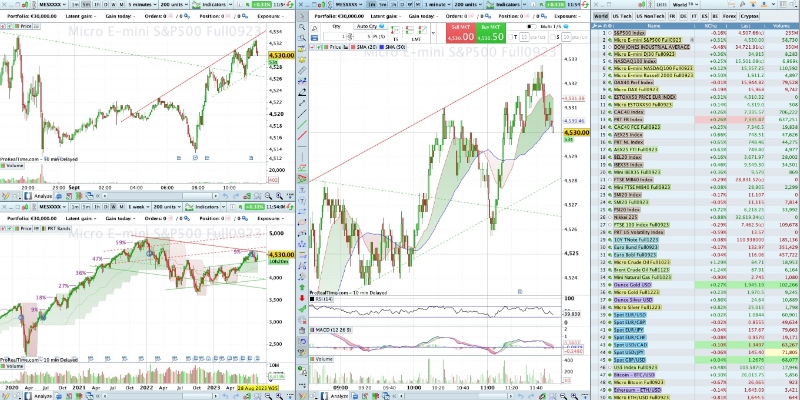 Order Flow
A noteworthy introduction with the recent v12 ProRealTime version is the ProOrderFlow feature, which provides access to level 2 market data.
Through this, you can see the current open buy and sell orders for a specific asset, estimating the current supply and demand. Together with a heat map, you can view the order book to determine where best to place a strike price according to the volume of orders at each price level.
Screener
One feature that sets ProRealTime out vs alternatives such as MetaTrader 4 (MT4), MetaTrader 5 (MT5), TradingView and NinjaTrader, is the ProScreener feature. This allows you to quickly filter through numerous instruments to find suitable market opportunities.
By scanning the entire market, ProRealTime can help identify assets that satisfy specific criteria. For example, you can use technical analysis tools such as momentum indicators to discover assets with strong bullish and bearish trends. And because the screener works in real-time, it provides you with results via price alerts so you can immediately take action.
Expert Advisors
ProRealTime offers some of the best support for algo traders. The platform hosts the expert advisors (EAs) server-side so you do not need to have your personal computer running 24/7. This also helps reduce potential issues relating to your device limiting your trading capacity.
ProRealTime aims to simplify the EA development process with its comprehensive seven-step program. This guides you through the key steps for turning an idea into a full EA by creating your own trading bot. It also covers details such as how to choose an instrument and how to manage risk.
A key feature we like is that for clients with little experience algo trading, there are five code examples already included in the software that are free to use. This makes it easier to take the next step and start refining the EA or developing your own using the helper wizard.
Once you are comfortable, you can begin writing scripts yourself using ProRealTime's own programming language, ProBuilder. And to help learn the language, there is plenty of documentation, manual PDFs and tutorials.
Alternatively, you can go to the ProRealTime Marketplace website and purchase automated trading codes that have already been written by other users.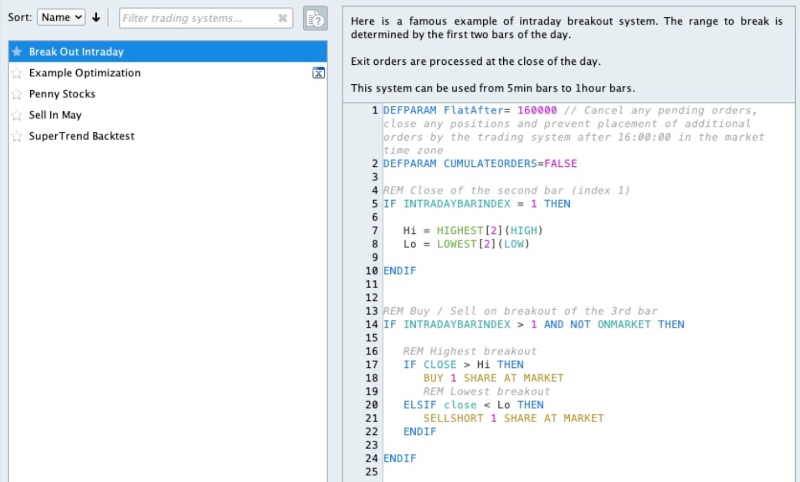 ProBacktest
ProRealTime offers an in-built backtesting program. This is important, particularly for those interested in testing automated strategies. You can replay the market over select periods to see how successful your strategy would have been.
After the backtesting is complete, ProRealTime offers a detailed strategy review, breaking down how successful the trades were. An example of this is seen in the image below, with key information such as average profit/loss per trade, winning trade percentage and the overall gain or loss. From here, you can then fine-tune the strategy.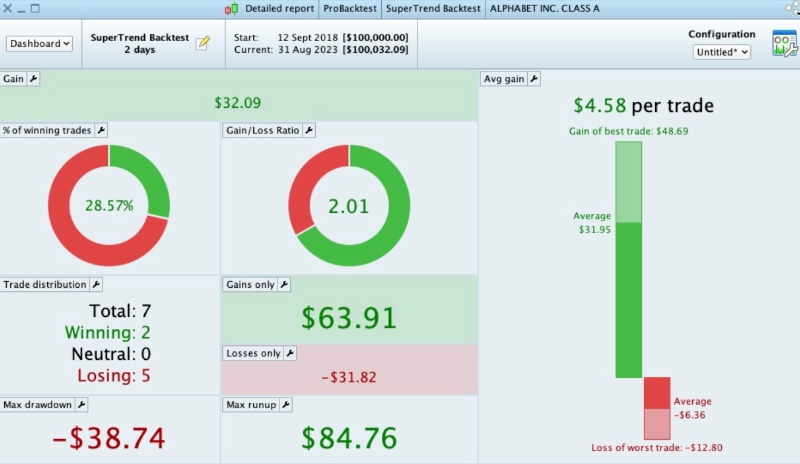 Pricing
ProRealTime offers multiple subscription options. The most basic is the End-Of-Day version, which offers free access but with limited features, for example, end-of-day price charts only.
For traders that require real-time information presented in multiple time frames, you will need either a Complete or Premium subscription. The Complete version starts at €37.45/month for a six-month subscription whereas the Premium version starts at €99.99/month. The Premium version comes with extra tools such as auto trading and market scans, so it is better suited to advanced traders.
We did find that there are discounts available for purchasing recurring subscriptions and longer real-time access.
You can also access the ProRealTime platform for free if you sign up with partnered brokers like IG Group or Saxo Bank.
The markets available are limited to instruments the broker supports, for example forex, stocks and commodities. Also, you may need to pay extra to access market data for certain assets.
Pros Of ProRealTime
A highly customizable workspace that can be tailored to multiple trading styles
A large suite of in-built technical indicators plus a marketplace to import additional indicators
An expert advisor development wizard program that makes it easier to start automated trading
A wide selection of tutorials and guides explaining how to get the most out of the platform
Free real-time access for active traders with supporting brokers; IG, Saxo or IB
Cons Of ProRealTime
Limited brokers support ProRealTime vs MetaTrader 4 and MetaTrader 5
Expensive to access instruments outside of the basic ProRealTime package
No ProRealTime API to set up widgets or third-party mobile apps
No dedicated mobile or iPad app
How To Make A Trade
I find the process to place a trade on ProRealTime quick and straightforward by following these steps:
Click on the "Trading" button on the menu bar, select "Order Ticket" and then "New Order Ticket"
Select the asset from the drop-down menu in the pop-up
Specify trade information such as the order type and whether you are buying or selling
Include any optional extras such as stop losses and take profits
Confirm the trade using the "Buy" or "Sell" button at the bottom of the tab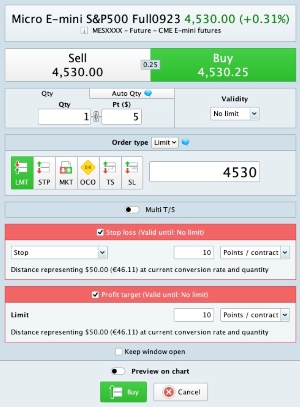 How To Close A Position
In the "Trading" drop-down menu, click "Portfolios"
Find the position that you wish to close
Right-click on the trade and select 'Close Position"
Wait for exit to be confirmed
ProRealTime will provide details on your closing position with a review of the profit or loss
Customer Support
There are various resources to help you get started with ProRealTime. This includes a library of 50 videos to kick off your analysis.
Moreover, when you first sign up for an account, you can request an introductory session with your allocated account manager who will walk you through the platform. We found they can explain setting up different types of trades, how to import a list of screener codes and how to export historical data.
If you have any queries or experience any issues such as tools not working, you can also contact the ProRealTime customer support desk. This team is available between 8 AM and 5 PM London time and can be contacted through the following methods:
Call +44 (0)20 3868 8510
Email contact@prorealtime.com
Contact form on the website
Contact technical support via the platform program
Head to the ProRealTime forum where you can speak with the community
You can also contact the support team at respective ProRealTime brokers for assistance.
ProRealTime Terms
Below are some key terms you need to know to get the most out of the platform:
Order Type: The way that ProRealTime will process your trade request according to certain instructions. You can set up an order so it is only submitted after certain conditions are met.
LMT: A limit order, which is placed to assume a trend reversal. A buy order will trigger at a strike below the current price and a sell order will strike above the current price.
STP: A stop order, which will only execute buy or sell orders if the market has a bullish or bearish trend, respectively. Strike prices are set above the current price for a buy stop and below for a sell stop.
MKT: Market execution order that is sent immediately after confirmation.
OCO: One cancels the other order whereby two orders are placed but once one is triggered, the other is canceled.
TS: Trailing stop order, which is similar to a normal stop order but will change the strike price if the market moves favorably.
SL: This is a stop with a limit protection that works the same as a stop order, but includes a permitted price range within which orders can be filled.
Validity: This is the length of time the order is valid. The time limit specifies expiration with options including a specific date, end of day and no expiration at all.
Bottom Line
ProRealTime is a sophisticated trading platform and charting package. It is a popular alternative to platforms like MT4 and MT5 and can be accessed for free when you sign up with partnered brokers.
FAQ
Which Brokers Offer Access To ProRealTime?
IG Group, Saxo Bank and Interactive Brokers are partner brokers with ProRealTime. You can access the software for free if you open an account with these brokers and meet eligibility criteria.
Based on our tests, IG Group and Saxo Bank are the best ProRealTime brokers. They are both regulated, offer a large product portfolio and provide excellent trading conditions.
Is ProRealTime The Best Trading Platform?
ProRealTime is a good platform but it won't necessarily be the best for everyone. It offers an excellent charting package and algo trading capabilities in a highly customizable workspace. However, it is only available at a select few brokers and there is no mobile app.
MetaTrader 4 (MT4), MetaTrader 5 (MT5) and TradingView are all popular alternatives to ProRealTime.
Can I Test ProRealTime Before Subscribing?
Yes, ProRealTime offers a two-week free trial where you can test the platform's real-time market data solution. ProRealTime brokers may also offer a free trial of the platform when you open a demo account.
Is ProRealTime Free?
ProRealTime has a free subscription but the offering is very limited and can be considered a 'lite' version of the Complete package. For instance, the only information you receive is end-of-day market data.
You can also access the ProRealTime software for free if you sign up with IG Group, Saxo Bank or Interactive Brokers and satisfy the minimum active trader requirements.
What Are The System Requirements For ProRealTime?
ProRealTime is available for free download with computers running Windows (8, 10 and 11), macOS (10.14 and above) and Linux (Ubuntu, Debian).
Alongside running the correct versions of your operating system, there are some minimum hardware requirements for your computer. The lowest possible RAM for ProRealTime to function is 2 GB, however, you will need more for an optimal experience. For the Complete version, 8 GB of RAM is needed and for the Premium version, 16 GB is needed. Moreover, you should have a screen resolution of 1280×1024 or more and a high-speed internet connection.
Does ProRealTime Offer A Mobile App?
No, there is no dedicated ProRealTime mobile application. Instead, if you want to access your portfolio, conduct analysis or respond to price alerts, you need to access your account through a web browser on your phone.
Article Sources
The writing and editorial team at DayTrading.com use credible sources to support their work. These include government agencies, white papers, research institutes, and engagement with industry professionals. Content is written free from bias and is fact-checked where appropriate. Learn more about why you can trust DayTrading.com