Myfxbook | Forex Trading Charts, Calculators & Tools Review 2022
Myfxbook provides a range of tools and services to enhance the forex trading experience. This includes economic calendars, user-friendly charts, automated analytical tools, plus copy trading. We've broken down the key features of Myfxbook below, alongside any fees, security concerns, and sign-up instructions. Find out why over 1,000,000 forex traders use Myfxbook.
What Is Myfxbook?
Myfxbook was launched in 2009 by Israeli brothers and owners Alexa and Pavel Rekun. They aimed to create a community where new and experienced traders could come together and share ideas. Today, the platform spans a network of global forex traders and offers everything from trading journals and market analytics to active community forums.

Myfxbook also integrates with live trading accounts so its suite of tools are available in one place. The company has more than 40 broker partnerships and works with MT4, MT5, cTrader and other proprietary platforms.
The company is currently headquartered in Israel but caters to forex traders from around the world.
Features Review
A long list of useful services is available at Myfxbook, including:
Portfolio
To access Portfolio, members must first log in to the Myfxbook portal. Users can then view other trader's portfolios which are linked to their live accounts – showing how different trading systems and strategies are performing. Users can add an unlimited number of accounts to the portfolio dashboard.
Members can view a range of statistics on trader portfolios:
Gain vs absolute gain
Growth/balance chart
Volume of trades per currency pair
Reward:risk ratios per currency and month selected
Advanced statistics including a measure for volatility and Z-score
Average holding times for each currency, including long and short positions
Monthly gains based on the cumulative sum for each month from the start and end of the month (UK GMT)
You can also create your own custom analysis by picking a time frame and selecting your parameters.
Charts
The Charts tab on Myfxbook allows traders to share their forex charts and market analysis with fellow community members. Followers can track changes made in charts and explore graphs across several categories including the most viewed, most agreed, most followed, recently updated and most commented. This makes viewing top traders and the best EAs on Myfxbook simple. Users can also access 70 indicators and 100 graphical tools.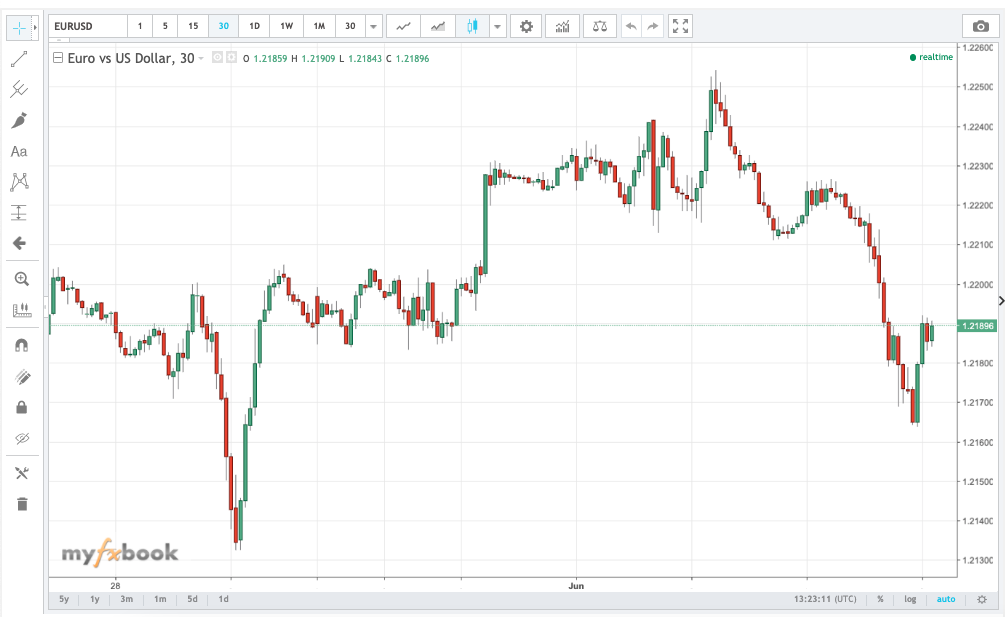 Member-created charts provide information on specific markets and heat maps on particular currencies. You can also filter charts by timescale and forex pairs i.e. GBPJPY and GBPUSD.
Note, charts are set to private by default. However, by publishing your chart, thousands of members can analyse, discuss and subscribe to your graphs.
Market
The Markets tab provides access to a host of forex trading tools. For example, retail sentiment indicators and patterns facilitate technical analysis. Users can also apply filters based on volatility in pips or percentage, a heat map for strong or weak currencies, and forex pair correlations i.e. negative or positive.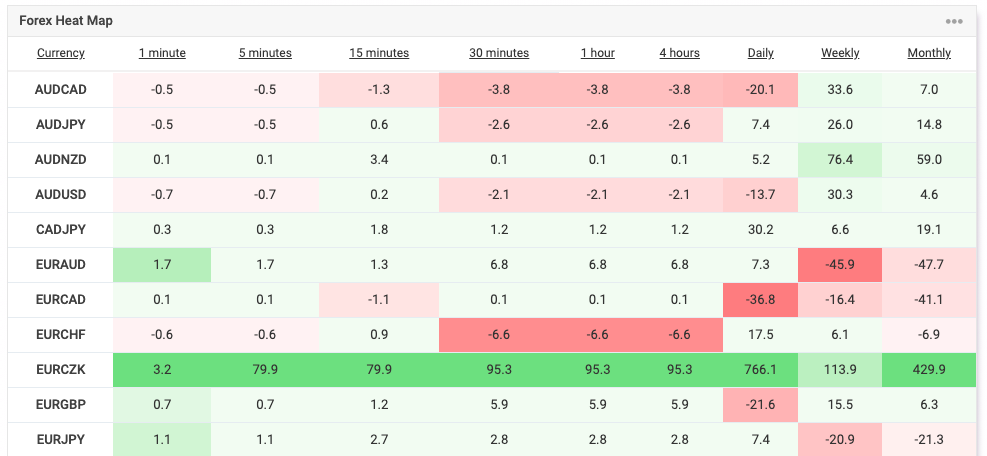 Liquidity on Myfxbook provides rough estimates on trading activity in the forex and gold markets, including for that day and previous sessions. Historical data also gives you a wealth of information on the past performance of over 70 forex pairs.
Systems
The Systems section allows members to look for trading strategies they want to subscribe to or copy. You can search for a system by setting parameters such as gain, drawdown, leverage, or by searching for its name. This is useful for visualising all the systems available, with an evaluation section on the left side of the screen where you can compare techniques and view the most popular strategies.
Backtests can be performed in the MT4 platform based on the EA or indicator. This ensures tests are well documented and that you can easily keep track of your work.
If you wish to copy a system, simply click 'Autotrade' on the strategy that you're interested in. However, to utilise the copy trading service, you will need a live or demo account with a broker that's partnered with Myfxbook.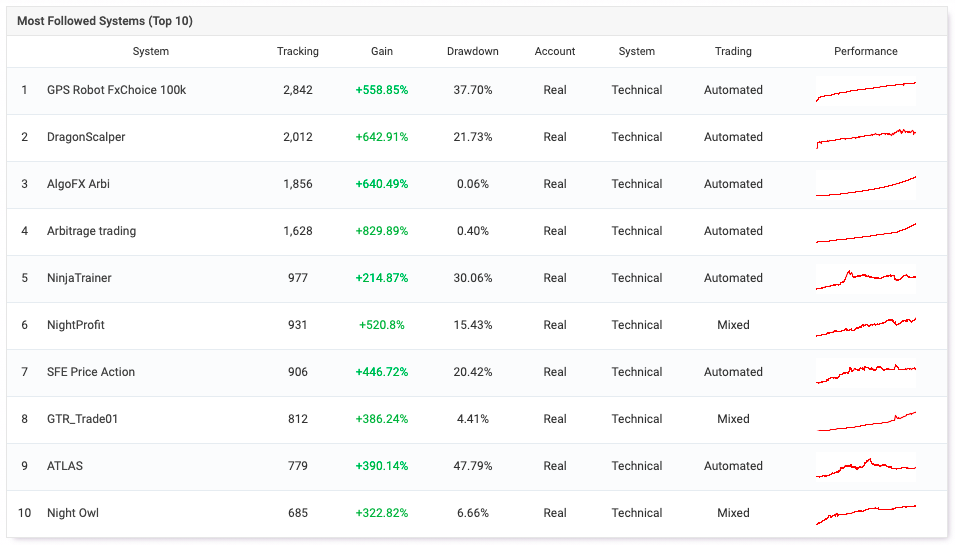 Note that only public and verified systems are listed on the systems page.
Community
The Community page is where the network of new and expert traders connect and share ideas. You can find thousands of discussions on multiple topics, from the best robots and signals to the latest market results.
Beginners can learn from experienced members who can guide them through the forex day trading experience, sharing tips and additional educational information.
Key forum categories include:
General forum
Strategies forum
New traders forum
Programming forum
Forex patterns forum
Forex sentiment forum
Trading systems forum
Cryptocurrencies forum
Experienced traders forum
While Myfxbook is a free service, members can subscribe to an Outlook Indicator for $25 a month on the yearly plan or $30 on the monthly plan. This is useful if you want indicator data from hundreds of accounts on the community outlook section.
To unlock all of the features, you will need access to the MT4 platform. Extra features include an API version to fetch outlook data, more time frames and community outlook symbols in your MT4 platform.
Additional Tools
Economic calendar – This section displays key economic releases from the world stage alongside their potential impact on forex trading markets. Stay up to date with important economic events.
Forex calculators – Utilise 11 different forex calculators to help you make trading decisions. Key calculators include the profit lot size calculator, drawdown rebate calculator, risk of ruin, margin, pip calculator and the position size calculator.
Markets widget – Once you select your system, copy the suitable code on the widgets page. There are four different widgets available: mini, small, medium and large.
Broker spreads & quotes – Compare the average spreads and quotes on multiple forex pairs across Myfxbook's list of brokers.
Mobile app – Access Myfxbook as a mobile app on iOS and Android devices. This can be downloaded from the App Store or Google Play.
News – View daily updates on news events that affect key forex pairs and trading markets.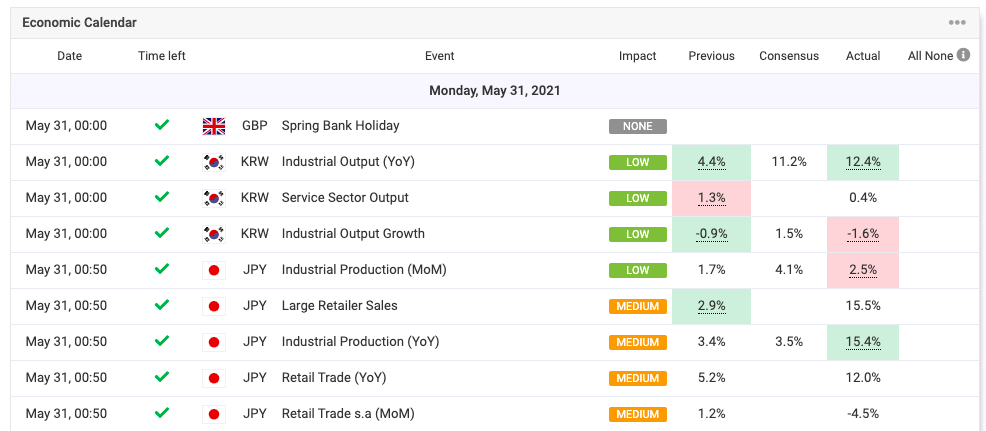 Fees
Myfxbook does not charge any fees to sign up and use their services. Instead, the company makes money by advertising on its website. Also, the brokers that work with Myfxbook have different fees and commission structures so make sure you are aware of the costs of trading with a particular broker.
The only additional service you can pay for is their Outlook Indicator. As mentioned, this costs $30 a month on the monthly plan or $25 a month on the yearly plan.
To use their copy trading services, you will need at least $1,000 in your forex trading account.
Pros
If you take Myfxbook vs competitors such as FX blue and ZuluTrade, the websites offers several benefits:
Free membership
Free demo account
Easy-access copy trading
Large community network
Wide range of analytical tools
Exclusive partnerships with 40 brokers
Compatible with eight trading terminals including MetaTrader 4, MetaTrader 5 and cTrader
Cons
Downsides of Myfxbook's range of services include:
Inconsistent data across the platform
Possibility of data manipulation
Fake statistics can be uploaded
Limited customer support
Safety
Myfxbook is a free platform that does not accept money or handle trading funds, which means it doesn't require a license. However, you will need a live or demo account with a broker to access Myfxbook's services. Therefore, it is advised to look into the broker's security processes before making a deposit. Fortunately, the company partners with many reliable providers including some of the top 10 forex brokers in the market i.e. Oanda, XM and IG.
Additionally, the Myfxbook website is SSL encrypted. This ensures user data and login information is protected so no third party has access to customer accounts. Finally, every trade copier system goes through a verification process before activation, which is based on track records and privileges. With that said, Myfxbook does admit that some of its verified accounts may have inaccuracies that are out of their control.
Customer Support
If you're experiencing issues you can contact the customer support team for help. To get in contact, submit a form through the Myfxbook website, filling out your personal details, email and message. Unfortunately there is no telephone or live chat option.
Alternatively, you can seek advice from community members who might be able to answer your questions. Simply post a discussion or start a thread. Additionally, you can look at the website's comprehensive Help and FAQ sections.
How To Sign Up
The registration process at Myfxbook is quick and you don't need to provide documents for verification.
To create an account:
Follow the 'Sign up' button at the top of the Myfxbook website. You can either register with your Facebook account, Google account or with an email
Enter login details including a username, email address and an investor password
Once you've agreed to the terms and conditions, you will be sent a confirmation email
Follow the link in the email to activate your account
Myfxbook Verdict
Myfxbook is a top-rated social trading platform. It provides multiple tools to enhance forex analysis, exclusive broker partnerships, MT4 & MT5 compatibility and comes with a large community of active traders. With almost all of its features free, there's a lot for traders to make use of.
FAQ
How Do I Open A Demo Account On Myfxbook?
You can trial Myfxbook through a free demo account. Simply click on 'Autotrade' and then 'Open Demo' to create an account. Once you've registered, you can access a range of different trading strategies and systems.
Who Is Myfxbook For?
Myfxbook is designed to help investors make informed trading decisions. New traders can gain valuable education from the community while experienced traders can utilise the analytical tools and range of data to review their forex strategies.
How Do I Link Or Add My MT4/MT5 Account To Myfxbook?
To add your MT4 or MT5 Publisher/EA, you need to download and install the Myfxbook EA installer. You will then need to restart the trading platform and go to Tools > Options > Expert Advisors. Under the navigator section, you can find the Myfxbook EA on the 'Expert Advisors' tab. Drag it on any chart to activate it. Your account will be added to your Myfxbook portfolio within a minute.
How Do I Publish A Chart On Myfxbook?
Charts on Myfxbook are private by default. If you publish a chart, it will be made public to thousands of traders who can analyse, discuss and subscribe to it. To share your strategy page, click on your username, select the system you wish to publish and share the URL with friends or the community.
Can I Access Myfxbook In The UK?
Traders from the UK and anywhere else in the world can access Myfxbook. However, when choosing a broker that is compatible with Myfxbook, it's worth checking they are regulated and available in your country.
Myfxbook is a leading forex trading community offering a range of tools from interactive charts to social investing.