Kraken Review 2023


Available in United States
Kraken will suit traders looking for a diverse list of cryptos including Bitcoin and a good security track record.
- DayTrading Review Team
Kraken is a leading cryptocurrency exchange with a proprietary trading terminal and a list of 220+ tradeable crypto tokens. Up to 1:5 leverage is available with stable rollover fees on spot crypto trading and up to 1:50 on futures. The exchange also supports crypto staking and has an interactive NFT marketplace.
✓
Beginner Friendly
$10
AlgoTrader
Cryptos
Lower fees when trading volume exceeds $50,000 in 30 days
USD, EUR, GBP, CAD, AUD, JPY, CHF
Bitcoin Payments, Wire Transfer, PayID, Silvergate Bank Transfer, Etana
and
2 more
Forex Trading
Not Available
Stocks Trading
Not Available
CFD Trading
Not Available
Crypto Trading
Kraken is a specialized crypto exchange and supports more than 220 cryptocurrencies. These include all of the established tokens like Bitcoin as well as some altcoins. Traders can make trades on spot crypto markets with up to 1:5 leverage or on futures with up to 1:50. Fees are low and the platform is super easy to pick up.
✓ Pros
Very good security track record with no hacks in a decade since launch
Excellent range of 220+ more established cryptocurrencies
NFT marketplace and crypto staking available
Great trading platform and mobile app
Low exchange fees on Kraken Pro
50x leverage on futures trading
Low minimum deposit of $10
3D secure required
Mobile investing
Crypto staking
✗ Cons
Slow verification process on Pro account
Does not support many newer altcoins
Low leverage on spot trading
Does not accept fiat deposits
Slow verification times
Established in 2013, Kraken is a top-rated cryptocurrency trading platform. In fact, it is the fourth-largest digital currency exchange globally by trading volume. This 2023 review covers supported crypto coins, trading terminals, withdrawal fees, and more. Find out whether to start trading Bitcoin at Kraken.
Kraken Headlines
Kraken is a San Francisco-based cryptocurrency exchange. Its origin dates back to 2011 when CEO and founder, Jesse Powell, visited the offices of Mt. Gox, a crypto exchange company. Mt. Gox suffered a major security breach and was hacked losing millions in client funds. This experience motivated Powell to build a crypto investing platform that was organized, secure, and trusted by customers. Eventually, Kraken was established in 2013.
The company currently serves over 6 million traders and is looking to launch an initial public offering (IPO) in the future. Its straight-talking trading platform essentially allows participants to buy and sell cryptos with various fiat currencies.
Trading Platforms
Kraken Terminal
The Kraken Terminal is a professional charting and trading interface, which is free and available to all clients. Its software is based on Kraken's premium trading terminal, Cryptowatch.
The platform offers:
Order book and depth chart which visualizes market sentiment i.e. volume of orders with bids and asks
Toolbar with markets menu, time period selector, analysis, and drawing tools
History scrollbar which scans through the current asset's price history
The trading form allows users to submit orders from the terminal
A watchlist that displays selected financial markets
Indicator panels i.e, volume and MACD
Real-time customizable charts

Cryptowatch
Cryptowatch is Kraken's premium terminal and provides real-time crypto market data, plus charting and investing services across 25 exchanges, including Binance, Coinbase Pro, Gemini and Kraken Futures.
Live data is supplied directly from crypto exchanges through APIs and covers over 4,000 trading markets. Basic use of Cryptowatch is free, while additional premium features can be purchased with Cryptowatch credits.
Credits can be purchased with Bitcoin or a credit card at $1 = 100 credits. Each account gets 250 credits to start with but users can earn credits during onboarding and via a referral system.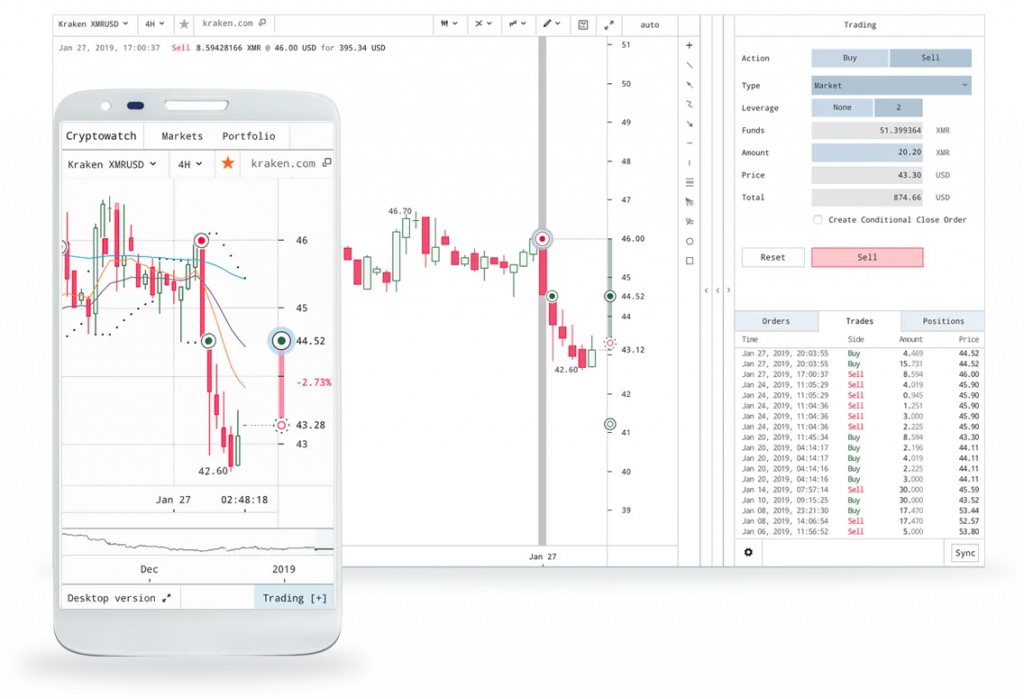 Free features include:
Advanced charting interface which visualizes price movements and analyzes market trends
Tools and indicators i.e. Moving Averages, MACD, RSI, and Bollinger Bands
View trade history, orders, positions, and balances across exchanges
Trade on multiple exchanges via one terminal including on mobile
Price, volume, and technical analysis alerts
Make and save your favorite themes
Trader chatbox
Premium features include:
24/7 price, volume, technical analysis, and order-fill alerts as text and emails
Cryptofinance.ai plugin pulls market data into Google sheets
Zapier integration automates orders and alerts
Market Data WebSocket API
Tokens & Coins
The exchange allows you to trade more than 65 cryptocurrencies and 7 different fiat currencies, with plans to add new coins in the future. Kraken offers popular cryptos such as Bitcoin, Ethereum, Tether, Ripple, Monero, and Dogecoin. Users can trade with a variety of fiat-to-crypto pairs, including USD, EUR, CAD, JPY, GBP, CHF, and AUD.
Clients can also trade on a selection of crypto futures and indices that track the overall direction of the digital currency market. These are good options for investors looking to minimize the risk of one crypto falling in value.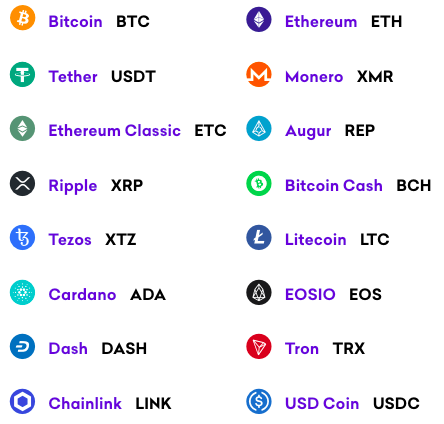 Spreads & Commissions
Kraken offers some of the most competitive fees in the crypto market. Fees on Kraken Pro range from 0% to 0.26% vs Coinbase and Gemini, which go up to 1.49%. The broker uses a taker/maker fee schedule, where the rate decreases as your 30-day volume increases, incentivizing market liquidity.
On the Kraken Exchange, you pay a 0.9% fee for stablecoins, and 1.5% for FX pairs or on any other crypto. Traders are also required to pay 3.75% + 0.25 EUR for card processing or 0.5% for online banking. Fees are also charged on other deposits and withdrawals depending on the method and country you reside in. Generally, funding prices are cheaper with cryptocurrencies.
Kraken does not charge any fees for transferring funds with a futures wallet, staking, storing funds, account inactivity, or account maintenance.
Leverage
Leverage limits differ across spot transactions and margin and futures investing. Kraken currently has up to 5x leverage on spot trading, depending on the currency.
For example, Bitcoin vs US Dollar has a 5x maximum leverage, while Monero vs Euro has a 2x leverage limit. The conservative leverage limit comes from the high degree of risk when spot investing in cryptos. On the other hand, futures offer 50x leverage across most contracts.
Mobile Apps
Kraken offers two proprietary mobile apps, which serve different purposes. A third option used to be available, Kraken Futures. However, it was discontinued on the 27th of January 2022. Investors must now use the official website to trade futures.
Kraken App
The beginner-friendly app allows users to buy, sell and convert crypto. You can set up and login with two-factor authentication (2FA) to monitor prices, track portfolios, save favorite cryptos, make credit and debit card purchases, plus initiate fiat withdrawals.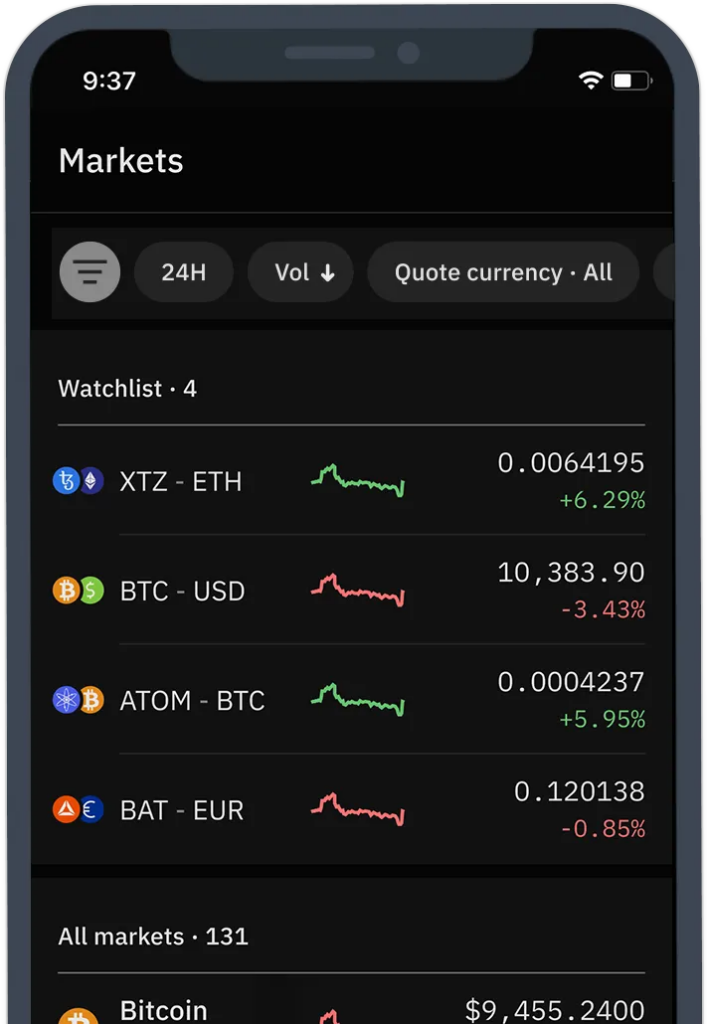 The app is accessible everywhere excluding Crimea, Donetsk, Luhansk, Cuba, Iran, Japan, North Korea, and Syria. You can get it on Android 8.0 and up and iOS 13 and up.
Kraken Pro
Kraken Pro provides a professional trading experience, which enables clients to place advanced orders on the go. The application offers margin trading with up to 5x leverage, candlestick price charts, crypto staking, plus order book display options. On the downside, funding is not available on the app, and can only be done through the website. 2FA does not work on the application and instead connects to your trading account using an API key.
Kraken Pro is available on Android 7.0 and up and iOS 11 and up.
Payment Methods
Deposits and withdrawals can be done with cryptos or fiat currencies. Crypto funding methods include Bitcoin, Ethereum, Litecoin, Ripple, and Tether. Credit cards can be used to buy cryptos at the Express, Intermediate, or Pro levels. Transactions have a 7-day card limit of €7,500.
Minimum orders, deposits, and withdrawals also depend on the token. The most current information on minimums can be found on the Kraken website.
Once you've completed the verification process, depositing and withdrawing from your account is simple:
Head to your client area under 'Funding', where all limits are displayed
Select 'Deposit' on the respective fiat or crypto
For fiat currencies, select the preferred deposit method and follow the banking instructions
For cryptos, connect to your e-wallet via the 'deposit address' and confirm the transaction
Check your account balance status to ensure funds have been approved
To withdraw earnings, select 'Withdraw' on the respective fiat or crypto
For fiat currencies, select the withdrawal method, input your bank details and amount
For cryptos, input your details and crypto address found in your e-wallet
Demo Account
The exchange doesn't offer a demo account that you can use to test the general functionality of the platform.
However, there is an option for futures trading. To activate the free paper trading account all you need to do is to sign up in your futures dashboard and transfer the virtual funds from the holding wallet to the trading wallet.
Bonuses & Promotions
In order to comply with regulations, the exchange doesn't offer any bonuses. However, if trading volumes exceeds $50,000 in 30 days, then investors can receive lower fees of 0.14% maker and 0.24% taker. The broker also runs referral promotions – see the website for the latest details.
Regulation & Licensing
Kraken is licensed and regulated in all jurisdictions where it operates, such as the USA (FinCEN), Canada (FINTRAC), UK (FCA), Australia (AUSTRAC), and Japan (FSA).
Client funds are held directly by users in their bank accounts at Kraken partners that are heavily regulated. The Kraken Bank itself is licensed by the Wyoming division of banking.
Additional Features
As well as basic OTC trading, Kraken also offers futures products and leverage to multiply profits while trading on Bitcoin, for example. Margin allows experienced traders to maximize gains from market swings with 5 times the earning potential vs regular spot trades.
Kraken also allows you to earn rewards by staking crypto and fiat currencies. This means users can stake assets on the blockchain i.e. ETH staking or via off-chain staking through Kraken's internal programs. In addition, the broker offers up to 23% yield APY per year on certain cryptocurrencies.
Note, Kraken is also building an NFT marketplace that will facilitate the buying and selling of non-fungible tokens. See our guide to trading NFTs here.
Account Types
Traders need to create an account and get verified to be able to deposit and withdraw funds. Each verification level is linked to an account type. The accounts available are Starter, Express, Intermediate, and Pro, though the Express account is only available in the US.
Each verification level has different funding options and deposit/withdrawal limits. For example, the Pro account has a maximum withdrawal of $100,000,000 over a period of 30 days.
Each account requires different types of documentation with varying verification times. For example, the Starter account only requires simple personal information, which takes 1 to 2 minutes. The Pro account requires financial information and KYC verification, which can take a few days to be approved.
Benefits
If you take Kraken vs competitors like Binance, Coinbase, Coinbase Pro, and Gemini, the exchange offers the following advantages:
Low exchange fees on Kraken Pro
50x leverage on futures trading
Choice of 65+ cryptocurrencies
Low minimum deposit of $10
NFT marketplace plans
Fiat currency trading
3D secure required
Mobile investing
Crypto staking
Drawbacks
Bank cards can be used to buy and deposit crypto, but not fiat
Slow verification process on Pro account
Many altcoins aren't yet supported
Low leverage on spot trading
Trading Hours
Since cryptocurrencies are traded 24/7, the platform is available for clients to use at any time. Furthermore, some customer service contact details are also 24/7. An example is the live chatbot or the regional phone numbers provided on the official website.
Customer Support
As outlined above, customer support is available around the clock and the team is able to help with any issues you encounter such as 2FA not working, login problems, or even with help to delete your account. Should you require assistance, you can notify Kraken's support team via:
Live chat – chatbot on the website
Email – Submit a request form via the support center
Phone – 24/7 numbers provided in English, Spanish, and French on the official website
Kraken mainly advises users to search for an article related to the query on the support center.
The broker's US headquarters are registered at Payward Ventures, Inc., 237 Kearny Street #102, San Francisco, CA 94108.
Note that the support team isn't able to offer any tax help – you may want to consider reaching out to your official tax institution. For example, in the UK this is HMRC.
Security
Kraken hasn't been hacked and follows industry-leading safety measures. 95% of all deposits are kept in cold storage, which ensures full reserves so that users can deposit and withdraw on demand. Client information is encrypted at the system and data level, with 24/7 surveillance. Kraken also enables 2FA, 3D secure payments, SSL encryption, email confirmation for withdrawals, plus API keys.
Proof Of Reserves
Kraken is a step ahead of some of its competitors when it comes to proof of reserves. It was the first crypto exchange to offer a proof of reserves cryptographic audit. The exchange implements an audit process to prove to customers that client funds are properly held. The advanced accounting practice is conducted twice per year by trusted auditors.
The audit process involves an anonymous snapshot of all account balances held, segregating them into a Merkle-tree data structure.
Proof of reserve audits mean clients have access to balance verification at the time of audit processing. The process is relatively simple and means you can keep an eye on your assets.
To run a check:
Log in to your Kraken account with your registered credentials
Navigate to your account settings (Settings > Account)
Select the 'Audits' tab
Your profile will indicate recent audits that your asset balance was included in, along with the audit date, an ID, the style of evaluation and the company that organized it
Copy the 'Record ID' related to your account and the specified audit
Visit the website of the third-party auditor responsible for the proof of reserves audit
Enter your 'Record ID' into the auditor's portal
Verify your balance at the time of the audit
Fund Safety
The Kraken platform has never been hacked in its nine-year history. Nonetheless, a $100 million fund is available for user compensation in the event of a hack or security breach, meaning you can make a withdrawal immediately.
Kraken Verdict
Kraken offers a good range of cryptocurrency assets, reliable trading apps, competitive fees, and strong user security. The exchange is also licensed and regulated by several reputable bodies. While Kraken could improve its verification times, it is still an excellent platform for crypto traders in 2023.
Accepted Countries
Kraken accepts traders from Australia, Thailand, Canada, United States, United Kingdom, South Africa, Singapore, Hong Kong, India, Norway, Sweden, Italy, Denmark, United Arab Emirates, Saudi Arabia, Kuwait, Luxembourg, Qatar and most other countries.
Traders can not use Kraken from Iran, Iraq, Cuba, Syria.
Payment Methods
Kraken Details
| | |
| --- | --- |
| Minimum Trade | Varies upon the crypto traded |
| Regulated By | FCA, FinCEN, FINTRAC, AUSTRAC, FSA |
| Islamic Account | No |
| Mobile Apps | Yes |
| Margin Trading | Yes |
| Volatility Index | No |
| Spot Trading | Yes |
| Perpetual Swaps | Yes |
| ELWs | No |
| REITs | No |
| AI / Machine Learning | No |
| Robo Advisor | No |
| P2P Trading | No |
| Negative Balance Protection | No |
| VPS Hosting | No |
| Tournaments | No |
| Demo Competitions | No |
| Managed Accounts | No |
| Market Maker | No |
| Auto Trading | Kraken Futures is integrated in other platforms which have bots: Bookmap, Caspian, FMZ Quant, Gunbot, HaasOnline, Hyndor, Margin |
| Social Trading | No |
| Guaranteed Stop Loss | No |
Cryptocurrency Trading Details
Crypto Spread
0-0.26% average
Crypto Lending

No

Crypto Staking

Yes

Crypto Mining

No

Crypto Auto Market Maker

No

Crypto Coins

AAVE
ADA
ALGO
ANT
ATOM
BAL
BAT
BCH
BNB
COMP
CRV
DAI
DASH
DOT
EOS
ETC
ETH
EWT
FIL
FLOW
GNO
GRT
ICX
KAVA
KEEP
KNC
KSM
LINK
LSK
LTC
MANA
MLN
NANO
OCEAN
OMG
OXT
PAXG
QTUM
REP
REPV2
SC
SNX
STORJ
TBTC
TRX
UNI
USDC
USDT
WAVES
XBT
XDG
XLM
XMR
XRP
XTZ
YFI
ZEC
Compare Kraken
Compare Kraken with similar brokers that accept traders from your location. Among available brokers these are the most similar to Kraken:
IG Group – IG is an award-winning broker that has an excellent reputation globally. The brand-US offers spread betting, CFD and forex trading across a comprehensive suite of markets. IG is also multi-regulated, provides a great trading app and has 50 years experience.
Go to IG Group
Gemini – Gemini is a leading crypto trading exchange with low fees and 100+ cryptocurrency and altcoins.
Go to Gemini
Forex.com – Forex.com boasts a global reputation with multiple awards and 20+ years experience. Regulated in the US, EU, UK and Canada they offer a huge range of markets, not just forex, and offer competitive fees on a cutting-edge platform. The brand also provides a suite of additional tools, from performance analytics and SMART Signals to advanced charts and strategy builders.
Go to Forex.com
Kraken Comparison Table
Compare Kraken With Similar Brokers
Kraken
IG Group
Gemini
Forex.com
Rating
3.9
4.4
3.8
4.5
Markets
Cryptos
Forex, ETFs, CFDs, indices, shares, commodities, cryptocurrencies, options, futures, spread betting
Cryptos
Forex, CFDs, Stocks, Indices, Commodities, Cryptos, Futures, Options
Demo Account
Yes
Yes
No
Yes
Minimum Deposit
$10
£250
$0
$100
Minimum Trade
Varies upon the crypto traded
0.1 lots
0.00001 BTC
$1
Regulators
FCA, FinCEN, FINTRAC, AUSTRAC, FSA
FCA, ASIC, MAS, FSCA, JFSA, FMA, CFTC, NFA, BMA, DFSA, FINMA, BaFin
NYDFS, MAS, FCA
CySEC, IIROC, NFA, CFTC, FCA, CIMA, CIRO
Bonus
Lower fees when trading volume exceeds $50,000 in 30 days
–
–
–
Education
Yes
Yes
Yes
Yes
Platforms
AlgoTrader
MT4, AutoChartist, TradingCentral
TradingView, AlgoTrader
MT4, MT5, TradingView, AutoChartist, TradingCentral
Leverage
–
1:30
–
1:200
Payment Methods
7
6
10
8
Visit
Visit
Visit
Visit
Visit
Review
Kraken
Review
IG Group
Review
Gemini
Review
Forex.com
Review
Compare Trading Instruments
Compare the markets and instruments offered by Kraken and its competitors. Please note, some markets may only be available via CFDs or other derivatives.
Compare Kraken Trading Instruments

| | Kraken | IG Group | Gemini | Forex.com |
| --- | --- | --- | --- | --- |
| CFD | No | Yes | No | Yes |
| Forex | No | Yes | No | Yes |
| Stocks | No | Yes | No | Yes |
| Commodities | No | Yes | No | Yes |
| Oil | No | Yes | No | Yes |
| Gold | No | Yes | No | Yes |
| Copper | No | Yes | No | No |
| Silver | No | Yes | No | Yes |
| Corn | No | No | No | No |
| Crypto | Yes | Yes | Yes | Yes |
| Futures | Yes | Yes | No | Yes |
| Options | No | Yes | No | Yes |
| ETFs | No | Yes | No | No |
| Bonds | No | Yes | No | No |
| Warrants | No | Yes | No | No |
| Spreadbetting | No | Yes | No | No |
| Volatility Index | No | Yes | No | No |
Kraken vs Other Brokers
Compare Kraken with any other broker by selecting the other broker below.
FAQ
Who Is Kraken Best For?
Kraken's fees favor professional investors who trade in high volumes, with additional incentives when you reach a monthly trading volume of $50,000. Kraken also offers advanced features like margin trading, staking, and futures products. With that said, the exchange is still beginner-friendly, offering a simple UI and learning resources for new traders.
What Do I Need To Know As A UK Trader Using Kraken?
The UK is one of Kraken's most active client bases for cryptocurrency investing and staking. However, under FCA regulation, retail traders are not eligible to trade on Kraken Futures. Clients can, however, buy, sell and hold cryptos for long-term investment purposes.
Why Is My Deposit Or Withdrawal On Hold At Kraken?
Your deposit may have been flagged for a few reasons. It may have been above the funding limit based on your verification level. There might also be a name mismatch on your Kraken and bank accounts. In addition, your bank may have asked to put the deposit on hold due to irregular activities. On withdrawals, you may encounter an invalid amount error if your account balance is below the requested amount. Speak to the broker's customer support team to resolve any issues.
How Do I Set Up An Account With Kraken?
You can create an account on the Kraken website, using an email and password. You can only start trading and funding your account once you complete their verification process. Each verification level is associated with a particular account type: Starter, Express, Intermediate, and Pro. Each option has different deposit and withdrawal fees, funding options, and limits.
Can I Deposit Or Withdraw At Kraken Using Debit/Credit Cards?
Kraken does not typically accept cash, debit and credit cards, PayPal, or similar services for fiat currency deposits. This is because accepting cash makes it difficult to comply with financial regulations. With that said, cash and cards are accepted in CAD and the 'Buy Crypto' feature means you can purchase a range of cryptos with cards. Other regions can also use a bank card to purchase cryptocurrencies in order to make deposits.
Visit
Kraken is a leading cryptocurrency exchange with a proprietary trading terminal and a list of 220+ tradeable crypto tokens. Up to 1:5 leverage is available with stable rollover fees on spot crypto trading and up to 1:50 on futures. The exchange also supports crypto staking and has an interactive NFT marketplace.