Hodl Hodl Review 2023


Available in United States
Hodl Hodl will serve investors looking for an easy-to-use platform with peer-to-peer Bitcoin buying, selling and Escrow-secured lending solutions.
- Daytrading Review Team
Hodl Hodl is a non-custodial Bitcoin trading and lending exchange offering anonymous P2P transactions. The brand is trusted by 100,000+ users worldwide and offers 100+ fiat currencies, which can be used to complete crypto payments. 50,000+ orders have been completed through the exchange.
Crypto Trading
You can buy and sell Bitcoin directly with no intervention and a fixed fee of 0.6% per transaction (0.3% per party). You can get started in three steps; create a contract, BTC deposit and transfer, BTC release
✓ Pros
Straightforward to use interface for peer-to-peer transactions
Transparent fixed fee model split equally between the parties involved
Transactions are anonymous and non-custodial with multisig (P2SH) contract approval
New clients can learn how to purchase and sell Bitcoin without risking any money via the TESTNET demo solution
Non-custodial, so your funds cannot be accessed by malicious users should Hodl Hodl be compromised
No lengthy verification process before trading
✗ Cons
Unregulated brand and risks involved with peer-to-peer transactions including limited fund safeguards
No telephone or live chat contact options for users needing support
Investing is limited to Bitcoin only
Not fully decentralized
Hodl Hodl is a peer-to-peer (P2P) Bitcoin exchange platform. The platform also offers P2P lending services through Lend at Hodl Hodl, and a trade test platform called TESTNET, which is reminiscent of typical demo accounts on other exchanges. This article will explore the platform, its services and how to get started.
What Is Hodl Hodl?
Hodl Hodl is a crypto exchange, focusing on peer-to-peer trading of Bitcoin. The platform focuses on minimising the involvement of a middleman (themselves) in trades between buyers/borrowers and sellers/lenders. It also prides itself in the anonymity that it offers to its users, not requiring any know-your-customer (KYC) or anti-money-laundering (AML) checks to begin trading, as it is a non-custodial platform that holds none of your funds.
Given that Hodl Hodl is non-custodial, users do not have to deposit their funds onto the platform before participating in any trades, so their own third party wallet is required. You do not need to download any app to trade and the platform does not offer a mobile app.
The Hodl Hodl platform has made its presence known by being featured on multiple podcast episodes with other creators, as well as maintaining their own Reddit subreddit, Twitter and LinkedIn accounts.
Accepted Currencies
Hodl Hodl is primarily a Bitcoin trading platform, which allows for trades to be carried out in any currency, given that the payment terms and requirements are set by those users who open offers. This means that the platform accepts almost all fiat currencies, as well as altcoins, as payment.
Accepted Payment Methods
On Hodl Hodl there are many supported payment methods that you can use for your trades. On the platform, the type of payment method chosen does not impact how the trade is carried out and is mostly for information and search filter purposes. The payment methods range from bank transfers to cash in person or even mobile payment solutions like Qiwi. Some payment methods are geographically restricted and may not show if the country selected in your search is not within this limit.
If users find that a payment method they know of is missing, they can put in a request with Hodl Hodl to add it. If the request does not provide a geographical location, it is considered globally available. If the request contains a region, then it is considered as only being available in that region and is geographically restricted.
If you believe that a payment method is available in a region (e.g. Venezuela) that is not part of its current geographical restriction (e.g. the USA and Argentina), then you can also request Hodl Hodl to include this new region too.

Account Management
Creating an account on Hodl Hodl is simple and easy, only requiring a valid email, username and password to get started. You are only required to provide your email and password on login. Once your account is created, a slight trading limit is imposed on it, done to make Hodl Hodl safer to use and provide comfort and security whilst trading. Another main reasoning for using limits is to decrease the amount of spam or scam accounts being created.
Types Of Limits
Each user has an associated limit level applied to their account and the limit level they have determines what they can or cannot do. The limits that are applied are:
The number of simultaneous contracts that a user can have
The maximum number of Bitcoins traded as part of a single contract
The number of simultaneously enabled offers a user has (note: not total number of offers)
Users can progress in their limit levels through:
Conducting a required number of successfully completed trades
Meeting a percentage of trades conducted with different traders
Trading at least a certain volume of Bitcoin
The limit levels are also split across two categories: verified and non-verified. To gain a Hodl Hodl verified status, you must go through a verification process that involves providing valid government ID documents that will be tied to your account. The benefits of being verified include fewer limits on trading, more trust from customers and Hodl Hodl administrators, smaller fees and a "Verified" title that is visible on your profile. The limit level of your account can also be found on your profile but is only visible to you.
Third-Party Site Reputation
Given that Hodl Hodl is not the only Bitcoin exchange, it allows for users to display their profiles from other select P2P trading platforms, such as LocalBitcoins or Paxful. On your profile, you can submit a request for your third party profiles to be displayed on your Hodl Hodl profile, which takes up to 24 hours to be approved by platform administrators.
Blocking Users
Hodl Hodl users can block other users on the platform preventing them from being able to view offers and create new contracts with them.
Accounts can also be blocked by Hodl Hodl administrators, which prevents the account from being able to create new contracts or offers and places current offers in an inactive state. A reason is usually provided for the block by the administrators, often related to suspected money laundering or illicit activity.
Buying
Once you have registered on Hodl Hodl, you are instantly able to buy Bitcoin on the platform. The process is simple and starts with you finding the right offer on the "Buy Bitcoins" section of its website. You can filter using the number of Bitcoins (or the fiat currency equivalent) that you want to buy, the country, payment method, etc.
Once you have found the offer you wish to trade, pressing the "Accept Offer and Create Contract" button will initiate the contract. Once you see that the status of the contract has changed to "In Progress", you can then send them their payment, as the seller has deposited the Bitcoin into the escrow. After sending the payment, you need to press the "I've Sent the Payment" button to confirm.
Once the seller confirms that their payment has arrived, they can release the Bitcoins held in the escrow, finalising the contract.
Things To Watch Out For
Make sure you send payment within the "payment window", the time frame given for both parties to send and finalise their payments
Keep in mind the number of confirmations needed to complete the contract, do not send your payment until that number is reached
The "Average Release Time" can tell you the average time it takes a seller to release the Bitcoins held in escrow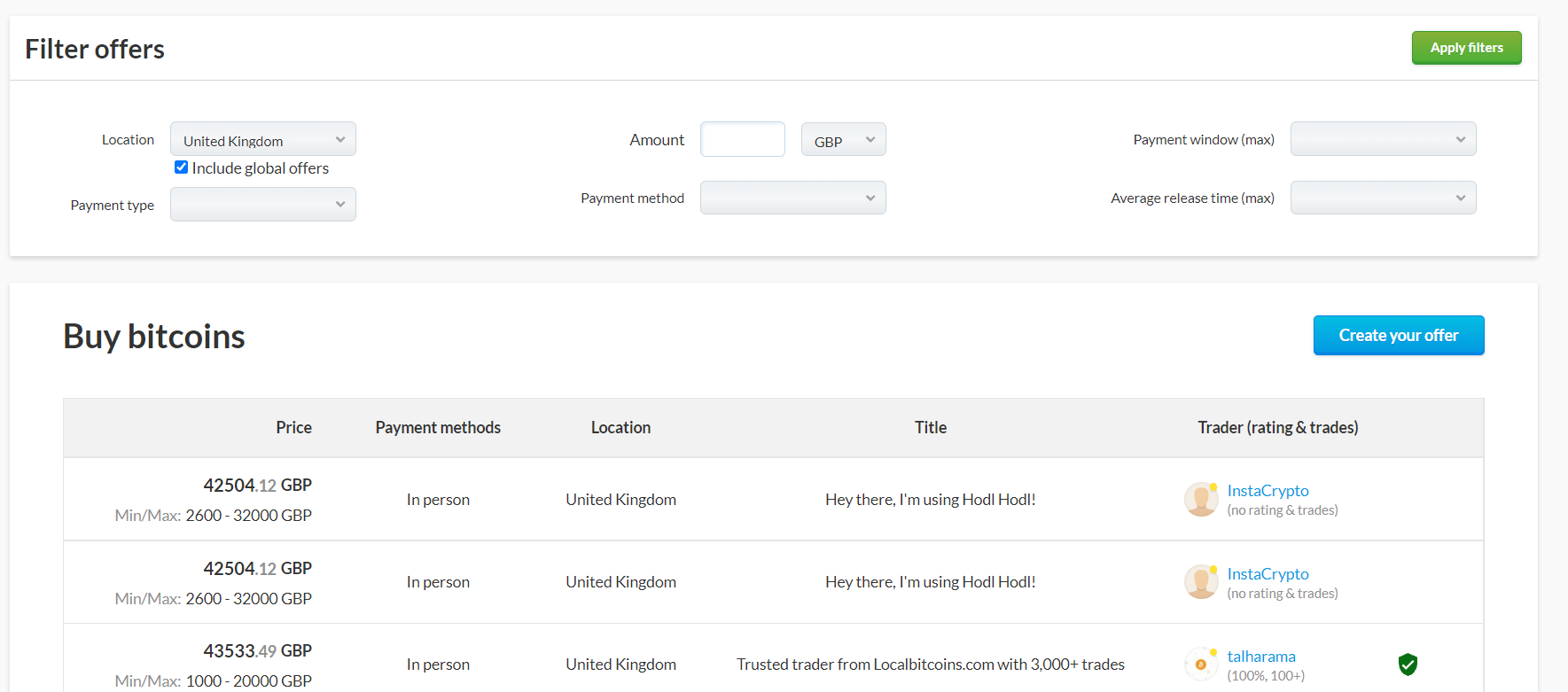 Selling
Selling Bitcoin on Hodl Hodl is just as simple as buying. The process is very similar, especially in the way you begin your contracts, with the main difference being the fact that you must be the one to deposit the Bitcoins into the escrow. Once you start the contract, you will be given the option to "Generate Escrow" and, once clicked and generated, you must send the required amount of Bitcoins to the address provided.
Once the contract status has changed to "Paid" and you have checked that the payment has been sent through to the required account, then you can press the "Release Deposit" button to send the buyer the Bitcoins held in escrow.
Things To Watch Out For
Make sure that the "Payment Window" is suitable for you before beginning your contract
Much like the "Average Release Time", each buyer has an associated "Average Payment Time"
Creating Offers
Hodl Hodl provides an easy way to create offers on its platform, where you have access to powerful expressions that allow you to post a dynamic price that changes with the fluctuations in Bitcoin price. When creating an offer, you have the option to set the payment time frame and the number of Bitcoin confirmations required before the payment window is open.
To help prevent any possible scams or illicit activity, users can set a maximum first-trade limit, which is applied the first time you complete a trade with a particular user. This is optional, though it might be useful if you want extra precautions with first-time buyers/sellers before you feel like you can trust them with higher volumes of trade.
Feedback System
The Hodl Hodl platform applies a feedback system that allows users to review each other at the end of each trade. This system works similarly to other P2P platforms, where the feedback that has been given can be seen and used by others to decide whether to trade with a user or not. You can only give feedback at the end of a completed trade or during a dispute. You can find user feedback on their trade offers or profiles.
Hodl Hodl Lending Service
Hodl Hodl also offers a crypto lending service that allows users to lend and borrow cryptocurrency. This is also a P2P debt platform, where users interact with each other to organise borrowing/lending of various currencies using Bitcoin collateral and agreed upon interest rates. The interest rate of each different offer can vary, as it is chosen by the lender. If you are wondering about how lending on Hodl Hodl works, you may be relieved to hear that it uses a similar system to normal Bitcoin trading on Hodl Hodl.
Fees
Hodl Hodl applies fees to every transaction carried out on the P2P exchange platform. For newly registered users, the transaction fee is 0.6%. This can be reduced to 0.55% if you are a referee or if you have referred a user to the site. The minimum fee that can be applied is 0.5%, which is gained by going through the full verification process. The fee is split between both the buyer and the seller, where both pay an equal amount. The fees are deducted upon successful completion of the contract.
For example, if there is a trade for 1 BTC worth $10,000, and the trading fee is 0.6%, then the platform will withhold 0.006 BTC from the funds sent by the seller (sending 0.994 BTC) and the buyer will be asked to send $9,970 to the seller. This means that both the buyer and the seller have paid an equal amount of commission: 0.003 BTC each, or $30.
In addition to this, given that Bitcoin is transferred between wallets, there is an additional transaction fee for mining on the blockchain. This fee is hard to determine before the start of the contract and can vary but traders should be aware of its existence.
API
Should you wish to use it, Hodl Hodl offers the ability for users to use its API. Some endpoints are public, such as the list of countries, currencies and offers, and some are private, such as those that are related to specific users. If you are unfamiliar with any programming languages, then the use of the API might not be for you. However, if you wish to improve how you trade on Hodl Hodl or want to run your complex analysis of the platform, you can easily do so through this method.
Additionally, for those users that are interested in the technical side of things, Hodl Hodl has a public GitHub/GitLab that hosts its open-source projects that you can get involved with.
Security
To ensure that your trades on Hodl Hodl remain secure, the platform makes use of contracts that utilise escrow. Hodl Hodl's escrow is a P2SH Bitcoin multi-signature address that uses 3 keys and requires at least 2 of them to sign a transaction. These 3 keys are split between the seller, buyer and Hodl Hodl. This means that the funds sent to the escrow cannot be released without Hodl Hodl's approval, so neither the buyer nor the seller can steal the coins.
To give some examples:
If the contract is executed successfully, the buyer receives their Bitcoin once Hodl Hodl and the seller sign the transaction
If the contract has been cancelled or if the dispute is won by the seller, the seller will be able to get back their Bitcoin as both they and Hodl Hodl will have signed the transaction
If the buyer wins the dispute, the Bitcoins will be released to them as both they and Hodl Hodl will have signed that transaction
Additional security on Hodl Hodl is implemented through the use of a payment password. These are used as the encryption key for the user's escrow key pair. The use of these passwords means that, even if the users are hacked, they cannot deposit or release funds from the escrow without the password.
Users on Hodl Hodl can also opt-in to use two-factor authentication (2FA) and trusted devices. Both of these measures help prevent malicious persons from being able to access your account if they get a hold of your password.
There have been some previous issues on Hodl Hodl with some users' payment passwords being compromised on their platform. The platform responded by forcibly closing contacts that were affected, to prevent further damage or losses.
Customer Service & Support
Hodl Hodl aims to resolve any issues with its platform promptly and within 24 hours, where possible. To get an administrator involved with a contract, you can open a dispute, otherwise, you can send an email using its support address.
Email Address: support@hodlhodl.com
If you are unsure about how to use its platform, Hodl Hodl provides tutorials and videos on its YouTube channels and maintains a blog on Medium, which features the latest news about the platform.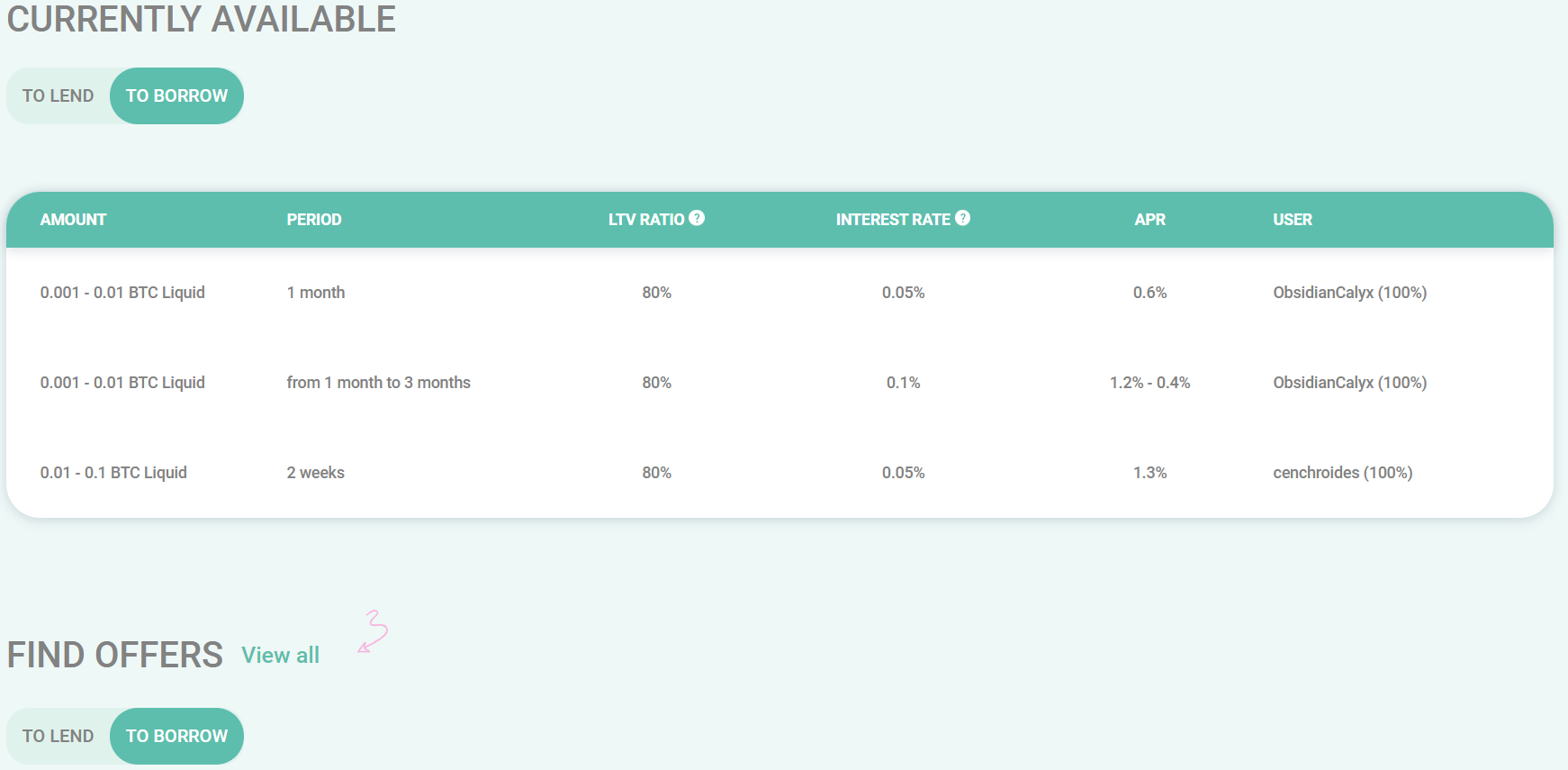 Hodl Hodl Vs Bisq
It is common for users to compare Hodl Hodl to Bisq, as they are both quite similar platforms. The main difference between the two is that Bisq offers fully decentralised P2P trading at the cost of being less user friendly, due to the requirement of having to download the Bisq client. If you are looking for a completely decentralised exchange, then Hodl Hodl may not be the right choice for you. However, if you are after an easy and user-friendly way to trade without KYC checks, then Hodl Hodl could be an attractive option.
Hodl Hodl Verdict
Hodl Hodl is an excellent choice for traders who are looking for a quick way to purchase or sell Bitcoin directly with another trader. The platform supports the maintenance of some privacy by allowing trading without KYC checks. The platform also offers a lending/borrowing service, which is a bonus to those who are looking for a one-stop-shop for their Bitcoin needs.
FAQs
Is Hodl Hodl Legit?
Yes. The platform is well established and is widely recognised by the crypto community. Despite the lack of regulation and KYC requirements, there are several features in place aimed at providing a safer platform.
Can I Buy Altcoins On Hodl Hodl?
No. Hodl Hodl specialises in the trading of Bitcoin, no other cryptos can be purchased or sold on the platform.
Can I Borrow Altcoins On Hodl Hodl?
Yes, the Hodl Hodl lending service includes a larger range of cryptocurrencies, including L-BTC, BUSD, DAI, PAX, USDC, USDT and WBTC.
Is Hodl Hodl A Wallet?
No. Hodl Hodl is non-custodial and does not handle any of your coins or deposits. Users will need to store their tokens in a third-party wallet.
Is Hodl Hodl Safe?
All trading and crypto endeavours have associated risks and Hodl Hodl is no different. As a P2P platform, buyers using chargebacks present a risk to sellers. The platform could also be hacked. However, the exchange has a range of security features in place to avoid such issues.
Accepted Countries
Hodl Hodl accepts traders from Australia, Thailand, Canada, United States, United Kingdom, South Africa, Singapore, Hong Kong, India, France, Germany, Norway, Sweden, Italy, Denmark, United Arab Emirates, Saudi Arabia, Kuwait, Luxembourg, Qatar and most other countries.
Payment Methods
Hodl Hodl Details
| | |
| --- | --- |
| Minimum Trade | $0 |
| Islamic Account | No |
| Mobile Apps | No |
| Margin Trading | No |
| Volatility Index | No |
| Spot Trading | No |
| Perpetual Swaps | No |
| ELWs | No |
| REITs | No |
| AI / Machine Learning | No |
| Robo Advisor | No |
| P2P Trading | No |
| Negative Balance Protection | No |
| VPS Hosting | No |
| Tournaments | No |
| Demo Competitions | No |
| Managed Accounts | No |
| Market Maker | No |
| Social Trading | No |
| Guaranteed Stop Loss | No |
Cryptocurrency Trading Details
Crypto Spread
N/A
Crypto Lending

No

Crypto Staking

No

Crypto Mining

No

Crypto Auto Market Maker

No

Crypto Coins

BTC
BUSD
DAI
PAX
USDC
USDT
WBTC
Top 3 Alternatives to Hodl Hodl
Compare Hodl Hodl with the top 3 similar brokers that accept traders from your location.
IG Group – IG is an award-winning broker that has an excellent reputation globally. The brand-US offers spread betting, CFD and forex trading across a comprehensive suite of markets. IG is also multi-regulated, provides a great trading app and has 50 years experience.
Go to IG Group
Just2Trade – Just2Trade is a reliable multi-regulated broker registered with FINRA, NFA and CySEC. The company has 155,000 clients from 130 countries and stands out for its huge suite of instruments and additional features, including a social network, robo advisors and a funded trader programme.
Go to Just2Trade
Firstrade – Firstrade is a US-headquartered discount broker-dealer with authorization from the SEC. The company is also a member of FINRA/SIPC. With welcome bonuses, powerful tools and apps, plus commission-free trading, Firstrade Securities is a popular online brokerage. It is also quick and easy to open a new account.
Go to Firstrade
Hodl Hodl Comparison Table
Compare Hodl Hodl With Similar Brokers
Hodl Hodl
IG Group
Just2Trade
Firstrade
Rating
2.3
4.4
3.5
4
Markets
Crypto
CFDs, Forex, Stocks, Indices, Commodities, ETFs, Futures, Options, Crypto, Spread Betting
Stocks, ADRs, ETFs, Futures, Options, Commodities, Bonds
Stocks, ETFs, Options, Mutual Funds, Bonds, Cryptos, Fixed
Demo Account
No
Yes
Yes
No
Minimum Deposit
$0
$0
$100
$0
Minimum Trade
$0
0.01 Lots
0.01 Lots
$1
Regulators
–
FCA, ASIC, NFA, CFTC, DFSA, BaFin, MAS, FSCA
CySEC, NFA, FINRA, Bank of Russia
SEC, FINRA
Bonus
–
–
Up to $2,000 for professional accounts
Deposit Bonus Up To $4000
Education
No
Yes
No
Yes
Platforms
Own
MT4, AutoChartist, TradingCentral
MT4, MT5, TradingCentral
Own
Leverage
–
1:30 (Retail), 1:250 (Pro)
1:20
–
Payment Methods
1
6
20
4
Visit
Visit
Visit
Visit
Visit
Review
–
IG Group
Review
Just2Trade
Review
Firstrade
Review
Compare Trading Instruments
Compare the markets and instruments offered by Hodl Hodl and its competitors. Please note, some markets may only be available via CFDs or other derivatives.
Compare Hodl Hodl Trading Instruments

| | Hodl Hodl | IG Group | Just2Trade | Firstrade |
| --- | --- | --- | --- | --- |
| CFD | No | Yes | Yes | No |
| Forex | No | Yes | Yes | No |
| Stocks | No | Yes | Yes | Yes |
| Commodities | No | Yes | Yes | No |
| Oil | No | Yes | Yes | No |
| Gold | No | Yes | Yes | No |
| Copper | No | Yes | No | No |
| Silver | No | Yes | Yes | No |
| Corn | No | No | No | No |
| Crypto | Yes | Yes | Yes | Yes |
| Futures | No | Yes | Yes | No |
| Options | No | Yes | Yes | Yes |
| ETFs | No | Yes | Yes | Yes |
| Bonds | No | Yes | Yes | Yes |
| Warrants | No | Yes | No | No |
| Spreadbetting | No | Yes | No | No |
| Volatility Index | No | Yes | No | No |
Hodl Hodl vs Other Brokers
Compare Hodl Hodl with any other broker by selecting the other broker below.
Customer Reviews
There are no customer reviews of Hodl Hodl yet, will you be the first to help fellow traders decide if they should trade with Hodl Hodl or not?
Visit
Hodl Hodl is a non-custodial Bitcoin trading and lending exchange offering anonymous P2P transactions. The brand is trusted by 100,000+ users worldwide and offers 100+ fiat currencies, which can be used to complete crypto payments. 50,000+ orders have been completed through the exchange.