The European Securities and Markets Authority (ESMA) is an independent European Union financial regulatory body. From its headquarters in Paris, the body looks to enforce a range of new trading rules and regulations to enhance the functionality of securities markets. This page will break down everything you need to know about ESMA, including its history, meaning, criticisms as well as links to the MiFID II Directive. You can also start trading with our list of ESMA regulated brokers below.
What is ESMA?
Let's take the most straightforward of ESMA definitions; it's a supervisory authority that works to safeguard consumers while strengthening financial markets in the EU. It is actually one of three relatively new European Supervisory Authorities.
Its remit covers a whole host of areas within regulated markets. In fact, it helps with everything from promoting transparency and preventing market abuse to distributing transaction reporting guidelines. The regulatory agency also takes an interest in new issues, such as the blockchain cryptocurrency Bitcoin and the growth of binary options.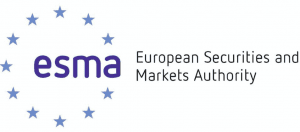 See below for a comprehensive break down of ESMA duties and regulations.
Purpose
The main objectives of ESMA regulations are:
Increase investor protection
Promote stable and efficient financial markets
Create an "EU-wide financial markets watchdog"
Those aims mean their opinions, decisions and judgements must reflect the interests of the following areas and stakeholders:
The economy
General public
Financial market participants
Regulators of securities markets
Both retail and institutional consumers
When ESMA was set up, one of its key missions was to regulate credit rating agencies. This is because, in 2010, credit rating agencies were frequently in the news for a lack of transparency and potential conflicts of interests.
It's also worth noting to fulfil its aims it works closely with other European Supervisory Authorities in banking (EBA), as well as insurance and occupational pensions (EIOPA). Its approval and recommendations in all areas are of increasing importance.
History
ESMA came to life following the recommendations of the 2009 de Larosière report. In the report, proposals were made for the creation of a decentralised European System of Financial Supervision (ESFS).
ESMA set to work on January 1st, 2001, following the announcement it would replace the Committee of European Securities Regulators (CESR), a network of EU authorities that advised the commission.
Structure
ESMA is an independent body with head offices in Paris. However, it does have accountability to the European Parliament where it answers to the Economic and Monetary Affairs Committee (ECON). In addition, the body has full accountability to both Council of the European Union and European Commission. ESMA has to report on its activities regularly at meetings and in a final Annual Report, including inducements on:
Algorithmic trading updates
MiFID II Product governance
Warnings on virtual currencies
Registering different asset classes
Target markets and trading venues
Trade reporting and reference databases
Forex leverage restrictions and margin rules
Regulations on spread betting, CFDs and ETFs
As the website details, the Board of Supervisors must make all policy decisions and approve ESMA's regulations. The board consists of:
European Commission observers
The heads of 28 national authorities
Delegations from Iceland, Liechtenstein and Norway
One representative from each of the European Banking Authority (EBA), the European Insurance and Occupational Pensions Authority (EIOPA) & the European Systemic Risk Board (ESRB)
A management board made up of ESMA's chair, as well as nominees from national supervisory authorities and Commission representatives see to it the regulatory agency meets its responsibilities.
Powers & Responsibilities
ESMA's duties and powers extend far beyond finance education and investment advice. In fact, the regulatory agency seeks to meet its objectives via four activities:
1. Measuring Risk
ESMA measures risk to investors, consumers and market stability. It aims to spot potential threats and vulnerabilities from reportable instruments. This then enables preventative action to be taken to avoid problems that threaten investors or market stability.
To do this, it uses MiFID II guidelines, databases and can call for evidence. It also uses risk assessments from other European Supervisory Authorities (ESAs) and National Competent Authorities (NCAs). Both of which adds to the efforts of the European Systemic Risk Board (ESRB).
ESMA also helps implement stress testing. The results of a second stress test were published in 2018 in an attempt to assess the stability of the EU Central Counterparties (CCP) industry. They also help to hone in on potential vulnerabilities.
This all allows them to offer guidance on transaction reporting, remuneration, compliance functions, complex debt instruments, market abuse regulation and more.
2. Rulebook
ESMA also hopes to create a comprehensive rulebook for EU financial markets. This aims to create equal opportunities for investors and issuers across the EU. To build this book of regulations, ESMA develops Technical Standards by advising EU bodies on legislation. This was one of the key ESMA roles during the development phase.
3. Supervisory Convergence
ESMA works to ensure consistent implementation of the same regulations across all 28 Member States. For example, this means issuing notifications of leverage caps, validation rules and ensuring all abide by liquidity thresholds.
If it works, this can help share best practices and decrease inefficiency. And all while promoting a level playing field for market participants.
To help it achieve this aim, ESMA:
Enforces data reporting requirements
Holds Q&As on issues and regulations
Builds common work programmes
Drafts opinions & guidelines
Pursues peer reviews
ESMA also plays a role in supervisory colleges for CCPs. This adds to supervisory convergence.
4. Supervising Financial Institutions
ESMA has supervisory powers over Credit Rating Agencies (CRAs) and Trade Repositories (TRs). Both of which play integral parts in the EU's market infrastructure.
All four activities overlap and work towards the overarching aims of protecting consumers while promoting stable markets.
In 2012 ESMA was also asked by the EC to offer technical advice on the equivalence between some non-EU countries regulations and the EU framework. For example, were there any conflicting reporting requirements from investment firms?
ESMA Restrictions
It's worth noting ESMA does not have the power to take action against market actors, except CRAs and TRs. So if you have problems with negative balance protection or complex products, you will need to direct your complaints elsewhere. You may be best off approaching the relevant national authority.
Note there is also a Whistleblowing corner when you can report violations, such as securitisation issues.
Criticisms of ESMA
Proposals to expand ESMA's jurisdiction have been met with far-reaching criticism. Following Brexit, some want to use ESMA to help position France as the finance capital of Europe. In fact, France has already made some progress in this area after winning the bid to host the London-based European Banking Authority after the UK leaves in 2019.
The regulatory agency itself has also seen substantial expansion since its launch in 2011. This is in part due to the significant revision of market regulations, best known as MiFID II. Many argue further expansion proposals would see ESMA become the equivalent of the US SEC and the UK's FCA.
The proposals would see ESMA as the EU benchmark for regulations. The body would also receive greater powers to tackle market abuse and limit the use of products thought to be too risky.
Events, press office releases and statements make it clear that many strongly oppose anymore ESMA expansion. This is because it is thought the move would cut into the rule-making powers of national authorities. In addition, it would lead to excessive and expensive bureaucracy.
Resources
Despite some criticism, ESMA is very proficient in one area, and that's access to data and information. Simply head over to the official website to find AIFMD key concepts guidelines, for example. You can also find leverage proposals, product intervention notifications and recent CFD announcements.
On top of that, you will find waivers, volume cap reports, disclosure requirements, plus volatility bands and the benchmark administrator register.
Recent Performance
ESMA has been highly active in its relatively short life. One of the main things it has done is seek opinions from delegations on market transparency, as well as a whole range of other issues. For example, it consults on CFD and binary options measures. It has also held a huge number of Q&As on:
CFDs
Insider lists
Short selling
Position limits
Variation margins
Costs and charges
Best execution policies
Commodity derivatives
Transparency & liquidity
Instrument classification
Remuneration guidelines
In 2015, ESMA's activities led to enforcement action being taken against 43 of 206 listed issuers. They found issues with:
Inadequate risk disclosures
Incorrect library of cash flow statements and relevant information
2016 then saw a 10% increase in the action taken. Most infringements were found in relation to:
Inadequate accounting for financial instruments
Incorrect presentation of financial statements
Deterioration of non-financial assets
As ESMA's knowledge and competence continue to grow, they may receive greater powers to enforce regulations. But for now, a lot of work is done on consulting about trading obligations and reporting in the list of EU regulated markets.
Final Thoughts on ESMA
The ESMA system is a network that unites European and national regulators, as well as supervisory authorities. There is no doubt their regulations aim to protect investors and encourage stable markets. However, much of Europe still currently resists the idea of a single EU rulebook and financial name, wanting to retain some national authority and power. So it is currently difficult to predict what the future of ESMA will look like or how extensive their regulatory powers may grow.