Bitcoin Vs Polkadot
Bitcoin vs Polkadot presents two cryptocurrencies that are very popular right now. Bitcoin is the oldest crypto, having established itself as the big player and coin to beat in the DeFi world, and it seems like Polkadot may be up to the challenge. Established in only 2017, the coin has been making a name for itself and already sits in the top 10 cryptocurrencies in the world by market cap. Read this article to learn about Bitcoin vs Polkadot trading, their similarities and differences and whether Bitcoin or Polkadot is a better investment.
What Is Bitcoin?
Before we break down Bitcoin vs Polkadot trading, let's look at each cryptocurrency individually, starting with Bitcoin. Bitcoin was the world's first decentralized, digital currency. It launched way back in 2008; a person or group going by the name Satoshi Nakamoto made an announcement to a cryptography mailing list stating, "I've been working on a new electronic cash system that's fully peer-to-peer, with no trusted third party's". The now infamous whitepaper would go on to become the Magna Carta for Bitcoin and cryptocurrencies in general.


The first block was mined on January 3rd, 2009, and following the second block being mined on January 8th, 2009, Bitcoin mining and the blockchain started in full flow as we know it today. In the early years, Bitcoin experienced steady growth. It was not until 2017 that things really got going. The first crypto bubble began and Bitcoin reached an all-time high of $19,783. The price dropped slightly after this, but Bitcoin has kept growing. Many bubbles have come and gone in the following years as Bitcoin and crypto, in general, has kept expanding. In September 2021, Bitcoin has regularly hit prices over $50,000. To find today's Bitcoin price, visit crypto information websites like CoinGecko and CoinMarketCap.
Both Bitcoin vs Polkadot work in a simple way. Essentially, it is a list of transactions that are stored on something known as the blockchain. Bitcoin has no physical form, despite all the images online of coins with the stylised B logo on them, it is a purely digital currency. Bitcoin's only form is as transactions on the blockchain, which are as simple as person X sent Bitcoin to person Y. All this information is then stored in blocks. To ensure the validity of the network, these blocks are mined by network validators, or miners, who verify that each transaction is legitimate. This is done through the solving of complex mathematical equations where large amounts of energy are expended. Miners are then rewarded with Bitcoin's for their effort.
As the first cryptocurrency, Bitcoin is well established and has many different uses. Its primary purpose is as a store of value and medium of exchange. Investors try to make money and benefit from the fluctuations in Bitcoin's price. This is not the only use; many different vendors accept Bitcoin as a form of payment. Bitcoin can be used to purchase a variety of goods and services including flights, holidays and more. In June 2021, El Salvador became the first country to accept Bitcoin as legal tender in one of the biggest indicators of Bitcoin's position in the financial world.
What Is Polkadot?
Next up in the Bitcoin vs Polkadot trading debate, DOT is one of the younger cryptocurrencies out there. It was created by Ethereum co-founder Dr Gavin Wood, who invented the Solidity smart contract language. Work started on the idea in 2017, Dr Wood wanted to "design a sharded version of Ethereum". The white paper for the idea was first released in October 2016. Polkadot's first token sale, also known as an initial coin offering (ICO), was in October 2017 and raised $145 million in two weeks as 50% of the initial 10 million DOT supply were sold. The initial price of the ICO was $0.29 and by the end of 2020, the coin had reached the $5 mark, signalling its rapid growth. At the beginning of 2021, Polkadot (DOT) grew again, bouncing between the $30 and $40 marks. Though a short dropped followed this, Polkadot recovered and in September 2021 the price was around $30.


Polkadot does not use the proof of work system, instead, it uses a proof of stake system to verify transactions. This system selects validators based on the coins they own or the stake they put down, rather than the effort they expend in solving an equation. Polkadot has been described as a 'blockchain of blockchains', or multichain. There are two main structural components, Relay chain and Parachains. The Relay chain is the central component, it deals with security and consensus. It intentionally has reduced functionality, such as not allowing smart contracts. Parachains are blockchains that connect to the relay chain. This allows them to be fast and congestion-free. One of the main uses of Polkadot is for investors to try and profit from growth and price fluctuations. Equally, the network wants to build a system for all parties to utilise the quick relay system. As a relatively young crypto, Polkadot cannot be used to pay for many goods and services.
Bitcoin Vs Polkadot Similarities
While it may seem that Polkadot vs Bitcoin is comparing two very different entities, there are some similarities:
Storage
Once traded, both Bitcoin vs Polkadot need to be stored in the same way. Once you have purchased either of the coins, a special wallet is required to keep them in. There are two categories of wallets, hot or cold, both of which are suitable for either coin. A hot wallet is connected to the web, while a cold wallet is not, which theoretically makes it safer as they need to be physically stolen. Within the hot and cold categories, there are different types of wallets. These include software, hardware and paper wallets. Each of these has its advantages and disadvantages and can be used for either cryptocurrency.
How They Are Traded
Bitcoin vs Polkadot can both be traded in many of the same ways. As two of the largest and most popular cryptocurrencies, they can be traded on any of the major crypto exchanges, as well as most other exchanges. As a result, there are different mechanisms for trading each coin. Through Kraken, for example, both coins can be traded with leverage (up to 1:5). This means that if you were to put down $100, you could trade with up to $500, allowing you to increase potential winnings. However, this also increases potential losses. If you want to play it a little safer, spot trading is also available for both cryptocurrencies on Kraken and a variety of other exchanges.
Regulation
Bitcoin vs Polkadot subscribe to the same ethos when it comes to regulation. Since its inception, Bitcoin has prided itself on being an unregulated entity. It is free from the input of any regulatory body or central bank. This adds to the decentralized nature of the currency and boosted its popularity greatly at the start at a time when the banks of the world were in deep trouble. Polkadot has followed in this vein and is not regulated by any regulatory body. Many newer currencies like Cardano have sought regulation from the Securities Exchange Commission (SEC), largely due to crackdowns from the Chinese and South Korean governments, but Polkadot has bucked this trend and stuck to the unregulated roots set by Bitcoin.
Bitcoin And Polkadot Differences
There are many differences between Bitcoin vs Polkadot:
Market Capitalisation
When comparing Bitcoin vs Polkadot trading, one immediately clear difference is the variation in market cap. Bitcoin has the largest market capitalisation of all cryptocurrencies, standing at an astonishing $900 billion. You can look at any chart, graph or table and the outcome is always the same, Bitcoin is the largest. On the other hand, Polkadot has a market cap of around $30 billion. This is by no means a small total and puts Polkadot in the top ten cryptocurrencies but it is dwarfed by Bitcoin's market cap. At the beginning of 2021, Polkadot's market cap was around $9 billion, so who knows how high it can go and how close it can get to Bitcoin.
Value
Like the market cap, the values of Bitcoin vs Polkadot vary greatly. Bitcoin has a value of around $50,000. This is by far the highest of any cryptocurrency, Bitcoin has held the total of most valuable for as long as it has existed. Polkadot's value is tiny in comparison at only $30. Still, it has grown significantly in the past year.
Fees
Transaction fees are an area that Polkadot has the edge. Polkadot uses a weighted fee system which can make comparisons difficult. However, a typical transaction fee is around 0.0155 DOT. At a value of $30, that makes the fee around $0.47 which is very cheap. The average transaction fee on the Bitcoin network is $7.60, much higher than the fees on the Polkadot network. This is partly down to Bitcoin's higher value and partly due to the mining process.
Transaction Speed
Transaction speed is another area that Polkadot has a distinct advantage. The multichain system is very effective at increasing the transaction speeds possible. Right now, with its parachain structure, Polkadot can process up to 1,000 transactions per second. This is not the limit, Polkadot's creators predict a fully operational system will be able to process 1,000,000 transactions per second. On the other hand, Bitcoin can only process 4.6 transactions per second, a significantly lower amount. Bitcoin is one of the slowest cryptocurrencies, largely due to the complexity of the mining and verification process.
Verification System
Bitcoin vs Polkadot use two different verification protocols. Bitcoin uses the proof of work system, in which network validators, known as miners, solve complex mathematical problems using hash algorithms to verify transactions. This process requires large amounts of energy to be expended and needs a lot of computing power from specific hardware. Polkadot uses the proof of stake system, where validators are selected by their quantity of holdings of DOT. This system does not incentivize extreme amounts of energy consumption and as such is a lot more environmentally friendly. Polkadot's energy consumption is just 0.001% of Bitcoin's as a result.
Distribution
Bitcoin vs Polkadot use two different systems concerning supply and distribution. Bitcoin has a limited supply. The total possible number of Bitcoins is 21 million. Once this is reached, no new Bitcoin's will be released. In contrast, Polkadot places no limit on the total number of coins allowed. Theoretically, an infinite number of coins can be released. Right now, there are 987 million DOT coins in circulation. The idea behind a limited supply is to increase scarcity and thus drive the price up.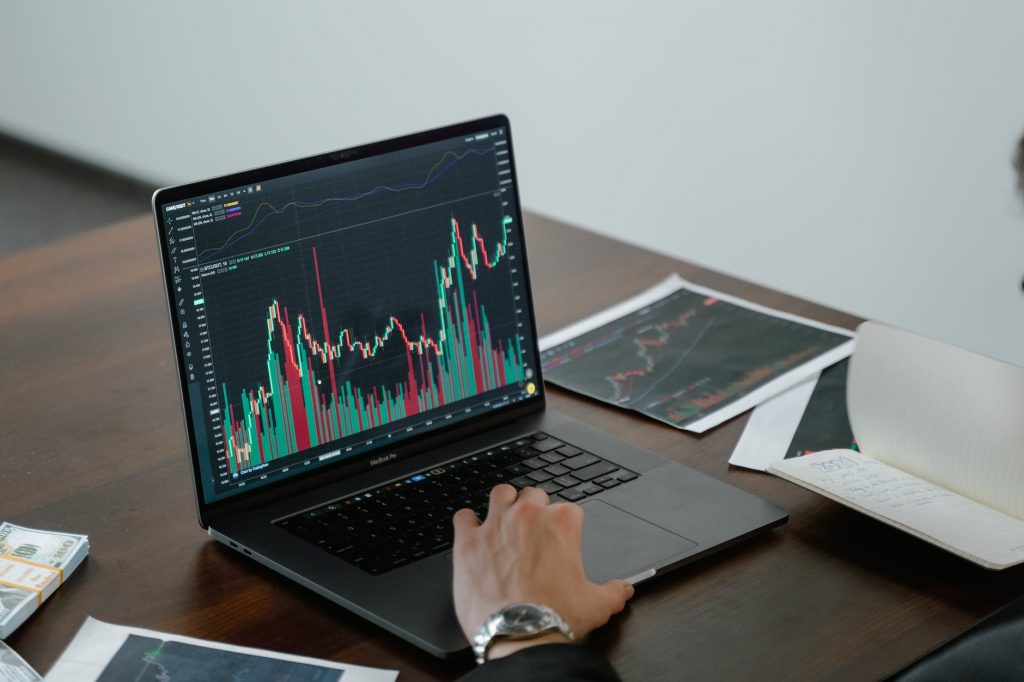 Pros Of Bitcoin For Traders
These are the advantages of trading Bitcoin:
High volatility
Limited supply
Largest market cap
Highest value cryptocurrency
Extremely high trading volume
Oldest and most established crypto
Pros Of Polkadot For Traders
These are the advantages of trading Polkadot:
Affordable price
Multichain system
Low transaction fees
Quick transaction speeds
Low energy consumption
Bitcoin Vs Polkadot Verdict
Bitcoin vs Polkadot presents two very different but popular cryptocurrencies against each other. Since its inception, Bitcoin has been the most valuable cryptocurrency and has led the way in terms of market cap and trading volume. However, new coins like Polkadot have many distinct advantages that are slowly turning people's heads. Quicker transaction speeds, lower fees and lower energy consumption are just a few of the reasons people are choosing Polkadot over Bitcoin. Research each coin thoroughly before deciding which to invest in.
FAQs
Where Can I Find Bitcoin Vs Polkadot's Values?
The value of each coin can be found online on CoinMarketCap and similar websites that collate DeFi information. Other stats, such as market capitalisation and trading volume, are also available.
Can I Mine Bitcoin Vs Polkadot?
As Bitcoin uses the proof of work system it can be mined. Polkadot cannot, as it uses the proof of stake system instead.
Which Of Bitcoin VS Polkadot Is Better For The Environment?
Polkadot is better for the environment. As it uses the proof of stake system, it uses only 0.001% of the energy Bitcoin uses.
Which Of Bitcoin Vs Polkadot Is Quicker?
Polkadot is significantly quicker. It can process 1,000 transactions per second compared to Bitcoin's 4.6.
Is Bitcoin Vs Polkadot A Better Investment?
There is not a simple answer. Bitcoin is generally considered the safer investment, it has been around longer and there are clearer trends in price. However, with a lower value, Polkadot has more scope for large value increases.