Bestinvest Review 2023


United States not accepted.
See the Top 3 Alternatives in your location.
BestInvest will serve longer-term stock traders from the UK looking for a regulated brand and competitive pricing.
- Daytrading Review Team
BestInvest is an FCA-regulated investment platform with thousands of low- or zero-fee US and UK stocks traded via a browser interface or mobile app. Traders can choose between self-directed investment accounts and ISAs or managed accounts. The brand has picked up multiple awards for its trading products.
✓
Beginner Friendly
£0
Own
Stocks, ETFs, Trusts, Funds
£100 - £1000 Cashback
GBP
Wire Transfer, Debit Card
Stock Trading
Trade nearly 1500 US and UK stocks with low or no share dealing fees and earn dividends. Thousands of funds, ETFs and investment trusts are also available to trade. This breadth stacks up well against alternatives.
Awards
Boring Money Best Buy ISA winner 2023
Boring Money Best for Beginners winner for 2023
Forbes Advisor - 2022 Best for low-cost Ready-made Portfolios
Bestinvest 2022 Stock & Share ISA Innovation
Best Junior ISA
Bestinvest voted Best ISA Provider 2020
Best Low-cost SIPP Provider 2018
Bestinvest wins Best Online/Execution-only Stockbroker 2017
✓ Pros
Trustworthy firm with regulatory oversight from the FCA
Self-directed trading plus ISAs and managed portfolios
Free financial planning and coaching
Low minimum deposit
✗ Cons
Few payment methods
High fees for some portfolios
No margin trading
No demo account
Bestinvest is an all-in-one investment solution with a range of services including online trading, money-saving planning tools, and expert advice. The company aims to make investing affordable and accessible for everyone with share dealing accounts, flexible ISAs, and ready-made portfolios. This Bestinvest review will cover mobile app compatibility, fees and charges, minimum investment amounts, top performing funds, and more.
Company Details
Bestinvest was established in 1986, providing trading and investment services for 35+ years. The brand has backing from its parent company, Evelyn Partners, one of the largest wealth management companies in the UK.
The brokerage has an impressive 46,000+ registered customers, with over £3 billion in assets under management (AUM). Its services include:
Goal planning tools
Access to expert insights
Free investment coaching
ISA, SIPP and VCT accounts
Personalised financial advice
Ready-made investment portfolios and fully flexible accounts
The company has been recognised with a list of 20+ industry awards including the Forbes Advisor Best for Low-Cost Ready-Made Portfolios 2022, the Finder Innovation Awards for Stocks & Share ISA Innovation, and the Boring Money Best Award for Beginners 2023.
Bestinvest is regulated by the Financial Conduct Authority (FCA) in the UK.
Products & Markets
Bestinvest offers 3000+ UK funds, shares, trusts, and ETFs. You can add these to an ISA, SIPP, or Investment Account. On the downside, forex, commodities and cryptocurrencies are not available.
Investment Funds – Invest in 1000+ fund pools including unit trusts, OECIs and commercial property
UK Shares – Buy and sell thousands of UK stocks including Aviva, Goldman Sachs, JP Morgan, and Legal & General
US Shares – Buy and sell hundreds of US shares with no online dealing fees including Microsoft, Apple, and Tesla
ETFs – Trade hundreds of exchange-traded funds (ETFs) including the Vanguard S&P 500 UCITS ETF GBP and the iShares Core FTSE 100 UCITS ETF
Investment Trust – Purchase shares in an investment trust through a pooled account. Trusts are available across different sectors and regions such as emerging markets, bonds, and real estate
VCTs – Invest in small or upcoming UK businesses via Venture Capital Trusts (VCTs) and benefit from no capital gains tax and tax-free dividends. Current listings include Octopus Titan VCT Plc and Albion VCT
Use the investment search tool to filter and find products to put money in. You can screen assets by key information, performance statistics, and average yield to name a few.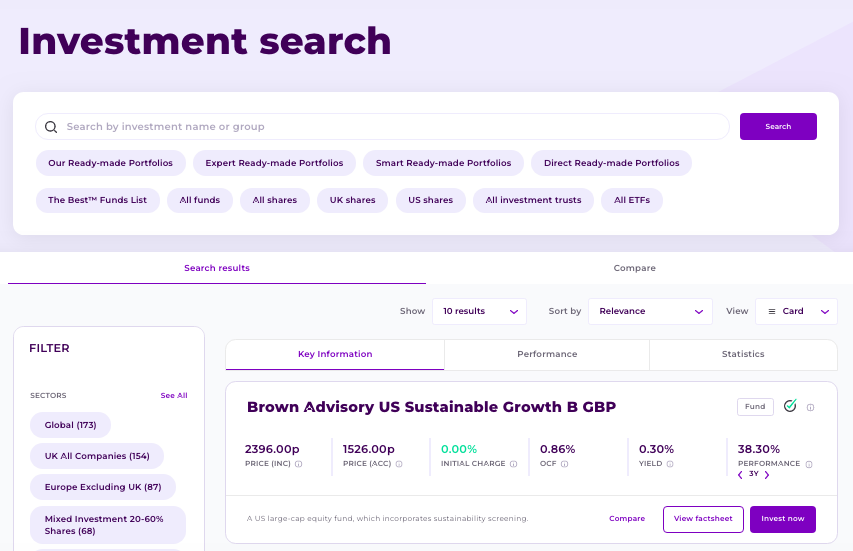 Bestinvest Platform
The Bestinvest platform is relatively basic. The client area provides an account overview and performance chart which can be filtered by timeframe (one week to five years). You can also book coaching appointments and set monetary goals.
Helpfully, the majority of financial information including product data and investment ideas is available without needing to register for access to the platform.
How To Place An Order
Select the Bestinvest login icon from the top of the broker's website
Select 'Add Cash' from the top right of the client area
Fund your trading account
Select 'Invest' from the top right of the client area
Filter by product sector, investment name, yield, or popular investments
Click the purple 'Invest Now' icon on the product page
Enter the investment details in the window pop-out
Select 'Continue'
Review the trade details and select 'Confirm'
Mobile App
Bestinvest offers a free mobile app, available to download on iOS and Android (APK) devices. The application is user-friendly while providing all the functionality of the web-based dashboard. You can open new accounts, check live investments, deposit funds, buy and sell financial products and use money planning tools.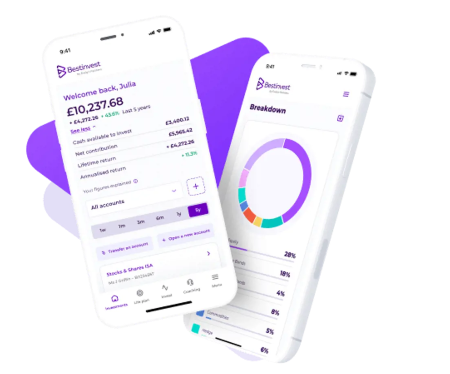 The mobile app can help UK traders stay up to date with the latest investment insights, trends, and news whilst on the go. All data and personal information is synced between the platforms so you never miss out on opportunities and you can review your account performance 24/7.
Use your Bestinvest login credentials to access the app dashboard.
Fees & Costs
When we used Bestinvest, we were impressed with the transparent fee schedule. There are no charges to open an account, transfer funds to a live profile, or use the platform and app.
Fees do vary by product type, though clients are rewarded with cheaper prices for higher account balances. There are no inactivity charges. Telephone orders are liable for a £30 fee per transaction.
US Shares & Ready-Made Portfolios
Investments up to £250,000 – 0.2% annual fee
Investments between £250,000 and £500,000 – 0.2% annual fee
Investments between £500,000 and £1,000,000 – 0.1% annual fee
Investments over £1,000,000 – No annual fee
Alternative Investments
Investments up to £250,000 – 0.4% annual fee
Investments between £250,000 and £500,000 – 0.2% annual fee
Investments between £500,000 and £1,000,000 – 0.1% annual fee
Investments over £1,000,000 – No annual fee
Dealing Fees
Buying and selling funds – No fee
Share dealing (e.g. Stocks & ETFs) – £4.95 per trade
US share dealing – No fee
US foreign exchange fee – 0.95%
Importantly, Bestinvest provides cheaper share dealing fees vs competitors like Vanguard at £7.50 per transaction or Hargreaves Lansdown at £11.95 per transfer.
Users can also benefit from interest paid on cash held in investment accounts. Rates vary according to the custodian and are paid monthly. While using Bestinvest, we were offered a 3.1% interest rate.
Note, it is your responsibility to adhere to UK tax requirements.
Leverage
Bestinvest does not offer leveraged trading. Accounts must be funded with your own capital. As a result, the broker is less suited to short-term trading and investors looking to speculate on derivatives like CFDs.
Bestinvest Accounts
Bestinvest offers a range of account types alongside investment coaching, financial advice, and planning tools. This includes ISA accounts, investment profiles, and SIPP accounts.
All customers have access to the same financial dashboard, regardless of account type.
ISAs
The Bestinvest stocks & share ISA (individual savings account) is available to UK residents. Customers can invest in a wide range of shares, funds, investment trusts, and bonds, and benefit from tax-free gains.
Currently, UK individuals can invest up to £20,000 and up to £9,000 into a Junior ISA per tax year.
Custom Portfolio – Invest in 1600 funds, UK shares, trusts, and ETFs
Junior ISA – Suitable for the parents or guardians of children under the age of 18
Ready-Made Portfolio – Professionally created portfolios split into three categories; Expert, Smart and Direct for different goals
Investment Account
Create a custom portfolio and invest in thousands of funds, UK shares, trusts, and ETFs. As a Bestinvest trader, you have the flexibility to invest as much or as little as desired.
Similar to the ISA account, ready-made portfolios are available for individuals needing guidance or expert analysis. These are ideal for beginners. There are seven portfolios balancing risk, growth opportunities, and expected return timelines.
SIPPs
Self-Invested Personal Pension (SIPP) plans provide an account where you can contribute toward your future. Bestinvest pension accounts are available as individual SIPP accounts or junior SIPP profiles for children.
You have full control over pension investments including access to a variety of tradable products and income drawdown options.
Bare Trusts
A bare trust financial arrangement allocates a share of money or alternative assets to people, typically juniors. When setting up a bare trust, the account holder is liable for all decisions including appointing a beneficiary and when benefits are distributed.
Contributions are tax-free and there is no maximum value that can be held.
How To Register For An Account
It is relatively quick and easy to open a Bestinvest account – the process took our team 5-10 minutes.
You can create a new profile or transfer funds from an alternative provider. You will need your National Insurance Number to get started.
Select 'Open An Account' or 'Transfer An Account' on the Bestinvest website
Click 'Let's Start'
Choose who the account is for (personal or child)
Create a profile by choosing a username, password, and security PIN, and click 'Continue'
Enter your personal details including name, date of birth, telephone number, and address, and click 'Continue'
Choose an account type
Link an existing bank account
Fund your profile
Eligibility requirements:
You must be a UK resident
You must be at least 18 years old
You must be a UK tax resident if opening an ISA account
Payment Methods
Deposits
There is no minimum deposit requirement to fund a Bestinvest account, though direct transfers via a payment card or initiating monthly regular investing will require a £50 minimum payment.
Deposits can be made via bank wire transfer or debit card. Payments via a debit card are typically available instantly. Bank wire transfers made directly to an ISA, Investment, or SIPP account will be processed within one working day. Same-day CHAPS payments can be requested before 3 PM (via phone or email). A £35 fee applies.
You can also transfer investments from a competitor profile by using the 'Transfer an Account' icon on the Bestinvest homepage. Follow the instructions to complete the transaction.
How To Make A Payment
Login to the Bestinvest dashboard via bestinvest.co.uk or the mobile app
Click on your account to deposit funds
Select the 'Add Cash' logo and then 'Add Cash'
Follow the on-screen instructions to add the payment details
Click 'Confirm'
Alternatively, traders can initiate a payment over the phone via the Bestinvest customer service number.
Withdrawals
Bestinvest does not charge transfer out fees. Money will be available within three to five working days, which is in line with competitors.
On the downside, withdrawals can be made via BACS transfer only.
Demo Account
Bestinvest does not offer a demo account. However, as there is no minimum deposit, users can sign up and explore dashboard features before transferring funds.
Bonuses & Promotions
The brand does not offer traditional bonus incentives, however, there are occasional rewards. Bestinvest offers up to £1000 cashback for full account transfers from an alternative provider. This includes £100 cashback for a £1000 transfer and £300 for a £20,000 transfer.
Additionally, Bestinvest runs a refer-a-friend program with a £100 reward for new customers introduced to the brand. Note, the new user must deposit and invest at least £1000 within the first 120 days.
Make sure you review the terms and conditions of promotions before signing up.
UK Regulation
Bestinvest is a trading name of Evelyn Partners Investment Management Services Limited. The company is regulated by the UK's Financial Conduct Authority (FCA). All customer funds are held separately with a custodian, SEI. SEI Investments (Europe) Limited is also authorised and regulated by the FCA.
The FCA is a highly regarded financial agency, with rigorous compliance requirements for member firms. This is a good sign that the brokerage is legitimate and trustworthy.
Customers can also access compensation from the Financial Services Compensation Scheme (FSCS), with protection up to £85,000 in the case of business insolvency.
Additional Features
Bestinvest offers an excellent range of extra tools and features, designed for both beginners and experienced investors:
Education
The official website hosts a wealth of educational guides and resources. Categories are specific to trading styles; ISAs, investments, and pensions. Topics include asset allocation models, smart portfolios, and filtering the recommended funds list.
The information is easy to read, with no complex financial jargon, plus integrated YouTube video support.
Investment Coaching
A key benefit of Bestinvest is access to qualified financial planners that can offer support on investment goals. All customers get a free 45-minute session to discuss investment plans.
Personalised investment advice is available for a one-off fee of £295 (investment goal planning) or £495 (portfolio health check) per session. Though, for individuals investing £50,000+, this service is provided for free.
News & Insights
Our experts were impressed with the news updates and financial insights. There is a wealth of articles, investment outlooks, planning advice, market news, and downloadable podcasts to stay up to date with the latest information. You can also sign-up for a weekly newsletter delivered to a registered email address.
Ultimately, Bestinvest provides ample support to help you choose the best investments specific to your goals or interests. This includes the creation of useful investment lists like 'The Best Funds List', 'Spot the Dog', and 'Ethical and ESG Investing'.
These have been created by the brand's team of experts, indicating the top and bottom-performing funds, popular stocks, and assets based on independent fund research. The 'Spot the Dog' tool is particularly useful, utilising statistical data to identify underperforming products.
Customer Support
Bestinvest customer support is available Monday to Friday 7:45 AM to 6 PM (GMT) and Saturday 9:30 AM to 1:30 PM (GMT). You can contact the broker-dealer via email, telephone, live chat, or postal address. Our experts found the support staff knowledgeable and helpful upon testing.
Contact details:
Telephone Contact Number – 020 7189 9999
Email Address – Enquiry form only, via the 'Contact Us' webpage
Live Chat – Available via the 'Help' icon on the bottom right of the website
Postal Address – Online Investment Service, Bestinvest, Second Floor, Liver Building, Pier Head, Liverpool, L3 1NY
Alternatively, the website hosts a comprehensive FAQ area with topics including account eligibility, application forms, charges and fees, and details on how to transfer money in and out of a Bestinvest account.
Security & Safety
The brand has a dedicated cyber security team and fraud protection protocols to safeguard customers' personal information and money. Security measures include regular system audits, full website and email data encryption, plus compliance with industry guidelines.
New users are also required to set a PIN. This is part of the brand's two-step login process, which is used alongside the username and password sign-in requirements.
Bestinvest Verdict
Bestinvest is a good investment platform offering a range of tools, features, and financial products. Retail investors can trade thousands of assets alongside pension and ISA accounts. The financial guidance is also excellent, with free coaching sessions and personalised advice.
On the downside, the platform is better suited to longer-term investors than short-term traders looking for leveraged instruments.
FAQ
Is Bestinvest Safe?
Bestinvest provides a relatively secure investment environment for traders. The company employs multiple fraud protection services and client safeguarding initiatives, including data encryption and two-step PIN login. The investment platform is also regulated by the FCA in the UK.
Is Bestinvest Regulated By The FCA?
Yes, Bestinvest is a licensed entity of Evelyn Partners Investment Management Services Limited, authorised and regulated by the UK's Financial Conduct Authority (FCA).
Is Bestinvest Good?
Bestinvest is an excellent investment platform with a range of account types, trading products, education, and specialist guidance. Other customer reviews are also positive, praising the expertise of the brand's financial planners and the usability of the platform and mobile app.
Does Bestinvest Have An App?
Yes, Bestinvest offers a free mobile app, available to download on iOS and Android (APK) devices. It provides all the features of the web-based dashboard, including account overviews, deposits and withdrawals, and order capabilities.
Who Owns Bestinvest?
Bestinvest is a trading name of Evelyn Partners Investment Management Services Limited. The firm is registered with the UK's Financial Conduct Authority (FCA).
Accepted Countries
Bestinvest only accepts traders from United Kingdom.
Payment Methods
Bestinvest Details
Minimum Trade
£50
Regulated By
FCA
Islamic Account

No

Mobile Apps
iOS & Android
Margin Trading

No

Volatility Index

No

Spot Trading

No

Perpetual Swaps

No

ELWs

No

REITs

No

AI / Machine Learning

No

Robo Advisor

No

P2P Trading

No

Negative Balance Protection

No

VPS Hosting

No

Tournaments

No

Demo Competitions

No

Managed Accounts

Yes

Market Maker

No

Auto Trading
Ready-Made Portfolios
Social Trading

No

Inactivity Fee
$0
Guaranteed Stop Loss

No

Stock Exchanges

London Stock Exchange
Nasdaq
Top 3 Alternatives to Bestinvest
Compare Bestinvest with the top 3 similar brokers that accept traders from your location.
IG Group – IG is an award-winning broker that has an excellent reputation globally. The brand-US offers spread betting, CFD and forex trading across a comprehensive suite of markets. IG is also multi-regulated, provides a great trading app and has 50 years experience.
Go to IG Group
Interactive Brokers – Interactive Brokers is a leading global brokerage that provides access to a comprehensive offering of stocks as well as forex, futures, metals, bonds and cryptos. The firm has over 40 years experience in the online trading industry and is heavily regulated by SEC, FCA, IIROC, and SFC. Traders use the proprietary Trader Workstation and can access powerful tools and data feeds as well as comprehensive educational resources.
Go to Interactive Brokers
Just2Trade – Just2Trade is a reliable multi-regulated broker registered with FINRA, NFA and CySEC. The company has 155,000 clients from 130 countries and stands out for its huge suite of instruments and additional features, including a social network, robo advisors and a funded trader programme.
Go to Just2Trade
Bestinvest Comparison Table
Compare Bestinvest With Similar Brokers
Bestinvest
IG Group
Interactive Brokers
Just2Trade
Rating
3.3
4.4
4.3
3.5
Markets
Stocks, ETFs, Trusts, Funds
CFDs, Forex, Stocks, Indices, Commodities, ETFs, Futures, Options, Crypto, Spread Betting
Forex, Stocks, Commodities, Crypto
Stocks, ADRs, ETFs, Futures, Options, Commodities, Bonds
Demo Account
No
Yes
Yes
Yes
Minimum Deposit
£0
$0
$0
$100
Minimum Trade
£50
0.01 Lots
$100
0.01 Lots
Regulators
FCA
FCA, ASIC, NFA, CFTC, DFSA, BaFin, MAS, FSCA
SEC, FCA, IIROC, SFC
CySEC, NFA, FINRA, Bank of Russia
Bonus
£100 – £1000 Cashback
–
–
Up to $2,000 for professional accounts
Education
Yes
Yes
No
No
Platforms
Own
MT4, AutoChartist, TradingCentral
AlgoTrader, OmniTrader, eSignal, TradingCentral
MT4, MT5, TradingCentral
Leverage
–
1:30 (Retail), 1:250 (Pro)
1:50
1:20
Payment Methods
2
6
11
20
Visit
–
Visit
Visit
Visit
Review
–
IG Group
Review
Interactive Brokers
Review
Just2Trade
Review
Compare Trading Instruments
Compare the markets and instruments offered by Bestinvest and its competitors. Please note, some markets may only be available via CFDs or other derivatives.
Compare Bestinvest Trading Instruments

| | Bestinvest | IG Group | Interactive Brokers | Just2Trade |
| --- | --- | --- | --- | --- |
| CFD | No | Yes | Yes | Yes |
| Forex | No | Yes | Yes | Yes |
| Stocks | Yes | Yes | Yes | Yes |
| Commodities | No | Yes | Yes | Yes |
| Oil | No | Yes | No | Yes |
| Gold | No | Yes | Yes | Yes |
| Copper | No | Yes | No | No |
| Silver | No | Yes | No | Yes |
| Corn | No | No | No | No |
| Crypto | No | Yes | Yes | Yes |
| Futures | No | Yes | Yes | Yes |
| Options | No | Yes | Yes | Yes |
| ETFs | Yes | Yes | No | Yes |
| Bonds | Yes | Yes | Yes | Yes |
| Warrants | No | Yes | Yes | No |
| Spreadbetting | No | Yes | No | No |
| Volatility Index | No | Yes | No | No |
Bestinvest vs Other Brokers
Compare Bestinvest with any other broker by selecting the other broker below.
Customer Reviews
There are no customer reviews of Bestinvest yet, will you be the first to help fellow traders decide if they should trade with Bestinvest or not?
Visit
BestInvest is an FCA-regulated investment platform with thousands of low- or zero-fee US and UK stocks traded via a browser interface or mobile app. Traders can choose between self-directed investment accounts and ISAs or managed accounts. The brand has picked up multiple awards for its trading products.