30-Minute Binary Options
For many traders, 30-minute binary options provide a straightforward and convenient way to speculate on a range of different markets by predicting how the price of an asset will change in half an hour. This guide will review 30-minute binary options trading by covering how they work, strategy examples and tips for trading these contracts in 2023. We have also reviewed and ranked the best 30-minute binary options brokers and trading platforms.
Top 30-Minute Binary Options Brokers
What Is A 30-Minute Binary Option?
Binary options are a type of derivative contract where you speculate on whether the price of an underlying asset will rise, fall or reach a specific level at the time of expiry. Simply put, 30-minute binary options ask the trader to guess how the asset's price will have moved half an hour after the contract begins.
Traders will stake their chosen amount of cash to open a binary options contract, and if after 30 minutes their trade is successful, they will earn a profit based on a percentage of their stake.
In the example below, the profit percentage of a 30-minute binary option on the GBP/USD currency pair is 82%, meaning a stake of $1,000 brings a potential profit of $820.
A losing trade will see the investor lose their stake every time, in this instance, $1,000.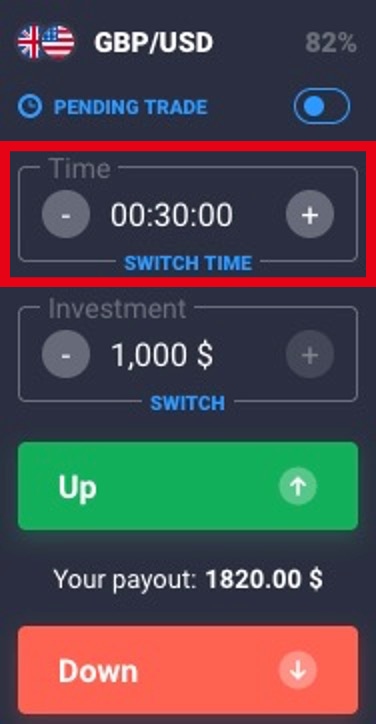 This is an example of the simplest – and by far the most common – binary options contract, the high/low or up/down, which is a straightforward bet on whether the price will rise or fall.
Other types of 30-minute binary options contracts you may encounter include:
One-Touch/No-Touch binary options allow the trader to bet on whether the price will hit/touch a specified strike price before the expiry time. The payout will generally increase the further this strike price is from the current market value.
Ladder binary options allow traders to bet on whether the price will move up through a series of strike prices before contract expiry, with the payout percentage typically increasing for each "rung" of the ladder.
Boundary/Range binary options are a bet on whether a price will stay within a specific range for the length of the contract.
How To Trade 30-Minute Binary Options
The first step is to choose a binary options broker that supports this contract length. Finding one is simple – 30-minute binaries are among the most popular binary options contract lengths and are offered by most good brokers and providers.
So, your choice of online broker will depend on other factors, namely the assets it deals with, payout levels and fees, and the trading platforms available.
The last point is particularly important as traders will need a good platform that they can calibrate for 30-minute binary options trading and which conveniently displays their choice of charts and indicators.
30-Minute Trading Chart Setup
Many binary options traders see 30-minute contracts as a sweet spot between turbo contracts, which can be prone to more random noise and volatility, and longer-term contracts which can be time-consuming to research and are at risk of unexpected news events.
The Tesla OTC 1-hour price chart below, featuring 1-minute candles, is a good place to start when setting up 30-minute trades, though many traders will place just as high an importance on a 4-hour or longer chart.
With a good trading platform, you should be able to easily zoom in and out of the chart menu and check a range of timeframes. In addition, it should be straightforward to apply filters and updates in a few clicks.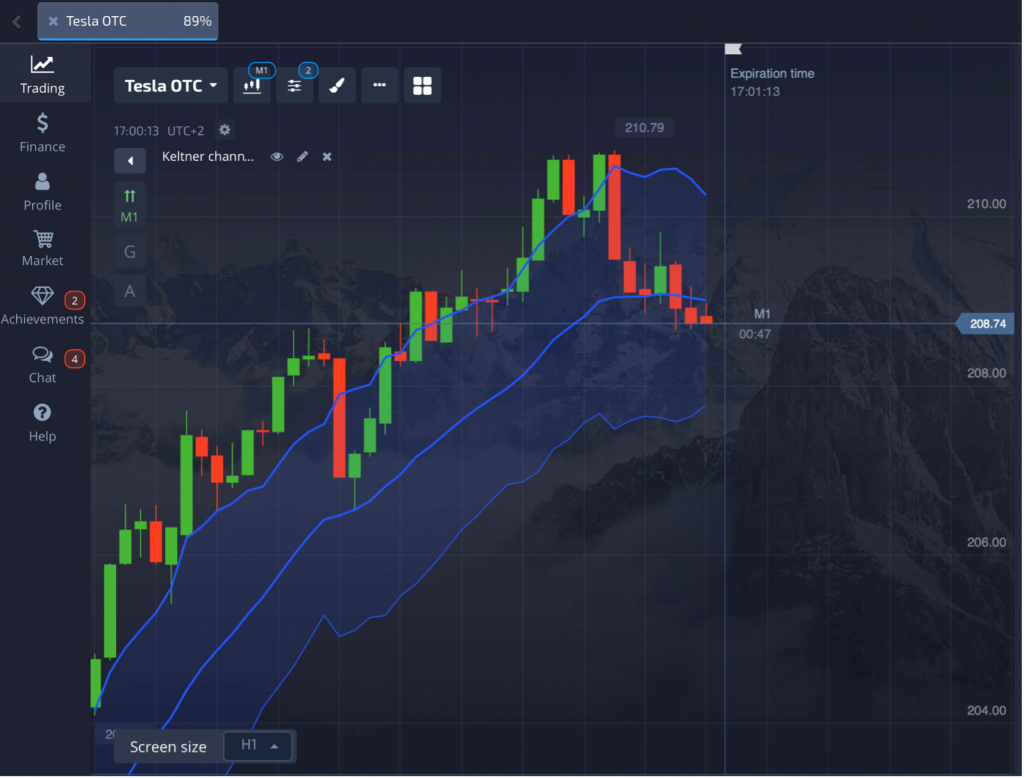 Another important feature of trading platforms is the choice of indicators. The example above, from Pocket Option, has the Keltner channel indicator built in. Note, traders using MetaTrader's MT4 or MT5 platforms may need to download a plugin to use their preferred indicators.
Ensure you have all of the tools you need for your chosen 30-minute binary options strategy when you're ready to start trading.
How Do 30-Minute Binary Options Compare To Other Contract Lengths?
Vs Shorter Contracts
Brokers such as Videforex offer turbo contract lengths, which can expire in less than 1-minute. With these quick expiration times, you are even more reliant on information from technical analysis, particularly with any contracts that expire in 60 seconds or less.
As you are aiming to capitalize on short-term swings, there is a small window of opportunity where binary options contacts can be opened. It can be very difficult to make accurate predictions for highly volatile assets, so you need to practice using short-term indicators. Examples include simple and exponential moving averages made up of fewer than 10 days.
Vs Longer Contracts
Compared to 30-minute binary options, longer-term contracts tend to require more fundamental analysis. Longer contract lengths range from a few hours up to several weeks, as offered by brokers such as Race Option.
For these binary options, technical analysis is still important, but you also need to consider the effect that events and news can have on a security's price. While not at high risk of short-term volatility, even your most carefully planned trade could be upended by an unexpected news event that leads to a significant price movement.
30-Minute Binary Options Strategies
Trend Following
Also known as trend confirmation, this 30-minute binary options strategy involves using two or more simple moving average (SMA) indicators to trade on price action. For this, you will use both a longer-term simple SMA of 100 or 200 days and a shorter-term MA of 10 or 20 days.
When the shorter-term SMA crosses above the longer-term SMA, this signifies the potential for an uptrend. This is called a bullish crossover. On the other hand, when the shorter-term SMA decreases below the longer-term SMA, a downtrend is indicated. This is called a bearish crossover.
The example below shows a bullish crossover where the shorter-term SMA (green line) crosses above the longer-term SMA (red line). Subsequent price movement (blue line) shows an uptrend where Microsoft stock price increases.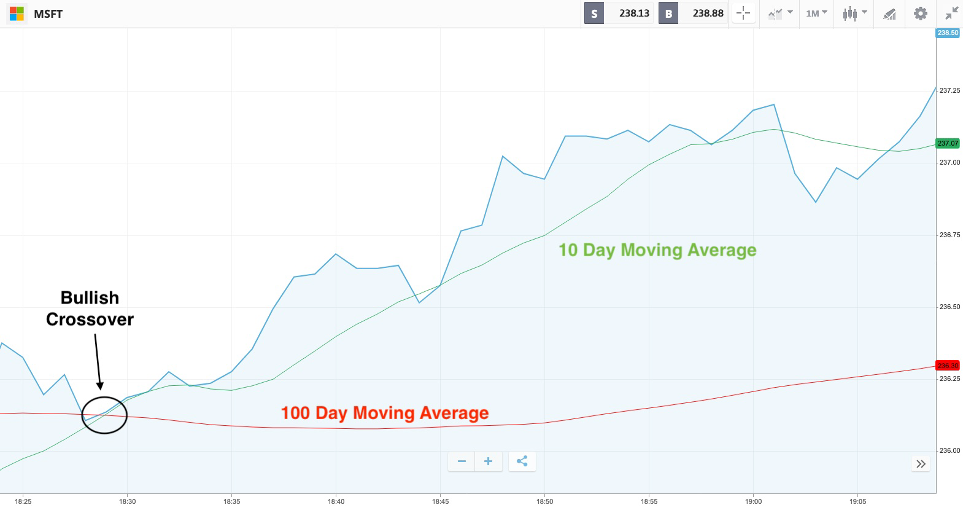 The image below shows a bearish crossover. Here, the shorter-term SMA (green line) decreases below the longer-term SMA (red line) and the value of gold declines.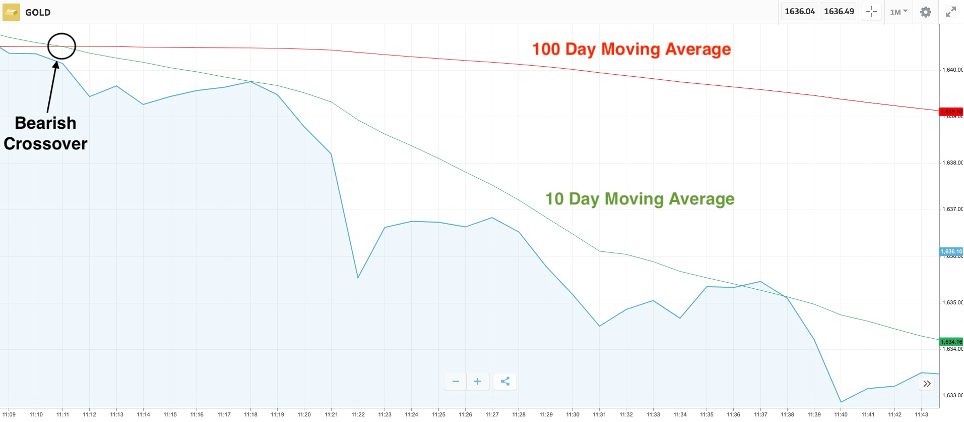 In these examples, SMAs made up of 10 days and 100 days have been used. To add further strength to the trend predictions, you can also use a 50-day SMA.
Straddle
A straddle strategy involves using both 30-minute binary options and shorter-term binaries. For this, you use an indicator such as a relative strength index to identify overbought and oversold assets to help make predictions for trends.
If an asset is overbought, you may predict a downtrend as it is currently overvalued and therefore place a put. If an asset is oversold, it is currently undervalued and an uptrend could be expected. At this point, you would place a call.
Let's look at an example…
To start off, you could open a 30-minute binary options contract that follows the trend direction. In the example below of Zoom's stock price, you could open a call binary option at 19:30 as the market is currently oversold.
While there is a subsequent uptrend, the momentum is too strong and by 19:41, the asset is overbought and a rebound is possible. This is where the straddle comes in. Because you would assume Zoom stock to decrease in value, you would open a put contract that expires at 20:00, the same time as the initial contract. This way, at least one of the two contracts will always end in-the-money and it is possible that both do.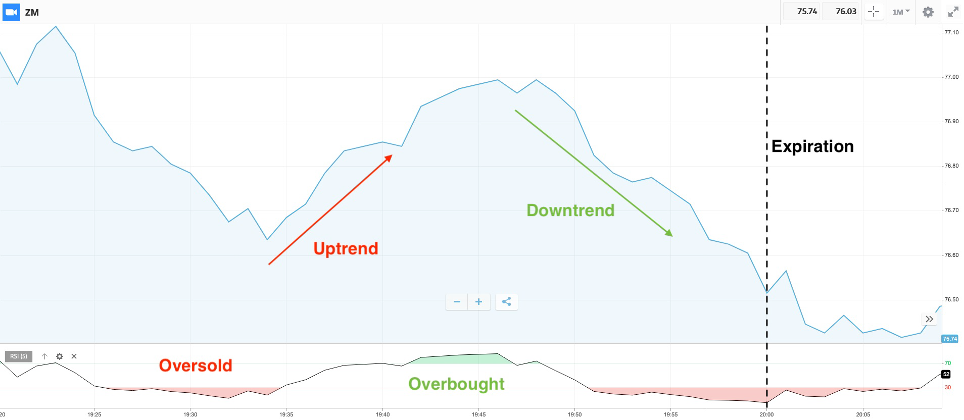 The most important thing to consider when attempting a straddle strategy is the payout. Because your payout in a typical high/low binary will almost always be lower than the stake, you may need to use a different contract type, such as a one-touch, for this strategy.
One-touch binary options contracts can pay out more than 100% of the stake, but they will also usually need a significant price movement.
While opening two binary options contracts could result in a reduction in the total potential profit, it provides a safety net if a trade looks to be going wrong and will end out-of-the-money.
Of course, if the initial trend sustains and there is no rebound, the second binary options contract is not necessary.
30-Minute Binary Options Trading Tips
Practice With Demo Accounts
It is important to practice and refine your 30-minute binary options strategy. The best way to do this is through practice, which can be done through binary options demo accounts.
Many popular binary brokers such as Nadex and Pocket Option provide a free practice account where clients can learn how to interpret indicators and execute trades before moving onto a live account.
A key part of the process is learning how to keep your emotions in check. Trading can be a highly emotional activity and so it is key you stay level-headed when planning and opening 30-minute binary options.
Keep in mind the quote from the famous trader, Victor Sperandeo: "The key to trading success is emotional discipline. If intelligence were the key, there would be a lot more people making money trading."
Automated Trading
Trading robots and automated programs that connect to your account can make your investments more efficient. They can be set to either automatically execute trades according to your desired strategy or to process chart data and send you signals when certain conditions are met.
You can find bots on trading platforms such as MetaTrader's MT4 and MT5. Alternatively, there are specialist binary options bots, including Binary Bot and Option Robot.
Money Management
Trading 30-minute binary options is risky, as these are all-or-nothing trades and if they end out-of-the-money you will lose your entire stake. Too many trades that go wrong can quickly lead to mounting losses, so it is wise to adopt binary options money management techniques such as the 1% rule.
This rule says that you should only invest a maximum of 1% of your total capital per trade, which will guard you against a considerable run of bad luck and allow you to win back your losses with your remaining capital.
Pros Of Trading 30-Minute Binary Options
Simple instrument to trade and easy to understand
Potential for high returns from positive trade outcomes
A number of keeping it simple 30-minute binary options strategies
Long enough to allow for trends to develop, but still allows fast-paced trading
Cons Of Trading 30-Minute Binary Options
All trades that end out-of-the-money result in losing the entire initial investment
No guarantee you will become a 30-minute binary options winner
Risk of scams and fraudulent brokers
Final Word On 30-Minute Binary Options
The 30-minute binary options contract is an ideal derivative for investors of all experience levels. A half-hour contract is not exposed to the risk of very short-term swings as with turbo binaries and does not need as much fundamental analysis as with longer-term contracts.
However, as with all binary options, it is difficult to be consistently profitable. To help your chances, it is important you find and understand indicators and strategies that work best for you and your trading goals.
Use our list of the best brokers that support 30-minute binary options trading to get started.
FAQ
When Can I Trade 30-Minute Binary Options?
The trading hours for 30-minute binary options depend on markets and brokers. For instance, most commodities and stocks can only be traded during standard trading hours, Monday to Friday. Other assets, such as cryptocurrencies, can be traded 24/7.
Where Can I Find Education For 30-Minute Binary Options?
There are many resources you can use to learn more about 30-minute binary options, ranging from books and PDF guides to YouTube channels with training classes and video tutorials. These provide a great way to learn about different strategies and charting options, for example, bars and candlestick strategies.
If you are looking for new ideas on strategies or general advice, check trading groups on websites such as Reddit where there are many posts, reviews and discussions. You should also register for a binary options demo account so you can put the theory you learn into practice.
Which Is The Best Broker For Trading 30-Minute Binary Options?
To find the best broker for trading 30-minute binary options, you should first know your own priorities. Consider factors such as reliability and trust, user reviews, platforms, mobile apps (you may be able to find a free download of an APK file if there is no official app), deposit and other fees, and the availability of a demo account. Additional considerations include low deposits, account managers, regulatory licenses, and access to assets on weekends, which can all help you assert a winning edge.
Where Are 30-Minute Binary Options Legal?
Binary options trading is legal in the USA and other countries around the world, though brokers in the UK and some other jurisdictions are banned from providing them to the local residents and citizens. Nevertheless, traders in countries with strict restrictions on binary options can often still sign up with an international/offshore broker to trade 30-minute binary options.
What Can I Trade With 30-Minute Binary Options?
Nadex and many other binary brokers offer trading on forex, commodities and indices. Certain trading brokers such as IQ Option also allow clients to trade 30-minute binary options on cryptos and stocks listed on different exchanges, however, this is not provided by all brokers.