Wealthsimple Review 2023


United States not accepted.
Go to the Brokers List for alternatives
Canadian traders looking for passive income opportunities will be well served by Wealthsimple. The quick and easy joining process also means you can sign up and start trading in a few minutes.
- DayTrading Review Team
Wealthsimple offers managed investment portfolios to Canadian residents. Clients can build a trading solution based on their financial goals and risk tolerance. Buy and sell stocks, ETFs, and cryptocurrencies. 2 million+ accounts have already been opened.
✓
Beginner Friendly
$1
Own
Stocks, ETFs, Cryptocurrencies
-
USD, CAD
Debit Card, Credit Card, Wire Transfer, Visa, Mastercard
Stock Trading
Invest in thousands of commission-free stocks and ETFs across US and Canadian exchanges including TSX, NASDAQ and BATS. You can also trade fractional shares on 1500+ stocks with the option to reinvest your dividends. This is great for newer investors.
Crypto Trading
Trade 50+ cryptocurrencies including Bitcoin and Ethereum with a competitive 1.5-2% fee per transaction. Investors also enjoy fast crypto transfers to and from Wealthsimple.
Awards
Best Financial Services Website - Webby Awards
Top 100 Global Financial Technology Companies - Fintech 100
✓ Pros
Simple and secure onboarding process through an intuitive and well-reviewed mobile app - start investing in 5 minutes
Trade stocks from as little as $1 with zero commissions, plus Canadian fractional shares including Shopify and Royal Bank of Canada
Attractive perks available for Premium and Generation clients, including airport lounge access, 15% off your will, and health plans
Trade and stake digital coins on Canada's first regulated crypto platform and earn decent rewards of up to 4.6% per year
Accessible educational resources, including Personal Finance 101 and an engaging proprietary online magazine
Options trading available with flat $2 per contract pricing using any of the stocks and ETFs accounts
✗ Cons
Only Canadian residents can join after operations ceased in the USA and the UK
Limited to investing only in stocks, ETFs and cryptos
High management fees compared to competition
Long waiting time for non-instant deposits
Wealthsimple is a prominent robo-advisor and trading brokerage. The many different types of TFSAs and HISAs help clients to generate a passive income whether they are saving for business or the future. This 2023 review will discuss how to trade with Wealthsimple, the investing accounts on offer, pros and cons, trading fees and more. Find out whether to sign up with Wealthsimple today.
What Is Wealthsimple?
About
Wealthsimple is a Canadian investment management company that creates customized portfolios suited to a client's financial goals and risk tolerance. The brand is a good option for traders who have little or no experience in managing their own portfolio due to its ease of use and high-quality support.
The company's head office is in Toronto, Canada. Wealthsimple used to operate in the UK and the USA, however, it has since stopped accepting new users from these countries and transferred current accounts to other firms.
History
Wealthsimple was launched in 2014 by founder and current CEO, Michael Katchen. Since then, it has seen rapid growth and now there are more than 2 million people with investment accounts and over $15 billion worth of assets under management (AUM).
The current majority owner is Power Corporation which has led Wealthsimple to be considered among the top 100 global fintech companies.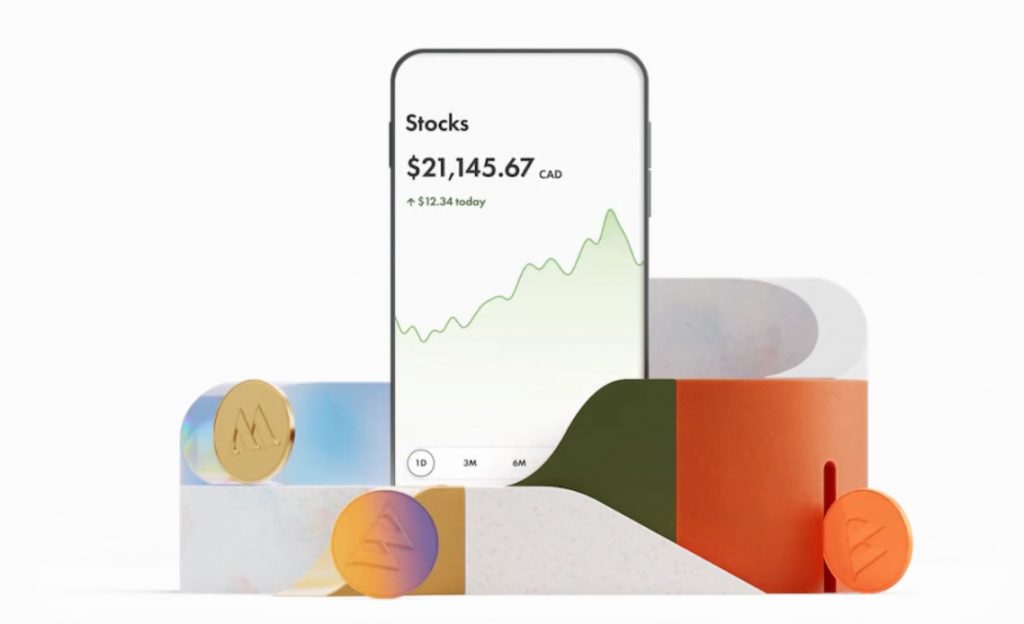 Markets & Assets
Through the Wealthsimple investing service, clients have the opportunity to buy and sell stocks, ETFs and cryptocurrency.
Wealthsimple does not support options trading, forex, or mutual funds.
Stocks & ETFs
The stocks and ETFs available are listed on US and Canadian stock exchanges, such as the Toronto Stock Exchange and NASDAQ, amongst others. Example ETFs include the BMO ZFL and the TD Canadian Index fund.
There is no complete list of the best Wealthsimple stocks and ETFs, however, you can search for specific assets on my.wealthsimple.com or by using the mobile app.
If there is a stock or ETF you want to invest in but it is not listed, you can make a request through the official website. Note, however, that it is not guaranteed and only stocks and ETFs that meet certain requirements are permitted.
There are no fees charged for investing in stocks and ETFs unless you need to convert currency between USD and CAD. In this case, the fee is 1.5% x the current exchange rate.
IPOs
In 2022, the Wealthsimple Venture Fund I was launched which allows clients to invest in pre-IPO companies with a minimum investment of $5,000. This account has the potential for high returns with venture capital having outgrown both the S&P 500 and TSX since 2000.
If you are interested in private equity, you need to complete a survey on the Wealthsimple website.
Cryptocurrency
When the Wealthsimple crypto trading service first started, the only options were buying and selling Bitcoin or Ethereum. Since then, however, the broker has expanded its offering such that clients can now invest in 56 different new coins. This includes tokens such as Terra (LUNA), Shiba Inu (SHIB), Dogecoin (DOGE), Loopring (LRC) and the stablecoin USD Coin (USDC), which is similar to Tether (USDT) and Paxos Gold (PAXG).
For Wealthsimple crypto trading accounts, there is an investment fee of 1.5 – 2%.
Products & Accounts
Managed Investing Accounts
The brokerage offers a range of different managed savings accounts. The interest rate across all accounts at the time of writing is 1% but this is subject to change.
Registered Retirement Savings Plan – This is for clients who are saving for retirement. Customers do not pay tax on interest, dividends or capital gains accrued. The RRSP is available as a personal, joint spousal or group account.
Registered Educations Savings Plan – The purpose of an RESP is to allow clients to make use of the Canadian Learning Bond government scheme that helps parents to save for their children's education. The government offers a fifth of your annual contributions to the plan up to $500 per year with an overall maximum of $7,200.
Tax-Free Savings Account – A managed TFSA works akin to the RRSP as clients do not pay tax on interest, dividends or capital gains up to a limit. In 2022, this limit is $6,000.
Locked-In Retirement Account – This is useful if you have a pension contract with a previous employer but have not yet retired. While you are not permitted to withdraw the pension yet, you can invest the capital through the Wealthsimple LIRA.
Portfolios
Wealthsimple requires that users complete a risk assessment questionnaire to determine their risk appetite. This is used to help curate a suitable investment portfolio.
In general, portfolios fit into one of three categories:
Growth – The portfolio is characterized by high risk and high revenue with 75% to 90% equity allocation. It is made for clients who can accept periods of short-term loss in pursuit of the greatest earnings. Wealthsimple created a model portfolio launched in 2014 with an initial valuation of $10,000. If it had an equity allocation of 80%, the portfolio's value would yield an increase of $5,137 by August 2022.
Balanced – Wealthsimple provides this portfolio for clients with medium risk tolerance who still seek reasonable returns. The equity allocation is between 50% and 65%. Using the aforementioned model but with an equity allocation of 50%, the portfolio's value would yield an increase of $2,670 by August 2022.
Conservative – This is the firm's lowest risk portfolio made for customers who prioritize stability. Equity allocation ranges from 30% to 40%. Using the portfolio model with an equity allocation of 35%, the portfolio's value would yield an increase of $1,713 by August 2022.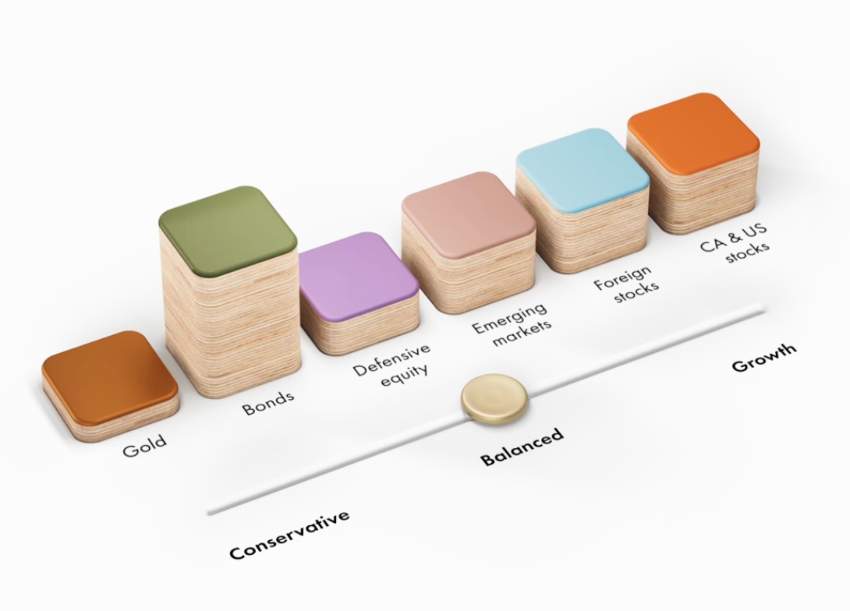 Wealthsimple also offers investing solutions across:
ESG – The broker has created a portfolio for clients who want to invest in companies that are aligned with socially and environmentally responsible values. This is a good way to invest in stocks and ETFs that take into account factors such as a company's staff turnover, greenhouse gas emissions and corruption.
Halal – All aforementioned portfolios can be opened in accordance with Sharia law. Wealthsimple allows Muslim clients to construct Halal portfolios made up of compliant investments. For example, no stocks relating to alcohol or tobacco.
Plans
There are three different plans for Wealthsimple accounts and portfolios. The plan is dependent on the funds deposited in the account.
As soon as your deposited funds with Wealthsimple reach $100,000, your plan automatically switches from Basic to Black. If your account grows to $500,000, you upgrade to the Generation plan.
Note that you must always have at least the plan's minimum limit in your account to qualify for the benefits.
Basic
This is the simplest Wealthsimple plan with the lowest entry of just a $1 deposit. Clients with a Basic plan are charged a 0.5% management fee and get benefits such as expert advice alongside their personalized portfolio.
Black
The Black plan is available to clients who have at least $100,000 deposited in their Wealthsimple account. The benefits compared to a Basic plan include a 0.4% managed account fee, tax-loss harvesting, tax-efficient funds, plus health and estate advice as area-specific perks. For instance, Ontario residents can get six months of free medical services.
Generation
The Generation plan is the most advanced Wealthsimple solution with a minimum deposit of $500,000. In addition to all the benefits of a Black plan, Generation customers also have access to portfolio managers. These managers will build a portfolio according to your financial goals and optimize your investments for tax savings.
Other benefits include a 50% discount from a Medcan Comprehensive health plan in addition to the free first six months.
Calculators
There are several different calculators available to clients. For example, there are calculators for retirement, income tax, RRSP and TFSA. These are useful, particularly when it is time to file your tax return.
Note that you will need to log into your account to access this free service.
Wealthsimple has also acquired SimpleTax and NETFILE to help clients prepare and file their tax returns in addition to Koinly for crypto-specific taxes.
Getting Started With Wealthsimple
How To Set Up An Account
You can switch from other investment management services easily. If you transfer over at least $5,000, then Wealthsimple will pay the switch fees on your behalf.
On the Wealthsimple website, click on the 'Get Started' button and type your email and desired password
Select the product you are interested in from the drop-down list
Input your personal details (you may be asked to provide identification documents)
Click the option to add or transfer a new account
Select the account type from the list and input responses to the on-screen prompts
Requirements
You currently reside in Canada either as a citizen or with a valid Visa. Canadian citizens living in other countries are not permitted to sign up for an account
You have a valid Social Insurance Number (SIN)
Complete a KYC process by verifying your identity if you open a non-registered account
How Old Do You Have To Be To Use Wealthsimple?
You need to satisfy the age requirements in your province. In Alberta, Manitoba, Ontario, Prince Edward Island, Quebec and Saskatchewan the minimum age is 18. In all other provinces, the age limit is 19.
If you are under 18, you cannot open a Wealthsimple account.
How To Delete Your Wealthsimple Account
You can close your account by following these steps:
Login at my.wealthsimple.com
Go to the 'Settings' section on the dashboard
Click 'deactivate my profit'
Confirm
Deposits & Withdrawals
Deposits
Wealthsimple clients are permitted to make instant direct deposits up to a certain limit across a three-day period. Our experts found the limit varies depending on the amount held in your accounts and whether you are a Basic or Plus subscriber.
A Wealthsimple Plus subscription costs $10 per month. The absolute maximum is $25,000, which is available for Plus subscribers with $50,000 or more deposited in their accounts. Once you have used all the allocated quick deposit limit, you need to wait for the next three-day cycle before you can make another instant deposit.
After the instant deposit allocation is used up, any deposits under $50,000 take three business days. All deposits greater than $50,000 take five business days.
Currently, Wealthsimple only permits deposits in CAD if you use Visa and Mastercard debit and credit cards or a transfer from a Canadian bank such as BMO and RBC.
If you want to make a deposit using USD, you need to set up a wire transfer or move funds via another institution or broker.
Roundup
If you connect your debit or credit card to your account, you can use the 'Roundup' feature. This service helps to further fund your savings accounts such that whenever you make everyday purchases, the amount is rounded up to the next whole number. The money used to round up is then sent directly to your Wealthsimple account. For example, if you were to buy a magazine for $3.75, Wealthsimple would deposit $0.25 into your account to round up the purchase to $4.00.
Withdrawals
Wealthsimple does not impose any fees for withdrawals.
The time taken to process the withdrawal varies depending on the type of account:
Managed accounts take up to 7 business days
Stock trading accounts take one or two business days
Crypto trading accounts take two or three business days. Withdrawals made in cryptocurrency to your wallet rather than fiat are much quicker and often take less than 30 minutes
Spend trading accounts take one or two business days
Security
Wealthsimple has taken several measures to help protect clients' accounts. Firstly, all financial information is encrypted and accounts can enable two-factor authentication (2FA) at sign-in.
Additionally, the Canadian Investor Protection Fund keeps customers safe as the company is regulated by the Canadian Investment Regulatory Organization (CIRO).
Finally, while Wealthsimple manages your investments, the accounts are still kept in your name meaning if Wealthsimple were to default, you would still have ownership of your capital.
Customer Support
If you are having problems such as Wealthsimple is not working, keeps logging out, asking for code, crashing, real-time quotes are not available or you encounter a glitch, there are several ways of finding a solution. If Wealthsimple is down then check third-party sites such as DownDetector to see if the issue is your online connection or if there is an outage.
Upon testing, we found you can also seek support through the following channels:
The detailed FAQs and Help section on the Wealthsimple website
Email address that is contactable 24/7
Live chat. Contact a member of the team 8 AM – 8 PM (EST) on weekdays and 9 AM – 6 PM (EST) on weekends. Alternatively, you can use the virtual assistant 24/7
Over the phone at 1-855-255-9038. Open the same hours as the live chat team
Message one of the social media accounts on Instagram, Facebook, Twitter, YouTube or LinkedIn
Note, if you have a complaint or need to resolve an outstanding balance, there are specific email addresses and phone numbers to contact.
Apps
Clients can access their trading accounts either via their mobile device or through a desktop browser. You can use the app for checking your portfolio's current performance, reading the newsletter and making a trade.
You can download the app on iOS and Android mobiles via the Apple App Store and Google Play Store, respectively.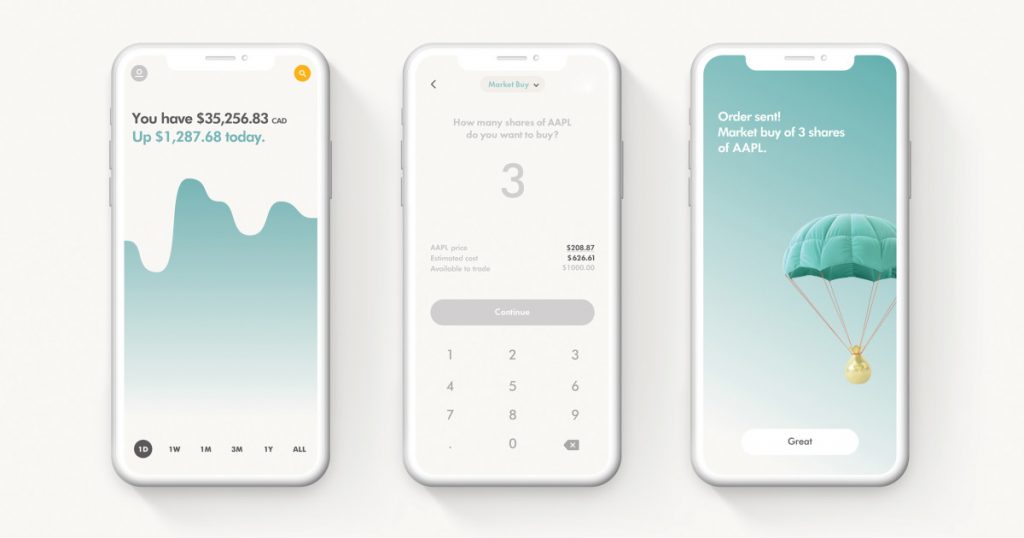 Whether you run Windows, macOS or Linux, you can access your accounts via a web browser.
Promotions
Wealthsimple runs a partner referral scheme where you can earn for each person who uses your unique link or scans your QR code when they join up.
If your colleague forgot to use your cash promo code when they signed up, you can still claim the bonus if they input the code within the following 30 days.
Wealthsimple Verdict
If you are new to trading then Wealthsimple is a great option as the low account minimums make it highly accessible. The many different plans and the portfolio customization means there is something for all investors, regardless of their risk tolerance.
If you are interested in launching an account, it is worth contacting a team member to find the best way to make money according to your interests and financial goals. Whether it is through the cheapest penny stocks or the best cryptos, Wealthsimple can help you to build a foundation for future financial freedom.
Accepted Countries
Wealthsimple only accepts traders from Canada.
Payment Methods
Wealthsimple Details
Minimum Trade
$1
Regulated By
CIRO
Islamic Account

Yes

Mobile Apps
iOS & Android
Margin Trading

No

Volatility Index

No

Spot Trading

Yes

Perpetual Swaps

No

ELWs

No

REITs

No

AI / Machine Learning

No

Robo Advisor

Yes

P2P Trading

No

Negative Balance Protection

No

VPS Hosting

No

Tournaments

No

Demo Competitions

No

Managed Accounts

Yes

Market Maker

No

Auto Trading
Yes via robo advisor
Social Trading

No

Guaranteed Stop Loss

No

Stock Exchanges

Nasdaq
New York Stock Exchange
Toronto Stock Exchange

Commodities
Cryptocurrency Trading Details
Crypto Spread
1.5 – 2% operational fee
Crypto Lending

No

Crypto Staking

No

Crypto Mining

No

Crypto Auto Market Maker

No

Crypto Coins

1INCH
AAVE
ADA
AMP
ANKR
APE
ATOM
AVAX
AXS
BAL
BAND
BAT
BCH
BNT
BTC
CELO
CHR
CHZ
COMP
COTI
CRV
CTSI
DAI
DOGE
DOT
DYDX
ENJ
ETH
FIL
FTM
GALA
GRT
KNC
LINK
LRC
LTC
LUNC
MANA
MATIC
MKR
PAXG
QNT
REN
SAND
SHIB
SKL
SNX
SOL
STORJ
SUSHI
UMA
UNI
USDC
XLM
XTZ
YFI
ZRX
Compare Wealthsimple
Compare Wealthsimple with similar brokers that accept traders from your location. Among available brokers these are the most similar to Wealthsimple:
IG Group – IG is an award-winning broker that has an excellent reputation globally. The brand-US offers spread betting, CFD and forex trading across a comprehensive suite of markets. IG is also multi-regulated, provides a great trading app and has 50 years experience.
Go to IG Group
Just2Trade – Just2Trade is a reliable multi-regulated broker registered with FINRA, NFA and CySEC. The company has 155,000 clients from 130 countries and stands out for its huge suite of instruments and additional features, including a social network, robo advisors and a funded trader programme.
Go to Just2Trade
M1 Finance – M1 Finance is a US brokerage that allows users to build a customizable investment portfolio from a range of 6000+ stocks and shares, ETFs and cryptocurrencies. The innovative 'pie' based portfolio management system allows traders to build several portfolios with different aims, and the brokerage supports machine-learning tools that can provide automated portfolio management.
Go to M1 Finance
Wealthsimple Comparison Table
Compare Wealthsimple With Similar Brokers
Wealthsimple
IG Group
Just2Trade
M1 Finance
Rating
3.1
4.4
3.5
3.9
Markets
Stocks, ETFs, Cryptocurrencies
CFDs, Forex, Stocks, Indices, Commodities, ETFs, Futures, Options, Crypto, Spread Betting
Stocks, ADRs, ETFs, Futures, Options, Commodities, Bonds
Stocks, ETFs, OTC stocks
Demo Account
No
Yes
Yes
Yes
Minimum Deposit
$1
$0
$100
$100
Minimum Trade
$1
0.01 Lots
0.01 Lots
$1
Regulators
CIRO
FCA, ASIC, NFA, CFTC, DFSA, BaFin, MAS, FSCA
CySEC, NFA, FINRA, Bank of Russia
SEC, FINRA
Bonus
–
–
Up to $2,000 for professional accounts
M1 Finance Plus free for 3 months on new accounts
Education
Yes
Yes
No
Yes
Platforms
Own
MT4, AutoChartist, TradingCentral
MT4, MT5, TradingCentral
Own
Leverage
–
1:30 (Retail), 1:250 (Pro)
1:20
–
Payment Methods
5
6
20
3
Visit
–
Visit
Visit
Visit
Review
Wealthsimple
Review
IG Group
Review
Just2Trade
Review
M1 Finance
Review
Compare Trading Instruments
Compare the markets and instruments offered by Wealthsimple and its competitors. Please note, some markets may only be available via CFDs or other derivatives.
Compare Wealthsimple Trading Instruments

| | Wealthsimple | IG Group | Just2Trade | M1 Finance |
| --- | --- | --- | --- | --- |
| CFD | No | Yes | Yes | No |
| Forex | No | Yes | Yes | No |
| Stocks | Yes | Yes | Yes | Yes |
| Commodities | Yes | Yes | Yes | No |
| Oil | Yes | Yes | Yes | No |
| Gold | Yes | Yes | Yes | No |
| Copper | No | Yes | No | No |
| Silver | Yes | Yes | Yes | No |
| Corn | No | No | No | No |
| Crypto | Yes | Yes | Yes | Yes |
| Futures | No | Yes | Yes | No |
| Options | No | Yes | Yes | No |
| ETFs | Yes | Yes | Yes | Yes |
| Bonds | Yes | Yes | Yes | No |
| Warrants | No | Yes | No | No |
| Spreadbetting | No | Yes | No | No |
| Volatility Index | No | Yes | No | No |
Wealthsimple vs Other Brokers
Compare Wealthsimple with any other broker by selecting the other broker below.
FAQ
Is Wealthsimple Canadian?
Yes, Wealthsimple is based in Canada. Currently, only Canadian residents can open an account. In the past, investors from the UK and the USA could open an account but this is no longer an option.
Does Wealthsimple Have Fees?
Yes, Wealthsimple does charge fees. There is a management fee of 0.5% for accounts under $100,000. All accounts with deposits totalling $100,00 or more are charged 0.4%. There is zero trade commission on stocks and ETFs but there is a fee for crypto trading.
Can You Buy Ripple (XRP), Bitcoin (BTC) and Dogecoin (DOGE) On Wealthsimple?
Unfortunately, Wealthsimple does not support Ripple (XRP) trading. If you want to buy and sell XRP you will need to find a different crypto broker. The brand does, however, support BTC and DOGE, amongst other tokens. If you are interested in buying cryptocurrencies with Wealthsimple, you can find the full list of supported tokens as well as any associated fees on the official website.
Where Can I Learn How To Make Money On Wealthsimple?
Wealthsimple has an extensive learning section on its website to help clients to boost their understanding of markets and investing. This is useful if you need concepts or a definition explained, for example, order types such as limit buy, limit sell, stop loss or how auto invest works. You can also subscribe to the Wealthsimple Medium blog and weekly newsletter to stay updated on news and financial statements.
If you want specific information about the company, then websites such as Wiki and Zoominfo are good resources.
Is Wealthsimple Profitable?
Yes, it can be profitable but returns are not guaranteed. As with all investments, you must accept that you can lose money with Wealthsimple.
Is My Wealthsimple Safe And Legit?
Yes, my.wealthsimple.com is legitimate and can be trusted. You do not need to worry if it is safe enough to give Wealthsimple your SIN as it is regulated by the CIRO, Canada's financial regulatory authority.
Can You Trade Options On Wealthsimple?
Wealthsimple does not have options trading as derivatives are not supported. You can only spot trade stocks, ETFs and crypto.
Should I Use Wealthsimple?
Only you can determine if signing up for an account with Wealthsimple is worth it. You should take the time to evaluate the benefits and drawbacks of using the managed investment services on offer. It can be helpful to read customer reviews and opinions on websites such as Reddit and Facebook before you invest. Alternatively, read our comprehensive review based on our experts' findings while using Wealthsimple.
Who Owns Wealthsimple?
Wealthsimple is principally owned by Power Corp, a financial services company based in Montreal, Canada.
Visit
Wealthsimple offers managed investment portfolios to Canadian residents. Clients can build a trading solution based on their financial goals and risk tolerance. Buy and sell stocks, ETFs, and cryptocurrencies. 2 million+ accounts have already been opened.