SushiSwap Review 2022


Traders in United States welcome
SushiSwap is an emerging brand in the DeFi space, operating as an automated market maker with its own crypto coin - Sushi.
Risk Warning – Your capital is at risk
Sushi, otherwise known as SushiSwap, is a popular cryptocurrency platform in the evolving DeFi space. The exchange is one of the first Automated Market Makers (AMM) to send all profits back to the community that maintains and services it. This review explains how SushiSwap works, from farming and lending to available trading coins. We also cover fees, customer support and more. Find out how to get started today.
Headlines
SushiSwap is a crypto exchange built on the Ethereum blockchain. It allows users to buy and sell a long list of crypto assets, including emerging tokens. As one of the growing number of Decentralised Finance (DeFi) platforms, it facilitates crypto trading with minimal control from a central operator. Sushi holds over $3.99 billion in liquidity and over $69.32 billion in trading volume.
The Sushi token is a fork of Uniswap and grants control over the protocol to holders and pays a portion of fees to them.
History
SushiSwap was created in 2020 by a pseudonymous individual or group called Chef Nomi, along with co-founder 0xMaki. The team copied the open-source code used by Uniswap to create the building blocks for SushiSwap.
The company attracted users by promising Sushi token rewards if they locked up funds in a special pool on Uniswap. Once the code for SushiSwap was ready, the funds in that pool were transferred over.
How Sushi Works
The primary function of SushiSwap is to facilitate decentralised cryptocurrency trading. To do this, the exchange relies on Automated Market Makers (AMMs). These are smart contacts that create and manage liquidity pools of tokens or coins.
The Sushi token is what separates SushiSwap from Uniswap. The token has two functions. Firstly, it entitles holders to governance rights. Secondly, a portion of the fees is paid into the protocol. Sushi holders essentially own the protocol.
You can see the price of Sushi against the likes of USDT or BTC on a live chart at TradingView or DeFi Pulse. The price of Sushi can also be measured against popular fiat currencies such as the EUR, USD and GBP.
Using SushiSwap is simple. All you have to do is connect your wallet to the platform, select Swap in the left-hand side of the interface, select which tokens you'd like to swap, then set the amount and click Swap.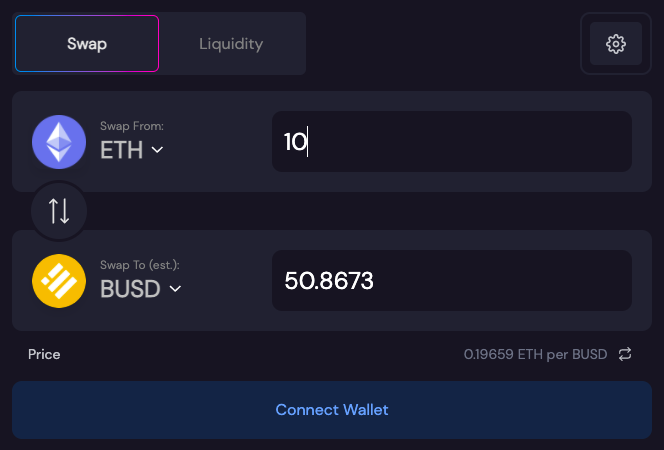 Products
A range of different services are available on the crypto trading website.
AMM
SushiSwap acts as an Automated Market Maker (AMM) which have seen a rise in popularity recently. This is because the protocols within an AMM improve a lot of the shortcomings seen in traditional exchanges. Unlike a centralised exchange, which relies on an order book to link traders and dictate pricing, AMMs utilise smart contracts to create markets for any two tokens. In this way, trading liquidity can be achieved between crypto assets. This also makes them one of the best places to go to acquire hard-to-find tokens.
The SushiSwap AMM offers some of the most competitive rates for DeFi blue-chips anywhere. Users can switch to other chains in just one click.
BentoBox Dapps
The BentoBox is a token vault for liquidity providers offering an innovative eco-system to use dapps gas-efficiently and to generate additional yield.
Users who deposit tokens into the BentoBox earn an annualised percentage yield (APY). This APY is generated by charging a fee to people who use the liquidity in the BentoBox to make flash loans, and by applying community-approved strategies to the liquidity in the vault.
BentoBox is designed to be scalable and serves as the future infrastructure for upcoming DeFi protocols on SushiSwap, the first of which is Kashi.
Kashi Lending
Kashi is a lending and margin trading platform built on BentoBox. It allows anyone to create customised and efficient markets for lending, borrowing and collateralising a variety of DeFi tokens, stable coins, and synthetic assets.
Unlike traditional DeFi money markets where unstable assets can introduce risk to the entire protocol, in Kashi, each market is kept separate, meaning the risk from assets in one lending market does not affect the exposure of another market.
APIs
SushiSwap has an API that lets you aggregate liquidity from other platforms and swap tokens at the best price. Users need to contact Sushi directly to obtain an API Key. See the customer support section further below or head over to the broker's website to get started.
Staking & Farming
SushiSwap also offers crypto staking and farming. Many new users prefer staking over trading because it's less labour-intensive and arguably provides more consistent ROIs. Additionally, the farming protocol means you don't need to be a liquidity provider to earn rewards.
Through xSUSHI staking, users can earn governance rights and 0.05% of all swaps from chains in one place.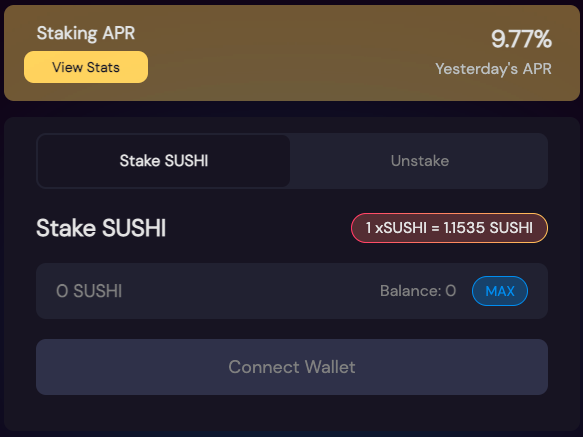 Fees
SushiSwap charges a 0.30% fee. Within this, 0.25% goes to liquidity providers in the selected pool and 0.05% to Sushi token holders who staked their coins in the SushiBar. These are competitive fees but it's still important that traders factor in the costs before getting started.
Pros
Passive income – One of the biggest benefits of SushiSwap is that the majority of fees get paid back to users. Liquidity providers receive large rewards for their contributions. The SUSHI/ETH pool pays out double rewards.
Growth – Sushi has grown phenomenally since it launched. In September 2020, Uniswap was stripped of its title as the largest decentralised exchange when SushiSwap users migrated over $1.14 billion of Uniswap's $1.9 billion locked crypto assets to the new Sushi platform.
Support – The trading platform has received strong endorsements from multiple DeFi projects. Also, some of the largest centralised exchanges in the world added the platform's token, Sushi, days after it went live.
Fees – Trading fees are more affordable than centralised exchanges such as Coinbase.
Cons
Experience – The exchange is relatively new to the market so it doesn't have a long history or demonstrable track record
Security – SushiSwap wasn't independently audited before its release, though the platform is relatively secure with no reported hacking scandals
Governance
SushiSwap is governed by its community. Users can vote on all vital upgrades and protocol changes. A percentage of all freshly issued Sushi tokens is set aside for the future development of the project. The community gets to vote directly on what projects deserve a financial boost.
Our review would like to see the crypto trading platform obtain a license from a reputable financial regulator in the future.
Customer Support
SushiSwap can be contacted via Twitter or email. The exchange also offers a range of tutorials and forums which can be accessed from the homepage. These guides can help with technical queries in addition to getting to grips with the platform and different services.
SushiSwap Verdict
SushiSwap is a serious contender in the growing DeFi market. The range of trading products and services, plus the ability to earn back money and robust community governance makes the platform a good choice for active crypto investors. It's also an excellent alternative to competitor Uniswap.
FAQ
What Is SushiSwap?
SushiSwap incentivises a network of users to operate a platform where traders can buy and sell crypto assets. Similar to platforms like Uniswap and Balancer, SushiSwap uses a collection of liquidity pools and offers a competitive fee structure.
Is The Sushi Token A Good Investment?
Sushi has the potential to be a future leader in the crypto space. It offers a stable trading environment and ample liquidity exposure. Still, all crypto trading is risky with high levels of volatility versus traditional markets like stocks and commodities.
How Do I Use SushiSwap?
Unlike many crypto exchanges, users don't need to create a live trading account. Instead, prospective clients can access the platform's different applications straight from the main website. You will need to connect a digital wallet to start buying, selling and swapping cryptos.
Is SushiSwap Safe?
SushiSwap has not yet been hacked. But whilst run by a reputable team of developers, no crypto exchange is safe with security concerns common in the industry. As a result, we always recommend that our readers only invest what they can afford to lose.
Why Is SushiSwap Popular?
SushiSwap has attracted an active user base for its large selection of liquidity pools and community-focused setup. It is one of the few decentralised exchanges with enough liquidity to compete with centralised crypto trading platforms.
Accepted Countries
SushiSwap accepts traders from Australia, Thailand, Canada, United States, United Kingdom, South Africa, Singapore, Hong Kong, India, France, Germany, Norway, Sweden, Italy, Denmark, United Arab Emirates, Saudi Arabia, Kuwait, Luxembourg, Qatar and most other countries.
Compare SushiSwap
Compare SushiSwap with similar brokers that accept traders from your location. Among available brokers these are the most similar to SushiSwap:
SushiSwap Comparison Table
Compare SushiSwap With Similar Brokers
SushiSwap
Nexo
Kraken
Uphold
Zacks Trade
Rating
–
–
3.9
–
–
Markets
Crypto
Crypto
Crypto
Stocks, Commodities, Crypto
Stocks, Crypto
Demo Account
Yes
Yes
Yes
Yes
Yes
Minimum Deposit
Variable
$10
$10
$0
$2500
Minimum Trade
Variable
$30
Varies upon the crypto traded
$1
$3
Regulators
–
ASIC, FCEN
FCA, FinCEN, FINTRAC, AUSTRAC, FSA
FCA, FinCEN
FINRA
Bonus
–
Loyalty scheme with various bonuses, plus referral program
Lower fees when trading volume exceeds $50,000 in 30 days
–
–
Education
–
No
Yes
No
No
Platforms
–
–
–
–
–
Leverage
–
–
–
–
–
Payment Methods
1
3
7
8
3
Detailed Comparison
–
SushiSwap vs Nexo
SushiSwap vs Kraken
SushiSwap vs Uphold
SushiSwap vs Zacks Trade
Visit
Review
SushiSwap
Review
Nexo
Review
Kraken
Review
Uphold
Review
Zacks Trade
Review
Compare Trading Instruments
Compare SushiSwap Trading Instruments

| | SushiSwap | Nexo | Kraken | Uphold | Zacks Trade |
| --- | --- | --- | --- | --- | --- |
| CFD | No | No | No | No | No |
| Forex | No | No | No | No | No |
| Stocks | No | No | No | Yes | Yes |
| Commodities | – | – | No | Yes | No |
| Oil | No | No | No | No | No |
| Gold | No | No | No | Yes | No |
| Copper | No | No | No | No | No |
| Silver | No | No | No | Yes | No |
| Corn | No | No | No | No | No |
| Crypto | Yes | Yes | Yes | Yes | Yes |
| Futures | No | No | Yes | No | No |
| Options | No | No | No | No | Yes |
| ETFs | – | No | No | No | Yes |
| Bonds | – | No | No | No | Yes |
| Warrants | – | No | No | No | No |
| Spreadbetting | No | No | No | No | No |
| Volatility Index | – | No | No | No | No |
SushiSwap vs Other Brokers
Compare SushiSwap with any other broker by selecting the other broker below.
SushiSwap vs
SushiSwap is an emerging brand in the DeFi space, operating as an automated market maker with its own crypto coin - Sushi.