StormGain Review 2022


United States not accepted.
Go to the Brokers List for alternatives
StormGain provides a one-stop cryptocurrency solution including an online trading platform, cloud mining tool, digital currency wallet and daily signals.
Risk Warning – Your capital is at risk
StormGain is a cryptocurrency exchange and leveraged trading broker, with a built-in multi-currency wallet. The all-in-one platform offers some excellent features, including a cloud miner tool, daily trading signals, a loyalty program, plus a hassle-free login process. Read our 2022 review to find out if StormGain is a legit and safe platform.
Company Details
StormGain was founded in 2019 and is registered in Saint Vincent and the Grenadines. The company aims to make crypto trading more profitable for everyone, taking the best that cryptocurrency offers and integrating cutting-edge platform solutions. StormGain offers a variety of order types and trading tools plus some of the lowest fees among competitors, including on Bitcoin, Ethereum and Ripple.
The company has picked up a string of awards in the last few years and has been featured in several online media publications for its innovative trading services. The brand has also partnered with high-profile sports teams, including being a Newcastle United (NUFC) sponsor.
Note, StormGain is not regulated, though this is not uncommon in the crypto landscape. Nonetheless, the firm has gained serious momentum since its inception, with its services now reaching over five million clients across more than 230 countries.
Trading Platform
StormGain's margin trading and investing desktop platform offers a user-friendly and customizable dashboard, that allows clients to view rising and falling assets. It is available via all major internet browsers, though the recommended access method is via the iOS and Android (APK) all-in-one apps.
The trading platform offers everything you need to trade, exchange and use digital currency coins. The terminal is available in over 10 languages and the in-platform live chat and video tutorials are particularly useful for beginners. For those who want to browse the features, our experts found the web terminal link ideal to check out before signing up.
When we used the terminal, we were impressed with the simple navigation and intuitive dashboard, ideal for those just starting out. Traders can take advantage of a variety of charting tools to track trends and price movements in full-screen mode.
Key features include:
Customize charts using 9 time-frames
Exchange popular digital currency coins instantly with low fees
In-built buy/sell recommendations with integrated trading signals
Access 40+ technical indicators including Ichimoku Cloud and Stochastics
Access improved trading conditions based on trading volumes. This includes lower commissions and bonuses
Control your funds 24/7 in the app. Purchase and store crypto coins within a free, integrated multi-currency wallet
Access advanced trading tools including position and risk-management software, an institutional level of liquidity and a 200× multiplier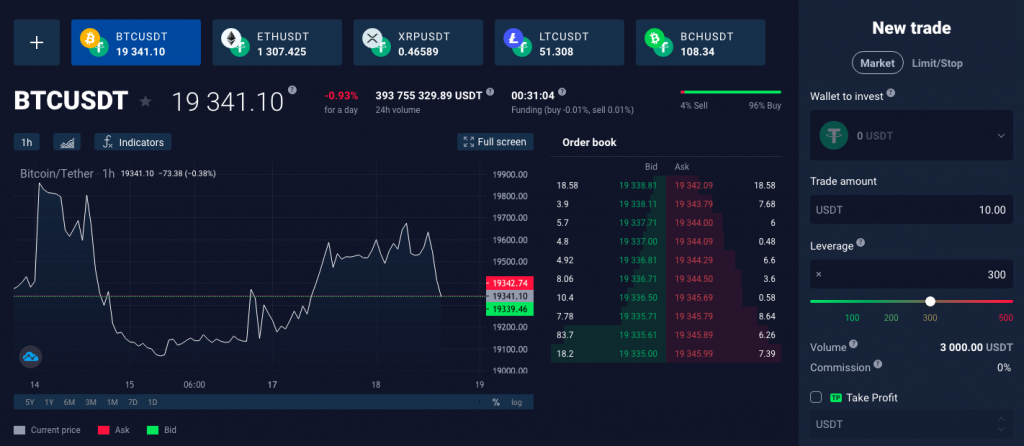 How To Place A Trade
Our experts were impressed with the simplicity of placing a new trade/making an order.
Once you have registered for a new account, login with your verified credentials. To open a position, complete the order form (right-hand side of the web terminal dashboard). Select 'market' trade or 'limit/stop' order. You can also amend the leverage.
Commissions will be displayed before you have to commit to a new order. You can add stop-loss or take-profit risk management alerts.
Note, you can trade with any crypto within your wallet and this will be displayed in the 'wallet to invest' dropdown.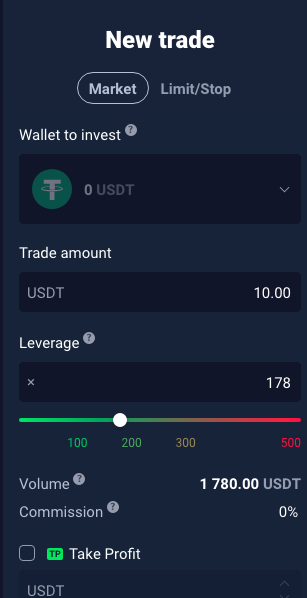 Tokens & Products
When we used StormGain, it was apparent that the all-in-one solution covers everything you could need when dealing with cryptocurrencies. Users can:
Buy, exchange and convert crypto coins
Utilize a built-in wallet to hold and exchange crypto assets
Trade cryptocurrency via StormGain's web trading platform
Customers can trade on 50+ cryptocurrencies including popular pairs like DASH/BTC and NEO/USDT. Crypto indices, futures and options are also available. The indices, in particular, are a good solution for investors who want to speculate on the overall direction of the digital currency market instead of taking on the risk associated with an individual token.
Tokenized commodities on gold and silver are also available.
Like Coinbase, users can buy and hold coins in an integrated crypto wallet in six popular currencies: Bitcoin (BTC), Bitcoin Cash (BCH), Ethereum (ETH), Ripple (XRP), Litecoin and Tether (USDT).
All transactions are denominated in the highly liquid, but relatively stable cryptocurrency – Tether (USDT). This helps reduce the exchange rate risks of using other base currencies like Bitcoin (BTC).
Commissions & Fees
Pricing is competitive and transparent at StormGain. There are no trading commissions, however, the broker takes a 10% cut on profitable trades. Commissions on exchange services range from 0.095% to 0.25%, which is decent versus competitors.
Overall, StormGain is a good option for investors looking for low-cost crypto trading and exchange services.
Leverage Review
StormGain allows crypto trading with a multiplier of up to x500, which is higher than most alternatives. This means an initial investment of $50 would give you $25,000 in purchasing power.
But while this seems attractive, beginners should be aware that high leverage can lead to as many losses as wins. Still, if you are looking to trade big with minimal capital, then this brokerage is a good option.
Note, the leverage available varies depending on the asset – see the official website for a breakdown of rates by token.
Mobile App
StormGain's all-in-one app has everything you need to exchange, store, and trade cryptocurrencies. When using the platform, you can download the app for free to iOS, Android and Huawei devices. The brand boasts over 100k downloads, and the app is rated an impressive 4.3/5 on the Apple App Store.
Investors can enjoy 24/7 access to trading signals, push notifications, charts, and technical analysis tools. When we used the StormGain mobile app, it was evident that the platform has been designed for investors of all experience levels with a sleek design and intuitive interface. Mobile crypto mining is also available within the app, which we cover later in this review.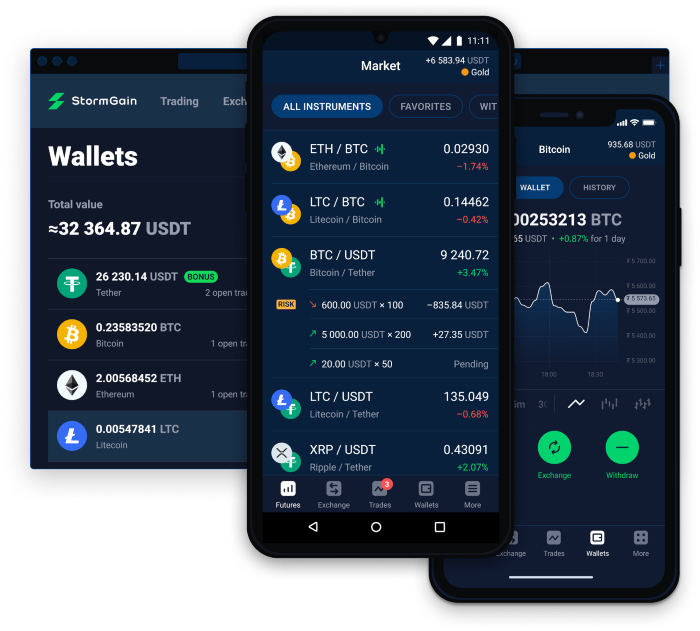 Payment Methods
With StormGain, you can buy cryptocurrencies directly from the platform with your credit or debit card. The minimum deposit for crypto purchases with a credit/debit card is $50 and there is a 5% deposit commission at a minimum of $10.
For crypto-to-crypto purchases, there is a minimum deposit requirement of $10. You can withdraw funds by transferring capital to a wallet. The minimum amount for withdrawals is 50 USDT (or equivalent in another cryptocurrency). There is a 0.1% fee for withdrawals.
SEPA withdrawals can also be made for clients in EU countries.
All transactions generally take up to 30 minutes to be processed. There is an easy to follow guide on how to deposit and withdraw through the platform available on the website.
Note, PayPal is not accepted.
How To Buy Crypto
You can purchase cryptocurrency with a credit card or buy it with another cryptocurrency. Follow these steps:
Open an account and sign in to your user dashboard with your verified credentials
Go to the 'wallets' section and select 'deposit'
Select the wallet with the cryptocurrency you would like to purchase
Select the payment type; fiat or crypto
Type the value you would like to purchase or select the volume from the drop-down
Complete payment details
Click 'pay now'
Note, while using the StormGain platform, there is no requirement to purchase a whole coin meaning you can start with as little investment as you would like. For example, Bitcoin is divided into Satoshis, which are only 1/100,000,000 of 1 BTC.
Demo Account
StormGain offers a demo account with 50,000 USDT in virtual funds to practice trading with. A no-risk demo account is a great tool for beginners looking to test the waters before committing to a live account. It can be active for as long as needed and users can easily switch between demo and live accounts within the dashboard.
Deals & Promotions
StormGain offers deposit bonuses for each account, in the form of a loyalty program. Bonus funds can be used for trading but cannot be withdrawn immediately. These rewards start from 5% for Gold members up to 20% for VIP 3 members.
You can also earn up to 12% interest on deposits, starting from 3% for Gold members and increasing to 12% for VIP 3 members. The company has previously offered a promo code for a 25 USDT no-deposit bonus and also a Coin Contest.
Keep an eye on the website for any future promo deals and competitions.
Regulation & Reputation
StormGain is not regulated by a trusted financial watchdog. With this, there are no KYC compliance requirements, meaning a quicker registration process for new users. However, the broker and exchange does adhere to strict data protection measures including the EU General Data Protection Regulation (GDPR).
The company is also a member of the Blockchain Association, which oversees companies that trade digital assets. Additionally, there is a high degree of transparency when it comes to fees and products which increases the likelihood of legitimacy.
Cryptocurrency brokers are still relatively new in the online trading space and there are some scams, so we always recommend reading reviews before opening an account.
Note, StormGain services are not intended for use in the European Union. Furthermore, StormGain services are not available in countries identified by FATF as high-risk and non-cooperative jurisdictions with strategic AML/CFT deficiencies; and countries under international sanctions.
Additional Features
Cloud Miner
A unique feature of StormGain's platform is the Cloud Miner tool, which allows users to mine their own cryptocurrency from their phone, without the need for any additional equipment. Users can earn free Bitcoin daily by reaching specified trading volumes or by improving their individual mining speed.  Note, the higher your loyalty status level, the faster you can mine and gain rewards.
When we used the StormGain Cloud Miner, we were assured of platform stability as the tool is hosted on remote cloud servers. The software is fast and won't drain your battery.
The tool is completely free once you have registered for an account. Simply open the tool and begin mining every 4 hours until you get your free Bitcoin reward.
Unlocked Staking
Earn profit from your crypto holdings with the StormGain cryptocurrency staking wallet. Simply activate within your profile and begin earning rewards. Interest is generated on your account balance, with potential rewards increasing by account status level. For example, Standard profile users can achieve 2% APY. VIP 3 customers can achieve 20% APY.
Wallet
Take advantage of StormGain's integrated crypto-wallet to hold and exchange digital currencies. There is no fee to hold, exchange or transfer cryptocurrency to and from a wallet. You can access your wallet 24/7 worldwide from any device. All your coins can be accessed via the same interface, making crypto portfolio management easier than ever.
Our experts found StormGain clients can benefit from up to 12% annual interest on any cryptocurrency sorted within digital wallets.
Signals
The online crypto exchange also offers trading signals. Buy and Sell signals are based on two primary indicators; profitability and probability. Users also benefit from integrated risk management parameters in the form of Stop Loss and Take Profit levels. In addition, there are Increase and Auto-Increase options to up position sizes.
The signals service is a good tool for new investors looking to keep up to date with the latest market trends while benefiting from the research of professional traders. Importantly, the signals service is also free once you have registered for a live account.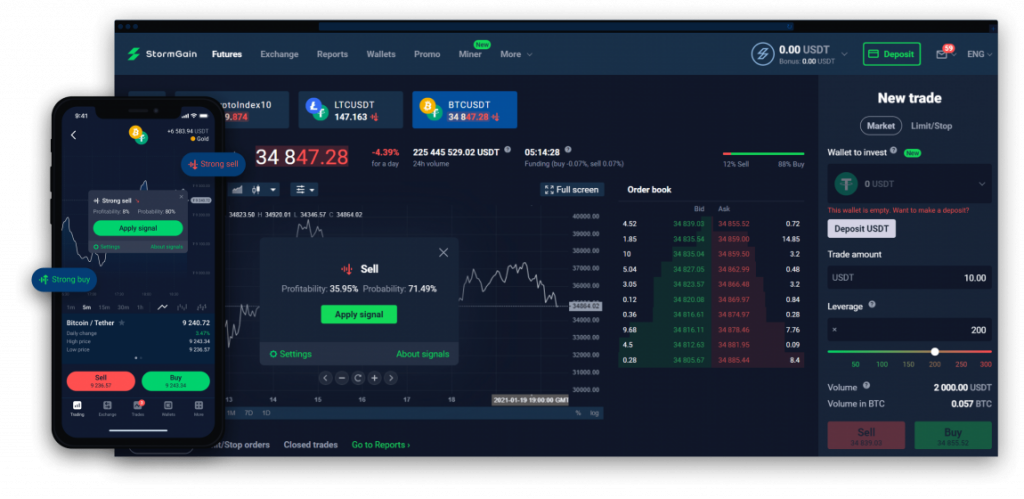 Education
Our experts were pleased with the educational content and resources offered by the exchange. The online academy hosts some interesting content, including a live news forum section containing articles and tips, as well as video education and courses for beginners. In addition, there is a detailed crypto research portal plus blogs with the latest market insights.
When we used StormGain, we were also pleased with the various step-by-step guides offered throughout. These cover many topics including how to purchase crypto, how to make a deposit and how to use the trading terminal. It is certainly worth checking these out, particularly if you are new to trading digital currency coins or to using the brand's services.
Overall, there are some excellent resources for both new and seasoned investors.
Account Types
StormGain's 7-tiered loyalty program is broken down into Standard, Gold, Platinum, Diamond, VIP, VIP 2, and VIP 3. These are the different account types available when registering with the exchange. Each status is defined by the volume traded or exchanged and clients can progress throughout the tiers.
There is no volume requirement with the Standard Account so this is ideal for beginners to get started. To achieve the top-ranked VIP 3 status, you would need to trade a volume of 75,000,000 USDT.
As mentioned previously, users can earn deposit bonuses based on these levels and earn up to 12% interest the higher up you go. Clients can also benefit from an exchange commission discount up to 0.06% and up to x530 faster mining speeds.
When we set up a new StormGain account, it was easy and fast. Contrary to most other brokers, StormGain does not require a time-consuming KYC process for new user registrations.
StormGain also offers an Islamic account for Muslim traders.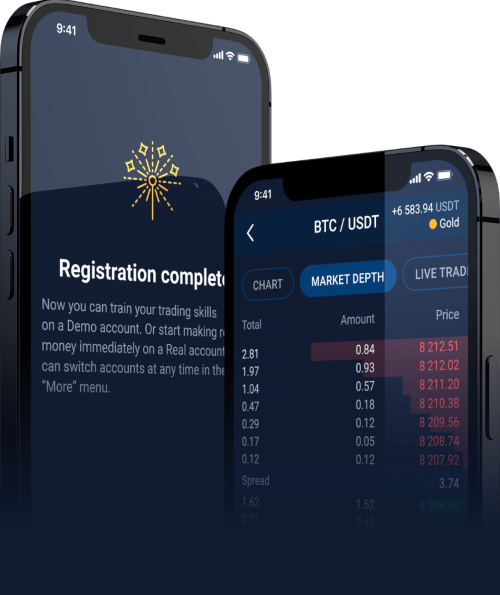 Benefits
There are several advantages of opening an account with StormGain:
Bitcoin trading
x500 leverage rates
Demo profile available
Tokenized commodities
Commission-free crypto trading
Mining and staking tools available
Easy-to-use and beginner-friendly
All-in-one mobile and web platform
Tier based account types with rewards
Drawbacks
Drawbacks of trading with StormGain include:
Unregulated
No automated trading bots
Trading Hours
StormGain is a 24/7 platform and is accessible as and when traders wish, via desktop or mobile app. Unlike more traditional financial markets, cryptocurrencies are still traded in relatively decent volumes over the weekend.
Customer Support
The help and support hub assists with technical queries plus has details of how the StormGain platform works. You can contact StormGain's support team using the fast live chat service in English or Russian, or via email, telephone and Telegram:
Telephone – +1-844-584-7390
Email – partnership@stormgain.com
Telegram – logo is located towards the bottom right of each webpage
Reviews of the customer support service are positive and our experts found agents on-hand and helpful upon testing.
Security
Users can enable 2FA with SMS or Google Authenticator to protect StormGain accounts. The exchange also uses cold wallets to ensure the secure, offline storage of cryptocurrencies. You can rest assured that the brand implements industry-leading security protocols and strong encryption.
Additionally, the blockchain-based digital wallet utilizes checksums to validate all transactions. With that said, there are countless accounts of crypto websites being hacked and clients having their tokens stolen so we always recommend caution.
StormGain Verdict
StormGain offers a competitive all-in-one cryptocurrency service providing an exchange terminal, margin trading, and multi-currency wallets via a relatively safe and secure platform. Traders of all levels can also take advantage of the unique Cloud Miner feature and the high multiplier level. Overall, StormGain is a solid cryptocurrency trading broker for new investors.
Accepted Countries
StormGain accepts traders from Australia, Thailand, Canada, United Kingdom, South Africa, Singapore, Hong Kong, India, Norway, United Arab Emirates, Saudi Arabia, Kuwait, Qatar and most other countries.
Traders can not use StormGain from United States, Afghanistan, Japan, Bosnia And Herzegovina, Guyana, Iraq, Laos, Yemen, Vanuatu, Uganda, Syria, Ethiopia, Sri Lanka, Trinidad And Tobago, Tunisia, Iran, Korea, Austria, Belgium, Bulgaria, Croatia, Cyprus, Czech Republic, Denmark, Estonia, Finland, France, Germany, Greece, Hungary, Ireland, Italy, Latvia, Lithuania, Luxembourg, Malta, Netherlands, Poland, Portugal, Romania, Slovakia, Slovenia, Spain, Sweden, Russian Federation.
Compare StormGain
Compare StormGain with similar brokers that accept traders from your location. Among available brokers these are the most similar to StormGain:
StormGain Comparison Table
Compare StormGain With Similar Brokers
StormGain
Kraken
eToro
IG Group
Uphold
Rating
3.9
3.9
4.1
4.4
–
Markets
Commodities, Crypto
Crypto
Forex, Stocks, Commodities, Crypto
Forex, Stocks, Commodities, Crypto
Stocks, Commodities, Crypto
Demo Account
Yes
Yes
Yes
Yes
Yes
Minimum Deposit
$50
$10
$10
£250
$0
Minimum Trade
$10
Varies upon the crypto traded
$10
0.1 lots
$1
Regulators
Unregulated
FCA, FinCEN, FINTRAC, AUSTRAC, FSA
FCA, CySEC, ASIC, FSA
FCA, ASIC, MAS, FSCA, JFSA, FMA, CFTC, NFA, BMA, DFSA, FINMA, BaFin
FCA, FinCEN
Bonus
Tiered Loyalty Program
Lower fees when trading volume exceeds $50,000 in 30 days
–
–
–
Education
Yes
Yes
Yes
Yes
No
Platforms
–
–
–
MT4
–
Leverage
–
–
–
1:30
–
Payment Methods
5
7
14
6
8
Detailed Comparison
–
StormGain vs Kraken
StormGain vs eToro
StormGain vs IG Group
StormGain vs Uphold
Visit
–
Review
StormGain
Review
Kraken
Review
eToro
Review
IG Group
Review
Uphold
Review
Compare Trading Instruments
Compare StormGain Trading Instruments

| | StormGain | Kraken | eToro | IG Group | Uphold |
| --- | --- | --- | --- | --- | --- |
| CFD | No | No | Yes | Yes | No |
| Forex | No | No | Yes | Yes | No |
| Stocks | No | No | Yes | Yes | Yes |
| Commodities | Yes | No | Yes | Yes | Yes |
| Oil | No | No | Yes | Yes | No |
| Gold | Yes | No | Yes | Yes | Yes |
| Copper | No | No | Yes | Yes | No |
| Silver | Yes | No | Yes | Yes | Yes |
| Corn | No | No | Yes | No | No |
| Crypto | Yes | Yes | Yes | Yes | Yes |
| Futures | Yes | Yes | No | Yes | No |
| Options | Yes | No | No | Yes | No |
| ETFs | No | No | Yes | Yes | No |
| Bonds | No | No | No | Yes | No |
| Warrants | No | No | No | No | No |
| Spreadbetting | No | No | No | Yes | No |
| Volatility Index | No | No | Yes | Yes | No |
StormGain vs Other Brokers
Compare StormGain with any other broker by selecting the other broker below.
StormGain vs
The most popular StormGain comparisons:
FAQ
Is StormGain Mining Legit?
StormGain is not regulated but does operate legitimately. The company has a good reputation with multiple industry awards and features in a range of online media publications. The exchange relatively safe to trade and mine with (though cryptos are notoriously volatile so don't risk more than you can afford).
How Do I Make A Deposit At StormGain?
To make a deposit, select 'Buy Crypto With Credit Card' within your account, go into the 'Deposit' section and select your wallet and payment method. Choose the amount of crypto to buy and then fill in your card and billing details. The minimum accepted deposit is $50.
Does StormGain Accept PayPal?
StormGain does not accept PayPal. Traders can fund their accounts with debit and credit cards, plus crypto wallets.
What Is The Leverage Offered At StormGain?
You can trade with a multiplier up to x500, though most pairs allow a multiplier up to x50. See the broker's website for leverage rates by asset.
How Do I Delete My StormGain Account?
To delete your demo or live account, you will need to contact customer support who will send you an online request form to complete. The exchange's contact details can be found in our 2022 review.
StormGain provides a one-stop cryptocurrency solution including an online trading platform, cloud mining tool, digital currency wallet and daily signals.