Toggle AI Review 2023
Toggle AI analyzes billions of data points in real-time to provide tailored insights on individual assets and wider investment portfolios. An intuitive dashboard and bespoke tools help traders make informed investment decisions. In fact, Toggle insights have outperformed average retail investors by 18%. This review of Toggle AI covers the services available, plus fees, sign-up details and customer support.
Note, Toggle AI has partnered with Interactive Brokers to reimburse commissions on US stocks. 
What Is Toggle AI?
Toggle was founded by veteran investors who have worked at Lombard Odier, Duquesne, Fortress, AllianceBernstein, and Brevan Howard, among others. Famous hedge fund manager, Stanley Druckenmiller, was also one of the firm's early financiers.
With three out of four retail traders losing money in their first year, Toggle collates and presents market insights to support investors. The firm's user-friendly dashboard spans 35,000 assets across multiple classes and regions. Over 75,000 users have already signed up to Toggle AI, including institutional investors and amateur retail traders.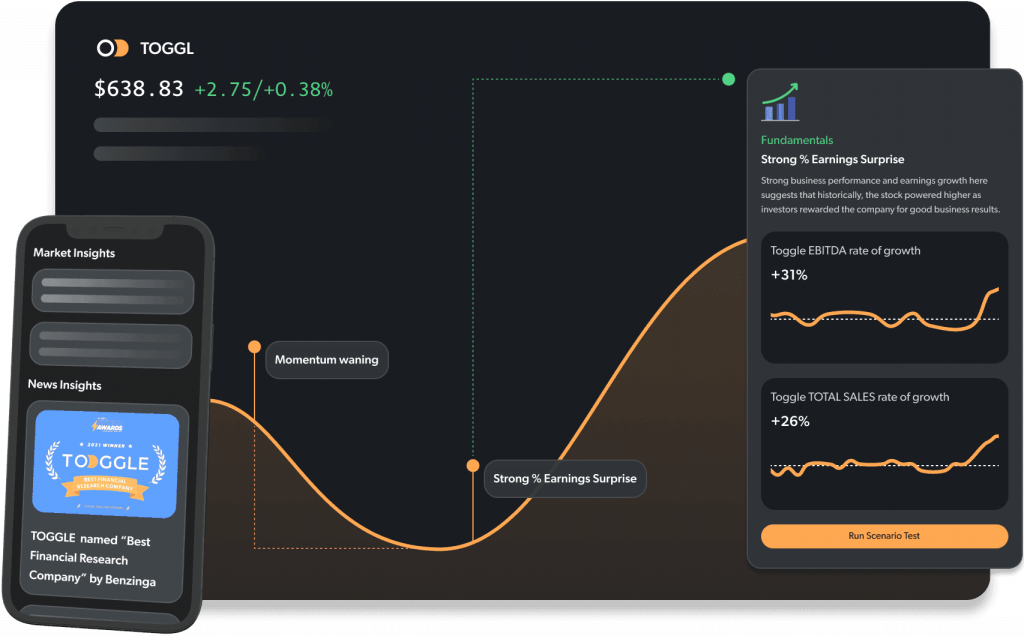 Features & Tools
Actionable Insights
Toggle analyzes real-time, fundamental data points across traditional financial markets, plus emerging assets like cryptos. The firm's machine learning algorithms then refine and tailor findings into actionable insights.
Clients can filter by region, instrument, sector, market cap, drivers, and more. Importantly, the insights offer a good alternative to unreliable signal providers.
Due Diligence
Toggle aims to provide traders with an accurate and comprehensive view of popular markets. This can help users identify assets that are overvalued or news announcements that are worth focussing on. The intuitive terminal essentially makes it easier to zone in on the data points that matter.
Clients can also test potential strategies. For example, what will happen to the share price of electric car companies if governments introduce grants? What impact will inflation have on the price of precious metals and energies? Traders can explore various scenarios and their potential impacts.
Fee Reimbursement
Toggle AI has also partnered with Interactive Brokers to facilitate commission-free stock trading. Account holders at Interactive will receive reimbursement of trading fees every month. The program returns commissions up to the dollar value of their subscription.
US equity trading is free for IBKR Lite account holders, however, commission charges start at $0.002 per share with Toggle AI's IBKR Pro plan clients. Toggle customers that are new to Interactive Brokers also qualify for low options commissions at $0.50 per contract.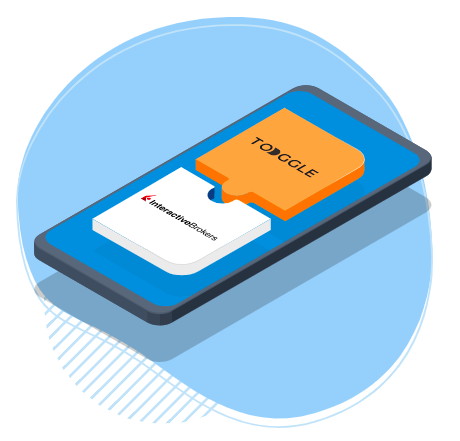 Jan Szilagyi, Toggle AI's Co-Founder and CEO commented: "For nearly four decades, retail investors have been strong-armed into accepting opaque pricing structures and bloated fees from most brokerages. Combining TOGGLE's cutting-edge technology with Interactive Broker's innovative commission structure will be transformative for investors who expect more from their brokerages. My hope is that collaboration will push the industry as a whole to offer transparent pricing structures, and more affordable fees."
Pricing
Toggle AI is available via three straightforward pricing plans:
Basic: $0 per month, US equities and cryptos, 5-star insights only, 10 insights per month, delayed notifications, end-of-day stock prices, daily brief market newsletter, world-class user support
Copilot: $9.99 per month, everything in basic plus global equities, 5-star to 8-star insights, unlimited insights per month, saved filters, unlimited assets in your watchlist, real-time notification and stock prices, hedge-fund grade charting tool, news insights
Pro: $125 per month, everything in Copilot plus all global asset classes, a scenario tool to test theoretical market conditions, no coding necessary
Importantly, the cost of Toggle is considerably lower than the approximately $30,000 a year subscription Bloomberg charges for market data.
Note, clients can sign-up for a Toggle account on the official website.
Pros
User-friendly trading insights
Founded by seasoned investors
Machine learning technology
Ultimate idea generation tool
Reimbursement initiative
Low-cost for beginners
Cons
Relatively new
No promo codes
Does not integrate with well-known trading platforms

Additional Features
Toggle AI also hosts an investing library with easy-to-digest information on key topics. New traders can learn about different types of stocks, risk management techniques, tips for using insights and data points, plus how various instruments and assets work.
The firm also runs a daily newsletter with a round-up of the day's events and key takeaways. Clients can sign up for the newsletter for free without an account. In addition, the company runs a regular blog where it announces new product offerings and updates to its existing portfolio of tools and services.
Toggle AI Verdict
Toggle uses machine learning to scan and analyze billions of data points in real-time. It then tailors insights to individual portfolios. Importantly, the low-cost pricing plans make it a viable alternative to big names like Bloomberg, while for beginners, there is a free account option. Head to the official website to get started today.
FAQ
Is Toggle AI Good?
Toggle AI is a legitimate company operating in the financial services space. It was founded by seasoned investors who have worked in highly-acclaimed financial institutions. Famous hedge fund manager, Stanley Druckenmiller, was also one of the firm's early investors.
Is Toggle AI Free?
Toggle AI has three pricing plans, one of which is free. This is a good option for beginners looking for insights into US equities and cryptocurrencies. The Copilot plan costs $9.99 per month while the Pro plan is $125 per month. The more expensive plans offer deeper and more regular insights across a wider range of markets, along with other perks.
Does Toggle AI Work?
While using Toggle AI does not guarantee higher returns, the firm's insights have outperformed average retail investors by 18%. Still, traders should always be careful not to risk more than they can afford.
Is Toggle AI Safe?
Retail trading is inherently risky. Over 50% of retail traders lose money in their first year. So while Toggle can provide useful insights and data points to make better quality investment decisions, a careful risk management plan is still needed.
Who Owns Toggle AI?
Toggle AI was founded by Armenak Mayalian and Jan Szilagyi. Giuseppe Sette is the company's current President.
Toggle AI provides actionable insights on 35,000 assets spanning multiple classes, industries and geographies.