PrimeXBT Review 2023


United States not accepted.
See the Top 3 Alternatives in your location.
PrimeXBT is great for investors looking to buy and trade derivatives on a wide range of cryptocurrencies. The brand is also a good pick for newer investors looking for copy trading.
- Daytrading Review Team
PrimeXBT is a multi-asset platform offering highly leveraged trading in forex, indices, commodities and cryptocurrencies. The company launched in 2018 and now has over 1 million users from more than 150 countries. With no minimum deposit, copy trading features and low commissions, the broker has become popular among new and experienced traders.
✓
Beginner Friendly
$0
Own
CFDs, Cryptos, Forex, Indices, Commodities, Futures
$100 Deposit Bonus
USD, EUR, GBP
Bitcoin Payments, Credit Card, Debit Card, Ethereum Payments
Forex Trading
Go long or short on 50 forex pairs including the EUR/USD and GBP/USD with zero commissions. There are plenty of opportunities to buy and sell currencies via margin or copy trading.
Stock Trading
Trade major indices, including the Nasdaq, S&P and Nikkei. PrimeXBT offers a powerful platform for technical and fundamental analysis while commissions are amongst the lowest around.
CFD Trading
Trade CFDs across four asset classes with leverage up to 1:1000. Beginners can also take advantage of the broker's useful technical analysis guides and CFD education, plus 24/7 in-platform support via live chat.
Crypto Trading
Trade popular cryptos with commissions as low as 0.05% and high leverage up to 1:200. Another bonus is that you can join 10,000+ traders in crypto trading contests with real prizes.
Copy Trading
PrimeXBT offers an excellent Covesting module where traders can follow the strategies of other users with free and paid-for signals. Once you have found a suitable trader you simply need to hit 'follow' to get started.
Awards
Best Crypto Trading App
Best Platform For Margin Trading
Most Trusted Crypto Asset Trading Platform
Best Crypto And Forex Broker
✓ Pros
Excellent platform and app which provide access to a mix of traditional and digital assets
High trust score with a secure track record and no client funds stolen
The long list of cryptos available provides plenty of trading opportunities
Demo trading competitions with cash prizes
Easy-to-use copy trading tool
✗ Cons
BTC withdrawal fee
No regulatory oversight
No MetaTrader 4 integration
No telephone customer support
PrimeXBT is an online broker providing leveraged trading to clients across the world. Users can also buy and sell crypto tokens like Bitcoin and trade in the brand's virtual contests. This PrimeXBT review covers the services provided, including its trading platforms, copy trading tool, mobile app and supported countries. We also assess the deposit and withdrawal options, promotional codes, investing fees, and KYC verification systems.
Accounts
PrimeXBT does not complicate things by offering several account types. Instead, there is only one account providing all the broker's services with no limits based on deposit size and trading volume.
We also like that there is no minimum deposit, although funds must be transferred before you can start trading.
New users will also appreciate the straightforward joining process, available through an intuitive application form.
Commissions & Fees
PrimeXBT has a transparent fee structure, only charging for each trade and holding a position open overnight. Importantly, our experts found that charges are lower than many alternatives.
Commission rates for cryptocurrencies are competitive at 0.05%, while there is zero commission for forex, indices, or commodities.
Overnight financing charges, often called swaps, are dynamic with the broker and may change from day-to-day. A breakdown of current financing rates is available in the fees section of the website.
Payment Methods
When we used PrimeXBT, we found the company primarily deals in cryptos when it comes to transactions. There is a widget in their deposit section that can be used to buy crypto using a credit or debit card, however this adds a charge. If you already have crypto, depositing into a PrimeXBT account is a simple process. We also like that PrimeXBT has added fiat deposit solutions in EUR and USD.
It may take some time, however, before your payment shows up in the account because there are six automated confirmations that need to be made for security purposes. Our team found that it normally takes around 40 minutes.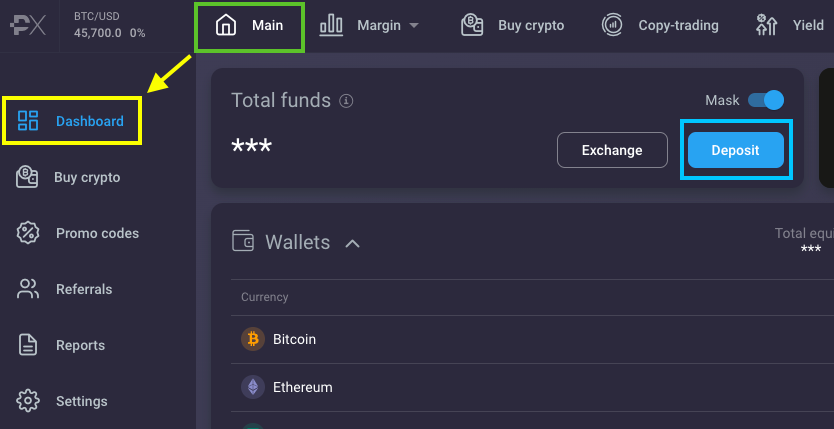 Withdrawing is relatively straightforward, needing just a quantity and crypto wallet address to be input. PrimeXBT provides address whitelisting, meaning only the addresses that are pre-set may be used for withdrawals.
There is a reasonable withdrawal fee of 0.0005 BTC. Withdrawals are generally processed by the broker once each day between midday and 2pm GMT.
Note, traders can also transfer their crypto withdrawals into fiat currencies using third-party services.
Assets & Tokens
Users can go long and short on popular cryptos, including Bitcoin (BTC), Ethereum (ETH), and Ripple (XRP).
However, PrimeXBT pulls away from its competitors in the cryptocurrency exchange industry through its range of CFDs extending beyond cryptos. Many of its competitors, BitMEX, Coinbase and ByBit, for example, only offer cryptos as tradeable instruments. PrimeXBT, on the other hand, also offers major and minor forex pairs, global stock indices, energies such as crude oil, plus precious metals like gold and silver. In total, more than 100 instruments are available.
Ultimately, the selection of CFDs allows for portfolio diversification beyond digital currencies and crypto futures. Users can hedge against other positions and risks and speculate on different markets and sectors.
Note, the broker does not offer trading in options and spread betting.
PrimeXBT Platform
PrimeXBT provides its own bespoke, browser-based trading platform that requires no download or installation. The platform comes fully equipped with over 50 technical indicators and a full suite of charting and analysis tools.
Clients can place trades and manage orders directly from charts, powered by TradingView. The workspace is fully customizable and offers a range of visualization tools, execution methods and trading histories.
While using PrimeXBT, traders can also execute several different order types with the option to simultaneously place stop losses and take profits.
We particularly liked that the broker has integrated all features into one account and dashboard. As a result, clients can trade cryptos, traditional CFDs, as well as accessing the firm's copy trading service and trading contests from one slick interface.
The average order execution speed is 7.12ms.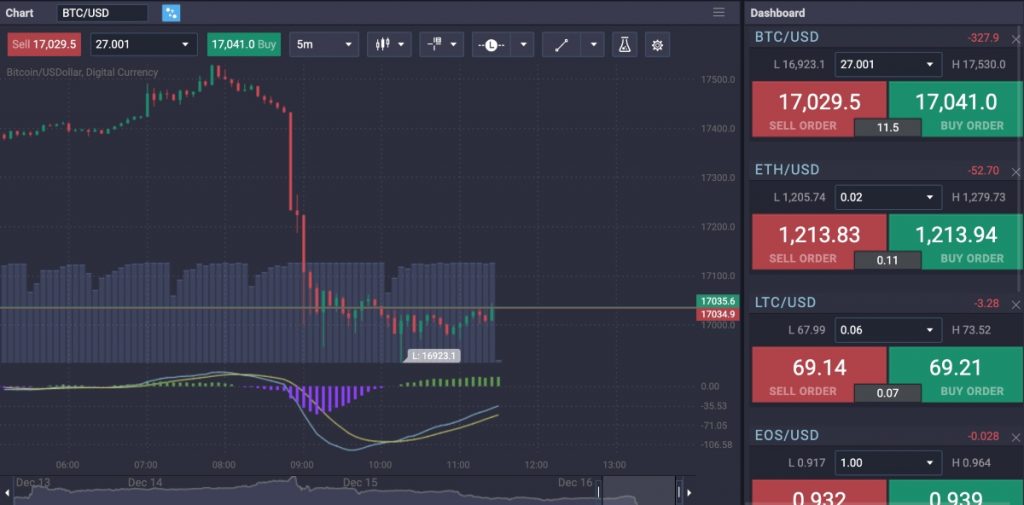 To make a trade, users simply need to choose an asset from the menu in the top left hand corner of the platform. Clients can then select 'buy' or 'sell' from the top bar or the right hand widget. Investors can amend the order details, including the trade size in a few clicks.
On the downside, we were disappointed to see that the broker does not offer the well-known MetaTrader 4 (MT4) or MetaTrader 5 (MT5) platforms.
Leverage Review
When we used PrimeXBT, we rated the competitive leverage rates, with cryptos (BTC and ETH) offering up to 1:200. Other altcoins are available up to 1:100. Crypto futures also offer leverage up to 1:200.
1:1000 leverage is accessible for forex pairs, providing margins as low as 0.1%, while indices and commodities can reach 1:100. With that said, metals can climb to 1:500.
The leverage is variable, however, changing with the trade size. The higher leverage rates are only available for smaller trade sizes, and the maximum leverage is reduced as trade size increases.
When comparing to cryptocurrency margin trading exchanges, such as Kraken and Binance, these leverage rates are significantly higher. Covesting accounts have access to maximum leverage rates of 1:200 for all asset types, no matter the trade volume.
Details of the margin call process plus a useful impact calculator can be found on the broker's website.
PrimeXBT Mobile App
Our experts found that PrimeXBT has developed a mobile version of their custom platform, available for download on iOS and APK smartphones and tablets.
The mobile app has almost all the functionality of the desktop web-based platform, with several order options and an impressive array of customization options to suit any trading preferences. We particularly liked how user-friendly it was, which will appeal to beginners.
Overall, the iPhone and Android mobile app is a suitable alternative or supplement to desktop trading.
Regulation & Licensing
The PrimeXBT brokerage exchange is not currently licensed. This unregulated status may ring some alarm bells, but customer reviews are mostly positive with few complaints of the broker not paying out returns. There is also no news of hacks and funds being stolen from the crypto exchange.
Still, we are hesitant to recommend online brokers that aren't subject to regulatory scrutiny, as it is harder to ensure they are safe to trade with.
Demo Account
When we used PrimeXBT, we were reassured to see that the brokerage offers a demo account through its Contests.
The simulator account allows users to test the brand's suite of tools and assets without risking real funds. We found the competitive side of the contests also provides a fun environment for users looking to trial strategies. The broker essentially runs risk-free trading tournaments using a virtual bankroll, with cash prizes up for grabs.
Deals & Promotions
New users can claim a $100 welcome bonus on deposits of at least $500. The offer is available to traders that sign up within 48 hours. Users then have two weeks to claim the joining bonus.
Check the broker's website for other promotional codes and giveaways in 2023.
Additional Features
Copy Trading
PrimeXBT also offers a Covesting module of its trading platform. Covesting allows any client to invest in other traders and start their own investment funds, essentially copy trading.
We like that the module shows top traders and their funds, track records and returns. Each fund is rated by a series of metrics, including daily and all-time ROI and total capital. Traders with their own funds will both receive more capital from investors and gain a percentage of the extra profits.

Education
There is a range of extra features at PrimeXBT beyond its trading platform. There is an education section explaining markets, order types, trading strategies and how to get the most out of the trading platforms. This is supplemented with a selection of video tutorials and visual guides and a help centre with a fleshed-out FAQ section.
There is also a forex and cryptocurrency blog on the PrimeXBT website, detailing more complex trading strategies and economic news alongside market summaries and analyses. Within the blog, PrimeXBT also makes cryptocurrency, such as Bitcoin (BTX), Ripple (XRP), and EOS, price predictions.
Crypto Futures Platform
A standout feature of PrimeXBT is its selection of crypto futures and perpetual swaps.
Perpetual swaps, for instance, do not have an expiry, allowing traders to hold onto positions. This flexibility makes them suitable for longer-term strategies.
Alternatively, crypto futures use a funding rate solution that keeps prices steady between contract prices and the underlying spot market. Essentially, it keeps price discrepancies low giving traders greater transparency.
The dynamic margin system has also proved popular. We appreciated that PrimeXBT automatically changes the margin depending on your account balance and trade size. Clients can choose between fixed, cross or sliding leverage from the dashboard.
Company Details
PrimeXBT was founded in 2018 in the Seychelles under the name PrimeXBT Trading Services and has since grown into a global brand with clients in 152 countries.
The company has over 40 employees, 3 offices and an average daily trading volume of over $540 million with more than 170,000 daily trades.
In 2019, the broker opened offices in St. Vincent and the Grenadines and shifted their headquarters location and infrastructure to Switzerland.
PrimeXBT does not currently hold a license with a reputable regulatory agency.
Customer Support
PrimeXBT has integrated a 24/7 live chat service into their trading platform to the lower right of the screen, with several agents always active. However, there is no telephone or offline support which may be frustrating if you have a complex issue.
With that said, the knowledge of support staff is good and they're able to help with a range of queries, from liquidation price and platform maintenance, to account queries and help if orders are rejected.
The broker is also active on the below social media and can be contacted via email – support@help.primexbt.com.
Security & Safety
PrimeXBT's privacy-based approach requires zero personal information, only a crypto deposit, so the capital that is deposited is all that is risked. With this also comes high cybersecurity standards that are regularly tested and audited to protect client's capital.
There is also the additional option of multi-factor authentication, provided by Google, requiring both the account password and a personal smart device with the Google Authenticator app.
The majority of PrimeXBT's assets are held in a secure, offline security system, with a limited quantity of Bitcoin held in internet-connected wallets for executing trades.
All website traffic is encrypted with secure sockets layer (SSL) encryptions and account passwords are cryptographically hashed, making them unreadable if the website is infiltrated.
Following the collapse of FTX in November 2022, PrimeXBT made clear that it does not use tokens as collateral for fiat money credit lines. The exchange separates customer and business funds and client assets under management (AUM) are not used as collateral.
Trading Hours
PrimeXBT clients can trade in cryptocurrencies 24/7, as the markets do not close, although it should be noted that overnight swaps will still be charged for positions held open past 23:59 UTC.
All forex pairs available with PrimeXBT are open 21:05 to 21:00 the next day, except for USD/RUB, which is open 07:00 to 21:00.
Precious metals can be traded from 22:00 to 21:00. Commodities and indexes have a larger variation in trading hours due to local trading hours.
PrimeXBT Verdict
PrimeXBT is a broker to keep an eye on. The crypto exchange puts a lot of focus on technological development, creating sleek trading platforms and copy trading tools.
PrimeXBT also protects its clients not through regulation, but anonymity and cybersecurity, mitigating the damage that hackers could do and reducing its attractiveness. Fast execution times and high leverage rates help give PrimeXBT an advantage, though its customer support could be improved.
Overall, PrimeXBT is a good pick for both new traders and experienced investors.
FAQs
Does PrimeXBT Require ID Verification?
No, all that is required to open a PrimeXBT account is a valid email address and password. This means you can get started with the firm in just a few minutes.
What Is The Minimum Deposit At PrimeXBT?
There is no minimum deposit to open a PrimeXBT account. With that said, you will need to load funds onto your profile before you can start trading Bitcoin, for example.
Is PrimeXBT A Scam?
PrimeXBT is a legitimate cryptocurrency exchange headquartered in Saint Vincent and the Grenadines. Even though it is not regulated, it has very few online complaints, and its privacy-centred approach maintains client security.
Does PrimeXBT Offer Social Trading?
There is a social trading section of PrimeXBT's platform, allowing traders to compete with other traders for places on its leader board. There is also a copy trading tool called Covesting.
Is PrimeXBT Available In The USA And Canada?
PrimeXBT is an unlicensed cryptocurrency exchange and so is not available to customers in the USA or Canada. PrimeXBT is supported, however, in over 150 other countries worldwide. See our full PrimeXBT review for the list of restricted countries.PrimeXBT Website
Accepted Countries
PrimeXBT accepts traders from Australia, Thailand, United Kingdom, South Africa, Singapore, Hong Kong, India, France, Germany, Norway, Sweden, Italy, Denmark, United Arab Emirates, Saudi Arabia, Kuwait, Luxembourg, Qatar and most other countries.
Traders can not use PrimeXBT from United States, Japan, Saint Vincent And Grenadines, Canada, Algeria, Ecuador, Iran, Syria, Korea, Sudan, United States Outlying Islands, American Samoa, Russian Federation.
Payment Methods
PrimeXBT Details
Minimum Trade
0.01 Lots
Islamic Account

No

Mobile Apps
iOS & Android
Margin Trading

Yes

Volatility Index

No

Spot Trading

No

Perpetual Swaps

No

ELWs

No

REITs

No

AI / Machine Learning

No

Robo Advisor

No

P2P Trading

No

Negative Balance Protection

Yes

VPS Hosting

No

Tournaments

Yes

Demo Competitions

No

Managed Accounts

No

Market Maker

No

Auto Trading

Yes

Social Trading

Yes

Trade Signals

No

Inactivity Fee
$0
Guaranteed Stop Loss

No

Stock Exchanges

Australian Securities Exchange
CAC 40 Index France
DAX GER 40 Index
Dow Jones
Euronext
FTSE UK Index
Hang Seng
IBEX 35
Japan Exchange Group
Nasdaq
S&P 500

Commodities

Copper
Gold
Natural Gas
Oil
Silver
Zinc
CFD Trading Details
| | |
| --- | --- |
| FTSE Spread | Variable |
| GBPUSD Spread | Variable |
| Oil Spread | Variable |
| Stocks Spread | Variable |
| Leverage | 1:1000 |
Forex Trading Details
| | |
| --- | --- |
| GBPUSD Spread | Variable |
| EURUSD Spread | Variable |
| EURGBP Spread | Variable |
| Assets | 45+ |
Cryptocurrency Trading Details
Crypto Spread
0.05% BTC, 0.05% ETH
Crypto Lending

No

Crypto Staking

No

Crypto Mining

No

Crypto Auto Market Maker

No

Crypto Coins

ADA
BNB
BTC
DOGE
DOT
EOS
ETH
ICP
LINK
LTC
SAND
SOL
UNI
XRP
more
Top 3 Alternatives to PrimeXBT
Compare PrimeXBT with the top 3 similar brokers that accept traders from your location.
IG Group – IG is an award-winning broker that has an excellent reputation globally. The brand-US offers spread betting, CFD and forex trading across a comprehensive suite of markets. IG is also multi-regulated, provides a great trading app and has 50 years experience.
Go to IG Group
Just2Trade – Just2Trade is a reliable multi-regulated broker registered with FINRA, NFA and CySEC. The company has 155,000 clients from 130 countries and stands out for its huge suite of instruments and additional features, including a social network, robo advisors and a funded trader programme.
Go to Just2Trade
Kwakol Markets – Kwakol Markets is a Nigerian headquartered broker with strong regulatory oversight in Australia and Canada. A great selection of day trading assets are available, including synthetic products that simulate realistic market activity. Clients can trade on the MT4, MT5 and cTrader platforms, as well as a copy trading solution whereby a fee is only paid on profitable trades.
Go to Kwakol Markets
PrimeXBT Comparison Table
Compare PrimeXBT With Similar Brokers
PrimeXBT
IG Group
Just2Trade
Kwakol Markets
Rating
4.1
4.4
3.5
4.5
Markets
CFDs, Cryptos, Forex, Indices, Commodities, Futures
CFDs, Forex, Stocks, Indices, Commodities, ETFs, Futures, Options, Crypto, Spread Betting
Stocks, ADRs, ETFs, Futures, Options, Commodities, Bonds
CFDs, Forex, Stocks, Indices, Commodities, Crypto
Demo Account
Yes
Yes
Yes
Yes
Minimum Deposit
$0
$0
$100
$1
Minimum Trade
0.01 Lots
0.01 Lots
0.01 Lots
0.01 Lots
Regulators
–
FCA, ASIC, NFA, CFTC, DFSA, BaFin, MAS, FSCA
CySEC, NFA, FINRA, Bank of Russia
ASIC, FINTRAC
Bonus
$100 Deposit Bonus
–
Up to $2,000 for professional accounts
–
Education
Yes
Yes
No
No
Platforms
Own
MT4, AutoChartist, TradingCentral
MT4, MT5, TradingCentral
MT4, MT5, cTrader, AutoChartist
Leverage
1:1000
1:30 (Retail), 1:250 (Pro)
1:20
1:1000 (Retail)
Payment Methods
4
6
20
4
Visit
–
Visit
Visit
Visit
Review
–
IG Group
Review
Just2Trade
Review
Kwakol Markets
Review
Compare Trading Instruments
Compare the markets and instruments offered by PrimeXBT and its competitors. Please note, some markets may only be available via CFDs or other derivatives.
Compare PrimeXBT Trading Instruments

| | PrimeXBT | IG Group | Just2Trade | Kwakol Markets |
| --- | --- | --- | --- | --- |
| CFD | Yes | Yes | Yes | Yes |
| Forex | Yes | Yes | Yes | Yes |
| Stocks | Yes | Yes | Yes | Yes |
| Commodities | Yes | Yes | Yes | Yes |
| Oil | Yes | Yes | Yes | Yes |
| Gold | Yes | Yes | Yes | Yes |
| Copper | Yes | Yes | No | Yes |
| Silver | Yes | Yes | Yes | Yes |
| Corn | No | No | No | No |
| Crypto | Yes | Yes | Yes | Yes |
| Futures | Yes | Yes | Yes | No |
| Options | No | Yes | Yes | No |
| ETFs | No | Yes | Yes | No |
| Bonds | No | Yes | Yes | No |
| Warrants | No | Yes | No | No |
| Spreadbetting | No | Yes | No | No |
| Volatility Index | No | Yes | No | No |
PrimeXBT vs Other Brokers
Compare PrimeXBT with any other broker by selecting the other broker below.
The most popular PrimeXBT comparisons:
Customer Reviews
There are no customer reviews of PrimeXBT yet, will you be the first to help fellow traders decide if they should trade with PrimeXBT or not?
Visit
PrimeXBT is a multi-asset platform offering highly leveraged trading in forex, indices, commodities and cryptocurrencies. The company launched in 2018 and now has over 1 million users from more than 150 countries. With no minimum deposit, copy trading features and low commissions, the broker has become popular among new and experienced traders.
Article Sources
The writing and editorial team at DayTrading.com use credible sources to support their work. These include government agencies, white papers, research institutes, and engagement with industry professionals. Content is written free from bias and is fact-checked where appropriate. Learn more about why you can trust DayTrading.com