Nexo Review 2023


Available in United States
Nexo is good for traders who want a straightforward way to access DeFi crypto markets and earn interest on their digital assets.
- Daytrading Review Team
Nexo is a crypto trading platform that also acts as a gateway to DeFi crypto functions such as staking, borrowing and lending. The platform supports 60+ crypto tokens, which can be purchased with a fiat on-ramp and traded in 500+ market pairs. The exchange operates a zero-fee policy allowing a set number of completely free withdrawals per month and fee-free trading.
$10
Own
Cryptos
Loyalty scheme with various bonuses, plus referral program
USD, EUR, GBP
Bitcoin Payments, Credit Card, Debit Card
Crypto Trading
Nexo traders can buy and sell 60+ cryptocurrencies using fiat, or trade between 500+ market pairs. The app functions as a crypto wallet, meaning that clients will own their own tokens but Nexo will have custody of them. Crypto assets can be transferred from the Nexo wallet. Fees are low and user security is high.
✓ Pros
Convenient way to buy, stake, lend and borrow crypto through one platform
Allows users to borrow against their crypto holdings
2 factor authentication for added security
Advanced Nexo Pro trading platform
Referral program with $25 in BTC
Very affordable pricing structure
High-yield interest savings
OTC trading capabilities
Audited by Armanino
Earn NEXO tokens
✗ Cons
Restrictions on using the native tokens for New York and Vermont US residents
High collateral requirement of 200% of the amount you wish to loan
Relatively small selection of crypto tokens which misses newer altcoins
Native tokens are required for maximum interest rates
Limited free cryptocurrency withdrawals
No crypto derivative trading
Nexo is one of the major digital asset institutions in the world that combines conventional and cryptocurrency finance. It provides a simple all-in-one solution where users can buy and manage their crypto. This review will discuss the exchange's key services, outline its fee structure, explore Nexo's regulation and security systems and weigh up the pros and cons of opening an account.
Nexo Headlines
Nexo was founded in April 2018 after completing a $52.5 million private sale that was 11 times oversubscribed. Soon after, the firm established the world's first Instant Crypto Credit Line backed by cryptocurrency, enabling tens of thousands of consumers throughout the globe to access cash while simultaneously HODLing.
Three financial investors with over ten years of experience in European institutions helped shape the company: Antoni Trenchev, Kosta Kantchev, and Kalin Metodiev. They remain in prominent management positions today.
The platform's goal is to bring professional financial services to the world of cryptocurrency and digital assets. With over $12 billion of assets under management and more than 4 million users, the exchange is one of the largest and most trusted lending institutions in the digital finance industry. Additionally, the company has handled over $80 billion in user funds across more than 200 jurisdictions .
The Nexo platform allows users to buy, borrow and lend over 35 supported cryptocurrencies, as well as fiat currencies like USD, EUR, and GBP. The firm offers cryptocurrency loans with borrowing rates as low as 0%. If you have idle savings, you can earn interest up to 18%.
You can buy coins with your bank card in 7 seconds and you can receive up to 0.5% crypto rewards on every purchase or swap.
The Nexo exchange has over 300 classic pairs and exotics. The integrated Smart Routing System also gives users the best rates from the leading 10 exchanges. To avoid volatility, prices are fixed when you place an order.

A Brief History
Early History
2018 – After launch, Nexo released the first compliant asset-backed coin with utility features that paid dividends and the world's first instant crypto credits platform. Nexo paid out close to $1M (30% of its profits) to NEXO Token Holders. Importantly, the First NEXO Dividend beat all dividend-bearing equities in Warren Buffet's investment portfolio.
2019 – The company processed $1.5+ billion for 550,000+ users, paid $2.4+ million in dividends to NEXO token holders, and gained its ISO/IEC certification for its security infrastructure. Later that year, the native coin was available to purchase on the Binance chain and their wallet app was launched.
2020 – Earn on Crypto feature was established, allowing clients to gain up to 12% interest. At the same time, the minimum amount for borrowing was lowered to just $10 for Instant Crypto Credit Lines. The success was followed by the launch of Nexonomics, a series of upgrades to the native token, and many other improvements to the reward system; these changes boosted profits and brought in even more users, breaking the 1 million customer milestone.
2021
The company made significant progress in 2021: the custodial insurance is raised to $375 million, free crypto withdrawals became available, fixed terms are now possible for long-time holders, interest is being paid daily to NEXO holders, and the Armanino audit concluded the firm's assets always exceed its liabilities.
2021 also marked the beginning of the Nexo Exchange. Investors are now able to swap between crypto and fiat directly from their wallets across 100+ pairs.
Off-chain transfers are made available, meaning traders can instantly send cryptocurrencies to all platform users without paying fees.
FTX and Balancer listed the NEXO token, and a partnership with Fidelity Digital Assets is announced.
The Nexo Booster is created for higher borrowing rates and 0% loans are introduced.
2022
Several big launches took place: the Nexo Card, All-Swap which allows for direct conversions between any crypto pairs traded on the platform, Nexo Ventures – an in-house investment arm, and Nexo Prime – a brokerage platform for institutional, corporate, and high-net-worth individuals.
As part of the "Crypto for Ukraine" initiative, the Nexo community donates $700,000 for emergency humanitarian help.
The NEXO token is listed on Binance and Bitstamp.
Nexo Crypto Borrowing
Nexo users can access instant crypto-backed loans without any credit checks. The borrowing rates start from 0%, there are no mandated monthly repayments. It also provides a tax-efficient solution because cryptos aren't converted into fiat.
Depending on the amount of credit you want to take out, you will need either basic or advanced identity verification. You may be asked to provide supporting documents. Aside from this, there are no other eligibility criteria for borrowing with Nexo.
Once you have been verified, you can start the process. First, you will need to deposit crypto. All fiat loans are backed by at least 200% crypto collateral. This means that, if you want to borrow $25,000, you will need at least $50,000 worth of Bitcoin or another altcoin as collateral. Some of the major coins you can deposit include BTC, ETH, XRP, LTC, XLM, BCH, EOS, LINK, TRX, BNB, PAXG and NEXO. The collateral list is made up of 38 cryptos. However, more new coins are added regularly.
Next, click on "Withdrawal Funds From Credit Line". You will see the available loan amount and be given two asset class finance options. The first option is a fiat currency loan, which will require your bank account details. There are over 40 fiat currencies to choose from.
The second option is to receive your loan in USDT (Tether) or USDC (USD Coin), which will require you to provide a wallet address for a loan in stablecoins. With Nexo, the minimum loan amount is $500 for fiat and $50 for stablecoins. The maximum is $2,000,000. Crypto-backed loans can be spent at any time.
If the market value of your assets increases, your loan limit will increase automatically. If the market value of your assets decreases making the collateral insufficient, you will receive a notification to add more funds. Crypto can be automatically transferred from the savings wallet.
Interest Rates
The yearly interest rate (APR) paid for a Nexo loan depends on the percentage of your portfolio balance held in NEXO, the platform's native token. Your portfolio balance is the combined value of your credit line and savings wallet. Some competitors like YouHodler, Celsius, BlockFi, and SwissBorg do not have their own native tokens.
As with any other cryptocurrency, the value and stock price of NEXO tokens to USD changes with demand. You can purchase native tokens on the platform and other major exchanges with fiat and other accepted cryptocurrencies.
Borrowing rates start from 0%, and if you hold more than 10% of your portfolio in the native token, then you qualify for extra deductions and benefits. Interest will be debited from your available limit and repayments can be made at any time. There are no instalments.
You can repay using fiat (USD, EUR, GBP), crypto, or any combination of the two. There is no minimum repayment amount in fiat, but there are minimum repayment amounts if you are repaying with crypto.
Nexo Booster
With Nexo Booster you can borrow against your portfolio up to three times its value. The currently owned assets become collateral until the credit is paid.
In order to eliminate slippage, the Instant Crypto Credit Line simultaneously processes borrowing and swapping. In the event of asset appreciation, you can return your credit and retain the profit.
Nexo Crypto Lending
You can earn interest by storing crypto and fiat in the Nexo wallet. This wallet accepts USD, GBP, and EUR as fiat, and the cryptocurrencies supported include BTC, XRP, and XLM. You are able to buy crypto within seven seconds, so fiat deposits from your bank card are almost instant. Minimum deposits apply at USD 10, GBP 10, EUR 1,000, and BTC 0.001.
APR rates will depend on the type of saving terms you select for your deposit and the number of native tokens you own. You can also choose between earning in kind (same currency as your deposit) or NEXO tokens.
The company offers daily pay-outs and compounding of your cryptos. Earning rates vary by your loyalty level and asset type. However, the highest APR on stablecoins is 12%, and the highest for crypto is 16%. To calculate your daily interest, multiply your account volume by the interest rate and divide by 365.
Both flex and fixed terms are available:
Flex terms – Savings that you deposit in your wallet generate income daily and are available to use, trade, or withdraw at all times.
Fixed terms – Depositing crypto or fiat with fixed terms will lock your assets for a determined period but will produce higher interest. The longer you deposit for, the higher the profits. If you enable automatic renewal your fixed term deposits will renew automatically. You will receive all your earnings at the end of the term.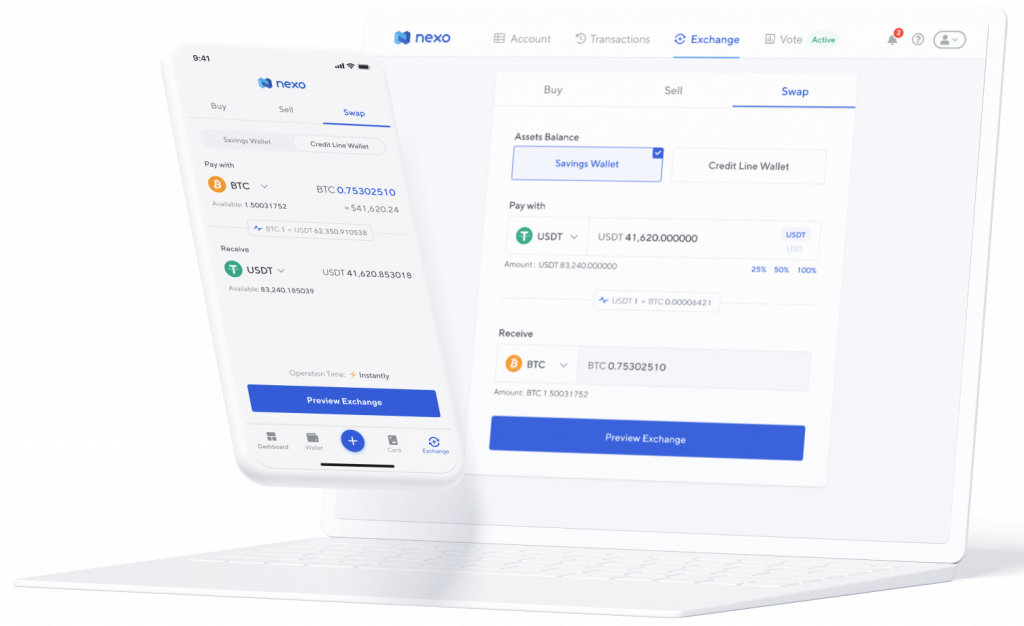 Earn Interest On NEXO
As well as earning on the crypto and fiat that you store in your wallet, your NEXO tokens produce interest.
On June 8th 2021, Nexo held a vote for token holders to choose between the previous dividend-based system and a daily payout. The exchange used to pay token holders 30% of its income in dividends, but as the users' majority chose a daily interest payment, the last NEXO dividend happened in June 2021 and holders now receive daily payments.
Holding 10% of your portfolio in native tokens qualifies you for a platinum loyalty tier. This has benefits such as receiving the lowest borrowing rates, highest interest rates, up to 2% in crypto rewards when you use your Nexo card, and 5 free withdrawals per month.
Nexo Pro
Nexo Pro is an advanced investing platform that offers spot, margin and futures trading with 5x leverage. Aimed at active traders, users can speculate on the price of more than 400 cryptos with market, limit and trigger orders. The terminal also supports automated trading strategies, including TWAP.
Our experts particularly liked Nexo Pro's perpetual futures. These straightforward contracts allow traders to take a position on the future price of major cryptos like Bitcoin (BTC) without owning the underlying asset. Contracts are settled in Tether (USDT) while both long and short positions can be opened. 2x leverage is available.
Deep liquidity is available on Nexo Pro as the brokerage has teamed up with more than 10 exchanges, third-parties and market makers. The result is ultra-fast executions with less slippage and competitive pricing.
Nexo Pro is a good step up for users who want to do more than simply exchange popular cryptocurrencies.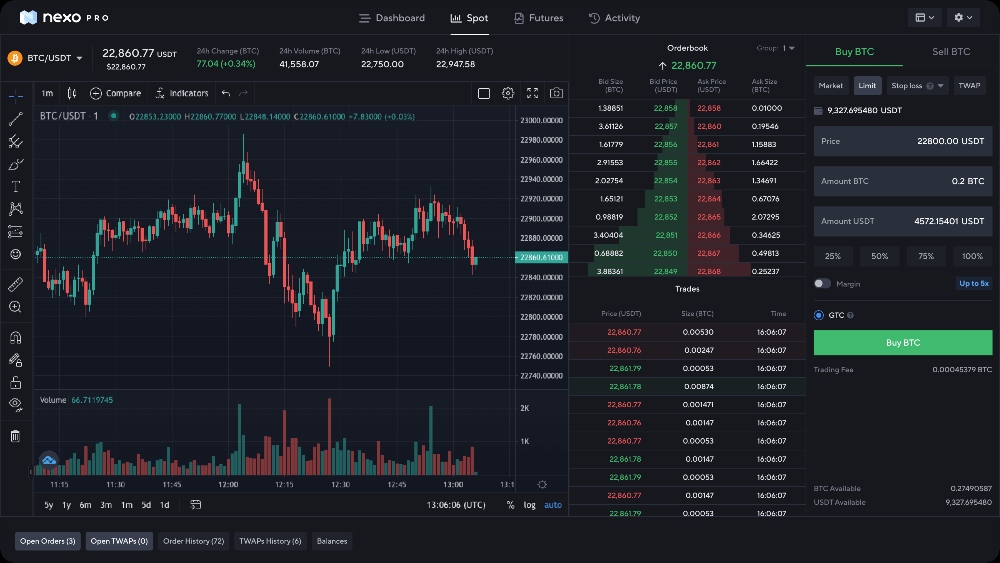 Nexo Wallet & Card
To access the exchange's interest for yield farming you will need the Nexo wallet app. This is available to download for free on Android (APK) and iPhone (iOS). You can store, and earn a percentage on all your approved digital assets in the wallet. It also gives you access to the transfer service, the exchange platform, and the crypto-backed loan system.
Through the wallet app, you can order and manage your Nexo card. This allows you to use your credit lines from anywhere in the world without any exchange or conversion fees up to €20,000.
The card is accepted by over 90 million merchants worldwide. There are no monthly or annual fees associated with maintaining the card and it offers 2% instant cashback on all purchases. Before making a transaction, you can choose to receive the cashback in native tokens or BTC.
Furthermore, you can get the card for free in either physical or online format (compatible with iOS devices and Google Pay).
Other Fees
The exchange has a zero fees policy, meaning that no extra costs are charged for taking out or withdrawing loans. Depending on your loyalty tier, you have a number of fee-free crypto withdrawals to external wallets – these range from one free crypto withdrawal a month for base tier customers to five free monthly withdrawals for platinum users.
Any extra withdrawals incur a variable network charge. Money transfer times are up to 24 hours.
Security & Regulation
Nexo is a security-oriented crypto solution that offers among the highest insurance in the industry. The $375 million package includes partnerships with leading blockchain security providers such as BitGo, Ledger Vault, Bakkt, and other firms that are insured by Lloyd's of London, Marsh and Arch. For example, the SEC-approved custodian, BitGo protects users' funds from hacks, theft and loss of private keys, plus insider theft.
To give users extra peace of mind, Nexo experiences real-time reserve audits over the firm's custodial holdings provided by Armanino. The exchange further safeguards its assets and customers with secure cloud, transfer, and data protection infrastructure.
Nexo is licensed by several financial bodies across the globe, including the U.S. Financial Crimes Enforcement Network and the Australian Securities and Investment Commission. The brand is also licensed to operate in the EU. However, it is not registered with UK's FCA.
Users can increase their account security by enabling two-factor-authentication (2FA), biometric identification and withdrawal alerts.
Note that advanced verification is not currently available for New York and Vermont US citizens and residents, meaning that they cannot trade NEXO tokens on the exchange nor receive interest in the native tokens.
Always remember to check with a local tax advisor on how your assets and transactions should be taxed.
Customer Support
The exchange platform features a 24/7 chat option where you can access help in case of an unexpected error on the platform. For example, if you need to reset your 2FA, your account is not working or if you have any questions.
You can also fill in their support form or email support@nexo.io. Moreover, the exchange has an extensive FAQ collection and educational YouTube videos on how to use their platform.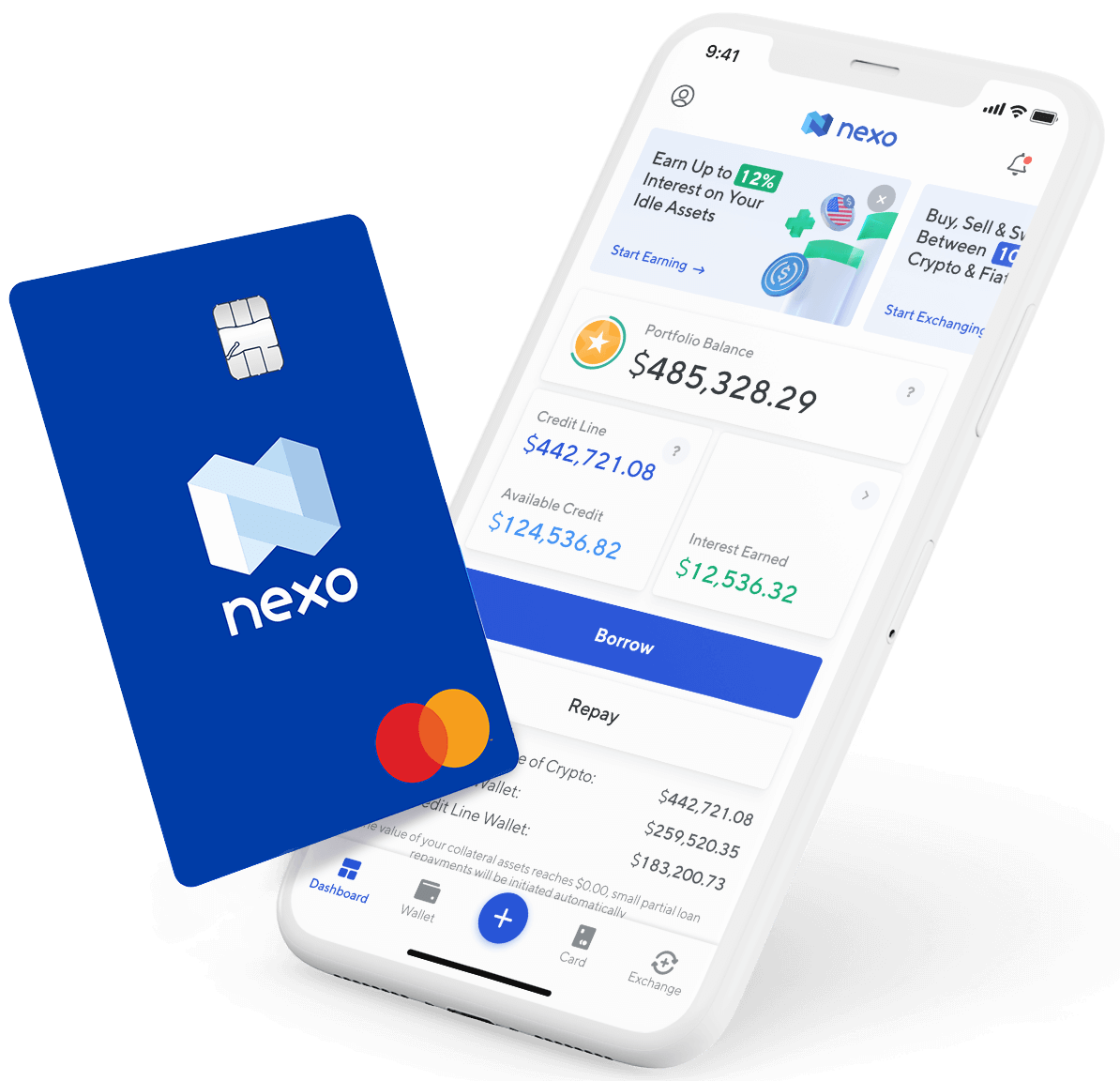 Note, the company has an office in London alongside a distributed headquarters and a remote-first workforce.
Registering For Nexo
Here's how to get started with Nexo:
Choose Your Platform – The exchange is available for desktop traders through its website Nexo.io. You can also download the mobile app for Android (APK) or iPhone (iOS) via the relevant app store. Both the desktop and mobile versions are clear, modern, and easy to use.
Register – To begin the registration process, click "Create Account" in the upper right-hand corner.
Verify – Before you get started, you will need to verify your identity. The exchange's basic verification only requires your name, address, and phone number. If you wish to increase your limits, you will need advanced verification using your ID card. It can be found under the "My Profile" section of the platform.
Nexo Verdict
Nexo offers an array of services, allowing users with crypto to borrow cash with flexible repayments and competitive rates. The firm also offers high-yield interest options for users looking to safely store their cryptocurrency and fiat. However, it is important to keep an eye on your accounts to ensure your collateral remains sufficient. Some US citizens will have to wait until advanced verification is available to make full use of the Nexo platform. OTC trading is also available to live account holders.
FAQs
What Is Nexo?
Nexo is a cryptocurrency lending and trading platform. Customers can take out crypto backed loans without any credit checks as well as earn APR on idle assets. You can also purchase, exchange, and store tokens.
How Much Interest Can I Earn With Nexo?
APR rates vary depending on whether you choose fixed or flex terms, how the interest is paid, and how many native tokens you hold. Rates go up to 16% for platinum users.
Do I Need A Credit Check For A Loan With Nexo?
Nexo offers crypto-backed loans, which means you can receive a credit line without credit checks as long as you have sufficient cryptocurrency collateral. You can work out how much collateral you will need using the calculator on the website. You can use 35+ coins including BTC, ETH, PAXG, XRP, LTC, XLM, BCH, EOS, LINK, TRX, NEXO and BNB as collateral.
Has Ripple (XRP) Been Delisted From Nexo?
There have been rumors that XRP would be delisted from Nexo. However, at the time of writing XRP is still listed for purchase, sale, borrowing, and lending.
Does Nexo Charge Withdrawal Fees?
You can withdraw fiat from Nexo at any time with zero fees. Base tier customers have one free withdrawal per month. Platinum users have five free withdrawals per month. Any further cryptocurrency withdrawals may incur fees.
Can I Get Interest On Fiat With Nexo?
Yes, Nexo is one of the few crypto-lending companies that allows users to earn interest in fiat currencies. Accepted currencies are USD, GBP, and EUR. APR on fiats goes up to 12% depending on your account type and deposit terms.
Accepted Countries
Nexo accepts traders from Australia, Thailand, Canada, United States, United Kingdom, South Africa, Singapore, Hong Kong, India, France, Germany, Norway, Sweden, Italy, Denmark, United Arab Emirates, Saudi Arabia, Kuwait, Luxembourg, Qatar and most other countries.
Traders can not use Nexo from Bulgaria, Central African Republic, Cuba, Estonia, Iran, Syria.
Payment Methods
Nexo Details
| | |
| --- | --- |
| Minimum Trade | $30 |
| Regulated By | ASIC, FCEN |
| Islamic Account | No |
| Mobile Apps | iOS & Android |
| Margin Trading | No |
| Volatility Index | No |
| Spot Trading | No |
| Perpetual Swaps | No |
| ELWs | No |
| REITs | No |
| AI / Machine Learning | No |
| Robo Advisor | No |
| P2P Trading | No |
| Negative Balance Protection | No |
| VPS Hosting | No |
| Tournaments | No |
| Demo Competitions | No |
| Managed Accounts | No |
| Market Maker | No |
| Social Trading | No |
| Guaranteed Stop Loss | No |
Cryptocurrency Trading Details
Crypto Spread
N/A
Crypto Lending

Yes

Crypto Staking

Yes

Crypto Mining

No

Crypto Auto Market Maker

No

Crypto Coins

1INCH
AAVE
ADA
APE
ATOM
AVAX
AXS
BCH
BNB
BTC
CRV
DAI
DOGE
DOT
EOS
ETH
FTM
GALA
KSM
LINK
LTC
MANA
MATIC
MKR
NEAR
NEXO
PAXG
RUNE
SAND
SOL
SUSHI
TRX
TUSD
UNI
USDC
USDP
USDT
XLM
XRP
Top 3 Alternatives to Nexo
Compare Nexo with the top 3 similar brokers that accept traders from your location.
IG Group – IG is an award-winning broker that has an excellent reputation globally. The brand-US offers spread betting, CFD and forex trading across a comprehensive suite of markets. IG is also multi-regulated, provides a great trading app and has 50 years experience.
Go to IG Group
Interactive Brokers – Interactive Brokers is a leading global brokerage that provides access to a comprehensive offering of stocks as well as forex, futures, metals, bonds and cryptos. The firm has over 40 years experience in the online trading industry and is heavily regulated by SEC, FCA, IIROC, and SFC. Day traders can use the proprietary Trader Workstation and can access powerful tools and data feeds as well as comprehensive educational resources.
Go to Interactive Brokers
Kraken – Kraken is a leading cryptocurrency exchange with a proprietary trading terminal and a list of 220+ tradeable crypto tokens. Up to 1:5 leverage is available with stable rollover fees on spot crypto trading and up to 1:50 on futures. The exchange also supports crypto staking and has an interactive NFT marketplace.
Go to Kraken
Nexo Comparison Table
Compare Nexo With Similar Brokers
Nexo
IG Group
Interactive Brokers
Kraken
Rating
3.9
4.4
4.3
3.9
Markets
Cryptos
CFDs, Forex, Stocks, Indices, Commodities, ETFs, Futures, Options, Crypto, Spread Betting
Forex, Stocks, Commodities, Crypto
Cryptos
Demo Account
Yes
Yes
Yes
Yes
Minimum Deposit
$10
$0
$0
$10
Minimum Trade
$30
0.01 Lots
$100
Variable
Regulators
ASIC, FCEN
FCA, ASIC, NFA, CFTC, DFSA, BaFin, MAS, FSCA
SEC, FCA, IIROC, SFC
FCA, FinCEN, FINTRAC, AUSTRAC, FSA
Bonus
Loyalty scheme with various bonuses, plus referral program
–
–
Lower fees when trading volume exceeds $50,000 in 30 days
Education
No
Yes
No
Yes
Platforms
Own
MT4, AutoChartist, TradingCentral
AlgoTrader, OmniTrader, eSignal, TradingCentral
AlgoTrader
Leverage
–
1:30 (Retail), 1:250 (Pro)
1:50
–
Payment Methods
3
6
11
6
Visit
Visit
Visit
Visit
Visit
Review
–
IG Group
Review
Interactive Brokers
Review
Kraken
Review
Compare Trading Instruments
Compare the markets and instruments offered by Nexo and its competitors. Please note, some markets may only be available via CFDs or other derivatives.
Compare Nexo Trading Instruments

| | Nexo | IG Group | Interactive Brokers | Kraken |
| --- | --- | --- | --- | --- |
| CFD | No | Yes | Yes | No |
| Forex | No | Yes | Yes | No |
| Stocks | No | Yes | Yes | No |
| Commodities | No | Yes | Yes | No |
| Oil | No | Yes | No | No |
| Gold | No | Yes | Yes | No |
| Copper | No | Yes | No | No |
| Silver | No | Yes | No | No |
| Corn | No | No | No | No |
| Crypto | Yes | Yes | Yes | Yes |
| Futures | No | Yes | Yes | Yes |
| Options | No | Yes | Yes | No |
| ETFs | No | Yes | No | No |
| Bonds | No | Yes | Yes | No |
| Warrants | No | Yes | Yes | No |
| Spreadbetting | No | Yes | No | No |
| Volatility Index | No | Yes | No | No |
Nexo vs Other Brokers
Compare Nexo with any other broker by selecting the other broker below.
Customer Reviews
There are no customer reviews of Nexo yet, will you be the first to help fellow traders decide if they should trade with Nexo or not?
Visit
Nexo is a crypto trading platform that also acts as a gateway to DeFi crypto functions such as staking, borrowing and lending. The platform supports 60+ crypto tokens, which can be purchased with a fiat on-ramp and traded in 500+ market pairs. The exchange operates a zero-fee policy allowing a set number of completely free withdrawals per month and fee-free trading.