Lightspeed Financial Review 2023


Available in United States
High-volume day traders will benefit from Lightspeed Financial's powerful tools and fast execution speeds. The broker stands out for its 15+ high-grade trading platforms.
- Daytrading Review Team
Lightspeed Financial is a SEC-regulated broker specializing in intraday trading on US markets. Traders can access the full range of NYSE stocks plus futures and options via a wide selection of professional-grade trading platforms and discounts for loyal traders.
$10,000
eSignal
Equities, options, futures
-
Stock Trading
Trade the full range of NYSE stocks as well as ETFs with lightning-fast execution, low commissions, deep liquidity and 100 order types. The broker is a great pick for active US stock traders.
Crypto Trading
Use Lightspeed Crypto to trade BTC, ETH, BCH, LTC and USDC in pairs with USD with low commissions. On the negative side, the choice of cryptocurrencies is limited vs alternatives like eToro.
✓ Pros
Huge selection of deep trading platforms and tools to choose from
Low fees and tight spreads for active day traders
Regulated by FINRA, the CFTC and the NFA
Risk-assessment software packages
Full access to NYSE stocks
Futures and options trading
✗ Cons
Not suitable for beginners with a high minimum deposit of $10,000 / $25,000
Limited range of asset classes with no forex trading
Trading platforms are complex for novice traders
Margin trading limited to max 1:4
Lightspeed Financial is a US stockbroker designed for active day traders. This review explores the broker's platforms, mobile software apps, demo trials and account types. Lightspeed Financial's licensing, regulation and fees are also detailed, so read on to make an informed decision.
Lightspeed Financial Company Details
Lightspeed Financial is a financial services technology company. The broker has offices in New Jersey and Chicago and provides a medium to trade American stock markets.
The company's target clientele is active, high-volume retail and institutional traders from the US to Germany and Singapore.
Foreign traders from some countries can open accounts with the broker, however further paperwork is required. The countries accepted by Lightspeed include Canada, Australia, India, the UK and the UAE.
Trading Platforms
Lightspeed offers over 15 platforms to trade with, each having its own specialties, benefits and drawbacks. There are monthly software fees for some platforms, though these are reduced by the value of any commissions paid the previous month.
Popular Alternatives To Lightspeed
Lightspeed Trader
A proprietary platform for equities and options trading with level 2 quotes, made by Lightspeed. Keyboards can be used to carry out orders through hotkeys. The platform supports extended hours trading as well as Java, C++ and API Python links. The charts and order routes are fully customisable and there are advanced scanners and filters available. This software has a price tag of $130 per month which is offset by the previous month's commissions.
Sterling Trader Pro
This is a professional platform for active traders. Level 2 price quotes come with real-time profit-loss information, hotkey ordering and extended hours trading. Information windows can be customised and linked and there is a built-in smart order routing and destination setting capability. The platform can be used to trade equities and options and can be linked to APIs, scanners and filters. There are 60 charting options with studies, and 11 options spreads. There is a monthly fee of $240-270, depending on requirements.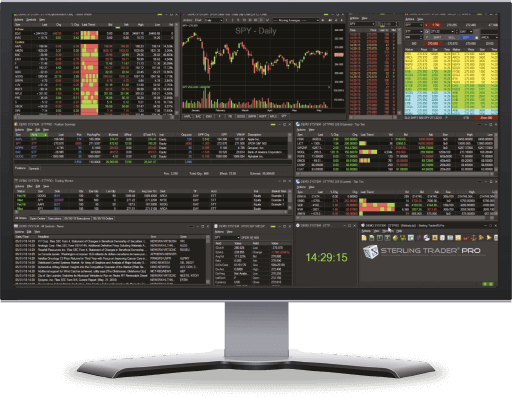 Sterling Vol Trader
A platform geared towards options traders that has sophisticated, dynamic portfolio risk assessment systems. Custom layouts can be saved and there is overlay charting, historical data analysis and an advanced 'what if' modelling and ordering tool. With level 2 price quotes, equities and options can be traded, plus the platform is free with Lightspeed Financial.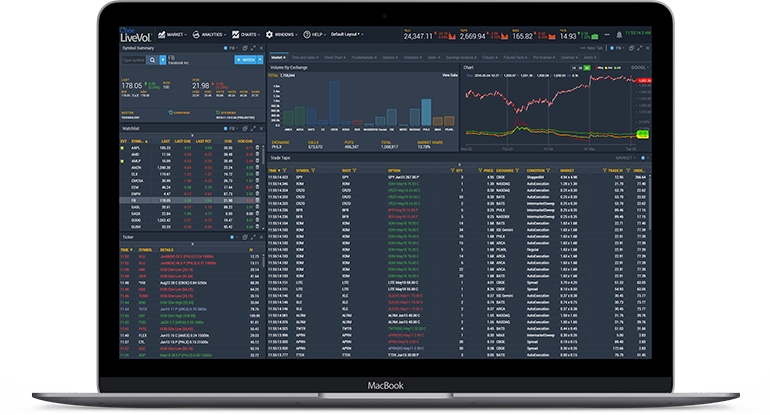 Eze EMS Pro
This is a flexible platform that introduces the ability to trade futures alongside equities and options, all from the same account. Hotkeys can be assigned to order and routing options and the interface can be completely customised. There are sophisticated charting options plus API and scripting capabilities for automated trading. Investing can be carried out during extended hours and there is a monthly fee of $350.
Eze EMS Express
A value alternative of Eze EMS Pro, though with fewer capabilities. Eze EMS Express can trade equities, options and futures using hotkeys. The platform has a fully customisable interface, full market-depth and integrated add-ons. Trading can be carried out during extended hours, and the monthly fee is reduced to $150.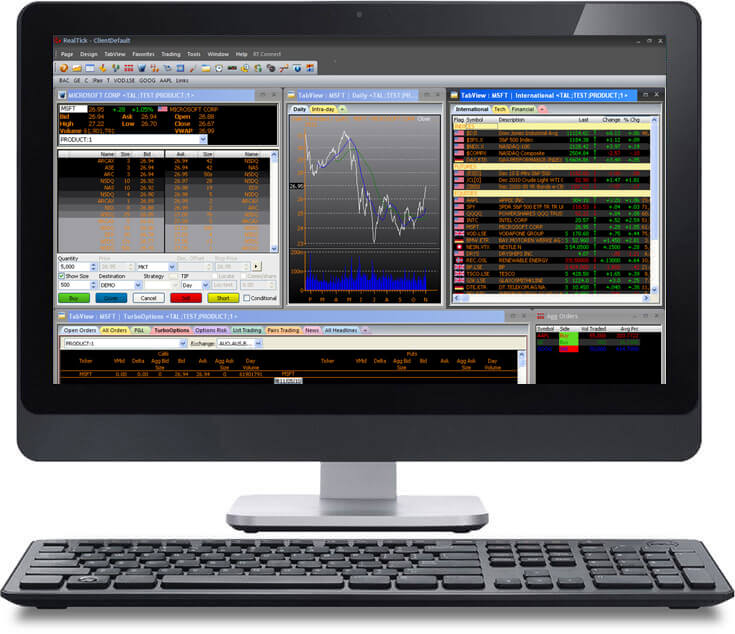 Lightspeed Web & Mobile
For the active trader on the go, this platform is a browser and mobile-based alternative to the Lightspeed Trader. With real-time pricing and data, clients can trade equities and options using fast and easy-to-use order entry mechanisms. The platform has a customisable layout and allows extended hours trading. Also, the minimum account value is reduced to $10,000 and there is no monthly software fee.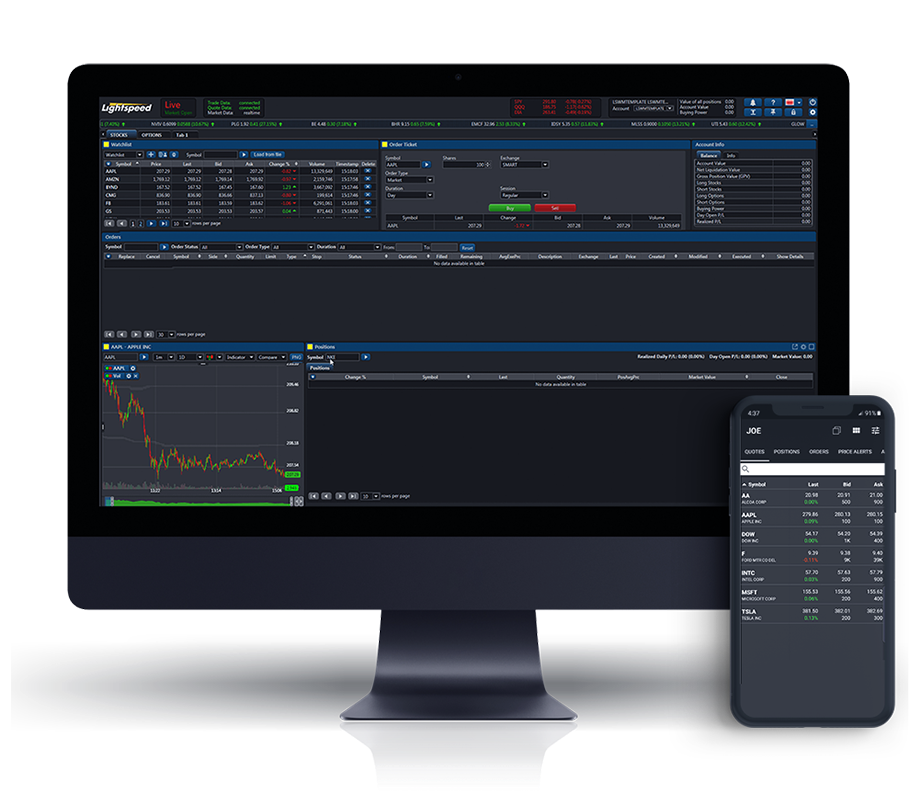 Silexx OEMS
An all-rounder platform providing equities, options and futures trading with a customisable layout, interlinked modules and hotkey ordering. The platform supports cross-module order management as well as volatility and market impact analyses. Furthermore, there are risk assessment and scenario simulation capabilities.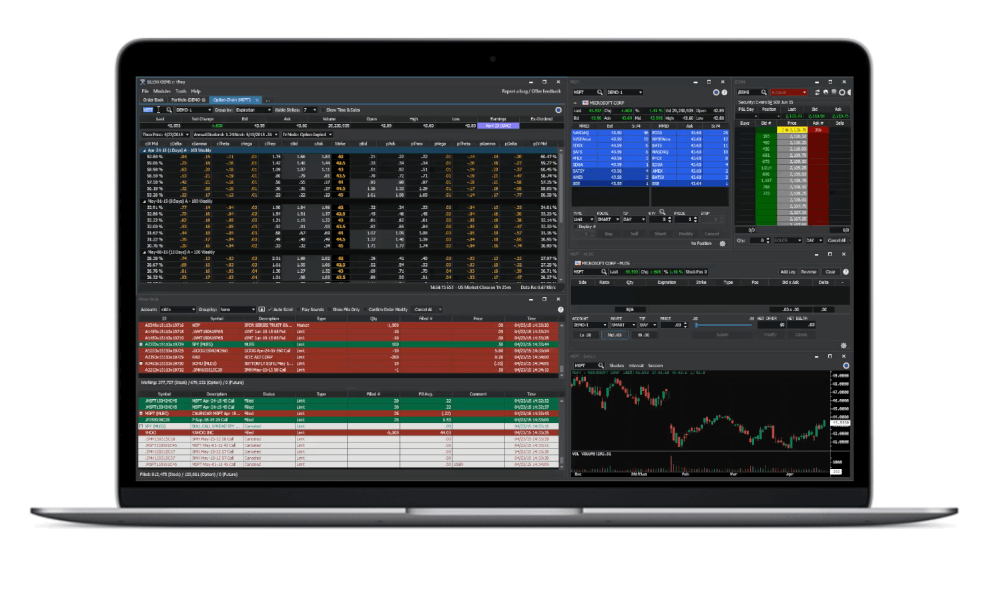 Wex
A platform that focuses on derivatives, though with equity trading capabilities. It dynamically streams real-time data to provide in-depth market information and quick order placements. Complex order types and analysis capabilities come with direct floor access and support for volatility and spread trading.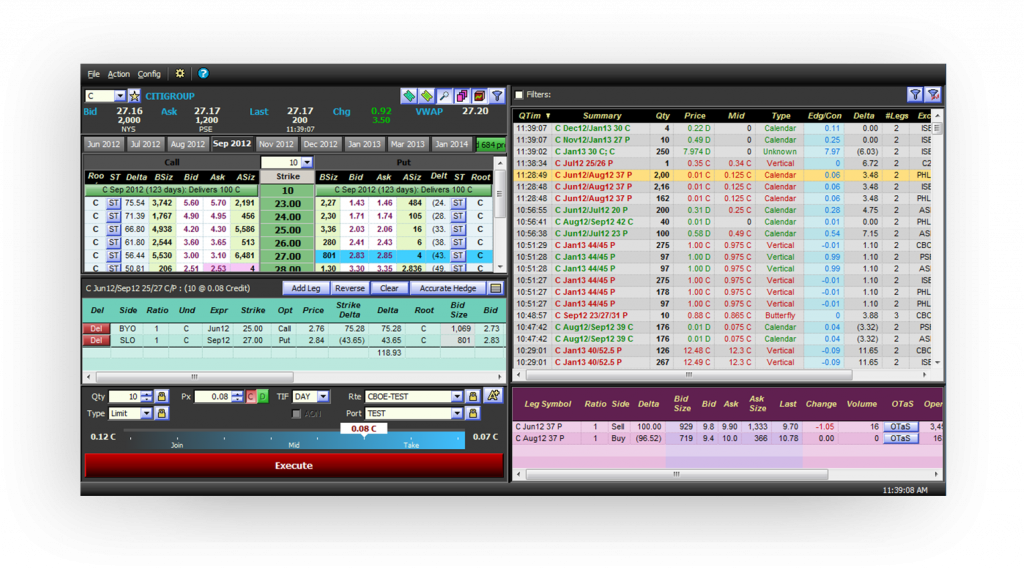 eFutures
This trading platform is supported as a desktop or browser-based platform that runs on Windows and Mac computers. It features forex and futures-style quote boards and a customisable trading interface. It supports futures, equities and options trading.

CQG Integrated Client
Lightspeed CQG's flagship trading platform comes with sophisticated options analytics, risk-free strategy testing and API integration. There is also direct access to multi-broker trading, trade routing customisation and a trade effect simulator. It supports both spread trading and aggregation for equities, options and futures.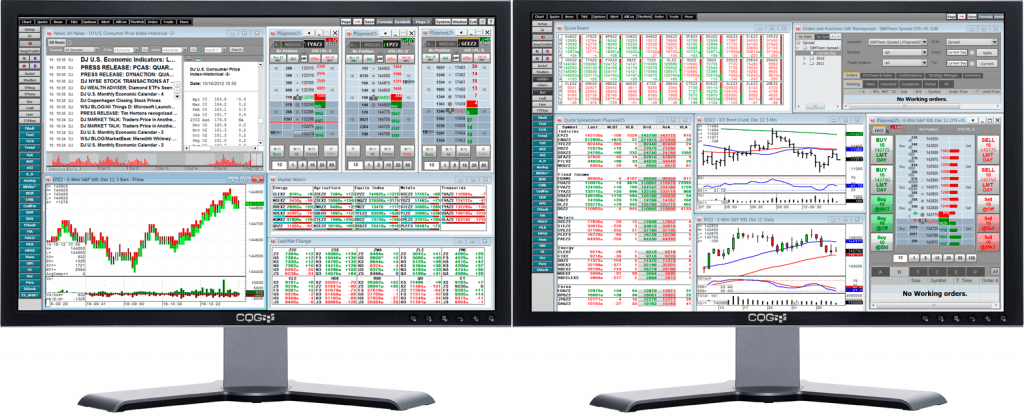 CQG QTrader
A value-version of the Integrated Client, QTrader comes with technical charting and data analytics and efficient order-routing customisation. It supports many order types, including market, trailing stops and icebergs, as well as algorithmic trading. It can also extract real-time data into Excel for further analysis.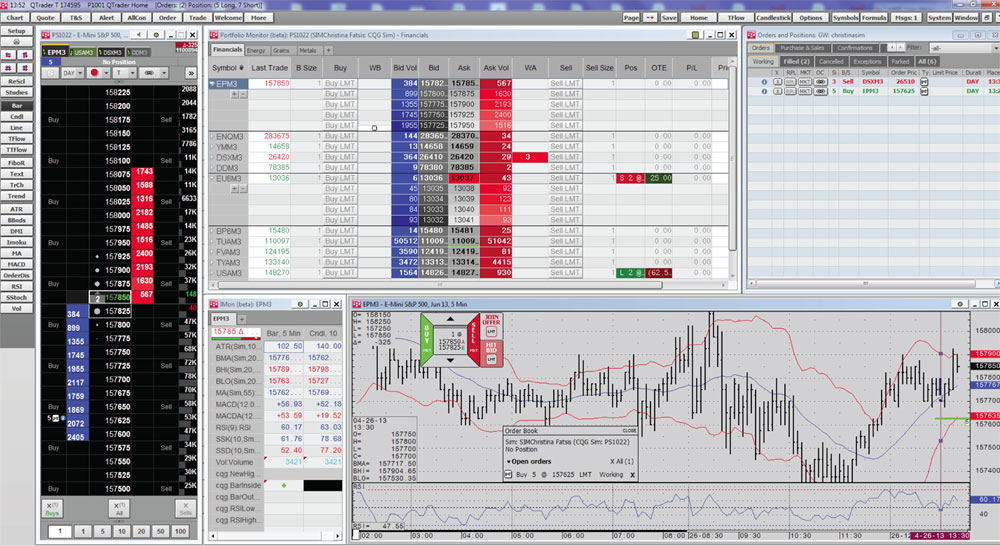 CTS T4
This is a more accessible Lightspeed Financial platform, designed with a user-friendly interface for retail traders, though with sophisticated professional capabilities. The layout is fully customisable, with a built-in charting package, one-click trading plus news and economic indicators. There are also several add-ons for advanced options trading, custom and intraday charting and automated trading. Futures can be traded with CTS T4 as well as equities and options.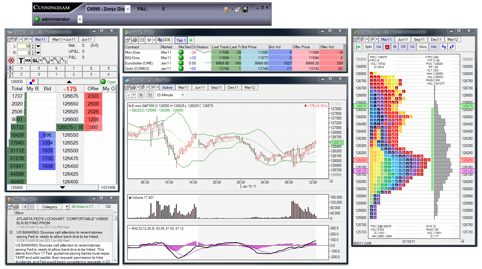 Trading Technologies TT
This futures trading platform also supports options and equities trading. It has real-time, in-depth market data with integrated charting and technical analysis tools. The layout and functionality of the platform are fully customisable and there is the ability to design and test algorithms using only visual tools.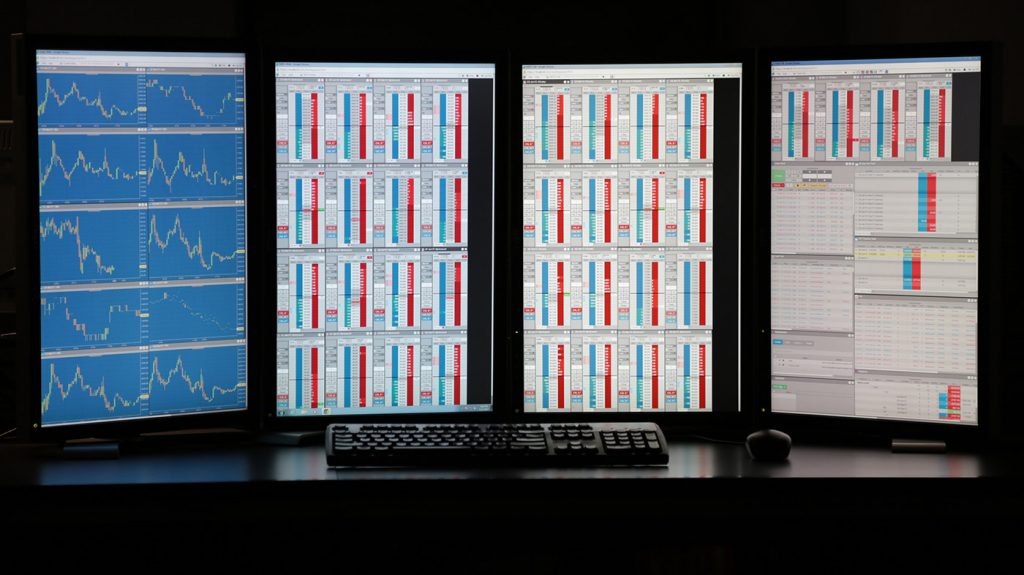 Rithmic
This futures platform focuses on low latency, active trading. It comes with an API to build custom trading programmes and algorithmic strategies. There is also integration with risk management tools, technical analysis charts and Excel. The platform provides a good market depth with a range of order types for futures, options and equities.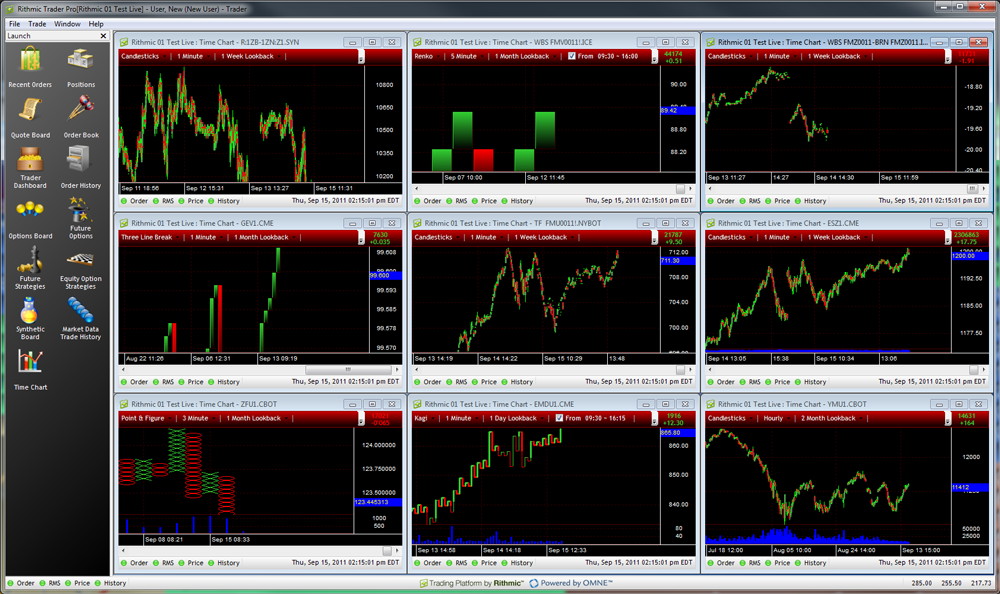 All the above pieces of software can be downloaded through Lightspeed Financial for Windows computers. Mac and Linux versions of some platforms are available, though not for all of them.
Assets
The broker provides clients with access to all equities and options on the New York Stock Exchange, including exchange traded funds (ETFs) and real estate investment trusts (REITs). Furthermore, a wide range of futures can be traded. There are 11 currency futures, Bitcoin, agriculture, livestock, dairy, lumber, soft produce, energies, indices, interests and metals. Lightspeed Financial also offer futures options.
Spreads & Commission
Lightspeed Financial offers variable commission rates that are lower for more active traders.
Stocks and exchange traded funds (ETFs) have two avenues of commission, based on the volume of trades. The starter commission per share is $0.0045, though this drops to $0.0010 for monthly volumes over 15,000,000 shares. Alternatively, there is a $4.50 commission per trade that falls to $2.50 per trade for a monthly activity of over 10,000 trades. Options begin at $0.60 per contract and drop to $0.20 per contract for a monthly volume of over 100,000 contracts.
The reduction in commissions is incremental with monthly trade volume, with six total commission levels. To implement these lower commissions, you need to apply for active trader status with the broker once your monthly volume is high enough.
Standard futures are subject to a commission of $1.29 per side, though options on futures are charged $1.79 per side.
There is also a minimum monthly charge of $25 for accounts worth less than $15,000, though any commissions charged are taken away from this. Commissions will also contribute to the software fees for relevant accounts.
Traders using Sterling Vol Trader have independent commissions that can be found on the broker's website.
Leverage
Lightspeed offers the maximum leverage rates allowed in the US stock markets. Day traders are limited to rates of 1:4, though this is reduced to 1:2 for positions held open overnight.
The broker does offer higher rates of 1:6, though there are requirements that must be met and a Portfolio Margin account must be held.
Mobile Apps
There are two mobile trading platforms on offer with Lightspeed, each available for iOS and Android devices.
Lightspeed Mobile Trader
This is a mobile version of the web-trader platform and can only be used by clients with a web-trader/mobile account. The Lightspeed Financial app has a more limited functionality than the desktop versions. However, it does offer level 1 price quotes, customisable charts and good till cancelled (GTC) orders. Furthermore, several accounts can be managed and operated using the mobile app, though there is a $10,000 account minimum and futures cannot be traded on it.
CQG Mobile
This is a mobile app for brokers using a CQG platform or the eFutures trading platform (run by CQG). The CQG Mobile platform integrates with any related trading platform and can be easily accessed through touch or face ID login. The Lightspeed app has real-time quotes, charting and analytics capabilities, as well as a range of order types and an intuitive design.
Payment Methods
Lightspeed Financial accounts can be funded and emptied using direct wire transfers or automated clearing house (ACH) transfers. Once funded, the broker will hold the account for a period. If the deposit was made by wire transfer, the account is only held for 24 hours, however ACH transfers require five business days before trading can commence.
There is no minimum deposit with Lightspeed Financial, though accounts have minimum balance levels, the lowest being $10,000.
Demo Account
There is a Lightspeed Financial demo account with which traders can familiarise themselves with the various platforms offered using virtual cash. These accounts can also be used to trial new strategies, risk approaches and assets. The broker also offers a personal demonstration of platform capabilities and customisation options.
Promos & Bonuses
At the time of writing, there are no rebates or discount codes offered by Lightspeed Financial. Where this may reduce its competitiveness against many popular brokers, this further reinforces their sentiment that they are a premium broker for advanced and active traders, rather than inexperienced newcomers.
Regulation
Lightspeed is a legitimate, well-regulated brokerage firm, licensed and regulated for stock and futures trading services. The US stock markets are regulated by the Securities Exchange Commission (SEC), with firms being monitored and regulated by groups such as the Financial Industry Regulation Authority (FINRA).
Futures trading follows a similar structure, though with different authorities; the markets are regulated by the Commodities Futures Trading Commission (CFTC) and the firms by the National Futures Association.
Lightspeed Financial is registered with both FINRA and NFA and can be found in their online registries. As such, the broker is fully regulated for the US markets and will provide a legitimate, safe service. US regulators are also well respected within Europe.
Additional Features
Clients are provided with automated trading opportunities using the Lime Trading Gateway system. The Gateway offers low-latency automated and electronic trading solutions. It includes market data, smart executions, its own trading server and pre-trade risk assessments, among other benefits and capabilities.
Trading comes with an inherent level of risk, something that Lightspeed Financial recognises and endeavours to help its clients with. There are several risk-management tools provided to help monitor and manage risk:
Lightspeed Risk Suite – An application designed to help trade managers and risk supervisors to manage risk over several accounts. This includes several real-time tools for profit, loss and halted symbols.
Options Risk Manager – A proprietary application that focuses on risks associated with options and margin trading. It has summary tabs for asset management and can calculate real-time day trading margin requirements.
Auto Risk – An app that allows managers to predefine limits and trading parameters on the Lightspeed Trader platform for different users.
Broker Order Entry Interface (BOEI) – A tool that allows managers to access the accounts of their traders and place trades in them in real time.
The broker also has a large selection of video tutorials and educational webinars providing traders with information ranging from order types and fundamental analysis to advanced trading strategies and custom orders. This comes alongside regular market news and economic updates on its active trading blog.
Social trading can be carried out with Lightspeed using their Hammerstone Markets news platform. This is a chat-based platform that provides breaking news and rooms for discussing trading ideas.
Account Types
There are many account options available with Lightspeed Financial, from standard margin trading accounts to more specialised options aimed at hedge fund managers and brokerage firms.
Regulation T Margin Account – Standard equity and futures trading account. Leverage is limited to 1:4 as per the Regulation T rules. Minimum account value of $25,000 for desktop trading, $10,000 to use web and mobile trading applications.
Portfolio Margin Account – Aimed at advanced and active traders, allowing access to higher leverage rates of 1:6, increasing their market exposure. Minimum account value of $175,000 required plus evidence of sufficient day trading experience.
Separately Managed Account – For investors with a large portfolio, SMAs are similar to a mutual fund but with you as the sole owner. These allow heavily customised investment solutions that can meet specific requirements.
Delivery Versus Payment (DVP/RVP) Account – This trading model reduces some of the risk associated with the liquidity of the market around the settlement date.
Clearing Member Trade Agreement Account – These accounts are aimed at traders who would use several brokers to conduct their trades. At the end of each day, all the trades can then be cleared by one firm within the agreement, making the process less cumbersome.
Other Accounts – Joint Account, Partnership Account, Corporate Account, LLC Account, Registered Hedge Fund Account, Trust Account, Individual Retirement Account
Traders from countries outside the USA may also open accounts with Lightspeed Financial. These international accounts allow foreign traders to access the US stock markets and the broker's range of services.
The minimum deposit is $25,000 for all the account types, except the Portfolio Margin account. However, the choice of trading platform can also influence the minimum deposit, as those wishing to use web and mobile trading platforms can make deposits as low as $10,000.
Trading Hours
Lightspeed provides trading opportunities to clients in both the standard and extended trading hours. The standard hours of the New York Stock Exchange (NYSE) are 09:30 to 16:00, though there are pre-market and post-market sessions at 04:00 to 09:00 and 16:00 to 20:00, respectively.
These extended hours allow trading on major market news and events, which are normally released outside standard hours so traders can process the news. These hours are also great for those trading after work hours. However, the markets are less regulated at this time, so there can be large jumps and swings.
Customer Support
The Lightspeed Financial customer service team are available during all regular and extended market hours. They can be contacted using the phone numbers and email details below.
International Telephone – +1-646-393-4800
Domestic Telephone – 1-888-577-3123
Email – contactus@lightspeed.com
It's shame there isn't live chat support, but the customer service team can point you in the direction of trading manuals, general PDT rules, alternatives to platform setups, and more.
Lightspeed's office addresses can be found on their Support page.
Client Security
Beyond the industry-standard cybersecurity measures, the broker also implements a multi-factor authentication system for added account and transaction protections. Furthermore, all clients are protected by the Securities Investor Protection Corporation (SIPC). This coverage can protect clients' capital for more than $1 million.
Lightspeed Financial Verdict
Lightspeed is a sophisticated stockbroker that offers a comprehensive range of trading solutions for active day traders and institutional traders. There are many account types and trading platforms on offer with advanced trading capabilities and brokerage models.
For less experienced retail traders, however, it is not a very accessible broker. The costs associated with Lightspeed Financial are high, with sizeable software and holding fees. Also, minimum account values are very high, pushing out traders with less capital. We would highly recommend this broker to serious, professional traders, though suggest that retail traders with less time and money explore some of the other brokers reviewed on this website.
Accepted Countries
Lightspeed Financial accepts traders from Thailand, United States, United Kingdom, South Africa, Singapore, India, France, Germany, Norway, Sweden, Italy, Denmark, Saudi Arabia, Kuwait, Luxembourg, Qatar and most other countries.
Traders can not use Lightspeed Financial from Australia, Canada, Hong Kong, United Arab Emirates.
Payment Methods
Lightspeed Financial Details
| | |
| --- | --- |
| Minimum Trade | Variable |
| Regulated By | FINRA, NFA |
| Islamic Account | Yes |
| Mobile Apps | Yes |
| Margin Trading | No |
| Volatility Index | No |
| Spot Trading | No |
| Perpetual Swaps | No |
| ELWs | No |
| REITs | No |
| AI / Machine Learning | No |
| Robo Advisor | No |
| P2P Trading | No |
| Negative Balance Protection | No |
| VPS Hosting | No |
| Tournaments | No |
| Demo Competitions | No |
| Managed Accounts | No |
| Market Maker | No |
| Auto Trading | Yes |
| Social Trading | No |
| Trade Signals | Yes |
| Guaranteed Stop Loss | No |
| Stock Exchanges | |
| Commodities | |
Cryptocurrency Trading Details
| | |
| --- | --- |
| Crypto Spread | Floating |
| Crypto Lending | No |
| Crypto Staking | No |
| Crypto Mining | No |
| Crypto Auto Market Maker | No |
| Crypto Coins | |
Top 3 Alternatives to Lightspeed Financial
Compare Lightspeed Financial with the top 3 similar brokers that accept traders from your location.
IG Group – IG is an award-winning broker that has an excellent reputation globally. The brand-US offers spread betting, CFD and forex trading across a comprehensive suite of markets. IG is also multi-regulated, provides a great trading app and has 50 years experience.
Go to IG Group
Interactive Brokers – Interactive Brokers is a leading global brokerage that provides access to a comprehensive offering of stocks as well as forex, futures, metals, bonds and cryptos. The firm has over 40 years experience in the online trading industry and is heavily regulated by SEC, FCA, IIROC, and SFC. Day traders can use the proprietary Trader Workstation and can access powerful tools and data feeds as well as comprehensive educational resources.
Go to Interactive Brokers
Forex.com – Forex.com boasts a global reputation with multiple awards and 20+ years experience. Regulated in the US, EU, UK and Canada they provide a huge range of day trading markets, not just forex, and offer competitive fees on a cutting-edge platform. The brand also provides a suite of additional tools, from performance analytics and SMART Signals to advanced charts and strategy builders.
Go to Forex.com
Lightspeed Financial Comparison Table
Compare Lightspeed Financial With Similar Brokers
Lightspeed Financial
IG Group
Interactive Brokers
Forex.com
Rating
4.2
4.4
4.3
4.5
Markets
Equities, options, futures
CFDs, Forex, Stocks, Indices, Commodities, ETFs, Futures, Options, Crypto, Spread Betting
Forex, Stocks, Commodities, Crypto
Forex, Spot Metals
Demo Account
Yes
Yes
Yes
Yes
Minimum Deposit
$10,000
$0
$0
$100
Minimum Trade
Variable
0.01 Lots
$100
0.01 Lots
Regulators
FINRA, NFA
FCA, ASIC, NFA, CFTC, DFSA, BaFin, MAS, FSCA
SEC, FCA, IIROC, SFC
NFA, CFTC
Bonus
–
–
–
Active Trader Program With A 15% Reduction In Costs
Education
No
Yes
No
Yes
Platforms
eSignal
MT4, AutoChartist, TradingCentral
AlgoTrader, OmniTrader, eSignal, TradingCentral
MT4, MT5, TradingView, eSignal, AutoChartist, TradingCentral
Leverage
–
1:30 (Retail), 1:250 (Pro)
1:50
1:50
Payment Methods
–
6
11
8
Visit
Visit
Visit
Visit
Visit
Review
–
IG Group
Review
Interactive Brokers
Review
Forex.com
Review
Compare Trading Instruments
Compare the markets and instruments offered by Lightspeed Financial and its competitors. Please note, some markets may only be available via CFDs or other derivatives.
Compare Lightspeed Financial Trading Instruments

| | Lightspeed Financial | IG Group | Interactive Brokers | Forex.com |
| --- | --- | --- | --- | --- |
| CFD | No | Yes | Yes | No |
| Forex | No | Yes | Yes | Yes |
| Stocks | Yes | Yes | Yes | Yes |
| Commodities | Yes | Yes | Yes | Yes |
| Oil | No | Yes | No | Yes |
| Gold | Yes | Yes | Yes | Yes |
| Copper | No | Yes | No | No |
| Silver | Yes | Yes | No | Yes |
| Corn | No | No | No | No |
| Crypto | Yes | Yes | Yes | No |
| Futures | Yes | Yes | Yes | No |
| Options | Yes | Yes | Yes | Yes |
| ETFs | No | Yes | No | No |
| Bonds | No | Yes | Yes | No |
| Warrants | No | Yes | Yes | No |
| Spreadbetting | No | Yes | No | No |
| Volatility Index | No | Yes | No | No |
Lightspeed Financial vs Other Brokers
Compare Lightspeed Financial with any other broker by selecting the other broker below.
Customer Reviews
There are no customer reviews of Lightspeed Financial yet, will you be the first to help fellow traders decide if they should trade with Lightspeed Financial or not?
Visit
Lightspeed Financial is a SEC-regulated broker specializing in intraday trading on US markets. Traders can access the full range of NYSE stocks plus futures and options via a wide selection of professional-grade trading platforms and discounts for loyal traders.
FAQ
What trading platforms can I download with Lightspeed Financial?
There are a wide range of trading platforms with Lightspeed Financial, including specialised platforms for different assets, accounts and order types. There is a full list given in this review, though the main platforms are Lightspeed Trader, Sterling Vol Trader, Sterling Trader Pro, Eze EMS and eFutures.
What trading costs are there with Lightspeed Financial?
The broker charges commissions for each trade, though these are reduced in line with high trading activity. There are also software and account holding fees in certain scenarios, though any commissions charged the previous month will be used to reduce these charges. Also, Lightspeed Financial offers rebates for software fees under specific circumstances, which are explained on their website.
Can I open an account with Lightspeed Financial in Europe?
Lightspeed Financial do offer international accounts for foreign traders. These require further paperwork to be opened and may be subject to different regulations. Countries within the EU, such as Germany, can trade with Lightspeed Financial, alongside many others including the UK and Singapore.
What do I do if I am having trouble with my Lightspeed Financial platform setup?
Some of the trading platforms offered can be complicated, so setting them up and getting used to them can take some time. To make the process easier, Lightspeed Financial provide manuals for their platforms, and the other platforms will have their own tutorials and guides on their respective websites.
What assets can I trade with Lightspeed Financial?
The broker supports trading of all equities and options on the New York Stock Exchange, as well as futures contracts. Futures can be purchased for currencies, agriculture, energies, indices and more.
Does Lightspeed Financial offer mobile trading?
There are two mobile apps provided by Lightspeed Financial. There is one proprietary app designed to integrate with their web trader and one made by CQG that integrates with any of their supported platforms.