Kyber Network Review 2022


Traders in United States welcome
Kyber Network is a decentralised crypto exchange that supports swaps, pools, farms, and liquidity provision of more than 1,500 tokens.
Risk Warning – Your capital is at risk
Kyber Network is a decentralised cryptocurrency exchange and DeFi platform supporting token swaps for more than 1,500 crypto coins, as well as staking, farming and dapp production solutions. The blockchain-run exchange has a native token, KNC, which is used for governance, fees and support for the range of decentralised services offered. This 2022 Kyber Network review will explore how it works and delve into the various functions of the project, including its staking system, liquidity provision and security procedures.
Kyber Network Headlines
Kyber Network is a decentralised finance (DeFi) project that was announced in 2017 and looks to evolve the perception and capabilities of decentralised cryptocurrency exchanges (DEXs). While it still works as an effective exchange tool, with thousands of cryptocurrencies that can be swapped through an anonymous network of traders, exchanges, dapps and aggregators, there is much more to it.
Kyber Network hopes to lay the foundations required for developers to create convenient payment streams, apps and blockchain tools. The platform as it stands can be used to develop wallets, token swap services, NFTs, e-commerce payment systems, exchanges, trading integrations and DeFi systems.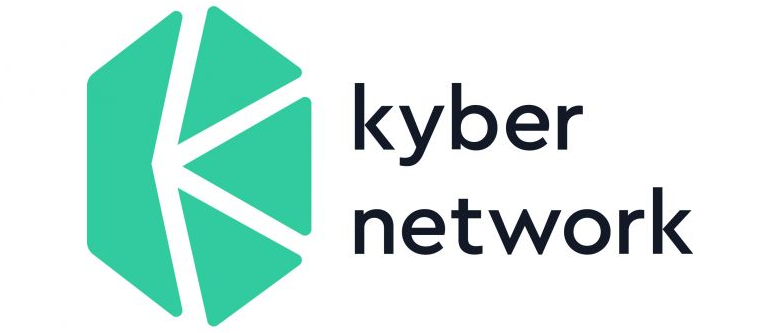 Kyber Network also supports a range of other decentralised tools and functions, including passive income streams like staking, alongside liquidity provision, crypto analytics, governance overhauls and crypto farming. The exchange is also an automated market maker, utilising internal and external tokens to improve liquidity and reduce slippage, keeping prices low and spreads tight.
Features
The Kyber Network is not only an efficient Ethereum-based exchange system but is also built as a transfer mechanism for different crypto coins. On this system, the coins sent do not have to match those received, cutting the time to make trades and offering a great way for more businesses to accept crypto as payment.
Kyber Swap
Kyber swap is a feature of the platform that allows for the immediate trade of different cryptocurrencies without any order books, deposits or wrapping. The exchange actuates trades by dynamically routing requests through several centralised exchanges and liquidity pools to find the best prices. Clients can also choose to optimise their swaps for either the lowest gas prices or maximum returns. Additional features include variable slippage tolerance and key pre-trade information like minimum returns and estimated USD value.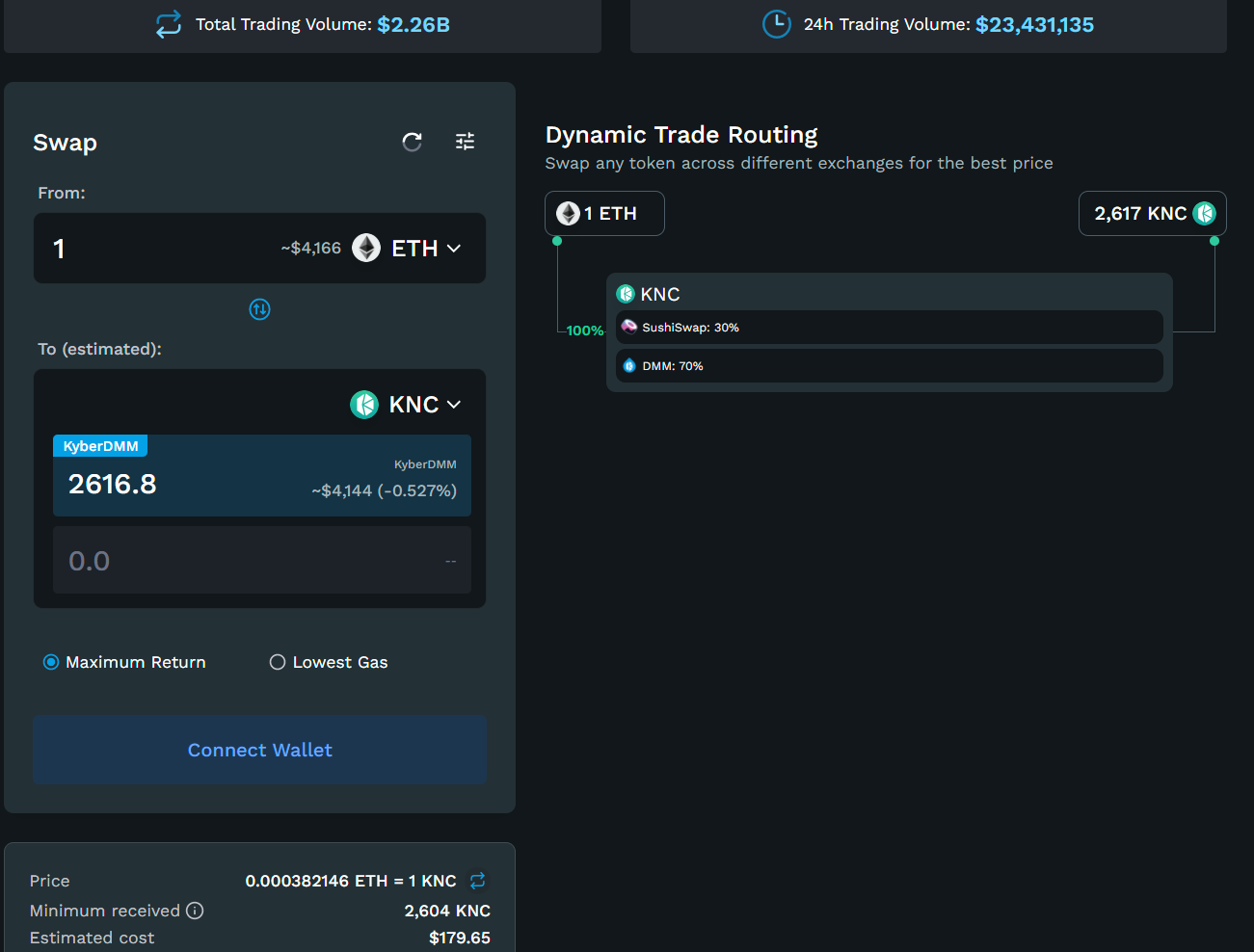 Kyber Reserve
This reserve function is a form of local liquidity provision, helping optimise the transactions across the blockchain.  The system pools tokens contributed by users with liquidity provided by third parties. This allows for lower slippage and gas fees across more of the token types. The transparent fund management model secures the reserve fund ensuring all trades that are completed by reserves are recorded.
Kyber Developer
This interface provides developers with the tools necessary to bring new apps, wallets, exchanges and platform alterations to the decentralised Kyber Network exchange. This means that the platform is continuously growing and becoming better for its users.
Kyber Network Crystal
Kyber Network Crystal (KNC) is the native token of the exchange's blockchain, facilitating the recording of any information or transactions through the network. The token connects liquidity providers and pools to those in need, whether for trading, dapps, wallets or aggregators, also providing referral bonuses for any users or transactions directed through the network. KNC is also used to collect transaction fees, though some of each charge is burned to ensure the coin remains deflationary. Another use is to maintain the smooth running of the reserve system as third parties must purchase KNC for their operations on the Kyber Network. Finally, the token can be used both as a staking tool, used to generate passive reserve income, and a governance tool, so users can vote on the future of the blockchain.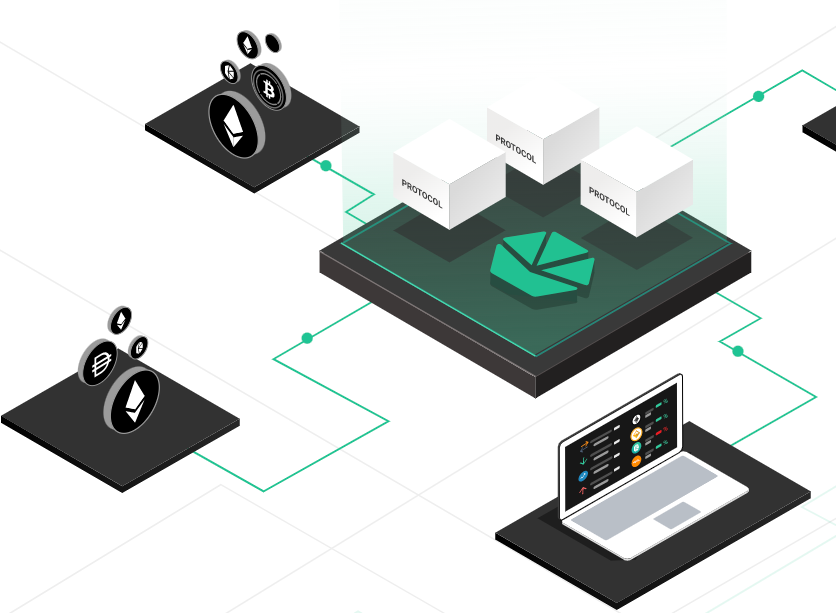 Benefits
Decentralised
Good liquidity
Non-custodian
Staking opportunities
Range of crypto services
1,500+ cryptos supported
Drawbacks
No mobile app
No fiat deposits
Security
Kyber Network is a decentralised finance (DeFi) exchange and so does not store any funds or private data. This means there is minimal risk of personal data and information being stolen. Moreover, the platform is non-custodian, so the security of your tokens is entirely down to you and your wallet system.
Kyber Network Trading Fees


The only costs incurred when using Kyber Network for trading is a flat fee of 0.1%, which is competitive compared to other centralised and decentralised exchange platforms.
Customer Support
Kyber Network's customer service team can be contacted via email only:
Email Address: support@kyber.network
Kyber Network Verdict
Kyber Network is a decentralised crypto exchange with a range of additional services suited to investors and traders as well as institutions and developers. Alongside simply swapping tokens, users can stake crypto for passive income liquidity provision rewards, farm tokens or pool resources. With low fees and a simplistic platform, Kyber Network is a solid competitor in the DEX market and its non-custodian, anonymous structure will be appealing to many. However, newcomers to crypto trading will need to purchase some tokens from an entry-level exchange before they can make use of this platform.
FAQs
How Can I Contact Kyber Network?
You can contact Kyber Network customer support via email at support@kyber.network. There is no telephone or live chat service.
What Is The Kyber Network Crystal Token?
KNC has several uses as the blockchain's native token. Besides simply collecting transaction fees, the coin can also be staked for passive income rewards, used for governance of the platform and support the smooth operation of the Kyber Network Reserve system.
Is The Kyber Network Safe?
As Kyber Network is a non-custodian, decentralised exchange, users need simply to connect a wallet address and begin trading, maintaining full control of their cryptocurrency capital and providing no identification.
What Is The Kyber Reserve?
This liquidity pool stores tokens from third party contributors and allows Kyber Network to work as an automated market maker ensuring that token swaps can be completed quickly and with minimal slippage.
Does Kyber Network Have A Blog?
Yes. The Kyber Network's blog is an informative place to find out the latest news to enhance your crypto trading experience. The blog also touches on live price predictions for coins and KNC. You can access the blog through the exchange's official  website.
Accepted Countries
Kyber Network accepts traders from Australia, Thailand, Canada, United States, United Kingdom, South Africa, Singapore, Hong Kong, India, France, Germany, Norway, Sweden, Italy, Denmark, United Arab Emirates, Saudi Arabia, Kuwait, Luxembourg, Qatar and most other countries.
Compare Kyber Network
Compare Kyber Network with similar brokers that accept traders from your location. Among available brokers these are the most similar to Kyber Network:
Kyber Network Comparison Table
Compare Kyber Network With Similar Brokers
Kyber Network
Kraken
Nexo
Uphold
Paxful
Rating
–
–
–
–
–
Markets
Crypto
Crypto
Crypto
Stocks, Commodities, Crypto
Crypto
Demo Account
No
Yes
Yes
Yes
No
Minimum Deposit
$0
$10
$10
$0
From 0.005 BTC
Minimum Trade
$0
Varies upon the crypto traded
$30
$1
10 USD
Regulators
–
FCA, FinCEN, FINTRAC, AUSTRAC, FSA
ASIC, FCEN
FCA, FinCEN
–
Bonus
–
Lower fees when trading volume exceeds $50,000 in 30 days
Loyalty scheme with various bonuses, plus referral program
–
–
Education
–
Yes
No
No
No
Platforms
–
–
–
–
–
Leverage
–
–
–
–
–
Payment Methods
1
7
3
8
12
Detailed Comparison
–
Kyber Network vs Kraken
Kyber Network vs Nexo
Kyber Network vs Uphold
Kyber Network vs Paxful
Visit
Review
Kyber Network
Review
Kraken
Review
Nexo
Review
Uphold
Review
Paxful
Review
Compare Trading Instruments
Compare Kyber Network Trading Instruments

| | Kyber Network | Kraken | Nexo | Uphold | Paxful |
| --- | --- | --- | --- | --- | --- |
| CFD | No | No | No | No | No |
| Forex | No | No | No | No | No |
| Stocks | No | No | No | Yes | No |
| Commodities | – | – | – | Yes | – |
| Oil | No | No | No | No | No |
| Gold | No | No | No | Yes | No |
| Copper | No | No | No | No | No |
| Silver | No | No | No | Yes | No |
| Corn | No | No | No | No | No |
| Crypto | Yes | Yes | Yes | Yes | Yes |
| Futures | No | Yes | No | No | No |
| Options | No | No | No | No | No |
| ETFs | No | No | No | No | No |
| Bonds | – | No | No | No | No |
| Warrants | – | No | No | No | No |
| Spreadbetting | No | No | No | No | No |
| Volatility Index | No | No | No | No | No |
Kyber Network vs Other Brokers
Compare Kyber Network with any other broker by selecting the other broker below.
Kyber Network vs
Kyber Network is a decentralised crypto exchange that supports swaps, pools, farms, and liquidity provision of more than 1,500 tokens.