Just2Trade Review 2021
United States not accepted.

Go to the Brokers List for alternatives

Just2Trade Facts & Figures

Just2Trade offer hitech trading on stocks and options with some of the lowest prices in the industry
Instruments
Forex, Crypto, Stocks, Futures, Options
Demo Account
Yes
Min. Deposit
$100
Payment Methods
Credit Card, Mastercard, POLi, QIWI, UnionPay, Visa, Wire Transfer, Yandex Money
Min. Trade
1 contract
Regulated By
CySEC
MetaTrader 4
Yes
MetaTrader 5
Yes
cTrader
No
STP Account
No
ECN Account
No
DMA Account
No
Mobile Apps
iOS and Android
Margin Trading
No
Auto Trading
No
Social Trading
No
Copy Trading
No
Trade Signals
No
Islamic Account
No
Account
Currencies
EUR
Forex
GBPUSD Spread
EURUSD Spread
EURGBP Spread
Assets
Risk Warning – Your capital is at risk
Just2Trade is a broker offering stocks and options trading via professional platforms and apps. Premium trading tools and innovative programmes such as Try2BFunded make the offering absolutely unique. Read our detailed review and decide if it is for you.
Review
Just2Trade sets itself apart from other brokers through a few primary avenues:
It has a very competitive pricing structure and strong trade execution.
It is unique in that it provides clients access to social features (WhoTrades social network) and trade-following and trade-copying services through a service called Novoadvisor.
This allows clients to access the top-performing traders and trading strategies in the Just2Trade network. It thus functions as a hybrid between "robo" and traditional advisory services.
Just2Trade has built out its own trader development program, Try2BFunded, where traders who reach certain profit benchmarks while effectively managing risk under a simulated trading environment can receive a funded account directly from the firm with no capital contribution of their own.
It aims to provide an opportunity for traders to pursue their passion to trade professionally within the context of a safe experience (i.e., without risking life savings).
Just2Trade will be of most interest to active traders looking to control their costs who need access to stocks (both US and international), options, and futures.
Trades can be executed through Just2Trade's web-based or mobile platforms or via third-party applications.
Company Details
Just2Trade is a deep discount brokerage that was founded in 2007 and is headquartered in Limassol, Cyprus.
It was acquired in 2015 by WhoTrades, Inc., which places an emphasis on social trading.
Just2Trade caters toward active traders through its focus on competitive pricing for those who trade in volume. It is an FINRA registered broker-dealer and a member of the SIPC and NFA.
Trading Platform
Just2Trade offers access to stocks, forex, ETFs, cryptocurrency and options on its main proprietary platform, alongside MetaTrader 4 (MT4) and MetaTrader 5 (MT5). It also offers bond and mutual fund trading, though not as part of its proprietary trading platform.
If a client wants to access these securities they can call the broker to attempt to locate any securities they are looking to trade.
Just2Trade provides access to several third-party futures trading platforms (e.g., Sterling Trader Pro, CQG Trader, OEC Trader, and the iBroker mobile app), with access to demo versions.

The web-based platform has a clear and intuitive interface that displays your portfolio holdings, performance, total profit/loss, market data, and charting functionality.
Various setups are available, including if one wants to watch several charts simultaneously.

Traders can also choose between dark and default themes.

Account Types
Just2Trade offers a variety of different accounts to fit traders' unique personal financial needs:
Trust
Rollover
Custodial
Corporate
Individual
Partnership
MetaTrader 5
Limited Liability
Sole Proprietorship
Joint with Tenants in Common
Joint with Rights of Survivorship
To begin trading in the account, different requirements apply to each. The minimum balance required to begin trading under the Per-Trade plan is $2,500. (The Per-Trade plan is covered in more detail in the Spreads & Commissions section below).
The minimum balance required to open a Futures Accounts is $2,500. The minimum balance to keep it open is $100.
Clients must be 18 years of age or older to open an account.
Assets
Just2Trade offers a wide assortment of markets and trading instruments, including stocks (both US and international), ADRs, ETFs, futures, futures options, mutual funds and bonds.
To manage all of these from the same interface, a trader will need to use a third-party trading application.
As aforementioned, trading bonds and mutual funds can be completed over the phone.
Spreads & Commissions
Just2Trade is among the industry leaders in low per-trade and per-share trading costs.
Most traders and investors easily lose track of how much they are paying in commissions each year. For active traders still paying $5 per trade or more, that can add up to thousands of dollars per year (or even per month for active traders) just in commissions.
Just2Trade clients who are on the Per-Trade plan and trade larger volumes of shares per each transaction (i.e., 500 or more) will come out ahead of Interactive Brokers who charge $0.005 per share.
Just2Trade also offers a Per-Share trading plan starting at $0.0025 per share for less than 1 million shares traded per month. This drops to as low as $0.001 per share for accounts trading in volumes of at least 5 million shares per month.
Just2Trade also compares very favorably to or beats out Interactive Brokers on options trading costs.
Just2Trade charges a structure of $0.50 per options contract on its per-trade plan plus a $2.50 base fee. For instance, if one were to trade 20 options contracts, the total cost on Just2Trade would come to $12.50.
On Interactive Brokers, this is usually $15 or more. If one is trading options contracts in any type of non-trivial volume (i.e., beyond around 10 per month), Just2Trade is quite likely to be your best bet.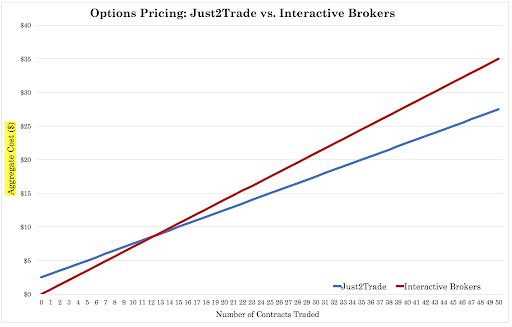 For accounts enrolled in the Per-Trade plan, commissions are charged at a rate of $2.50 per trade.
Accounts that see their equity values drop into the $2,000-$2,499 range will be charged $4.00 per trade.
Accounts that fall below $2,000 will be unable to open new positions until equity is raised back above that threshold.
To enroll in the Per-Share plan, accounts must have a minimum balance of $25,000 and must be a margin account. (Margin accounts opened under the Per-Trade plan can be opened for as little as $2,500.)
Commissions on futures accounts are $2.50 per contract.
Leverage
Just2Trade offers margin rates starting at 8.50% for accounts under $10,000 and go down to 5.25% for accounts with balances at $1,000,000 or more. This undercuts other discount brokers, such as Ameritrade, Scottrade, Schwab, and Etrade:

Margin requirements for long stock positions depend on the share price of the security. Stocks priced at $3.00 or less per share have a 100% margin requirement (for both initial and maintenance margin).
Those in the $3.01 to $5.00 range are subject to a 50% requirement. Those at $5.01 or more per share have a 30% requirement.
Special margin rules also apply for accounts holding concentrated positions.

If one equity position (held long) accounts for more than 50% of the total margin account's value, the maintenance margin requirement for that security will be no less than 50%.
Moreover, certain stocks might have higher margin requirements if their volatility is at a particularly high level that requires additional capital to be held. Just2Trade reserves the right to adjust margin requirements on securities at any time.
Other Trading Fees
There is no monthly fee for the Per-Trade plan.
There is a minimum monthly fee of $333 for the Per-Share plan. If the total commissions charged to an account under the Per-Share plan are less than the minimum monthly fee, the difference is debited to the account.
Clients may have to pay data fees depending on markets in which they might require real-time data.
Trading during extended hours is subject to a commission surcharge of $0.003 per share pertaining to orders executed on the Electronic Communication Network (ECN).
Given mutual fund and bond trading must be done over the phone with a live representative, if the security can be located, broker assisted charges will apply.
Mobile Apps
Just2Trade offers two mobile apps
Just2Trade+ ("Just2Trade Plus")
Just2Trade Pro
Both available on iOS and Android.
These platforms broadly match the web-based versions. Instruments available to trade in the browser-based platforms are also available to trade on the mobile apps. Charting features are also available.
Payment Methods
A Just2Trade account may be funded through a wire transfer, Visa, Mastercard, UnionPay, OFX transfer or an account transfer.
The firm have also recently started to accept deposits in cryptocurrencies, such as Bitcoin and Ethereum.
Accounts cannot be funded by PayPal, credit card checks, traveler's checks, money orders, or Western Union.
Wire Tranfers
Domestic wire transfers can take up to one full business day provided all account information on the wire transfer is correct.
Foreign (non-US) wires may take 1-2 business days depending on the country of origin. Missing or inaccurate account information may delay wire transfers.
Typically, accounts are charged $50 when an account is transferred out (i.e., an ACAT). Physical and/or foreign settlement fees apply.
ACAT fees can usually be avoided if portfolios are liquidated first (i.e., all positions converted to cash), then closed. Then the cash can be simply withdrawn and moved to a different brokerage account.
Demo Account
Just2Trade offers a demo account for Just2Trade+ and Sterling Trader Pro.
Just2Trade+ is a browser-based platform that requires no software download. It comes with a customizable interface, access to US exchanges, delayed market data, market depth data, news, and detailed stock information. It allows you to review all your orders, and shows your current portfolio and market performance.
Sterling Trader Pro is a direct-access trading platform for trading equities and options. Its options trading interface calculates Greeks and volatility.
Its options chain highlights in-the-money options for faster decision-making. Moreover, the platform has eleven preconfigured options trade structures available, including Butterflies, Calendar Spreads, Covered Calls, Iron Condors, and Straddles.
Spread order entries are fully customizable. Charting on the platform supports over 60 indicators and configurable studies.
Regulation and Licensing
Just2Trade is a CySEC regulated broker-dealer. This is a reputable financial watchdog that is very common for offshore brokers. CySEC regulation is quite rigorous, requiring segregated funds, KYC checks and financial compensation schemes.
Additional Features
Just2Trade combines with its global social network WhoTrades, which allows all traders to construct a personalized feed and discuss ideas, companies/securities, news, and strategies of interest to them with other traders.
It is accessible to all, not just Just2Trade clients.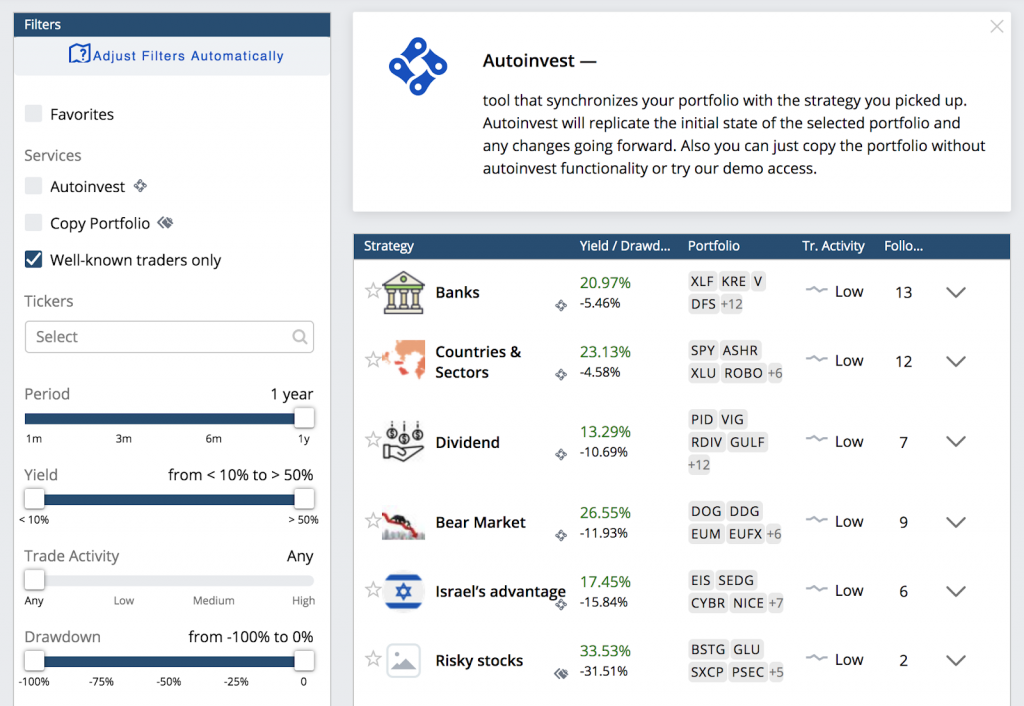 NovoAdvisor
Moreover, Just2Trade's proprietary trading platform Novoadvisor gives traders access to the top-performing traders and strategies on the Just2Trade network.
Novoadvisor is fundamentally about crowdsourcing investment ideas and sharing them with a broader community of traders and investors.
Each profile on Novoadvisor shows full transparency over virtually everything one would need to know to make a decision as to whether a strategy fits your personal needs and expectations.
This includes returns, drawdowns, performance trends, portfolio holdings and percentage allocations, a AI- and/or user-generated synopsis of the trading style, popularity based on follower count, and any relevant time-stamped trading activity.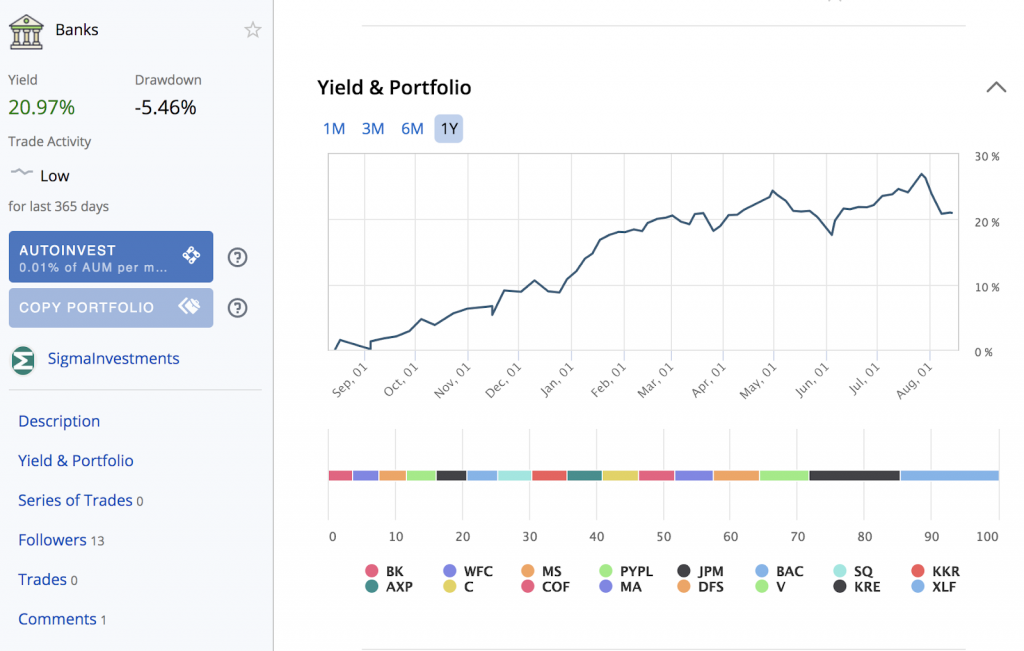 Try2BFunded
Just2Trade also offers a new program, Try2BFunded, for those looking to become a trader without upfront capital contribution.
In the first two stages of the program, traders are placed on a demo/paper trading account and must meet a profit target while avoiding specific drawdowns and maximum daily loss amounts.
If they successfully pass both, they will receive access to a funded real-money account and trade on the firm's capital (monthly subscription fee applies).
If a prospect successfully passes through the qualifying stages of Try2BFunded, available initial capital balances are $30,000 ($100 monthly subscription fee), $50,000 ($150/mo), and $100,000 ($300/mo), and will be the same as the initial demo account balance chosen at the outset of the program.
Profits are split 60% to the trader and 40% to Just2Trade.
Later in 2019, Just2Trade expects to roll-out a trader diagnostic tool.
Diagnostic Tool
This will help traders identify common mistakes they might be making, how effectively they are opening and closing positions, how well they are managing their portfolio/book, the risk of their portfolio, how well they trade in stressful situations (i.e., based on volatility), and how to help design a better portfolio.
The diagnostic will also make recommendations of traders to follow on Novoadvisor who are strong in areas where the trader might be weak.
Trading Hours
Trading hours run from 9:30am to 4:00pm EST, Monday through Friday, excluding holidays. Just2Trade also offers extended hours trading (i.e., pre-market and post-market) running from 8:00am to 9:30am, EST, and 4:00pm to 7:00pm EST.
Contact & Customer Support
Customer service can be reached by telephone, fax, email, and live chat.
Customer support is available during business hours Monday-Thursday from 9am to 6pm EST and on Friday from 9am to 5pm EST.
Safety & Security
All personal information is secure and safeguarded when it is sent to the site.
Just2Trade's mobile applications, Just2Trade+ and Just2Trade Pro, provide the option to require a PIN or fingerprint authentication to access a trading account.
Just2Trade uses an external account verification system, but for some specific functions, they will use Plaid to authenticate a client's bank and brokerage accounts.
Two-factor authentication is also enabled. The desktop trading platform requires user credentials (i.e., username, password) as well as a security phrase/image and pin.
Just2Trade Benefits
Stocks, ADRs, and ETFs can be traded for as little as $2.50 per trade
Options trading on a long list of European, Asian, US and other stock exchanges
Options can be traded for as little as $2.50 per trade (flat fee) and $0.50 per contract
Those who trade in higher share volumes can execute trades starting at just $0.001 per share and $0.35 per options contract
Provides access to unique features such as a social network for discussing trade ideas (WhoTrades), a trade-following/trade-copying platform that provides access to the best traders in the network (Novoadvisor), and, coming soon, a trade diagnostic tool to help correct common trade mistakes
Provides access to a trader development program that allows anyone to potentially fund an account without capital contribution of their own if they can demonstrate strong trading ability (Try2BFunded), with access of up to $100,000
Third-party applications are available to supplement Just2Trade's existing technology
Just2Trade Drawbacks
Research tools, such as stock screeners, require third-party applications
$2,000 is required to open an account
Customer support is not available 24/7 or 24/5
Overall Verdict
Just2Trade is most likely to appeal to independent day traders and more active swing traders who are concerned about costs and have their own preferences on what technology and resources they need to supplement their trading and help in their research.
Moreover, algorithmic traders might also have interest in Just2Trade given the ease with which APIs and custom automated trading applications can be developed to connect with Just2Trade for execution.
Given that Just2Trade caters specifically to higher-volume traders, it generally lacks the traditional analysis tools and filters (e.g., stock/bond screeners) and conventional trading education resources that other brokers might provide.
However, Just2Trade is making strides in this area with the development of a trading diagnostic tool (a type of trading coach or AI assistant). Education is mostly geared toward the social features inherent in WhoTrades and Novoadvisor.
Its trader development program, Try2BFunded, is also unique among brokers in that it provides clients the potential opportunity to trade on the firm's capital with no risk, with a favorable profit split of 60/40 in favor of the trader.
If you're looking for strong trade execution, very competitive pricing without the extra costs associated with traditional brokers, and access to social features and unique trade-following and trade-copying tools that track the top traders and strategies in the market, then Just2Trade could be a very good fit for your trading needs.
Accepted Countries
Just2Trade accepts traders from Australia, Thailand, United Kingdom, South Africa, Singapore, Hong Kong, India, France, Germany, Norway, Sweden, Italy, Denmark, United Arab Emirates, Saudi Arabia, Kuwait, Luxembourg, Qatar and most other countries.
Traders can not use Just2Trade from Afghanistan, Bosnia And Herzegovina, Central African Republic, Congo DR, Cuba, Guyana, Iran, Iraq, Laos, Libya, Nigeria, Somalia, Syria, Uganda, Vanuatu, Yemen, United States, Canada.
Alternatives to Just2Trade
If you are looking for alternatives to Just2Trade we have compiled a list of the top 5 brokers that are similar to Just2Trade below. This list of brokers like Just2Trade is in order of similarity and only includes companies that accept traders from your location.
Just2Trade offer hitech trading on stocks and options with some of the lowest prices in the industry
Just2Trade vs Other Brokers
Compare Just2Trade with any other broker by selecting the other broker below.
Articles about Just2Trade