City Traders Imperium Review 2022
City Traders Imperium is one of the best prop trading firms, particularly advantageous for those who want to start small and enjoy the benefits of a top-notch funded trader program and educational platform. City Traders Imperium scaling plan is one of the features that distinguishes the firm from its competitors; you can start with an account size as low as $2,500 and earn more profit shares as you scale up. You can get up to $2,000,000 per account, with a maximum of $4,000,000 in overall trading capital by trading forex pairs, gold, and indices.
In this City Traders Imperium review, we explain your options for receiving capital from the company's funding program and the basics of the company's trading challenges and educational opportunities. Find out how to get started with City Traders Imperium.
About City Traders Imperium
Based in London, City Traders Imperium is a limited company praised as one of the leading proprietary trading firms in the United Kingdom. It was established in 2018 by Martin Najat and Daniel Martin, former head traders, envisioning building a global prop trading firm with an online trading floor of funded investors.
As a forex prop company, City Traders Imperium puts emphasis on trader development, prizes a synergetic process of progression and welcomes different trading styles, including news trading, swing trading, and EAs.
City Traders Imperium makes the MT5 trading platform available for Windows and Mac OS to all its funded traders. Traders are allowed to use copy trading software only if they are copying from their personal trading account and on the condition of providing proof that the MT5 statement of the trading account they are copying matches with the account they manage for City Traders Imperium.
While average spreads on the EUR/USD among all the forex brokers in the industry is around 1 pip, City Traders Imperium has one of the lowest in the market at an average of 0.3 pips. With that said, City Traders Imperium does not publicly disclose its broker.
Funded Trader Program
City Traders Imperium offers three types of funding trading accounts:
Evaluation Plans
You can become an Evaluation Trader and choose between the Classic Funded Trader Program with an evaluation phase of up to one year and a profit target of 7% and the Standard Funded Trader Program with an evaluation phase of up to six months and a profit target of 9%.
With both account types, you are allowed to trade with leverage of up to 1:10, meaning that if you invest $10, you can purchase $100 worth of securities. The moment you reach your first profit target, City Traders Imperium offers a 50% profit split, which can reach as high as 70% on the top tier.
The Classic Evaluation Plan is particularly attractive for newbie traders as they can enjoy a longer evaluation duration compared to industry averages and a simpler set of rules. Traders can choose from five account types with evaluation account sizes of $2.5k, $5k, $10k, $12,500 and $17,5k.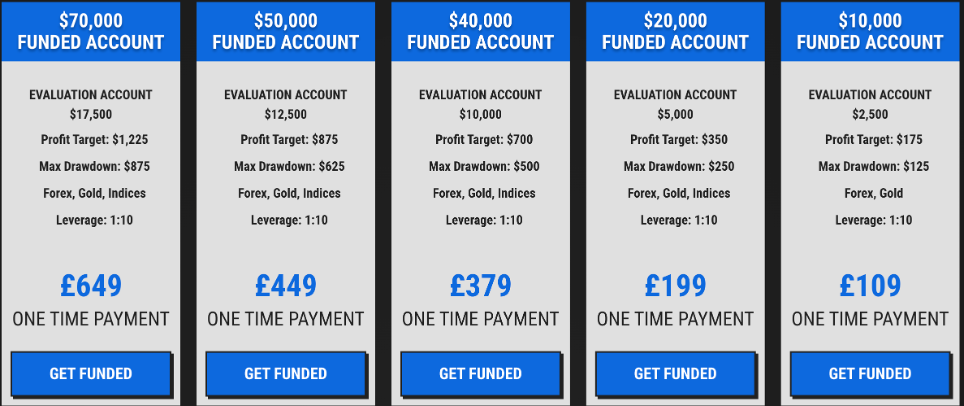 The maximum loss during the Evaluation Phase is 5% relative drawdown for all account sizes.
For all account sizes of the Standard Evaluation Plan, the maximum loss is set as 5% absolute drawdown, defined as a 5% loss of the initial account balance.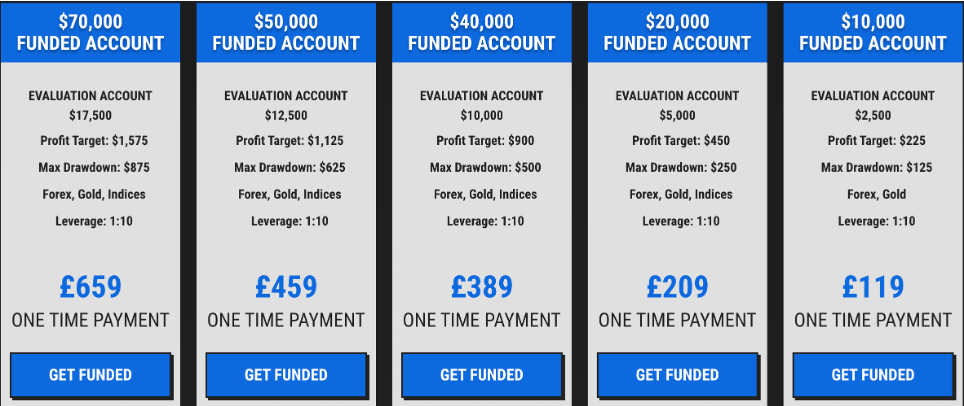 For both funded trader plans, to conclude an evaluation phase or request a withdrawal, a trader is required to complete a minimum of 30 active trading days, which are not calendar days but defined as "days an Evaluation Trader opens a new trade on a new day".
Traders must adhere to a stop loss requirement for each trade which has a 1.5% maximum of the initial account balance and any trade closed without a stop loss is considered a violation of City Traders Imperium's risk management guidelines.
When you make it through the evaluation phase, City Traders Imperium rewards you 400% of the evaluation initial balance to trade as a portfolio manager with a 10% growth target with up to 100% profit share. As a portfolio manager, the company allows you to trade at your own pace with no rules set for minimum trading days or maximum time limits. Moreover, if you complete your evaluation phase earlier than the maximum evaluation time limit, you are immediately upgraded as a portfolio manager as long as you have met other criteria.
During the evaluation phase, you become eligible for withdrawals once you pass the evaluation. Following the evaluation phase, you can make a request once a month. City Traders Imperium offers withdrawals through TransferWise, Revolut and PayPal.
If you fail during the evaluation phase, City Traders Imperium offers you discounts for new Classic or Standard Evaluation purchases from the same funding program category you failed. The discount rate is 20% if you buy your second evaluation within 24 hours after failing your last evaluation and 5% if you buy later. In case your portfolio manager account is terminated, you can enjoy a 10% discount for your next evaluation purchases.
Direct Funding Program
Traders who want to skip an evaluation phase can choose to join City Traders Imperium Direct Funding Program which allows earning and withdrawing profits from the very start.
You can choose from four different account sizes; $20K, $40K, $50K, and $70K accounts with matching one-time payments of £1,059, £2,099, £2,599 and £3,649.
Your account doubles at every 10% profit target and you can enjoy 70% to 100% profit splits.
All account sizes in the direct funding program have a maximum loss of 5% and a stop-loss risk of 1.5%.
Day Trading Funded Trader Program
City Traders Imperium also has the option to join the Day Trading Funded Trader Program with a 10% max drawdown, profit target of up to 100%, leverage of 1:33, and a one-time payment of £289.
This challenge, which includes an Assessment Phase and a Qualification Phase, requires traders to complete each phase within a maximum time limit of 45 days, after which they become eligible for payouts. The trader does not have to wait till the end of the phase time limit and can move to the next phase once all requirements are met but are obliged to complete 10 minimum active trading days in each phase.
The profit target, the sum of the net eligible profit after closing all positions and pending orders, is set as 10% of the initial balance for the Assessment Phase and 5% for the Qualification Phase.
Traders in the Day Trading Funded Trader Program should not reach or exceed a maximum daily loss of 4% and should respect a 10% fixed loss rule for both phases on any given day.
Traders start with an initial 70% profit split on the first 10% profit they make. Afterwards, the profit split is increased to 80% and for those who qualify for the Growth Plan, the profit split is 90% for Tier 1 and 100% for Tier 2.
Account Growth Plan
The Account Growth Plan allows traders to scale up their account sizes. The initial account is increased by 30% of the original account balance in Tier 1 when a funded trader:
Achieves 10% or more profit target within four consecutive months and two out of four consecutive months were profitable;
Processes at least two withdrawals within those four months on the 80% profit split;
And has a positive account balance at the end of the fourth month.
When you repeat Tier 1 three times, City Traders Imperium gives you 100% of the net profit.
A trader becomes eligible for withdrawals one month after the first trade is placed or when the trader achieves at least 15% in profit.
Additional Services
Educational Platform
City Traders Imperium allow traders to access extensive educational resources and mentorship to make them consistently profitable players.
City Trade Imperium Forex Education offers one-on-one courses to help traders learn skills based on their personal goals. The Bank Level Trading course teaches time-tested techniques including Smart Money Concepts, Wave Theory and Wyckoff Theory which help traders decide what stocks to buy and when to buy them.
The Symmetrical Triangle Theory (STT) strategy, which was developed in 2008 by City Traders Imperium's CEO Daniel Martin, aims to reduce the risks of trading psychology that can sabotage traders' efforts. The STT strategy course is perfect for swing traders and has a high success rate.
The Corrective Strategy course can help both beginners and advanced traders by teaching them a clear rules-based process that makes day trading simple and prevents falling into the trap of discretionary trading.
The Build Your Edge course support traders by introducing them to trading psychology, allowing them to master their emotions, and learn effective risk management.
Learn to Trade Forex is a five-day course assisting traders to build strong foundations and have a complete understanding of markets and forex trading.
Online Community
Traders can join the City Traders Imperium Discord channel that brings together more than 7,000 members to follow announcements, benefit from the support channel, or discuss strategies with other funded traders.
City Traders Imperium also has a YouTube channel followed by 4.63K subscribers which offers content on the basics of prop funded trading and success stories of City Traders Imperium traders.
Competitions & Coupons
City Traders Imperium frequently organizes competitions as challenges for the best prop traders. The company has recently announced its Funded Traders World Cup, a first in the industry.
The winner of the one-and-a-half-month challenge that started in October 2022 will receive a $400k live trading account as an award.

Pros Of City Traders Imperium
Evaluation processes suitable for both novice and experienced traders
Excellent education and mentorship programs
Competitive and scaleable profit split up to 100%
Support for different trading styles
Funding up to $4,000,000
Excellent reputation
Instant funding
Cons Of City Traders Imperium
No cryptocurrencies
No free trial opportunity
More strict drawdown rules
Low leverage compared to competitors
Requires 30 minimum active trading days
Maximum of two accounts for portfolio managers
City Traders Imperium Vs Competitors
City Traders Imperium Vs FTMO
The profit split is one of the most important features that differentiate City Traders Imperium and FTMO; City Traders Imperiums starts with a 50% profit split which can reach 70% on the highest tier, while the lowest profit split in FTMO is 80%.
City Traders Imperium offers relatively liberal rules to enter a one-phase evaluation process and gives you a one-year timeframe to complete it; FTMO imposes more strict rules in its two-phase evaluation process which has a relatively low pass rate.
City Traders Imperium has a more aggressive scaling plan compared to FTMO which reviews trading performance every quarter and might increase balances by 25% depending on profitability.
Overall, City Traders Imperium is a better option if you are focusing on longer term profits and FTMO will be a reasonable choice if you are seeking higher profits in the short-term.
City Traders Imperium Vs The 5%ers
The 5%ers allow investors of all levels to begin trading and make profits using a low-risk evaluation program that requires traders to sustain a 6-7% gain in net profit.
City Traders Imperium offers a one-step evaluation program with a profit target of 10%. Traders working with The 5%ers.com receive a 50% share of any profits, while City Traders Imperium offers a scaling-up opportunity with increasing profit shares starting from 50%.
The normal package of The 5%ers has a 6% profit target, with an available aggressive option of 12%, compared to City Traders Imperium's profits targets set as 7% and 9% for different evaluation programs as well as a 10% profit target for its Direct Funding Program.
Contact
You can speak to City Traders Imperium using the contact methods listed below:
Address: 124 Kemp House, City Rd, EC1V 2NX, London, UK
Email address: ctisupport@citytradersimperium.com
City Traders Imperium Verdict
City Traders Imperium offers competitive profit shares up to 100%. Prospective users can choose between the Standard Funded Trader Program, the Classic Funded Trader Program, and the Day Trading Funded Trader Program. This means multiple accounts and options to suit different traders' needs, from extended time valuations to larger drawdowns. Use our 2022 review to find the right service for your financial goals and experience level.
FAQ
How Much Funding Can I Get At City Traders Imperium?
Up to $4,000,000 in trading capital is available at City Traders Imperium. With that said, the level of funding you will receive will depend on the program you sign up and qualify for, with accounts starting at $2,500.
What Assets Can I Trade At City Traders Imperium?
Clients can trade currency pairs, stock indices, plus precious metals like gold. Note, account holders cannot trade cryptocurrencies such as Bitcoin.
What Profit Split Is Available At City Traders Imperium?
Scalable profit splits up to 100% are available. The lowest profit split starts at 50%.
What Platform Does City Traders Imperium Use?
Traders must execute their positions using the MetaTrader 5 (MT5) platform. The terminal is available as a desktop download, a web trader, plus mobile apps, including iOS and Android.
Where Is City Traders Imperium Based?
City Traders Imperium is based in London. The company was founded in 2018 by ex-traders Martin Najat and Daniel Martin.
City Traders Imperium offers scaling plans with up to $4m in trading capital. Clients can trade forex, gold, and indices on MT5 with competitive profit splits.