Bybit Review 2023


United States not accepted.
Go to the Brokers List for alternatives
Bybit is an established crypto exchange aimed at active online traders. Clients can speculate on leading tokens like Bitcoin, access crypto staking and loans, or trade NFTs using the firm's digital marketplace.
Pros
MetaTrader 4 integration
Low minimum deposit
Demo account
Copy trading
Cons
No regulation
Few payment methods offered
Risk Warning – Your capital is at risk
Bybit is one of the most popular cryptocurrency derivatives exchanges. The company has seen significant growth since launch, onboarding users at an impressive rate. Today, it is the world's second-largest Bitcoin futures trading platform. Our Bybit review will cover the secure login process, leveraged trading options, deposits and withdrawals, account fees, platform and app features, and more. Find out whether to register with Bybit.
What Is Bybit?
Bybit was established in 2018 and is now one of the fastest-growing cryptocurrency derivatives exchanges in the world. Today, there are more than 10 million registered users.
Bybit specializes in leveraged trading and crypto perpetual contracts, as well as spot trading products. Account holders can speculate on leading tokens like Bitcoin and Ethereum and can also access the brand's NFT marketplace.
Bybit is registered in the British Virgin Islands with its headquarters located in Singapore. The firm also has an office presence across several Asian countries.
The company is not currently authorized by any regulatory body.
Products & Services
Bybit is a crypto-to-crypto exchange. However, tokens can also be purchased on their website using fiat currency, such as USD, EUR or GBP. Purchases made through this service will then immediately be stored in your Bybit wallet.
Bybit allows traders to take both long and short positions. Derivatives products currently offered on the Bybit platform include:
Inverse futures contracts – BTC/USD quarterly
Inverse perpetual contracts – Four margined coins, including BTC/USD and ETH/USD
Linear perpetual contracts – 13 USDT margined, including BTC/USDT, BCH/LINK, LTC/USDT
Crypto lending, staking, mining and automated trading are also supported. As outlined above, spot trading on popular cryptocurrencies is also available, in addition to a copy trading solution.
P2P
Bybit supports peer-to-peer (p2p) trading for all clients. P2P trading operates much like a marketplace, allowing users to buy and sell holdings to each other at optimal prices. There are no fees associated with P2P trading and prices start as low as 2 USDT.
P2P traders can also benefit from incentives and rewards including a cashback and referral scheme.
30 fiat currencies are currently supported as well as three popular cryptocurrencies.
NFTs
Bybit also runs an NFT marketplace. Listings from global creators can be viewed and traded. Clients can enjoy early access and zero transaction fees. The collection includes digital art, GameFi, the metaverse and more.
Crypto Loans
Bitby offers crypto loans to registered platform users. Applicants much have existing assets in their Spot account which can be used as collateral. Upon approval of the application, assets are received instantly.
The rate of interest is calculated according to the borrowing hour and the loan rate listed when applying.
Rate of Interest = Amount to Borrow × [Hourly Interest Rate/(365 × 24)].
Loans can be repaid at any time and the amount of collateral can be adjusted on the Order page. More collateral equals a lower loan-to-value ratio and vice versa.
Investment Products
Bitby Savings – allows clients to earn interest on coins. Fixed-term and flexible savings options are available with competitive yields.
Liquidity Mining – Bybit's Liquidity Mining service adopts a revamped automated market maker (AMM) model and includes a number of pools. Add liquidity to earn yield derived from trading fees or alternatively, add liquidity to increase your share in the pool and maximize yield.
Shark Fin – a new product that offers clients the chance to earn no matter which direction the market moves in. It is a low-risk, principal-protected structured product.
Launchpool – a free staking service available to all clients that have completed KYC level 1 verification. Staked tokens can be unstaked at any time and will be automatically credited to your Earn account. Note, it is not currently possible to compound yield.
Trading Platforms
Bybit Terminal
Bybit's trading platform is user-friendly but also integrates advanced trading capabilities. As a result, it is suitable for both new and experienced traders. The platform is free to use and available on a web browser and mobile app.
Clients can select from the list of assets in the top navigation bar of the crypto platform.
Features include:
Wide range of time frames
Fully customizable interface
Advanced technical indicators
Trade breakdown before execution
View trading history and closed P&L calculations
Ability to set trading parameters across limit, conditional and market orders
Customizable charting tools and indicators, including RSI and Bollinger Bands
The crypto exchange has a 99.99% availability track record. This advanced trading platform can process 100,000 transactions per second without system downtime.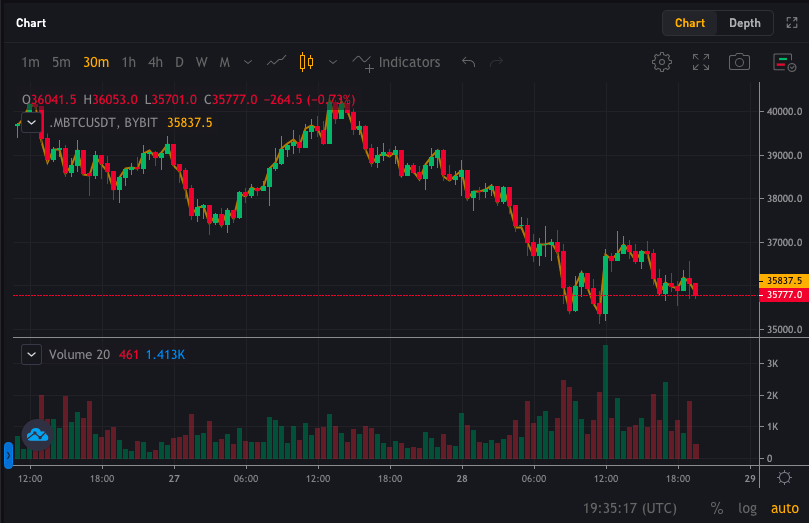 Order Types
The Bybit trading platform supports three order types: limit order, market order, and conditional order. Clients can choose from this list to suit trading needs with the option to amend features, such as leverage and mark price. Additional functions, such as post only, close on trigger and reduce only, can also be set.
Limit order – Used to set leverage and contract quantity and set the order price. When the latest traded price reaches the order limit price, the order will be executed.
Market order – Used to set leverage and contract quantity but not the executed price. Traders may enter or exit the market immediately. The execution price cannot be guaranteed as market prices fluctuate rapidly.
Conditional order – A conditional market order will be filled immediately once the trigger price meets the last traded price. A conditional order limit will be submitted to the order book pending execution.
MetaTrader 4
After much anticipation, Bybit has now integrated the MT4 platform into its offering in some service zones. Eligible clients can trade a range of perpetual contracts at competitive rates whilst enjoying the merits of the beginner-friendly terminal.
Orders placed through the MT4 platform will enter Bybit's order book directly via straight-through processing (STP). To make a deposit, traders will need to manually transfer funds from their Spot account to their Bybit MT4 account. Currently, only USDT deposits are supported.
Trades placed on the MT4 platform are subject to the same rates as those placed on the Bybit platform directly.
Fees
Executing Bybit trades incurs a fee or rebate based on a retail trader's liquidity classification. Market takers will receive a rebate/negative trading fee from Bybit as they provide liquidity and increase the market depth of the order book. Market makers will be charged trading fees as liquidation is taken off the book.
A new fee structure was also introduced in March 2022, a full breakdown can be found on the Bybit website, topline figures are listed below.
Market maker, derivatives fee: 0.01%, spot fee: 0.1%
Market taker: derivatives fee: 0.06%, spot fee: 0.1%
A position funding fee also applies. This ensures that traders can access fair and anchored exchange pricing to global spot prices. This occurs between buyers and sellers every 8 hours at 4 pm, 12 pm and 8 am UTC time zone. If positions are closed before the funding exchange, no fees will apply.
In a positive funding rate, long positions pay short positions and when negative, short positions will pay long position holders.
Bybit does not charge overnight fees, these are exchanged between traders.
Mobile Trading
Bybit provides an easy-to-use, intuitive mobile trading app. This is available for free download to iOS and Android devices. Traders can access all the advanced trading platform features and tools available on the desktop version. Users can place trades, monitor positions, save favourite cryptos, and deposit or withdraw while on the go.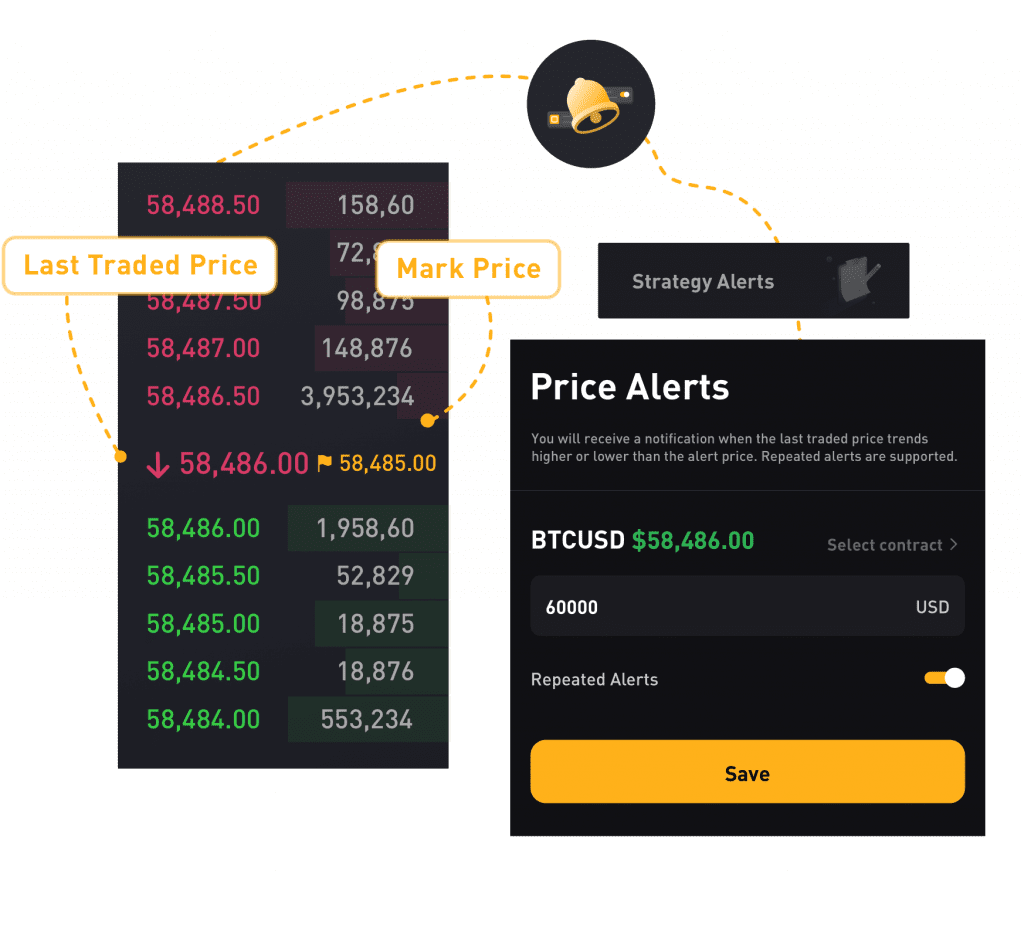 Deposits & Withdrawals
Deposits
Bybit supports crypto deposits including BTC, ETH, XRP, EOS, and USDT funding currencies. Fiat deposits are also supported. Accepted currencies include GBP, EUR, RUB, BRL and ARS. Payment methods for fiat currency purchases include electronic fund transfers and credit/debit cards. There are no fees on deposits, however, a miner's fee may apply.
There is a 0.01 SOL minimum deposit. However, there are no minimums associated with other coins or fiat currencies.
The account funding process is simple. Select the 'assets' button at the top of your account page on desktop devices. Choose the deposit currency and press 'deposit'. The deposit wallet address will be shown in the pop-out window. Visit the FAQ section for full details on how to deposit to your account using all available platforms.
Processing times vary by currency. All deposits must be confirmed by the blockchain before they will be reflected in your account.
Withdrawals
Withdrawal fees and minimum withdrawals apply, varying by coin:
EOS – 0.2 EOS minimum withdrawal, 0.1 EOS fee
XRP – 20 XRP minimum withdrawal, 0.25 XRP fee
ETH – 0.02 ETH minimum withdrawal, 0.005 ETH fee
USDT – 50 USDT minimum withdrawal, 10 USDT fee
BTC – 0.001 BTC minimum withdrawal, 0.0005 BTC fee
Withdrawals are processed three times per day; at 8 am, 4 pm, and 12 pm UTC. The processing cut-off time for requests is 30 minutes before the scheduled time.
Instant withdrawals are supported, however, they may take up to 30 minutes to an hour to process depending on the network traffic of the blockchain.
Daily withdrawals are capped at 100 BTC.
Bonus & Promotions
Bybit supports several bonuses, vouchers, and financial promo code incentives. This includes a joining or sign up bonus and a no deposit bonus. The rewards hub is an active page on the exchange website where traders can view the latest promotions.
A referral code bonus scheme is also available where clients can earn up to 250 USDT per referral. Bybit also promotes a number of Flash Deals where traders can win a financial prize when they achieve certain milestones, such as seven trades in a week, deposit 1 BTC or executing a trade using a limit order.
Any promotions or offers claimed can be viewed in "My Rewards".
Additional Features
Bybit utilises several third-party partners to enhance clients' overall trading experience. These can be integrated into the trading platform. The extensive list can be found on the Bybit website but highlights includes 3Commas trading software, available to link to your Bybit trading bot via API keys. Also available is TokenBot, which is a notification software providing inexperienced crypto investors with the ability to follow or mirror trades made by seasoned investors. Additional tools include CoinGecko, Skew, TradingView, Coinalyze and Crypto compare.
An educational blog is published on the crypto exchange website. It includes insights, announcements and the latest news articles. Topics include Grayscale Bitcoin holdings, using open interest indicators to determine market sentiment, and how to use the Bybit P&L calculator.
Bybit offers an auto-deleveraging (ADL) system in the event of liquidation. This applies when a position cannot be liquidated at a price better than the bankruptcy price and when there is insufficient insurance fund to cover the contract loss.
The crypto exchange also offers a sub-account feature. Clients may open 2+ accounts grouped under the main account name. This allows for the deployment of different trading strategies, such as hedging, and independent P&L calculations.
Demo Account
Bybit features a testnet demo account with access to virtual funds. The practice account provides a virtual simulation of the live platform with spot prices. Traders can register with an email address or mobile phone number at testnet.bybit.com.
Benefits
While using Bybit, it was clear that the platform has a lot to offer, not least:
Price system – Dual price mechanism reducing unfair liquidations
100x leverage – Increased profit potential with leverage up to 1:100
Customer support – 24/7 customer help from a multilingual service team
Market depth – Best-in-class market depth, minimum price impact trade execution
Unlimited trades & withdrawals – No limits on trades and withdrawals on any account
HD cold wallet – Industry-leading cold wallet strengthens security and improves the safety of funds
Mutual Insurance – A risk management tool protecting retail traders against unfavorable price fluctuations
100,000 TPS per contract – Results in no overloads with an ultra-fast matching engine that is 10x the industry average
One-click coin swaps – Retail clients can easily swap between supported cryptocurrency coins within accounts, take profit and stop loss, strategy alerts, and adjust orders with one click
Drawbacks
When we used Bybit, we also come across several downsides:
No regulation – Bybit is not currently regulated in any country, vs alternative crypto exchange providers such as Kraken or Binance which are both authorized by globally recognised bodies
Global clients not always permitted – Residents of some countries are restricted from opening an account, including clients from the US. See our list of banned countries below
How To Trade With Bybit
Bybit does not handle fiat deposits directly. To purchase the required cryptocurrency, clients must use third-party service providers via the Bybit fiat gateway to convert fiat currency to cryptocurrency. Alternative methods include using an online spot exchange or peer-to-peer crypto transfers.
Registration is also easy. You can open an account using either an email address or mobile phone number. Clients should submit a referral code if applicable, then enter the verification code and begin trading. Accounts can be opened on desktop devices or via the Bybit mobile app.
Customer Support
The Bybit crypto exchange offers the following customer contact options for 24/7 multi-language help:
Live chat – website and app
Email – support@bybit.com
Bybit chat room – Peer-to-peer live chatbot
Social media – Including LinkedIn, Twitter, and Telegram
A comprehensive FAQ page can also be found on the Bybit website. This includes step-by-step tutorials and YouTube video guidance. Topics include withdrawal issues, fees explained, how to take partial profit, margin, yield vouchers, and restricted countries.
When we used Bybit, we found the customer service team were helpful and responsive.
Security & Safety
Bybit offers Mutual Insurance, a risk management tool protecting retail traders against unfavorable price fluctuations. This is beneficial given the volatility of the crypto market. Traders may also receive compensation to offset losses and protect profits.
All traders are encouraged to have 2-factor authentication (2FA) at all times. This is simple to integrate using QR code verification. Traders should store recovery key phrases in an encrypted cloud server for enhanced security.
Bybit uses a multi-signature cold wallet to store deposited assets. These will be segregated from the company's operating profits.
KYC is operated on a two-tier basis: Individual and business. Traders are required to be KYC-verified in order to withdraw greater sums, up to 100 BTC. KYC verification is also required to participate in Earn projects such as Launchpad and Launchpool.
Note, Bybit services are now not allowed in the UK and are not accessible to British customers. This is a result of the Financial Conduct Authority (FCA) placing a ban on the sales of digital currency derivatives.
Bybit Verdict
Bybit's trading volume has boomed since its launch in 2018, although our experts found that it does offer a much narrower coin offering vs alternative exchanges. Still, the list of benefits makes its growth no surprise. This includes the advanced trading platform, high leverage, secure HD cold wallet, mutual insurance, no system downtime, and more.
It should be noted, although it is an excellent platform for crypto traders, it is not regulated in any country, therefore trading is a risk.
Accepted Countries
Bybit accepts traders from Australia, Thailand, South Africa, Hong Kong, India, France, Germany, Norway, Sweden, Italy, Denmark, United Arab Emirates, Saudi Arabia, Kuwait, Luxembourg, Qatar and most other countries.
Traders can not use Bybit from United States, Canada, Singapore, Cuba, Iran, Korea, Sudan, Switzerland, Syria, United Kingdom.
Compare Bybit
Compare Bybit with similar brokers that accept traders from your location. Among available brokers these are the most similar to Bybit:
Bybit Comparison Table
Compare Bybit With Similar Brokers
Bybit
Binance
Kraken
Gemini
Forex.com
Rating
–
3.8
3.9
–
4.5
Markets
Cryptos, Futures
Cryptos
Cryptos
Cryptos
Forex, Stocks, Commodities, Crypto
Demo Account
Yes
No
Yes
No
Yes
Minimum Deposit
$0
$0
$10
$0
$100
Minimum Trade
0.001
$10
Varies upon the crypto traded
0.00001 BTC
$1
Regulators
–
FCA
FCA, FinCEN, FINTRAC, AUSTRAC, FSA
NYDFS, MAS, FCA
CySEC, IIROC, NFA, CFTC, FCA, CIMA
Bonus
Up To 4030 USDT Welcome Bonus
–
Lower fees when trading volume exceeds $50,000 in 30 days
–
No
Education
No
No
Yes
Yes
Yes
Platforms
MT4
–
–
–
MT4
Leverage
–
–
–
–
1:200
Payment Methods
6
20
7
10
8
Visit
–
Review
Bybit
Review
Binance
Review
Kraken
Review
Gemini
Review
Forex.com
Review
Compare Trading Instruments
Compare the markets and instruments offered by Bybit and its competitors. Please note, some markets may only be available via CFDs or other derivatives.
Compare Bybit Trading Instruments

| | Bybit | Binance | Kraken | Gemini | Forex.com |
| --- | --- | --- | --- | --- | --- |
| CFD | No | No | No | No | Yes |
| Forex | No | No | No | No | Yes |
| Stocks | No | No | No | No | Yes |
| Commodities | No | No | No | No | Yes |
| Oil | No | No | No | No | Yes |
| Gold | No | No | No | No | Yes |
| Copper | No | No | No | No | No |
| Silver | No | No | No | No | Yes |
| Corn | No | No | No | No | No |
| Crypto | Yes | Yes | Yes | Yes | Yes |
| Futures | Yes | No | Yes | No | Yes |
| Options | Yes | No | No | No | Yes |
| ETFs | No | No | No | No | No |
| Bonds | No | No | No | No | No |
| Warrants | No | No | No | No | No |
| Spreadbetting | No | No | No | No | No |
| Volatility Index | No | No | No | No | No |
Bybit vs Other Brokers
Compare Bybit with any other broker by selecting the other broker below.
The most popular Bybit comparisons:
FAQ
Is Bybit A Crypto Wallet?
ByBit operates a secure offline cold wallet solution to store client's digital assets. KYC compliance is not required and the withdrawal process is limited to three per day to increase security.
Does Bybit Offer MetaTrader 4?
Yes, Bybit does offer the MT4 platform but clients will need to open an MT4 account. Once set up, clients can trade using the platform. The fee structure for the MT4 account is the same as for trades placed directly with Bybit.
Can UK Traders Use Bybit?
ByBit is not currently regulated for retail traders in the UK. This is a result of the Financial Conduct Authority (FCA) placing a ban on the sale of digital currency derivatives in the country.
What Leverage Does Bybit Offer?
Bybit offers maximum leverage up to 1:100. The amount of leverage depends on the derivative contract. BTC/USD is permitted up to 1:100 leverage. XRP/USD leverage is capped at 1:25.
Bybit Keeps Cancelling My Order, What Should I Do?
There are several reasons why conditional orders might not be executed. This includes insufficient margin, selection of 'Close on Trigger' when placing orders or if the trade does not meet the minimum order price.
Bybit is an established crypto exchange aimed at active online traders. Clients can speculate on leading tokens like Bitcoin, access crypto staking and loans, or trade NFTs using the firm's digital marketplace.