ZuluTrade Review 2023


United States not accepted.
See the Top 3 Alternatives in your location.
We recommend ZuluTrade for investors interested in joining one of the world's largest and best-performing social trading networks. The platform is user-friendly and clients can copy trade in a variety of popular financial markets.
- Daytrading Review Team
ZuluTrade is a renowned social-wealth management platform that allows investors to trade by copying the trades of experienced traders, also known as leaders. This award-winning platform supports social trading and copy trading across multiple assets and has a network of more than 90,000 Leaders and 1,000+ brokers. ZuluTrade is part of the Finvasia Group and is regulated in the EU, South Africa, Japan and Mauritius.
Broker Dependant
X Open Hub, Match-Trader, MT4, MT5, ActTrader
CFDs; Forex, Stocks, Cryptos, Commodities, Indices
-
Wire Transfer, PayPal, Bitcoin Payments
Forex Trading
In the realm of Forex CFDs, ZuluTrade offers access to an extensive selection of currency pairs, enabling traders to engage in the exciting world of currency exchange with ease and flexibility.
Stock Trading
For those interested in Stock CFDs, ZuluTrade provides a comprehensive array of options, allowing traders to access shares from various global markets. This feature empowers investors to diversify their portfolios and capitalize on stock market opportunities.
Crypto Trading
ZuluTrade supports Crypto CFDs, making it possible for traders to speculate on the price movements of cryptocurrencies like Bitcoin and Ethereum. This feature allows traders to participate in the cryptocurrency market without owning the underlying assets.
Copy Trading
Investors can follow the strategies and positions of 90,000+ traders spanning a range of financial markets. ZuluTrade is one of the top-rated and regulated copy trading platforms globally, with multiple industry awards, an excellent reputation and a suite of risk management tools and real-time analysis features.
Awards
Best Social Trading Solution at UF Awards 2022
Best Social Wealth Management Platform at Forex Expo Dubai in October 2022
Best Social Trading Solution Award at iFX EXPO Dubai 2023
Best Wealth Management Platform Africa Awards at FAME Awards 2023
Best Social Trading Solution at UF Awards APAC 2023Best Social Trading Solution at UF Awards Global 2023 in Cyprus
✓ Pros
First and oldest copy trading platform
A vibrant social community of traders to connect, share, learn and grow
Reliable and easy-to-use mobile app
Access to popular cryptocurrencies including Bitcoin
Free and fully functioning demo account, perfect for beginners
Wide range of performance indicators and graphs to help evaluate leaders
More than 90,000 leaders to follow and copy which could result in greater earnings
Investors can comment directly on leaders' profile pages
Only view the top leaders who comply with stringent criteria, demonstrating consistent and reliable performance
Broker and Platform Agnostic, which means that users can enjoy the freedom of choice across a variety of brokers, markets and trading platforms
✗ Cons
Some inconsistent leaders to be aware of
Employing an effective money management system can be difficult for beginners
Leaders are not formally vetted. The ZuluGuardTM feature does mitigate this risk, however, by automatically removing a leader when detecting a trading strategy has deviated from its expected loss profile
ZuluTrade is the oldest and most recognizable copy trading platform. Essentially, it allows investors to follow and mimic the trades of experienced traders in the forex and financial markets. However, the social element also enables leaders and investors to leave feedback and share ideas. Today it boasts more than 2.4 million users and executes a trade volume in excess of $800 billion.
This 2023 ZuluTrade review will break down how it works, covering costs, live accounts, user ratings, regulations, and more. Find out if our experts recommend signing up with ZuluTrade.
Company Details
ZuluTrade is a Finvasia Group company, founded in 2007 with an aim to make trading accessible and easy for everyone. Today it is regarded as one of the most innovative social trading tools in the world, operating from multiple locations including Greece, India and South Africa.
Throughout its history, the company goal has remained the same; 'to become the world's largest social trading community on the globe, offering customer-focused investment solutions where traders on a global level can connect to any trading platform and share their knowledge'.
Key milestones include:
2008 – ZuluTrade develops a software that connects to FXCM's API. It enables the first basic form of copy trading strategies
2009 – The company had over 4,500 traders, and it was their portfolios that users could copy to make money
2011 – ZuluTrade releases several new features including the ability to follow other individuals rather than just signal providers
2013 – ZuluGuard™ launched to protect retail investors from adverse trading strategies offered by traders
2014 – ZuluTrade re-designed its website, added a number of features and had 120 employees, 40 of whom were in customer support
2015 – The platform was awarded an EU Portfolio Management License. This resulted in the company becoming both legitimate and respected in the trading world
2017 – Cryptos CopyTrading was introduced allowing retail investors to participate in the growing digital currency market
2020 – Stock CFDs and follow trading were introduced
2021 – ZuluTrade joins the Finvasia Group in December 2021
2022 – ZuluTrade wins 2 awards and also implements support for only licensed brokers on its platform, creating a more reliable and safe investing environment for its investors.
2023 – ZuluTrade upgrades its social trading platform with a transparent pricing plan, smoother onboarding process, and enhanced social feed. In the same year, the platform won multiple awards and got two new regulatory licenses: the FSCA in South Africa and the FSC in Mauritius.
Today, ZuluTrade has grown to become a leading social and copy trading platform with users in more than 150 countries and over 90,000 leaders to choose from. Countless brokers worldwide offer ZuluTrade's cutting-edge technology with 2.4 million registered users across the globe.
Trading Platform
The ZuluTrade platform collaborates with brokers that provide trading solutions on numerous instruments, including crypto CFDs, stocks, forex, commodities such as oil, and indices such as the Nasdaq. Investors that have registered accounts with brokers that operate through the MT4/MT5, Act Trader, X Open Hub or Match-Trader trading platforms can connect to ZuluTrade and benefit from the numerous features of social trading.
There are 3 types of brokers that Investors can connect their accounts to:
Integrated Brokers – Brokers that have been integrated into the ZuluTrade platform allow copy trading by accessing and managing your account with the broker directly, all within the ZuluTrade platform. Every account opened through the integrated brokers will benefit from lifelong free copy trading on ZuluTrade since the expenses associated with copy trading are covered by the broker and never passed onto the client
Co-Branded Brokers – These are brokers with a co-branded ZuluTrade website featuring an exclusive space tailored for the brokers and their users. Users need to open their account independently from the broker's website and then connect it to the ZuluTrade platform. In some cases, Co-Branded brokers also cover the cost of copy trading.
Standard Brokers – Any broker which offers trading accounts on MT4, MT5, ACT Trader, X Open Hub or Match Trader. Using your account with any broker from anywhere in the world (subject to any applicable geographical restrictions for regulatory purposes, you may join and use ZuluTrade services for a small fee of $10/strategy per month with no limits.
How it Works
The user base is essentially split into two categories:
Leaders – These are normally traders who can link their trading account with ZuluTrade, make their account public and allow investors to copy their portfolios. Their compensation is determined by the number of trades executed by investors.
Investors – These users can copy the strategies of the leaders.

Features
Once you have your ZuluTrade account login details, you can start using a number of useful features, including:
Social network features – These include forums and comment sections, plus the ability to upload photos and videos. Here you can review traders, offer advice and ask questions.
ZuluGuard™ – A unique feature that protects investors if erratic trades are opened by traders they are following. An excellent risk management addition.
Calendar – An easy to access summary of all key events for the financial markets around the globe.
Simulation – The ZuluTrade Simulator Tool lets you see how much you could earn by following our Leaders by testing their strategies based on their past performance, all without risking your capital.
Watchlist – Investors can easily keep track of your favourite Leaders and Market Assets.
Risk Score – To help investors make informed decisions, ZuluTrade displays the Risk score for all Leaders. Risk is calculated on a 1-5 scale, with 1 indicating Low Risk and 5 indicating High Risk.
In addition, if you're concerned about how to choose a leader on ZuluTrade, you can use the ZuluRank calculation. This proprietary algorithm ranks leaders by a number of different factors, including:
Sharpe ratio
Amount of trade activity
Low drawdowns, High profits
Length of time trades stay open
The frequency that a trader logs in
ZuluTrade also has a risk score, ranging from 1 to 5, which allows you to choose a Leader that aligns with your risk appetite.
ZuluTrade To MetaTrader
Our experts found it is possible to link an external live or demo MetaTrader 4 (MT4) platform to a ZuluTrade account. So, for those asking does ZuluTrade work with MetaTrader accounts? The answer is yes.
How To Copy A Trader
Register for a ZuluTrade account
Sign in using your credentials on the ZuluTrade site or sign up via a broker and connect your account to ZuluTrade. Look out for the logo
Browse the best leader that reflects your risk appetite and investment goals. You can view their past performance and traded assets
Select the 'Copy Strategy' button and enter how much you want to invest. You can also click on the 'Advanced Settings' dropdown list and fill out the 'Custom Copy Ratio' as well as 'Take Profit' fields. You even have the possibility to turn on the 'Trailing Stop Loss' and 'Copy Open Trades' options.
Click on 'Copy Strategy' again. This will begin the copy trade function and the positions of the leader will be duplicated.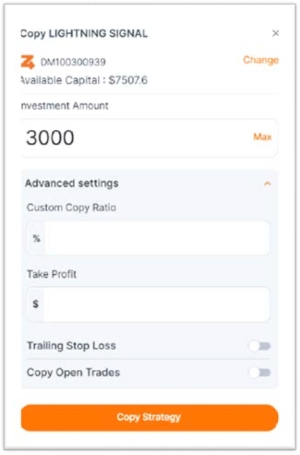 Spreads & Fees
Spreads and commissions vary depending on the broker you choose to connect your ZuluTrade account to. Broker commission and spreads (the difference between the buy and sell price) depend on the volume traded by the client. Spreads can be influenced by several factors, including asset type and time of the day the asset is being traded. For example, brokers often widen spreads during periods of high volatility.
The minimum deposit requirement varies between brokers. Some require a minimum deposit of just $1, others may require $250.
ZuluTrade fees also depend on the selected broker.
If your broker account is within ZuluTrade's so-called 'Integrated Brokers' list, then you can use ZuluTrade's copy and social trading services free of charge.
If your broker falls under ZuluTrade's 'Co-Branded Brokers' category, you might be subject to a small monthly fee of $10 per strategy. Some 'Co-Branded' brokers may cover this cost of copy trading.
Finally, if you are using ZuluTrade through one of the platform's 'Standard Brokers' you will need to pay the monthly fee of $10 per copy trading strategy.
Other Trading Fees
You may be charged an overnight rollover/swap fee by your broker. The amount will depend on the asset and volume you are trading. Although these costs can cut into profits over a long period, intraday traders shouldn't usually encounter these fees.
Aside from that, there aren't any other costs. As ZuluTrade makes clear, the leaders you copy are paid directly by ZuluTrade.
Leader compensation is volume-based. Precisely, Leaders earn 0.5 pips for each closed trade executed by a Real Investor account depending on the investor's account setting.
Mobile App
ZuluTrade provides Android and iPhone trading apps. Once in the application, you can view your performance, review new leaders to copy, plus close trades manually.
Other features include:
Open, close and edit traded positions
Diversify risk among multiple assets and strategies
Manually adjust stops and limits or close positions completely
Execute your leaders' systems' signals without having to monitor the markets 24 hours a day
Easily keep track of your favourite Leaders and Market Assets with Watchlist
Make informed decisions with the Risk score attributed to each Leader
Overall, the ZuluTrade mobile application effectively complements the desktop-based platform. It is easy to navigate and operates seamlessly between devices. Plus, functionality has continuously improved with each update.
Payment Methods
Payment methods for leaders include Bank Transfer, PayPal and popular Cryptos.
As an investor, deposit and withdrawal methods will vary depending on the broker. It is also worth checking for any deposit and withdrawal fees applied by the online brokerage.
Demo Account
To open an account with ZuluTrade, first you need to Register by providing your name, residence country, email and password. Alternatively, you may register using your Google Account.
Upon successful registration, a free Demo account will be automatically created for you, with exactly the same functionality as a Live account. This means that you can try out ZuluTrade risk- free and experiment with different copy trading strategies before investing any real funds!
You can copy trade unlimited strategies on a demo account, with virtual money, and without a subscription plan.
Overall, we found the demo account easy-to-use and replicates many of the features you will get, should you choose to upgrade to a live account.
Regulation & License
ZuluTrade is established globally and is regulated by:
HCMC in EU (License No 2/540/17.2.2010)
FSA in Japan (License No 0123-01-006371)
FSC in Mauritius (License No IK21000018)
FSCA in South Africa (License No 49299)
ZuluTrade's Copy Trading Subscription Plan
1. Zero Subscription Plan
This plan is available to users signing up with Integrated and selected Co-Branded Brokers. Users who have an account or open a new account with one of these brokers can enjoy copy trading any number of Leader Strategies without being charged the monthly subscription fee. In this case, the copy trading subscription fee is entirely free.
2. Paid Subscription Plan
This plan requires a small fee of $10/ Leader Strategy / Month and discounts are also available for users who opt for quarterly, semi-annual or annual subscriptions, with cost savings of 5% (quarterly), 10% (semi-annual) and 17% (annual).
How To Become A Leader
Anyone can sign up to become a Leader. To become a leader, first you need to Register by providing your name, residence country, email and password. Alternatively, you may register using your Google Account.
Now, just follow the onboarding instructions, and when prompted click "Become a Leader". If you already have a Trading Account linked to ZuluTrade, go into your Trading Accounts section and select the option "Make my Account Public".
If you do not have a trading account, create one and then proceed.
Leaders are compensated on a volume basis and earn 0.5 pips for each closed trade executed in a Real Investor account.
Tips
Obviously, you can't maintain a negative balance, but what else would a good leader guide recommend you do to get a sizeable amount following you?
Due to inevitable broker slippage, you may want to avoid scalping strategies
Upload a professional, friendly default photo. The right photo icon will help build trust
Trade with a real money account. People will trust your decision-making more if they know you are risking real capital too
Be clear and concise when you explain your strategy. For example, suggesting how many lots a follower should invest and how you plan to offset any potential pitfalls
If people have questions about your strategy on a Mac, your score on the risk meter bar, or anything else, try to respond swiftly. Communication is key to building trust
Make sure you meet any criteria, whether it's necessary minimum equity or win ratio. Meeting the EU criteria is particularly important if you want to appeal to the European market
Also, trading during news announcements can lead to substantially different results between yours and your follower's accounts. This is because some brokers will widen spreads during news events
Trading Hours
The market opens on Sunday at 21:00 UTC and closes Friday at 21:00 UTC. During Eastern time daylight saving, the market will open on Sunday at 17:00 UTC and close on Friday at 17:00 UTC.
Note, trading hours are close to competitors and similar sites.
Contact & Customer Support
If you have any technical issues or account requests, such as to change leverage, simply head over to the ZuluTrade homepage. From there you can find live chat available 24 hours, 5 days a week. This is the most popular method of contact for ZuluTrade users at present. Your partnered broker should also be able to provide basic support such as a breakdown of commissions, step-by-step guides to copy trades and integrating ZuluTrade services to an MT4 demo profile.
On top of that, there is email and phone support, plus a 24-hour hotline, 5 days a week.
Safety & Security
While using ZuluTrade, our experts found the brand safeguards personal information via industry-standard SSL encryption on its PC and mobile platforms. Funds are also not held, as the service simply provides the platform between the leader and investor.
ZuluGuard™ is often highlighted as a particularly well-liked feature in customer testimonials and review forums. It is an effective account protection feature. It works by monitoring each leader's behavior and removing a user when a draconian strategy is detected. This should help keep your income safe from erratic leaders.
ZuluTrade vs Competitors
What does ZuluTrade offer vs eToro, NinjaTrader and other systems? You can easily view rankings of investor performance. The simulation also shows the overall profit.
Perhaps it is the sheer number of leaders you can copy that sets ZuluTrade apart. You have access to over 90,000 leaders from 150+ countries. You can then use ZuluTrade's advanced platform to hone in on the best. For example, you can choose to see only those who are in the top 100, have a maximum drawdown of 20%, and have been rated by investors.
Many investors also like to copy more than one leader. So, you can utilize Watchlist to manage your potential candidates. This will also allow you to monitor an individual for a while before copying. In addition, you can share lists amongst users.
After you have found a leader you wish to follow, you can assign a specific amount you want to trade per signal you copy. Alternatively, there is a 'Pro-rata %' option. For example, 20% would mean if the leader opened 1 lot, 0.2 lots would be opened in your account. On top of that, you can set a 'Max Open Position' for a particular trader.
You can review your account performance at any time. In addition, you can review trade performance by trader and time frame. This should help you establish who has been generating gains and losses in your account.
Leaders on ZuluTrade can earn a lot more than signal providers on eToro through the volume-based compensation model and can serve in countries where eToro is not licensed to provide service.
ZuluTrade Verdict
Overall, ZuluTrade.com's offering is attractive to leaders and investors of all experience levels. The ever-growing number of users alone demonstrates that. Yet despite being user-friendly, the service does work best if you opt for FXview, which is one of ZuluTrade's integrated brokers.
In addition, staying profitable isn't always straightforward. You need to be aware revenue can disappear just as quickly as it appears in your account. So, having an effective strategy and money management system in place is essential.
FAQs
What Is ZuluTrade?
ZuluTrade is a social wealth management platform that offers a copy trading platform on desktop and mobile. Investors can indulge themselves in social trading and copy trading across multiple assets and can copy trades of 90,000 Leaders.
What Is The ZuluTrade Minimum Copy Trading Fee?
You can start copy trading with a minimum of $0 subscription plan on ZuluTrade.
Is ZuluTrade Regulated?
Yes, ZuluTrade is regulated in the EU, Mauritius, South Africa and Japan. The firm holds a license with Greece's Hellenic Capital Market Commission, the General Japan Investment Advisers Association, Mauritius FSC and the South African FSCA.
Can I Use Leverage When Trading With ZuluTrade?
Leverage opportunities vary between ZuluTrade-partnered brokers. Depending on local entity regulations, global brokers may offer margin of up to 1:1000.
Is ZuluTrade Legit?
ZuluTrade is an established social and copy trading platform. With over 16 years in the market, it has been serving clients across the world with a trusted and stable platform. If using the terminal through a broker, ensure they follow client safeguarding protocols such as segregated client funds and access to investor compensation schemes.
Accepted Countries
ZuluTrade accepts traders from Australia, Thailand, Canada, South Africa, Singapore, Hong Kong, France, Germany, Norway, Sweden, Italy, Denmark, United Arab Emirates, Saudi Arabia, Kuwait, Luxembourg, Qatar and most other countries.
Traders can not use ZuluTrade from United States, United Kingdom, Belgium, Iran, Syria, Sudan, India, Myanmar, Cuba, Korea, Puerto Rico.
Payment Methods
ZuluTrade Details
| | |
| --- | --- |
| Minimum Trade | $1 |
| Regulated By | HCMC in EU, FSA in Japan, FSC in Mauritius, FSCA in South Africa |
| Islamic Account | Yes |
| Mobile Apps | iOS & Android |
| Margin Trading | Yes |
| Volatility Index | No |
| Spot Trading | No |
| Perpetual Swaps | No |
| ELWs | No |
| REITs | No |
| AI / Machine Learning | No |
| Robo Advisor | No |
| P2P Trading | No |
| Negative Balance Protection | No |
| VPS Hosting | Yes |
| Tournaments | No |
| Demo Competitions | No |
| Managed Accounts | Yes |
| Market Maker | No |
| Auto Trading | ZuluTrade are market leaders in automated trading. From scripts to auto execution APIs and copy trading. |
| Social Trading | Yes |
| Trade Signals | Yes |
| Guaranteed Stop Loss | No |
| Commodities | |
Forex Trading Details
| | |
| --- | --- |
| GBPUSD Spread | Broker dependent |
| EURUSD Spread | Broker dependent |
| EURGBP Spread | Broker dependent |
| Assets | Broker dependent |
Cryptocurrency Trading Details
| | |
| --- | --- |
| Crypto Spread | Broker dependent |
| Crypto Lending | No |
| Crypto Staking | No |
| Crypto Mining | No |
| Crypto Auto Market Maker | No |
Top 3 Alternatives to ZuluTrade
Compare ZuluTrade with the top 3 similar brokers that accept traders from your location.
IG Group – IG is an award-winning broker that has an excellent reputation globally. The brand-US offers spread betting, CFD and forex trading across a comprehensive suite of markets. IG is also multi-regulated, provides a great trading app and has 50 years experience.
Go to IG Group
Kwakol Markets – Kwakol Markets is a Nigerian headquartered broker with strong regulatory oversight in Australia and Canada. A great selection of day trading assets are available, including synthetic products that simulate realistic market activity. Clients can trade on the MT4, MT5 and cTrader platforms, as well as a copy trading solution whereby a fee is only paid on profitable trades.
Go to Kwakol Markets
World Forex – World Forex is an offshore broker registered in St Vincent and the Grenadines, offering commission-free trading with a $1 minimum deposit and 1:1000 leverage. Digital contracts are also available, offering beginners a straightforward way to speculate on popular financial markets.
Go to World Forex
ZuluTrade Comparison Table
Compare ZuluTrade With Similar Brokers
ZuluTrade
IG Group
Kwakol Markets
World Forex
Rating
3.1
4.4
4.5
4
Markets
CFDs; Forex, Stocks, Cryptos, Commodities, Indices
CFDs, Forex, Stocks, Indices, Commodities, ETFs, Futures, Options, Crypto, Spread Betting
CFDs, Forex, Stocks, Indices, Commodities, Crypto
Forex, CFD Stocks, Metals, Energies, Cryptos, Digital Contracts
Demo Account
Yes
Yes
Yes
Yes
Minimum Deposit
Broker Dependant
$0
$1
$1
Minimum Trade
$1
0.01 Lots
0.01 Lots
0.01 Lots
Regulators
HCMC in EU, FSA in Japan, FSC in Mauritius, FSCA in South Africa
FCA, ASIC, NFA, CFTC, DFSA, BaFin, MAS, FSCA
ASIC, FINTRAC
SVGFSA
Bonus
–
–
–
100% Deposit Bonus
Education
Yes
Yes
No
No
Platforms
X Open Hub, Match-Trader, MT4, MT5, ActTrader
MT4, AutoChartist, TradingCentral
MT4, MT5, cTrader, AutoChartist
MT4, MT5
Leverage
Broker Dependent
1:30 (Retail), 1:250 (Pro)
1:1000
1:1000
Payment Methods
3
6
4
10
Visit
–
Visit
Visit
Visit
Review
–
IG Group
Review
Kwakol Markets
Review
World Forex
Review
Compare Trading Instruments
Compare the markets and instruments offered by ZuluTrade and its competitors. Please note, some markets may only be available via CFDs or other derivatives.
Compare ZuluTrade Trading Instruments

| | ZuluTrade | IG Group | Kwakol Markets | World Forex |
| --- | --- | --- | --- | --- |
| CFD | No | Yes | Yes | Yes |
| Forex | Yes | Yes | Yes | Yes |
| Stocks | Yes | Yes | Yes | Yes |
| Commodities | Yes | Yes | Yes | Yes |
| Oil | Yes | Yes | Yes | Yes |
| Gold | Yes | Yes | Yes | Yes |
| Copper | No | Yes | Yes | No |
| Silver | Yes | Yes | Yes | Yes |
| Corn | No | No | No | No |
| Crypto | Yes | Yes | Yes | Yes |
| Futures | No | Yes | No | No |
| Options | No | Yes | No | No |
| ETFs | No | Yes | No | No |
| Bonds | No | Yes | No | No |
| Warrants | No | Yes | No | No |
| Spreadbetting | No | Yes | No | No |
| Volatility Index | No | Yes | No | No |
ZuluTrade vs Other Brokers
Compare ZuluTrade with any other broker by selecting the other broker below.
The most popular ZuluTrade comparisons:
Customer Reviews
There are no customer reviews of ZuluTrade yet, will you be the first to help fellow traders decide if they should trade with ZuluTrade or not?
Visit
ZuluTrade is a renowned social-wealth management platform that allows investors to trade by copying the trades of experienced traders, also known as leaders. This award-winning platform supports social trading and copy trading across multiple assets and has a network of more than 90,000 Leaders and 1,000+ brokers. ZuluTrade is part of the Finvasia Group and is regulated in the EU, South Africa, Japan and Mauritius.