Zacks Trade Review 2023


Available in United States
Zacks Trade will suit active day traders with experience using powerful platforms. Fees and margin rates are low while the market research is excellent.
- Daytrading Review Team
Zacks Trade is a FINRA-regulated US broker offering trading on stocks, ETFs, cryptocurrencies, bonds and more through a proprietary terminal. The broker is geared toward active traders and offers very affordable fees on most assets as well as an app and a vast amount of market data.
$2500
Own
Crypto, Stocks, Options
-
USD, EUR, GBP, CAD, AUD, NZD, INR, JPY, ZAR, TRY, SEK, NOK, DKK, CHF, HKD, SGD, RUB, PLN, CZK, HUF
Wire Transfer, ACH Transfer, Cheque
Stock Trading
Zacks Trade offers a large selection of US and international stocks, including penny stocks, as well as ETFs and global indices. The broker also offers options as a way to speculate on stock price movements.
Crypto Trading
Clients can trade a modest handful of cryptos including Bitcoin, Ethereum, and Litecoin. Real-time quotes are available and fees are low. Commissions also drop if you trade digital currencies in high volumes.
✓ Pros
Demo account
20+ account denominations
Comprehensive research and data
Customizable proprietary trading platform and mobile app
Regulated by FINRA with access to the Securities Investor Protection Corporation
✗ Cons
No MT4 or MT5 platform integration
High minimum requirement of $2,500
No forex, commodities or futures trading
Withdrawal fees apply if removing funds more than once per month
Shortcomings regarding platform loading times and technical glitches
Zacks Trade (or ZacksTrade) is a US-based broker with a long trading history. The online platform is popular with US consumers and international clients with a head office address located in Chicago. The broker retains its founder's spirit and analytical approach in all aspect of its service, creating a one-stop solution for day traders. This review will cover fees, account types, trading platforms and more. We will also delve into whether Zacks Trade is "built for active traders" and if it offers services suitable for new and inexperienced investors.
Company Details
Zacks Trade is based in Chicago and was founded by Len and Ben Zacks in 1978. The company offers trading opportunities on ETFs, penny shares, mutual funds, options, bonds and more on 91 exchanges based in 19 different countries. Zacks Trade manages an impressive $5+ billion in assets. The broker is committed to providing retail investors with cutting edge tools, research and customer service to increase their chances of a prosperous trading career.
The brand is a division of LBMZ Securities, the wholly-owned broker/dealer component of the group through Interactive Brokers LLC. LBMZ Securities is regulated and licensed in the US and is a member of FINRA and SIPC. Client securities are also protected by the Securities Investor Protection Corporation up to a maximum of $500,000.
Note, international clients will need to complete an IRS form W-8 upon registration to comply with US tax regulations.
Trading Platforms
Zacks Trade offers just one trading platform; Zacks Trade Pro. Nonetheless, all investors gain access to a Client Portal for investment account management and simple trade opening.
The proprietary Zacks Trade Pro platform is a desktop-based platform that can be downloaded to Windows, Mac and Linux PCs. When we used the bespoke Zacks Trade platform, our experts were pleased with its relatively simple navigation, though it was often quite slow to load.
One brilliant feature is that newbie traders can seek assistance from a licensed brand with broker-assisted trades placed at no extra cost.
Both the Client Portal and Zacks Trade Pro offer many order types including Trailing Stop and Stop-Limit. We outline the details below.
Client Portal
Open and manage simple trades, adjust account settings and access trading statements
Open and close positions
Retrieve tax documentation
Modify account trading permissions
Analyze your portfolio (daily, monthly, or quarterly views)
Add privileges such as margin trading and additional account users
Compare your asset allocation vs the performance of the S&P 500 index
Make deposits and withdrawals or initiate fund transfers from other brokers
Zacks Trade Pro
Suitable for high-volume investors or those looking for advanced technical research and analysis tools
Fully customizable layout
Access 120+ configurable technical indicators
Modify or cancel orders swiftly via the orders window
Create multiple watch lists and customize data columns
Create real-time alerts based on price, time, margin and volume
Use the Strategy Builder feature to create spread orders or option orders with multiple legs
Create multiple flexible and scalable charts within your layout and trade directly from them
Utilize robust tools including Market Scanners, Algos, Rebalance Portfolio and Basket Trader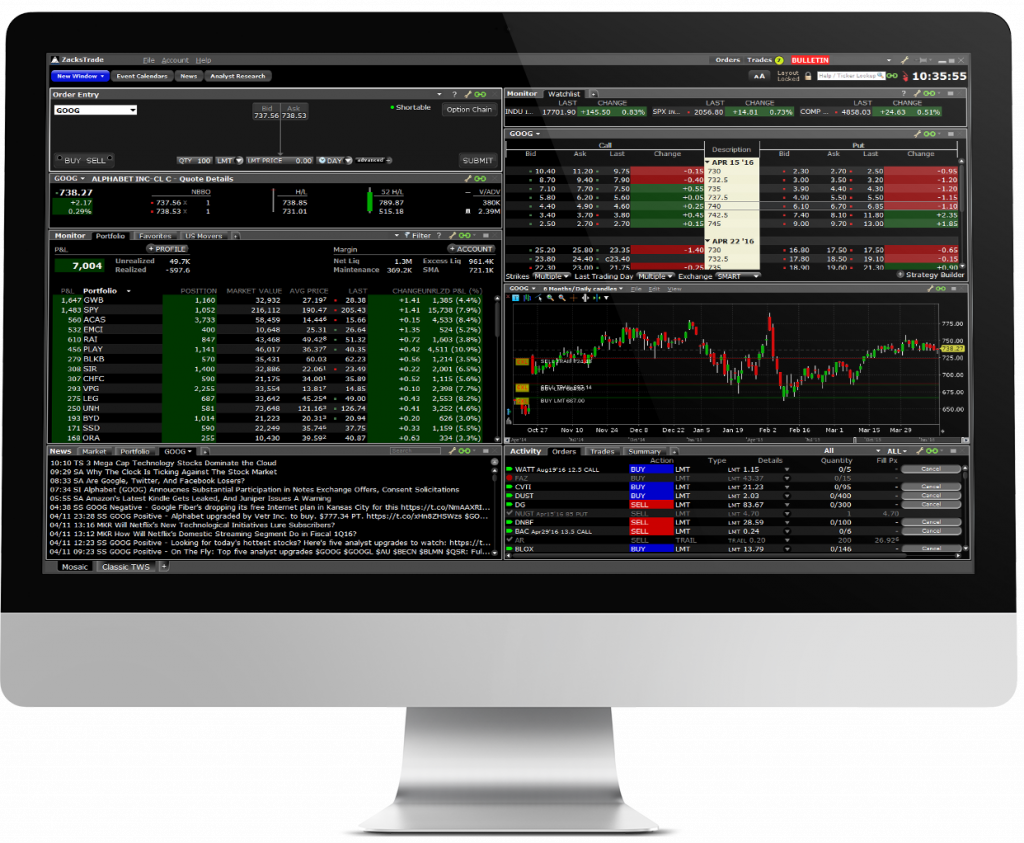 How To Place A Trade
Once you have verified your account, you can begin trading. Use the search bar in the upper right corner of the screen to search for an asset. You will see a list of exchanges and products. Alternatively, browse by watch lists.
After you have selected the product you are you interested in, a trading window will appear. Asset information is displayed, including fundamental data, related news and the latest analyst report.
From here, use the 'Buy' and 'Sell' buttons, which will take you to the order panel. Enter your trade parameters including trade size, execution mode, plus stop loss or take profit level.
Review the order and complete.
Products
Zacks Trade offers international stocks, ETFs and bonds, along with US funds and options. Although most markets available to traders are based in the United States, it is still possible to access stock trading in other areas, such as Australia, Asia and Europe. Note, you cannot trade futures or forex.
The full asset list includes:
ETFs
Bonds
Stocks
Indices
Options
Mutual funds
Cryptocurrency
Zacks Trade Fees
Trading fees vary depending on trading instrument. It is worth noting that retail investors must deposit a minimum of $2,500 to register for an account. This is high vs competitors and may not be suitable for beginners or traders with access to limited capital.
Nonetheless, Zacks Trade offers a competitive commission structure which varies depending on the trading carried out. US stocks and ETFs with a value of $1 or above are charged $0.01 per share, with a $1 minimum fee. Cryptocurrencies have a 0.18% fee based on the trade value, with a minimum charge of $1.75 and no more than 1% of the trade value. Corporate bonds with a face value of $10,000 or less cost 0.01% plus a $3 commission. Government bonds up to a $1 million face value have a fee of 0.025%, with an additional $3 per bond. For options contracts you will pay $1 for your first contract and 75 cents extra for any additional contracts thereafter.
Importantly, although Zacks Trade is one of the most affordable US brokers, particularly for trading shares, penny stocks and options, it is probably not the best broker to choose if you plan to trade mutual funds. Users can expect to pay minimum commissions of at least $27.50 per trade.
The platform does not charge assignment or exercise fees. However, clients should be aware of a $15 inactivity fee per month for dormant profiles. One free withdrawal is permitted each month, though fees apply for any further requests.
Leverage Review
While using Zacks Trade, our experts found margin trading is available to all clients and it is possible to apply for leverage privileges at the time of registration. Leverage of up to 1:2 for overnight trades and up to 1:4 for day trading is accessible. Existing clients can apply for privileges through the Account Management tool in the client dashboard, though a minimum account balance is required.
Accounts qualifying for Reg T margins need to have a $2,500+ balance in cash or securities, and available lending rates vary based on several factors. A rate of 3.56% is charged for a loan amount up to $100,000.
Portfolio margins are also available to clients with holdings valued at $110,000 or more. These essentially offer higher leverage.
Mobile App
Clients can opt for mobile or tablet trading using the Handy Trader app, downloadable from the Apple App Store or Google Play. The Zacks Trade Pro platform cannot be accessed from mobile devices due to limited compatibility including zoom and scroll features.
The Handy Trader allows users to enter and manage orders, view executions, monitor a portfolio, view account balances and more. When using the Handy Trader app on an iOS device, we found the platform to be stable and much faster vs desktop trading.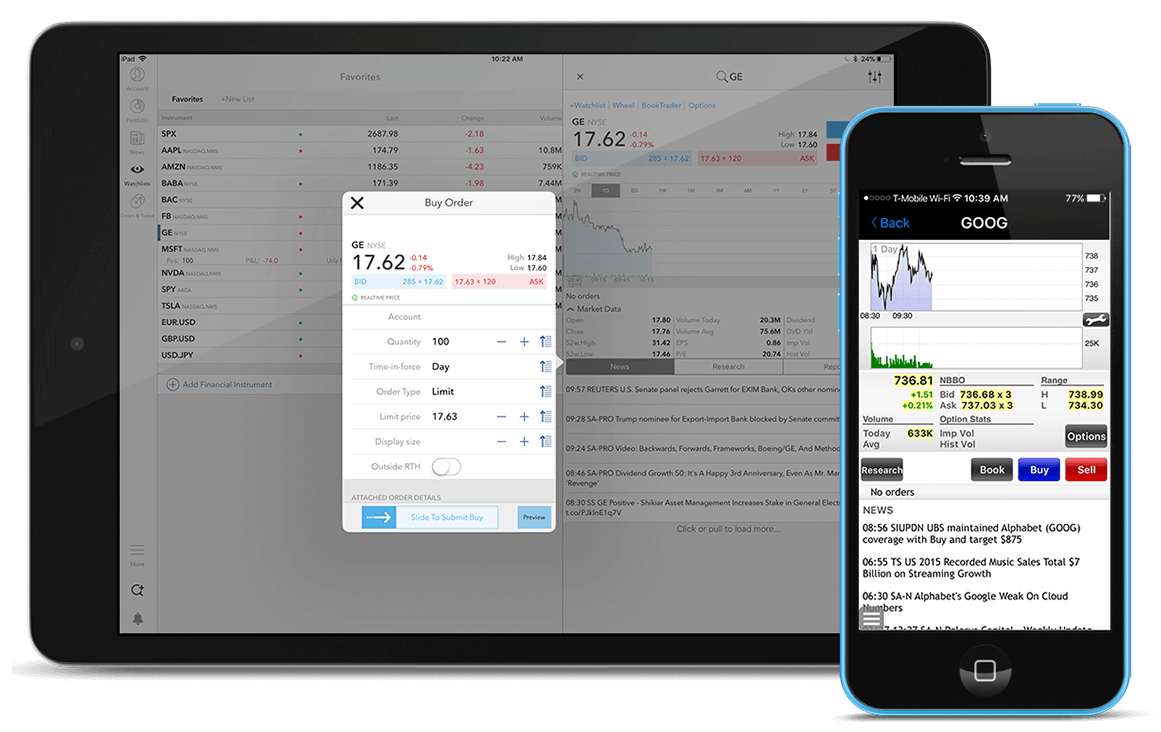 Payment Methods
All new clients need to make an initial deposit of $2,500. There are many different ways to deposit funds, including wire transfers, cheque deposits, and automatic clearing house (ACH) linking to your bank account. When making a payment to Zacks Trade, you cannot use credit/debit cards or electronic wallets.
However, a major advantage of the brokerage is that it accepts 20+ account base currencies such as USD, AUD, CHF, GBP, EUR and HKD. This is significantly more vs competitors including Fidelity and TradeStation.
The first withdrawal you make in any calendar month is free of charge. However, charges apply for any subsequent withdrawals, ranging from $1 for ACH to $10 for wire transfers. Withdrawals can be requested from the Account Management section in your Client Portal screen via the Funding tab. Zacks Trade stipulates how long funds need to be held in an account before any withdrawals can be made, and this includes four business day credit holds for ACH transfers.
Demo Account
Zacks Trade offers a demo account on the Zacks Trade Pro platform. Paper trading accounts are a great way to practice strategies risk-free and learn terminal features and tools.
Access up to $1,000,000 in virtual funds. What's more, you can access 20+ free research subscriptions and 80+ paid subscriptions to inform your investing decisions.
Note, the profile has a time limit of 90 days and all new demo accounts have to be requested via email.
Deals & Promotions
Zacks Trade doesn't offer many promotions or bonuses to attract new clients. The broker does, however, occasionally run a "trade for $1" promotion. This allows investors who deposit within 60 days to trade from just $1 per trade for an entire year.
Although limited in bonuses and financial incentives, the broker does offer clients some affordable trading solutions, access to valuable 'how to' guides via the Support tab, and comprehensive research tools and analysis features.
Regulation & Licensing
Zacks Trade is regulated and licensed in the US by the Financial Industry Regulatory Authority (FINRA) via its parent company LBMZ Securities. The brokerage also has a good reputation with some of the leading review bodies.
Customer securities accounts at Zacks Trade, a division of LBMZ Securities, are protected by the Securities Investor Protection Corporation (SIPC) for a maximum coverage of $500,000 (with a cash sub-limit of $250,000). As with all securities firms, SIPC coverage provides protection against failure of a broker-dealer, not against loss of market value of securities.
Additional Features
We were disappointed with the lack of educational resources and content available to day trading clients. Zacks Trade does not currently offer any training materials or tutorials for new or experienced investors.
The site does, however, supply a massive range of intricate data, most of which can be exported into Excel spreadsheets, though this may not be appropriate for beginners. Nonetheless, the tools available on the trading platform mean it's relatively straightforward to source and analyze data for nearly every publicly listed company in the world.
Additionally, day traders can benefit from access to more than 20 free research subscriptions and 80 premium trials to identify upcoming market opportunities. Subscription fees apply. Publication providers include Morningstar, Dow Jones and Thomson Reuters.
Account Types
The 'Individual' account supports all major investments and day trading. The Individual profile offers access to fast execution, margin trading and a full range of trading tools and research. Retail traders can open accounts in 20+ account denominations including USD, EUR and GBP.
To register, select the 'open an account' logo located on the top-right of each webpage. Complete all required details including email address and telephone number. Previous trading experience and investment goals are used to determine the account style and specifications that will best suit your trading needs. Once the application is complete, the broker's support team will be in touch.
Trading Hours
Zacks Trade opening hours will vary by instrument. You can trade all available markets during their operating hours, meaning you can day trade virtually 24/7. The forex market, for example, is available to trade 24 hours per day between Sunday to Friday. This is true for traders based in Asia, Australia, the US and beyond.
It is worth viewing the published session timetable via the broker's terminal interface. This is particularly useful to stay up to date with upcoming market closures such as public holidays.
Customer Support
Zacks Trade customer service can be contacted via live chat, email, social media, or phone. Customer support is available from Monday to Friday between the hours of 9:00 am and 6:00 pm (ET), although is closed during exchange holidays. Our experts were pleased to find an FAQ section for self-help support.
The following details are available on their website:
Fax: 312.265.9547
Email: support@zackstrade.com
Freephone number: 888.979.2257
Local telephone number: 312.265.9406
Safety & Security
When using the Zacks Trade platform, retail clients should feel assured of adequate security and safety measures. All clients create a unique user name and password to access the platform and receive one-time security codes with random numbers every time they login. The security code devices used by the site offer clients additional peace of mind and protect personal data. It also means the brand can offer higher withdrawal limits on a daily or weekly basis. Smart device users can also use the HandyKey app.
Zacks Trade uses 128-bit SSL encryption to secure all data transmission connection between your computer and the broker.
Zacks Trade Verdict
Experienced traders will find it easy to switch to Zacks Trade if they are already familiar with the platform used by Interactive Brokers. Novice traders may find the site a little overwhelming at first, but learning the ropes is easy with the suite of guides available on the website. The broker is also ideal for anybody looking to trade with leverage across a wide range of markets. Overall, we're comfortable recommending the trading platform to our readers.
FAQ
Is Zacks Trade Legitimate?
Yes, Zacks Trade is a division of LBMZ Securities and is regulated by The Financial Industry Regulatory Authority (FINRA). The firm also offers investor protection through the Securities Investor Protection Corporation (SIPC).
Is Zacks Trade A Broker?
Yes, Zacks Trade is a broker firm, a subsidiary of LBMZ Securities. They are a fully disclosed brokerage through Interactive Brokers LLC, which independently offers customers execution and clearing services.
What Can You Trade On Zacks Trade?
You can trade stocks, mutual funds, bonds, cryptocurrency, EFTs, options and more. In addition, you can purchase fractional shares with leverage.
Is Zacks Trade Investment Research Good?
Zacks Trade offers over 20 research resources available for no charge, and more than 80 reports with a monthly paid-for membership subscription. Their information pool includes Dow Jones Newswires, Morningstar, Seeking Alpha, The Motley Fool, Thomson Reuters and Benzinga Professional.
What Is The Price Of A Zacks Trade Ultimate Subscription?
The research subscription is priced at $59/month or $495/year, and it offers 30-day access to all market insights. In addition, it gives expert advice on top stock picks.
Accepted Countries
Zacks Trade accepts traders from Australia, Thailand, United States, United Kingdom, South Africa, Singapore, Hong Kong, India, France, Germany, Norway, Sweden, Italy, Denmark, United Arab Emirates, Saudi Arabia, Kuwait, Luxembourg, Qatar and most other countries.
Traders can not use Zacks Trade from Canada, Japan.
Payment Methods
Zacks Trade Details
Minimum Trade
$3
Regulated By
FINRA
Account Types
Islamic Account

No

Mobile Apps
iOS & Android
Margin Trading

Yes

Margin Rate
3.56
Volatility Index

No

Spot Trading

No

Perpetual Swaps

No

ELWs

No

REITs

No

AI / Machine Learning

No

Robo Advisor

No

P2P Trading

No

Negative Balance Protection

No

VPS Hosting

Yes

Tournaments

No

Demo Competitions

No

Managed Accounts

Yes

Market Maker

No

Auto Trading
Yes (algos)
Social Trading

No

Inactivity Fee
$15
Guaranteed Stop Loss

No

Stock Exchanges

London Stock Exchange
Nasdaq
New York Stock Exchange
S&P 500
Cryptocurrency Trading Details
| | |
| --- | --- |
| Crypto Spread | 0.18% fee per trade |
| Crypto Lending | No |
| Crypto Staking | No |
| Crypto Mining | No |
| Crypto Auto Market Maker | No |
Top 3 Alternatives to Zacks Trade
Compare Zacks Trade with the top 3 similar brokers that accept traders from your location.
IG Group – IG is an award-winning broker that has an excellent reputation globally. The brand-US offers spread betting, CFD and forex trading across a comprehensive suite of markets. IG is also multi-regulated, provides a great trading app and has 50 years experience.
Go to IG Group
Interactive Brokers – Interactive Brokers is a leading global brokerage that provides access to a comprehensive offering of stocks as well as forex, futures, metals, bonds and cryptos. The firm has over 40 years experience in the online trading industry and is heavily regulated by SEC, FCA, IIROC, and SFC. Day traders can use the proprietary Trader Workstation and can access powerful tools and data feeds as well as comprehensive educational resources.
Go to Interactive Brokers
Forex.com – Forex.com boasts a global reputation with multiple awards and 20+ years experience. Regulated in the US, EU, UK and Canada they provide a huge range of day trading markets, not just forex, and offer competitive fees on a cutting-edge platform. The brand also provides a suite of additional tools, from performance analytics and SMART Signals to advanced charts and strategy builders.
Go to Forex.com
Zacks Trade Comparison Table
Compare Zacks Trade With Similar Brokers
Zacks Trade
IG Group
Interactive Brokers
Forex.com
Rating
3.9
4.4
4.3
4.5
Markets
Stocks, Crypto
CFDs, Forex, Stocks, Indices, Commodities, ETFs, Futures, Options, Crypto, Spread Betting
Forex, Stocks, Commodities, Crypto
Forex, Spot Metals
Demo Account
Yes
Yes
Yes
Yes
Minimum Deposit
$2500
$0
$0
$100
Minimum Trade
$3
0.01 Lots
$100
0.01 Lots
Regulators
FINRA
FCA, ASIC, NFA, CFTC, DFSA, BaFin, MAS, FSCA
SEC, FCA, IIROC, SFC
NFA, CFTC
Bonus
–
–
–
Active Trader Program With A 15% Reduction In Costs
Education
No
Yes
No
Yes
Platforms
Own
MT4, AutoChartist, TradingCentral
AlgoTrader, OmniTrader, eSignal, TradingCentral
MT4, MT5, TradingView, eSignal, AutoChartist, TradingCentral
Leverage
–
1:30 (Retail), 1:250 (Pro)
1:50
1:50
Payment Methods
3
6
11
8
Visit
Visit
Visit
Visit
Visit
Review
–
IG Group
Review
Interactive Brokers
Review
Forex.com
Review
Compare Trading Instruments
Compare the markets and instruments offered by Zacks Trade and its competitors. Please note, some markets may only be available via CFDs or other derivatives.
Compare Zacks Trade Trading Instruments

| | Zacks Trade | IG Group | Interactive Brokers | Forex.com |
| --- | --- | --- | --- | --- |
| CFD | No | Yes | Yes | No |
| Forex | No | Yes | Yes | Yes |
| Stocks | Yes | Yes | Yes | Yes |
| Commodities | No | Yes | Yes | Yes |
| Oil | No | Yes | No | Yes |
| Gold | No | Yes | Yes | Yes |
| Copper | No | Yes | No | No |
| Silver | No | Yes | No | Yes |
| Corn | No | No | No | No |
| Crypto | Yes | Yes | Yes | No |
| Futures | No | Yes | Yes | No |
| Options | Yes | Yes | Yes | Yes |
| ETFs | Yes | Yes | No | No |
| Bonds | Yes | Yes | Yes | No |
| Warrants | No | Yes | Yes | No |
| Spreadbetting | No | Yes | No | No |
| Volatility Index | No | Yes | No | No |
Zacks Trade vs Other Brokers
Compare Zacks Trade with any other broker by selecting the other broker below.
Customer Reviews
There are no customer reviews of Zacks Trade yet, will you be the first to help fellow traders decide if they should trade with Zacks Trade or not?
Visit
Zacks Trade is a FINRA-regulated US broker offering trading on stocks, ETFs, cryptocurrencies, bonds and more through a proprietary terminal. The broker is geared toward active traders and offers very affordable fees on most assets as well as an app and a vast amount of market data.