Unidex Review 2023


Available in United States
UniDex will serve active crypto traders looking for advanced trading software with TradingView integration. The DeFi platform offers access to major tokens like Bitcoin and a long list of altcoins.
- DayTrading Review Team
UniDex is an inclusive DeFi network, launched in 2021. The exchange supports several crypto trading activities including options aggregation, leveraged investments and cross-chain trading. UniDex uses 160+ liquidity partners to source the best pricing with $40+ billion in aggregated liquidity.
$43
Own
Cryptos
-
Bitcoin Payments
Crypto Trading
UniDex offers a huge range of popular and emerging DeFi tokens including Bitcoin, Ethereum and Litecoin. Traders can also invest in the brand's native token UNDX, and be compensated with fee rebates. Transaction fees are floating, typically fluctuating between $24 and $29.
✓ Pros
User-friendly exchange with TradingView charts and 100+ technical indicators
Access to competitive market prices with an advanced liquidity engine
Native exchange token with fee rewards and governance power
50% of trading fees are distributed to UNIDX coin holders
Automated trading via bots like the UniDexBot
Access to 200+ trading protocols
✗ Cons
Limited contact options with no live chat or telephone support
Unregulated firm with limited regulatory credentials
Trails the best brokers for crypto education
No desktop download or mobile app
Relatively young technology
No demo trading
UniDex is a crypto exchange that endeavours to provide a high-quality, reliable place to trade DeFi tokens and take advantage of the rapid growth of the sector. Developed by a group of experienced investors and traders, UniDex offers an easy to use platform that maintains a rich range of features and tools.
Whether you are in the USA, the UK, Japan, the Netherlands (Holland), Warsaw or even Malaysia, the broker offers a relatively secure platform to trade crypto securities and derivatives.
This review will unpack its bot support, gas fees, website app and other key features.
What Is UniDex?
UniDex is first and foremost a DeFi exchange, facilitating the trade of digital tokens. The platform supports a range of high and low-level utilisation tools and trading operations on a streamlined platform that can be run on Windows and Mac computers via browsers. Unfortunately no desktop client or mobile and tablet (iOS or APK) downloads are available yet. That being said, the development of mobile app support is in the pipeline. The broker also has its own native exchange token, UNIDX.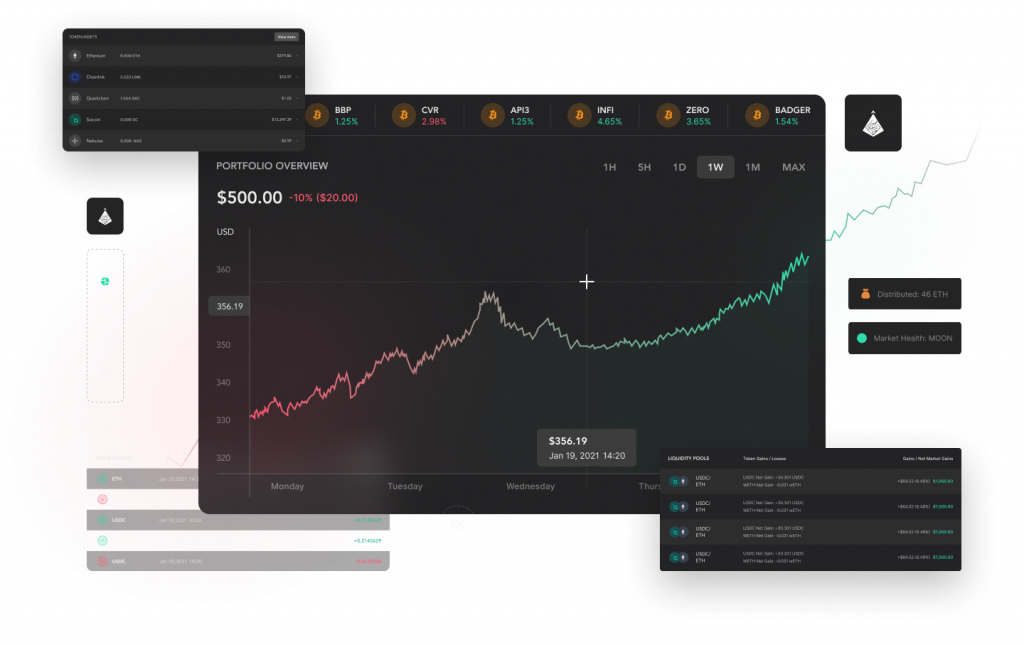 UniDex's exchange platform is based on massive liquidity, with over 75 of the top liquidity pools from other DEXs aggregated under the same roof. This ensures that clients have access to some of the best prices available and mitigates the issue of slippage that has been plaguing the sector, essentially making the broker a manipulator of a wide range of DEXs. When trading, their advanced liquidity engine is constantly re-evaluating prices while you are filling out the order. If a better price is found, the broker turns the rotary switch at the last minute, taking advantage of the enhanced trading conditions.
The platform allows users to manage their accounts, access third-party digital wallets and carry out transactions quickly and efficiently. The beta app supports several chart and graph reviewing options plus analysis tools, which can also be used in tandem with tools like Staker, where users can lock their funds into contracts and get further rewards.
How UniDex Works
The core aim of UniDex is to allow its users to trade digital assets within their wallets, ensuring better data and capital protection. Not only does UniDex support transactions with only one blockchain, but it also allows transactions involving coins belonging to different blockchains.
UniDex Ecosystem
The UniDex ecosystem features over 200 supported protocols, which connect traders with the best lending markets and yield optimisers, including Safestar and Safemoon. The broker is in good company and has access to the largest DEX, Uniswap.
While many would think of UniDex vs Uniswap as competitive, that is not the case. Uniswap provides capital-efficient protocols for UniDex traders to help it and the DeFi industry grow and the ecosystem brings all the various protocols together into one large family, allowing users to trade on all these platforms, benefiting the entire community.
Assets
Through UniDex, users can trade a wide variety of digital assets, from stocks to NFT art. As the exchange grows, more complex services are becoming available, such as lending and borrowing, perpetuals, derivatives and other yield aggregators. The sheer number of protocols supported, in addition to the wide variety of assets available, sets UniDex up as an effective multitrade club, where users can trade almost anything they want over any DEX, CEX or chain.
Mirai Liquidity Engine
The Mirai Liquidity Engine is the backbone of UniDex. It is the software that allows the exchange to act like an API, communicating between all the protocols and aggregating all financial products. The advanced engine even aggregates other aggregators, which ensures the system is able to lift the best prices and put the best routes on the table for users.
Rewards
UniDex earns its revenue through trading fees and commissions charged to users. However, 50% of what it collects gets redistributed back to its token holders. This means that by just holding the token, users are rewarded with a daily injection of coins, relative to the number they hold and the daily trading volume. These rewards can be received as a wide variety of tokens and crypto coins.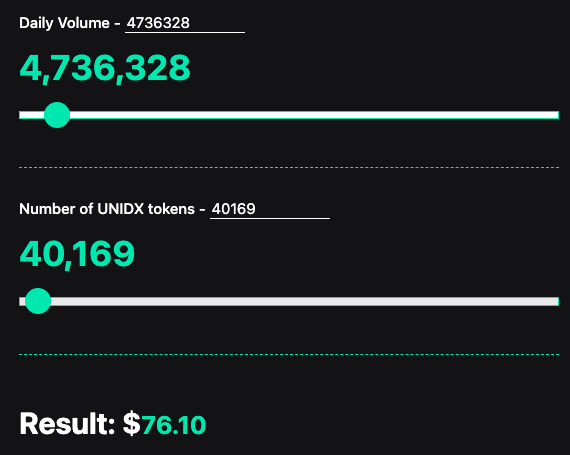 Robots
UniDex supports the use of automated trading through bots, such as UniDexBot. These allow users to implement their trading strategy by way of an algorithm that can open and close positions, place stop and limit orders and take much of the work out of trading. All the same benefits of UniDex are still present, with the added security of knowing that tokens will be automatically sold if a threshold is hit to minimize losses.
Pricing
UniDex has a gas price or transfer fee, which is necessary to conduct a transaction across their extensive network. The current gas price is $43.40, though this varies and can be tracked on sites like Coingecko. 50% of these fees are fed back to the broker's clients by way of additional digital tokens. The fee also contributes to the purchase and burn of some circulating tokens, to keep them scarce and limit inflation.
Security
UniDex is partially protected by its decentralised structure, which increases financial security and transparency. Furthermore, it reduces the risks associated with centralised exchanges getting hacked. Users also have the option to use 'cold wallets', such as hardware wallets, which helps stop the tokens from being hacked.
Customer Support
UniDex customer service cannot be contacted via traditional methods, such as email, post or telephone. Instead, the broker mostly uses social media, including Telegram, Discord, Medium and Twitter to talk to its clients. Additionally, you can leave your query and phone number or email address on a ticket for UniDex to contact you back.
Getting Started With UniDex
UniDex has a straightforward sign-up process that involves following a simple login process and then connecting your wallet through the web portal. So long as you have enough crypto in your wallet to pay the gas fee, you can start trading cryptos.
The UniDex native currency, UNIDX, cannot be purchased with fiat money. Therefore, a major cryptocurrency like Bitcoin or Ethereum must first be bought and then exchanged for UNIDX. Alternatively, an altcoin exchange like Binance can be used to purchase the coin.
Additional Features
For those looking to learn more about UniDex and crypto trading in general, the broker's founder and CEO, Krunal Amin, streams live on Twitch. Here he has posted demos of UniDex to showcase its features, as well as other fun and educational videos.
UniDex has also added its official user manual and support to WalletConnect, which has made it possible for traders to use almost any wallet, either on desktop or mobile, to trade on the platform. In doing this, UniDex has become the heart of a massive web that has made trading DeFi and exchanging tokens easier than ever.
UniDex Verdict
DeFi is a fast-growing and expanding sector, and UniDex has placed itself firmly at the centre of it. It is a platform built by traders, for traders, with access to many investing protocols, DEXs and CEXs. UniDex is looking to grow into the go-to DeFi trading platform, whether for cryptocurrencies, NFTs or digital derivatives. The powerful trading platform and underlying software are definite advantages, although the lack of regulation does provide some food for thought. While a regulated broker's clients would have more legal protection, this often requires some personal data and one of the main selling points of DeFi is anonymity. Overall, UniDex is an excellent all-round platform.
FAQs
What Do I Need To Trade On UniDex?
All you require to begin using the UniDex exchange is a crypto wallet with more than the gas fee in it. However, you may require the native token to trade on certain exchanges. For example, if you are trading on the BSC main net, you may need BNB to trade any BEP20 token.
How Do I Switch Between Chains To Trade Different Networks?
Your wallet may vary, but using your wallet's network selector and connecting to the appropriate network will let you start trading on specific non-cross-chain protocols.
Is UniDex Safe To Trade On?
While there is a risk associated with any online trading, the decentralized nature of UniDex ensures it is one of the safer and more secure platforms to trade on. That being said, the lack of regulation affords clients less legal protection in the event of financial issues.
How Can I See My UNIDX Rewards?
Look up your wallet on the appropriate block explorer, such as Etherscan or Bscscan, to view your balance history and find your recent rewards pay-outs.
Is There Staking Offered For UNIDX?
There is no staking required or offered for the UNIDX token. Instead, users simply hold tokens in their wallets and are automatically sent rewards.
Where Is The UNIDX Token Traded?
All liquidity currently exists on Uniswap and can be traded either on UniDex or directly on Uniswap.
How Does UniDex Compare To Fox Finance?
UniDex is a newer business than Fox Finance, though with a similar business model. The former has access to deeper liquidity and a much larger range of assets and markets. However, Fox Finance has lower fees and a larger trading community. Neither can be considered as the best, though, as they both have their pros and cons and the ideal broker for you is subjective.
Accepted Countries
Unidex accepts traders from Australia, Thailand, Canada, United States, United Kingdom, South Africa, Singapore, Hong Kong, India, France, Germany, Norway, Sweden, Italy, Denmark, United Arab Emirates, Saudi Arabia, Kuwait, Luxembourg, Qatar and most other countries.
Payment Methods
Unidex Details
| | |
| --- | --- |
| Minimum Trade | $20 |
| Islamic Account | No |
| Mobile Apps | iOS & Android |
| Margin Trading | Yes |
| Volatility Index | No |
| Spot Trading | Yes |
| Perpetual Swaps | No |
| ELWs | No |
| REITs | No |
| AI / Machine Learning | No |
| Robo Advisor | No |
| P2P Trading | No |
| Negative Balance Protection | No |
| VPS Hosting | No |
| Tournaments | No |
| Demo Competitions | No |
| Managed Accounts | No |
| Market Maker | No |
| Auto Trading | Yes |
| Social Trading | No |
| Guaranteed Stop Loss | No |
Cryptocurrency Trading Details
Crypto Spread
Variable
Crypto Lending

No

Crypto Staking

No

Crypto Mining

No

Crypto Auto Market Maker

No

Crypto Coins

1INCH
AAVE
ALCX
ALEPH
ALPA
ALPHA
AMP
AMPL
ANKR
ANT
ANY
API3
APW
ARCH
ARMOR
ASSY
AUDIO
AXS/v1
AXS/v2
BAB
BAC
BADGER
BAL
BAND
BANK
BAO
BASK
BAT
BCP
BDI
BLO
BOR
BSE
BTC2x-DFLI
BUSD
BZRX
CEL
COL
COMBO
COMP
CORE
COVER
CREAM
CRETH2
CRO
CRV
CTX
CVP
CVX
DAI
DAO
DDX
DEFI+L
DELTA
DERI
DEXTF
DFD
DFX
DG
DIGG
DNT
DOUGH
DPI
DRC
DSD
DUCK
DUSD
EGT
ENJ
ESD
ETH
FARM
FLOAT
FNX
FRAX
FRONT
FTM
FTT
FXS
GHST
GNO
GRT
HBTC
HEGIC
HEZ
HUSD
ICE
ICHI
ICHI
IDLE
ILV
INDEX
INJ
INV
JRT
KP3R
LDN
LDO
LEND
LEV
LFBTC
LIFT
LINA
LINK
LON
MANA
MARK
MARS
MASK/MaskNetwork
MASK/hashmasks
MATIC
MEME
MIC
MIS
MIS2
MKR
MLN
MM
MPH
MTA
MUST
NAOS
NCT
NEAR
NFTX
NSBT
OCEAN
OHM
OMG
ONX
OPIUM
OUSD
PAX
PENDLE
PERP
PICKLE
PIPT
PLAY
PMON
PNK
POLY
PREMIA
PUNK
RAI
RARI
RAY
REN
RGT
RLC
ROOK
ROPE
RSR
RULER
RUNE
SAK3
SDT
SEEN
SFI
SI
SNX
SPANK
SPELL
SRM
STAKE
SURF
SUSHI
SWAG
SX
TCAP
TORN
TRDL
TRU
TUSD
TXL
UMA
UMB
UMX
UNI
UNIDX
UOP
USDC
USDN
USDP
USDT
UST
UWL
VSP
WASABI
WAVES
WBTC
WET
WETH
WOO
WOOFY
WSCRT
XFT
XVIX
YAM
YAX
YETI
YFI
YLA
YLD
YOP
ZIG
ZLOT
ZRX
arNXM
bBADGER
bDIGG
cDAI
cvxCRV
ibBTC
ibETHv2
jCHF
jEUR
jGBP
mBTC
mbBASED
nTRUMP
oBTC
oneBTC
oneETH
oneLINK
oneVBTC
oneWING
pONT
pWING
renBTC
renDOGE
sUSD
tBTC
vBTC
Compare Unidex
Compare Unidex with similar brokers that accept traders from your location. Among available brokers these are the most similar to Unidex:
IG Group – IG is an award-winning broker that has an excellent reputation globally. The brand-US offers spread betting, CFD and forex trading across a comprehensive suite of markets. IG is also multi-regulated, provides a great trading app and has 50 years experience.
Go to IG Group
Just2Trade – Just2Trade is a reliable multi-regulated broker registered with FINRA, NFA and CySEC. The company has 155,000 clients from 130 countries and stands out for its huge suite of instruments and additional features, including a social network, robo advisors and a funded trader programme.
Go to Just2Trade
Kraken – Kraken is a leading cryptocurrency exchange with a proprietary trading terminal and a list of 220+ tradeable crypto tokens. Up to 1:5 leverage is available with stable rollover fees on spot crypto trading and up to 1:50 on futures. The exchange also supports crypto staking and has an interactive NFT marketplace.
Go to Kraken
Unidex Comparison Table
Compare Unidex With Similar Brokers
Unidex
IG Group
Just2Trade
Kraken
Rating
2
4.4
3.5
3.9
Markets
Cryptos
CFDs, Forex, Stocks, Indices, Commodities, ETFs, Futures, Options, Crypto, Spread Betting
Stocks, ADRs, ETFs, Futures, Options, Commodities, Bonds
Cryptos
Demo Account
No
Yes
Yes
Yes
Minimum Deposit
$43
$0
$100
$10
Minimum Trade
$20
0.01 Lots
0.01 Lots
Variable
Regulators
–
FCA, ASIC, NFA, CFTC, DFSA, BaFin, MAS, FSCA
CySEC, NFA, FINRA, Bank of Russia
FCA, FinCEN, FINTRAC, AUSTRAC, FSA
Bonus
–
–
Up to $2,000 for professional accounts
Lower fees when trading volume exceeds $50,000 in 30 days
Education
No
Yes
No
Yes
Platforms
Own
MT4, AutoChartist, TradingCentral
MT4, MT5, TradingCentral
AlgoTrader
Leverage
–
1:30 (Retail), 1:250 (Pro)
1:20
–
Payment Methods
1
6
20
6
Visit
Visit
Visit
Visit
Visit
Review
Unidex
Review
IG Group
Review
Just2Trade
Review
Kraken
Review
Compare Trading Instruments
Compare the markets and instruments offered by Unidex and its competitors. Please note, some markets may only be available via CFDs or other derivatives.
Compare Unidex Trading Instruments

| | Unidex | IG Group | Just2Trade | Kraken |
| --- | --- | --- | --- | --- |
| CFD | No | Yes | Yes | No |
| Forex | No | Yes | Yes | No |
| Stocks | No | Yes | Yes | No |
| Commodities | No | Yes | Yes | No |
| Oil | No | Yes | Yes | No |
| Gold | No | Yes | Yes | No |
| Copper | No | Yes | No | No |
| Silver | No | Yes | Yes | No |
| Corn | No | No | No | No |
| Crypto | Yes | Yes | Yes | Yes |
| Futures | Yes | Yes | Yes | Yes |
| Options | Yes | Yes | Yes | No |
| ETFs | No | Yes | Yes | No |
| Bonds | No | Yes | Yes | No |
| Warrants | No | Yes | No | No |
| Spreadbetting | No | Yes | No | No |
| Volatility Index | No | Yes | No | No |
Unidex vs Other Brokers
Compare Unidex with any other broker by selecting the other broker below.
Visit
UniDex is an inclusive DeFi network, launched in 2021. The exchange supports several crypto trading activities including options aggregation, leveraged investments and cross-chain trading. UniDex uses 160+ liquidity partners to source the best pricing with $40+ billion in aggregated liquidity.