Trading Station 2
Trading Station 2 is a trading platform developed for the online broker FXCM and is only available for FXCM traders. It is an easy-to-use platform developed with beginners and advanced traders in mind. The platform consists of a web trader, a downloadable desktop trading client, and a mobile client. All versions of the trader are well-designed and easy to use. The different versions offer similar but not identical features. If you want to use a certain feature, you might have to use a certain version of Trading Station.
Trading station Web 2.0
Trading station Web 2.0 trader is a sleek, modern-style trading platform built in HTML5. This means that the platform works on both PC and Mac. The web trader has an excellent user-friendly design and is very easy to use even if you have never used a trading client before while at the same time offering more advanced features that you more commonly see in downloadable trading clients.
You access the web trader directly in your web browser; there is no need to download or install any trading software on your computer. Trading station web makes it easy to make trades as well as generate reports.
The web trader is highly customisable. You are able to customise the layout with easy and can choose which widgets you want to show where. The layout is grid-based, and you can place any widget anywhere you want on that grid. You can also choose to resize the different widgets to make certain widgets more prominent or allow for more widgets to be shown on the screen simultaneously. You can choose which widgets to show. Once saved, Webtrader will remember your layout and use it regardless of which computer you log in from. Unfortunately, you cannot change the background colour of the layout, but this is a minor complaint. You can easily return to the default layout if you customize the trader but feel unhappy with the results.
Trading station web offers very good features for charting and analysing the market. The web-based trader offers charting features that you often only see in desktop trading apps. This makes trading station ideal for traders who want access to advanced charting features without having to use a downloadable app.
Trading station web trader will remember all your work and let you view and continue it on any computer as long as you log in to the web trader. It is possible to create and track multiple charts. Features in the web trader include technical indicators, popular chart elements, real-time data, and free historical data. You will need to download the desktop trader if you want to use custom indicators that are not provided by default. It is not possible to use custom indicators in the web version of the trader.
It is possible to execute trades directly from the charts. This makes it possible to act very quickly on the information provided by the charts.
Trading station web trader is one of the best web traders we have tried. One of its key strengths is that it is so customizable. It is easy for a beginner to create a trading layout that he or she feels comfortable with. More advanced traders can add more widgets to the screen, so they get access to all the information they want to display. Without this customizability, it is easy to see that the software would become too overwhelming for beginners and not advanced enough for advanced traders. With the customizability, everyone can create a trader that suits them.
Trading station for Desktops
If you prefer to trade directly on your desktop rather than in your browser, then you can use the desktop version of Trading station. Simply download the software from FXCMs website. FXCM Desktop Trading Station is a well-designed, easy-to-use software.
Trading station 2 for the desktop is fully modular and allows you to decide what information you want to display on the screen. You can choose where you want the information to be displayed.
The freedom to customize trading station 2 to such a high degree makes it a very user-friendly trading software. Beginners can choose only to show the most basic features to get a very easy-to-use platform. Advanced users can customize trading station 2 to show more advanced data and functions to suit their needs. Advanced traders will appreciate Marketscope 2.0, the built-in charting tool.
Trading Station Mobile Platform
The Trading Station Mobile platform is an app you can download to your smartphone or tablet. While some mobile trading apps out there feel like clunky versions of the web trader interface, the Trading Station app works great on touch screens and is very easy to use, even on fairly small screens.
Downloading and installing the mobile app is easy; simply use your mobile device to scan the website's QR code and follow the step-by-step instructions on-screen.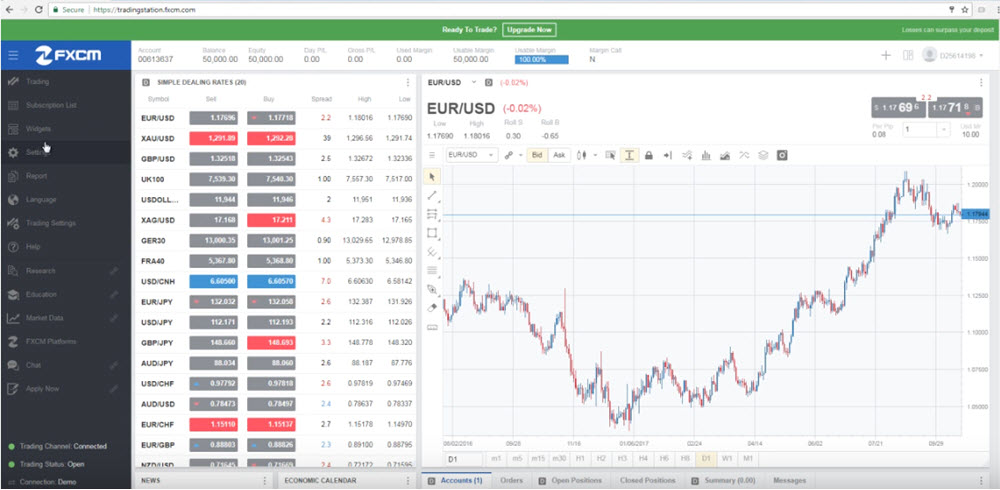 General info
Get a Free Demo Account Filled With Play Money to Explore the Platform
With FXCM, you can sign up for free and open a Demo Account filled with play money. Use this play money to explore the Trading Station Web 2.0 platform and see if you like what it has to offer. There is no need to "buy a pig in a poke" here.
Technical Analysis
The platform includes a lot of support for traders interested in doing technical analysis, and there is also quite a lot of educational material available if you want to learn more about technical analysis and improve your skills.
Here are a few examples of popular technical analysis features included in trading station 2:
Market data is integrated into the platform and available for free. This also includes access to fundamental data.
Both simple and advanced indicators are available for free. There are dozens of pre-loaded indicators to choose from.
It is easy to customize both chart format and periodicity and set your own price alerts.
You can compare instruments with price overlays.
You can trade directly from the charts, a truly valuable feature in high-stress situations where every moment counts.
Charts can be viewed and used in full-screen mode. It is also possible to detach and move them to a second monitor screen.
You can elect to share your charts with friends.
You need to download the desktop client if you want the most advanced tools possible but the web trader also offer very good analytical tools.
Improve Your Trading
As traders, we always strive to become even better. With the Trading Station Web 2.0 platform, it is easy to use both market data and your own historical trading data to shine a light on your own strengths, weak spots and hidden opportunities for growth.
One good place to start is to use the integrated forex strategy backtesting feature for backtesting your strategies before you start putting any real money on the line. Boost the positives and mitigate the negatives of your strategy before you put skin in the game.
We also suggest you look at the Forex Strategy Optimization tool, a nifty strategy optimizer with multiple sortable data fields.
Examples of Other Popular Features
A free news feature is integrated into the platform.
Customized Trading Analytics is available directly on the platform.
Does FXCM Offer Virtual Private Server Hosting for FX Trading on the Trading Station?
Yes, they do, and you can sign up for it right on the website. With Virtual Private Server (VPS) Hosting, you do not have to rely on the performance of your home device.
Important:
The VPS hosting is provided through a third party, so it is not provided directly by FXCM. Check the terms and conditions before you sign up to be sure you understand who is responsible for what.
The VPS hosting is not free. At the time of writing, the monthly fee is 30 units of the account's base currency (exceptions are in place for certain low-value currencies, such as JPY).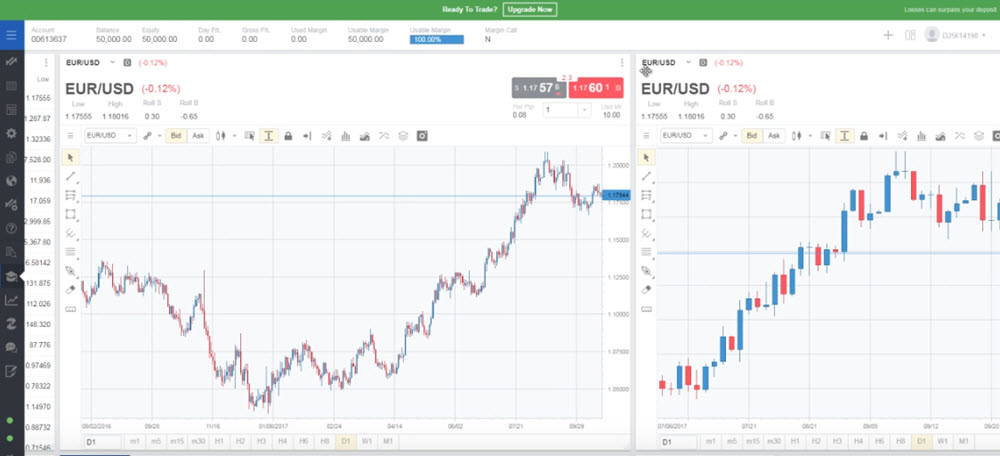 Customer support
You can reach customer support through phone, live chat and email. The support staff is available 24 hours a day, 5 days a week.
Local phone numbers or international free phone numbers are available for FXCM traders in many different countries, so check if your place is on the list. That way, you can avoid having to make a potentially costly phone call abroad. The main phone number for customer service in Europe is +357 220 226 19, but local numbers are available for many European countries.
The email address is info@fxcm.co.uk for traders in the United Kingdom and info@fxcm.eu for traders in other parts of Europe. For other parts of the world, check the FXCM website.
About the Broker FXCM
Forex Capital Markets (FXCM) is a retail foreign exchange broker that has been active since the late 1990s. Thus, it is a very well-established broker and is considered one of the pioneers in online retail forex trading.
It is not active in the United States anymore and has withdrawn its CFTC registration, as it was embroiled in a legal battle there, and in 2017 agreed to pay $7 million to settle a suit from the U.S. Commodity Futures Trading Commission (CFTC).
Global Brokerage Inc used to be the parent company of FXCM, but FXCM Group is now owned by Jefferies Financial Group (formerly known as Leucadia National Corporation).
Around the world, FXCM operates through various subsidiaries in order to adhere to local legislation and licensing requirements.
Examples:
Forex Capital Markets Limited is authorised and regulated in the United Kingdom by the Financial Conduct Authority (registration number 217689). It is also registered in England and Wales with Companies House company number 04072877.
FXCM EU LTD is based in Cyprus, which is a member of the European Union. FXCM EU LTD is a Cyprus Investment Firm registered with the Cyprus Department of Registrar of Companies (HE 405643) and authorised and regulated by the Cyprus Securities and Exchange Commission ("CySEC") under license number 392/20. Since Cyprus is part of the European Union, FXCM EU LTD must adhere to both Cypriotic and European Union regulations.