TRADEPRO Academy Review 2023
TRADEPRO Academy is a stock, options and futures trading education provider. The company teaches investors how to identify factors that influence price, such as order flow, in order to choose suitable entry and exit points. TRADEPRO runs online courses and has live trading rooms to enable investors to learn from professionals. This review of TRADEPRO Academy will explain more about what the company has to offer.
What Is TRADEPRO?
TRADEPRO aims to enable traders to develop the skills needed to become successful investors and profit from trades and speculative positions. The company focuses on three main asset classes: stocks, options and futures. The service is available to traders in the USA and the UK, as well as investors in many other parts of the world.
The trading courses include a mixture of lessons, application exercises, quizzes and much more. Clients will also gain access to the Market Research Center, which provides additional insights, such as a list of stocks with growth potential. All material, whether opportunities to test futures trading knowledge or professional market reviews, helps customers to successfully identify suitable positions for wise investments in securities and derivatives. TRADEPRO Academy video material has also been uploaded to Vimeo, a popular video-sharing platform.
Once you pay for the cost of the course, there is no expiry date, so you can continue to enjoy the content and market updates indefinitely.
How TRADEPRO Courses Work
TRADEPRO offers three main products or course types, detailed below.
Stock Trading Course (Foundations Course)
This is a beginner-level course that is perfect for amateur traders to learn how to undertake technical analysis and trade successfully.
The course includes 16 lessons, including ones that focus on technical analysis and a lesson on creating a trading plan. Lesson quizzes, application exercises, a trading plan creation guide, a trading journal and a workbook are also included. That is not to mention the Stock Trading Risk Management Course, Stock Screener Course and the Swing Trading Stock Principles resources.
Traders will also have access to the Stock Trading section of the Market Research Center, which will provide monthly updates on value stocks and growth stocks. Although this part of the Market Research Center is not updated as frequently as other parts, TRADEPRO says that quarterly and annual reports will be coming soon, which should increase content delivery. To keep up-to-date with urgent matters arising from stocks, keep an eye on what is posted on the Discord server.
Note that this course is also included as part of the Options Trading & Order Flow Course.
Options Trading & Order Flow Course
This course is said to be of 'intermediate' level.
The options course focuses on order flow and how large orders (e.g from institutional investors) can significantly impact the price of an asset. TRADEPRO aims to teach traders how to identify where and when large orders are being placed and how to act on this information.
TRADEPRO provides similar resources for this course to those on the Foundations Course, such as a trading journal and application exercises. 16 actionable lessons are included. Understanding the basics of options and learning how to undertake advanced order flow analysis are key components of the course.
The TRADEPRO Options Trading & Order Flow Course includes other resources, such as access to day trading options strategies and a platform setup guide. The good news is that, to help you as a trader, the programs will help analyse what institutional money is buying and use this information to provide you with options trading ideas. Ideas and analysis can also be shared in the Options Trader Community Chat.
As with the Stock Trading Course, the Options Trading & Order Flow Course provides access to the Market Research Center (in this case, the Options Trading Portion of it), where you can find market updates and a weekly newsletter on swing ideas. On Sundays, those subscribed to the options course (in addition to those on the TRADEPRO futures course), will have access to a live market analysis webinar.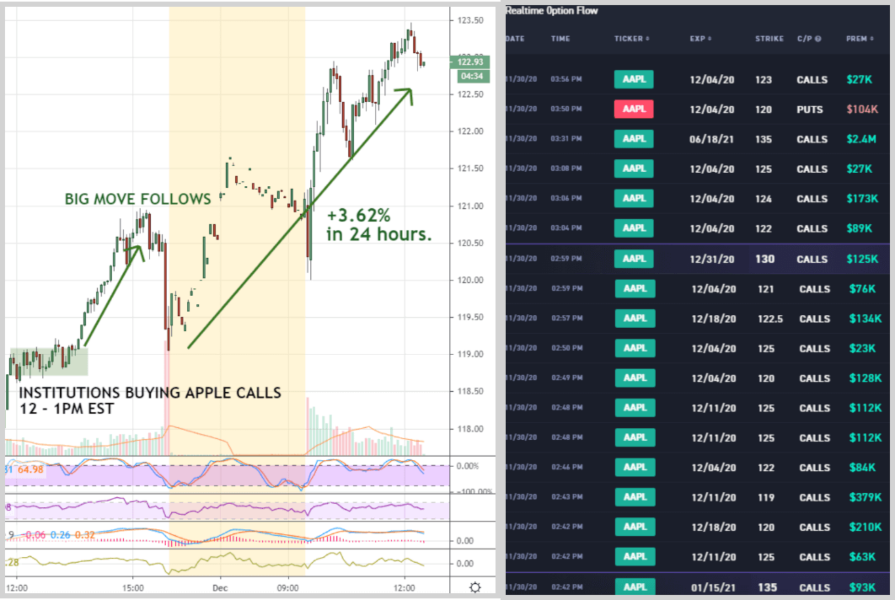 Futures Day Trading & Order Flow Course
The difficulty level of the Futures Day Trading & Order Flow Course is 'Intermediate to Advanced'. Like with the options course, a large focus of this course is on order flow analysis.
In addition to 17 lessons (plus a bonus session) covering topics from chart types to breakout strategies, resources include a Futures Trading Workbook, as well as Sierra Charts templates and a software course. The programme will equip traders with a full trading plan template and five trading setups.
The TRADEPRO Market Research Center has a weekly report on the past week of futures trading and what to expect next, with sections on the S&P 500, Nasdaq, Crude Oil and Gold.
Also keep in mind that the Futures Day Trader course and the Options Trader course both include the NLP Trading Psychology course, although this is not featured in the Stock Trader programme. NLP trading psychology courses focus on the mindset of a successful trader and how to set realistic trading objectives.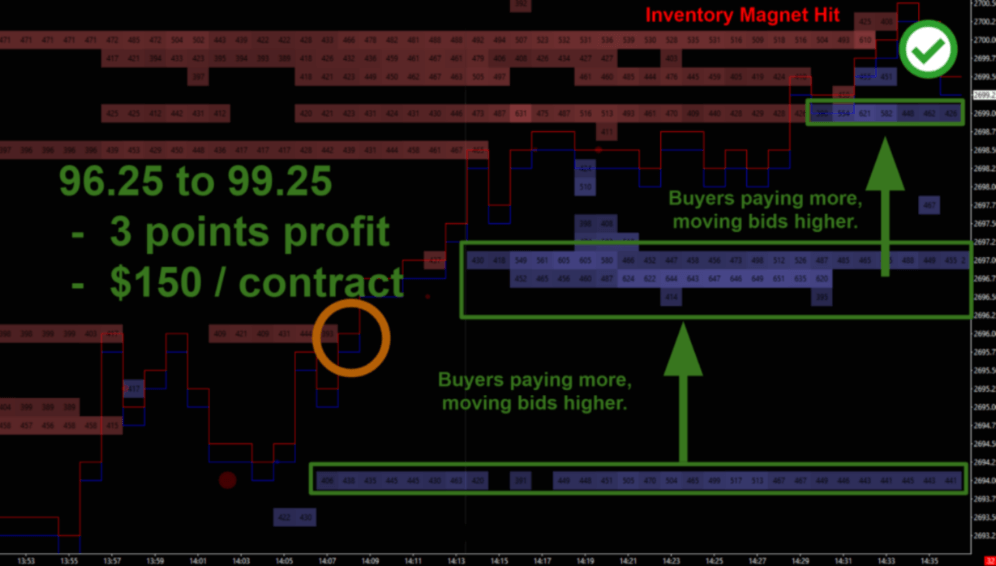 Trading Rooms
Two live trading rooms are also offered by TRADEPRO: the Futures Live Day Trading Room and the Options Live Day Trading Room.
These allow traders to see trading ideas in action and learn from a particular trading strategy taught on a course being applied to a real scenario. The moderators of these rooms, who are professional traders, can provide trading tips, support and insight into the market. In addition to interacting with the moderators, you will be able to interact with fellow traders to further enhance collaboration.
The live room is open from 09:00 EST (Monday-Friday, excluding market holidays) with pre-market analysis, followed by live trading and interactive learning from 09:30 – 11:00 EST. Hours are the same for the Futures Trading Room.
Traders can also subscribe to the TRADEPRO Academy Discord server for live trading ideas and commentary for the rest of the day (i.e from 11:1 – 17:00 EST on weekdays).
Pricing
The online courses offered by TRADEPRO incur a one-time charge that varies from course to course but which allows for continuous access to the course materials with no end date.
The Stock Trader course is $699, the Options Trader course is $1,499 and the Futures Day Trader course is the most expensive at $1,999.
Trading Room Fees
An additional monthly fee is charged to those who want access to the live trading rooms. This is $179 per month for the options room and $219 per month for the futures room.
Pros Of TRADEPRO
No end date for accessing the course material
Traders can collaborate with other traders to share ideas and analysis
Live trading rooms offer opportunities to apply course lessons to real-life scenarios
Cons Of TRADEPRO
No mobile/tablet app
Articles on the Stock Trading section of the Market Research Center are only updated monthly
Customer Support
In addition to being able to interact with moderators through TRADEPRO's live trading rooms, the following customer support is available:
Submit a ticket via the website and receive a response within 24 business hours
Live Chat: available in the bottom right corner of the website
Phone Number: +1 866-887-2338
Email: info@tradeproacademy.com
Six months of email and chat support is also included with the Options Trader and Futures Day Trader packages, though not with the Stock Trader package.
TRADEPRO also has accounts on the following social media platforms: Facebook, Twitter, Instagram and LinkedIn, as well as a YouTube channel with 60,000 subscribers.
How To Register
To join a course, simply navigate your way to the 'Pricing' page of the TRADEPRO website and there will be an option to 'Buy Now' underneath each course. Next, enter some personal details, your payment details and your billing address to submit the order. The process is simple and quick. This information will also be required for those wishing to subscribe to a live trading room. Once signed up, simply login using your username and password when you want access to your account.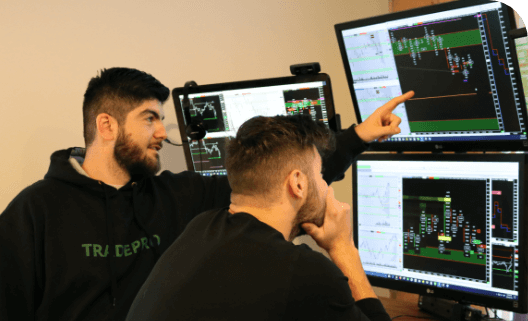 Mobile App
Unfortunately for traders who want to learn on the go on a mobile or tablet device, TRADEPRO does not offer an app. The company's content must be accessed through its website. However, many traders will find it easier to navigate and benefit from the resources available on a desktop device rather than on a mobile device. For example, it may be easier to undertake technical and order flow analysis on a larger screen (i.e on a desktop).
Although a mobile app is not available, traders can listen to TRADEPRO Academy's podcasts, which are available on iTunes, Google Play and Spotify. A popular episode was 'Generating New Streams of Income for your Trading Profits'.
Promotions
Some deals and discount offers are available online for TRADEPRO products, for example, 10% cashback. The company has also offered Black Friday deals for those that sign up to its Discord chat.
TRADEPRO Verdict
TRADEPRO offers a mixture of trading and order flow courses for investors of varying levels and abilities. The platform's services extend much further than a simple course, though, clients are offered a wealth of educational resources and users can subscribe to live trading rooms for additional support in opening real positions. The options and futures courses have a particular focus on order flow analysis, taking into account concepts often neglected by less thorough alternatives.
FAQ
Does TRADEPRO Have A Mobile App?
No, the education platform does not offer a mobile app on either iOS or Android devces. However, the TRADEPRO Academy podcasts can be listened to on a mobile or tablet device.
How Much Does A TRADEPRO Course Cost?
The Stock Trader course is $699, the Options Trader course is $1,499 and the Futures Day Trader course is $1,999. These fees include access to the lessons and educational resources, though an additional monthly payment is required to access the live options and futures trading rooms.
Is TRADEPRO Available In The US & UK?
Yes, TRADEPRO Academy is available to traders in the US and the UK, along with many other countries across the world.
How Long Do You Have Access To The TRADEPRO Courses?
Once you have paid the one-time fee for a particular course, there is no expiry date for when you will stop having access to the material. However, the TRADEPRO live rooms require a monthly fee to be paid for continued access.
Which TRADEPRO Course Is Most Suitable For Me As A Beginner?
Beginners should sign up for the Stock Trading Course first, as this is the lowest difficulty, beginner-level program. The course will introduce customers to various technical analysis principles. There is, of course, always the option of then progressing to the options or futures trading courses.
TRADEPRO is a stocks, options and futures trading education platform with dedicated asset courses that specialise in order flow analysis. The service also offers community forums and trade rooms to share ideas and practise strategies together.