Trade Ideas Review 2023 Review 2023
Trade Ideas is a popular intraday stock scanner that provides real-time data from stock exchanges and ETF trades. The software connects to several level 2 online brokerages with a flexible, customisable platform powered by an artificial intelligence (AI) robo-advisor, Holly. This Trade Ideas review 2023 dives into the features offered, how it works, pricing, free trials, tips on getting started and more.
Trade Ideas Explained
Established in 2003, Trade Ideas was founded by a team of FinTech entrepreneurs to help investors and intra-day traders catch stocks in real-time. Stock and options scanners manage a large amount of data and filter out stocks that are worth watching daily. Trade Ideas is a web-based software platform that provides profit opportunities and suggestions in the stock market.
Trade Ideas provides a powerful piece of trading software that helps traders, investors and fund managers efficiently scan the stock market to identify trends, reversals and execution signals. It watches every stock trade throughout the day and notifies the user of possible setups in real-time that are based on your pre-defined filtering requirements.
What sets Trade Ideas apart is its wide range of fundamental and technical filters, such as market cap and EPS. It also performs event trigger settings so you can be the first to act on the opportunity. Trade Ideas answers the biggest challenges of stock trading – where investors traditionally had to manually sift through a large quantity of market data, find profitable opportunities and execute them promptly.
How It Works
The software uses an AI-powered robo-adviser system that consists of several different investment algorithms. It then plays out a million trading scenarios overnight to determine a subset of market relationships with the highest probability of predictive outcomes, which it uses to advise what triggers, longs and shorts qualify. Then, users can opt to track the AI's performance or act on the trades at their own risk.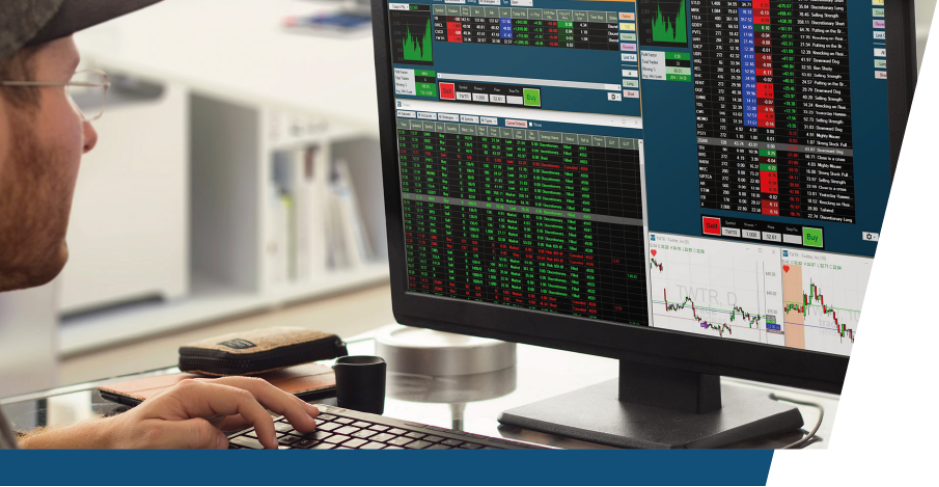 The AI advisor is called Holly, after the holy grail, and acts as the Trade Ideas investment discover engine. After each trading day, Holly splits strategies into over 35 concepts and analyses technical and volume-driven data, longs, shorts, fundamentals and more. The monthly performance of the advisor is published on the Trade Ideas website.
There are three different 'Hollys' that users can access:
Holly (Holly Grail)
Holly 2.0
Holly Neo
Trade Ideas also boasts a range of additional features and tools to enhance the user experience.
Brokerage Plus
This feature allows clients with Interactive Brokers accounts to create scans, build trading strategies and execute automated trading orders. You can also opt for a semi-automatic experience, where you manually place entries, increasing individual control. With that said, Trade Ideas has been known to limit the number of Brokerage Plus licenses. For example, in Q1 2019, licenses were capped to 1,000.
Free Simulated Paper Trading Account
Before opening an account, Trade Ideas allows you to test drive Brokerage Plus with a free demo account. The simulated paper trading account allows you to trial Interactive Brokers' powerful platform with no commitment. Prices and account values are based on live market conditions, including simulated trading costs, commissions and spreads, without the risk.
OddsMaker Window
The OddsMaker allows premium subscribers to backtest strategies by scoring scans, entry points, exit points and trading plans over recent historical data. This helps to visualise investment approaches by quantifying the probability of success and suggesting ways to refine your strategy by incrementally optimising parameters.
Chart Windows
The Chart Windows tool allows users to validate an alert without having to leave the Trade Ideas Pro platform, rather than using separate platforms for analysis and alerts. Users can access 10-20 chart windows, depending on the subscription plan, and add price alerts directly onto selected charts. However, users should not expect a vast number of chart indicators vs a dedicated charting platform like TradingView. Instead, they should use this tool just to reference stocks.
News
Trade Ideas Pro users can access relevant stock news headlines in one click under the 'Single Stock Window' tab, though this feature acts more as a stock market scanner than a dedicated newsfeed for other financial markets. So while Trade Ideas doesn't replace live news and research platforms such as Benzinga Pro when looking at forex and cryptos, this is still a convenient feature to quickly understand why a stock is performing well or poorly. Additionally, you can sign up for the free 'trade of the week' newsletter for more updates.
Live Chat Room
Trade Ideas users can log into to live trader's chat room to interact with the support team and trading community, even if they don't pay for a Trade Ideas subscription. The moderated discussion group can provide additional ideas, insights and sometimes even a live walkthrough of investment opportunities.
The data from each chat session, including messages and alerts, are cleared each day, though session replays can be found on the Trade Ideas YouTube channel.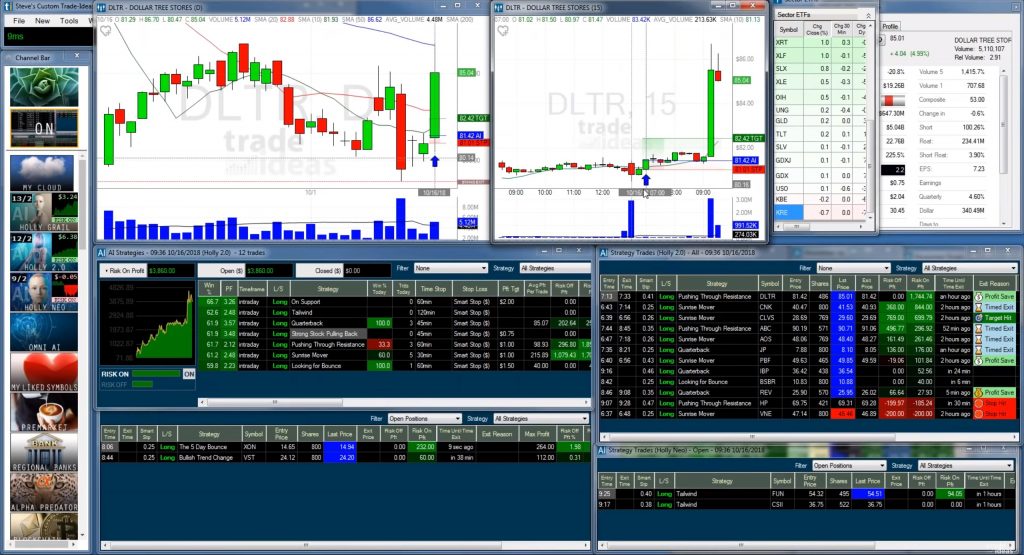 The 'Live Trading Room' is open from 09:00 EST to 15:30 EST Monday to Friday. To sign up for Trade Ideas' free live chat room, you simply need to provide your name and email to get started.
Education
Trade Ideas has a suite of educational resources as part of their TI University, which offers subscribers a vast library of instructional videos and tutorials on how to use their platform, including webinars and events that cater to traders of all levels. Topics vary from basic starting scans and how to set up a watchlist to complex backtesting routines.
Users have the option to access educational resources in their own time or attend daily live seminars from Monday to Thursday. On top of that, users can book an hour-long one-on-one training class with a seasoned trading expert for $129.
Fees
Trade Ideas members have two account levels to choose from, each with its own pricing setup. Both options can be paid for on a monthly or annual basis, with up to $468 savings with the latter. Trade Ideas sometimes offers promo code discounts too.
Standard Account
The Standard Plan costs $1,068 per year or $118 monthly, giving users:
Live trading room
Up to 500 price alerts
10 simultaneous charts
Real-time simulated trading
Real-time streaming trade ideas
Chart based visual trade assistant
Channel bar (Curated Workspaces by Trade Ideas)
Premium
The Premium Plan costs $2,268 annually or $228 per month and, on top of the features on the Standard Plan, Premium users can access:
Reversal scanner
Risk assessments
Entry and exit signals
20 simultaneous charts
Chart-based A.I. Trade Assistance
Strategy building and backtesting service
Trade Ideas Pro A.I. Virtual Trading Analyst — Holly
Pros Of Trade Ideas
Vast educational resources, including webinars, user guides and personal training sessions
Powerful stock scanner with several built-in setups
Free simulated demo trading account
Compatible with popular brokers
Free live chat room
Automated trading
AI robo-advisor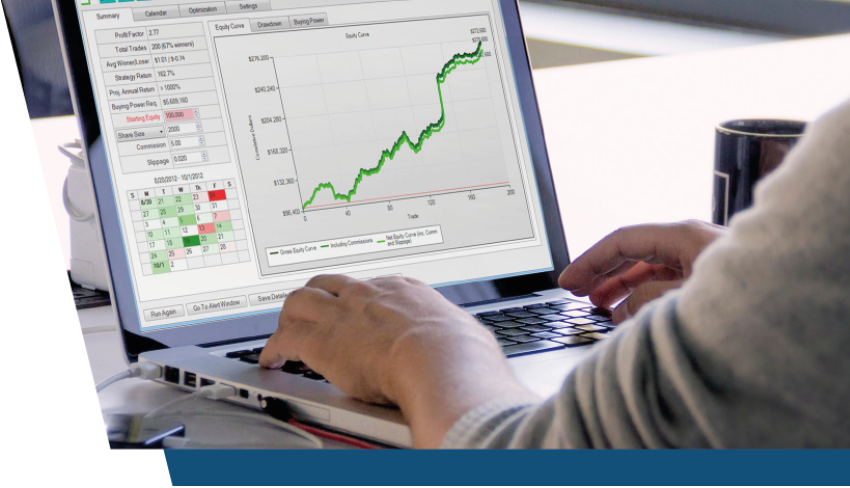 Cons Of Trade Ideas
Inability to place actual trades on the platform
The software requires some time to learn
Pricing plans are quite expensive
Limited to broker partnerships
No dedicated mobile app
Limited chart indicators
Security
The Trade Ideas platform and website use encryption technology to protect user data and communications. Furthermore, the company's privacy policy promises to safeguard personal data and is protected by applicable laws. Trade Ideas only accepts reputable payment options, such as payment cards, PayPal and wire transfers, indicating legitimate and secure transaction processes.
Customer Support
The Trade Ideas customer service team can be contacted by traditional methods or a live chat function:
Email: info@trade-ideas.com
Telephone number: 760-230-0713
Live Chat: Available at the bottom of the website
Support ticket: Submit a question via the website under 'Contact'
Mailing Address: Trade Ideas, LLC 315 S.Coast Hwy 101, Suite U-138 Encinitas, CA 92024
The customer support hours run Monday to Friday from 06:30 to 13:30 PST.
How To Sign Up
Investors can open a Trade Ideas account by selecting a pricing plan, applying any relevant coupon code, filling in their personal information and making the payment. Once these steps have been followed, an account is automatically created using the client's email and username.
Who Is Trade Ideas Best For?
Trade Ideas is best for dedicated and active traders, especially given the cost of the subscription service. Day, swing and momentum trading strategies are best suited to refinement using Trade Ideas as the software provides opportunities that require quick validation and execution, meaning traders need to be actively watching the markets. While beginners might require a bit more time to grasp the layout and software, the instructional videos, user guides and demo mode can support their education.
Trade Ideas Verdict
Trade Ideas provides a powerful stock scanner service for active traders today. It is considered a top screener in the market due to its many features, educational support and broker compatibility. While one might opt for a free alternative, they would miss out on superior backtesting tools, the artificial intelligence engine, automated trading and the free live chat room. However, the high price of the service and the limitations on supported brokers may push those traders with existing accounts to other options.
FAQs
What Are The Differences Between Trade Ideas Premium Vs Standard?
While the standard subscription plan supports many competitive features, including ten simultaneous charts and a free simulated trading environment, premium members have access to an AI virtual trading analyst, a full signals service and strategy backtesting functionalities. However, the Premium Account plan will set you back another $1,200 per year.
How Can I Access Trade Ideas?
Working solely from a web client, there is no Trade Ideas download for Mac, Windows, Linux, Android or iOS (iPhones and iPads) devices. Simply enter your login credentials into the website portal.
How Does Broker Integration Work On Trade Ideas?
Externally linking your broker to the Trade Ideas platform is different for each firm and there are full instructions available on the website. For example, Interactive Brokers clients need to use the correct API settings.
What Brokers And Partners Are Compatible With Trade Ideas?
There are several level 2 brokers, with OTC and NDD execution models, and partners compatible with Trade Ideas, including eTrade, Scottrade, eSignal, Lightspeed Trading and Interactive Brokers. TD Ameritrade compatibility is also coming soon.
How Much Does Trade Ideas Cost?
There is a free demo version of Trade Ideas with limited features. Opening a live account can either be done through the standard or premium subscriptions, each of which supports annual or monthly payment plans. The Standard plan costs $1,068 annually or $118 per month, whereas Premium subscription costs $2,268 per year or $228 annually.
Trade Ideas is a sophisticated signals and stock scanner service for active day traders.