Spreadex Review 2023


United States not accepted.
See the Top 3 Alternatives in your location.
---
Spreadex will appeal to UK day traders who are interested in both spread betting on financial markets and placing traditional bets on sports events. Fees are low on short trades and profits are tax-free on spread bets. There's also a powerful proprietary charting platform, plus £0 minimum deposit required to get started.
- Daytrading Review Team
Spreadex is an FCA-regulated broker that offers spread betting opportunities on an impressive 10,000+ CFD instruments including 60 forex pairs. Traders can also take short-term positions on sporting events. The brand has been around for over 20 years and has won multiple awards.
£0
Spreadex Platform, TradingView
Forex, CFDs, Indices, Commodities, Stocks, Crypto, Bonds, Interest Rates, ETFs, Options, Spread Betting
£300 cashback
USD, EUR, GBP, CAD, CHF
Wire Transfer, Debit Card, Credit Card, Cheque, Mastercard
and
1 more
Forex Trading
Trade on 60+ forex pairs with no commission and competitively tight spreads from 0.6 on major pairs such as EUR/USD. This is a good selection of forex pairs and excellent pricing for commission-free trading, well below the industry average.
Stock Trading
Trade thousands of global equities through spread betting and CFDs. Spreadex is one of the few online brokers to provide trading opportunities on a selection of lower market cap equities traded on exchanges such as the AIM sub-market of the London Stock Exchange.
CFD Trading
Trade CFDs on Spreadex's diverse list of instruments with leverage up to 1:30 and highly competitive spreads. While this broker's USP is spread betting, the excellent trading terms and range of markets makes it an equally good choice for CFD trading.
Crypto Trading
Spreadex offers spread betting on Bitcoin, Bitcoin Cash, Ether, Litecoin and Ripple in pairs with USD, allowing traders to make leveraged bets on crypto price movements through a derivative contract without owning the digital assets.
Spread Betting
Trade on thousands of financial markets with a bet size from £0.01 and the best margin rates in the industry. Spread bets are tax free in the UK, and Spreadex traders can access the markets via three slick proprietary trading platforms.
Awards
Best Spread Betting Provider - 2020 COLWMA Awards
Best Mobile Trading Platform - 2020 ADVFN Awards
Best Trading Alerts System - 2020 ADVFN Awards
Best Spread Betting Provider - 2019 GMG Awards
✓ Pros
There's an excellent range of instruments and trading vehicles for short-term traders
Spreadex gives UK traders the opportunity to make tax-free profits through spread betting
A rare broker that provides access to lower market cap stocks traded on the AIM
There are some attractive new account promotions, including double the odds and matched betting offers
Traders have the opportunity to bet on sports events from their brokerage account
There's a good selection of signals, analysis tools and risk management tools, including guaranteed stops
The broker offers an easy-to-use proprietary charting platform and mobile app
✗ Cons
The lack of a demo account will frustrate prospective clients who want to test Spreadex's services
The limited customer service can make it time-consuming to troubleshoot problems
The proprietary terminal lacks comprehensive charting features of platforms like MT4 and MT5
There's no support for expert advisors or other trading bots
No third-party e-wallets are accepted
The Spreadex Ltd company facilitates trading in forex, CFDs and spread betting. But whether it's sports or financials that you're interested in, all clients benefit from the same high-quality trading platform and excellent customer service. This 2023 review of Spreadex examines both the pros and the cons, including live accounts, mobile apps, and more.
Spreadex Headlines
Spreadex hit the digital trading and gambling scene in 1999. Originally its head office location was Dunstable, Bedfordshire. However, in February of 2008, the owners shifted the central office address to St Albans, Hertfordshire.
In 2006, the UK-based limited company launched an online spread betting service, which was swiftly followed by their financial trading platform. By the time May 2010 rolled around, Spreadex had also brought out a new fixed-odds sports betting service. This allowed users to place bets in both fractional and decimal formats.
In 2011, the firm introduced a digital casino featuring a dealer service and a range of games, including:
Spreadex introduced 'Speed Markets' in 2013. This allowed clients to place fixed risk bets on financial markets.
Recent annual reports have shown Spreadex's turnover has topped £49 million. Unsurprisingly, dividends have led to relatively content shareholders and good investor relations. The Managing Director and senior leadership team have aimed for success offline too. The company advertises and operates a fixed odds spread betting pitch at Kempton Park Racecourse.
Those at the top of the Spreadex ownership have also been active with sponsorship deals. They have reached agreements with Burnley FC, Armed Forces charities, the Responsible Gambling Trust, and Cancer Research. All of which aim to demonstrate and promote some of their core values, including ethical dealings.
Trading Platform
You can download the Spreadex trading platform or view it as a web-based browser. Once you log in (logo located at the top of the page), you are met with a clean and intuitive platform. With that said, one of the main highlights is the high levels of customization. You can view data in a format that makes for comfortable trading.
You also have one-click trading and straightforward access to edit orders. Another useful feature is their Price Alert service. This allows you to set up text or email notifications when prices reach certain levels.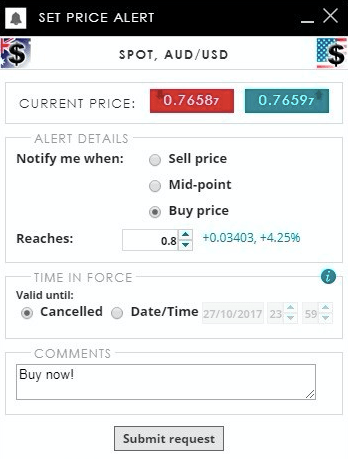 The CEO has also made an effort to ensure the platform provides a comprehensive offering. As a result, you get a succinct newsfeed and easy-to-digest financial results.
Spreadex.com reviews also praise the training offering. Tutorials come in the form of a user-friendly video training center. This is ideal for new traders who want to get to grips with guaranteed stop-losses, for example.
A few other key trading tools include:
Force open positions – You can go long and short at the same time by selecting 'Force Open' on your trade ticket.
Price improvements – Spreadex takes their prices from a range of resources. But most importantly, if the price shifts once you click to trade, you will not be filled at a worse level.
Fast execution speed – Platform execution speed is essential as an intraday trader, where every second counts. Fortunately, Spreadex was named the Best for Efficient of Taking Trades in the Investment Trends UK Leveraged Trading Awards.
So, is Spreadex any good in terms of their trading platform? Customer reviews answer that question with a resounding yes.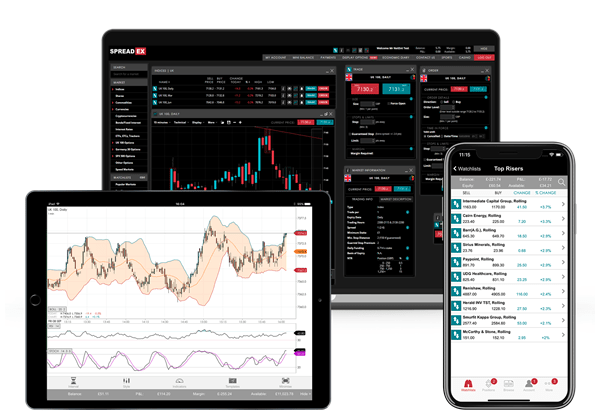 Note, Spreadex is not a white label.
Assets & Markets
4.5 / 5
One of the most impressive aspects of the Spreadex offering is the extensive list of products. Traders can speculate on over 60 FX pairs and have access to 10,000+ instruments, including options, shares, indices, interest rates, bonds, ETFs, commodities (such as oil), and cryptocurrency (like Bitcoin).
Customer reviews are also quick to praise Spreadex for promising among the most comprehensive AIM stock selection, including small caps down to market caps of £1 million.
The company also applies its concept of spread betting to sports events. This means consumers can speculate on all of the following:
UFC
Golf
Darts
Tennis
Boxing
Cricket
Snooker
E-Sports
Football
Handball
Volleyball
Basketball
Ice hockey
Greyhounds
Table tennis
Horse racing
Rugby union
Rugby league
Virtual sports
Motor racing (like F1)
Football Supremacy betting
NFL Super Challenge leaderboard
Users can also take positions on politics, such as the UK general elections.
Note, you can access all of the above trading options from a single trading account.
Spreads & Commissions
Spreadex makes money by taking a fee from the spread (the difference between the buy and sell price). The results of comparisons with competitors show minimum spreads are relatively attractive. For example, you can trade on the EUR/USD from 0.6 pips, while the industry average is around 1.5 pips.
See the full website for a comprehensive breakdown of minimum spreads. You can also find details on maximum daily payouts.
Note, you will incur rollover charges based on your position size. However, one distinct positive this guide found was that Spreadex does not charge any inactivity fees, unlike many competitors.
Leverage
Spreadex offers up to 75% leverage. Used correctly, trading on margin could help you capitalize on market opportunities and enhance your potential salary. But while Spreadex's margins and rates are competitive, leveraged trading comes with significant risks. In fact, if you're not careful, you could lose more than your initial deposit and quickly end up in debt.
Importantly, you can amend your credit limit by contacting customer support.
Mobile App
Both financial and sports trading reviews are positive regarding the mobile app offering. Consumers can download and access a website-based app for Android and iPhone devices. The mobile terminal is similar to the desktop site.
Features include:
Depositing funds
Creating watch lists
Accessing trade history
Adding or editing orders or limits
Monitoring and editing various trade types
Both their mobile sports and financial offering also includes access to an advanced charting suite. The proprietary charts include intelligent features, such as:
Automated trend lines
Pinching to zoom in and out
Over 10 years of historical data
Candlestick pattern recognition
Capabilities to save and edit templates
A long list of editable technical indicators
High, low and change percentage is shown for today's trading day
Overall, placing rolling trades and other orders is simple and stress-free on the Spreadex mobile apps.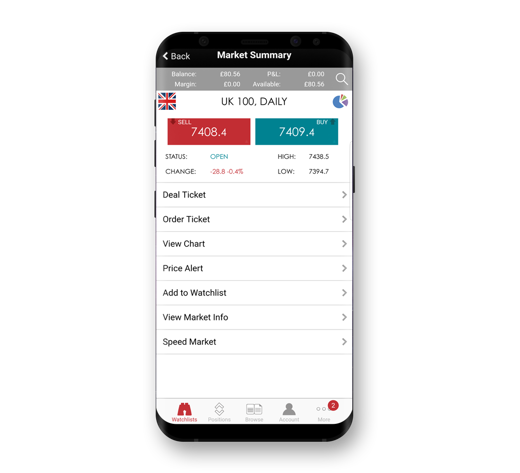 Spreadex Payment Methods
There are a number of Spreadex payment options. Deposit methods include:
Cheque
Wire transfer
Debit & credit cards
Online bank transfer
The broker does not accept deposits from E-wallets, such as Neteller. It may also take some time to check bank details initially and you can only use the following currencies: GBP, USD, EUR, CHF, and CAD.
Blogs and forums show Spreadex disappoints in terms of payment options, coming in below the industry norm. Traders would also, understandably, like swift access to their profits, so an improvement in withdrawal times would be welcome.
Importantly, opening a live account with Spreadex requires no minimum deposit. The minimum bet/trade size on most markets is then just 1p, and the rest start from 15p. User reviews demonstrate that Spreadex is an attractive proposition to traders with limited initial capital.
Spreadex charges £1 on debit card deposits under £50, even on UK cards or bank transfers. In addition, CHAPS same-day payments incur a £25 charge. Finally, a fee is in place on all non-sterling card transactions.
Direct withdrawal times range from two to five business days. The minimum withdrawal amount is £50, and you can make multiple withdrawals in a single day.
Demo Account
One distinct downside this review of Spreadex found was the lack of a demo account. This is a real shame as practice accounts are a fantastic way to get a feel for a broker and platform. They are also a brilliant tool for novice traders to develop market confidence.
So traders looking for a demo account may want to consider one of the many competitors that offer this service, free of charge and for an unlimited period.
Bonuses & Promotions
Prospective clients should also consider new account welcome offers and promotions. The company has a £300 cashback or an attractive free iPad mini joining offer. The firm has also been known to run an Apple Watch Sports deal.
There are also other sign up bonuses to consider, such as risk-free bet offers. In addition, the firm sometimes coordinates a refer a friend scheme where you can enjoy up to a £100 Speed Market bet.
Regulation & Licensing
It is important that prospective clients look for regulated brokerages. This can help limit the risk of falling victim to scams and fraudulent companies. Fortunately, Spreadex receives regulatory oversight from the UK's Financial Conduct Authority (FCA). Clients' funds are kept segregated from the company's operating capital via tier-1 banks.
FCA oversight also means Spreadex must adhere to regulations that aim to protect consumers. Not to mention, clients' capital is kept secure from a range of scenarios, such as bankruptcy.
Additional Features
Spreadex offers several useful additional features. On the sports side, accumulators, coupon betting, and other options allow clients to see the same type of bets in a single place.
The company has also brought in 'Pulse' for those interested in the financial offering. This notification system lets you stay up-to-date with changes in stocks and other instruments on your watchlist.
In terms of education, you can find a number of useful resources, including:
Tips
Interviews
OddsChecker
Market updates
Charting guides
Trade examples
Economic calendars
Indicator explanations
Premier League points video guides
Essential sports information, including golf, tennis and cricket rules
On top of sports rulebooks, you will find fixed odds rules and conditions. You can also meet the Spreadex team by heading to the About Us section on their website.
On the downside, some user reviews were quick to complain about the lack of API access.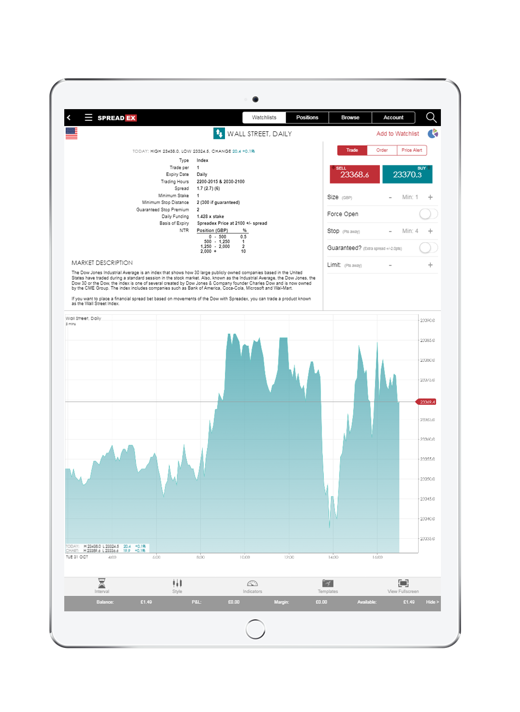 Accounts Types
With both sports and financial betting, how does Spreadex work in terms of accounts? Fortunately, you can use the same account for both. However, to comply with FCA regulations, each new customer must pass compliance checks:
A scanned copy of either your passport, driving license or national ID
A utility bill or bank statement from the last three months, displaying your residential address
It can take several days to pass all compliance checks and get up and running.
Some clients may also qualify for a credit limit, which you can apply for when you sign up. If accepted, you can trade immediately without depositing funds into your account. Alternatively, you can opt for the standard pay-as-you-go option.
If you wish to close an account, you can do so directly from within your account area. Alternatively, you can contact customer support. Spreadex Ltd contact details can be found on the official website.
Trading Hours
Spreadex is open during normal market hours. However, they also offer out-of-hours trading. The company will quote prices on UK 100 markets between 21:00 Sunday until 21:15 Friday during extended hours.
This allows you to react promptly to market events. It also means you have increased risk management during periods of volatility. Finally, out-of-hours trading will enable you to offset standard share positions usually open only during the day.
See the customer agreement on the official website for further details. There you can also find Christmas opening hours and other upcoming holiday times.
Customer Support
4.3 / 5
Reviews of Spreadex's customer support are mostly positive. You can seek help and lodge complaints via email or telephone. Head to the Contact Us section on the website. There you will find financial and sports contact telephone numbers.
You can also pick up the relevant email address or the postal address for the Spreadex Ltd St Albans office, located at Churchill house. Spreadex does not have a London office, so all communications must be sent to the St Albans address.
Employees are courteous and knowledgeable, while response times are around the industry average. Customer service agents should be able to help with sports or financial login problems, while you can also have betting rules, plus terms and conditions explained.
Spreadex has earned a BrokerNotes double AA support rating for promising assistance in over three languages, as well as phone and email support.
Unfortunately, Spreadex does not offer a live chat service. As customer reviews demonstrate, this is a serious drawback. Live chat assistance usually promises fast and effective support. This is an area Spreadex could improve in, especially as most competitors now offer such a service.
Security
Spreadex takes personal security and privacy seriously. They use advanced encryption technologies and follow a number of security protocols. This should help keep your data safe from:
Loss
Destruction
Falsification
Manipulation
Unauthorized access or disclosure
Spreadex Verdict
Both financial and sports trading reviews are positive. In addition, the extensive financial and sporting product index allows for speculation on a vast range of events. Furthermore, their bonus programs means you can pick up generous welcome offers. Overall, they are a good choice for traders of all experience levels. In fact, it is predominantly only those seeking a free demo account or a live chat service that may want to look elsewhere.
FAQ
Does Spreadex Have Binary Options?
No, the broker does not currently provide binary options. However, it has over 10,000 instruments, including forex, stocks, and commodities.
Is Spreadex Legit?
Yes, Spreadex is a reputable broker. They implement industry-standard encryption technologies to protect users' funds and are regulated by the Financial Conduct Authority (FCA).
What Is The Minimum Deposit At Spreadex?
There is no minimum deposit. Payments of less than £50 incur a £1 charge while deposits over £50 are free.
Does Spreadex Have A Demo Account?
The broker doesn't provide a free demo account, but it does offer low bet/trade sizes of 1p – 15p. This could make an initial investment of £50 go very far.
Can I Use MetaTrader With Spreadex?
Spreadex doesn't support either MT4 or MT5. Instead it has a proprietary platform, which can be downloaded from the official website.
Can You Still Trade On Spreadex?
The broker is restricted when it comes to the regions it can provide fixed odds and casino services. They are licensed for fixed odds betting in the UK, Ireland, and Denmark; and casino gaming in the UK and Ireland.
Accepted Countries
Spreadex only accepts traders from United Kingdom.
Payment Methods
Spreadex Details
Minimum Trade
£0.01
Regulated By
FCA
Islamic Account

No

Mobile Apps
iOS & Android
Margin Trading

Yes

Volatility Index

Yes

Spot Trading

Yes

Perpetual Swaps

No

ELWs

No

REITs

No

AI / Machine Learning

No

Robo Advisor

No

P2P Trading

No

Negative Balance Protection

Yes

VPS Hosting

No

Tournaments

No

Demo Competitions

No

Managed Accounts

No

Market Maker

No

Auto Trading
None
Social Trading

No

Inactivity Fee
£0
Guaranteed Stop Loss

No

Stock Exchanges

Euronext
London Stock Exchange
Nasdaq
New York Stock Exchange
S&P 500
SIX Swiss Exchange

Commodities

Cocoa
Coffee
Copper
Cotton
Gold
Natural Gas
Oil
Platinum
Silver
CFD Trading Details
| | |
| --- | --- |
| FTSE Spread | Not offered |
| GBPUSD Spread | 0.9 |
| Oil Spread | 4-15 pips |
| Stocks Spread | Variable |
| Leverage | 1:30 |
Forex Trading Details
| | |
| --- | --- |
| GBPUSD Spread | 0.9 |
| EURUSD Spread | 0.6 |
| EURGBP Spread | 0.9 |
| Assets | 60+ |
Cryptocurrency Trading Details
| | |
| --- | --- |
| Crypto Spread | 1 – 140 pips |
| Crypto Lending | No |
| Crypto Staking | No |
| Crypto Mining | No |
| Crypto Auto Market Maker | No |
| Crypto Coins | |
Top 3 Alternatives to Spreadex
Compare Spreadex with the top 3 similar brokers that accept traders from your location.
IG Group – IG is an award-winning broker that has an excellent reputation globally. The brand-US offers spread betting, CFD and forex trading across a comprehensive suite of markets. IG is also multi-regulated, provides a great trading app and has 50 years experience.
Go to IG Group
Interactive Brokers – Interactive Brokers is a leading global brokerage that provides access to a comprehensive offering of stocks as well as forex, futures, metals, bonds and cryptos. The firm has over 40 years experience in the online trading industry and is heavily regulated by SEC, FCA, IIROC, and SFC. Day traders can use the proprietary Trader Workstation and can access powerful tools and data feeds as well as comprehensive educational resources.
Go to Interactive Brokers
Kwakol Markets – Kwakol Markets is a Nigerian headquartered broker with strong regulatory oversight in Australia and Canada. A great selection of day trading assets are available, including synthetic products that simulate realistic market activity. Clients can trade on the MT4, MT5 and cTrader platforms, as well as a copy trading solution whereby a fee is only paid on profitable trades.
Go to Kwakol Markets
Spreadex Comparison Table
Compare Spreadex With Similar Brokers
Spreadex
IG Group
Interactive Brokers
Kwakol Markets
Rating
3.5
4.4
4.3
4.5
Markets
Forex, CFDs, Indices, Commodities, Stocks, Crypto, Bonds, Interest Rates, ETFs, Options, Spread Betting
CFDs, Forex, Stocks, Indices, Commodities, ETFs, Futures, Options, Crypto, Spread Betting
Forex, Stocks, Commodities, Crypto
CFDs, Forex, Stocks, Indices, Commodities, Crypto
Demo Account
No
Yes
Yes
Yes
Minimum Deposit
£0
$0
$0
$1
Minimum Trade
£0.01
0.01 Lots
$100
0.01 Lots
Regulators
FCA
FCA, ASIC, NFA, CFTC, DFSA, BaFin, MAS, FSCA
SEC, FCA, IIROC, SFC
ASIC, FINTRAC
Bonus
£300 cashback
–
–
–
Education
Yes
Yes
No
No
Platforms
Spreadex Platform, TradingView
MT4, AutoChartist, TradingCentral
AlgoTrader, OmniTrader, eSignal, TradingCentral
MT4, MT5, cTrader, AutoChartist
Leverage
1:30
1:30 (Retail), 1:250 (Pro)
1:50
1:1000
Payment Methods
6
6
11
4
Visit
–
Visit
Visit
Visit
Review
–
IG Group
Review
Interactive Brokers
Review
Kwakol Markets
Review
Compare Trading Instruments
Compare the markets and instruments offered by Spreadex and its competitors. Please note, some markets may only be available via CFDs or other derivatives.
Compare Spreadex Trading Instruments

| | Spreadex | IG Group | Interactive Brokers | Kwakol Markets |
| --- | --- | --- | --- | --- |
| CFD | Yes | Yes | Yes | Yes |
| Forex | Yes | Yes | Yes | Yes |
| Stocks | Yes | Yes | Yes | Yes |
| Commodities | Yes | Yes | Yes | Yes |
| Oil | Yes | Yes | No | Yes |
| Gold | Yes | Yes | Yes | Yes |
| Copper | Yes | Yes | No | Yes |
| Silver | Yes | Yes | No | Yes |
| Corn | No | No | No | No |
| Crypto | Yes | Yes | Yes | Yes |
| Futures | No | Yes | Yes | No |
| Options | Yes | Yes | Yes | No |
| ETFs | Yes | Yes | No | No |
| Bonds | Yes | Yes | Yes | No |
| Warrants | No | Yes | Yes | No |
| Spreadbetting | Yes | Yes | No | No |
| Volatility Index | Yes | Yes | No | No |
Spreadex vs Other Brokers
Compare Spreadex with any other broker by selecting the other broker below.
Customer Reviews
There are no customer reviews of Spreadex yet, will you be the first to help fellow traders decide if they should trade with Spreadex or not?
Visit
Spreadex is an FCA-regulated broker that offers spread betting opportunities on an impressive 10,000+ CFD instruments including 60 forex pairs. Traders can also take short-term positions on sporting events. The brand has been around for over 20 years and has won multiple awards.