M1 Finance: Kickstart 2023 With A $10,000 Bonus
The US-headquartered robo advisor is offering up to $10,000 to traders that transfer an existing brokerage or retirement account to M1 Finance by 28 February 2023. The offer is available to new and existing clients. Read on for the details.
Transfer Bonus
The bonus is tiered depending on how much you move into an M1 Invest Account:
| Transfer | Bonus |
| --- | --- |
| $50,000 – $249,999 | $250 |
| $250,000 – $499,999 | $1,000 |
| $500,000 – $999,999 | $2,000 |
| $1,000,000 – $1,999,999 | $4,000 |
| $2,000,000+ | $10,000 |
Bonus funds will be paid to eligible clients on 5 December 2023.
How To Make A Transfer
Traders can move money from another brokerage account to M1 Finance in four steps:
Click on 'Transfer from another brokerage' – this is available in the 'Move Money' screen of the M1 mobile app
Select the type of account to transfer – this can include an entire brokerage account or IRA, part of a brokerage account or IRA, or a 401(k), 403(b), or 457(b)
Choose the brokerage – use the search bar in the app to find your existing brokerage
Input your account number – simply enter the account number on your existing statement and the M1 team will process the request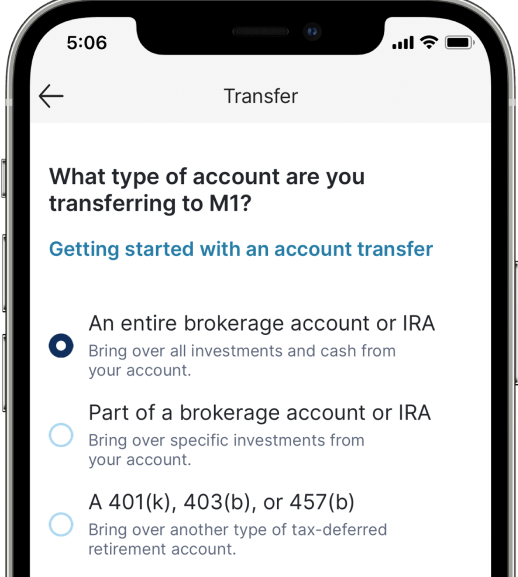 Rules & Requirements
Traders must be at least 18 years old and be legal residents of the United States.
The offer is available to new and existing users that transfer a minimum of $50,000 using the Automated Customer Account Transfer Service (ACATS).
Payments made by ACH or wire transfer, internal transfer, or direct 401(k) rollovers will not qualify. Crypto payments also do not count.
Retirement, trust and custodial accounts do not qualify for the offer.
The transfer bonus is available until 11:59 EST, 28 February 2023.
The promotion is not compatible with other M1 deals.
About M1 Finance
M1 offers an all-in-one financial app that allows clients to invest, borrow and spend through one user-friendly platform. The investing app provides dynamic portfolio rebalancing and fractional stocks.
The robo advisor offers commission-free trading while M1 Plus is $125 per year. Digital banking rates come in at 3.30% APY with 1% cash back for M1 Plus members. Margin rates are between 6.25% and 7.75%.
M1 Finance is based in Chicago and was launched in 2015. The company is regulated by the SEC and FINRA. The firm is also a member of the SIPC with client securities protected up to $500,000. M1 Spend checking accounts are FDIC-insured up to $250,000.
Thousands of clients have already switched to M1, which now manages assets in excess of $2.1 billion.
Sign up with M1 Finance today to earn up to $10,000.

M1 Finance is a US brokerage that allows users to build a customizable investment portfolio from a range of 6000+ stocks and shares, ETFs and cryptocurrencies. The innovative 'pie' based portfolio management system allows traders to build several portfolios with different aims, and the brokerage supports machine-learning tools that can provide automated portfolio management.