OneOption Review 2023 Review 2023
OneOption enables traders to learn from their peers through live chat rooms, market scanners and real-time signals. The service is aimed at aspiring stock and options traders and provides a versatile platform that suits various investment styles. This review explores the key products offered by OneOption, alongside the pros and cons, pricing and more.
What Is OneOption?
Launched in 2006 by Peter Stolcers, OneOption offers dedicated resources to support traders making short-term investments. The platform provides its clients with a variety of tools that can be used to improve trading skills and ultimately, profitability.
Importantly, the company has built an active investor community where clients are encouraged to share tips, tricks and market insights. We break down the firm's key services below.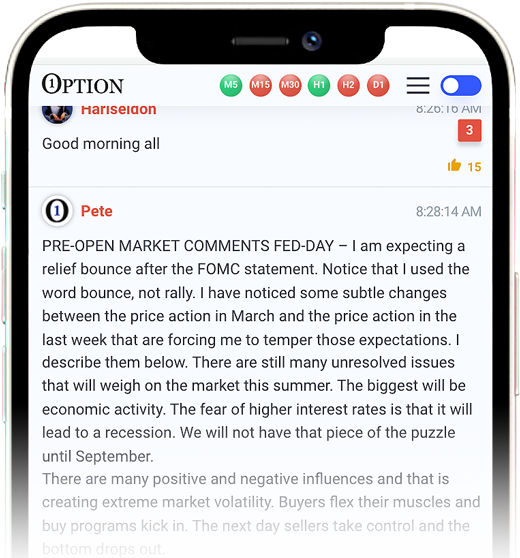 Products
Chat Room
One of the main features is the chat room, where traders are encouraged to post information about the entry and exit positions of their investments. Before joining, there are rules that each trader must agree to regarding what can and cannot be discussed.
The founder monitors the chat on a daily basis to ensure that every user stays on topic. This helps to keep the discussion high-quality and focused on trading, which sets the OneOption chat room apart from other social media communities and popular forums.
Analyzing the trades that other members have made is also helpful when it comes to improving your skills. Logging your trades as well as other members' trades on an Excel spreadsheet can help you to build your understanding of various markets and successful trading strategies.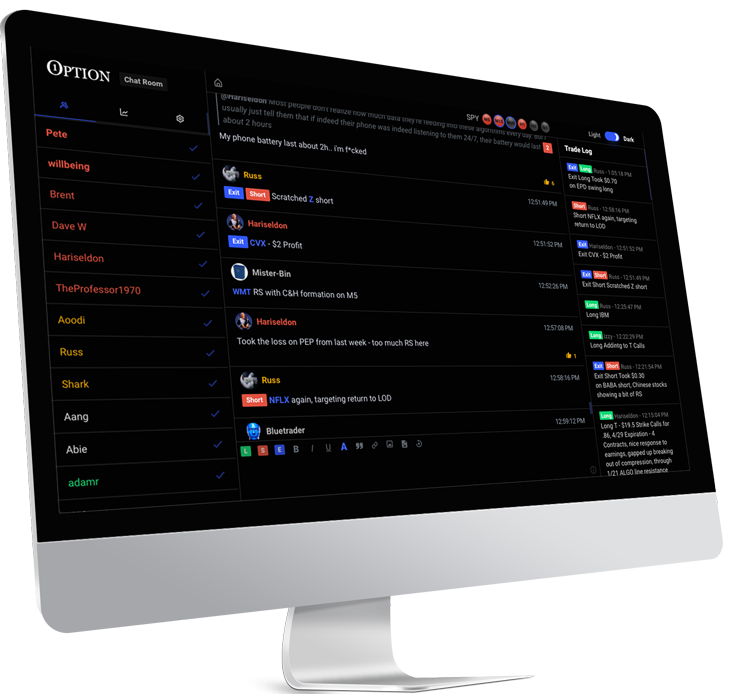 OptionStalker
OptionStalker is OneOption's flagship platform for research and trading. The program is available on both Windows and iOS, however clients with a Mac must download Apple's Bootcamp to run the software.
OptionStalker is a powerful charting program with 150 technical indicators, including four proprietary indicators. Multiple indicators can be overlaid on price history graphs to give trend predictions and improve trading accuracy. The platform also offers timeframes as low as one minute, which suits day traders looking for short-term opportunities.
OptionStalker also enables you to create alerts so that you can receive notifications when assets reach a certain price level. These alerts consist of a pop-up on-screen and an option to view the corresponding asset's price chart with an order already filled out.
In addition, the platform comes with an extensive library of up-to-date market information. This includes a market monitoring section where you can view trends for indices, industries and markets in other countries, which helps gauge sentiment globally.
They also provide a calendar with dates for upcoming news events, for example, earning reports which may impact an asset's value. Additionally, there are option analytics which allows you to track how popular certain strike prices are, and see if other traders are placing puts or calls.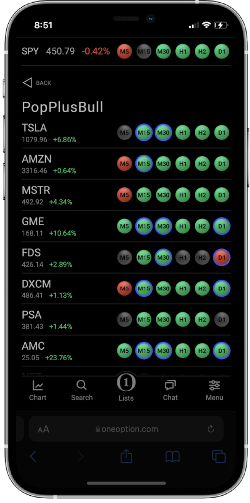 Custom Search
A key feature of OneOption's platform is the custom search option. Several filtering options help customers to identify assets according to precise criteria. For example, you can restrict the search to only show stocks with sufficient momentum, certain liquidity and a current value greater than the 20-day high.
This is a powerful search engine that can be used initially to cast a wide net and find potential assets, and later refine those assets based on certain factors.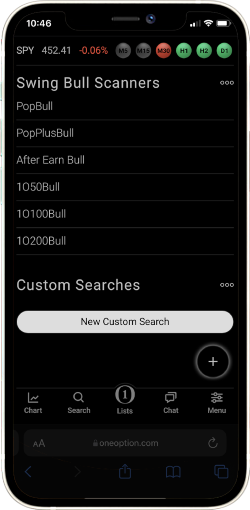 Education
OneOption offers an informative platform with an extensive education section. Found under "The Edge" tab on the OneOption website, all traders have access to a variety of tutorials and guides. There are detailed articles on markets, stocks, and leverage, as well as tips on common mistakes to avoid.
The founder has also created a video series on YouTube where he describes how to set up your OneOption account, as well as explains how the proprietary 1OP Indicator works.
You can also see his daily comments at market open in his blog, which contains useful advice for different types of trading strategies.
Accounts
Currently, there are only two account types available: "Chat" and "Options Stalker Pro."
Chat
This basic account type only provides users access to the OneOption chat room. "Chat" is aimed at beginners so they can get to grips with trading using the education section and learn from the other experienced investors.
Users with this account are not allowed to use the OneOption trading platform or post messages in the chat room during market-open hours. Instead, if they have any comments or questions, they must wait until after the market closes.
Option Stalker Pro
Customers with this account have access to both the chat room and the OptionStalker platform. If you plan on using OneOption for executing trades with brokers such as TD Ameritrade or Interactive Brokers, this is the account you will need.
All features such as the search engine, alerts and indicators are available to clients with this account type. Additionally, only Option Stalker Pro members may post in the chat room while the market is open.
Fees
Monthly, quarterly or annual subscriptions are available. If you choose to pay annually, the cost is 50% less than what you would pay on a monthly basis. OneOption also offers a two-week free trial which allows users to test out the Option Stalker platform and chat room before paying the full membership amount.
The account prices are as follows:
Chat: $79/month, $199/quarter or $499/year
Option Stalker Pro: $239/month, $599/quarter or $1499/year
Customer Support
There are several methods available for contacting OneOption's customer support team:
Email info@oneoption.com
Customer support message via the website
Social media accounts on Twitter (@1OptionsTrading) and Reddit (/u/OneOption)
Security & Reliability
OneOption is recognized as a trustworthy platform that is reliable when it comes to keeping your account safe. It uses Authorize.net, one of the most reliable transaction gateways, to keep your payment information secure.
With that said, some user reviews do flag concerns about the quality of the services with the higher account tier. Some traders believe the same content is distributed to all users regardless of account level.
Getting Started
Once you have researched the OneOption website and confirmed that this is the platform you want to use, register for an account and activate the free trial.
Download the Option Stalker application. The link can be found on the OneOption website.
Log in to Option Stalker and select your broker from the drop-down list.
You will be redirected to your chosen broker. Login to the brokerage account.
The platform will now launch and you can begin configuration and trading.
Pros Of OneOption
Active chat room
Two-week free trial
Customization options
Learn from experienced traders
Free access to the educational section
Powerful search engine with many filters
Cons Of Using OneOption
US trading markets only
Expensive membership fees
No option for a phone call or live chat with the customer support team
Only Option Stalker Pro members may post comments in the chat room during market open hours
OneOption Verdict
For stock and options investors searching for a platform that prioritizes research and analysis, OneOption could be a good choice. With a specialized search engine that is comparable to Google for trading purposes, it is easy to find suitable assets.
Ensure that you read the articles and watch the videos on the educational tab to confirm that the platform is right for you. To learn more about the OneOption trading experience, you can find customer reviews on websites such as Discord and Reddit.
FAQs
Can I Use Trading Robots With OneOption?
No, expert advisors and trading robots are not facilitated on the OneOption platform. You can set up trade signals so that you automatically receive notifications when an asset hits a certain price point. However, you will still have to manually execute the trade. If you want to implement a trading robot you have created using Java (JS) or Python, you will need to use an alternative platform.
Is There A Demo Account At OneOption?
No – OneOption does not offer a demo account. To test out the platform before purchasing a full membership, your only option is the two-week trial. Bear in mind that this trial account involves using real capital, not simulated funds like a demo account.
How Do Alerts Work On OneOption?
OneOption alerts are helpful notifications that inform traders when an asset's value hits a certain price. For example, let's imagine that you are interested in JP Morgan and want to purchase 100 shares. At 9 AM on the 6th of May, JPM was valued at just under $123. You could create an alert that tells you when the stock price drops to $120. In this case, you would receive an alert just after 10:40 AM on the 10th of May, at which point you would be given the option to enter a contract and place an order for 100 shares.
How Can I Contact Customer Support On OneOption?
There are several ways to talk to the OneOption customer support team. You can send an email to info@oneoption.com, use the contact form on the website or direct message their social media accounts on Twitter and Reddit.
What Can I Trade With OneOption?
Only US securities can be monitored and traded using the OneOption platform. If you are an international trader interested in markets in other countries, you will need to choose a different platform.
OneOption helps retail traders navigate the stock and options market with advanced software, chat rooms and live signals.