NinjaTrader Review 2023


Available in United States
We recommend NinjaTrader for high-volume futures traders looking for low fees and premium analysis tools.
- Daytrading Review Team
NinjaTrader is a US-headquartered and regulated brokerage that specializes in futures trading. There are three pricing plans to suit different needs and budgets, as well as ultra-low margins on popular contracts. The brand's award-winning charting software and trading platform also offers a high-degree of customization and superb technical analysis features.
$50
eSignal
Forex, Stocks, Options, Commodities, Futures, Crypto
-
USD
Debit Card, Wire Transfer, ACH Transfer
Forex Trading
NinjaTrader supports the trading of popular currencies including the EUR/USD. The trading software also offers unique features tailored to forex trading, including specific order and market windows.
Stock Trading
Stocks can be traded by connecting the NinjaTrader platform to supporting brokers. You can then take positions on large public companies and household names via advanced trading software.
Crypto Trading
Trade micro Bitcoin futures with low fees and leading charting tools. Get exposure to Bitcoin through CME Group's centralized exchange with robust risk management tools.
Awards
2021 Benzinga Global Fintech Awards
✓ Pros
Excellent trading software for active users with bespoke widgets and indicators
Low fees with $50 day trading margins & commissions from $.09 per micro contract
Thousands of add-ons and applications from developers in 150+ countries
Widely respected and heavily authorized by the NFA and CFTC
Free platform access and trade simulation capabilities
Industry-leading futures broker with multiple awards
Easy account opening that takes a few minutes
✗ Cons
Withdrawal fee on some funding methods
Premium platform tools come with an extra charge
Non forex and futures trading requires signing up with partner brokers
NinjaTrader's award-winning software caters to active traders seeking advanced technical analysis and charting options. As a brokerage, NinjaTrader also offers access to a range of asset classes including futures, forex, and stocks.
In this 2023 review, we walk through the NinjaTrader 8 platform ecosystem. We unpack the range of features on offer as well as indicators, charts and demo accounts, plus compatibility with top brokers including NinjaTrader Brokerage.
NinjaTrader Headlines
Since it was founded in 2003, the firm has expanded to support traders across the globe with offices in Denver, Chicago and Colorado, Illinois. The platform has attracted over 500,000 users and 600+ developers across 150+ countries. The brand is a privately held company, owned & operated by NinjaTrader, LLC, an affiliate company to NinjaTrader Brokerage.
The brand offers a sophisticated trading platform with multiple charts and a range of features including market data services. Thousands of third-party apps, as well as add-ons, allow for customization, fast order execution, and advanced market analysis.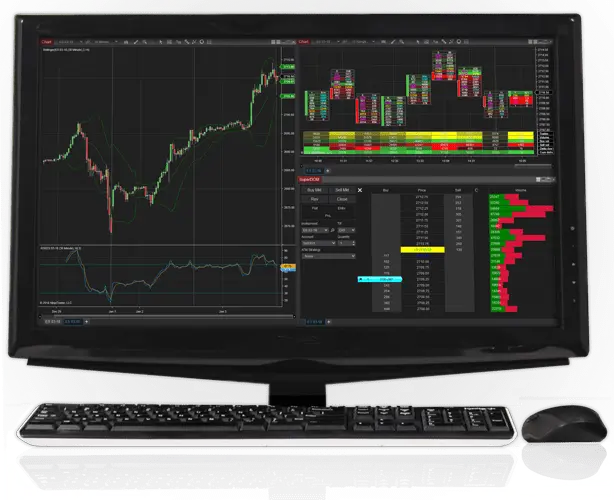 The company also provides brokerage services to support both forex and futures traders with discounted pricing.
NinjaTrader 8
NinjaTrader 8 is the latest software update from NinjaTrader. The platform delivers over 500 major enhancements including more configurability, data and performance upgrades and improvements to the alerting features. Additional user-led improvements are reportedly also in the pipeline.
The platform interface offers high-level customization, including backgrounds, fonts and bar spacing. Users can also insert technical indicators and drawing tools as well as change overall chart layouts.
All the usual order types are supported and automated trading is available through NinjaTrader's ATM Strategies or the C#-based trading framework.
Key platform features include:
Trade simulation

Market analytics

Advanced charting

Backtesting & optimisation

Automated strategy development
NinjaTrader is an open-source system, much like the MetaTrader 4 (MT4) or MetaTrader 5 (MT5) platform. The difference is that whilst MT4 attracts mainly forex day traders, NinjaTrader is also popular amongst futures traders.
You can run the platform on Mac OS, Windows, and Linux if you port it over.
Tools & Features
Charting
NinjaTrader offers advanced charting software to all subscribers. 10+ chart styles are available including Candlesticks, Fibonacci, MAACD, RSI and more. All charts offer clear and powerful market visualisation. They support multi-time frames and multi-instrument analysis. Traders can also access 100+ pre-built indicators, as well as hundreds of optional third-party indicator add-ons.
The full indicators list available includes:
Gap indicators

News indicators

Trend indicators

Swing indicators

Volume oscillators

Reversal indicators

Volatility indicators

Value area indicators

Divergence indicators

Elliott wave indicators

Average daily range indicators
Chart Trader also allows traders to modify and execute orders directly from the trading chart.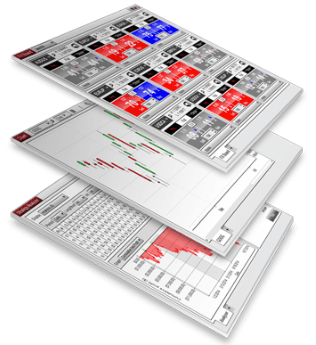 Trade Management
NinjaTrader's SuperDOM order entry and trade management system allows for enhanced customization. It also offers:
Straightforward trade visualisation
Single click order entry, modification, plus cancellation
Integration with the Advanced Trade Management (ATM) module
Advanced Trade Management
The NinjaTrader ATM module is a sophisticated technology that facilitates:
Multiple profit targets and stop-loss orders
One-cancels-other (OCO) orders
Auto-breakeven stops
Trailing losses
Automation
NinjaTrader supports partial and fully automated trading strategies. 1000+ unique automated strategies are available through the platform, covering a range of trading styles.
Traders can quickly access fully automated services through the 'point and click' construction which is suitable for non-programmers. Alternatively, the C# based trading framework is available for more experienced investors.
The terminal allows automatization of trading strategies in NinjaScript as well as third party applications. And importantly, advancements in machine learning have opened up a whole new world of automated trading.
Data
For live brokerage accounts, NinjaTrader uses CGC Continuum as its primary data provider. Rithmic is also supported. Monthly rates are charged to access the complete version. Fees vary according to the exchange.
Market Replay
The trading platform offers an innovative market replay function which is useful for backtesting. On a tick-by-tick basis, users can download historical data, rewind to a specific day and interact as if it were live. The feature is great for general practice or when testing out a new strategy such as with Fibonaacci levels.
Extras
The firm's offering also extends to trade performance tools, plus market and strategy analysers. Users also have extensive data feeds, indicator lists, intelligent programming capabilities, plus a reliable support forum.
Minimum system and hardware requirements for NinjaTrader are industry standard, so most people should be able to download full versions of 7 and 8. Programming and coding manuals can then be found in their video library.
The key to making the most of the services on offer is to spend some time exploring their video library and educational services once you've logged in.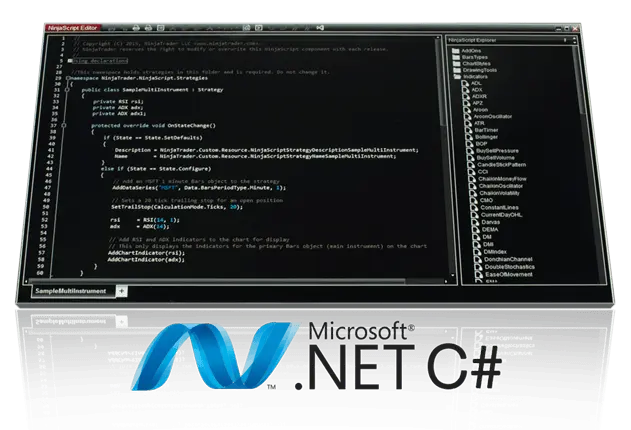 NinjaTrader 7 vs NinjaTrader 8
The NinjaTrader 8 release was highly anticipated and has not disappointed. The 8 system requirements remain similar to that for the 7, so if you have one you should be able to migrate to the other without too much hassle. You can use the 8 on Mac or Windows.
The key features of NinjaTrader 8 include:
Increased speed

Historical bid-ask data

Substantial charting improvements

Sub-second market data time stamps

The ability to add custom columns and indicators to SuperDOM
Reviews show customers are broadly happy with the updated solution. However, if you do not want to download the latest version, the full NinjaTrader 7 version is still available to use.
NinjaTrader 8 tutorials, strategy builders, and backtesting guidance can all be found by heading to their trading forum or library of training videos.
Note, there are still no NT 8 mobile capabilities.
Pros of NinjaTrader
With so many options available, what separates NinjaTrader 8 from its competitors?
Set up – in less than ten minutes you can download NinjaTrader 7 or 8 and be up and running. The process is easy to navigate and only requires basic data entry.
Customization – The platform has been designed for traders looking for high levels of customization and advanced technical analysis. NinjaTrader offers floating windows and indicators that are simply not available on other platforms.
Scripts – Experienced day traders often like having access to plenty of scripts. NinjaTrader 7 was fantastic for this and NinjaTrader 8 has programmers porting over scripts to their new updated solution.
Free simulation – This free trial uses either random data or live data updated once per day. Once you have honed an effective strategy you can then upgrade to live trading with real capital.
Stop-loss capabilities – The platform has an intelligent system that allows you to build your strategy so both stop-losses and target orders are sent out as soon as you enter a trade. This means if you lose your internet connection, or you are disconnected from your broker, your stop-losses and target orders could prevent a costly disaster.
Extras – the trading ecosystem supports thousands of third-party apps and add-ons to enhance data analysis and execution. Apps can be accessed directly through the portal and integrate seamlessly.
Educational resources – NinjaTrader offers a comprehensive range of additional resources including video tutorials, webinars, platform guides and more. Importantly, they suit a range of learning styles and objectives. Many resources are also free and can even be accessed by non-active clients.
Cons of NinjaTrader
Despite the strengths of the NinjaTrader 8 platform, there are also some limitations to consider:
Market analyser speed – Some reviews highlight concerns over the speed of the Market Analyser when running scans if you are using over 100 symbols.
Mobile apps – Those hoping for a native mobile app for their Android (APK) or Apple (iOS) devices will be left disappointed. Whilst there has been discussion of a mobile offering, the platform does not currently have a mobile application. Access to CQG Mobile is available for those using NinjaTrader Brokerage.
Difficult to learn – This was particularly true for the NinjaTrader 7 version. NinjaTrader 8, however, is definitely improved but for those new to the platform, it can take a while to get to grips with. You can find a range of online video tutorials, user guides, and websites to assist you along with free daily webinars hosted by their support team.
Narrow focus – Today's traders are increasingly interested in bitcoin and cryptocurrency markets. The terminal does provide charting and analysis capabilities with Coinbase data integrated directly to the platform but order execution is not currently available. For live trading, NinjaTrader is currently best at serving those trading trade futures, forex, and stocks.
Premium features – while the basic features can be accessed for free, access to premium features requires a funded account.
Equity trading – traders will have to use a supporting broker in order to trade equities with NinjaTrader.
Portfolio analysis – The platform and brokerage is geared towards active traders, rather than long-term investors. It does not offer any portfolio analysis tools or reports to support asset allocation.
NinjaTrader 8 Education
Getting to grips with a new platform can be challenging. Fortunately, NinjaTrader does provide a suite of resources to help you get the most out of the terminal, from daily webinars to training videos, a blog, and help guides. There is also an active user community you can turn to for additional support.
Resources cover key topics:
Price quotes
Account login
Stock scanners

Different plugins

Data subscriptions

Order types and quantity

Strategy templates & tutorials

Brokerage withdrawals and funding

Output windows and stop limit orders
How To…
Many of the educational materials available revolve around frequently asked questions from traders. The majority are "How to's", for example:
How to place a stop loss

How to delete strategies

How to trade futures

How to use NinjaTrader 9
The company also has a YouTube channel which hosts additional content.
Note, many of the resources can be accessed for free.
Cost
The core essentials NinjaTrader software package is available free of charge. This is the platform's most basic offering and covers only the key features needed for live trading.
To access premium features, traders will need to buy a license. There are two options to choose from:
Lease – an annual lease can be purchased for $720 (alt. $225 quarterly)
Lifetime License – $1099, or 4 monthly payments of $329
Brokerage fees, including exchange rates, are costed separately.
Minimum deposit requirements for Futures and Forex accounts are $400 and $50 respectively. Futures are available from $0.59 per contract ($0.09 per Micro contract).
Day trading margins for popular futures such as the S&P 500 emini are $500.
Both Mini Dax and FTSE 100 futures have margins of $1000.
You will find commissions start at around $0.53 per contract. However, this will depend on which package subscription you opt for.
NinjaTrader also charges a platform inactivity fee of $25 per month.
Demo Account
The demo account is a good opportunity to familiarize yourself with the NinjaTrader brokerage platform, risk-free.
Simply head over to their website and select Trade Futures or Trade FX. Then scroll down and enter your basic personal information including an email address and your location. You will then receive an email with your login details and information on how to download their platform (if you haven't already done so).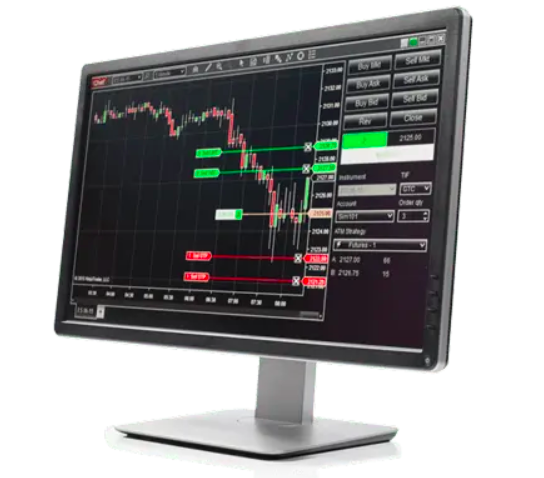 Trade simulator reviews speak highly of this service and it isn't hard to see why. Aspiring scalpers can hone their craft on Heiken-Ashi charts, whilst having access to playback functions, market and volume profiles, and more.
Once you have built up your confidence, you can open a live trading account, funded with real capital.
Brokerage Compatibility
NinjaTrader is an independent software platform that holds a multi-broker license. The software is compatible with and supported by a range of online brokers globally. This gives you, the investor, the choice on where you execute your trades.
Some of the brokers available include:
MB Trading
CQG
Clear Corretora
NinjaTrader Rithmic
NinjaTrader Continuum
The company also supports the majority of leading independent market data vendors, such as
Kinetick

TradeStation

Yahoo Finance

Metastock Import

IQFeed from Telvent DTN

Text file based historical data import
Visit the website for a full instrument list, including equities, forex, and futures.
NinjaTrader Customer Service
The firm offers 24/5 technical support, plus 24/7 emergency trade support in a number of languages via the help desk. The support team are on hand to help with a range of issues, including:
Pricing

Getting started
Setting up alerts
Getting your account balance
How to place stop losses and currency prices
Initial margin requirements and daily loss limits
Directions to the strategy builder and examples
Finding tick charts and automated trading strategies
Information on holiday hours and important calendar dates
Understanding license and leverage conditions, including intraday margin requirements, hours and inactivity fees
To submit a support request, visit the Contact Us page on the NinjaTrader website. Live chat is available through the official website on weekdays only.
The firm also has a support forum which can be accessed through the website. Any downtime (scheduled or otherwise) will be reported on the Support forum. If you do have issues with connecting, or the system not starting, be sure to check it for updates.
The emergency trade number will vary between time zones. Check the website where you are located to find the relevant phone number.
NinjaTrader Verdict
If you are looking for powerful software and advanced market data, the platform is worth considering. Clients will have access to an active community, a broad range of educational resources and flexible options for customization. The platform caters to online traders across asset classes and global markets. Costs are reasonable and there are free indicators and resource options available.
There are, of course, some limitations, namely the program can take a while to get familiar with, particularly for beginners. They also lack a native iPhone or iPad app, or Android equivalent. Although, if using NinjaTrader brokerage, you can access your account on the go using CQG Desktop.
Overall, the trading platform could help yield greater profits for the right investor. For the most part, its strengths outweigh the weaknesses.
FAQs
How Much Does NinjaTrader Cost?
To access premium features, traders will need to sign up to a funded account. The standard lease is available from $720 per year or a lifetime license is available at a one-time cost of $1,099. There are also quarterly subscription options available. Trader + and Order Flow + and paid services that traders can upgrade to, but the core essentials are free for the lifetime of the account.
What Is NinjaTrader Used For?
NinjaTrader is an online platform that can be used to trade a range of assets including forex, futures and stocks. The platform also caters to crypto-enthusiasts. In 2018, the platform announced an integration with Coinbase to support cryptocurrency market data. Bitcoin, Ethereum, Bitcoin Cash and Litecoin are supported.
What Is The Minimum Deposit For NinjaTrader?
To access NinjaTrader's brokerage services, the account minimum is $400 for a futures account and $50 for a forex account.
Can You Day Trade On The NinjaTrader Platform?
Yes – the platform is a popular platform used by day traders. Day traders are well catered for with a wide range of tools and features on offer.
How To Use NinjaTrader?
NinjaTrader offer a huge range of help guides, video tutorials and webinars, both for beginners, and also for advanced traders looking to get the most out of the system. There is also well informed customer support team, and lively user support forum. Any gaps in knowledge can be rectified using any or all of the above educational tools.
Can You Use NinjaTrader On A Mac?
NinjaTrader is a windows based platform which relies on the .NET framework. That framework does not work on Macs. There are methods using Parallels or VMWare to get Ninjatrader working on Macs, but the these are not officially supported. NinjaTrader are monitoring demand for a Mac version of the platform, and one may be developed, but as yet, there are no plans to do so.
Does NinjaTrader Work With MT4?
No – the firm has no integration with MetaTrader 4 (MT4).
Is NinjaTrader A Safe And Legit Service?
Yes – NinjaTrader is NFA Registered (#0339976) and boasts more than 60,000 clients. Customer satisfaction can be judged from the feedback and comment on the User Support Forum.
Is There A NinjaTrader App?
No – the platform runs on the Windows operating system, utilising the .NET framework. Adapting this setup for mobile devices running iOS or android is not currently on the NinjaTrader development path.
Which Brokers Support NinjaTrader?
The most popular brokers supporting NinjaTrader currently include City Index.
Accepted Countries
NinjaTrader only accepts traders from United States, Netherlands, New Zealand, Norway, Nigeria, Poland, Portugal, Russian Federation, Saudi Arabia, Singapore, Spain, Sweden, Tokelau, Australia, Austria, Bulgaria, Belgium, Brazil, United Kingdom, Cyprus, Czech Republic, Denmark, Finland, Egypt, France, Switzerland, Germany, Hong Kong, India, Japan, Argentina, Chile, Mexico, Bolivia, Colombia.
Payment Methods
NinjaTrader Details
Minimum Trade
0.01 Lots
Regulated By
NFA, CFTC
Islamic Account

No

Mobile Apps
iOS & Android
Margin Trading

Yes

Volatility Index

No

Spot Trading

Yes

Perpetual Swaps

No

ELWs

No

REITs

No

AI / Machine Learning

No

Robo Advisor

No

P2P Trading

No

Negative Balance Protection

No

VPS Hosting

No

Tournaments

No

Demo Competitions

No

Managed Accounts

No

Market Maker

No

Auto Trading

Yes

Social Trading

No

Trade Signals

Yes

Inactivity Fee
$25
Guaranteed Stop Loss

No

Stock Exchanges

Chicago Mercantile Exchange
New York Stock Exchange

Commodities
Forex Trading Details
| | |
| --- | --- |
| GBPUSD Spread | 1.6 |
| EURUSD Spread | 1.3 |
| EURGBP Spread | 1.6 |
| Assets | 50+ |
Cryptocurrency Trading Details
| | |
| --- | --- |
| Crypto Spread | Floating |
| Crypto Lending | No |
| Crypto Staking | No |
| Crypto Mining | No |
| Crypto Auto Market Maker | No |
| Crypto Coins | |
Top 3 Alternatives to NinjaTrader
Compare NinjaTrader with the top 3 similar brokers that accept traders from your location.
IG Group – IG is an award-winning broker that has an excellent reputation globally. The brand-US offers spread betting, CFD and forex trading across a comprehensive suite of markets. IG is also multi-regulated, provides a great trading app and has 50 years experience.
Go to IG Group
Interactive Brokers – Interactive Brokers is a leading global brokerage that provides access to a comprehensive offering of stocks as well as forex, futures, metals, bonds and cryptos. The firm has over 40 years experience in the online trading industry and is heavily regulated by SEC, FCA, IIROC, and SFC. Traders use the proprietary Trader Workstation and can access powerful tools and data feeds as well as comprehensive educational resources.
Go to Interactive Brokers
Just2Trade – Just2Trade is a reliable multi-regulated broker registered with FINRA, NFA and CySEC. The company has 155,000 clients from 130 countries and stands out for its huge suite of instruments and additional features, including a social network, robo advisors and a funded trader programme.
Go to Just2Trade
NinjaTrader Comparison Table
Compare NinjaTrader With Similar Brokers
NinjaTrader
IG Group
Interactive Brokers
Just2Trade
Rating
4.5
4.4
4.3
3.5
Markets
Forex, Stocks, Options, Commodities, Futures, Crypto
CFDs, Forex, Stocks, Indices, Commodities, ETFs, Futures, Options, Crypto, Spread Betting
Forex, Stocks, Commodities, Crypto
Stocks, ADRs, ETFs, Futures, Options, Commodities, Bonds
Demo Account
Yes
Yes
Yes
Yes
Minimum Deposit
$50
$0
$0
$100
Minimum Trade
0.01 Lots
0.01 Lots
$100
0.01 Lots
Regulators
NFA, CFTC
FCA, ASIC, NFA, CFTC, DFSA, BaFin, MAS, FSCA
SEC, FCA, IIROC, SFC
CySEC, NFA, FINRA, Bank of Russia
Bonus
–
–
–
Up to $2,000 for professional accounts
Education
No
Yes
No
No
Platforms
eSignal
MT4, AutoChartist, TradingCentral
AlgoTrader, OmniTrader, eSignal, TradingCentral
MT4, MT5, TradingCentral
Leverage
1:50
1:30 (Retail), 1:250 (Pro)
1:50
1:20
Payment Methods
3
6
11
20
Visit
Visit
Visit
Visit
Visit
Review
–
IG Group
Review
Interactive Brokers
Review
Just2Trade
Review
Compare Trading Instruments
Compare the markets and instruments offered by NinjaTrader and its competitors. Please note, some markets may only be available via CFDs or other derivatives.
Compare NinjaTrader Trading Instruments

| | NinjaTrader | IG Group | Interactive Brokers | Just2Trade |
| --- | --- | --- | --- | --- |
| CFD | No | Yes | Yes | Yes |
| Forex | Yes | Yes | Yes | Yes |
| Stocks | Yes | Yes | Yes | Yes |
| Commodities | Yes | Yes | Yes | Yes |
| Oil | Yes | Yes | No | Yes |
| Gold | No | Yes | Yes | Yes |
| Copper | No | Yes | No | No |
| Silver | No | Yes | No | Yes |
| Corn | No | No | No | No |
| Crypto | Yes | Yes | Yes | Yes |
| Futures | Yes | Yes | Yes | Yes |
| Options | Yes | Yes | Yes | Yes |
| ETFs | No | Yes | No | Yes |
| Bonds | No | Yes | Yes | Yes |
| Warrants | No | Yes | Yes | No |
| Spreadbetting | No | Yes | No | No |
| Volatility Index | No | Yes | No | No |
NinjaTrader vs Other Brokers
Compare NinjaTrader with any other broker by selecting the other broker below.
Customer Reviews
There are no customer reviews of NinjaTrader yet, will you be the first to help fellow traders decide if they should trade with NinjaTrader or not?
Visit
NinjaTrader is a US-headquartered and regulated brokerage that specializes in futures trading. There are three pricing plans to suit different needs and budgets, as well as ultra-low margins on popular contracts. The brand's award-winning charting software and trading platform also offers a high-degree of customization and superb technical analysis features.