Nickel
Nickel is a versatile metal that is used to prevent corrosion in stainless steel alloys and is a key part of the manufacture of batteries and medical equipment. Thanks to its use in green technologies like wind turbines and electric cars, many also believe the demand for nickel trading is sure to rise. This tutorial explains how to trade nickel, from reading live charts to understanding the price economics of the commodity. We also rank the top nickel brokers in 2023.
Nickel Trading Basics
Nickel's widespread use in manufacturing makes it a popular trading commodity with a huge market. If the adoption of electric vehicles gathers pace, its rise may also be explosive.
At the same time, trading nickel has had a bumpy ride in recent years with some periods of extreme volatility. Most nickel production takes place in a handful of countries and the market is prone to shocks when a major producer hits trouble – as a glance at 2022's price charts will show.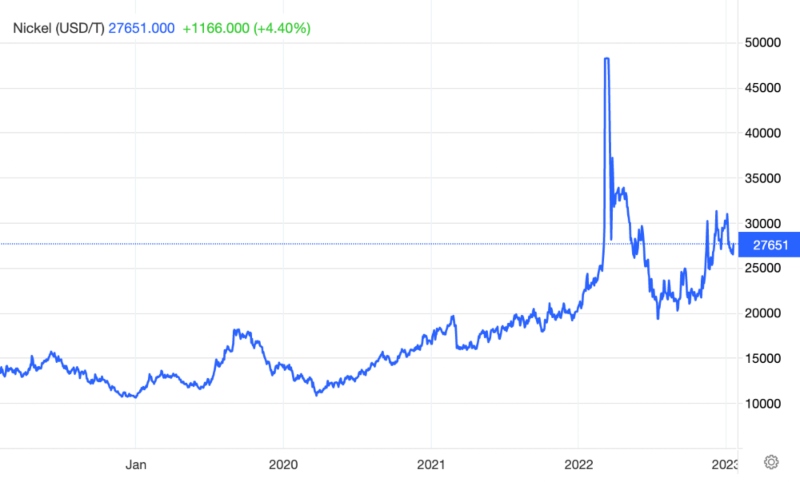 This led to nickel trading being suspended for eight days by the world's largest metal trading exchange, the London Metal Exchange, after Russia, the world's third-largest producer, invaded Ukraine, sending nickel prices skyrocketing 250% in one day to more than $100,000 per ton.
Nevertheless, nickel can be a great commodity for traders who keep their eyes on price charts and their fingers on the pulse of geopolitical news.
Also, unlike precious metals like gold and silver, nickel is not used as a store of value, and instead is tied into a wide range of manufacturing sectors. This means that nickel's price will tend to rise when markets are buoyant, as demand for nickel products increases.
In addition, it is tied to a number of growing industries that are at the cutting edge of renewable innovation – electric cars, wind turbines and so on. This is what makes trading nickel a valuable prospect for investors who have an interest in these sectors.
How To Trade Nickel
Investors and traders deal in nickel in various ways besides directly buying and selling nickel bullion. Many prefer to buy shares of mining firms or other companies that extract the metal, but you can also gain exposure through firms involved in marketing or processing nickel or funds that specialize in base metals.
There is ultimately a range of methods and financial products that allow investors to speculate on nickel trading prices:
Nickel bullion is the straightforward trade in this metal. Since it is a heavy and bulky commodity, this is not usually an option for retail investors looking to start day trading nickel.
Stocks that give a trader exposure to nickel are usually in mining companies, such as Norilsk Nickel, Glencore, and Vale.
Nickel futures, traded on the London Metal Exchange, are an agreement to buy a set amount of nickel at a predetermined price when the contract expires. Since the buyer may need to take possession of the nickel on expiry, and the pricing of the derivative is affected by factors such as storage prices, these are usually not a choice for casual retail traders. With that said, nickel futures charts are one of the main ways that traders keep up to date with the asset's price, usually using a powerful platform like TradingView.
Nickel options work in a similar way to futures, but the contract buyer pays a premium for the right, but not the obligation, to exercise the contract. In other words, for the price of the contract, they gain the right to opt out of a costly trade.
ETFs are exchange-traded funds that often feature a number of related shares or commodities. A mining or base metal-focused ETF may have significant exposure to nickel.
CFDs & Spread Betting
Most retail traders will speculate on price movements through derivative products offered by online nickel trading brokers. Among the most widespread of these – and likely the easiest for a casual trader looking for nickel exposure – are CFDs (contracts for difference) and spread betting.
CFDs are a straightforward bet on an asset's price movement – the trader adopts a long or short position, and will either earn the difference between the asset's price at the start and close of the contract if their bet comes off (minus any fees), or have to pay the nickel broker the difference.
Spread betting is a derivative product that allows a trader to speculate on nickel's price in a similar way, with profit earned depending on how much the asset's spread moves past the price when the contract begins. In the UK, spread betting also has the significant advantage of being almost always tax-exempt.
Traders can use leverage to multiply their trading power when betting on nickel price movements through spread betting or CFDs.
What Influences Nickel Prices?
Nickel tends to do well when the economy is strong and demand for manufacturing is high, but this is only one of several important factors influencing the metal's price.
Supply And Demand
The demand for trading nickel rises during prosperous periods as this versatile metal is used in a great range of products in the consumer, manufacturing and industrial spheres. Likewise, if there is a perceived shortage of nickel supplies this will drive up prices, as noted in the example above when nickel trading halted after Russia's invasion.
Conversely, a weak economy will cut demand and often lead to lower prices, as will a glut in nickel supplies.
You can check the LME's website for a rundown of global nickel stocks to get a hint of which way the market is headed. Also, keep an eye out for news on nickel stockpiling in China, as this can affect prices.
Stainless Steel Demand
As nickel is essential in some types of stainless steel, the demand for this alloy is bound to influence nickel prices.
Technologies
As new technologies develop that require nickel in the manufacturing process, the demand for the metal is bound to rise. Keep your eyes open for hot new technologies that could increase demand, or for large-scale projects – wind farms, for example – that use nickel.
If these products or projects become part of a global trend, you can expect this to reflect in the price of nickel trading.
Geopolitics & News Events
The world's largest nickel producers are Indonesia, the Philippines, Russia, Australia and Canada. The French southwest Pacific territory of New Caledonia is also a major source of the metal.
Any event that has an impact on these producers' capacity to mine and export – whether that's an export ban or a natural disaster – is likely to have an impact on the price of nickel trading.
China
As the world's largest consumer of nickel, the situation in China arguably has as much impact on nickel trading prices as any other factor. Generally, a strong Chinese economic performance will correspond to higher prices.
Trading Hours
The trading hours for the commodity may vary among nickel brokers depending on the assets and exchanges they provide access to, but the major exchange for this type of commodity is the London Metal Exchange.
Trading hours for nickel on the LME are:
LME Select – 01:00–19:00 (GMT)
Ring Trading – 11:40–17:00 (GMT)
Live Price Chart
Comparing Nickel Brokers
The ideal nickel trading broker for you will vary on how exactly you plan to trade the metal, but there are some features that most traders tend to look for:
Fees are usually top on traders' minds since higher fees quickly carve away your profit potential. Look out for nickel brokers with tight spreads, low or no withdrawal fees, and no hidden charges such as account maintenance fees.
Security is always a high priority – traders should opt for a regulated nickel broker that uses up-to-date security protocols.
Range of assets is important as you are unlikely to stick to day trading nickel on its own.
Customer support can be a godsend if something goes wrong with your account or with a trade. The best nickel brokers offer live support round the clock.
Demo accounts and other educational materials are important for traders who want to sharpen their strategies and nickel trading skills before staking real money.
Added features like copy trading, trading robots and signals are favoured by many retail traders who don't have a lot of free time to keep an eye on price charts.
While far fewer brokers offer access to nickel than better-known commodities like gold and oil, there are still some excellent choices out there for retail traders:
CMC Markets is an award-winning UK-based broker that specializes in CFDs and supports MT4 and its own proprietary platform. Clients can start trading nickel with tight spreads and low commissions.
IG is the broker that claims to have started the spread betting trend back in 1974, and is still a strong contender today thanks to its competitive pricing, wide range of assets and support for MT4 and other trading platforms. The nickel broker is also multi-regulated with an excellent reputation among traders.
XTB offers nickel among more than 2100 assets on its proprietary xStation5 trading platform. Over half a million traders have opened an account with the nickel brokerage in the last two decades.
Nickel Trading Strategy
Your nickel trading strategy will depend to a great extent on the timeframe and vehicle you use. However, as this base metal is tied so heavily to manufacturing and other aspects of the global economy, strong fundamental analysis will be vital for most trading.
Remember that news events are bound to move the needle on the price of nickel if they impact its production, supply or demand.
In particular, there's likely to be a sizeable impact from events related to the big nickel producers – Indonesia, the Philippines, Russia, Australia and Canada – or China, the main consumer. However, nickel is closely tied to the wider economy, so just keeping an eye on the performance of other commodities such as oil can give you a clue about where nickel trading prices are headed.
Keep an eye on the price of nickel futures on a good chart such as TradingView to get a sense of the current trends and price ranges for the metal.
Many day traders use nickel trading strategies that rely on identifying upper and lower limits. Some indicators that are frequently used for this include moving averages, relative strength index, Bollinger bands and stochastic oscillators.
Final Word On Trading Nickel
Nickel is a highly flexible and functional metal, and while it's a crucial material in the global economy, it doesn't have the glamour of precious metals such as gold or blue-chip stocks like Meta and Apple.
Nevertheless, this is an interesting commodity to trade thanks to its economic importance, as evidenced by its increasing market demand and the corresponding price increases seen on trading price charts.
Nickel isn't necessarily an easy commodity to trade, as singular factors can have an outsized influence on prices and unexpected events can lead to sudden price shocks and even suspended trading.
If you do plan to trade in this base metal, check the LME website for updates on nickel trading volumes and the situation of global nickel stocks today, and stay on top of your trading platform's charts for a real-time view of nickel's performance.
To start day trading nickel, sign up with one of the best nickel brokers.
FAQs
Why Did Nickel Stop Trading In 2022?
Unfortunately, chaos broke out after Russia, one of the world's biggest nickel producers, launched its invasion of Ukraine, sending the price of nickel skyrocketing above $100,000 per ton.
The sudden price shock led to a 'short squeeze', where traders who held short positions on the metal's price were forced to exit their positions and buy the commodity, further driving up the price.
In the end, the chaos turned into a fiasco as LME stepped in and stopped nickel trading, reversing the price gains of the day in the process.
How Can I Trade Nickel Today?
Budding retail traders who want to trade in nickel should find a good broker that offers the asset with tight spreads and competitive fees. They can also test their nickel trading strategies through a demo account before laying down real cash.
Use our full guide to trading nickel to get started.
What Is Nickel Price At Today?
Stay up to date with nickel prices by checking the latest charts or graphs on TradingView or another reputable platform. Also be sure to check the London Metal Exchange (LME)'s website for updates on nickel trading volume and supply.
How Do You Buy Nickel Shares?
The best way to gain exposure to nickel through shares is to look for mining companies that produce this base metal. Popular firms include Norilsk Nickel, Glencore, BHG Group, and IGO.
You could also invest in commodities or mining ETFs available at some of the top nickel brokers.
What Are The Best Indicators For Day Trading Nickel?
When you're planning a nickel trade, turn on indicators such as moving averages, relative strength index and Bollinger bands. Besides these technical indicators, a range of news events can have a large impact on nickel prices – read up on the main factors influencing the metal's supply and demand.
When Will Nickel Trading Resume?
Nickel trading on the LME takes place every weekday, with the LMEselect electronic system open from 1 am to 7 pm GMT.
Nickel trading halted on the LME in 2022 after Russia launched its invasion of Ukraine, but it resumed shortly afterwards and should be available to trade as usual in western time zones.
However, LME has still not been able to start trading nickel again during Asian time zones after a UK watchdog blocked its application.