NapBots Review 2023 Review 2023
NapBots is a cloud-based automated trading solution for crypto assets. In this review, we outline how to get started with NapBots, including the various exchanges it integrates with, the benefits of using the platform, and a breakdown of pricing options. Find out how to level up your crypto trading portfolio.
---
NapBots has closed…

The brand stopped offering its crypto trading bot in January 2023. Existing accounts will be automatically closed.

Instead, consider Bitsgap. The firm integrates with 25+ exchanges and offers crypto bots based on multiple strategies.

The cloud-based solution also comes with customizable features and user guides.
---
What Is NapBots?
NapBots is a crypto robot that designs trading strategies to increase investment returns. Its trading algorithms process market data in real-time and can make profits in bullish or bearish conditions. It provides automated execution for investors on major crypto platforms including Binance and Kraken via APIs.
NapBots was launched in 2017 and is owned by the Napoleon Crypto Group, a fintech based in Paris. The group also owns and operates Napoleon AM, a regulated asset manager in France specialising in crypto solutions.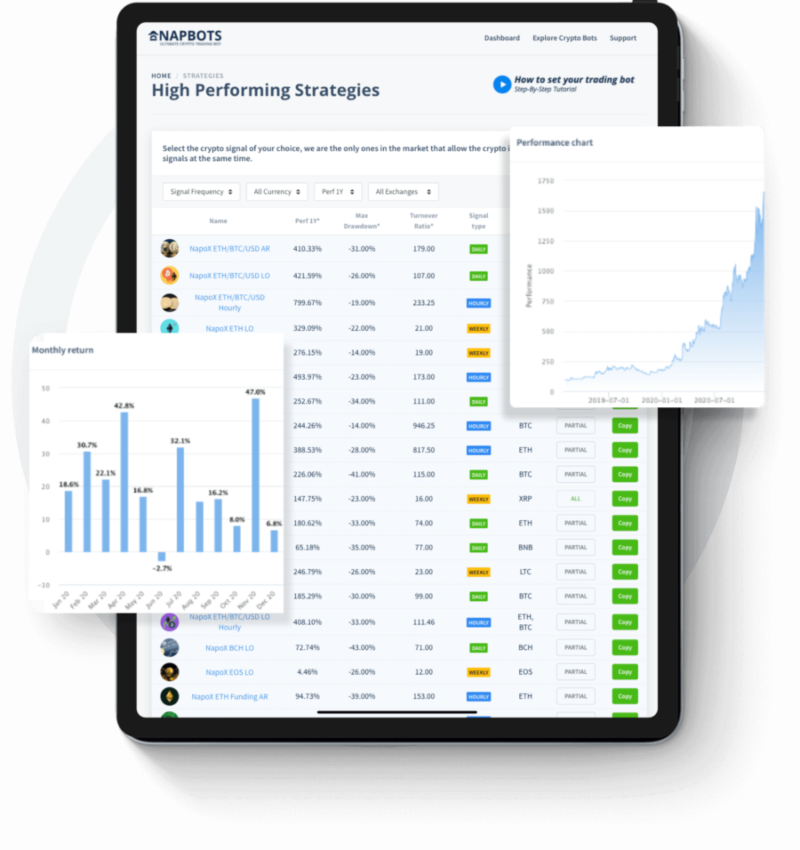 Compared with its competitors, including 3commas, NapBots offers simplicity and a large number of compatible exchanges. Similar to 3commas, users can test strategies using historical market data. However, 3commas is available on iPhone and Android and offers a free version versus NapBots's fixed trial.
The platform is great for users with varied trading experiences. Its bots do the hard work so there's no need to get involved in chart analysis. The algorithms will trade for you, 24/7 in autopilot mode.
The investing solution focuses on the most liquid cryptocurrencies including Bitcoin, Litecoin, and Ripple.
Strategies
NapBots updates and launches new strategies every 3 months to keep on top of the latest market trends. The platform currently provides exposure to 20 different algorithmic trading strategies.
The strategies have been all designed to capture trends over three time periods using uncorrelated triggers (price-based indicators, not including take profits or stop losses, volumes, and funding fees).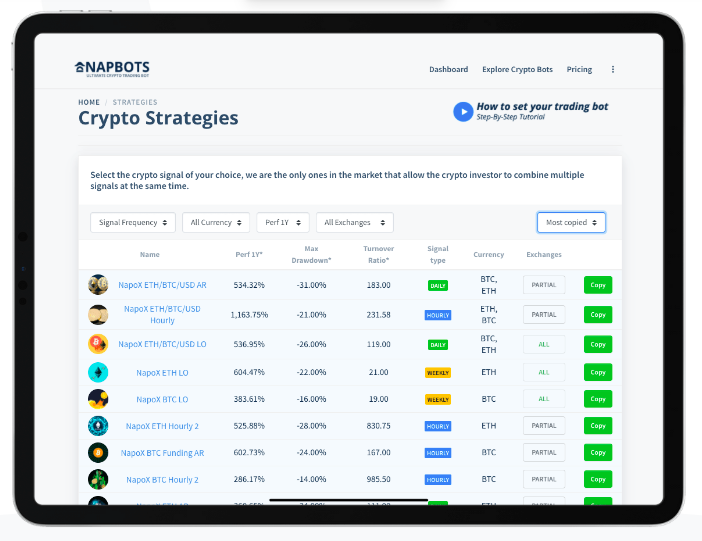 NapBots works with sliding time windows which analyse trends. When a change of trend is detected between two consecutive time windows, then an order is sent to the market.
There are 3 types of strategy available:
Hourly – high-frequency trading: positions are opened every hour
Daily – medium-frequency: positions are opened every day
Weekly – low-frequency: positions are opened every week to catch big market movements
NapBots publishes details and KPIs per strategy across the previous 12-months.
Getting Started
Choose An Exchange
First, you need to select your favourite exchange. Linking your selected exchange account to NapBots is easy. Simply develop an API key from your broker's account and then configure the key between the exchange and platform.
NapBots is currently available on the following crypto exchanges:
These exchanges provide an extensive list of crypto pairs. They were also selected for their security and liquidity.
According to its website, NapBots is coming soon on the following crypto exchanges: Coinbase, Huobi, Revolut, Bithumb, HitBTC, Crypto.com, and Kucoin.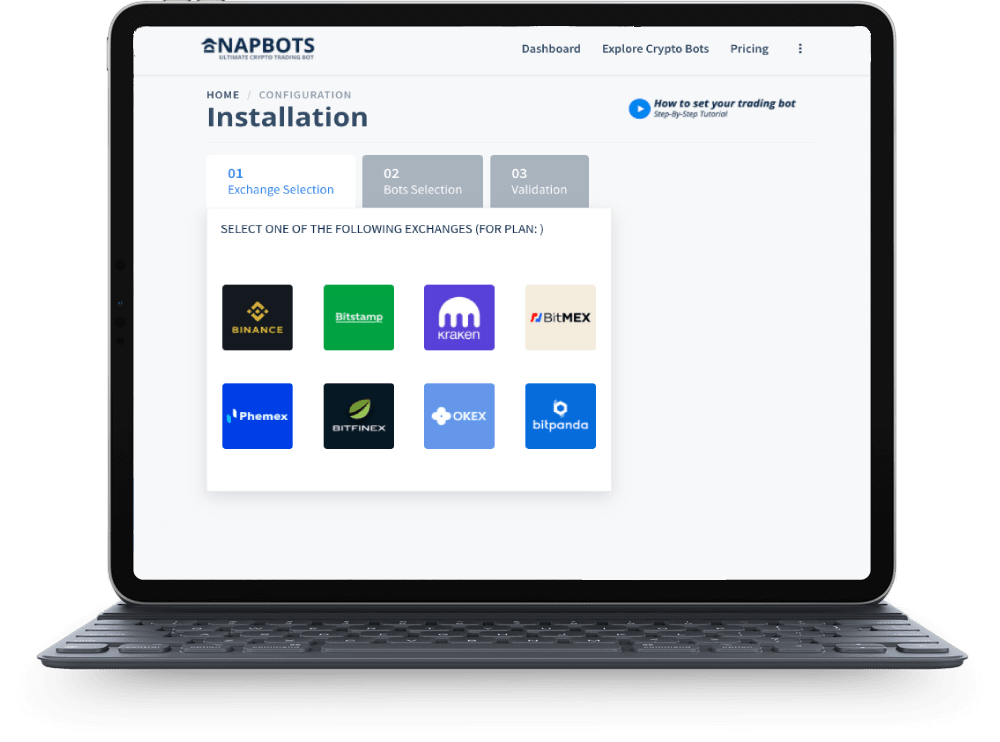 Choose A Strategy
You can choose strategies from the platform's library of crypto bots. It is worth noting that NapBots is the only provider that allows users to combine multiple signals simultaneously. Using several strategies at once means you can experiment with a mix of allocations to reduce risk.
Investors who study the market and input choices according to live trading conditions will have more opportunities to make gains. Choosing the wrong strategy and/or market means users could lose earnings.
Choose A Subscription
Lastly, select a plan that suits your style of investment (hourly, daily, or weekly – explained below) plus your budget and let the automated bot take control.
Fees
NapBots is currently offering a 7-day free trial. The trial period is unlimited for simulator mode. Once users have verified that strategies work for them, they can upgrade to a paid subscription.
You can cancel your subscription at any time or upgrade/downgrade whenever you want. You will be charged or refunded pro-rata based on the new plan you choose. Plans are payable monthly or annually and NapBots offers discounts on pre-commitments and a free personalised domain name for one year with an annual subscription.
The following subscription plans are available, all with unlimited copy trades:
Freemium – simulator mode: unlimited execution with a fictitious budget at zero cost
Silver Plan – €7 per month for the first 3 months, then €19 per month: traders have access to the weekly trading bots with a budget limit of €1,000. The plan does not include access to the daily or hourly bots nor does it include customised allocations.
Gold Plan – €39 per month for the first 3 months, then €49 per month: the gold plan includes access to weekly and daily strategies. It also includes features such as leverage and custom allocations. The budget limit is €3,000.
Platinum Plan – €99 per month: users gain access to all trading bots (hourly, daily, and weekly) and all features available on the platform. It has a budget limit of €5,000.
If users want to trade more than the budget limit specified by their plan, they must pay an extra fee. Users can pay using credit or debit cards or with cryptocurrency. However, the latter can take longer for credit to reach your account.
NapBots supports most major currencies, including EUR, AUD, CAD, GBP and USD.
Pros
There are a number of benefits to signing up with NatBots:
Easy to use
Relatively cheap
Simulation mode
Mixture of strategies
Free trial currently available
Cancel subscription any time
Zero skill or experience needed
Removes emotional decision making
Compatible with leading crypto exchanges
Funds held on the exchange, not with NapBots
Cons
There are limited drawbacks to using NapBots as traders can practice in simulation mode before investing real funds. Users can also stop using the tool at any time. With that said, it is a reasonably new system. The only other disadvantage is that leverage is limited to 1:5.
Security
NapBots does not hold funds on its platform. The bot merely executes trades on your exchange account, such as Binance. Similarly, NapBots cannot make withdrawals. The tool is believed to be secure and there are no reports of hacks or issues related to cyber risks.
To set up an account, users must provide a name, email address and create a password. Clients will receive an email confirming registration. Napoleon, the owner of NapBots, collects its users' personal data when they browse its website or open an account and fill out the electronic form. The platform may also evaluate clients' trading experience, average annual income, and estimated net worth.
Customer Support
NapBots provides 24/7 customer assistance via the Support page on its website. There is no contact phone number listed but traders can send an email to support@NapBots.com if something is not working as expected.
Investors can open a support ticket on the chat section of the website, using an email address, available at the bottom right of the support page. The platform advises visiting its Knowledge Base or using its Video Tutorial, also available on its support page.
There is a broad list of searchable FAQs in the help section, including information on strategies and performance, security, plus how to manage your subscription.
NapBots provides links on its website to its various social media accounts, including Facebook and Telegram. It also runs a YouTube channel that features 'how to' tutorials.
Note, the platform's Twitter account (@NapBots) has been suspended for violating company rules.
NapBots Verdict
NapBots is an easy-to-use, automated crypto trading bot, removing the emotion from investing. Many users have given the tool excellent reviews on various forums, especially regarding customer support. There are benefits for traders of all experience levels and the ability to cancel any time means you won't be locked in if you decide it's not right for you. However, as with all types of trading, using NapBots does not guarantee profits.
FAQ
How Do I Start Using NapBots?
It is very simple to get started with NapBots. First, choose an exchange. Then select a strategy. Lastly, choose and pay for your subscription.
What Exchanges Can Integrate NapBots With?
NapBots is currently available on the following crypto exchanges: Binance, BitMEX, Bitfinex, Kraken, Bitpanda Pro, Bitstamp, OKEx, and Phemex. It also plans to be available on other exchanges including Coinbase, Crypto.com, and Revolut.
How Much Does It Cost To Use NapBots?
Prices range depending on how much you want to trade. Subscriptions start at €7 per month and go up to €99 per month for the platinum, all-access subscription. Users can test the platform for free using the simulation function and fictitious funds. Currently, NapBots offers a free 7-day trial for new users.
Is It Safe To Use NapBots?
NapBots merely executes trades on your linked exchange account. Your funds are not held on NapBots so money cannot be deposited or withdrawn from the platform. Of course, crypto trading is notoriously risky and returns are not guaranteed.
Is Using NapBots Legal?
Yes, it is legal to use trading bots in most jurisdictions. Automated trading can impact the markets but there are no rules in place to stop investors from using crypto bots.
NapBots offers an automated copy trading solution that links to leading crypto exchanges.