Luno Review 2023


Available in United States
Luno will appeal to beginners looking to trade popular cryptocurrencies on a user-friendly mobile app and web platform.
- Daytrading Review Team
Established in 2013, Luno has a mission to make crypto investments simple and accessible for all. The brand has a customer base of 9+ million across 43 countries. Trading fees are competitive, with no market maker charges and access to popular tokens like Bitcoin.
£1
Own
Crypto
-
Wire Transfer, Debit Card, Credit Card
Crypto Trading
Luno supports cryptocurrency trading, staking and transferring on major tokens, including Bitcoin, Ethereum, Ripple and Cardano. There are no maker fees and taker fees vary by trading volume starting from 0.10%. 95% of cryptocurrencies are held in 'deep freeze' multi-signature, encrypted wallets.
✓ Pros
Instant Trade, savings wallets, and crypto transactions supported
Third-party proof of reserves audits available to view
Transparent fee structure with zero market maker charges
Market news, insights and educational content available
'Deep Freeze' multi-signature wallets to store cryptos
High liquidity and high-speed platform so the spreads are kept low
Simple and easy-to-use interface
✗ Cons
Very narrow range of cryptos with up to 11 tokens available that varies by jurisdiction
Poor payment methods with restrictions in some countries
Below average customer support with no live chat or telephone
Limited analysis tools and features for seasoned traders
Not regulated or insured, raising safety concerns
Luno Money Limited is a cryptocurrency exchange that provides a platform for purchase, sale, storage, saving and interest earning systems on six of the most popular cryptos, including Bitcoin. The broker offers trading and wallet services from desktop or mobile apps with robust security measures. This review will delve into Luno's funding methods, software, pricing structure and more.
Luno Headlines
Luno is a global cryptocurrency exchange that provides access to the trade of digital assets and fiat currencies. Launched in 2013 under the name BitX before rebranding in 2016, Luno is run by CEO and owner Marcus Swanepoel, who has an estimated net worth of $2 million, alongside founder Timothy Strannex.
Since its launch, Luno has grown to have several offices in cities around the world, such as Johannesburg in South Africa, Jakarta in Indonesia, Lagos in Nigeria and Kuala Lumpur in Malaysia, in addition to its head office in London, UK. There are also plans for expansion into Kenya and Ghana.

Luno's services are accessible from smaller countries that are often ignored by other large exchanges. However, the broker has ceased operations in Zambia. As a testament to Luno's success, the platform hit the 8 million users milestone in June 2021.
Luno Services
Exchange
The crypto exchange is the primary feature on the Luno platform. Here, users can trade cryptocurrencies like Bitcoin (BTC), Ethereum (ETH), Litecoin (LTC), Bitcoin Cash (BCH), Ripple (XRP) and the stablecoin USD Coin (USDC). A stablecoin is different from typical cryptos as it is tied to a fiat currency (in this case the US Dollar) and so is generally less volatile.
Luno is an accessible, entry-level exchange that offers trading for many fiat currencies that are rarely included on exchanges, such as the Indonesian rupiah (IDR), Nigerian naira (NGN), South African rand (ZAR), Malaysian ringgit (MYR), Singapore dollar (SGD), Ugandan shilling (UGX), Zambian kwacha (ZMW) and Polish zloty (PLN), alongside the Euro (EUR), Great British pound and Australian dollar (AUD). The Japanese yen (JPY) and Chinese yuan (CHY) are not available on the Luno platform.
Luno connects buyers and sellers directly through its exchange feature whereby users select the crypto/fiat or crypto/crypto pair they wish to trade, the amount they wish to trade and the transaction type.
The three types of transaction available are market orders, limit orders and stop-limit orders. A market trade is a position whereby orders are executed immediately at the best available price at the time, which is the fastest method but may come at a higher cost. A limit order is where users will set a price limit such that a position will automatically be executed at the specified or a better price, meaning users save costs but have to wait. A stop-limit is similar to a limit order, but orders are exited at the specified price.
Instant Trade
Luno has started offering an instant buy/sell service option to traders where they act as a brokerage and set the price of a pair themselves. This is different from the exchange feature as the exchange fills the other side of your order, as an automated market maker.
The process of purchasing crypto via this feature is easy, simply select the desired crypto, which currency you will use for the purchase (Bitcoin, USDC or any of the fiat currencies on the platform) and how much you wish to purchase. You can then submit a request and, following a short pending transaction period, will have acquired the crypto. To help users make an informed decision, Luno provides a price history chart and a calculator to estimate valuation.
If, when you attempt to sell some of your cryptocurrency tokens, you may see a message saying, 'the amount is lower than the minimum'. This just means you are below the minimum sell amount for that specific crypto. A full list of minimum and maximum deposit, withdrawal and other limits can be seen on the Luno website.
Luno Savings
Users can earn a passive income from the Luno Savings Wallet feature by staking crypto tokens. Here, you can buy Bitcoin and invest it on the platform, where Luno will lend it out to a partner exchange and any revenue it generates from this lending will be passed onto you.
Luno pays out on the first day of every month to your wallet and you can either withdraw your profits straight away or compound them to continue earning interest. The targeted interest rate is 4% but this may vary as it is dependent on market conditions, so it can go up or down because of supply and demand for Bitcoin lending and borrowing. There are no administration or monthly fees and no fixed terms.
Send & Receive
Luno has created an in-house method for users to transfer Bitcoin between friends and family with no fees attached. Usually, making such a transaction on the blockchain would incur a fee. The process is very simple as you only need to identify the user you are sending the crypto to with their email address, mobile number or their account's unique QR code.
If you are sending other cryptos like ETH or XRP you will have to pay a small transfer fee that is related to how busy the network is when you send. You have a daily limit and monthly limit on what you can send to other users that depends on where you are based and what verification level your account is. Ensure you enable the send feature on your account before attempting to transfer any money as the default is set to off.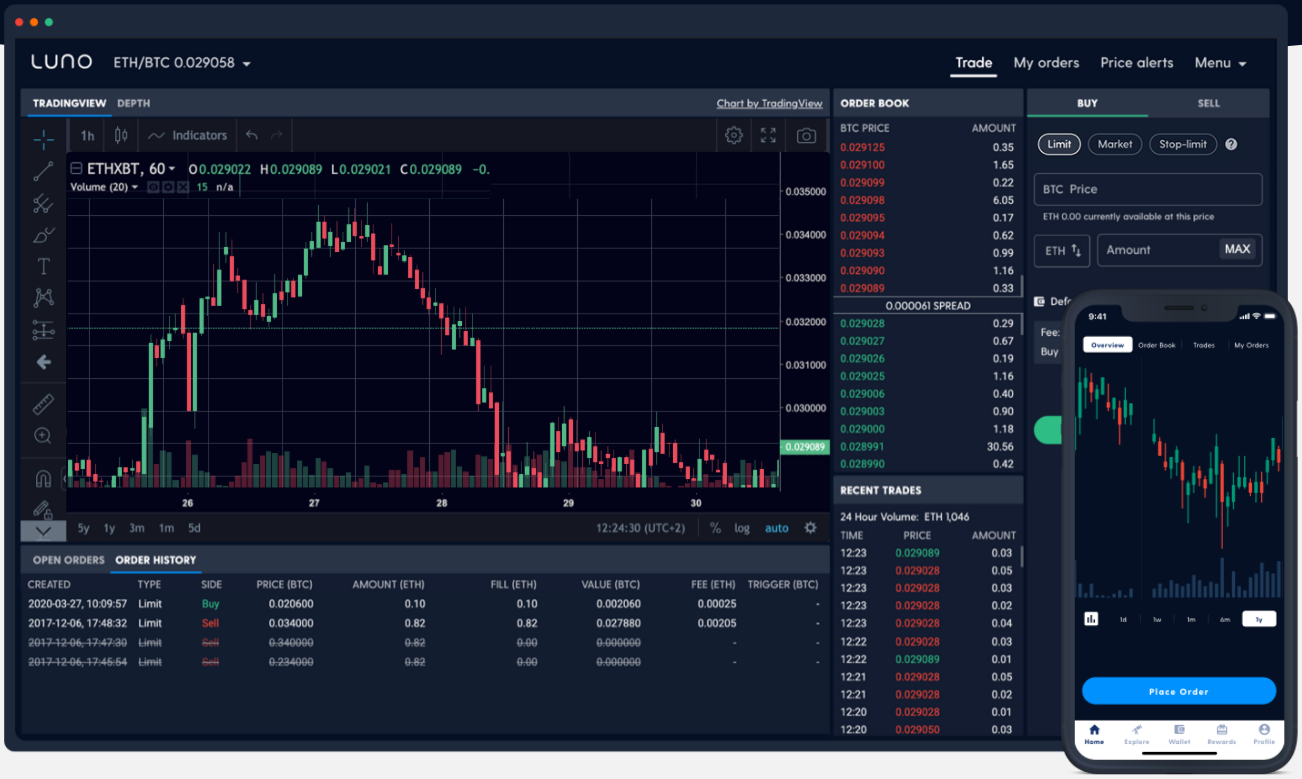 Fees
Luno does not charge any maker fees but there are service costs in the form of taker fees, which are dependent on your 30-day trading volume leading up to the transaction. If you have traded less than £250,000 then you are charged a 0.1% trading fee. This trading fee decreases in 0.01% steps down to 0.03% for a trading volume over £16 million. The full breakdown for trading fees can be seen on the Luno website.
The deposit and withdrawal fees that you are charged depend on the fiat current you are transferring and the amount. Most are free, for example, UK-based traders making bank transfers in GBP do not pay fees, however, South African traders have to pay a deposit fee of 1.4% if they use an Instant EFT method.
Payment Methods
There is a range of methods for users to deposit funds into their wallet on Luno but some methods are only possible in certain countries. You can use bank transfers for the fiat currencies of Australia, Malaysia, Uganda, Europe (Europe also can deposit using a credit or debit card) and the UK but not Indonesia, Nigeria, Singapore and South Africa.
For Indonesia you must use an ATM or mobile banking, for Singapore you must use an Xfers transfer and for South African ZAR you must use EFT for deposits and withdrawals. You cannot currently deposit funds or make a withdrawal in Nigerian naira as the Central Bank of Nigeria has announced banks should stop supporting cryptocurrency companies. The deposit and withdrawal times can be up to 48 hours, reflecting typical bank transfer times.
Minimum deposits are competitively low, at only £1, making the exchange accessible to newer clients with less capital to invest.
Note that you are responsible for determining what tax you owe after carrying out transactions on Luno. Please ensure to always declare the correct amounts to your appropriate tax authorities.
Mobile App
For users with an Android or an iPhone, there is a Luno mobile app available on the Google PlayStore and Apple App Store. You can find the app either by scrolling to the bottom of the Luno homepage where there is a link, or you can search for it on the store.
For Windows and macOS, you must either use the Luno website or download an APK file from a third-party website.
Deals & Promotions
To see Luno promo codes for 2021 you can either look on the broker's website for current promotions and their terms and conditions or search third-party websites.
Customer Support
If you are wondering 'how does it work', 'how to make money when you have no feasible strategy' or even 'what is a Luno account' then there are plenty of online resources available to you.
There is a help section on the Luno website that has a range of topics with common Q&As, such as security, identity verification and getting started to help users get to grips with the platform. Each topic is filled with guides to help answer questions that users may have, for example, is it safe, how to make a deposit or how to open a Luno Bitcoin account. This help page also features a troubleshooting section with useful advice to help solve issues in case you forgot your password or have an unconfirmed transaction. Unfortunately, these guides are not available as a pdf download, so you can't save and view them later.
Additionally, Luno has set up a learning portal to help new users learn about everything crypto related, from stablecoins like USDT to individual cryptocurrencies such as XRP, USDC, ETH and their networks. For each subject, Luno provides detailed descriptions and a YouTube video to cover all the necessary information.
If you still find that you still have queries or need advice, then you can reach out to the online crypto trading community via social media websites such as Twitter, Reddit and Quora. If you wish to stay updated on any crypto news from the Luno platform to Banksy NFTs, then follow the exchange's LinkedIn or website blog.
Security
There are three verification levels on Luno, each status coming with associated benefits.
Level 1
Users confirm their mobile number and basic personal information.
All-time deposits and withdrawals are limited to £1,000.
Level 2
Users must submit a photo or scan of their government-issued ID and a selfie.
Deposit and withdrawal limits per month are £5,000.
Level 3
Users must input their residential address, employment status, occupation and source of funds.
No deposit and withdrawal limits.
Luno says that the verification time for each level should only take a few minutes if there are no issues, so you should not be waiting a long time before you can start using all the features on the platform.
For each account, 2-factor authentication (2FA) is enabledfor extra security. This is also useful for account recovery as users receive a 4-digit pin either via email or phone number to reset their password and to log in again.
To provide security for the Luno Savings service, Luno has partnered with one of the world's leading cryptocurrency lenders, Genesis, who operates under the Digital Currency Group umbrella. It is one of the most respected companies in the industry so users can be assured that the Savings service is reliable and trustworthy. However, it is still important to note that the money invested in this wallet is not covered by a deposit protection scheme and so there is a risk of losing your entire investment if the borrowing party defaults.
The Luno Wallet is a safe storage option where users can keep their tokens protected from any attempted hack or security breaches. Luno keeps clients' funds in 'deep freeze' multi-signature wallets that are offline.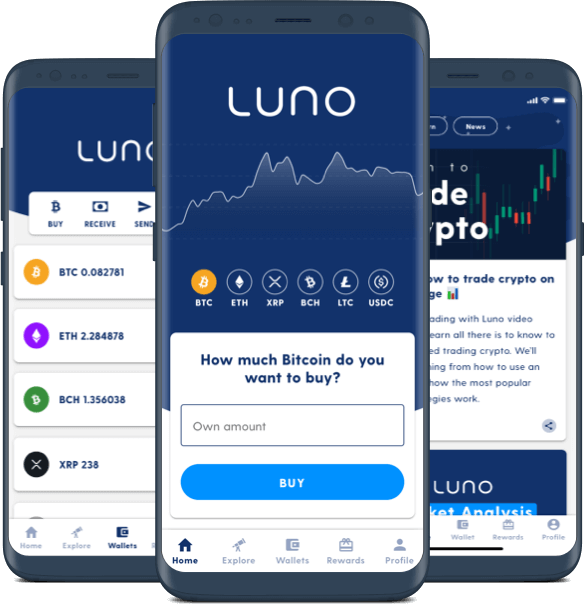 Regulation
Luno is not licensed with any recognised regulatory authority like the Financial Conduct Authority (FCA) in the UK and so users are not insured if Luno lose their funds. However, the exchange has taken proactive steps towards its customers' safety and security.
This includes robust anti-money laundering (AML) and combating the financing of terrorism (CTF) controls based upon laws and regulations imposed on the rest of the finance industry. With this, Luno adopts a know-your-customer (KYC) policy to ensure the safety of both users and the platform.
There have been some concerns over Luno's safe practice as the payment service Yolt and the bank Monzo recently removed the ability for users to transfer their money to Luno for security reasons.
Additionally, Luno recently had an "it's time to buy" ad banned by the Advertising Standards Authority (ASA). The ASA said that the advert did not highlight the risks of investing in Bitcoin.
Luno Verdict
Luno is a user-focused crypto exchange with a range of security features implemented to try to keep client funds safe. The platform is sleek and comes with a mobile app option and features like staking, cheap transfers and instant trades through automated market making. That being said, the list of crypto tokens supported is far from exhaustive, so clients wishing for a more diverse portfolio or access to some of the newer up and coming cryptos may want to find an alternative.
FAQs
Is Luno Legit?
Luno is not a regulated exchange, which is very common in the DeFi industry. However, there is a comprehensive suite of verification, security and responsibility protocols in place, including robust AML practices, KYC verification and 2FA. However, always be wary of scams, look out for a different email format, a suspicious free bitcoin voucher code or XRP airdrop, for example.
How Do I Disable My Account?
To delete your Luno account, log in and go to your settings page. At the bottom of the page, you should see a 'delete my account' button.
Who Owns Luno Exchange?
Luno is owned and run by its CEO Marcus Swanepoel and co-founder Timothy Strannex.
Where Can I Find Contact Details For Each Office?
The Luno headquarters is in London, UK and can be found on Paul Street. For information like Whatsapp phone number, contact details and office address for Johannesburg, Kuala Lumpur, etc., you will need to go through the Luno help centre and send a request. Since Luno ceased operation in Zambia, there are no contact details for there. There is no office based in the USA.
What Cryptos Can I Trade With Luno?
The Luno cryptocurrency exchange supports six major tokens: BTC, ETH, LTC, XRP, BCH & USDC. This is a relatively limited list when compared to major competitors like Binance, Coinbase, Plus500 and Kraken. There are also no meme tokens like Dogecoin supported.
Accepted Countries
Luno accepts traders from Australia, Thailand, Canada, United States, United Kingdom, South Africa, Singapore, Hong Kong, India, France, Germany, Norway, Sweden, Italy, Denmark, United Arab Emirates, Saudi Arabia, Kuwait, Luxembourg, Qatar and most other countries.
Payment Methods
Luno Details
| | |
| --- | --- |
| Minimum Trade | £10 |
| Islamic Account | No |
| Mobile Apps | iOS & Android |
| Margin Trading | No |
| Volatility Index | No |
| Spot Trading | No |
| Perpetual Swaps | No |
| ELWs | No |
| REITs | No |
| AI / Machine Learning | No |
| Robo Advisor | No |
| P2P Trading | No |
| Negative Balance Protection | No |
| VPS Hosting | No |
| Tournaments | No |
| Demo Competitions | No |
| Managed Accounts | No |
| Market Maker | No |
| Social Trading | No |
| Guaranteed Stop Loss | No |
Cryptocurrency Trading Details
| | |
| --- | --- |
| Crypto Spread | Variable |
| Crypto Lending | Yes |
| Crypto Staking | No |
| Crypto Mining | No |
| Crypto Auto Market Maker | Yes |
| Crypto Coins | |
Top 3 Alternatives to Luno
Compare Luno with the top 3 similar brokers that accept traders from your location.
IG Group – IG is an award-winning broker that has an excellent reputation globally. The brand-US offers spread betting, CFD and forex trading across a comprehensive suite of markets. IG is also multi-regulated, provides a great trading app and has 50 years experience.
Go to IG Group
Interactive Brokers – Interactive Brokers is a leading global brokerage that provides access to a comprehensive offering of stocks as well as forex, futures, metals, bonds and cryptos. The firm has over 40 years experience in the online trading industry and is heavily regulated by SEC, FCA, IIROC, and SFC. Day traders can use the proprietary Trader Workstation and can access powerful tools and data feeds as well as comprehensive educational resources.
Go to Interactive Brokers
CEX.IO – CEX.IO is one-stop-shop for crypto investors where you can buy and sell popular digital tokens, speculate on prices with margin trading and earn rewards through staking. Since it launched in 2013, more than five million traders have deposited over $7.5 billion. CEX.IO is registered with the FinCEN in the US and the GFSC in the EU.
Go to CEX.IO
Luno Comparison Table
Compare Luno With Similar Brokers
Luno
IG Group
Interactive Brokers
CEX.IO
Rating
2
4.4
4.3
3.7
Markets
Crypto
CFDs, Forex, Stocks, Indices, Commodities, ETFs, Futures, Options, Crypto, Spread Betting
Forex, Stocks, Commodities, Crypto
Crypto
Demo Account
No
Yes
Yes
No
Minimum Deposit
£1
$0
$0
$20
Minimum Trade
£10
0.01 Lots
$100
$1
Regulators
–
FCA, ASIC, NFA, CFTC, DFSA, BaFin, MAS, FSCA
SEC, FCA, IIROC, SFC
GFSC
Bonus
–
–
–
–
Education
No
Yes
No
Yes
Platforms
Own
MT4, AutoChartist, TradingCentral
AlgoTrader, OmniTrader, eSignal, TradingCentral
TradingView
Leverage
–
1:30 (Retail), 1:250 (Pro)
1:50
–
Payment Methods
3
6
11
12
Visit
Visit
Visit
Visit
Visit
Review
–
IG Group
Review
Interactive Brokers
Review
CEX.IO
Review
Compare Trading Instruments
Compare the markets and instruments offered by Luno and its competitors. Please note, some markets may only be available via CFDs or other derivatives.
Compare Luno Trading Instruments

| | Luno | IG Group | Interactive Brokers | CEX.IO |
| --- | --- | --- | --- | --- |
| CFD | No | Yes | Yes | No |
| Forex | No | Yes | Yes | No |
| Stocks | No | Yes | Yes | No |
| Commodities | No | Yes | Yes | No |
| Oil | No | Yes | No | No |
| Gold | No | Yes | Yes | No |
| Copper | No | Yes | No | No |
| Silver | No | Yes | No | No |
| Corn | No | No | No | No |
| Crypto | Yes | Yes | Yes | Yes |
| Futures | No | Yes | Yes | No |
| Options | No | Yes | Yes | No |
| ETFs | No | Yes | No | No |
| Bonds | No | Yes | Yes | No |
| Warrants | No | Yes | Yes | No |
| Spreadbetting | No | Yes | No | No |
| Volatility Index | No | Yes | No | No |
Luno vs Other Brokers
Compare Luno with any other broker by selecting the other broker below.
Customer Reviews
There are no customer reviews of Luno yet, will you be the first to help fellow traders decide if they should trade with Luno or not?
Visit
Established in 2013, Luno has a mission to make crypto investments simple and accessible for all. The brand has a customer base of 9+ million across 43 countries. Trading fees are competitive, with no market maker charges and access to popular tokens like Bitcoin.