The Hang Seng Index (HSI) is a market capitalisation-weighted stock market index in Hong Kong. It tracks the changes of the 50 largest and liquid companies on the Hong Kong Stock Market. Whilst the Hang Seng live index is the most quoted measure of Hong Kong's economic performance, it also attracts aspiring day traders looking to yield profits from short-term price fluctuations. This page will cover everything you need to know about the Hang Seng, from its origins and purpose to day trading the index, including charts, forecasts, trading hours, plus top tips.
What Is The Hang Seng?
The HSI is a free float-adjusted market capitalisation-weighted stock market index. It looks to represent the biggest movers and shakers found on the Hong Kong exchange. It currently accounts for around 65% of the exchange's total market capitalisation.
Members of the Hang Seng are broken down into four sub-indices:
Finance
Property
Utilities
Commerce and industry
A Brief History
The HSI was first published on the 24th November 1964. It is managed by Hang Seng Indexes Company Limited, a subsidiary of the Hang Seng Bank, which is headquartered in central Hong Kong. The bank is currently one of the largest banks by market capitalisation listed in Hong Kong.
It's responsibilities also include the maintenance and publishing of a number of other Hang Seng stock indexes:
China Enterprises Index
Composite Index Series
China AH Index Series
Corporate Sustainability Index Series
China A Industry Top Index
China H-Financials Index
Total Return Index Series
Hong Kong Stock Exchange
Its humble beginnings trace back to when the founding of China's first formal securities market, the Association of Stockbrokers in Hong Kong, in 1891, and a second market that opened in 1921, merged to create the Hong Stock Exchange in 1947.
Today you will find around 1,200 companies listed on the exchange. There are several key dates to be aware of:
1993 – This saw the introduction of automated ordering to the exchange.
1995 – Stock options trading was introduced.
2000 – The Hong Kong Stock Exchange merged with the Hong Kong Securities Clearing Company and the Hong Kong Futures Exchange to form Hong Kong Exchanges and Clearing Limited.
Economic Gauge
Whilst the index is supposed to provide a snapshot of the health of Hong Kong's stock market, it also serves another purpose. Because of Hong Kong's status as a special administrative region of China, both economies are closely linked.
So, the index serves as a proxy for the wider Asian market. In particular, China's stock market, which is often mispriced as a result of capital restrictions. This also means you will find many large Chinese companies listed on the Hong Kong Exchange.
Related Indices
On top of the most frequently quoted Hang Seng Index, there also exist a number of other major related indices, including smallcap and midcap indexes.
All the indices below provide access to mainland and China-affiliated companies. These are, the Hang Seng:
China Enterprises
China-Affiliated Corporations
China H-Financials
Corporate Sustainability
Mainland 100
HK 35
REIT
China 50
H-Share Index ETF-HK
China AH Premium
HIS Volatility
China A Industry Top
How It Works
Capitalisation-Weighted
To understand how the Hang Seng operates, you first need to know how capitalisation-weighted indices work. Quite simply, the index lists components in order of total market capitalisation. So, the biggest constituents hold a higher percentage weighting, whilst the smaller constituents carry lower weights.
Many of the global markets today have indexes that work in this manner. These include the FTSE 100, S&P 500, and the Nasdaq Composite Index.
Calculation
Finding the value of a capitalisation-weighted index is relatively straightforward. You simply need to multiply each constituents' market price by the total outstanding shares, to give you the total market value. The size of this value in comparison to the overall market value of the listed companies, will then give you a component's weight in the index.
Classification System
The Hang Seng further divides components into different sectors. To do that, it uses the Hang Seng Industry Classification System (formerly the Hang Seng Stock Classification System), created by Hang Seng Indexes Company Limited.
Classification guidelines are relatively simple. They consider the following factors:
Sales revenue – The primary criteria for stock classification is the sales revenue generated by each business area. On top of that, profit and assets will also be taken into account.
Majority source of sales revenue – A company's sector will be classed depending on its majority source of sales revenue, plus profit and assets if relevant.
Re-classification – Updates to a stock's industry sector can take place following a major change in a company's business, a merger or acquisition, for example.
Below is a list of industry sectors:
Consumer Goods
Conglomerates
Energy
Financials
Industrial Goods
Information Technology
Material
Properties & Construction
Services
Telecommunications
Utilities
Admission Criteria
For a Hang Seng nominee to warrant entry to the index, they have to meet a number of criteria:
Constituents must comprise the top 90% of the total market value of all ordinary shares.
They must be among those that form the top 90% of total turnover on the Stock Exchange of Hong Kong Limited.
They will also need to have a minimum listing history of 24 months. Alternatively, they will need to meet guidelines for newly listed large-capitalisation stocks. The higher their ranking at the time of review, the less time they need to spend listed.
Once a company has ticked the initial boxes, a final decision is made based on market capitalisation, turnover rankings, reflections of the sub-sectors in question, plus financial performance.
Performance
Hang Seng websites publish prices, results and key performance details. Some of the highs and lows of the index have been as follows:
July 31st, 1964 – When first published, the HSI had a base value of 100 points.
August 31st, 1967 – This all-time low of 58.61 points, was after the base value was established, but before the index was published.
December 10th, 1993 – The Hang Seng passed the 10,000 point milestone for the first time.
December 28, 2006 – The index passed the 20,000 point milestone.
October 18, 2007 – Just 10 months later, the Hang Seng passed the 30,000 point mark.
October 30th, 2007 to March 9th, 2008 – In response to the global financial crisis, the index lost 9,426 points, around 30%.
April 13th, 2015 – It closed at 28,016.34, the highest since 2007.
June 24th, 2016 – In response to UK's Brexit vote, the market fell 1,000 points.
January 12th, 2018 – A record all-time closing high was recorded of 31,412.54. This followed 14 consecutive days of growth, reflecting investor optimism after a bumper 2017.
Biggest Players
The top 30 constituents that feature on the Hang Seng, as of January 2018, are as follows:
Galaxy Entertainment Group Limited
Hang Lung Properties Limited
Power Assets Holdings Limited
The Bank of East Asia Limited
China Resources Land Limited
Henderson Land Development Company Limited
Lenovo Group Limited
CK Infrastructure Holdings Limited
BOC Hong Kong Holdings Limited
Hengan International Group Company Limited
CLP Holdings Limited
China Resources Power Holdings Company Limited
Sun Hung Kai Properties Limited
China Mobile Limited
The Hong Kong and China Gas Company Limited
CITIC Limited
AAC Technologies Holdings Inc.
Sino Land Company Limited
Sands China Ltd.
AIA Group Limited
China Mengniu Dairy Company Limited
Industrial and Commercial Bank of China Limited
WH Group Limited
China Petroleum & Chemical Corporation
CNOOC Limited
Tencent Holdings Limited
Wharf Real Estate Investment Company Limited
Ping An Insurance (Group) Company of China, Ltd.
Hang Seng Trading Hours
The timeline for the trading day goes as follows:
09:00 to 09:30 – During premarket hours, an auction session takes place. Then the opening price of a security will be announced around 09:20.
09:30 to 12:00 – The morning trading session takes place.
12:00 to 13:00 – For one hour an extended morning session takes place, also known as the lunch break. This continuous trading is currently in just two securities (ETFs 4362 and 4363).
13:00 to 16:00 – The afternoon trading session takes place.
Trading hours in GMT are 02:45 – 05:30 for the first trading session and 07:30 – 09:15 for the second trading session.
Admittedly, trading from Singapore may offer more sociable working hours than if you are based in the UK or Europe, but this doesn't appear to be deterring too many traders.
Also note, no trading will take place during market holidays.
Hang Seng Live Chart
Why Day Trade The Hang Seng?
Regardless of location, in the last 10 years, an increasing number of day traders are turning their attention to trading the online Hang Seng Index. The question is, why?
Hong Kong is a relatively free economy, not to mention one of the world's leading financial hubs. It offers minimal taxes, international financial markets, plus low-cost port trade.
These characteristics have helped the Hong Kong Stock Exchange flourish into the sixth largest stock market in the world, and the third largest in Asia, following Japan's Tokyo Stock Exchange and China's Shanghai Stock Exchange.
Whilst an increasing number of traders look to buy and sell forex, speculating on Hang Seng stock price keeps things simple. For those wanting to avoid the sometimes complex world of currency trading, the Hang Seng continues to appeal.
Hang Seng Futures
In May 1986, the Hong Kong Futures Exchange (HKFE) introduced HSI futures contracts in response to the growing interest in the Hong Kong Stock market. Many now trade futures live, using charts, quotes, and historical data.
It is worth noting, however, futures investing also comes with risks, and this alternative does not guarantee higher yearly returns.
There are a couple of reasons why trading the Hang Seng 40 futures appeals:
Low trading fees – Transaction costs are relatively low in comparison to buying and selling the constituent stocks. This is because the total value of high-capitalisation stocks represented in each HSI futures contract is significant, whilst often only one commission is charged to enter or exit a position.
Cost effective – Some argue that HSI futures represent a cost-effective means of trading, as you can trade contracts on margin. The margin used to carry an open position is often a tiny proportion of the contracted value.
Having said that, nifty trading is still required, so you should still look for a Hang Seng volatility index chart for futures. You should also check contract specifications.
You can find details on Hang Seng shares futures on Bloomberg, including trading hours and definitions of terms.
ETFs
As with many indices, the Hang Seng underlies many exchange-traded funds (ETFs), that promise straightforward exposure to Hong Kong's economy via a single trading vehicle. In many ways, these securities offer an uncomplicated alternative to American Depository Receipts (ADRs).
Hang Seng H-Share Index ETF
The H-Share Index ETF tracks the Hang Seng China Enterprises Index (HSCEI). Many of the constituents are Chinese as the index tracks and measures the performance of Chinese equities. With companies such as Bloomberg compiling and publishing data on the index, it looks as if more traders, from all over, will look to commit their funds.
iShares MSCI Hong Kong Index Fund ETF (EWH)
Note there are no funds traded in the US. However, a suitable alternative is the iShares MSCI Hong Kong Index Fund ETF (EWH). This tracks the MSCI Hong Kong Index. Again, this is a capitalisation-weighted index, that seeks to encapsulate approximately 85% of the Hong Kong's total market capitalisation.
There is currently around $2 billion in total net assets under management, giving the ETF a decent expense ratio of around 0.48% with 50 holdings in its portfolio. However, financials dominate the list with 33%. The next 28% is formed of real estate, and 11% is weighted towards consumer cyclicals.
How To Start Day Trading The Hang Seng
Choose A Broker
Day trading on the Hang Seng is relatively straightforward. However, before you put your strategy to the test, you will need a broker that can cater to your needs.
But with so many brokers out there, how do you know what to look for?
Cost – As an intraday trader, making a high volume of trades each day, broker fees and commissions can quickly add up and cut into your end of day returns. So, look for brokers offering a competitive and transparent fee structure.
Account requirements – Some brokers will allow you to open an account for just a few dollars, whilst others may charge hundreds. Select a broker with an account that suits your financial situation. Check what their minimum trade size is, plus whether you will face any charges for withdrawing your funds.
Trading platform – This is where you will spend numerous hours each day. Look for an easy to navigate platform, that has all the charting, graphing and technical tools you need to conduct your technical analysis. Also, check for fast execution speeds. In day trading, every second counts.
Customer service – Nobody wants to sit around all morning losing money because you can't get customer support on the phone. Fast and reliable assistance is becoming an increasing priority for traders. Many brokers now offer 24/7 live support, in a number of languages. So, make sure you check broker reviews first.
For brokerage comparisons and further guidance, see our brokers page.
Prepare
Monitoring the Hang Seng stock exchange live shouldn't be the beginning of your trading day. If you want to assert a competitive edge, you need to be at your desk prepping before the opening bell rings. You need to be looking for potentially undervalued stocks.
Ideally, by the time the morning session opens, you will have analysed an index's historical chart, screened stocks and have nailed down a few that you will keep a close eye on as the day progresses.
Hang Seng Top Tips
Demo Account
Before you start day trading the Hang Seng with your hard earned capital, why not try a demo account first? Funded with simulated money, these allow you to develop strategies and get familiar with market conditions.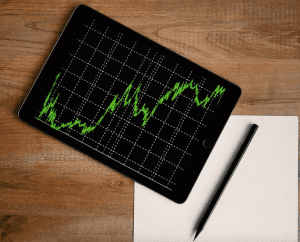 Many brokers now offer this service free of charge, making it a fantastic way to test a potential broker too. Then when your confidence has built and you have mastered weekly, 5-year, 10-year, 20-year, and 30-year charts, you can upgrade to a real-time, live account.
News
One of the top tips for day trading on the Hang Seng is to monitor the latest news. Live quotes and prices will change in response to major news announcements. Daily reports are a fantastic way to stay up to date with market developments and maintain a future outlook.
Some of the top Hang Seng news resources include:
Hang Seng Indexes Daily Bulletin
Hang Seng Index (HSI) Constituent Stocks Performance
Index Performance Summary
Total Return Index Series Daily Bulletin
Bloomberg News
Yahoo Finance
The resources above can also provide annual reports, real-time price quotes, plus dividend yield history.
Education
Even experienced day traders highlight the fact they never stop learning. The Hang Seng market can be unpredictable. So, seeking out resources to improve technical analysis, chart setups, and strategy, can all prove useful.
Some key Hang Seng resources worth considering are as follows:
Videos & Tutorials – Learn everything from the basics of reading quarterly reviews to predicting movements in the red chip index, and how to spot a possible rally.
Books & Ebooks – There are now books on every topic you can think of, from how to interpret the index 45 to the Hang Seng vs the Shanghai index and more.
Forums & chatrooms – Engage with experienced traders, and have questions answered on everything from shorting gold ETFs, to forecasting prices.
PDFs – Learn to analyse historical data from the index over the last 50 years. This could help you pick out telling patterns and prepare you for future price movement.
The switched on day trader utilises a range of educational resources. That way when that next 52 week high comes around, they can call on in-depth knowledge to capitalise on its profit potential.
Automation
Once you have crafted an effective strategy for day trading the Hang Seng, you may want to consider automated trading. Once you have programmed your criteria, these algorithms and robots will enter and exit positions on your behalf.
This could allow you to enter far more trades than you ever could manually. Having said that, automated systems do still require maintenance and attention, as drops in performance can still occur.
Trading Journal
Although often overlooked, day trading journals can be a powerful weapon to add to your trading arsenal. You simply need to keep a track of the following:
Price
Entry & exit position
Purchase & sale date
Position size
Reason for making the trade
Input this data and information into an Excel spreadsheet or another tool, and you'll be able to quickly analyse your recent trading performance. You may find identifying flaws in your strategy a far simpler process.
Final Word
The Hang Seng Index of 50 components can be used to gauge investor sentiment and the overall economic health of Hong Kong and Asian markets. Performance has had its fair share of ups and downs, but it continues to draw in aspiring day traders from differing time zones, including the USA, Europe, and Asia.
Day trading the Hang Seng in real time offers a dynamic and potentially profitable means of capitalising on intraday price movements. However, the volatility of the Hang Seng also brings with it considerable risks. This is all the more reason to have a trusted broker, an effective strategy, and a thirst to learn and adapt to the markets.