Gate.io Review 2022


United States not accepted.
Go to the Brokers List for alternatives
Gate.io is a crypto exchange offering a variety of derivatives on a proprietary platform.
Risk Warning – Your capital is at risk
Gate.io is one of the oldest crypto-to-crypto exchanges, offering 180+ cryptocurrencies on its leading trading platform. Our Gate.io exchange review will cover trading fees, sign-up and login procedures, mobile app features, how to trade, and more.
Gate.io Explained
Gate.io was established in China in 2013 (origin Bter.com) and rebranded in 2017. The exchange is operated by Gate Technology Inc with headquarters in the Cayman Islands.
Gate.io runs an IEO (initial exchange offering) platform named Startup. In 2020, the platform raised over $10 million through three IEOs: WOO, Coral and JGN.
GateToken (GT) became the official token of the exchange in March 2020, distributed via Gate.io rather than an ICO or private sale. GT was initially offered as a gift, however, clients can now buy the token at the spot market price or through activity participation. The maximum circulation is 0.3 billion coins.
Today, the exchange trades over $1 billion in cryptocurrencies per day. Gate.io is not currently regulated by a financial authority.
Products
Gate.io supports various crypto-to-crypto trading opportunities. The coin listing spans 180+ altcoins, including SafeMoon (SAFEMOON), Persistence (XPRT), and Chia (XCH). Overall, the exchange supports 670 markets against the USD, 89 BTC markets and 520 ETH markets. Keep an eye on the exchange announcements for new coin listings, as more are added regularly.
Trading opportunities include:
Spot
Margin trading – Lend or borrow funds with 10 x leverage
Push transactions – Peer-to-peer sales with the ability to transfer assets between accounts
Spot trading – Crypto-to-crypto trading pairs, examples include USDT/BTC and BTC/EOS
ETFs – Funds comprised of crypto products. A selection of combined, leveraged and inverse ETFs are available
Derivatives
Delivery – Futures contracts that are settled at a fixed expiration date
Perpetual – USDT or BTC contracts trading with no settlement date
CBBC – Callable bull/bear contracts. A structured and leveraged product
Warrant – Call and put options available depending on whether the market is bullish or bearish
Trading Platform
The Gate.io trading platform can be accessed through any web browser or it can be downloaded to your desktop for free on both Windows and Mac devices. Although suitable for both new and experienced traders, the interface is busy, making it less user-friendly vs competitor exchanges, such as KuCoin or Binance.
From the main menu, traders can navigate to margin trading, lending and borrowing, perpetual contracts trading, cryptocurrency markets, and the wallet overview. Platform features include:
Trade history list
Live news streams
Favourites watchlist
Live support chat room
Market search function
Simple order book view
Night mode backgrounds
Candlestick and line charting view
Professional, simple, or market depth charting view options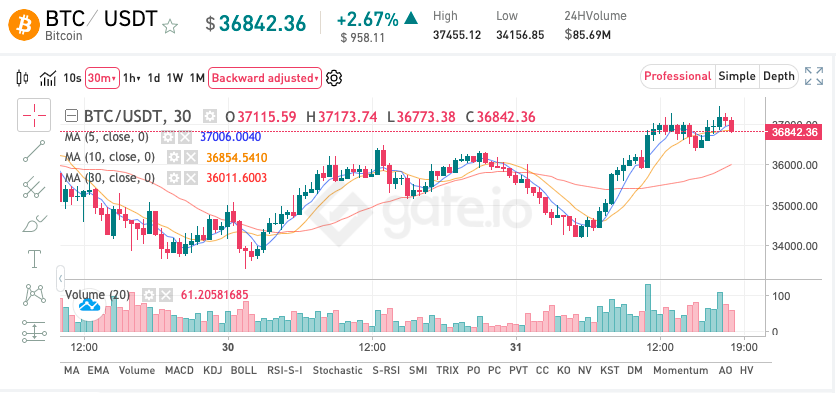 App Review
Gate.io offers an advanced mobile app that is available for free download to iOS and Android devices. This allows users to place trades and manage accounts while on the go. Traders can access all the same advanced trading platform features and tools that are available on the desktop version.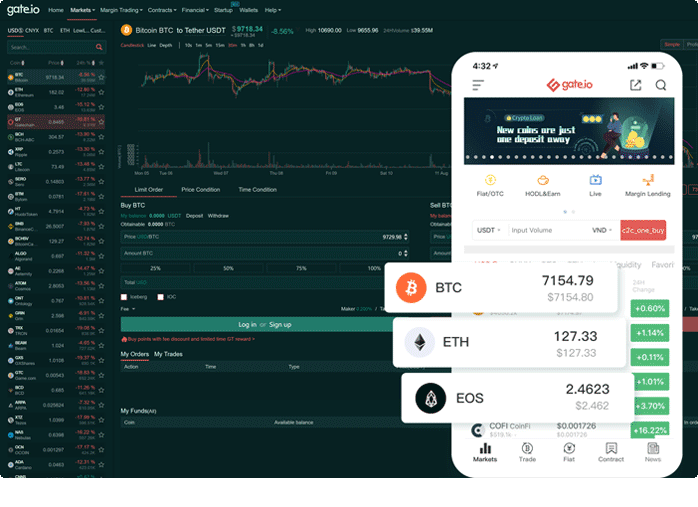 Demo Account
Gate.io offers a demo account, allowing traders to practise their strategies risk-free via the testnet software. Head to the broker's website to sign up and get started.
Deposits & Withdrawals
Deposits
Gate.io accepts deposits from 100+ crypto coins, including BTC, ETH, XRP, XLM, BSCS, and EOS. The exchange does not accept fiat currency deposits. Therefore, traders will need to convert traditional currencies into crypto before they can use the platform. There are no minimum deposit requirements or applicable fees but the minimum order trade size must be at least $10 in value.
To add funds to an account, select the 'wallet' page and search for the depositing coin. Enter the deposit address, memo, or tag and then follow the instructions. Verification time varies by token as blockchain confirmation is required.
Contact Gate.io customer support for issues with funding attempts not generating a deposit address or a deposit not showing after blockchain confirmation has been completed.
Withdrawals
At Gate.io, withdrawals can be executed without completing any KYC checks. However, there are 24-limits on how much traders can withdraw. Limits can be increased if identity verification documents are submitted, subject to approval from customer support. There is no minimum withdrawal limit. Limits vary by token and are listed below:
EOS (EOS) – 20000 EOS daily limit, 0.32 EOS withdrawal fee
Bitcoin (BTC) – 100 BTC daily limit, 0.001 BTC withdrawal fee
Litecoin (LTC) – 10000 LTC daily limit, 0.01 LTC withdrawal fee
GateToken (GT) – 500000 GT daily limit, 0.2 GT withdrawal fee
Ethereum (ETH) – 3000 ETH daily limit, 0.0047 ETH withdrawal fee
Funds are processed immediately, however, as with all crypto exchanges, withdrawal time is dependent on the speed of the blockchain.
Listing Fees
Gate.io exchange trading fees are competitive, with a tiered structure. Active traders are rewarded with more favourable trading charges, while those executing fewer positions will find they pay relatively more. Taker and maker charges are based on total trading volumes over 30 days, varying by VIP ranking (1 to 16). The maker fee ranges between 0.2% for VIP level 1 to 0.055% for VIP level 16. The taker fee spans from 0.2% for VIP level 1 to 0.065% for level 16.
Additionally, Gate.io offers a point plan trading fee discount programme. Clients can purchase points through the Gate.io wallet that can be exchanged for a trading fee deduction.
Perpetual contract trades incur a different trading fee. Market makers will receive a -0.025% rebate as they provide liquidity and increase the market depth. Market makers will be charged trading fees as liquidation is taken off the book. The taker fee is +0.075%. These costs can also be covered using points.
Note that Gate.io provides a 25% discount for clients paying fees with the GateToken (GT).
Rewards
Gate.io offers several rewards and bonus incentives, many of which reduce trading fees. These are grouped into tasks, based on client classification; novice, experienced, trading volume, and growth. Specific tasks must be completed to earn points. Examples include +30 points for your first deposit over 0.05 BTC or +30 points for the first perpetual contract trade over 500 USDT. Clients can only claim once.
Gate.io also offers a referral scheme with the opportunity to gain 50 points for every 3 clients successfully invited using the unique promo code.  There's also the option to earn rewards by requesting a new token listing.
How To Open An Account
To open an account with Gate.io, clients must complete an online registration form. This includes country of residence, username, email address, and password. Code verification is necessary. A separate fund withdrawal password is required which increases account security. A basic KYC procedure, account verification, and one-time password (OTP) are required before you can begin trading. Pending identity verification, approval times can vary between a few hours to 24 hours.
How To Trade With Gate.io
Trading with Gate.io is easy, but we've prepared a list of instructions on how to get started:
Select the trading page (Home>Trade)
Enter the desired price and amount in the correct field
Click 'buy' or 'sell'
A pop-up dialogue box will appear to check the price and amount
Enter your fund password
Orders will appear in the 'order tab'
Wallet Options
Gate.io offers clients the option to store cryptocurrency in hot or cold wallets. This incurs no additional cost. The Gate.io wallet is available on the exchange web browser and mobile app. Wallet.io is an alternative crypto wallet to store, transfer and receive funds. The Gate.io exchange and Wallet.io account can be held under a single username.
Additional Features
There are several additional features, trading tools and services available. Some of the main financial features include:
HODL & Earn – A blockchain platform enabling users to earn income by holding cryptocurrency
Cryptocurrency lending – Allows users to lend crypto at a specific interest rate for an agreed length of time
Dual currency investment service – BTC & ETH portfolio. A dual-currency product with an 18-day holding period where a pegged price range is used for settlement and earnings at maturity
Yield farming – Earn income from fees by providing liquidity to the market. Clients can stake crypto coins for a fixed time duration
Margin trading – Gate.io offers leveraged trading opportunities up to 10 x the value of the entered position. This varies by token, for example, Flow (FLOW/USDT) is offered up to 3 x leverage
Periodic investment plan – A USDT-cost averaging strategy to buy cryptocurrencies. Invest a fixed amount into a portfolio at a given time, repeatedly. Flexible, redeemable, and changeable at any time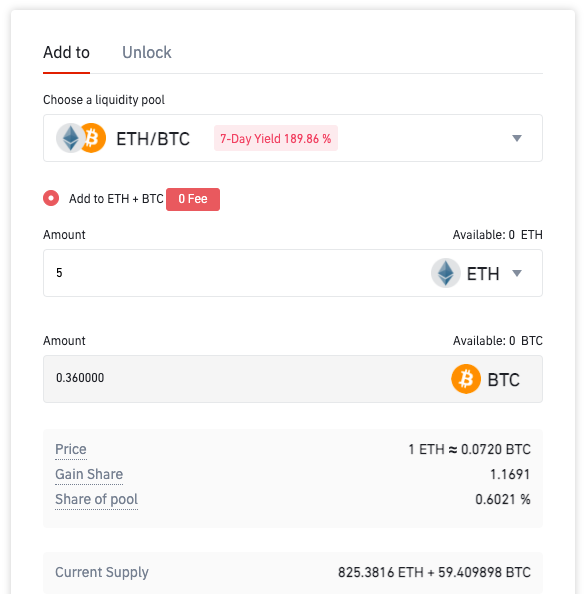 Additional user benefits offered by Gate.io include news streams, announcement access, YouTube tutorial content, and live streaming videos. Topics include market order trading, a grid trading review, and a quantitative trading strategy. A profile page by username can be used. Clients can share trading ideas, opinions, chat and share insights. Clients can also access chatrooms and giveaways via the News section of the exchange website.
Gate.io also offers a useful help centre webpage on the crypto exchange website. This comprises several useful documents and links including educational resources such as understanding perpetual contracts, how to store Bitcoin safely, and API 2.0 documentation.
Gate.io utilises several third-party trading tools to enhance clients' overall trading experience. These can be integrated within the trading platform. The extensive list includes 3Commas trading software, available to link to trading bots via an API key.
Order Types
Gate.io traders can utilise the following limit and conditional orders:
Limit Order
Set the desired price and select buy/sell. When the latest traded price reaches the order limit price, the order will be executed. Filled orders will move to trade history. Other settings, such as Iceberg order type or post-only order are also available.
Conditional Order
A conditional market order will be filled immediately once the trigger price meets the last traded price. A conditional order limit will be submitted to the order book pending execution. Price condition and time condition orders are available to suit the client's needs.
Benefits
Mobile app
Up to 100x leverage
Demo account option
24/7 customer support
Deposits accepted from 100+ crypto coins
Dual currency investment service, BTC & ETH
Secure Gate.io wallet for crypto-asset storage
Various trading opportunities across 180+ crypto coins and 400 markets
Several unique financial trading features, including cryptocurrency lending, yield farming, and a periodic investment plan
Drawbacks
No USA customers
Unregulated exchange
Fiat deposits are not accepted
Daily withdrawal limits and fees
No customer contact phone number
Cluttered trading platform terminal, not user friendly for beginners
Customer Support
Gate.io exchange offers the below customer service and support options, available 24/7:
Email – support@mail.gate.io
Message request – ticket service
Live chat –  Found at the bottom right of each webpage
Social media channels – Including Twitter, LinkedIn, Telegram and Biyong
Address – P.O. Box 31119 Grand Pavilion, Hibiscus Way, 802 West Bay Road, Grand Cayman, KY1-1205 Cayman Islands
No phone number is provided, however, an extensive FAQ page covering several topics is available. These include; fund password reset instructions, how to deposit money, how to delete an account, change a trading currency, KYC document upload not working, withdrawal problem support, and discount code issues.
Security
A range of platform and account security protocols are available. Secure account features include; two-factor authentication (2FA) with Google Authenticator, SMS verification, fund withdrawal password, blind IP logins, and anti-phishing codes. QR code integration makes adding secure steps quick and simple. Visit the help centre for information on 2FA reset options or if this is not working on a device. There are no KYC bypass options. User funds are protected by utilising hot and cold crypto wallets.
It should be noted, the exchange suffered a 7000 BTC hack in 2015. Crypto coins were stolen from cold wallets. More recently, Gate.io clients were exposed to PAID network hacking in March 2021. Although the exchange has not accepted responsibility, they are offering compensation to victims.
Gate.io Verdict
Gate.io is an excellent crypto-asset exchange that offers a variety of instruments across the crypto market. There are unique additional features, such as the HODL and Earn scheme, as well as a strong choice of derivatives. Financial services, such as margin lending, periodic investment plans, and yield farming make the exchange an attractive prospect for experienced traders. Beginners may find the platform difficult to grasp and there is limited educational information to help those with limited experience understand the basics of crypto. Plus, the lack of global regulation may put some traders off.
FAQs
Is Gatei.io Safe?
Gate.io is a legitimate crypto exchange platform with suitable security features. Although it is safe, clients should be aware of previous hacking history, no regulation, and lack of transparency around the owners, founders and investors.
My Gate.io Password Is Not Working, How Can I Reset This?
A fund password can be reset within the 'my funds' page within an account. Click 'forgot password' and complete the required information. This may also be required after too many failed login attempts. Email reset options are sent to accounts for login passwords.
Does Gate.io Offer A Mobile Trading App?
Yes, Gate.io offers an advanced mobile app available for free download to iOS and Android devices. Traders can access all the trading platform features and tools available on the desktop version while on the go.
Is Gate.io Regulated In The UK?
Gate.io is not regulated by a financial body within the UK or any other global authority.
Does Gate.io Provide A Crypto Wallet?
The Gate.io wallet is available via major web browsers and mobile app for clients to store digital funds. Wallet.io is an alternative option to store, transfer and receive funds. Clients can integrate a Gate.io exchange and Wallet.io under one account.
Accepted Countries
Gate.io accepts traders from Australia, Thailand, Canada, United Kingdom, South Africa, Singapore, Hong Kong, India, France, Germany, Norway, Sweden, Italy, Denmark, United Arab Emirates, Saudi Arabia, Kuwait, Luxembourg, Qatar and most other countries.
Traders can not use Gate.io from United States, Cuba, Iran, Korea, Sudan, Syria, Pakistan, Venezuela.
Alternatives to Gate.io
If you are looking for alternatives to Gate.io we have compiled a list of the top 5 brokers that are similar to Gate.io below. This list of brokers like Gate.io is in order of similarity and only includes companies that accept traders from your location.
Gate.io is a crypto exchange offering a variety of derivatives on a proprietary platform.
Gate.io vs Other Brokers
Compare Gate.io with any other broker by selecting the other broker below.
Gate.io vs