FCA Issues Warning To Binance In The UK
The Financial Conduct Authority (FCA) has issued a warning to Binance Markets Limited (BML) stating it must stop all regulated activities in the UK. The regulator has also requested that Binance complies with a string of requirements, including ending all advertisements. It has until Wednesday 30th June to confirm it has done so.
Binance Markets Limited is a subsidiary of Binance.com and is based in London. However, due to the way cryptocurrencies are governed, the ruling has little to no impact on UK-based crypto traders. British citizens can still trade the tokens through Binance.com, which is located in the Cayman Islands.
While the FCA does not regulate cryptocurrencies, all UK-based exchanges offering digital assets must be approved by the FCA under their cryptocurrency registration regime. Binance Markets Limited is not part of the scheme and neither is Binance Group or any entity within it, the FCA has stressed. Until the recent warning, BML did have permission from the FCA to offer traditional financial services, such as lending and savings accounts. It achieved this by purchasing a firm that was already authorised to provide these.

The move serves as a warning to cryptocurrency exchanges that are operating without authorisation from a global regulator. But, it is not the first that Binance has received. Last week, Japan's Financial Services Agency reminded Binance for the third time that it was conducting unauthorised trade by allowing Japanese citizens to use its services.
Binance is one of the world's largest cryptocurrency exchanges. It offers a wide selection of services across its various global branches, the most popular of which is cryptocurrency trading. The firm offers many of the top tokens by market capitalisation, including Bitcoin, Cardano and its proprietary token – Binance Coin. It also offers leveraged trading up to 1:5 depending on the asset and jurisdiction, as well as crypto futures and options. Binance is favoured by traders because of its low fees, easy to use interface, and wide asset offering.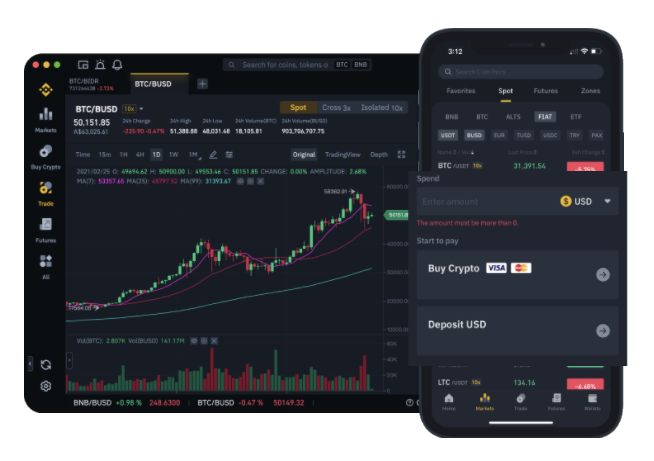 In 2020, Binance's daily trading volume rocketed. It now facilitates over $100 billion in cryptocurrency exchange on a monthly basis, making it comparable in size to some of the world's top financial institutions. The FCA's warning provides a stumbling block to the firm but is unlikely to slow the growth of crypto as a tradeable asset.