ecoPayz Brokers 2022 - Which Brokers Accept ecoPayz?
ecoPayz is an eWallet available in over 200 countries. It is known for being an easy-to-use, reliable, and safe online payment system, which has made it popular with online traders. This review of ecoPayz will cover how to use the service for trading as well as important information regarding security and fees. We have also compiled a list of the top brokers that accept ecoPayz deposits and withdrawals in 2022.
How ecoPayz Works
ecoPayz was founded in 2000 by a UK-based company called PSI-Pay Ltd. It is one of the longest-standing forms of eWallet and has collaborated with Mastercard since 2009, allowing the brand to offer prepaid debit cards. Transactions in over 50 currencies are supported, including USD, EUR and GBP.
Importantly, the company stands out from rivals like Skrill and Neteller due to its reliable customer support.


ecoPayz primarily operates as a straightforward payment service, however it is also possible to send money from the digital account. Accounts are identified by a 10-digit number but do not operate in the same way as a regular bank account. The features available are tied to the status of the account which ranges from classic to VIP:
Classic – Basic account level with limited features, obtained after initial registration. The maximum transaction amount is €200 with no maximum account balance.
Silver – After validating your address and identity the account will be upgraded to Silver. This is the minimum level required to send money between accounts. The maximum transaction amount is €1,000 and the maximum supported account balance is €15,000.
Gold – Gold accounts are given to users who have verified their deposit method and have kept a Silver account for 30 days minimum. Gold accounts benefit from reduced fees and increased transfer limits. The maximum transaction amount is €1,500 and the maximum supported account balance is €100,000.
Platinum – Platinum requires you to own a Mastercard, have 30 days of Gold, and make €50,000 worth of transfers. This tier provides higher transfer limits. The maximum transaction amount is €2,000 and the maximum supported account balance is €120,000.
VIP – VIP status is obtained from 30 days with a Platinum account and €250,000 in transfers. This account comes with exclusive bonuses alongside the highest payment limits and lowest fees. The maximum transaction amount is €2,500 with no maximum account balance.
Transaction Times
The firm offers fast payment processing. At many brokers, deposits with ecoPayz are available in accounts instantly, though investors may have to wait up to 24 hours on some trading platforms.
Withdrawals are also quick, with processing timelines ranging from several hours to five working days. This will largely depend on the KYC checks respective brokers have to make.
Pricing Review
Fees vary depending on the type of account. When transferring between two ecoPayz accounts there will be a 1.5% cost with a Silver account, though Gold accounts or above will not have to pay this fee. For Classic and Silver accounts, there is also a 2.99% fee for currency exchange conversions which is reduced to 1.49% for Gold and above.
All types of accounts will be charged a €1.50 monthly inactivity fee if there has been no activity in a particular month.
Importantly, most brokers that accept ecoPayz deposits do not charge any transfer fees. Withdrawal charges, however, vary between trading platforms, with some brokerages passing costs on to traders.
Security
ecoPayz is a reputable payment method. The company has been considered a safe platform by the UK Financial Conduct Authority (FCA) since 2008. The firm also complies with EU directives on electronic money transfers.
ecoPayz claims that data protection is a top priority with all important data being encrypted and a guarantee of no financial data being sent to third parties. There are also measures in place to prevent fraud.
For additional account security, 2-factor authentication can be used to login. Here, a verification code will be shared by email or telephone. Many of the top trading brokers also offer 2FA on their investing platforms.
Getting Started With Deposits & withdrawals
Only a select list of trading brokers accept ecoPayz deposits and withdrawals. However, funding your investing account with the payment solution is relatively straightforward…
From your account area, navigate to the cashier portal. Here, you will be able to choose from a list of supported methods. Click on the ecoPayz logo, enter the payment amount (noting any minimum deposit requirements), and hit 'confirm'. You should be able to make a deposit directly through the broker's payment hub and your ecoPayz account.
The withdrawal process should be relatively similar. Head to the payment portal, but this time opt for withdrawals. Then simply follow the on-screen instructions to request a payment transfer.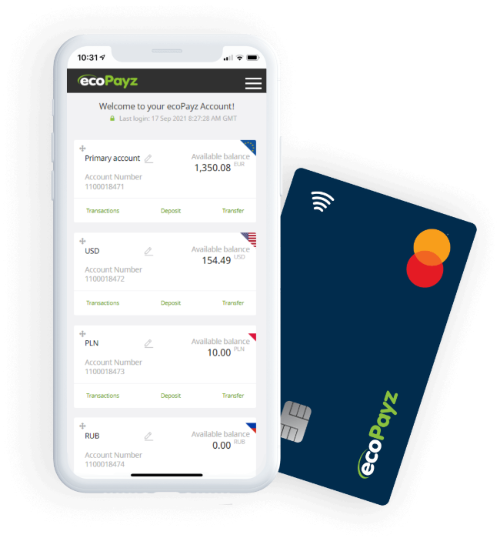 Pros Of ecoPayz For Traders
Low Fees
The fees involved when making ecoPayz deposits are lower than some of its competitors, including Skrill, Neteller and Paysafe. Peer-to-peer transactions are free and the fees are reduced for Gold account holders and above.
Fast Transactions
Transactions made with ecoPayz are typically instant, making it ideal for funding online trading accounts. With that said, check our broker reviews to confirm payment timelines before making a deposit.
Secure & Reliable Service
The company uses the latest encryption technology and payment safeguarding methods. The brand is also recognized by the top financial regulator in the United Kingdom.
In addition, ecoPayz provides multiple ways of getting in contact with the support team, including via live chat, email, and telephone.
Note, head to the official website for a list of supported countries. And download the firm's app from the relevant app store. 
Easy Account Upgrades
Account upgrades all have clear conditions and offer worthwhile benefits. The VIP status also does not have any strict requirements making it more achievable compared to similar services.
Rewards
One of the benefits of the payment brand is its rewards scheme that includes perks for online shopping. There are also yearly promotions with prizes for lucky winners.
Note, that many leading ecoPayz brokers offer welcome bonuses and loyalty promotions to traders. Check the respective site at the registration stage for the latest details.
Cons Of ecoPayz For Traders
Blocked Accounts Stay Blocked
After an account has been blocked a new account cannot be reopened with the same details. Some users have reported unexplained account closures. This could be an issue for traders as some brokers only allow withdrawals to be made using the method utilized for deposits.
Gold Account Required To Avoid Unnecessary Fees
The perks locked behind higher-tier accounts mean that you can incur fees when starting out, especially for internal transfers. Fortunately, the payment solution becomes a low-cost provider when you reach Gold status, the requirements for which are relatively easy to meet.
Verdict On Trading With ecoPayz
In summary, ecoPayz is a fast, secure, and cheap option for trading deposits and withdrawals. It may not be accepted by all online brokers, but several popular brands support the transfer solution. It is also easy to create an account, and users can choose from several funding methods. Finally, the company has good customer reviews and ratings on sites like Trustpilot versus alternatives.
Use our list of ecoPayz brokers to make payments today.
FAQ
What Is An ecoPayz Account?
ecoPayz is an online eWallet that can be used to transfer funds between users and to various merchants and businesses, including trading brokers. There are four account tiers and the minimum transaction is €10. Maximum daily, weekly and monthly limits increase as you move through the account solutions.
How Do You Get An ecoPayz Card?
In the menu of the ecoPayz app is an option called 'ecoPayz Mastercard'. After clicking 'get your card' a card will be sent to the specified address. The prepaid card can be used to pay for various goods and services both online and in-store.
Why Is ecoPayz Not Working?
There could be any number of reasons why ecoPayz payments are not working properly. Contact the company's customer support team via live chat, email or telephone hotline for help with any issues. You can also speak to your trading broker's customer service team for deposit or withdrawal problems.
How Do I Create/Open An ecoPayz Account?
Go to the official website to register for an account. After inputting basic account details, such as name, phone number and email address, you will have access to the Classic level account. The more money you transfer and the longer you hold an account, the more privileges and perks you will receive.
Is ecoPayz Safe?
ecoPayz has been around for over 20 years and is subject to oversight from the UK's Financial Conduct Authority. The payment brand also follows industry-standard security protocols and receives positive user reviews.
Does ecoPayz Accept Mastercard?
Yes, in fact, ecoPayz has partnered with Mastercard to offer its own debit card service. The brands working history dates back to 2008. See our guide above for information on how to deposit money into ecoPayz.