DeFi Binary Options
The rise of decentralized finance, or DeFi, has led to one of the biggest shifts in modern investing, giving traders an opportunity to use a neutral financing system that operates on a peer-to-peer basis without an intermediary body like a bank. Now, with the introduction of DeFi binary options, traders have the chance to make money from one of the most straightforward derivatives without going through a traditional brokerage.
This user guide will explain how DeFi and binary options work together, the benefits of trading DeFi binary options, and tips on how to get started. We have also reviewed and ranked the best binary options brokers and apps that offer DeFi trading.
Top DeFi Binary Options Brokers
#1 - Pocket Option
Pocket Option offers short term binary options on a user-friendly platform with competitive payouts of 90%+. Over 130 assets are available with fee-free deposits and withdrawals. Joining bonuses are also available to new users.
"We recommend Pocket Option for aspiring binary options traders looking for copy trading services and a low minimum investment."

- DayTrading Review Team
Min Deposit: $50
Payout %: 92%
Expiry Times: 5 seconds - 4 hours
Bonus: 50% Deposit Bonus
Platforms: MT5
Instruments: Forex, Crypto
About Pocket Option
Founded in 2017, Pocket Option is a binary options broker offering up/down contracts on forex, stocks and cryptocurrencies. With over 100,000 active users and a global reach, the brand has proven popular with budding traders. Pocket Option also supports dozens of payment methods and has a low minimum trade of just $1.
Pros
MT5 iOS & Android app
Clients accepted from over 95 countries
92% payouts on binaries
Cons
IFMRRC is not a reputable regulator
No MT4 trading platform
Only one account type is available
#2 - IQCent
IQCent offers binary options on forex, stocks, cryptocurrencies and commodities with high payouts up to 98%. The broker uses a proprietary platform with advanced analysis tools and traders can choose contract timeframes ranging from 5 seconds to months, appealing to both short and long term traders.
"IQCent will appeal to traders looking for a powerful binary options and CFD trading platform with low fees, a range of accounts, and copy trading support."

- DayTrading Review Team
Min Deposit: $250
Payout %: 98%
Expiry Times: 5 seconds - 30 days
Bonus: 20% to 200% Deposit Bonus
Platforms: IQCent Platform
Instruments: CFD, Forex, Crypto
About IQCent
IQCent is an offshore binary options and CFD broker based in the Marshall Islands with 10+ payment methods and a low $50 starting deposit. With 100+ assets, around the clock trading and high payouts the brand is popular with aspiring short-term traders.
Pros
IQCent is one of the few binary options and CFD brokers that also offers a copy trading feature
$0.01 minimum stake for newer day traders with a smaller initial budget
The broker offers 98% payouts on binary options, which is more than many alternatives
Cons
Stock CFDs are not available
The broker is not overseen by any highly respected regulator, though this is common among binary options firms
It's a shame that no third-party platforms or additional analysis trading tools are offered
#3 - Videforex
Videforex binary options are available from 20% payouts on crypto up to 98% payouts on less volatile assets, beating many competitors. A wide range of contract lengths are also supported from 5 seconds up to 1 month. New users will appreciate the welcome deposit bonus.
"Newer traders will find a lot to enjoy about trading binary options on Videforex's easy-to-use proprietary platform, as well as the broker's copy trading solution. Payouts are also higher than most alternatives climbing to 98%."

- DayTrading Review Team
Min Deposit: $250
Payout %: 98%
Expiry Times: 5 seconds - 1 month
Bonus: 20% to 200% Deposit Bonus
Platforms: TradingView
Instruments: CFD, Forex, Crypto
About Videforex
Videforex offers access to stock, index, crypto, forex and commodities markets via binary options and CFDs. The proprietary platform, mobile app and integrated copy trading are user-friendly and will suit new and casual traders, and the market analysis tools and trading contests provide good ways to improve your trading skills.
Pros
Earn up to 98% payouts on 100+ assets with the broker's binary options
The firm facilitates day trading and binary options for global customers
The support time are fast and reliable. Very few brokers offer 24/7 multi-lingual video support
Cons
No MetaTrader 4 integration
The broker isn't overseen by a trusted regulatory agency
US clients aren't accepted due to legal restrictions
#4 - AZAforex
AZAforex offers binary options with time-dependent payouts that can be taken out on any asset included as a CFD or spot instrument. Over 50 binary options are available with a $1 minimum stake and payouts up to 190%.
"AZAforex is best for active forex traders looking for ECN pricing with high leverage up to 1:1000 and a sophisticated trading platform."

- DayTrading Review Team
Min Deposit: $1
Payout %: 190
Platforms: Own
Instruments: CFD, Forex, Crypto
About AZAforex
AZAforex is a multi-asset broker founded in 2016. The brand offers a sophisticated proprietary platform, ECN trading and 40+ deposit methods. The brokerage has 120,000+ registered customers with copy trading and a VPS.
Pros
Very high leverage up to 1:1000
Copy trading and PAMM account
Demo account available
Cons
No MetaTrader access
Some poor customer reviews
Unregulated broker reduces its safety score
#5 - RaceOption
RaceOption offers 100+ binaries with decent payouts up to 95% and ultra-fast expiries from 5 seconds. With a $250 minimum deposit, clients can enjoy free deposits, fast withdrawals and a range of trading bonuses.
"RaceOption will appeal to traders new to binary options looking for copy trading, contests and 24/7 customer support. Experienced traders will also appreciate the account-based perks and bonuses."

- DayTrading Review Team
Min Deposit: $250
Payout %: 95%
Expiry Times: 5 seconds - 30 days
Bonus: 20% - 200% Deposit Bonus
Platforms: TradingView
Instruments: CFD, Forex, Crypto
About RaceOption
RaceOption is a binary options broker operating from the Marshall Islands. With over 1,500 clients, the broker aims to offer fast funding, low fees and a secure trading environment. Traders can access over 100 binary options and CFDs, plus copy trading and weekly prizes.
Pros
Beginner-friendly copy trading opportunities in the broker's proprietary trading platform
First 3 trades are risk-free in the Silver and Gold accounts, with only $1,000 required to be eligible
Sign-up bonuses from 20%, plus weekly trading contests and prize giveaways
Cons
$250 minimum deposit is higher than other binary options brokers
Limited educational resources
Unregulated broker with lower safety score
DeFi Binary Options 101
DeFi binary options are a type of derivative that asks the trader a simple, yes/no question: Will a digital asset's price rise or fall by the end of the contract? If the trader answers this question correctly, they will make money, if not, they will lose it. This makes binary options in DeFi straightforward to understand and use, hence their popularity with traders.
When a trader opens a DeFI binary options contract with an online broker or platform, they will choose the asset/token they wish to trade, the amount of money they wish to put down as a stake, and the contract's expiry time. Finally, they will decide whether they are long on the asset, and predict that it will increase in value, or if they are short and think its price will fall.
The payout for binary options in DeFi varies among brokers and among different assets, but it is common to find trading platforms offering payouts equivalent to 90% of the contract price. This means that a successful trader with a $100 binary options contract will receive the $100 stake back plus $90 in profit. An unsuccessful trader loses their entire $100 stake.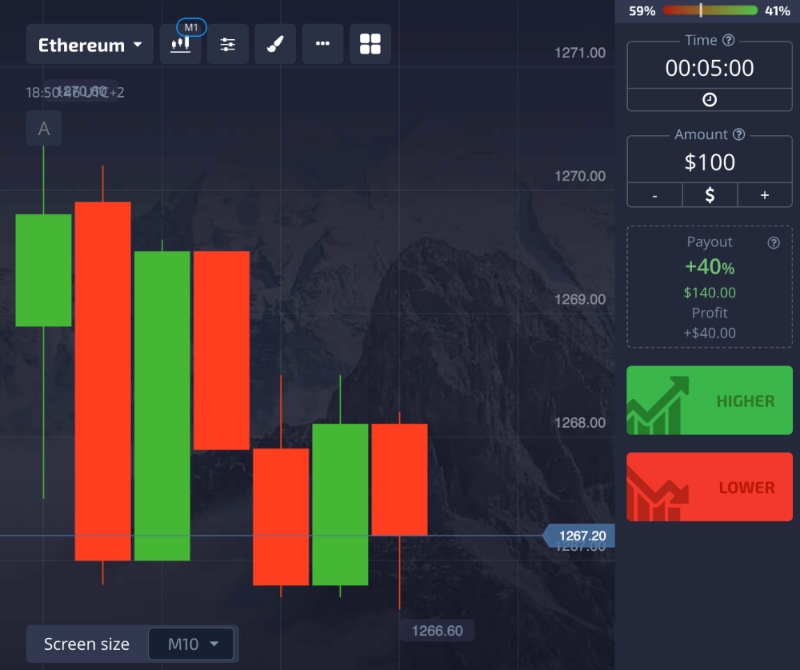 Understanding DeFi
Decentralized finance, also known as DeFi, is a financial system that works through blockchain technology allowing for faster transactions and giving widespread access to financial products and instruments on a peer-to-peer basis without going through any middlemen.
Banks, brokerages and other financial institutions which are regulated by bodies such as the US regulator, the SEC, all exist in a system of centralized finance. The state-sanctioned regulatory bodies are responsible for making the rules by which these systems must abide. In centralized finance, the third party facilitates payment to a user but often charges some kind of fee for using the service, such as a credit card fee.
Decentralized finance, on the other hand, makes use of exchanges between peers and takes out the function of the intermediary body. This frees users from transaction fees and gives them a secure and fast way to transfer money using an internet connection. Therefore, centralized finance is no longer necessary because, in theory, anyone in the world can make a transaction using DeFi with increased control and anonymity.
DeFi use cases leverage the same blockchain technology brought to widespread attention by cryptocurrencies like Bitcoin. A blockchain is a secure ledger of transactions that can be verified by peers, not a third-party financial system. When two parties verify a transaction, the current block is encrypted and a new one is made with information about the previous one. By far the most commonly used blockchain for DeFi transactions is Ethereum. As a result, many of the top DeFi binary options brokers offer contracts on Ether.
DeFi Assets For Binary Options Trading
The assets available for DeFi binary options trading depend on the platform that you choose. Primarily, DeFi is used for trading digital currencies, so tokens like Bitcoin (BTC), Ethereum (ETH), Ripple (XRP), Matic (MATIC), Uniswap (UNI), and Litecoin (LTC) are available. In addition, some brokers offer stablecoins like Tether (USDT), plus NFTs. Firms may also provide access to Play to Earn (P2E) services, which also use DeFi infrastructure.
It's also worth pointing out that the best DeFi binary options brokers, such as Spectre, offer a wide range of tradable assets from digital assets to traditional stocks, commodities or forex.
Benefits Of DeFi Binary Options
Binary options in DeFi are easy to understand for beginner traders. Users simply need to decide if the price of BTC, for example, will rise or fall over a set period. Investors can also speculate on popular digital assets across a range of expiries, from 60-second turbos to binaries that span several days.
Another primary advantage of decentralized finance is that it offers lower fees than traditional banking solutions. The aim of DeFi is to utilize a peer-to-peer model to allow everyone to make transactions at a minimal cost, if any.
The transaction times are also faster using DeFi binary options platforms than many other payment solutions, which is an advantage to traders looking to deposit and withdraw funds via digital currencies instantly.
Getting Started With DeFi Binary Options
Find A Platform
When choosing where to trade DeFi binary options, there are a few top brokers that will give you the best experience. In many ways, this makes the process of choosing a platform easier than with traditional trading instruments – these brands stand out against the rest and therefore are the best options to choose from.
The top firms also offer automated bots on MT4, books, courses and calculators, strategy hacks, staking, definitions of key DeFi terms, and more. It is also worth checking the brand's downloadable platform provides rich market data, free withdrawals, user-friendly graphs and indicators, plus the latest digital asset news and insights, along with trading ideas and signals.
Note, DeFi binary options brokers often don't have strict KYC requirements at the sign-up and login stage.
Develop A Strategy
The next important step is to develop an OTC 1-minute or 5-minutes volume strategy, for example, for trading DeFi binary options. This particular aspect of DeFi binary options is, for the most part, the same as traditional binary options, so take the time to educate yourself and build a strategy that works for you.
We recommend practicing binary options strategies on a demo account before you use real funds to minimize potential losses.
How To Start
Getting started with DeFi binary options is simple. Begin by checking multiple websites for different DeFi exchanges and see what they offer and what kinds of contracts will be available to you in the USA, Australia or Germany, for example. Once you choose from a list of brokers, you can set up an account and enter your details.
Once signed up, you need to deposit funds, often in the Ethereum network's native token Ether (ETH), and once this has been done you can begin buying binaries.
Ensure you have enough ETH or digital currency in your account to make trades and remember you need to have the entire stake available for each trade. Once this is done, you can begin trading DeFi binary options.
Tips For Trading DeFi Binaries
Below are some of our top tips for trading binary options in DeFi:
Avoid scams and frauds by ensuring that you are using a trustworthy and reputable platform; this will help to keep your funds safe. You can check local regulations and requirements or look at a watchdog's blacklist to steer clear of problem companies with insecure wallets or misleading no deposit bonuses.
Never invest more than you can afford to lose, and always ensure that you are aware of the risks before you begin trading.
Ensure you study the digital asset's charts and historical performance before you open a contract, so that you have a better idea of how your trade will unfold without finding out when it's too late.
There is always risk involved in making investments, so ensure you make educated decisions based on an informed DeFi binary options trading strategy.
Are DeFi Binary Options Good Or Bad?
Binary options on DeFi are one of the most flexible trading choices out there and can bring large yields to switched-on traders. While trading derivatives on DeFi is still relatively new, it does pose advantages to traders such as faster transaction times and fewer intermediary fees.
The idea behind decentralized finance is to create a more secure environment for individuals and traders, but this doesn't mean you shouldn't be cautious – be wary of where you are placing your funds and always do your research beforehand. Use our list of the best DeFi binary options brokers and trading platforms to get started.
FAQs
What Are DeFi Binary Options?
DeFi binary options involve a contract between a trader and a broker in which a bet is placed on whether the price of a digital asset, such as Bitcoin, will rise or fall. Payouts typically range from 70% to 95%+. The top DeFi binary options websites offer opportunities on leading digital currencies by market cap, plus stablecoins.
Are DeFi Binary Options Only Available On Crypto?
While DeFi binary options are mostly known for trading on cryptocurrencies as underlying assets, the sector is growing all the time, and NFTs and Play-to-Earn (P2E) solutions may become available. Halal trading products are also available, along with binaries that can be used to hedge an index, for example.
Can You Make Money From DeFi Binary Options?
Yes, decentralized binary trading works on the same principles as standard trading. Therefore, you can make money from trading binary options in the same way, but often with reduced fees and faster transaction times. For crypto investors, DeFi binaries allow traders to finance and execute trades on digital assets using tokens like Bitcoin.
Are DeFi Binary Options Safe?
Trading DeFi binaries comes with the same security questions as traditional binary options trading, in that you need to ensure you are investing through a platform that is reliable and trustworthy. It is also important to use a tried and tested strategy, alongside an effective risk and money management system.