cBots
cBots are trading robots that run on the cTrader platform. They are essentially algorithms that scan the markets and execute trades in line with predetermined inputs. Spanning multiple strategies and trading systems, they can be downloaded from several leading brokers.
In this user guide, we explain how cBots work, share programming tips, and list the best supporting brokers.
Brokers with cBots
What Are cBots?
A cBot is a trading robot that runs on the cTrader terminal. Similar to EAs on MetaTrader, custom algorithms are used to automatically execute trading positions. The best cBots utilize multiple charting and technical tools with advanced orders and sophisticated risk management parameters. The top programs also offer increased accuracy and objectivity.
cBots are created using cTrader Automate, an embedded part of the cTrader application. Robots are developed using the C# programming language and .NET. Traders will need a basic understanding of each, though user guides, courses and tutorial videos can be found online.
Importantly, cBots are hosted on the cTrader platform, but when live they run on a separate terminal to minimize lag. Traders can also backtest bots against historical trends to optimize strategies. In addition, there is a code editor on the cTrader site and a deal map.

How cBots Work
cBots are programmed using custom configurations so they can open and close positions without the trader having to monitor markets. They often utilize the same technical indicators that investors rely on with manual techniques. The difference is that the cBot is effectively on autopilot – identifying trends and capitalizing on profitable opportunities without human intervention.
Integrated into cTrader is an Automate Code Editor, helping traders to build, test and refine robots. There are two kinds of operation methods, synchronous and asynchronous. Synchronous operation means that each statement in the code has to be completed before the next one begins, whereas asynchronous means the next statements can be executed before the server receives a response from the previous one.
How To Create A cBot
On cTrader, select the cBot/Algorithm tab. The platform will then list programs available for download, some free and some that come with a charge. On the same page, you should see an option to 'Add new algorithm'. Note, that you will need a trading account with a broker that supports the cTrader platform to log in.
The platform will then offer default code to help you develop a trading system. Here you can start customizing your cBot. You can use code examples from the API Reference Explorer or copy and paste it from another source.
When you have finished programming the various buy and sell instructions and risk management parameters, select 'Build' to finalize the program. If cTrader was unable to build the bot, it will show you exactly where the code failed so that you can amend it.
Once your bot has been built successfully, you can start using it on the cTrader platform.
Note, if you want to build a cBot but have no coding experience or time to learn, you can hire a developer to program your strategy. You can source and negotiate with developers on the cTrader community forum.
How To Select a cBot
You can download cBots that have been created by other developers. This might suit beginners and those without an effective strategy.
Importantly, selecting a bot is about finding a strategy that aligns with your investment objectives and risk tolerance. The best cBots have high user ratings and a clear preview mode. It's also worth looking at comments from other users to gauge how successful the system is.
cBots normally come with a description written by the developer, and this should give you a good idea of what the bot was created to do and how it will perform.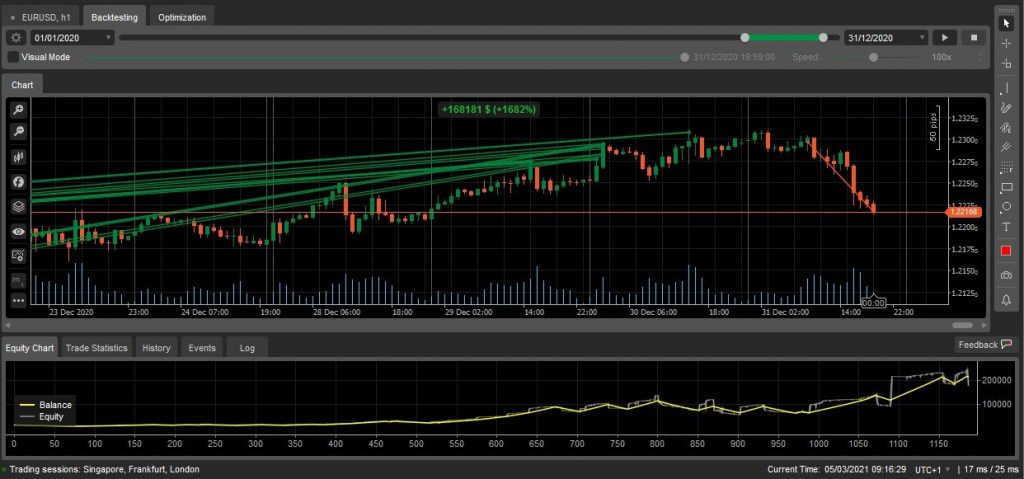 Best cBots
You can compare and download cBots in a few different places. First and foremost, there is the cTrader website where you can select from either free or paid cBots. There is also ClickAlgo, a company that specializes in cTrader automation options. Below is a list of some of the most popular and effective cBots from these two platforms:
cTrader Neptune – 10 forex cBots using a black-box automated system, with a news event manager and adjustable parameters included. Developed by ClickAlgo.
cTrader Advanced Forex Trading Robot – a good introduction to algorithmic trading, semi-automated with advanced risk management. This cBot also supports certain cryptocurrencies such as Bitcoin. Also developed by ClickAlgo.
Elliot Wave Robot – a cBot for applying Elliot Wave trading principles. Automatically positions both long and short orders.
All of these robots are paid-for solutions, where prices vary depending on the developer or platform and the going rate today. There are also free bots available on cTrader. All of these programs are user-generated, and the free options tend to be uploaded by traders who are seeking feedback on their bots, or from developers who want to offer a sample to those interested in buying more.
Many developers also run their own sites to sell bots. However, be wary of who you are buying from. It is best to check reviews and conduct plenty of research to avoid scams. Overall, ClickAlgo has the most advanced marketplace for cBots, with a huge range of options that come from a reliable source.
Advantages of cBots
Trading via cBots offers several benefits:
Speed – cBots can analyze markets at a speed that humans cannot. Programmed correctly, they can scan millions of data points and utilize multiple indicators simultaneously.
Accuracy – human error is always a risk when trading. cBots, on the other hand, are programmed with specificity that allows them to perform accurately, reducing the risk of errors.
Objectivity – manual trading can lead to reduced objectivity. However, automated trading takes the psychological element out of active trading.
Time Efficiency – cBots can be active throughout the day and over the weekends whenever trading hours are open. This frees up time to focus on other value-add activities.
Drawbacks of cBots
There are also some downsides to trading with cBots:
Hardware requirements – uninterrupted runtime is essential to most trading systems. Some traders may want to opt for a dedicated server to reduce downtime.
Unpredictability – market trends can change rapidly with breaking news, and this can negatively impact how a robot trades. As a result, investors still need to monitor their trading system to prevent issues.
Reliability – there are no guarantees that the cBot you download will generate returns, especially the free programs. Make sure you check user reviews and ratings before you invest real money. Also see if the developer offers a free trial.
cTrader vs MetaTrader
If you are looking to choose between cTrader and MetaTrader for automated trading, then there are a few things to consider.
The key difference is the programming language. cTrader offers C# as its coding language, giving it more customizable and flexible tools. cTrader also offers a more intuitive and beginner-friendly interface. In terms of order execution, MetaTrader 4, MetaTrader 5 and cTrader are on equal footing.
But while MetaTrader 4 remains the favorite for automated trading, there is something to be said for the usability of the cTrader program.
Final Word On cBots
cBots can be an excellent way to automate an effective trading strategy. New traders can also use cBots designed and developed by seasoned investors, though often at a cost. Importantly, automated trading takes away some of the heavy lifting associated with online trading.
Use our list of brokers that offer cBots to build or buy a trading bot today.
FAQ
How Does A cBot Work?
cBots are preprogrammed automated trading tools that take action according to a set of rules and criteria. They automatically enter and exit trades in line with specific parameters. Both free and paid-for programs are available.
How Should I Select A cBot?
You should download a cBot that aligns with your investment style and risk appetite. Also check for user reviews and ratings, a description from the developer, plus the number of downloads. Be wary of bots that promise huge returns – these could be a scam.
Can You Run Multiple cBots At Once?
Yes, it is possible to run more than one cBot at the same time. Users are free to download multiple bots, though regular monitoring is still required. cBots for various markets can also be activated simultaneously.
Should I Make My Own cBot?
If you have an effective trading strategy then automation could be a sensible option. cTrader offers a user-friendly developer interface, plus manuals and user guides to help new traders get started.
Will My cBot Keep Trading After I Close The cTrader Platform?
When you close the cTrader platform, your cBots will no longer function. You need to keep the application open if you want your bots to continue trading.