Brokers With UAH Accounts
Brokers with UAH accounts make it easier for investors with Ukrainian Hryvnias to trade in the financial markets. UAH trading accounts also reduce or eliminate currency conversion fees for traders based in Ukraine. This guide explains how to make trading deposits and withdrawals in Ukrainian Hryvnias. We also rank the best brokers with UAH accounts.
Note: the Russia-Ukraine war has severely hindered the development of the Ukrainian economy. With a focus on the war, there are limited brokers operating from inside Ukraine. Instead, most firms that accept Ukrainian traders are based elsewhere.
Brokers With UAH Accounts
Quotex offers a proprietary web platform that has digital options and trading signals.

Instruments

Digital Options, Stocks, Forex, Commodities, Cryptos

Regulator

-

Platforms

Own

Min. Deposit

$10

Min. Trade

$1

Leverage

-

Binance is one of the leading online crypto exchanges offering Bitcoin.

Instruments

Cryptos

Regulator

FCA

Platforms

AlgoTrader

Min. Deposit

$0

Min. Trade

$10

Leverage

-
How UAH Trading Accounts Work
A UAH trading account is a profile that is denominated in Ukrainian Hryvnias, which means that deposits, trades and withdrawals will all be processed, managed and displayed in Hryvnias.
Brokers with UAH accounts are particularly useful for Ukrainian investors, forex traders, or those with a Ukrainian bank account. This is because users will not incur currency conversion fees when transferring funds to and from their online trading accounts.
Brokers with UAH trading accounts are also more likely to accept traders from Ukraine, along with local payment solutions, such as wire transfers from PrivatBank.
In addition, UAH trading accounts are likely to be operated by a firm that holds a license with a trusted regional regulator, such as the CySEC (Cyprus Securities & Exchange Commission). This follows the Capital Markets Law passed in 2020, which aims to align Ukraine's approach to overseeing financial markets with EU regulations.
The benefit of signing up with an EU-regulated broker is additional safeguards, including negative balance protection and segregated accounts.
UAH Currency Explained
The Ukrainian Hryvnias became the official currency of Ukraine in September 1996. Before the UAH, the Karbovanets was used, however this was transitioned out whilst Viktor Yushchenko was the chairman of the National Bank of Ukraine.
In early 2014, the Hryvnia was changed to a floating currency to comply with International Monetary Fund (IMF) regulations and generate some price stability in the forex market.
This was in response to the political instability caused by the Ukraine Revolution where demonstrations were held in response to President Yanukovych's attempt to strengthen ties with Russia rather than the EU. This decision was not supported by many Ukrainians and following the protests, President Yanukovych was ousted.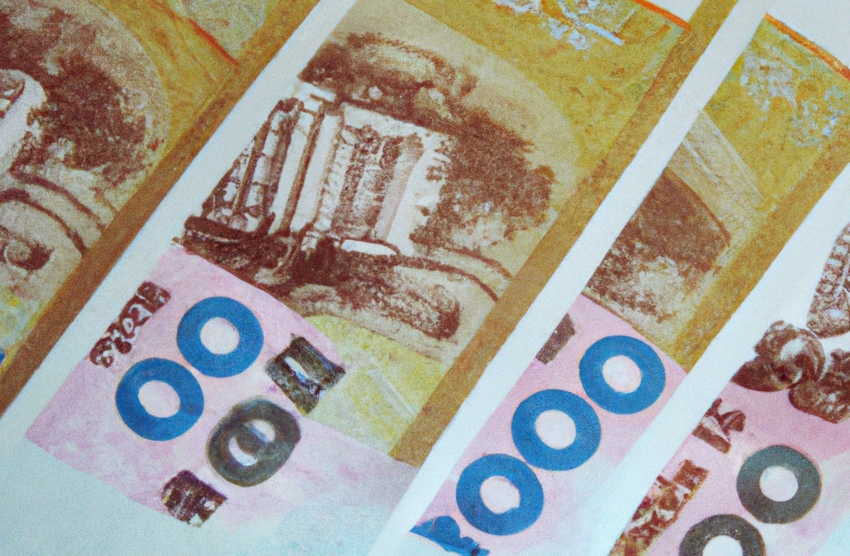 The UAH was severely impacted by the Covid-19 outbreak. In early 2020, at the start of the pandemic, the currency fell to 0.0354 per 1 US dollar, the lowest since 2015.
In July 2022, the Central Bank of Ukraine devalued the Hryvnia against the US dollar by 25% to 0.0272 per 1 US Dollar. This was to mitigate some of the economic impact caused by the war with Russia.
Benefits Of Brokers With UAH Accounts
No Currency Conversion Fees – For Ukrainians and high-volume forex traders, users may be able to avoid FX conversion fees when transferring Hryvnias to and from UAH trading accounts.
Local Payment Methods – The funding of online trading accounts that are denominated in UAH should be straightforward for those that already hold the currency. Local payment methods including wire transfers to and from banks like the Raiffeisen Bank, Alfa-Bank and PrivatBank using an IBAN should be accepted. Bitcoin payments are also being increasingly supported with Ukraine ranked as the second biggest user of cryptos worldwide.
Regulation – Whilst not many online brokers hold a license with the Ukraine Financial Conduct Authority, some of the top brokers with UAH accounts are registered with trusted financial watchdogs in the EU, such as the Cyprus Securities & Exchange Commission (CySEC). Trading firms may also hold a license with other top-tier regulators based further afield, such as the Australian Securities & Investments Commission (ASIC).
How To Check If A Broker Offers A UAH Account
Most online brokers will provide details of which currencies they support for deposits, withdrawals and trading at the sign-up stage. New traders can usually select the account currency (UAH) alongside their country when they register.
Alternatively, head to the funding/payments area and look for local deposit methods – this can be a good indication that the broker offers a UAH trading account.
To get started today, use our ranking of the best brokers with UAH accounts.
Comparing Brokers With UAH Accounts
As well as the account currency and support for local payment solutions, also consider the following when choosing between UAH brokers:
Assets & Instruments – The top brokers offer a breadth of instruments, such as leveraged CFDs spanning forex, stocks, indices, cryptos, and commodities. And while many trading platforms will offer trading on major forex pairs and US stocks, currency instruments paired with the UAH are less common.
Fees – Most brokers with UAH accounts charge a floating spread and/or a commission. Spreads on popular assets are usually lower while exotic currencies and illiquid stocks and commodities normally come with a higher charge. If you plan to use CFDs, also check for overnight holding fees.
Platforms & Tools – The best brokers will offer market-leading platforms, such as MetaTrader 4 and MetaTrader 5. Other firms offer their own bespoke platforms and copy trading, which can better suit the needs of beginners. Also look for additional features, such as educational resources and chat forums to enhance the trading experience.
Regulation – Regulated UAH brokers will provide a degree of security and credibility that unlicensed firms do not. This can include limits on high leverage, restrictions on misleading financial incentives, plus the secure storage and separation of client funds. Among the top regulators are the CySEC, FCA, ASIC, and SEC.
Final Word On UAH Trading Accounts
Brokers with UAH accounts can help keep costs down and facilitate hassle-free trading for investors from Ukraine and active FX traders. However, there are not many UAH trading accounts available in 2023.
As a result, traders may prefer to sign up with trusted brands like Interactive Brokers or XTB, which accept traders from Ukraine but do not offer UAH accounts.
FAQ
What Is A UAH Trading Account?
Brokers with UAH accounts provide trading profiles that use Ukrainian Hryvnias as the base currency. This means that all transactions, trades and fees will be processed and shown in UAH. This makes it easier to manage online trading activity if you are Ukrainian or trade large amounts of UAH.
How Do I Open A UAH Trading Account?
Opening an account with most UAH brokers is similar. New traders will need to fill in a basic registration form, providing details like their name, email address, phone number, and country. Investors may also need to provide proof of their nationality or address as part of KYC and AML requirements. Clients will then be able to choose from a list of supported account currencies, such as the UAH.
How Do I Know If A Broker Offers A UAH Trading Account?
Information on supported base currencies is usually available at the sign-up stage. Alternatively, traders can check the payments area of a broker's website or their FAQs. Failing that, prospective traders can contact the firm's customer support team through live chat, email, phone or social media.
We have also compiled a list of the top brokers with UAH accounts.
How Do I Compare UAH Trading Accounts?
Look for the minimum deposit requirement, supported payment methods, the range of instruments and tools, plus access to platforms, apps and tools, such as copy trading.
It is also worth checking that brokers with UAH accounts are registered with a regulator like the CySEC and offer safety measures such as negative balance protection.