Can You Trade Binary Options With No KYC Verification?
When trading binary options online, many investors prefer to keep their personal data safe from often unregulated brokers. Therefore, a binary options broker with no know-your-customer (KYC) and verification requirements can be appealing.
This article will explain how to trade binary options with no KYC checks. We also unpack the KYC process and run through why it is normally compulsory. Find out how to open a no-KYC binary options trading account.
Best Binary Options Brokers With No KYC
KYC Checks Explained
KYC checks are standard when trading binary options. KYC stands for know-your-customer, or sometimes know-your-client, and are requests by a broker to verify a trader's identity.
Companies typically require copies of documents such as driving licences, passports or ID cards to ensure that a registered trader is who they say they are. Some firms also ask for proof of funds, using information such as bank statements or tax returns to ensure traders can prove where their funds are coming from.
Why Are KYC Checks Needed?
Binary options brokers are normally required by local compliance laws to verify the identity of their traders. This is to prevent fraud and exclude wanted or financially sanctioned persons. These checks are often more stringent for regulated firms, with more documents needed for KYC approval.
Binary options brokers are also encouraged to comply with international AML (anti-money laundering) rules. This is to prevent the proceeds of crime or terrorism from being laundered into "clean" funds.
Is It Possible To Trade Binary Options With No KYC?
Many modern mainstream binary options brokers require extensive KYC verification with an application for a live account. This is to meet approval standards for AML regulations to run a legitimate business.
However, there are several ways investors can trade binary options with no KYC checks:
Brokers With No KYC
Brokers that do not require KYC checks to trade real funds can be considered high-risk, as many will not be legitimate. In addition, these services are few and far between due to recent crackdowns on firms that did not comply with AML regulations. Indeed, previous options, such as firms like SecondsTrade and IDSOption, are no longer available.
However, there are a few platforms that allow investors to trade binaries free from KYC constraints. These platforms tend to be crypto-based, using decentralized finance rather than traditional funding methods and using tokens like Bitcoin or Ethereum as account base currencies. Our top recommendation is Cryptobo. The Bitcoin-based binary options platform offers 60+ tokens and allows users to maintain their anonymity.
Demo Trading
There are also several brokers, including Quotex, Pocket Option and Spectre.ai, that allow traders to create demo accounts and login with no more information than an email and password. This gives investors access to a practice account, with upwards of $10,000 in paper funds.
However, to convert this account to a real profile where traders can stake real funds, they must complete an often thorough KYC verification process.
Why Trade Binary Options With No KYC
Many traders may not want brokers and their employees to have such intimate knowledge of their personal data. In addition, investors may be generally concerned with privacy, especially with the rising occurrence of identity fraud, or may not want to share data on their financial situation.
Binary options brokers sometimes have a bad reputation within the retail trading space as being prone to fraud, scams and data leaks. In addition, these platforms do not usually have stringent policies around handling customer data securely.
In addition, many binary options traders want to avoid going through what can be a lengthy verification process. Finally, many investors want to dive straight into the markets when they spot an opportunity rather than jump through KYC compliance hoops for hours or even days.
Key Considerations
While giving over less of your personal data and information to binary options brokers may seem like a no-brainer, here are a few things to consider before signing up for a no-KYC platform.
Regulation
Regulated entities are scarce in the binary options space as it is. Opting for a brokerage that allows real-money trading without KYC verification eliminates the possibility of oversight from an external body.
While regulation is no guarantee of authenticity or protection from fraud, licensed firms tend to be more reliable than their unregulated counterparts.
Payment Options
Legitimate platforms that deal in fiat currencies will almost always require KYC checks to pass international anti-money laundering (AML) regulations and bank their profits.
As a result, no KYC binary options will rarely deal with traditional funding options such as card payments, bank wire transfers or e-wallets. Instead, non-KYC brokers are usually entirely blockchain-based, with investors needing to deposit, trade and withdraw in crypto tokens.
As well as potentially increased fees for deposits and withdrawals in tokens like Bitcoin and Ethereum, traders will need to have a crypto wallet or exchange account to transfer funds in and out of a binary options account.
Advantages
Privacy – When using binary options brokers with no KYC requirements, investors can keep their identity concealed from platforms.
No risk of leaked data – Whether from a hack, rogue employee or fraudulent platform, KYC information can be leaked and used for identity theft. Not having to submit KYC verification documents eliminates this risk.
Faster sign-up – When using binary options platforms with no KYC requirements, traders do not need to wait for verification to complete before getting started.
DeFi integration – Binary options platforms with no KYC measures are almost always crypto-based, allowing investors to speculate without ties to banks or transitional finance.
Hassle-free practice – Many more mainstream binary options brokers offer well-funded demo accounts to traders who sign up with just an email address.
Disadvantages
Unregulated brokers – Choosing a real fund binary options broker with no KYC requirements eliminates the potential to trade on a regulated platform.
Demo only – Most brokers that allow investors to sign up without KYC offer demo trading only.
Crypto-only – Being able to use fiat funds on a binary options platform with no KYC checks is unlikely. Instead, blockchain-based tokens such as Bitcoin (BTC), Ripple (XRP) and Stellar (XLM) are more likely funding options.
Limited broker options – Only a handful of reliable brokers support real funds binary options trading with no KYC.
How To Trade Binary Options With No KYC
To get started, our experts have put together a guide on how to sign up for a binary options platform with no KYC requirements. Here are examples of creating a demo profile and real-money account:
Demo Trading
First, select your broker. We are using Quotex for our example. Navigate to their website and find the sign-up or registration section.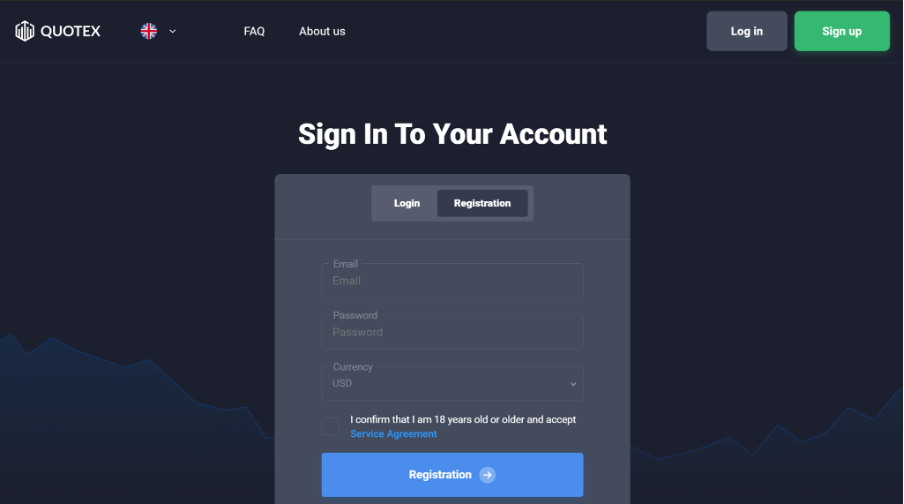 With a binary options broker with no KYC checks, all you will need to put in is an email address and password.
Next, select the demo account option. You may need to verify your email address using a message sent to you by the broker, but there is no need to submit KYC documents.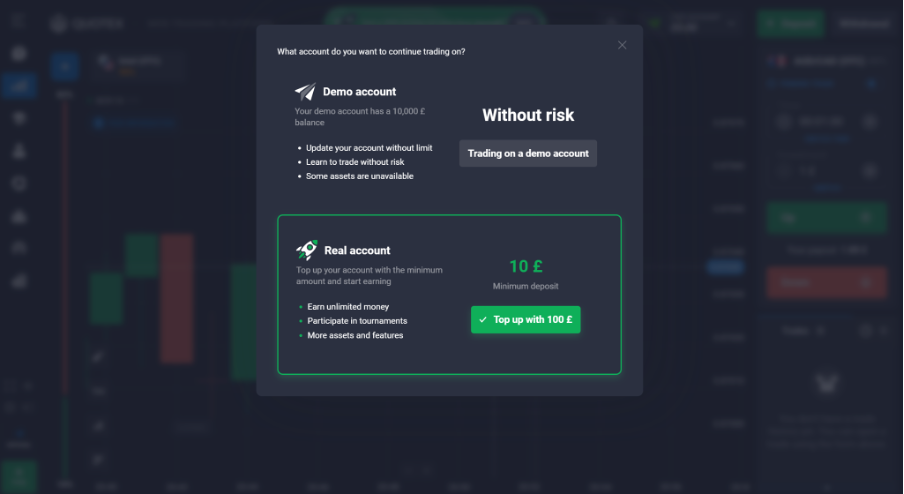 After this stage, you can start practising in the markets immediately.
Real Account
Here is a guide on setting up a no-KYC binary options account using real funds.
First, navigate to your chosen broker's website and select sign up or register.
For our real account example, we are using Cryptobo. Enter a username, email, and password and complete the Captcha.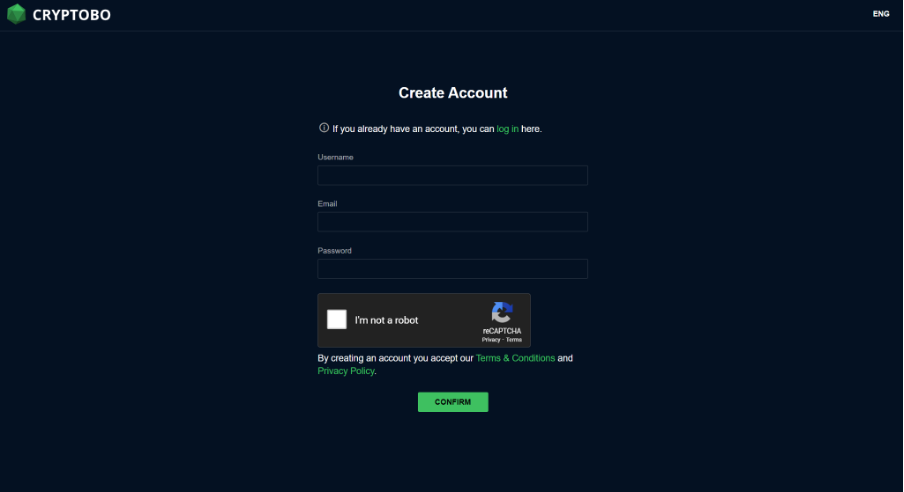 You may need to confirm your account using an email sent to the address with which you registered. Once this verification is complete, navigate back to the broker's website and log in.
Now you can deposit real funds and start binary options trading.
Final Word On Trading Binary Options With No KYC
Binary options trading using a broker with no KYC requirements is appealing to many traders. This is due to reduced risk of document leaks and identity theft, enhanced privacy, and a quicker sign-up process. However, brokers that allow real funds trading with no KYC measures are high-risk due to their lack of regulation. Furthermore, these platforms will often use crypto instead of fiat funds for deposits, trading, and withdrawals.
FAQs
Are Binary Options With No KYC Legal?
While it is not illegal to trade binary options through a broker with no KYC measures, investors should be wary that regulators may shut down their platform and software for breaking anti-money laundering (AML) laws and regulations.
Is There A Binary Options No KYC Hack?
Unfortunately, there is no way around KYC verification on binary options platforms that require it. With that said, binary options traders can often open demo profiles with fewer sign-up requirements.
Are Binary Options With No KYC Safe?
Due to the unregulated nature of platforms, traders should consider binary options brokers with no KYC verification measures high-risk. Extra due diligence is required to sign up with a reliable and trustworthy broker.
Do Binary Options Brokers With No KYC Accept Bank Transfers?
Binary options platforms with no KYC primarily use crypto for funding and trading. As a result, traders will need to invest using Bitcoin, Ethereum or other blockchain-based tokens.
Can I Trade Binary Options With No KYC On Nadex?
Unfortunately, Nadex has stringent KYC rules due to its regulation from the CFTC.