Binary Options News Trading Strategy
A binary options news trading strategy involves making investment decisions based on current events and announcements, such as interest rises or product releases. This guide unpacks example tactics, the best news resources and content providers, plus the pros and cons to trading binary options using the news.
Binary Options Brokers
What Is A Binary Options News Trading Strategy?
As the name suggests, the premise of a winning binary options news trading strategy is that you execute trades based on expectations of supply/demand dynamics and market reactions to certain events. This could range from company-specific news such as quarterly earnings reports that impact stocks up to global events such as the COVID-19 pandemic affecting entire countries and economies.
You also need to be aware that your approach to certain industries and markets will vary. This includes the type of news and reviews and the size of the impact the event or announcement will have. A good example of this is in volatile markets, such as cryptocurrency. After news broke that Elon Musk had added "#Bitcoin" to his Twitter bio on the morning of January 29th, 2021, the token saw a price increase of over $6,300 in just six hours.
Alternatively, when using binary options to speculate on currency pairs, country-wide news may be more relevant. A good example of this is the Brexit vote (the UK referendum to leave the EU) that took place on the 23rd of June 2016. On the 22nd of June 2016, the date before the vote took place, the GBP/USD pair was trading at 1.471 (£1 = $1.471). After the results were released, it was confirmed that the UK would leave the EU. Because of this, the GBP/USD pair dropped in value such that by June 27th, the pair had decreased to 1.3227, representing a 10% decline.
Setting Up A Binary Options News Trading Strategy
Tools & Content Explained
One of the first steps is setting up or using an economic calendar that displays data and pictures of scheduled events. Some brokers, such as IQ Option, provide this service for free with upcoming economic and company news documented.
At some online brokers, each event is given a label to indicate the expected real impact on a security's volatility, the assets impacted and the forecasted performance.
Note that these calendars may not always include all markets and assets that you want to trade binary options on.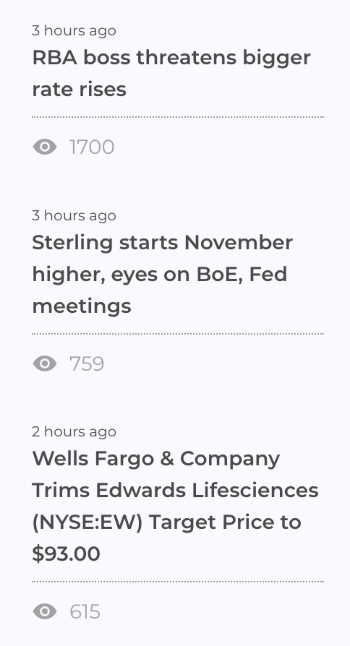 Before Vs After
Importantly, when learning a binary options news trading strategy that works, you can open positions both in anticipation of events and in reaction. Investing beforehand is more of a gamble as you are basing the trades on an expectation of the news being positive or negative and then how the trading community will react. An example of this would be news of an upcoming new product from a car manufacturer and hearing positive rumours of it being a well-made design. From this, you could then open a call binary options contract. Be aware though, that if the product is not as high-quality or well-received as expected, you may see a decline in the company's stock price.
On the other hand, if you wait until after the news is released, it may be easier to gauge how the market will react. However, you need to be careful using this method because wait too long and you may be too late to capitalize on the opportunity, especially if the price action is short-lived.
Unscheduled Events
A more difficult part of the binary options news trading strategy is accounting for unscheduled events. This includes news that is not planned out that you need to react to rapidly, for example, the Russian invasion of Ukraine starting in early 2022. Trading on news events like this is more of a gamble as the size of the impact on the price of oil for example, plus how long it will be impacted for, may be unknown. Will the price immediately rebound or will the trend be sustained for a long period?
To effectively react to unscheduled news, you often need to have extensive knowledge of the specific asset, wider industry and the event itself. Using the Russian invasion example again, this could include information on how long the invasion would last and how it could impact the Russian Ruble.
Tips For Trading Binary Options Using News
Subscribe To News Publishers
This may seem obvious but you need to stay on top of the news, ideas and changes/updates that relates to the underlying assets that you wish to speculate on. This could be through purchasing a subscription to a financial publication such as the Economist and Financial Times or local newspapers. Alternatively, you can get finds on the social media accounts of well-known crypto traders or investors in particular sectors, such as US technology stocks.
You should also have a plan so that before the market opens, you are informed of any relevant events or announcements while you have been asleep. You can set up notifications and signals on your computer or mobile device so that you are alerted to news as soon as they are released.
Demo Accounts
With different metrics to consider, interpreting the news and reacting with the correct call or put is not always an easy task. Fortunately, you can turn to binary options demo accounts to learn how different markets react to certain news and for how long you can expect a security's price to be affected. Several leading brokerages offer free demo accounts, including Pocket Option and Nadex.
Paper trading profiles are ultimately a great place to practice binary options news trading strategies, from reading candlesticks, diagrams and market figures to understanding profitable quotes and payouts, plus judging false breakouts.
Be Prepared
Make sure you have easy access to your binary options trading account and platform, especially during regular market hours. This hack is mostly for unscheduled news but will still be important for scheduled news announcements. Market reactions can be short-lived so if you want to take advantage of a news release you need to be ready to trade at short notice. With this in mind, download your binary options broker's mobile app so you are still tuned in to events while on the move.
Some binary options brokers, such as IQ Option and Deriv, also permit clients to connect an Expert Advisor (EA) to their account. An EA is essentially a binary options trading robot that can execute trades on your behalf according to your binary options news trading strategy and pre-set algorithm.
Pros Of The Binary Options News Trading Strategy
There are a number of benefits to a binary options news strategy:
Traders can take advantage of high volatility and fast price action
Ideal for investors who aren't familiar or comfortable with technical analysis
Compliments other strategies, i.e. binary traders can look at using it with the Martingale system
Can work with all binary options contract lengths ranging from less than one minute up to several hours
Investors can map out binary options trades in advance of scheduled news announcements and releases
Cons Of The Binary Options News Trading Strategy
You should also be aware that a binary options news trading strategy has several drawbacks:
It is not always easy to account for unscheduled news that other traders haven't considered
Binary options news trading strategies work best when complemented with technical analysis
Beginners need a good grasp of risk management to reduce the chance of losses and errors
Hard to gauge trader sentiment and its worth for certain news events and announcements
It gets difficult to know how long price action will last after the news is released
Final Word On Trading Binary Options Using The News
A binary options news trading strategy can form a key part of wider tactics and investment plans. On almost a daily basis, there are news releases from markets ranging from stocks and commodities to cryptocurrency and forex, meaning there is often price action to trade on. Try not to fall into the trap of thinking that there are no indicators that can help. News trading can be combined with technical analysis using indicators such as the zig-zag and moving averages.
Sign up with a binary options broker to start trading on the news today.
FAQ
What Is The Definition Of A Binary Options News Trading Strategy?
A binary options news trading strategy involves opening contracts either in anticipation of or in reaction to events and announcements, such as interest rate rises or unemployment data and stats. Both positive and negative news regarding a security can impact trader sentiment in the minutes and hours following.
Is A Binary Options News Trading Strategy Legal?
Yes, binary options news trading strategies are legal. There are no rules against using news released to the public to speculate on an underlying asset's value. The top binary options brokers also offer built-in news streams and economic calendars within their platforms, such as the MetaTrader 4 (MT4) server version.
What Contract Periods Can I Trade Using A Binary Options News Trading Strategy?
The binary options news trading strategy can be used for many contract lengths ranging from short to long expiries. This includes 5, 30 and 60 seconds, 5, 15 and 30 minutes, as well as longer-term contracts of several hours or days. The length of the contract will ultimately depend on the impact of the news event and the asset in question.
Can You Use Expert Advisors With A Binary Options News Trading Strategy?
Expert advisors can be a useful aid when implementing binary options news trading strategies. Through an EA, you can trade on more markets, improve your execution speed, and automate your response to news events and announcements. You can find EAs coded in Python and Pine Script online through websites such as GitHub and TradingView. If you are unsure about using an EA installation for binary options news trading, you start backtesting and implementing it within a demo environment before adding it to your live trading account.
Where Can I Get News Content For My Binary Options Trading Strategy?
Multiple news resources are available online and offline. These include Bloomberg, the Economist, plus economic calendars which collate announcements directly in binary options trading platforms. You can also find books and PDF guides on binary options news trading tactics, understanding signals, improving accuracy and using an Excel display for an economic calendar, which may be available as a free download. Additionally, there are YouTube videos and shows where you can see binary options trading experts react to news events and signals. Finally, you can consult with other binary options traders in online communities on social media and forums such as Twitter, Discord and Reddit.