Alpari Review 2023


United States not accepted.
Go to the Brokers List for alternatives
Alpari offer forex, CFD and binary options trading across a big range of markets with low spreads and a range of account types that deliver for every level of trader from beginner to professional.
Risk Warning – Your capital is at risk
Alpari Review. Alpari International are a global forex and CFD broker. Our detailed review explains everything from the MT 4 and MT 5 trading platforms to specifics like minimum deposit, bonus and account types information. We highlight the Alpari Group regulation status and explain whether the brand offer a sound investment for traders, whether they are beginners, experienced traders or professional.
Key takeaways
Alpari is an interesting alternative for trades who wants to be able to huge large leverage.
The broker offers fee-free deposits as well as free ways to withdraw money.
They offer a free unlimited demo account.
Trading through MetaTrader4.
Offer regular and ECN accounts.
Deposit money using VISA, Mastercard, Bank transfer, Skrill, Neteller, WebMoney, FasaPay, Perfect Money, bitcoin and more.
Commissions free trading, Low spreads. From 0.4 pips
Offer very high leverage. 1:1000 in a standard account. 1:400 in a micro account.
Mobile app for Android and iOS.
Regulated by the Financial Services Commission of Mauritius, the Securities and Exchange Board of India, and the Financial Services Agency in Japan
Up to 30% bonus on deposit.
Trading Platform
Alpari International operates a web-based MetaTrader 4 and MetaTrader 5 platform, with a dealing desk. Both platforms will provide a great level of flexibility, including modern and intuitive charting tools and simple navigation.
There are 4 possible platform versions to choose from iOS, Android, Desktop and WebTrader. These are ideal for those who are just getting started in trading.
If you are a more experienced trader and are looking for higher volumes of trades, the Alpari International Direct platforms are available.
This enhanced platform is ideal for advanced investors, as there are a variety of additional features available.
If you open an MT4 MicroAccount, you will have access to instant order execution, with margin calls at 50% and stop outs set to 30%. The standard MT4 account also offers instant execution, however, margin calls are set slightly higher at 60%.
For more experienced traders, the ECN accounts may be more appealing. These offer margin calls of 100%, although pending orders are set at a maximum of 300.
Markets
This broker offers access to a decent variety of popular financial markets:
10 major US stocks to trade
More than 60 Forex pairs and crosses
Commodities such as gold, natural gas, silver and crude oil
11 global equity indices
Alpari are a brand that have suffered some damage to their reputation during previous ownership. While the current performance is much better, the historical issues persist, and we would not recommend Alpari here at DayTrading.com
Popular Alternatives To Alpari
How to Trade on Alpari
As an individual trader, you don't need to physically own an asset, such as a commodity, to gain from it. You can buy or trade a security, then profit from changes in its price through various financial instruments. We have summarised the different trading vehicles available on the Alpari platforms:
CFDs – Contracts for Difference are derivatives that track the underlying performance of an asset, such as a stock. The buyer gets all the benefits of physically owning the asset, including increases in price and dividend payments. Leveraged CFDs can be used to speculate on stocks, indices, forex and more at Alpari.
Futures – A futures contract is an agreement to exchange a certain amount of gold, for example, at a future date. As the buyer, you pay for the contract at the time of purchase. If the price rises between the purchase date and the date the contract expires, you make a profit.
Options – With an options contract, you have the right to buy or sell a security at a later date, at an agreed price. Unlike futures, traders don't have to buy or sell at the end of the contract if they choose not to.
Spot Trading – A spot product is different from a futures or option contract – where the asset is exchanged at some point in the future. In the spot market, precious metals and commodities, for example, are traded on the current market, with the aim of making profits on small movements in prices. The idea is either to go long when you believe the asset's price is rising, or short when you expect it to fall.
Fix Contracts – Alpari also offers binary options on major financial markets. Popular with beginners, binary options contracts let investors know potential profit and loss before entering a position. The brokerage offers call/put, touch, range, spread, express and turbo options. The minimum position size is 1 USD and expiries are as short as 30 seconds.
It's always important to remember, however, that losses can occur with each investment vehicle so you should always trade responsibly.
Spreads & Commission
Alpari International offer spreads on major currency pairs of just 0.4 pips, which are some of the tightest on the market. The spreads available on trades will depend on the type of account held. The micro MT4 account offers spreads starting from just 1.7 pips when trading major Forex pairs.
If you choose to open a standard MT4 account, these traders are offered spreads from 1.2 pips on major Forex pairs. If you are a more experienced trader, the ECN account spreads start at just 0.4 pips for majors.
If you are a professional trader looking to trade individual stocks, you will need to open the ECN Pro account. There is no commission charged on this account, compared to the ECN account which charges $3 per lot round trip.
Leverage
The maximum leverage amounts offered will depend on the type of account traders hold. For example, the MT4 MicroAccount offers a maximum available leverage of 1:400. Whereas, the ECN account and the standard MT4 account offer a maximum available leverage of 1:1000.
The 1000 to 1 leverage amount will reduce as the notional trade size of open positions increased. It the total notional value reaches $8 million; the leverage will fall to a minimum level of 25 to 1. If you plan on trading cryptocurrencies and individual stocks, due to regulatory rules the maximum leverage offered is less.
Full leverage details are available on the site.
Alpari International do advise that some multiplier levels and certain products are not available to those located in EEA countries. This is due to legal restrictions on traders in these locations.
Mobile App
It is possible to download either the MetaTrader 4 or MetaTrader 5 app through the app store. Both platforms are available for iOS and Android. The MetaTrader 4 app offers features such as 3 possible chart views and 30 trading indicators. In contrast, the MetaTrader 5 app provides financial news updates, market depth information and a full set of orders.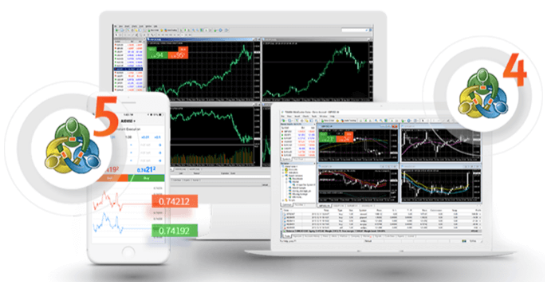 Payment Methods
Alpari International offers a quick and secure depositing process. The following methods are accepted for deposits and withdrawals:
Debit cards
Credit cards
Bank transfer
FasaPay
Neteller
WebMoney
Bitcoin
Perfect Money
Skrill
The processing time will depend on the individual payment method. If several banks are involved in a wire transfer of funds, it can take up to 3 to 5 days for funds to reach your Alpari International trading account.
For withdrawals to electronic payments systems, the payment will usually be processed within 1 working day. To improve security, the first time you make a withdrawal you will need to verify your identity with the payments department. They will contact you through your registered email or via the phone number registered on your account.
The majority of withdrawal methods do not require commission fees to be paid. Although, there are some charges for electronic wallets ranging from 0.5% to 2%. All bank wire transfers are charged a fee of EUR 30.

Demo Account
There is a free demo account available, which can be used as a risk-free way to learn how to trade without depositing any funds. You will have access to both the MT4 and MT5 platforms, where you will be able to test out a variety of popular trading strategies.
Your demo account will be loaded with virtual funds, so you can take a practical approach to learning the art of trading.
Deals and Promotions
They are known for running regular promotions for their clients, such as the long-running loyalty cashback program. Every lot which a client trades results in them receiving a cash rebate. There are five possible rebate levels, with each rebate able to be withdrawn as cash.
It is worth checking the promotions area regularly, as new offers and incentives are often available. For example, they offer top-up credit to some deposits on a regular basis. This could see your deposits boosted by up to 30%. If you are unsure whether you are eligible for a particular promotion, take a look at the detailed terms and conditions.
Regulation and Licensing
Alpari International is one of the most trusted brokerage groups, with a well-established history spanning more than 20 years. They are fully regulated by The Financial Services Commission of The Republic of Mauritius, via their parent company Exinity Limited. Their investment dealer licence number is C113012295.
They do offer negative balance protection, so if a market changes quickly against your current trade, your account won't fall into a negative balance.
As a member of The Financial Commission, there is an external dispute resolution process available. If a claim is made in the trader's favour, you will have access to up to compensation to a maximum amount of EUR 20,000.
Additional Features
If you are new to trading, lack confidence or are short of time, you could benefit from the Alpari Copy Trading feature.
This will offer the same thrill of trading, although your account will automatically copy the moves of the experienced traders using the platform. It is possible to view the Alpari International Top Ranking Strategy Manager, which will display a list of potential traders to follow. These are known as strategy managers and their trade moves can be instantly copied to your own account.
If you are looking to learn the basics of trading, there are a variety of trader education tools. Simply open the 'Learn to Trade' tab and you will find articles such as 'The Beginner's Guide to Trading'.
The brokerage services are available to many countries around the world, although the following are currently excluded; Georgia, Ukraine, Turkmenistan, Uzbekistan, Tajikistan, Moldova, Armenia, Kyrgyzstan, Kazakhstan, Belarus, Azerbaijan, Russia, the Democratic Republic of Korea, Suriname, Haiti, Japan, Canada, New Zealand, Mauritius and the USA.

Account Types
In addition to the demo account, there are 4 account types which will use real money. These are divided into standard accounts and the enhanced accounts, which are known as ECN types.
The standard accounts are available as a basic option, known as the MT4 MicroAccount and the standard MT4 account, both offer market-maker execution. The accounts for more experienced traders are the standard ECN account and the ECN Pro Account, which offer instant execution.
Although the range of accounts is offered freely, there are certain trading markets which are closed to some accounts. Whichever account you choose it is possible to use one of four base currencies;
USD
EUR
GBP
NGN (NGN accounts are only available to clients in Nigeria.)
By accepting Nigerian Naira, Alpari International clearly demonstrate their commitment to making trading more accessible. Nigeria is a significant market for the brand.
Company Details
Alpari International was founded in Mauritius in 1998 and has grown to become an important platform with the trading industry. The current refreshed brand was introduced in 2013, as a new and exciting chapter for the group. With more than 20 years in the market, Alpari International has grown across the world.
This global trading giant has more than 2 million clients and aims to offer a modern and dynamic platform for every trader. The easy to use website and range of 250 trading instruments have opened up the brand to traders of every experience level.
As you would expect from a reputable brand they are regulated by the Financial Services Commission (FSC).
Benefits
One of the main benefits of trading with Alpari International is the competitive trading conditions, which are designed to appeal to both beginners and experienced traders.
This means financial markets are available to even the smallest investors, who are able to deposit a minimum of 5 EUR. They also offer competitive leverage spreads and margins. For example, a standard account holder will have floating leverage from 1:1000. Note, the margins in the commodity futures market are lower than with equity futures and options.
Benefits for advanced or professional traders include improved spreads, a loyalty scheme and the facility to become a Strategy Manager and share in the volume of trades created. The impressive range of commodities, which is an independent asset class, also offer good opportunities for portfolio diversification.
Our review was also pleased to see the broker offers binary options, known as fix contracts. These are great for beginners, offering a straightforward 'yes or no' proposition. New traders can get started with just 1 USD and the brand's binary options products are available on both the desktop and mobile trading platform.

Drawbacks
If you are thinking of using the popular Strategy Managers tool to copy trades, there are charges involved. To select one or more strategy managers, you will need to pay EUR/USD/GBP 100, which could be a barrier for those just starting out in trading and looking to make small deposits.
In addition, the terminology used with the Copy Trading tool could be difficult for a novice trader to understand. Although, Alpari International does offer a simpler explanation for many of the most important terms.
They do not provide research tools through their platform, which can make it difficult to follow the market information. Although the MetaTrader 5 platform does offer some short news articles which can aid research.
Alpari also recently stopped offering trading on cryptocurrencies, this will be a significant drawback for some.
Trading Hours
The broker offers the following trading times for the various instruments (GMT):
Forex Markets: 00:05:00 until 23:55:00
Forex RUB: 09:00:00 until 21:00:00
Spot metals: 01:05:00 until 23:55:00
Spot commodities: 03:00:00 until 23:45:00 for UK Brent, US Crude and US Natural Gas is open from 01:00:00 until 23:45:00.
Stock trading: 16:31:00 until 22:59:59
Spot Indices for Australia 200, Europe 50, France 40, Japan 225, UK 100, US SPX 500, US Tech 100 and Wall Street 30 are open from 01:30:00 until 23:00:00. Germany 30 and Spain 35 are open from 09:30:00 until 22:30:00 and 20:30:00 respectively. The Hong Kong 50 is open from 03:45:00 until 18:30:00.
Cryptocurrencies: Bitcoin vs USD, Ethereum vs USD and Litecoin vs USD are open from 00:05:00 until 23:55:00. The Ripple vs USD market is open from 01:00:00 until 23:45:00.
Customer Support
Alpari International has a great reputation for offering excellent services to their satisfied customers. They are particularly good at offering help and guidance through the live chat, email and phone service. It is also possible to view their website in 9 languages, including Chinese, Persian and English.
The customer support team are based in Mauritius and are available 24 hours a day from Monday until Friday. Although for urgent queries they do open on a Sunday afternoon.
Telephone: +442 080 896 850
Email: customersuppport@alpari.org
Address: 5th Floor, 355 NEX Tower, Rue du Savoir, Cybercity, Ebene, 72201, Republic of Mauritius
There is also a live chat service available.
Safety and Security
All payments processed through the site are handled by a secure payment provider, which ensures personal details are safe and secure. The card transactions are processed through Al Accept Solutions Limited and FR Global Services Ltd.
The registration process is designed to be quick and easy, simply click the 'Register' tab, which is located in the top right of the website. You will be asked to enter your details, which is then followed by a PIN verification which is sent to your registered phone or email address. Once verified you will be able to login to your account and complete your profile.
When you register for either a demo account or a full paid account, you will need to provide personal and financial information. As part of this process, you will need to prove your residency and identity by providing documents such as a passport, utility bills, National ID or bank statements.
If at a later date you close your Alpari account, they will hold your details on file for a further 7 years.
To protect your personal and financial data, Alpari International adheres to strict security standards and uses the latest security technologies.
Alpari Verdict
Whether you are a first-time trader or an experienced professional, the wide range of accounts and possible features will appeal to many.
The latest platform is user-friendly and offers a quick registration process. They are also committed to offering advice and guidance to traders, so continue to remain an attractive option for many modern traders.
Alpari is a popular choice for investors who are looking for some of the lowest margins when trading Forex. If they can move on from the regulatory and insolvency issues under previous ownership, there is a solid product underneath.
Accepted Countries
Alpari accepts traders from Australia, Thailand, South Africa, Singapore, Hong Kong, India, France, Germany, Norway, Sweden, Italy, Denmark, United Arab Emirates, Saudi Arabia, Kuwait, Luxembourg, Qatar and most other countries.
Traders can not use Alpari from United States, Ukraine, Georgia, Japan, Canada, New Zealand, Haiti, Suriname, Azerbaijan, Turkmenistan, Uzbekistan, Armenia, Kyrgyzstan, Mauritania, United Kingdom.
Compare Alpari
Compare Alpari with similar brokers that accept traders from your location. Among available brokers these are the most similar to Alpari:
Alpari Comparison Table
Compare Alpari With Similar Brokers
Alpari
World Forex
Videforex
RaceOption
IQCent
Rating
3.8
4
3.5
3.5
3.7
Markets
Forex, Commodities, Crypto
Forex, Stocks, Commodities, Crypto
Forex, Stocks, Commodities, Crypto
Forex, Stocks, Commodities, Crypto
Forex, Stocks, Commodities, Crypto
Demo Account
Yes
Yes
Yes
Yes
Yes
Minimum Deposit
$5
$1
$250
$250
$50
Minimum Trade
0.01 Lots
0.01 Lots
¢0.01
¢0.01
$0.01
Regulators
FSC of Mauritius, SEBI, JFSA
SVGFSA
–
–
IFMRRC
Bonus
30% up to $100 (terms apply)
100% Deposit Bonus
20% to 200% Deposit Bonus
20% – 200% Deposit Bonus
20% to 200% Deposit Bonus
Education
No
No
No
No
No
Platforms
MT4
MT4, MT5
–
–
–
Leverage
1:400
1:1000
1:500
1:500
1:500
Payment Methods
21
10
8
9
7
Detailed Comparison
–
Alpari vs World Forex
Alpari vs Videforex
Alpari vs RaceOption
Alpari vs IQCent
Visit
–
Review
Alpari
Review
World Forex
Review
Videforex
Review
RaceOption
Review
IQCent
Review
Compare Trading Instruments
Compare Alpari Trading Instruments

| | Alpari | World Forex | Videforex | RaceOption | IQCent |
| --- | --- | --- | --- | --- | --- |
| Binary Options | Yes | Yes | Yes | Yes | Yes |
| Expiry Times | 30 seconds – 4 hours | 1 minute – 7 days | 5 seconds – 1 month | 5 seconds – 30 days | 5 seconds – 30 days |
| Ladder Options | No | No | No | Yes | No |
| Boundary Options | No | No | No | No | No |
| CFD | Yes | Yes | Yes | Yes | Yes |
| Forex | Yes | Yes | Yes | Yes | Yes |
| Stocks | No | Yes | Yes | Yes | Yes |
| Commodities | Yes | Yes | Yes | Yes | Yes |
| Oil | No | Yes | Yes | Yes | Yes |
| Gold | Yes | Yes | Yes | Yes | Yes |
| Copper | No | No | Yes | No | Yes |
| Silver | Yes | Yes | No | Yes | Yes |
| Corn | No | No | No | No | No |
| Crypto | Yes | Yes | Yes | Yes | Yes |
| Futures | No | No | Yes | Yes | No |
| Options | No | No | No | No | Yes |
| ETFs | No | No | No | No | No |
| Bonds | No | No | No | No | No |
| Warrants | No | No | No | No | No |
| Spreadbetting | No | No | No | No | No |
| Volatility Index | No | No | No | No | No |
Alpari vs Other Brokers
Compare Alpari with any other broker by selecting the other broker below.
Alpari vs
Alpari offer forex, CFD and binary options trading across a big range of markets with low spreads and a range of account types that deliver for every level of trader from beginner to professional.
Articles about Alpari