Zignaly Review 2023
Zignaly is a social investment platform that facilitates profit sharing between both retail and pro traders. Clients can select actively managed services run by expert investors driven on the platform. This 2023 Zignaly review will cover its leverage opportunities, profit-sharing tool, bot selection, white paper FAQ topics and more.
Zignaly Headlines
Zignaly was launched in 2018 after a private ICO. It has quickly become an established and successful automated social trading bot platform in the cryptocurrency market.
Today, its services are trusted by over 370,000 global traders. An impressive 27 million trades have been executed and over $4 billion processed in trading volume. Support is available 24/7 from a team of over 30 employees.
The cloud-based platform provides automation and signal services to suit the needs of all traders, regardless of experience. The firm aims to ensure everyone has access to the world's most successful strategies and investment products.
ZIG
The introduction of the ZigCoin has given traction to the service. ZigCoin is the utility token that powers the Zignaly environment. The current coin price market cap and average price prediction in 2022 and beyond can be found online on sites like CoinMarketCap.
Using the coin unlocks some rewarding benefits:
Participate in the Zignaly Vault and earn ZIG rewards
15% cashback when using the token to pay for trading fees
6% discount when used to fund Profit Sharing service success fees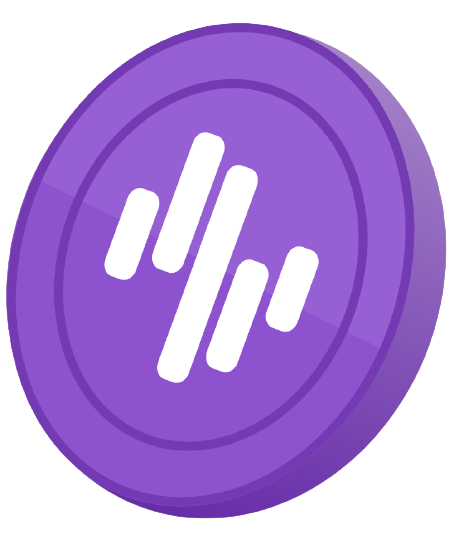 The Zignaly Solution
Zignaly has uncovered a gap in the cryptocurrency market. The high-risk nature of trading cryptos paired with a common lack of knowledge can make it particularly difficult for new investors to break into the market. Many parties were facing numerous hurdles to diversify their digital currency portfolios. Professional services often incur significant fees, high minimum investments and challenging user interfaces.
Here, the solution of Zignaly was founded. Investors, new or experienced, now have a way to navigate the complex marketplace of 'expert' traders and select tailored services to successfully drive investments using professional services and tools. The exchange realised the valuable skills of seasoned expert traders. Thus, the platform allows these individuals to monetise and leverage their skillset, generate a reputation and share success stories to benefit other traders.
Who Is It For?
Zignaly is suitable for all types of traders. The features and functionality can seem a little daunting to beginners, although these can be tailored and individually selected or removed as necessary. No previous knowledge is needed and you can let the experts invest your capital in a completely hassle-free and hands-off approach.
Constant support is available to keep you in the loop of your trades in progress. Alternatively, if you are an experienced investor, there may be an opportunity to get involved as a profitable manager, using your skills to help others generate returns.
Users can select wholly automated trades, combine 'pro' trading strategies with their own or build and automate their strategies from scratch.
Trading Platform
The Zignaly trading platform is a powerful terminal for cryptocurrency investing, accessible 24/7. It is available for free download to desktop devices or can be operated via all major web browsers. You can manage all exchange accounts from one easy-to-use interface.
The platform is simple, modern and functional, allowing users to set personal specifications. Each feature has integrated explanations so all users can better understand its capabilities. Our review found the platform supports both basic and advanced trading actions highlighted below:
Basic Functions
Stop Loss
Take Profit
Trailing Stop
Advanced Functions
Price deviations
DCA (rebuy strategy)
Minimum volume filters
The Zignaly platform allows users to set full trading strategies with concurrent orders using the same exchange balance. The platform accepts all coin pairs from the integrated signal providers allowing users to maximise the benefits from their chosen service.
As an alternative way of using the platform, you can connect your TradingView account via the Webhook URL to integrate with chosen indicators.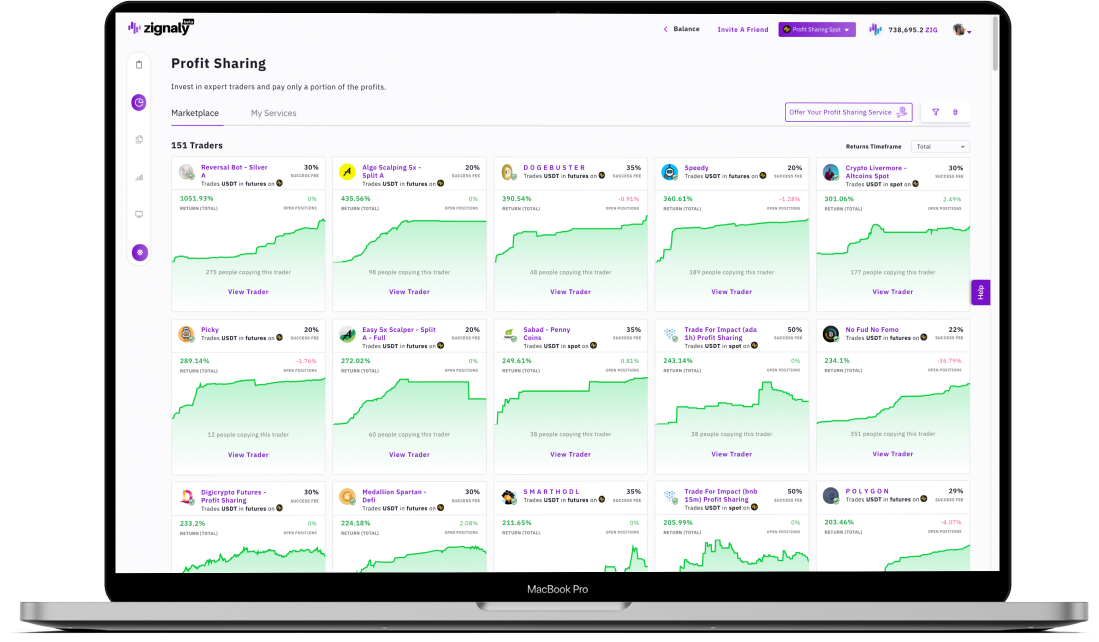 Services
Zignaly has four trading options:
Copy Trading
A hassle-free results-driven tool. Copy expert traders in the crypto field allowing you to get the same results. Simply set an anticipated total balance and the platform will automatically replicate the relevant trading activity in proportion to the expert. All positions and settings are managed by the trader beforehand for a hands-off approach. Alternatively, if you are already a seasoned crypto investor, you can register to become a Zignaly copy trader and earn income from others benefiting from your strategies.
Connect Exchange – Link your Zignaly account to your support exchanges using secure APIs
Choose A Trader – Select an 'expert' to copy based on previous performance and trading history
Select Maximum – Balance Submit a limit of funds to be invested and the tool will invest proportionally
This simple approach to crypto investments is suitable for all traders, regardless of experience level. The copy trading tool is currently used by over 90,000 clients with a combined linked balance of $70 million.
Profit-Sharing
This advanced tool allows traders to automatically buy and sell cryptocurrency by copying pro traders. You can duplicate trades from 100 experts based on previous performance, strategies and historical results. The key benefit of this profit-sharing tool vs traditional copy trading is that fees only need to be paid once a profit is made from positions. There is no minimum amount to invest, meaning you can spread your funds across as many 'pros' as desired. Diversify your portfolio without paying upfront.
Trading Signals
Utilising crypto signals is the best way to start trading digital currency assets. Zignaly offers over 21 different cryptocurrency signal providers. The number of integrated signals available is constantly growing, so you can be assured of finding the best ones for your trading style.
Simply enable them via your account settings and configure their recommendations. The platform offers free or paid signals, including those from Blockchain Sparrows Signals (no fee) and Crypto Base Scanner (from $9 per month).
Manual Trading
An option for clients who wish to execute their own trades. All the required tools are provided in the Zignaly platform for a successful crypto trade setup. The functions enable users to set entry and exit positions, add margin calls, enter DCA/rebuy targets and more.
Available Exchanges
Zignaly is only compatible with a select number of crypto exchanges, including Binance, Bitmex, FTX and KuCoin. This is slightly limited vs competitors. Cryptohopper, Shrimpy and 3commas have compatibility with over 15 established exchanges, including Coinbase and Binance US.
More exchanges, such as ByBit are planned shortly, according to roadmap plans.
Fees
Clients can use Zignaly at no charge, although third-party costs may apply via your enabled exchange. There are no monthly subscription fees or costs to sign up and open an account. You can access all basic features with unlimited pairs, providers and positions. Advanced tools and features are also available at no cost. This includes trailing stop loss, Autoclose, DCA ReBuy and more. This is a significant advantage as other trading bot services tend to come with a hefty price tag.
Investors have the option to purchase extra trade signals from trusted providers, which come at a cost. These can be bought externally from the likes of Mining Hamster. Costs are not related to Zignaly. The firm will simply integrate the signals into your trading account. Our review found these are available for an average of $20 per month for the higher-end options.
Mobile Trading
Zignaly does not currently offer a mobile app. However, the platform is compatible with portable devices such as iPhones and iPads. Charts and graphs can be viewed horizontally in your browser and allow for the same experience as viewing on a desktop device. Monitor signals, open and close trades and view transaction history while on the go.
Zignaly Accounts
It is quick and easy to open an account. Profiles can be opened in one minute. Note, Zignaly has implemented KYC compliance requirements to create a fair and transparent profit-sharing marketplace. This is executed by Shufti Pro.
Personal and financial data is secured and protected by 256-bit end-to-end encryption and holds PCI compliance to SAQ level for peace of mind. Signing up for the Zignaly exchange reduces the need to connect API keys. Once details are submitted and your account is created, you can select the type of account to open; spot or futures.
There are two methods to fund your Zignaly Exchange Account. You can either send funds from an exchange/crypto wallet or purchase cryptocurrency from a third-party provider, Challengelly. Simply select the deposit logo within your exchange account. You can deposit hundreds of digital currency coins, including BTC, USDC, XRP and LTC.
Benefits
No charges
Suitable for beginner level
Plenty of signal providers to choose from
Simple to use and intuitive trading platform
Strong security and safety protocols in place
Unrestricted coin pairs and trading positions
Drawbacks
No mobile app
No demo account
Limited compatible exchanges
Some prohibited jurisdictions including the US
Customer Support
Customer support is best in class, available 24 hours, 7 days a week. All accounts are granted access to a dedicated success manager. An online contact form can also be used to leave the service team a message, for which we noted a fast response time. However, it would be good to see a telephone helpline available in the future.
The Zignaly FAQ section and help forum are extensive. The page is organised into major topics like account (login, minimum balance, how to deposit and withdraw), platform (mobile app, iOS download, discord server, user experience) and tools (entry price deviation, profit sharing, staking). Zignaly regularly uploads YouTube video content to its channel for account support, ZigCoin analysis and user tutorials.
Clients can also contact the customer support team via blog and social media channels through Twitter, Telegram, LinkedIn and Discord.
Safety & Security
The platform is a secure and non-custodial investment base. Deposited funds to the Zignaly Exchange are held by Binance, rather than with the firm. Binance meets internationally recognised security protocol ISO/IEC 27001 with coverage including an insurance fund held in cold wallet storage and SAFU fund protection.
Withdrawals are managed by IP address security. Pattern recognition is also implemented by the exchange, aiming to detect unusual activity and irregular trading.
Zignaly's approach to safety is also comprehensive. Two-factor authentication (2FA) can be added to all accounts. Verification will be required to access accounts and withdrawals. API keys are RSA-encrypted and stored in a database with no public or owner access. ReCaptcha is also in place to prevent scripting attacks. The firm is backed by two VC groups, collectively managing $70m of capital under management.
However, we would be cautious given the relative anonymity of the firm. Details of the company and confirmed success stories would be good to see.
Zignaly Verdict
Zignaly offers a slick solution that enables automated crypto trading and profit-sharing tools led by professionals. The simple software interface enables clients to link their exchange and TradingView accounts to manually or algorithmically analyse chart patterns or copy the positions opened by other successful traders. The service is innovative and effective, though we would like to see more support from exchanges and a mobile application in the future.
FAQ
Is Zignaly Safe?
Yes, Zignaly is a safe crypto bot service. Security and safety of transactional data is a high priority for the firm, with 2FA available to add to accounts, RSA-encrypted API keys and SAFU fund protection.
Is Zignaly Free For Binance Traders?
Yes, Zignaly is free. Trade any balance and volume for no monthly cost. Simply open an account with Zignaly and start trading digital currency coins including Uniswap, Bitcoin, Binance Coin and more.
Is Zignaly Legit?
Zignaly offers a legitimate service that enables traders to enhance their crypto portfolio with automated functions. Connect with a provider from the list of supported exchanges and start trading.
Is Zignaly Good?
Zignaly is relatively simple to use, making it a good option for new crypto investors that wish to try automation. The company also works with some major cryptocurrency exchanges including Binance.
Does Zignaly Offer A Demo Account?
Zignaly does not currently offer a demo account. However, there are no minimum volume investments required, so you can practise with the automated trading tools with just a small initial fund.
Zignaly is a crypto copy trading tool that integrates with a range of centralised exchanges and TradingView to facilitate manual and automatic copy trading and market analysis.