Wahed Invest Review 2022


Traders in United States welcome
Wahed Invest is a Shariah-compliant trading platform aimed at Muslim investors. The trading app has 200,000+ clients, offers portfolio rebalancing and is particularly popular with beginners.
Risk Warning – Your capital is at risk
Wahed Invest is a Muslim-friendly trading platform that helps clients build portfolios in halal equity funds, Sukuk (Islamic bonds), and gold. In this 2022 review, we explain how Wahed Invest works, from trading fees and minimum deposits to potential returns and sign-up tips. We also list popular alternatives to Wahed.
About Wahed Invest
Wahed is an online investment platform founded in 2015 by CEO Junaid Wahendna. It is one of the first globally accessible robo-advisors, also known as digital investment managers. The firm launched in the UK and US in 2018.
Designed for those who want to invest, but do not have the time or the experience to do so manually, a robo-advisor can be viewed as a hands-off portfolio management tool. Users sign up and answer questions about how much they would like to invest, their time horizons, and other financial goals. Then clients can make a deposit and let Wahed's trading system do the rest.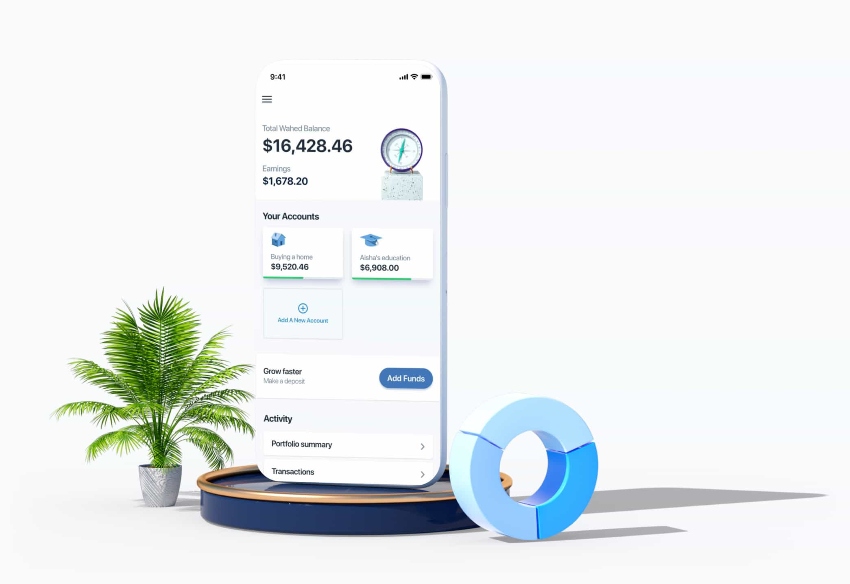 Wahed is not entirely novel in the assets that it provides to traders, but it is pioneering in several respects. For example, Wahed offers a trading platform and products that are compliant with Sharia laws, while also having an ISA tax-efficient wrapper.
Wahed Invest also has comparatively low fees compared to many online brokers and lets traders get started with as little as $100. Clients can withdraw and deposit at no additional fee at any time and access assets that aren't easy to obtain normally, such as Sukuk (an Islamic financial certificate, similar to a bond in Western finance, that complies with Islamic religious laws), as well as emerging markets.
All of this is packaged into one user-friendly interface, and while not every aspect is unique, finding all of these components together and accessible in one place is rare for Muslim traders.
How Wahed Invest Works
As outlined above, as an investor approaching the platform, you will be asked to answer questions relating to your financial goals and risk level. Wahed then optimizes your portfolio using only Shariah-compliant investments, potentially providing healthy returns with upfront risk.
The firm's investment categories include global equity, emerging markets equity, US equity, REITs, commodities, and fixed income. Using these categories of investments, Wahed generates a percentage in different assets, designed to tell the investor how much risk is associated with each one. Each investment option will also be placed into one of the following categories:
Very conservative
Conservative
Moderate
Moderately aggressive
Aggressive
Very aggressive
For example, the company's very conservative portfolio is made up of 90% Sukuk and 10% cash, whereas its very aggressive solution is 86.5% in HLAL and UMMA, 12.5% in VP-DJ Shariah China A-Shares 100 ETF, and 1% cash.
These portfolios are highly diversified and HLAL, meaning they track a principles-selected, market-cap-weighted index of US equities that conform to Shariah standards, and conform to UMMA, meaning a whole community of Muslims bound together by ties of religion.
Alternatively, investors can choose a thematic portfolio based on the type of securities that are included. For example, the money market portfolio which is made up of 97.5% Affin Hwang Aiiman Money Market Fund, or the emerging markets portfolio which is made up of 97.5% iShares MSCI EM Islamic UCITA ETF and 2.5% cash. This means that clients can also choose a portfolio that is entirely made up of one security.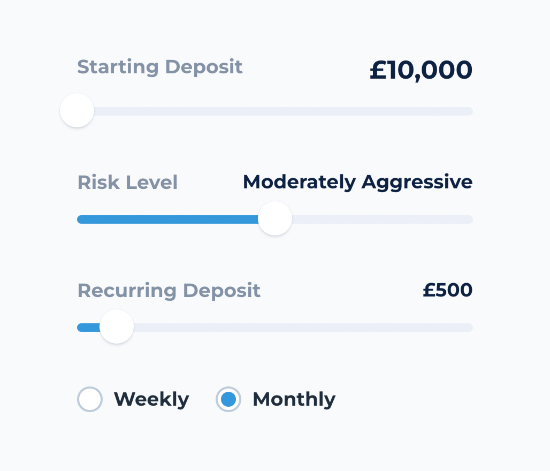 In addition, Wahed Invest offers a rebalancing service, which occurs based on your goals and risk tolerance. So, if you decide you are ready to take on more risk, the portfolio will be rebalanced whenever funds are added or withdrawn. Rebalancing can also happen when the market goes through a major change in terms of volatility.
Assets & Markets
There are a number of instruments that can be bought and sold on Wahed:
Global Equities – iShares MSCI EM Islamic UCITS ETF USD, HSBC Islamic Global Equity Index GPB IC
Emerging Markets – iShares MSCI EM Islamic UCITS ETF USD
Sukuk – Franklin Global Sukuk Fund W
Gold – ETFs Physical Gold (GBP)
Money is essentially invested into a variety of stocks and shares, Sukuk, and gold, and the funds are pooled. This gives users the advantages of a diversified portfolio whilst not having to invest huge amounts of capital. Without this approach, it would cost more to purchase all of the underlying assets in each fund. Therefore, when you invest using Wahed you will hold several kinds of stocks, shares, Sukuk, and gold for a lower overall investment price. This makes the platform more cost-effective for many traders, especially beginners.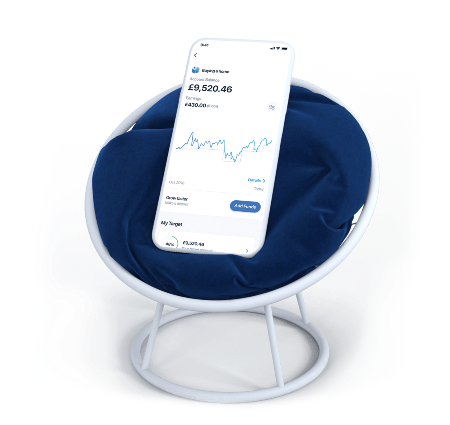 Fees
In terms of other robo-advisors, Wahed Invest is one of the more expensive options.
To begin with, investors must deposit a minimum amount of $100 to open an account. While this is not entirely out of reach of many investors, it does take away some of the accessibility of the service.
Furthermore, the monthly percentage fee for the management of the account is comparatively high. The management fee is 0.49%-0.99%, which is higher than most competitor platforms. It also does not offer tax-loss harvesting.
It's important to note that the management fee shifts depending on the balance of your portfolio, so if your portfolio is larger, you can get that rate down to 0.49%, comfortably within the realm of what many other investment services offer.
If your portfolio balance is between $100 and $249,999, then your management fee will be 0.99%
If your portfolio balance is more than $250,000, you will qualify for the 0.49% management fee
Rebalancing with Wahed does not cost anything extra, and there are no transaction charges for buying or selling securities. There are no hidden fees either, only the comparatively higher costs which they advertise.
Regulation
It's always wise to be cautious when dealing with a newer company, and since Wahed only launched in 2015, you may naturally feel less certain about how safe your funds will be with the brand.
However, importantly, Wahed is registered with the US Securities and Exchange Commission (SEC), which bodes well for the standard of the company.
Furthermore, Wahed is also insured by the Securities Investor Protector Corporation (SIPC), so all user funds are protected and insured up to the value of $500,000, should the company declare bankruptcy.
Wahed Invest is one of seven licensed robo-advisory platforms operating in Malaysia, and the only one that is Sharia-compliant.
It offers investments and returns in compliance with Islamic law, is certified by the Shariyah Review Bureau, and is also a member of the Accounting and Auditing Organization for Islamic Institutions (AAOIFI).
Regulation does not guarantee that you are going to profit from using a platform, it only means that the company is more likely to be legitimate than an unregulated provider. It also means that if the company were to do anything illegitimate, any loss may be covered by insurance and the regulatory body would investigate it and potentially remove the license from the platform.
Profits still depend on market conditions, and this doesn't hinge on the legitimacy of the platform.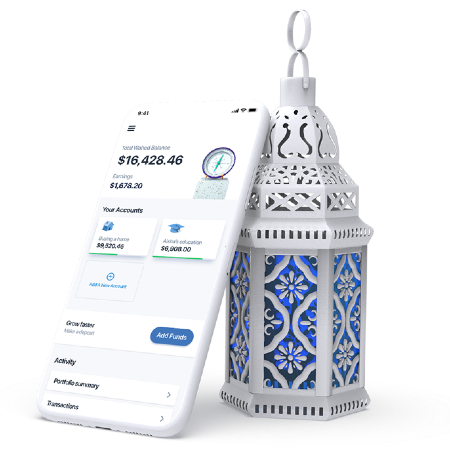 Wahed Invest & Shariah Law
Wahed claims to be the first automatic Islamic investment platform governed by Shariah law. This law dictates religious practice and the aspects with which many Muslims live their lives – and this includes financial decisions such as investing.
This also means that Wahed has to comply with ethical guidelines. For example, they have no financial ties to industries such as tobacco, alcohol, firearms, or adult entertainment. All investments are monitored by an Islamic committee and decisions are made regarding whether a certain investment type would appeal to most Muslims around the world.
Shariah-compliant investing, also known as halal trading, has a focus on welfare and Islamic beliefs as well as the more traditional goals of western investing, which is to maximize one's returns.
This also means that Wahed does not invest in any companies which provide financial services which aren't Islamic, and that they don't invest in companies which generate interest income larger than around 5% of total revenue, unless the excess of 5% is donated to a charity.
Customer Support
Wahed Invest is available for contact to discuss customer queries and offers support via two channels:
Phone – they can be reached on the contact number 855-976-4747, from Sunday to Thursday during the hours of 9am to 5pm ET
Email – customers can email info@wahedinvest.com to get in touch with its support team
There is also a wealth of information available via its website blog, including details on how to delete an account.
Benefits
Wahed Invest offers a unique opportunity, as the returns are all halal and compliant with Islamic law. This is perfect for investors interested in ethical investing, as this is at the core of halal investments.
The automatic rebalancing feature is also a big bonus of using Wahed Invest, as it takes the pressure off the trader in terms of monitoring the market.
Wahed also has a user-friendly interface that is highly functional and easy to use, and while on the more basic side, this makes it perfect for beginners, with important features like opening multiple portfolios and automated trading.
Furthermore, the portfolios which are available with Wahed Invest are simple to navigate, with a list of what is available in terms of securities and risk tolerance.
Finally, when using Wahed, investors can use a small amount of their own capital, and this gives them easy access to foreign markets. Although the minimum deposit of $100 appears to be relatively high, it is lower than many broker fees for Exchange-Traded Funds (ETFs) that charge a range of different costs as well as transaction fees, meaning investors may have to invest a lot in one go to lower the per-transaction rate. There are also no withdrawal fees.
Drawbacks
Wahed Invest is a relatively new company, so the platform is not as advanced as some of the larger investment sites, although its team is making continuous improvements.
The key drawback is that you cannot deposit money using a bank card alone; it must be done through your bank, which causes delays in depositing money and requires the user to take another step to complete the transaction.
Finally, the fees that Wahed charges can be a deal breaker for many investors; the fees are higher than that of most other robo-advisors out there, and the management fees for your account increase as your portfolio grows. The minimum withdrawal amount for the platform is also $100, which minimizes the flexibility of the service.
Wahed Invest Verdict
Wahed is a reputable and reliable trading platform offering socially responsible investment opportunities, particularly for beginners or those who prefer a more hands-off approach. Of course, Wahed is not offering access to assets that investors can't get from a traditional online broker, but this would take more time to accumulate compared to Wahed's convenient solution.
Accepted Countries
Wahed Invest accepts traders from Australia, Thailand, Canada, United States, United Kingdom, South Africa, Singapore, Hong Kong, India, France, Germany, Norway, Sweden, Italy, Denmark, United Arab Emirates, Saudi Arabia, Kuwait, Luxembourg, Qatar and most other countries.
Compare Wahed Invest
Compare Wahed Invest with similar brokers that accept traders from your location. Among available brokers these are the most similar to Wahed Invest:
Wahed Invest Comparison Table
Compare Wahed Invest With Similar Brokers
Wahed Invest
ZacksTrade
IG Group
eToro
Uphold
Rating
–
–
4.4
4.7
–
Markets
Stocks, Commodities
Stocks
Forex, Stocks, Commodities, Crypto
Forex, Stocks, Commodities, Crypto
Stocks, Commodities, Crypto
Demo Account
No
No
Yes
Yes
Yes
Minimum Deposit
$100
$2500
£250
$10
$0
Minimum Trade
Variable
From $3
0.1 lots
$10
$1
Regulators
SEC, SRB
SEC
FCA, ASIC, MAS, FSCA, JFSA, FMA, CFTC, NFA, BMA, DFSA, FINMA, BaFin
FCA, CySEC, ASIC, FSA
FCA, FinCEN
Bonus
–
–
–
–
–
Education
No
No
Yes
Yes
No
Platforms
–
–
MT4
–
–
Leverage
–
–
1:30
1:30 EU
–
Payment Methods
1
3
6
14
8
Detailed Comparison
–
Wahed Invest vs ZacksTrade
Wahed Invest vs IG Group
Wahed Invest vs eToro
Wahed Invest vs Uphold
Visit
Review
Wahed Invest
Review
ZacksTrade
Review
IG Group
Review
eToro
Review
Uphold
Review
Compare Trading Instruments
Compare Wahed Invest Trading Instruments

| | Wahed Invest | ZacksTrade | IG Group | eToro | Uphold |
| --- | --- | --- | --- | --- | --- |
| CFD | No | No | Yes | Yes | No |
| Forex | No | No | Yes | Yes | No |
| Stocks | Yes | Yes | Yes | Yes | Yes |
| Commodities | Yes | – | Yes | Yes | Yes |
| Oil | No | No | Yes | Yes | No |
| Gold | Yes | No | Yes | Yes | Yes |
| Copper | No | No | Yes | Yes | No |
| Silver | No | No | Yes | Yes | Yes |
| Corn | No | No | No | Yes | No |
| Crypto | No | No | Yes | Yes | Yes |
| Futures | No | No | Yes | No | No |
| Options | No | Yes | Yes | No | No |
| ETFs | Yes | Yes | Yes | Yes | No |
| Bonds | Yes | Yes | Yes | No | No |
| Warrants | No | No | No | No | No |
| Spreadbetting | No | No | Yes | No | No |
| Volatility Index | No | No | Yes | Yes | No |
Wahed Invest vs Other Brokers
Compare Wahed Invest with any other broker by selecting the other broker below.
Wahed Invest vs
FAQ
Should I Invest In Wahed?
Wahed Invest is perfect for traders who haven't yet acquired the experience and expertise to manage their own investments. Similarly, if you do not have time to do so, then it could be a good option.
Is Wahed Invest Legitimate?
Wahed Invest is compliant with Sharia law. It is certified by the Shariyah Review Bureau and is also a member of the Accounting and Auditing Organization for Islamic Institutions (AAOIFI). Given that this is a legitimate regulatory body, Wahed is a reliable and trustworthy brand.
Can I Buy The Wahed Securities Via A Standard Broker?
It is possible to purchase the same securities in the Wahed portfolio yourself through a traditional brokerage, but not necessarily in such a convenient and cost-effective way. This has made the investing app popular with aspiring traders and those tight on time.
What Is Wahed Invest's Minimum Investment Amount?
Investors must make an initial investment of $100 to open an account with Wahed.
What Is Shariah Compliant Investing?
Shariah investing, also known as halal trading, is a sub-sector of socially responsible and ethical investing that complies with the principles of Islam. This means that Wahed seeks to focus on social welfare with their investments as well as profits, and also affects the industries in which they invest.
Is Wahed Invest Really Halal?
Yes, Wahed Invest offers entirely halal investing. It is trusted by thousands of active Muslim traders in the UK and US.
Wahed Invest is a Shariah-compliant trading platform aimed at Muslim investors. The trading app has 200,000+ clients, offers portfolio rebalancing and is particularly popular with beginners.